How do you manage pet hair in your house without deep cleaning your entire home? What happens when you need a quick solution to pet hair, say, for allergies or an unexpected visit?
Handheld vacuums are the answer. They're easy to operate and are designed for fast tidying rather than full-scale cleaning. They're also versatile enough to use on almost all surfaces. We favor them for practical, hassle-free pet hair removal.
We're going to show you the best handheld vacuums for pet hair. But first, here's everything you need to know about using these devices around your furry friends.
Image
Model
Product Comparison Table
Features
Most Portable
Bissell Pet Hair Eraser
Multi-surface ability
Simplicity in use
Compact and handy
Most Effective
Shark Rocket
TruePet motorized brush
Extendable hose
Corded but verastile
Best for Allergies
Bissell Corded Pet Hair Eraser
Cleans the air
Easy-grip handle
Rubber nozzles don't damage surfaces
Best for Deep Cleaning
Dyson Animal V8
Great for floors
Certified allergy-friendly
Attachments included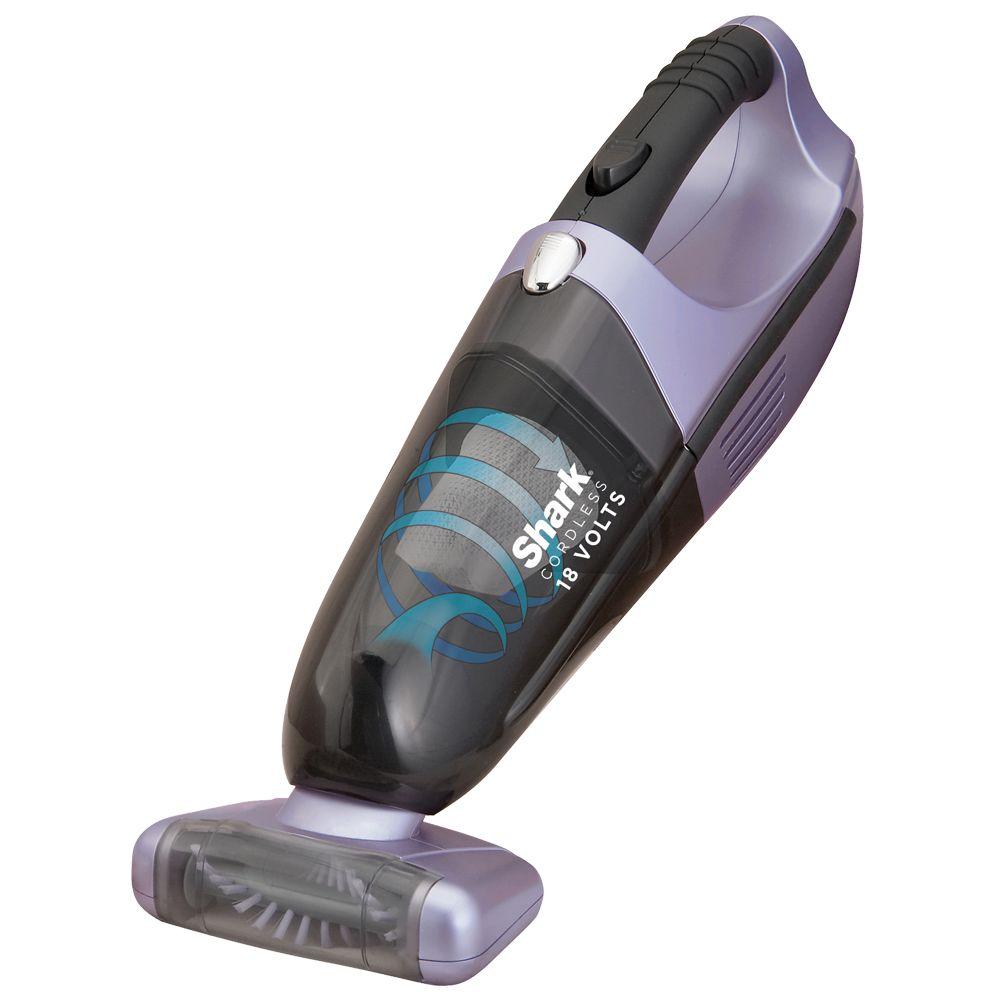 Most Affordable
Shark Pet Perfect II
Best for upholstery
Great for carpets
Neat storage
---
---
Product Reviews
Let's take a peek at the best handheld vacuums for sucking up pet hair.
1. Bissell Pet Hair Eraser Cordless Hand Vacuum
Most Portable Handheld Vacuum for Pet Hair
We're big fans of Bissell. This is a quality machine with all-around excellent capabilities. As you can tell by its name, Bissell made this vacuum for pet owners, and its main job is to remove hair from your surfaces.
That said, beyond pets, this is an excellent handheld to have for tidying dust and dirt too. Customers love this model because of its wonderful simplicity. There's no fuss, effort, or struggle when you use it.
We like the included accessories. You'll get a motorized brush tool, a crevice tool, and an upholstery tool. Sure, they're standard, but they do a fantastic job of managing pet hair.
They work alongside a triple filtration system for maximum efficiency. This machine runs on a 14-volt battery — more than enough to power a handheld. It has an indicator, too, so you can keep track of how well its battery is doing.
What We Like
Multi-Surface Ability for Deep Cleaning
You can use this machine on various surfaces, from floors to kitchen counters and cushions. It's effective on carpets, hardwood, and upholstery and comes with appropriate accessories for each.
This allows you to deep clean every inch of your home.
Easy to Clean Out After Use
With a dust bin of 0.7 liters, that's pretty spacious for a handheld option. It means less maintenance for you. The design is pretty flawless, giving you easy access to each compartment. This makes it easier to deep clean the whole machine.
Thanks to these features, you can trust that this machine will stay in tip-top shape for a while.
Compact and Handy
We find the tabletop station to be an interesting feature. It's nice that you can store this machine wherever best suits you, without having to mount it or pack it away. It will always be within reach and is made more portable by this.
What We Don't Like
It Charges Slowly
A common complaint about this machine is that it takes an agonizing eight hours to charge fully. Some users have also said that its battery doesn't hold a charge well.
This is fine if you won't use it too frequently. However, it can be a pain if you're looking for a machine that's always ready to go.
Product Specs
| | |
| --- | --- |
| Power | 14 volts |
| Dimensions | 4.5 inches by 16 inches by 5 inches |
| Weight | 3.1 pounds |
| Special features | Tabletop station, indicator, triple-level filtration |
| Accessories | Crevice tool, upholstery tool, motorized brush tool, charging dock |
Our Ratings
| | |
| --- | --- |
| Suction power | 4.5 / 5 |
| Filtration system | 4.5 / 5 |
| Attachments and accessories | 4.5 / 5 |
| Weight | 5 / 5 |
| Total Rating | 4.5 / 5 |
---
2. Shark Rocket HV292 Hand Vacuum
Most Effective Handheld Vacuum for Pet Hair
Don't be fooled by the corded design. This is a light and versatile machine that's capable of superseding cordless variations in almost all aspects.
Even though you have to plug it in, it's still portable, owing to two factors. For one, the cable is 15 feet long. For another, it only weighs 3.7 pounds.
This machine showcases power. Shark says they engineered the vacuum never to lose suction power — an essential feature in pet homes.
It's a multi-surface machine that works well on carpets, hard floors, car interiors, stairs, and upholstery. It comes with a dusting brush and crevice tool to make cleaning these spots even easier. You also get washable, reusable filters.
Here's what we like most: The TruePet motorized brush. Made specifically to remove even stubborn pet hairs, you'll notice the difference it makes when you use it.
What We Like
TruePet Motorized Brush Remove Stubborn Hairs
Motorized brushes tackle stubborn dirt, and we love that Shark built this one, especially for pets. Now you can say goodbye to those hairs that just won't budge. This vacuum is more than capable of taking care of them.
Extendable Hose for Tight Spots
We think the extendable hose is a superb addition that makes a world of difference. Most other handhelds are versatile but lack reach. This accessory will help you get hairs off and out of places you struggle to get to.
Still Versatile Even Though It's Corded
The 15-foot cable is long enough that this model hasn't lost versatility by being corded. It's also light, and lives up to the portability we expect from handhelds.
What We Don't Like
Needs Electricity At All Times
Fantastic as it may be, it's still a corded machine. That means to use it, you need a power source. The length of its cable helps, but you'll need easy access to wall plugs or extension cords to truly make the most of this model.
This also makes it a bit harder to clean your car since you'd need an extension lead or an outdoor socket.
It Might Not Last
Unfortunately, this model is not the most durable handheld out there. Some customers are disappointed by this and say it didn't last as long as they hoped. But, take good care of it, and you could extend its lifespan.
Product Specs
| | |
| --- | --- |
| Power | 400 watts |
| Dimensions | 9.7 inches by 4.9 inches by 13.6 inches |
| Weight | 3.7 pounds |
| Special features | Flexible wand, extendable hose, washable and reusable filters |
| Accessories | TruePet motorized brush, dusting brush, crevice tool |
Our Ratings
| | |
| --- | --- |
| Suction power | 4.5 / 5 |
| Filtration system | 4 / 5 |
| Attachments and accessories | 4.5 / 5 |
| Weight | 5 / 5 |
| Total Rating | 4.5 / 5 |
---
3. Bissell 33A1 Corded Pet Hair Eraser Handheld Vacuum
Best for Allergies
Here's the corded cousin of our top choice. It's not as popular with consumers, but it's still a competent, excellent machine. We recommend it to those looking to fight pet hair for their health.
There are two aspects to this machine that make it so great for allergies. First, it uses multi-level filtration to clear allergens from your surfaces and the air. Second, it has a unique flexible rubber nozzle to remove hair from fabrics and stairs.
The hard nozzle and contour nozzle work for hard surfaces and tight spots, like the inside of your car. It's easy to snap the accessories into place seamlessly. You can detach them with a release button.
This machine is also ergonomic and comfortable to use, thanks to its unique grip. The 16-foot cable makes it easy to move around. This handheld's bin packs as punch — it can hold up to 0.78 liters of dirt.
What We Like
It Cleans the Air
Even if you're not allergic or sensitive to pet hair, an excess of it can still bring about sneezes and sniffles. So, we appreciate the multi-level filtration that cleans your surfaces and the air.
It's Comfortable to Hold
This vacuum has an easy-grip handle that feels good in your hands. It enables more maneuverability and makes it easier (and safer) to carry.
Rubber Nozzles Protect Your Floors
This unique feature makes this model an excellent multi-surface machine. They work well on the surfaces they're intended for, and switching between them is effortless.
It says a lot about Bissell's dedication to convenience.
What We Don't Like
Demanding Maintenance From You
The dust cup in this machine is not easy to put back into place due to a design flaw that users picked up on. Plus, Bissel recommends emptying it after every use, which raises some frustration for customers.
Weak Suction Power
A few customers noted that the suction of this machine is not as strong as they expected. Others have mentioned blowback through design faults on the machine's sides.
If you have extremely furry shedding pets, such as golden retrievers, you may want to look for a stronger vacuum.
Product Specs
| | |
| --- | --- |
| Power | 440 watts |
| Dimensions | 10 inches by 5 inches by 8 inches |
| Weight | 5 pounds |
| Special features | Cyclone technology, multi-level filtration |
| Accessories | Flexible, hard, and contour nozzles |
Our Ratings
| | |
| --- | --- |
| Suction Power | 4 / 5 |
| Filtration System | 4.5 / 5 |
| Attachments and Accessories | 4.5 / 5 |
| Weight | 4.5 / 5 |
| Total Rating | 4.25 / 5 |
---
4. Dyson V8 Animal Cord-Free Vacuum
Best for Deep Cleaning
Dyson is one of the more revered manufacturers in vacuuming, and its Animal range vouches for it. This is a stick vacuum that serves pet owners who need a little more than a quick clean. It's got all the power of a traditional machine and all the versatility of a handheld.
This device is one of the most powerful stick vacuums on the market. We're not surprised because its very own Dyson V8 motor powers it. It's got a good battery, too — you can get up to 40 minutes run time out of it.
It's best suited for carpets and was built to tackle stubborn hairs on fuzzy materials.
Even so, it's a multi-floor machine. Included are four standard but handy attachments: a crevice tool, mini motorized tool, dusting brush, and combination tool. These attachments aid your deep-cleaning goals.
What We Like
Two Cleaning Modes
Enjoy ultimate cleaning control due to the two modes. Max gives you a considerable boost of suction power which is handy for upholstery. Powerful Suction is the other option that gives you longer, more energy-efficient cleaning.
Certified Allergy-Friendly
We recommend this one because it's so good at deep cleaning your home. While other handhelds are better for surface cleaning, this vacuum will refresh your entire home. It'll even clean the air inside it — that's hard to beat.
Four Handy Attachments Included
One drawback to standard handhelds is that they often lack cool attachments. Stick vacuums are the opposite, and this one is a testament to this. The four accessories you get are the usual ones, but it's still great that they're included.
What We Don't Like
It Costs More
Since this isn't a true handheld, you'll have to spend a little extra on it. We don't think this is a dealbreaker, though. It's a powerful machine that is well worth the money.
Keep in mind that you don't need to buy a separate vacuum alongside this. It's all-in-one for cleaning your entire home (and car).
Product Specs
| | |
| --- | --- |
| Power | 115 air watts |
| Dimensions | 8.8 inches by 9.8 inches by 49 inches |
| Weight | 5.63 pounds |
| Special Features | Two power modes, certified allergy-friendly filter |
| Accessories | Dusting brush, crevice tool, combination tool, mini-motorized tool |
Our Ratings
| | |
| --- | --- |
| Suction Power | 4.5 / 5 |
| Filtration System | 4.5 / 5 |
| Attachments and Accessories | 4.5 / 5 |
| Weight | 4.5 / 5 |
| Total Rating | 4.5 / 5 |
---
5. Shark Pet Perfect II
Most Affordable Handheld Vacuum for Pet Hair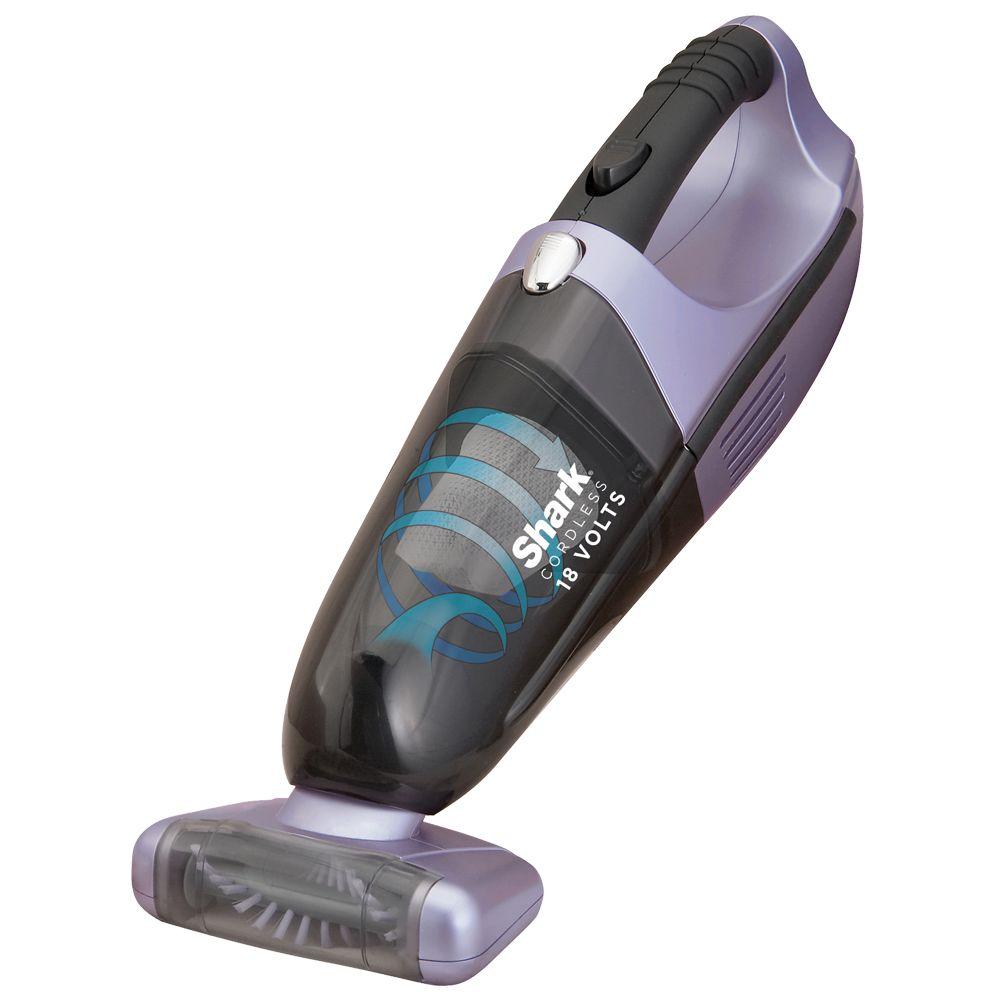 Last but definitely not least is this cool little guy from Shark. This model stands out because its purpose is to remove pet hair from upholstery. It can tackle both fine and stubborn hair. Pet dander is no match for it either.
It's a handy machine that you can use on your furniture, drapes, blankets, and car interior. You could even use it to clean your pet's bed. Though it's not necessarily meant for carpets, it does a good job on them regardless.
You get a dusting brush, a crevice tool, and an extra-large motorized brush to assist with your cleaning. It also comes with a reusable and washable filter. Though it's a budget option, it's a capable machine that you shouldn't overlook.
What We Like
Best for Cleaning Upholstery
Some pet owners want a machine that's just powerful enough. One that works to get pet hair off their cushions, couches, and blankets. This machine was designed for that and knocks most other machines out of the park.
Motorized Brush Roll Great for Carpets
Most handhelds aren't sufficient for cleaning carpets. But thanks to the motorized brush roll, this one works like a charm. We don't recommend attempting to clean your entire carpet with it, but it works in emergency situations.
Neat Space-Saving Storage
This machine comes with a mountable docking station, but it's also compact enough to fit on tabletops. So, if you don't want to commit a permanent spot on your wall to it, you can move it around as you go. It looks good and won't use up a lot of room.
What We Don't Like
It's Small With a Narrow Range
You're not going to get as wide a range from this one as you will from some other handhelds. Remember that this is meant to be for upholstery. Use it as intended, and this won't be a problem.
Battery Troubles
Some customers note that the battery sometimes cuts out unexpectedly. It could overheat and burn out with excessive use (or neglect). Maintain it well, and you could avoid this, as not all users have this problem.
Product Specs
| | |
| --- | --- |
| Power | 18 volts |
| Dimensions | 4.6 inches by 15.7 inches by 6.1 inches |
| Weight | 4.92 pounds |
| Special Features | Washable filter, versatile docking station |
| Accessories | Dusting brush, crevice tool, motorized brush roll, charging stand |
Our Ratings
| | |
| --- | --- |
| Suction Power | 3.5 / 5 |
| Filtration System | 3 / 5 |
| Attachments and Accessories | 3.5 / 5 |
| Weight | 4 / 5 |
| Total Rating | 3.5 / 5 |
---
Benefits of Handheld Vacuums for Pet Hair
We wouldn't be surprised if pets were responsible for most vacuum purposes. Although we love them, their hair tends to get everywhere, and cleaning up after them can be tiresome.
Typically, using a traditional vacuum cleaner makes cleaning pet hair more tedious. While they're highly effective at deep cleaning, they're often heavy and difficult to set up or maneuver.
Handhelds are a quick fix to the drawbacks of traditional vacuums. These devices can be just as useful at removing pet hair. Here's why we like them, and why you should think about getting one:
What to Look For
Not all handhelds are made equal. So if you have specific needs, don't settle for the first one you see. Vacuums for pet hair should have specific specs, as some machines aren't designed to clean dander, fur, or litter.
---
FAQs
---
Thank You For Your Feedback!
Thank You For Your Feedback!