If you've been wondering whether cordless vacuums are up to the challenging task of cleaning your home, you're not alone. These bad boys can do some serious damage when collecting dirt and debris. But how can you choose when there are so many options available?
That's where we come in. We've reviewed 10 of the best cordless handheld vacuums for your convenience.
Whether you want to quickly clean your home or spring clean your car, these vacuums are up to the challenge.
Image
Model
Product Comparison Table
Features
Most Lightweight
Shark WandVac Vacuum
Only weighs 1.4 pounds
Fast charging time
Comes with charging dock
Best for The Car
Bissell AutoMate Vacuum
Includes LED crevice tool
30 minutes charging
Triple-level filtration
Best for Allergies
Dyson V7 Trigger Vacuum
Two-tier radial cyclone technology
Trigger for control
Two power modes
Best for Dry & Wet Messes
Dewalt Hand Vacuum
Cleans dry & wet messes
Dual clean-up mode
Easy to store
Most Ergonomic
Hoover Cordless Handheld Vacuum
Only weighs 3 pounds
Easy to use
Washable filters
Best Emptying Mechanism
Shark UltraCyclone
Dual cyclonic air streams
2.8 pounds and versatile
Self cleaning pet power brush
Easiest To Use
VacLife Handheld Vacuum
20 minutes continuous runtime
LED light system
Easy-to-empty canister
Most Compact
Black+Decker Dustbuster
Automatic charging
Extendable crevice tool
Nozzle rotates 180 degrees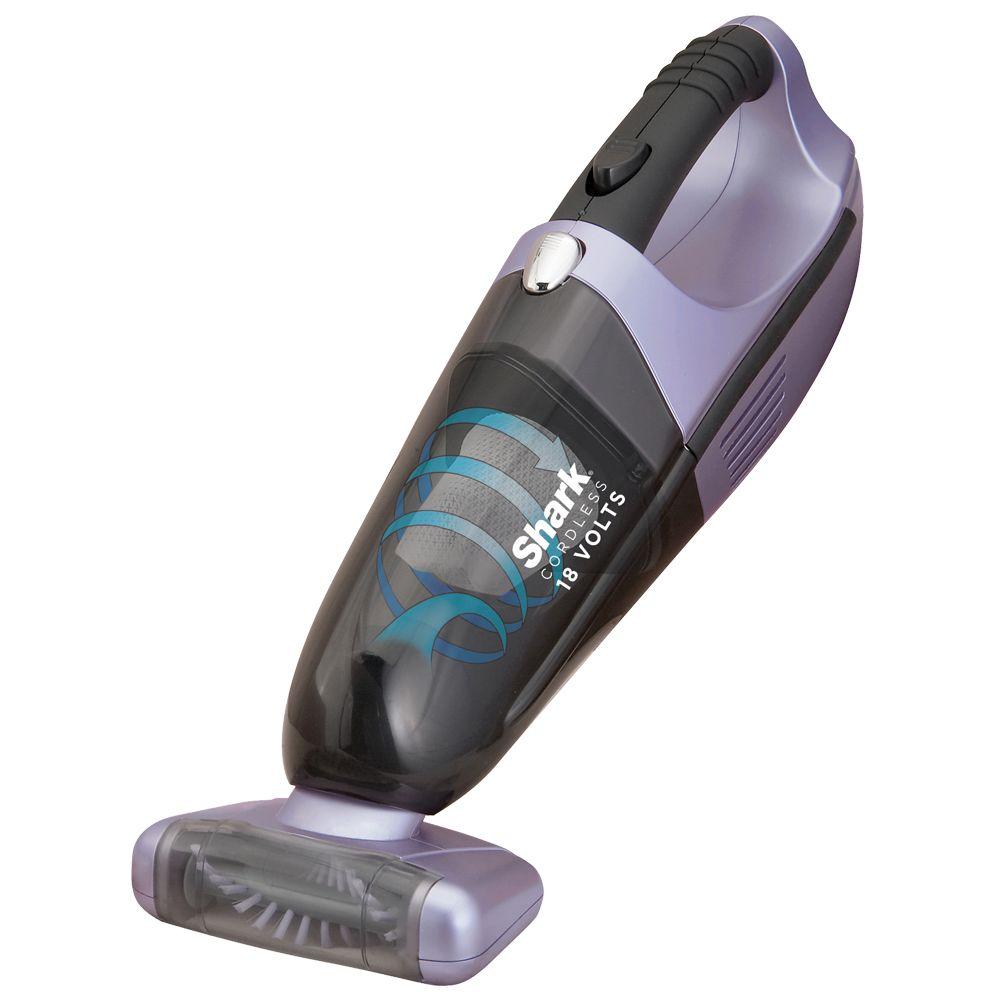 Best for Pets
Shark Perfect II Vacuum
Motorized brush-roll
Wall-mountable charging stand
Transparent dust canister
Best for Cleaning In Dark Areas
VacLife Handheld Vacuum
LED lights for seeing dirt
Lots of cleaning accessories
Washable filter
---
---
Product Reviews
Here are the top 10 cordless handheld vacuums.
1. Shark WandVac Handheld Vacuum
Best Lightweight Cordless Handheld Vacuum
Are you looking for an easy-to-use handheld vacuum? Allow us to introduce the WandVac from Shark. It weighs in at only 1.4 pounds — the most lightweight model on our list.
We love how this one looks, with a contemporary and sleek style that you can show off. It even won a design award this year. Plus, its cool charging dock allows for easy access when you want to clean up a mess quickly.
It's powered by a 115-watt lithium-ion battery, providing good suction for almost 10 minutes. The charging time is fast at 2.5 hours.
We also like the multiple attachments provided. It has a tapered nozzle, to begin with, but also includes a crevice tool for corners and small spaces. It has a cleaning path of 2.3 inches for nooks and crannies.
What We Like
Multi-Surface Pet Tool
Are you ready to capture your furry friend's hair from upholstery or carpet? The pet tool attachment is just what you need. It has a cleaning path of 3.6 inches to ensure quick and efficient cleaning.
Easy to Empty Dust Canister
When you're ready to empty the dust canister, press a button. That's it! The button is conveniently found under the off switch. You won't have to get your hands dirty since it has a spring-loaded design.
The filter is also washable too. This means you can reuse it time and time again.
Features a Charging Dock
We like the compact charging dock provided with this model. It looks good and won't take up a lot of space on a counter. You can also store the attachments on the back. Plus, it makes it easy to grab and go when you need it.
What We Don't Like
Short Runtime
Unfortunately, although this handheld vacuum has a fast charging time, it only runs for around 9.5 minutes on a full charge. You may not have a lot of time for cleaning large spaces.
Product Specs
| | |
| --- | --- |
| Battery | Lithium-ion |
| Charge Time | 2.5 hours |
| Runtime | 9.5 minutes |
| Charging Dock | Yes |
| Extras Included | Crevice tool, multi-surface pet tool, and charging dock |
---
2. Bissell AutoMate Cordless Handheld Vacuum
Best Cordless Handheld Vacuum for the Car
If there's one thing that cordless handheld vacuums are popular for, it's cleaning cars. After all, you probably can't use an upright or canister easily for this job due to the lack of power outlets in your driveway. Well, this task is made easy with this model.
It has unique car-detailing accessories. For example, the motorized brush tool is designed to clean material on your seats, car mats, and trunk carpet. It can loosen and lift dirt, crumbs, and debris.
There's also a cool LED crevice tool. This isn't just your standard, narrow crevice tool. Instead, it has a neat design to get into nooks and crannies, as well as an attached LED light. This can help you see clearly into poorly lit areas.
What We Like
Flexible Crevice Tool
There is a secondary crevice tool that is slightly flexible. The bendy structure lets you get into difficult and narrow spots where dust and dirt can gather.
30 Minutes Full Charge
A highlight of this model is that it seems to be fast at charging. Customer reviews say it only takes around 30 minutes to achieve a full charge. This is a lot faster than some that take three or four hours.
Once fully charged, it provides around 20 minutes of continuous cleaning time. That's very generous for how quickly it recharges!
Triple-Level Filtration
Triple-level filtration may be just what you need to remove dust and other small particles from your car. This could relieve allergy symptoms and ensure no pathogens linger in your vehicle.
Transparent Dust Canister
We like this design because it allows you to see everything you've collected. It helps you know when to empty the canister, which results in fewer clogs.
What We Don't Like
It's Quite Long
We noticed that some customers commented on the design of this handheld vacuum. They said that with a cleaning tool attached, it was quite long. This might make it difficult to maneuver around a small vehicle.
Product Specs
| | |
| --- | --- |
| Battery | Lithium-ion |
| Charge Time | 30 minutes |
| Runtime | 20 minutes |
| Charging Dock | No |
| Extras Included | LED crevice tool, flexible crevice tool, and motorized brush tool |
---
3. Dyson V7 Trigger Cord-free Handheld Vacuum
Best Cordless Handheld Vacuum for Allergies
This Dyson vacuum can capture dust and particles as small as 0.5 microns with two-tier radial cyclone technology. This may help remove pathogens and relieve allergy symptoms, such as sneezing, itchiness, and watering eyes.
The filter is also washable, so it can be cleaned between vacuuming sessions for better efficiency.
The Dyson digital V7 motor provides excellent suction for capturing everything from dust to debris. It delivers 110,000 repetitions per minute, and it's powered by lithium-ion batteries.
There are two power settings — Max Mode and Powerful Mode. Max Mode may be best for deep cleaning, with a suction power of 100 air watts for up to six minutes.
On the other hand, Powerful Mode might be best for everyday cleaning. It delivers a suction power of 28 air watts and lasts longer, with a maximum runtime of 30 minutes. Bear in mind, though, that full charge can take around three and a half hours to complete.
What We Like
Three Cleaning Attachments Included
For a deeper clean of hard-to-reach spots in your home, you'll appreciate the included attachments. Use the mini motorized tool for upholstery. The combination and crevice tool are great for narrow spots and corners.
Trigger for Control
The vacuum suction is user-controlled. You can simply press the trigger, conveniently located on the handle. This may help you conserve charge too so that you can vacuum for longer.
3.77 Pounds Lightweight
Being only 3.77 pounds, this is a convenient and lightweight design. It's suitable for maneuvering around your entire home and carrying to other locations.
What We Don't Like
It's Very Loud
One thing we did notice customers saying was that it was very loud. This might not be ideal for your household if you've got young children or pets.
Product Specs
| | |
| --- | --- |
| Battery | Lithium-ion |
| Charge Time | 3.5 hours |
| Runtime | 30 minutes |
| Charging Dock | No |
| Extras Included | Mini motorized tool, combination tool, and crevice tool |
---
4. Dewalt DCV517B Cordless Handheld Vacuum
Best for Dry and Wet Messes
The great thing about this handheld vacuum is that it can deal with both dry and wet messes around the home. This may be ideal if you've got young children — you can clean up crumbs and liquid spills in only a few minutes.
It has good suction, with high-speed spinning motors. This has a strong yet compact battery.
The runtime is estimated to be at around 20 minutes, which is the average time you'd expect for a handheld. This may be enough to make it around a few rooms in your house. What's more, its battery weighs 18 percent less than the previous unit.
We like its washable filter. This may help to filter away a significant amount of dust and allergens, and it's extremely durable as well.
What We Like
Only Need to Charge the Battery, Not Whole Unit
The great thing about this vacuum is that you can buy spare batteries. You only need to charge the batteries, not the whole unit.
Buy a couple of spare batteries, and you can have a more continuous cleaning experience.
Easy to Clean HEPA Filter
The highly effective and washable HEPA filter can help capture allergens and particles in the air. It's made of hard-wearing material, which you can wash and reuse for a while before replacing. This might save you money.
Easy to Store
This vacuum doesn't have to take up a lot of room when it's not in use. You can bring it anywhere you like.
What We Don't Like
Inconveniently Placed Vacuum Vents
Customers passionately dislike where the air vents are placed on this vacuum. Since they're on the sides, they can end up blowing debris and dust around while you're vacuuming. This defeats the purpose of the HEPA filter in some instances!
Product Specs
| | |
| --- | --- |
| Battery | 20V MAX |
| Charge Time | N/A |
| Runtime | 20 minutes |
| Charging Dock | No |
| Extras Included | Vacuum unit only and battery |
---
5. Hoover ONEPWR Cordless Handheld Vacuum
Most Ergonomic Cordless Handheld Vacuum
When we say this is the best ergonomic option, that's all down to the easy-to-grip handle. This shape makes it super easy to hold and maneuver without any hassle.
This handy vacuum has a removable battery pack which can be quickly released with a one-click button. When you run out of charge, you just put the battery on the charger, and you can store the vacuum separately, out of sight. Or you can borrow the battery from other compatible ONEPWR Hoover products, and you can return to cleaning.
It has an extra-large dirt bowl with an easy-empty design. Its nozzle is capable of cleaning up difficult-to-reach areas.
What We Like
Only Weighs 3 Pounds
This lightweight vacuum only weighs 3 pounds. This allows for easy maneuvering or even vacuuming one-handed, which is perfect for busy moms, especially when your baby wants to be held, but your floors also want to be cleaned.
Washable Filter
The washable filter can limit dust and other allergens from circulating back into the air. This is an awesome feature allowing you to save a few bucks for filter replacements.
Easy to Use and Powerful
This vacuum is straightforward to use, and emptying the dust bin has never been this convenient. The powerful suction takes away some of the stress of cleaning. Plus, you can quickly clean up messes on the go.

What We Don't Like
No HEPA Filter
This does not come with a HEPA filter. Thus, they are not guaranteed to trap 99.9 percent of dust and particles, like genuine HEPA filters.
Product Specs
| | |
| --- | --- |
| Battery | ONEPWR |
| Charge Time | Not stated |
| Runtime | 11 minutes |
| Charging Dock | Yes |
| Extras Included | Crevice tool, battery, charger |
---
6. Shark UltraCyclone Pet Pro Plus
Best Emptying Mechanism
I cannot tell you the difference when we got a vacuum with an easy emptying mechanism. There's not much grosser than getting all the gunk and dirt you've just collected all over your hands. With the Shark UltraCyclone Pet Pro Plus, you can empty the dust cup super quickly and hygienically.
The patented CleanTouch Dirt Eject design allows you to quickly empty the dust cup with a touch of a button. You don't need to touch the mess at all. It forcefully empties into the trash, so you're ready to use the vacuum again immediately.
You'll also enjoy the fact that this is super lightweight at only 2.8 pounds. Combined with the cordless design, it's easy to use anywhere. Take it out to the car, transport it all around the house, maybe even get your kids involved in cleaning chores!
What We Like
Dual Cyclonic Air Streams
More suction means a cleaner home. The two super-powerful cyclonic air streams increase the suction power and collect more dust and dirt. These air streams also ensure a long-lasting filter and a more durable motor life so that the vacuum can last for years to come.
2.8 Pounds and Versatile
The vacuum is lightweight and compact, making it an excellent option for transporting anywhere and everywhere. So if your car is looking a little dirty, take this out and enjoy a blissful and easy clean.
Self Cleaning Pet Power Brush
This is one of the most innovative additions to this vacuum. The self-cleaning brush removes hair as it wraps around the brush. This improves suction and makes it maintenance-free for users to enjoy.
The Pet Power Brush picks up pet hair quickly and effectively from the floor, furniture, and other areas.
What We Don't Like
Poor Battery Life
While some customers experienced a good battery life of around 25 minutes, other customers experienced 10 minutes of run time before the battery needed to be charged again. 10 minutes isn't a lot of time to finish all the tasks at hand.
Not Good for Embedded Hairs
Although this has fantastic suction, it's not enough compared to some of the more expensive vacuums on the market. When it comes to pet hairs embedded on fabric couches, this vacuum doesn't have quite enough power to remove it.

Product Specs
| | |
| --- | --- |
| Battery | Lithium-ion |
| Charge Time | 6 hours |
| Runtime | 10-25 minutes |
| Charging Dock | No |
| Extras Included | Crevice tool, scrubbing brush, and pet power brush. |
---
7. VacLife VL189 Cordless Handheld Vacuum
Easiest to Use
Do you want a simple cordless handheld vacuum for around the home? We don't think you'll be disappointed with this one.
There's a range of tools included for various jobs. The crevice tool, for instance, may be used to clean sofas and corners. Then you've got a brush tool as well.
It runs with a 2000 mAh lithium-ion battery. We'd say the suction is enough to collect mold, pollen, pet hair, and even cigarette ash.
Included are two extra filters to capture contaminants from around your house. These are easy to remove and maintain — just wash them by hand and let them dry out.
After you're done cleaning, just hit the button to release the transparent dust canister.
What We Like
20 Minutes Continuous Runtime
We like that you can use this vacuum continuously for 20 minutes. This is a reasonable amount of time for cleaning, especially if you've got to spring clean a few rooms.
While it might not be suitable for larger homes, it's great for small apartments and houses.
LED Lights for Illuminating Dirt
This isn't just an ordinary vacuum capturing dirt, crumbs, and hair. You can also use it to clean up messes at night or when trying to reach hard surfaces that are not easily accessible by light.
Easy-to-Empty Canister
You only have to press one button to release the dust canister from the vacuum. The base opens, and you can empty the contents straight into the trash. There's no need to get your hands dirty.
What We Don't Like
Three Hour Charging Time
Between uses, you have to factor in a lengthy three-hour charge time. This is a lot for 20 minutes of run time.
Product Specs
| | |
| --- | --- |
| Battery | Lithium-ion |
| Charge Time | 2.5 to 3 hours |
| Runtime | 20 minutes |
| Charging Dock | No |
| Extras Included | Crevice tool, brush tool |
---
8. Black+Decker Dustbuster Cordless Handheld Vacuum
Best Compact Cordless Handheld Vacuum
This one is slightly different since the cleaning tools are attached to the vacuum. The tools include a flip-up brush and an extendable crevice tool. With the accessories joined to the machine, this choice may be more compact for storage.
Of course, the cleaning accessories are good for vacuuming too. You may be able to clean more narrow, hard-to-reach spaces.
When you choose this model, you can expect a lithium-ion 16-volt battery. This can provide you with 15.2 air watts of suction power for vacuuming your living room, kitchen, or bedrooms.
The runtime on this one is around 11 minutes. A full charge takes about four hours, and you can use the charging base for this task. While it's charging, there will be a flashing blue light, and it'll stop when it's done.
What We Like
Automatic Charging With 18 Month Hold
This dustbuster shuts off when it's fully charged, so it doesn't affect the battery's health. You can store it on the charging station too.
An excellent thing about this model is that the battery can hold its charge for up to 18 months. This is due to being a long-life lithium-ion battery. So you can just put it away and bring it out whenever you need it — it'll be ready to go.
Lightweight With Large Dust Canister
This model only weighs 2.6 pounds — pretty lightweight compared to some handheld vacuums. The dust canister holds 0.58 liters of dirt and debris, which should do for quick cleaning sessions. The canister is transparent, so you know when it's full.
To empty, click the release button over a trash can. So easy!
Nozzle Rotates 180 Degrees
Cleaning can be more efficient with the rotating nozzle. You can maneuver it into small spaces to vacuum out dirt. It's able to rotate 180 degrees.
What We Don't Like
Charging Base Requires a Horizontal, Flat Surface
To charge the vacuum, you have to place it on the charging base. This may not be suitable if you don't have a surface to place it on in your laundry room or kitchen. It also doesn't snap in so that it may knock out of place, especially on a non-horizontal surface.
Product Specs
| | |
| --- | --- |
| Battery | Lithium-ion |
| Charge Time | 4 hours |
| Runtime | 11 minutes |
| Charging Dock | Yes |
| Extras Included | Crevice tool, charging base, and flip-up brush |
---
9. Shark Perfect II Cordless Handheld Vacuum
Best Cordless Handheld Vacuum for Pets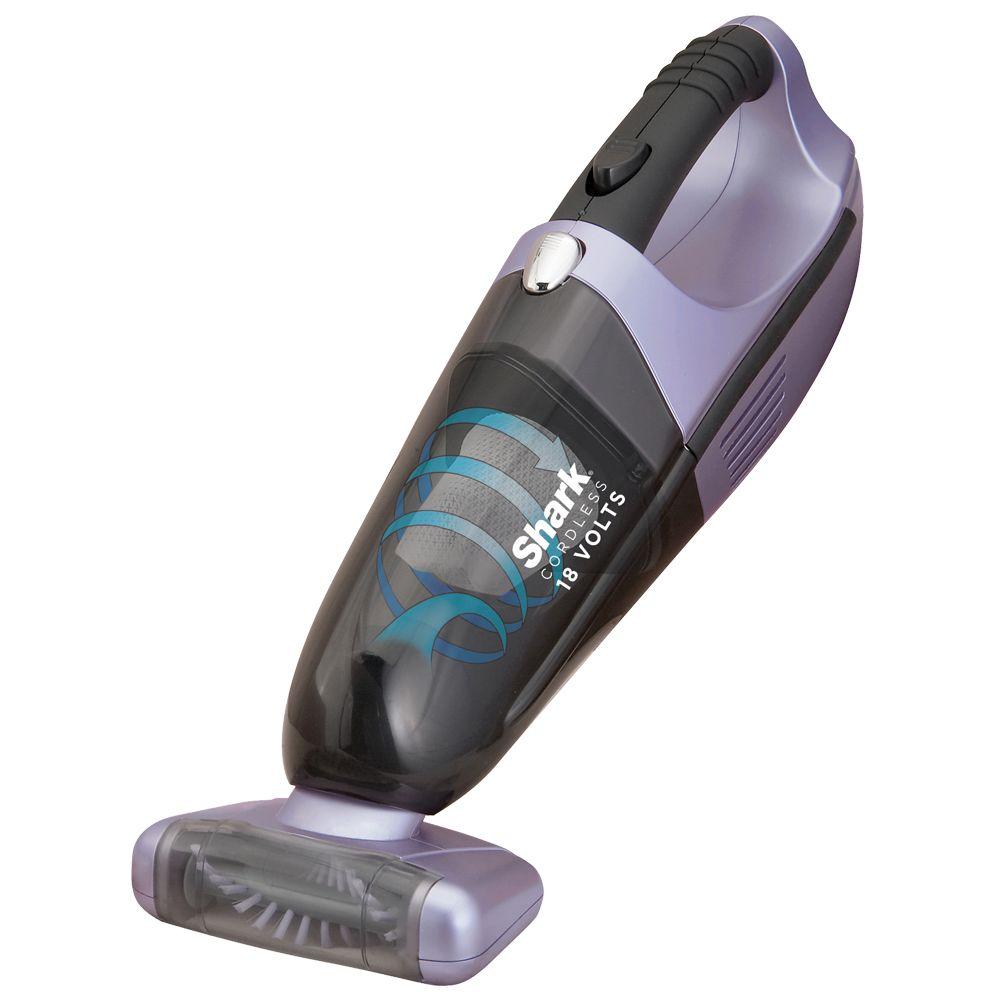 Do your pets shed a lot? Perhaps it's time to invest in a Shark handheld cordless vacuum. It comes with a special motorized brush-roll accessory. This can work out stubborn dirt and pick up loose hairs.
There's also a dusting brush you can attach to this model. It may be useful for worktops, shelves, and underneath furniture. For narrow spots, use the crevice tool provided. We love that it has slots for accessories to keep everything together.
It's run by an 18-volt lithium-ion battery which you can recharge by placing on the charging stand. We like this charging stand because it can be used on a table or wall-mounted. The vacuum also lights up when it's charging, so you know it's plugged in at a glance.
What We Like
Ergonomic Shape for Comfortable Use
The ergonomic shape is an enjoyable feature. It's easy to hold this vacuum and maneuver it around. The on/off switch is conveniently placed on the handle within reach.
Twister Cyclonic Technology
Thanks to this high-powered technology, blast away dust and debris from any surface. The suction power is impressively strong so that you can achieve a cleaner home.
Transparent Dust Canister
You won't have to guess when the dust canister is full — you'll be able to see it. This one is clear plastic, so you can empty the dust and dirt only when you need to.
It's also easy to empty; just hold down the button. There's an included filter for cleaning the air in your home, too. The filter is washable so that you can clean and dry it yourself once a month.
What We Don't Like
Very Long Charging Time
It takes a full 16 hours to reach a full charge with this vacuum. This is incredibly long and not convenient for a quick clean. This is even worse, considering it only has around 12 minutes of runtime.
Product Specs
| | |
| --- | --- |
| Battery | Lithium-ion |
| Charge Time | 16 hours |
| Runtime | 12 minutes |
| Charging Dock | Yes |
| Extras Included | Motorized pet hair brush, crevice tool, and dusting brush |
---
10. VacLife VL706 Handheld Rechargeable Vacuum
Best Cordless Handheld Vacuum for Cleaning Dark Areas
Have trouble spotting dirt in dark places? This handheld vacuum features an LED light to illuminate the surface in front of you. It might help capture debris you couldn't spot and whatever else is hidden in the shadows.
We like the arrangement of cleaning attachments included with this model. You've got the brush tool, which offers carpets and blankets protection from dust. Meanwhile, you may use the versatile crevice tool on anything.
What We Like
20 Minutes Run Time
This is one of the vacuums that gives a midrange runtimes from the vacuums on our list. A 2000 mAh lithium-ion battery powers it. A recharge takes around 3-4 hours on the provided adapter.
Super Lightweight at 2.49 Pounds
This is one of the lightest vacuums on our list. At 2.49 pounds, this is super lightweight and easy to maneuver. It's great for getting the kids involved in chores, too.
Washable Filter
A washable filter won't break your bank and may be better for the longevity of your vacuum. The dual layered filter is made of a nylon and a paper HEPA filter. You can wash it many times before it has to be replaced.
What We Don't Like
Difficult to Clean
We saw a trend with customer reviews that this one may not be the best for removing the filter should you want to clean it since you first have to remove the strainer and swivel the filter out so that you can manually remove the dirt. The good thing is that it comes with an extra filter so you can use the other as an alternative while waiting for it to be cleaned.
Product Specs
| | |
| --- | --- |
| Battery | Lithium-ion |
| Charge Time | 3–4 hours |
| Runtime | 20 minutes |
| Charging Dock | No, but it comes with a charger |
| Extras Included | Dust brush tool and crevice tool |
---
Why Buy a Cordless Handheld Vacuum?
Are you wondering what benefits a cordless handheld vacuum can offer you? We've outlined them below so you can find out.
How to Choose (Buying Guide)
We've found some fantastic features to transform your cleaning experience with a cordless handheld vacuum.
---
FAQs
Are Handheld Vacuums Worth It?
Handheld vacuums are worth it if you want to clean up small spills. They also get into tight spots that larger vacuum cleaners struggle to reach. They are also handy for vacuuming the interior of your car.
How Long Do Handheld Vacuums Last?
Handheld vacuums last approximately two to five years. They are typically battery-operated, and you will need to replace the entire vacuum when the battery wears out.
How Long Should a Cordless Vacuum Battery Last?
A cordless battery should last two to five years, depending on how often it gets used and charged. The battery may not last as long if you use your handheld for heavily soiled areas.
Which Handheld Vacuum Has the Longest Battery Life?
The handheld vacuum with the longest battery life is the Tineco Cordless. It is technically a stick that converts into a handheld but has a runtime of 80 minutes. Compare that to some handheld vacuums with just 17 minutes of power, and it wins hands down.
What Cordless Vacuum Has the Best Suction?
---
Thank You For Your Feedback!
Thank You For Your Feedback!