Vacuums are a necessity in homes, but not everybody can afford the top-of-the-range models.
That's why we've found seven budget-friendly alternatives. They have cool features, clean well, but won't burn a hole in your bank account.
Before we share the best cheap vacuums currently available, we'll walk through the different specs you should consider before buying.
Image
Model
Product Comparison Table
Features
Best Value for Money
VonHaus Corded Stick Vacuum
Exceeds expectations
Multi-surface machine
HEPA filter
Best Budget Handheld
Songtai Handheld
Lightweight and compact
Battery proctection
6000 pascals suction power
Best Budget Stick Vacuum
Bissell Featherweight
Only weighs 2.6 pounds
Most affordable
Convertible handle
Best Budget Upright Vacuum
Eureka PowerSpeed Upright
Weighs 10 pounds
Detachable handle
Great accessories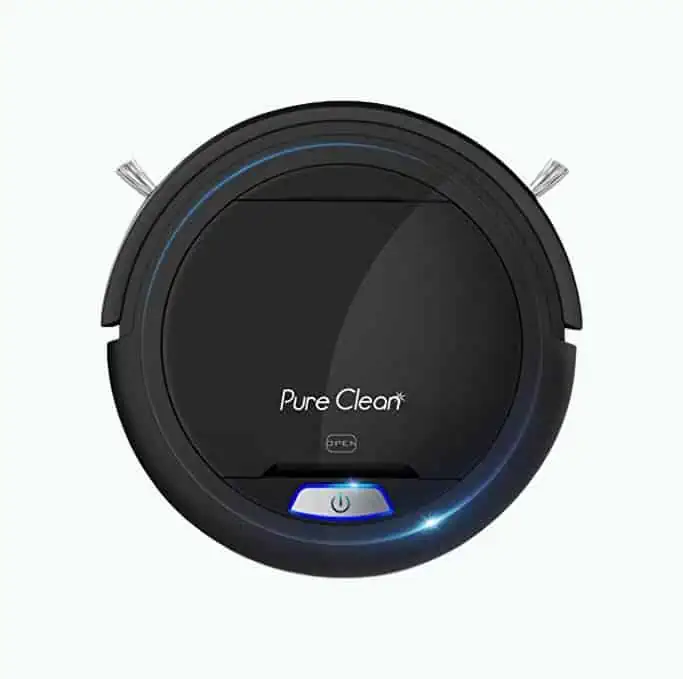 Best Budget Robot Vacuum
Pure Clean Robot Vacuum
Dual rotating brushes
Great for pets
Convenient to use
Best Budget Canister Vacuum
Ovente Bagless Canister
Awesome accessories
Swivel technology
HEPA filtration
Best Budget Commercial Vacuum
Hoover PortaPower
Weighs 8.3 pounds
Multi-surface
Functions as blower
Review Methodology: At Oh So Spotless, we carefully analyze and assess various cheap vacuums to provide you with a trustworthy evaluation and comparison. Drawing from our hands-on experience and extensive research, we measure and rank each vacuum's performance based on key decision-making factors, such as suction power, design, filtration, ease of use, and durability. Our professional insights and quantitative data help you understand what sets each product apart from its competitors, allowing you to make an informed decision. We also explain the impact of design choices on users and share first-hand evidence to support our recommendations for the best cheap vacuums in the market.
---
---
The Best Cheap Vacuum Reviews of 2023
We've chosen seven of the best cheap vacuums to share with you.
VonHaus 2-in-1 Corded Stick Vacuum
Best Value for Money
This handheld convertible stick vacuum packs quite a punch with powerful 600W suction. It's a multi-surface machine that works on fine dirt and stubborn debris, pet hair, and crumbs. Plus, it only weighs 5.57 pounds.
It has a 1.3-liter easy-to-remove dust cup to capture debris from various surfaces, including carpets, hard floors, and furniture. Being lightweight gives you more control and access to tight spots. There's also a HEPA filter for better breathing.
Other features include a highly efficient brush and six meters of a power cord. You get a crevice tool as well.
What We Like
Exceeds Expectations
A common compliment for this model is that it works much better than customers expect. Users are surprised by how powerful this vacuum is and say it goes above and beyond. This is noteworthy, especially considering the low price.
Multi-Surface Machine
We like that this machine is a handheld convertible. It's lightweight enough to work on stairs or high spots effortlessly. And, it's good for carpets, hard floors, and furniture.
HEPA Filter for Folks With Allergies
This is something we always like to see. The addition of a HEPA filter makes this one a great choice for pet homes or users with allergies.
The filter captures small particles, so they don't blow back into the air. While this isn't necessary if you don't have allergies, it comes at such a small cost with this machine is worth it.
What We Don't Like
It's Corded With Limited Range
You have to plug this machine in, even when it's in handheld mode. The 20-foot long cord is pretty generous, but the range is still limited compared to cordless vacuums.
Only One Accessory Included
It's great that you get a HEPA filter included. But we're a bit disappointed that the only cleaning tool you receive is a crevice tool. It would've been nice to get more extras from this model.
Product Specs
| | |
| --- | --- |
| Power/Suction | 600 watts |
| Dimensions | 12 inches by 6 inches by 6 inches |
| Weight | 5.57 pounds |
| Special features | 1.3L dust bin, easy-glide brush, HEPA filter, handheld convertible |
| Accessories | Crevice tool |
Our Ratings
Community Feedback
"I recently purchased this lightweight vacuum, and despite its toy-like appearance, it packs a surprising punch in power! As a 70-year-old with arthritis, I found it easy to assemble and maneuver, making quick cleanups a breeze. However, it doesn't glide smoothly on carpets and is better suited for light debris and hard floors, so keep that in mind when considering this budget-friendly option."
---
Songtai Handheld Vacuum
Best Budget Handheld Vacuum
The capabilities of this handheld machine beat most traditional machines. For one, it has a PM2.5 washable filter. It's 6000 pascals strong. Plus, it can give you up to half an hour of run time.
This handheld vacuum weighs 1.6 pounds with 22W suction power. It includes four attachments: a long suction mouth, a brush nozzle, a liquid dust cup, and a flexible hose.
The liquid dust cup is handy. If you have juice spills, this can eliminate up to 100ml of liquid at a time! Overall, these accessories provide a deep clean at one of the lowest prices we've seen.
What We Like
Lightweight and Compact
Weighing only 1.6 pounds, it is 20 percent lighter than most brands, allowing faster navigation from one place to another. It also comes with a hanging loop that will become handy for storage.
Battery Protection Prevents Short-Circuiting
The battery takes about three to four hours of charging, equipped with temperature, input voltage, current, and short circuit protection. This ensures a safe charging process.
6000 Pascals Suction Power
For a handheld vacuum, 6000 pascals is a lot. The suction in this machine works extra well washable filter. You'll have better air quality and easier removal of dirt, cigar butts, food crumbs, debris, hair, and even water stain.

What We Don't Like
Small Range
Though you get excellent specs from this machine, remember that it is still a handheld. So, it's great for tidying but won't work well for deep cleaning your whole home.
Product Specs
| | |
| --- | --- |
| Power/Suction | 100 watts/6000 Pa |
| Dimensions | 14.06 inches by 4.92 inches by 4.17 inches |
| Weight | 1.52 pounds |
| Special Features | Washable filter, battery protection |
| Accessories | Long suction mouth and a brush nozzle |
Our Ratings
Community Feedback
"I recently purchased a rechargeable hand vacuum and found it to be a decent product for quick and light messes, such as cereal spills and dead flies. However, I was not overly impressed with its suction power and small dustbin, making it less effective for heavier tasks like cleaning car interiors or tackling pet hair. Additionally, the front cover tends to come off too easily, and the battery life could be better, but it does serve its purpose for minor cleanups around the house."
---
Bissell Featherweight Stick Bagless Vacuum
Best Budget Stick Vacuum
If you're looking for a versatile stick vacuum, here's one for you. As its name implies, its convenience lies in how lightweight it is. This vacuum was designed for ease of use. It is portable enough to work on stairs, multiple surfaces, and hard-to-reach spots.
It's actually three tools in one: a stick vacuum, a handheld, and a stair vacuum.
Included with it are a crevice tool and a floor nozzle. It's suitable for both carpets and hard floors, and you can use it on countertops and upholstery as well. This model is also compact, so storage and maintenance are easier.
What We Like
Only Weighs 2.6 Pounds
This vacuum weighs less than 3 pounds, so carrying it won't be a problem at all. It's most advantageous to those with multi-story homes.
Great for Those on a Budget
If the price is your top priority, have a look at this vacuum's tag. It's one of the most affordable vacuums on the market. So, if you're on a budget, it's bound to save you more money than you expect.
Convertible Design for Deep Cleaning
You can convert this machine into a handle vacuum for cleaning difficult spots, car interiors, or high places. It adds to this model's versatility and ease of use.
It also converts to a stair handle so you can pick up dust and crumbs from your stairs without stress.
What We Don't Like
It's Corded With Limited Range
This vacuum comes with a cord, so you'll need a power source nearby to make it work. Customers mention that a longer cord would have been nice, though users are still satisfied with it overall.
Product Specs
| | |
| --- | --- |
| Power | 240 watts |
| Dimensions | 8.3 inches by 9.5 inches by 44.2 inches |
| Weight | 3 pounds |
| Special features | Convertible into 3 machines, easy to empty |
| Accessories | Crevice tool, floor nozzle |
Our Ratings
Community Feedback
"I recently purchased this compact vacuum and it's been a fantastic addition to my cleaning routine. As a dog owner, I constantly battle hairballs accumulating everywhere, but this little vacuum has more suction power than I expected and easily tackles the hair on my laminate and tiled floors. It's lightweight, making it easy for me to carry around with one hand. The only downside is the short cord, but overall, this is a great buy for quick clean-ups on non-carpeted surfaces."
---
Eureka NEU182A PowerSpeed Upright Vacuum
Best Budget Upright Vacuum
This traditional model works well on stubborn dirt and debris and is great for all floors. It works on carpets and rugs and has smooth wheels that prevent damage on hard floors. There are also five adjustable height settings for precision.
At just under 10 pounds, this is a light upright vacuum. It's designed for use around your whole home and has a detachable handle for cleaning high places. Also included are a crevice tool, a dusting brush, and an upholstery tool, each of which is stored onboard.
It's also available in blue and purple if you're looking for a vacuum in fun colors.
What We Like
Weighs 10 Pounds
Upright vacuums generally require elbow grease to use. We like that this model weighs less than 10 pounds. It makes cleaning so much easier.
Detachable Handle
It's surprising for an upright, but this feature gives it a handheld feel. The detachable handle lets you clean in higher spots like ceiling corners or curtains. While you're still attached to the main body of the machine, you have a generous range to work with.
Great Accessories for Versatile Vacuuming
Sometimes, upright vacuum cleaners don't go the extra mile. This one, however, does. It's a multi-surface machine already, and it comes with a crevice, brush, and upholstery tool for more versatile vacuuming.
What We Don't Like
It's Noisy and Distracting
Some customers describe the noise as a whistle. It's a bothersome sound that not everyone can look past. If you're sensitive to annoying noises, this vacuum may get on your nerves.
Takes a While to Figure Out
It could take a few tries to figure this vacuum out. Some customers report blowback; others mention that the controls are tricky to find your way around. However, feedback is generally positive for this machine, so it's worth the learning curve.
Product Specs
| | |
| --- | --- |
| Power | 960 watts |
| Dimensions | 44.4 inches by 13.3 inches by 13.7 inches |
| Weight | 9.6 pounds |
| Special features | 5 adjustment settings, washable filter, detachable handle |
| Accessories | Crevice tool, brush tool, upholstery tool |
Our Ratings
Community Feedback
"I recently replaced my old Eureka bagless vacuum with this new model and I couldn't be happier with the results. It's slightly larger, but much lighter and easier to maneuver than my previous vacuum. The pet-hair mini roller brush is a fantastic addition, especially with a long-haired cat in the house. With 8 amps of power, this vacuum has no problem pulling dirt and dust out of my carpets, even in high-traffic areas. The filter and catch bin are simple to clean, and the attachments store conveniently on the body of the machine."
---
Pure Clean Robot Vacuum
Best Budget Robot Vacuum
Robot vacuums are all the rage but are often overpriced. If you're looking for the convenience and sophistication they offer at a fraction of the expected price, take a look at this model.
It gives you around 55 minutes of run time and 1200 pascals of suction. It's a multi-floor machine that works on hard floors and low carpets. The vacuum also has a low profile and can fit under most furniture.
Dual rotating brushes assist in cleaning corners, linings, and skirtings. It includes a HEPA filter and is designed to resist clogging from pet hair. It's also got safety features to prevent falls and bumps.
What We Like
Dual Rotating Brushes
A weakness in robot vacuums is that they can't clean corners because of their shape. So, dual rotating brushes give this model reach into odd places. Now you can get rid of the dust and dirt on your wall lining too.
Great for Cleaning Homes With Pets
This robot's HEPA filter and anti-clog mechanics make it an excellent choice for pet owners. It clears the air of allergens and reduces your maintenance. Your home will feel much cleaner after putting this vacuum to the test.
It's Convenient to Use
As with all robot vacuums, the most significant appeal of this model is that it's effortless to use. It's automated, so you don't have to operate or charge it manually. Ultimately, it saves time and energy.
What We Don't Like
Short Run Time of 55 Minutes
This vacuum only has 55 minutes of run time, which is shorter than most robot competitors. Consider that it saves you hundreds of dollars, and this is a small sacrifice.
It's Not Always Independent
This machine doesn't run as smoothly as more expensive models will. You may have to help it if it gets stuck or monitor it when cleaning debris. Regardless, users agree that this is a nifty vacuum when it stands alone and isn't compared to higher-range models.
Product Specs
| | |
| --- | --- |
| Power | 1200 Pa |
| Dimensions | 11 inches by 11 inches by 2.9 inches |
| Weight | 4.4 pounds |
| Special features | Smart navigation, anti-fall technology, anti-clog technology, dual rotating brushes |
| Accessories | 2 detachable brushes, washable filter, charger/ power adapter |
Our Ratings
Community Feedback
"This robotic floor cleaner has been a great help in managing pet hair and reducing my cleaning time. The device does require frequent emptying of the storage bin and struggles with area rugs, but overall, it performs well for the price. The vacuum is lightweight, and although it lacks a docking station and has a shorter battery life compared to pricier models, it may be suitable for smaller living spaces. While I'm satisfied with my purchase, I do wish it had better brush attachments and a mop feature."
---
Ovente Bagless Canister Vacuum
Best Budget Canister Vacuum
This 1200-watt vacuum cleaner is a powerful alternative to better-known canisters. It uses one-pass technology to reduce cleaning time and includes HEPA filtration. It's also got an LED light for more efficient dirt monitoring.
A step button powers the machine, and automatic cable rewind saves hassle. The hose can swivel a full 360 degrees, and the telescoping wand adds reach.
This deal includes a sofa/pet brush for upholstery, a floor brush, and a combination crevice nozzle and bristle brush. These included accessories will help you achieve a deeper clean of your home.
What We Like
Awesome Accessories for Deep Cleaning
Staying true to canister vacuums, this model includes everything you need. It even comes with a pet-specific upholstery brush, which most canisters exclude.
360 Degree Swivel Technology
The hose of this vacuum can rotate a full 360 degrees. It makes a significant difference in control, maneuverability, and versatility. The telescoping wand is also a great addition and adds to the overall range of this model.
HEPA Filtration System
It comes with a HEPA filter to top off how much of an all-rounder this vacuum is. This is great for pet owners or those with allergies. It's truly a multi-purpose machine you can use around your whole home.
What We Don't Like
Average Quality Machine
Some customers describe this machine as mediocre compared to other models. While it's certainly not a dud, it doesn't quite match the capabilities of higher-range canisters. To put it simply, you get what you pay for.
Canister Design Drawbacks
It comes with the same cons as all canisters. Storage might be difficult, assembly is required, and you sacrifice some control over the vacuum's path.
Product Specs
| | |
| --- | --- |
| Power | 1200 Watts |
| Dimensions | 11 inches by 15.5 inches by 10 inches |
| Weight | 12 pounds |
| Special features | 360-degree swivel hose, HEPA filter, LED light, automatic cord rewind, telescopic wand |
| Accessories | Sofa/pet brush, crevice nozzle and bristle brush, floor brush |
Our Ratings
Community Feedback
"I'm extremely pleased with my new vacuum, as it has exceeded my expectations in terms of performance and affordability. With multiple cats in my home, fur and scattered litter is a constant battle, but this vacuum tackles it all effortlessly. Initially, I wasn't thrilled about it being bagless, but the auto-rewind feature and its impressive first use won me over. Plus, the EZ SPARES Turbo Brush Head attachment I purchased separately has proven to be a game-changer, making short work of the fur that accumulates on carpets and rugs."
---
Hoover CH30000 PortaPower Commercial Canister Vacuum
Best Budget Commercial Vacuum
Finally, if you're looking for more power but find that most commercial vacuums exceed your budget, here's a Hoover for you. It only weighs 8.3 pounds, knocking other commercial models out of the park. Additionally, it comes with a cord over 30 feet long, so it's lighter with more reach.
A feature that stands out in this machine is that it functions as a blower. It's a multi-surface vacuum that works well on interiors, fabrics, and upholstery.
Another bonus is that this Hoover can take both a cloth bag and a paper bag. So, you can switch between cleaning to suit your needs better.
What We Like
Weighs 8.3 Pounds
We're praising its weight because it's impressive for both a commercial and canister vacuum. You'll have no problem moving this model around to clean stairs, car interiors, or multi-story homes.
Multi-Surface Ability
We like that this commercial vacuum is gentle enough to handle fabrics and upholstery. It will tackle all sorts of dirt and debris and effectively take care of your sensitive surfaces.
Doubles As a Blower for Outdoor Use
This multi-purpose vacuum functions as a blower, so you can also use it outdoors. This is a rare feature in vacuums, so this Hoover stands out.
What We Don't Like
It's Better for Tidying
Some customers mention that this machine has some difficulty with carpets or larger spaces. Though it's commercial in rank, it's best used within the same capacity as a handheld.
Smaller Capacity
Users also note that the dust capacity of this model doesn't match higher-end commercial vacuums. At 1.9 liters, you might expect more from a commercial-level vacuum.
Product Specs
| | |
| --- | --- |
| Power | 888 watts |
| Dimensions | 20.9 inches by 7.8 inches by 12.5 inches |
| Weight | 8.3 pounds |
| Special features | Blower, 33-foot cord |
| Accessories | Filter bags, filter bag kit, crevice tool, dusting brush, floor nozzle |
Our Ratings
Community Feedback
"I'm genuinely impressed by the convenience and power of this vacuum, making it a breeze to clean tight spaces and stairs. Its lightweight design and extra-long power cord make it easy to maneuver, and it's perfect for a variety of surfaces like area rugs, tile, and wood floors. While it doesn't come with a carpet attachment, the suction is still pretty good, though not commercial-grade. One minor drawback is the lack of instructions for using the paper bag adaptor, but the cloth bag works just fine for most cleanups."
---
How Much Should You Pay for a Vacuum?
Right off the bat, the answer to this question is up to you. We all have different ideas of what "affordable" means. Regardless, as with any other product, it's easy to overspend on vacuums for all their bells and whistles.
Reports show that the market value for vacuum cleaners continues to increase. As of 2022, the total revenue earned from vacuum cleaners is over 5.5 million dollars in the U.S alone. The U.S ranks third in revenue, below China and India (1).
The average price of a vacuum cleaner, irrespective of the brand, type, or features, is estimated at 160 dollars. Granted, that doesn't seem so extreme. But not everyone has that kind of cash to spend on cleaning machines.
Why Are Vacuum Cleaners So Pricey?
There are many variables when it comes to the cost of vacuum cleaners. Each manufacturer will, of course, have its own business model. Vacuums are priced with this in mind, so comparing them would be difficult.
Still, a few factors common to all models influence the price of a vacuum cleaner. Consider the following:
How to Choose an Affordable Vacuum
The key, then, is understanding what raises the price of vacuums. If you do, you'll make a more informed decision on the best cheap vacuum for you. You can narrow your choices down by keeping a few things in mind:
---
FAQs
---
Thank You For Your Feedback!
Thank You For Your Feedback!