Are you thinking about buying a cordless stick vacuum? Do they genuinely stand a chance compared to corded ones?
We use a cordless stick vacuum in our home and love the incredible results. We have put together a guide for buying one of these handy devices based on our own experience and research.
There are many options available on the market. But we've narrowed it down to the seven best cordless stick vacuums, so you can find the right one for your home that offers cleanliness, convenience, and portability.
Image
Model
Product Comparison Table
Features
Most Versatile
Jashen Stick Vacuum
Long run time
Two brushes included
Quiet and versatile
Best for Allergies
Kenmore DS4020 Cordless
Works on all floors
Great battery system
Flexible maneuvering
Largest Dust Canister
Orfeld 4-in-1 Vacuum
Large dust canister
High-efficiency suction
30 minutes runtime
Multi-Floor
Nequare Cordless Vacuum
Lightweight design
Extensive run time
Large capacity dust canister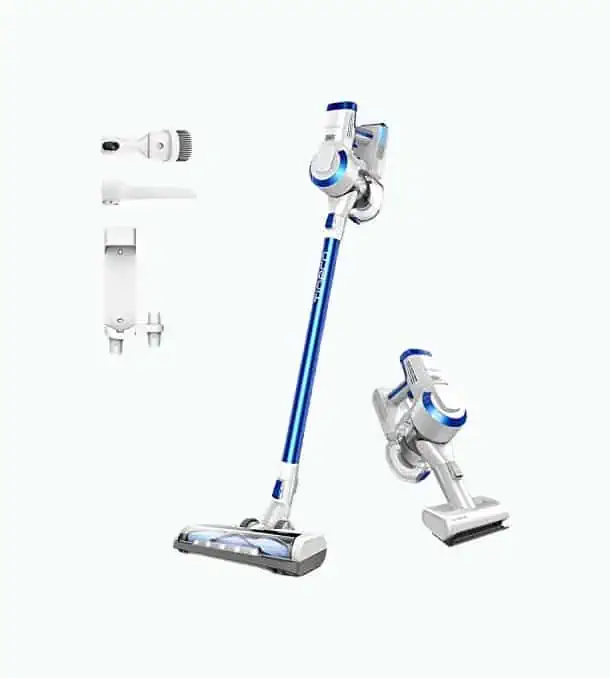 Wide Cleaning Path
Tineco A10 Hero Vacuum
Full-size power brush
Detachable battery pack
Four-stage filtration system
Best for Comfort
Makita XLC02R1B Vacuum
Ergonomic soft handle
Fast charge time
LED battery charge level indicator
Best for Storage
Dyson V7 Motorhead Vacuum
Efficiently cleans carpet
Low profile head
Two tier radial cyclones
Review Methodology: At Oh So Spotless, we provide you with a thorough analysis and hands-on experience of the best cordless stick vacuums to make your decision-making process easier. Our professional team conducts rigorous testing and research, comparing each product based on key factors such as performance, battery life, suction power, and ease of use. We evaluate products from a user's perspective, sharing quantitative data and first-hand evidence to help you understand the unique features and design choices that set each vacuum apart from its competitors. Our detailed assessment ranks the top cordless stick vacuums, ensuring you make the most informed choice for your cleaning needs. Trust our expertise and let us guide you to the perfect vacuum for your home.
---
---
The Best Cordless Stick Vacuums of 2023
These are seven of the best cordless stick vacuums rated by suction power, run time, HEPA filter, and charge time.
Jashen D18 Powerful Cordless Stick Vacuum
Most Versatile Cordless Stick Vacuum
If you've got various flooring types and dusty furniture, you may be interested in the Jashen cordless stick vacuum. You can transform this stick vacuum into a handheld one in just a few minutes.
This allows you to clean various surfaces, stairs, and upholstery. We also love that you don't need to hold a trigger down, which can become a pain really quickly!
The vacuum comes with a 2000 mAh lithium-ion battery. This provides 250 watts of power and a total of 30 minutes uninterrupted runtime per full charge. There's a battery indicator so you'll know when to return it to the docking station.
There's a four-stage HEPA filtration system on this model. This feeds into the dust canister, which has a release lock to empty.
What We Like
30 Minutes Run Time
Nobody wants to be charging their stick vacuum every two minutes. The good thing is that this one can last for up to 30 minutes. You can also position the charging station using the wall-mount so it won't take up much space. This is super if you live in a small home.
Two Brushes Included
This stick vacuum is versatile, and you can use it to clean both hard floors and upholstery. There's a different brush included for each one, and you can easily swap it over to suit. We also appreciate the LED lights which illuminate your floors and showcase any crumbs you may have missed.
Quiet and Versatile
Unlike other stick vacuums that are quite noisy, this one will not irritate your eardrums. Plus, it is pretty lightweight, weighing 10.3 pounds. You can witness its versatility by how it reaches under the furniture areas.
What We Don't Like
Long Charge Time
The trade-off for having a long run time means you've got to spend a while charging this one. It takes around four or five hours to charge the battery fully. This might not be great if you're in a hurry.
Product Specs
| | |
| --- | --- |
| Weight | 10.3 pounds |
| Suction | 250 watts |
| Charge Time | Five hours |
| Run Time | 30 minutes |
| Extras Included | HEPA filter, cleaning brush, crevice brush, and dusting brush. |
Our Ratings
Community Feedback
If you're looking for a powerful yet quiet vacuum, this one has a lot to offer. Its strong suction, easily cleanable filter, and flexibility to go under furniture make it an effective cleaning tool. However, it does have a few downsides, like not standing upright on its own and having a somewhat complicated process to empty and reassemble. The battery life could also be better, as it doesn't last long on high power. But overall, this vacuum is a solid choice for handling pet hair and transitioning between different floor types.
---
Kenmore DS4020 Cordless Stick Vacuum
Best Cordless Stick Vacuum for Allergies
Equipped with a HEPA filter, this may be the best option if you have family members with allergies. The HEPA filter captures 99.97 percent of dirt particles and allergens. They don't get blown back into the home, ensuring your air is nice and clean.
Plus, this has an excellent bagless design, so you can quickly empty the dirt canister without much mess at all.
Weighing less than five pounds, this is extremely easy to maneuver around the home, making your vacuuming chores a breeze.
What We Like
Works On All Floors
Some vacuums work on some floor types better than others. But this vacuum was designed for all floor types. It also has two different speed settings to ensure that it can pick up more stubborn dirt super easily.
Great Battery System
With a 40 minute run time on ECO mode, this has great battery life. When in doubt, check out the battery status meter on the LED display. The LED display also reads the charge level, motor speed, and more.
Flexible Maneuvering
You'll love how easy it is to get into every nook and cranny with this vacuum. Weighing less than five pounds, it's hassle-free to use. You can easily carry it up and downstairs.
Being so lightweight, you can hold it above your head to get into ceiling corners. Then convert it into a handheld vacuum to clean your car, furniture, corners, blinds, and much more.
What We Don't Like
Not for Pet Owners
While it's designed with pet owners in mind, actual pet owners say it doesn't quite hit the spot. It can leave behind pet fluff and hairs, especially on carpets.
Requires Frequent Maintenance
Customers find that you need to give this a bit too much TLC to keep it up and running. You'll need to empty it often and clean out the individual parts regularly.
Product Specs
| | |
| --- | --- |
| Weight | 5 pounds |
| Suction | 8 Kpa |
| Charge Time | Three hours |
| Run Time | 40 minutes |
| Extras Included | Nozzle, a convertor for handheld |
Our Ratings
Community Feedback
Definitely a reliable and lightweight vacuum, this Kenmore cordless model has made my daily cleaning routine much more convenient. Its maneuverability on hardwood and ceramic floors is impressive, and the attachments work wonders on baseboards, ceilings, and even in my car. The battery life is decent at around 35-40 minutes, though I do wish it was removable for easier replacement. One downside is that it struggles a bit on thicker rugs and cannot be adjusted for height. The dirt cup fills up quickly, and it can be slightly challenging to disassemble.
---
Orfeld VC818 Cordless Stick Vacuum
Largest Dust Canister
If you've got a lot of cleaning to do, you may be interested in this cordless stick vacuum from Orfeld. It features the largest dust canister on our list, holding 1.4 liters of dirt and debris.
Thanks to the extras included, you'll also be able to get a deeper clean of your home. These feature a cleaning brush tool and a crevice/combination tool.
This cordless vacuum is safe to use on hard floors and carpets. It can remove pet hairs and also works for outdoor cleaning! Add in the fact that it only weighs 5.6 pounds and comes with a swiveling head, and we can conclude this vacuum is easy and efficient to use.
What We Like
1.4 Liters Dust Canister Capacity
We're impressed with the capacity of the dust canister, which can hold up to 1.4 liters. This is a suitable size for larger homes. Plus, it's bagless — just open it and tip it into the trash can.
High-Efficiency Filtration System
The washable HEPA filter and stainless steel cyclone make it possible to trap 99.9 percent of allergy-causing dust, measuring as little as 0.3 microns. We recommend regularly washing the HEPA filter, so it doesn't get blocked.
30 Minutes Runtime
What's impressive about this vacuum is that it can give you a full 30-minute cleaning time with its 2,200 mAh lithium battery. Moreover, this stick vacuum doesn't require a lot of space. It has a compact design, and the docking station can be wall-mounted.
What We Don't Like
Longer Charging Time
Customer reviews reveal that this model requires four hours of charging. You need to plan ahead and ensure the vacuum is charged before commencing your cleaning session.

Product Specs
| | |
| --- | --- |
| Weight | 5.6 pounds |
| Suction | Not specified |
| Charge Time | Four hours |
| Run Time | 30 minutes |
| Extras Included | Combination tool, crevice tool, and sofa brush. |
Our Ratings
Community Feedback
For a budget-friendly option, this vacuum has exceeded my expectations. Its convenient charging port and trigger lock make daily clean-ups in the kitchen and family room a breeze, while the power boost offers impressive suction. The variety of attachments are perfect for cleaning my car and couch, and the vacuum easily tackles larger debris like paperclips and M&Ms. However, it may not be the most durable option for heavy-duty or long-term use, but it works well for smaller households and lighter cleaning tasks.
---
Nequare S25 Pro Cordless Stick Vacuum
Best Cordless Stick Vacuum for Multi-Floor Types
Not all stick vacuums, especially cordless ones, can be used for different floor types. You can use this lightweight stick vacuum for carpets, tiles, and hardwood floors.
It's also suitable for other areas of the home, such as corners, upholstery, stairs, and other crevices. Even mattresses and curtains! The handy accessories make this possible. These include a retractable hose, a crevice nozzle, a mini motorized brush, and a dusting brush. Get every last inch of your home spick and span.
It's also convertible. Once you're finished vacuuming the floors, detach the pole and use it as a handheld vacuum. Both mechanisms are designed to be quiet so you won't upset the neighbors.
One more great feature is the HEPA filtration system. This cleans the air in your family home.
What We Like
Only Weighs 3.08 Pounds
The main unit of this vacuum only weighs 3.08 pounds. This will make it easier to hold above your head. No high areas should be out of bounds for you.
40 Minutes Extensive Run Time
If you've got a deep clean to do, you'll be pleased that this vacuum has over 40 minutes of powerful suction. This enables you to clean more rooms without having to recharge it during your spring clean.
25,000 Pascals Suction
Besides being versatile and lightweight, this is also super powerful. It's great for heavy-duty usage since it has a high power mode of 25,000 pascals. This mode lasts for 15 minutes but deep cleans stubborn crumbs and dirt. If you need a deep clean, this mode will do the trick.
What We Don't Like
Storage for Accessories
The set does not include a storage box for the accessories. This makes for a bit of clutter and increases your chance of losing spare parts.
Product Specs
| | |
| --- | --- |
| Weight | 3.08 pounds |
| Suction | 25 Kpa |
| Charge Time | Four to five hours |
| Run Time | 40 minutes |
| Extras Included | Dusting brush, crevice tool, mini motorized head, cleaning brush, extension hose, and charging adapter |
Our Ratings
Community Feedback
I've been using the NEQUARE S25Pro cordless vacuum for over a year and have been impressed with its quiet operation, maneuverability, and safety on hardwood floors. The bendable extension wand is a game changer, allowing me to reach high shelves and ceiling fans without a stepstool. However, the suction power is not strong enough for larger debris, so it won't replace my full-size vacuum. One downside I experienced was the battery dying after several months, so be prepared to possibly replace it sooner than expected.
---
Tineco A10 Hero Cordless Stick Vacuum
Widest Cleaning Path
Don't want to spend hours vacuuming your home? Perhaps you can save some time with this cordless stick vacuum. It has a full-size power brush for cleaning the floors that yields a wide cleaning path of 10.4 inches.
The vacuum is designed to work on various floors, including hardwood and carpet. With up to 25 minutes of runtime and a continuous cleaning mode, you can scoot around the whole house without holding down a trigger.
When you need to empty the dust canister, simply press a button, and it will dump the contents into your trash.
We also love that this stick vacuum easily converts into a handheld one. The mini power brush and smaller vacuum head make it super easy for you to deep clean your upholstery and car.
What We Like
Three Power Modes: Trigger, Continuous, and Max
With three power modes, you can choose the best setting for the task at hand. Trigger mode is excellent for spot cleaning in a hurry.
Continuous mode is best for everyday cleaning.
Max Power mode is for stubborn and big messes. So no matter what dirt you face, this vacuum can handle it.
Detachable Battery Pack
It's easy to detach the battery from this cordless stick vacuum. You can buy an extra one and swap them around to save you waiting for it to charge. We appreciate this detail since the run time is slightly short at 25 minutes.
Four-Stage Filtration System
If you have allergies, you may benefit from the four-stage filtration system. This can vacuum dust and particles that might aggravate allergies. It's fully sealed so that you can enjoy the fresh air in your home. All the dirt that's gathered will be stored in the dust canister.
What We Don't Like
Small Dust Canister Capacity
Unfortunately, this one can only hold up to 0.4 liters of dust and dirt in the canister. This isn't as much as others on our list, and it might not be enough for deep cleans. Expect some extra trips to the garbage can.
Product Specs
| | |
| --- | --- |
| Weight | 2.87 pounds |
| Suction | 110 air watts |
| Charge Time | Three and a half hours |
| Run Time | 25 minutes |
| Extras Included | Mini power brush, 2-in-1 dusting brush, and crevice tool |
Our Ratings
Community Feedback
I've been using this vacuum for a while now, and I must say, it has exceeded my expectations. The suction power is impressive, making vacuuming effortless and efficient. However, the charging point requires cords to be plugged in, which can be a bit of an eyesore, but overall, this vacuum is definitely worth the investment.
---
Makita XLC02R1B Cordless Stick Vacuum
Best for Comfort
Our favorite feature of this vacuum is the soft ergonomic handle. It's easy to grip and comfortable to hold while you're gliding around your floors. This is combined with a lightweight design of only 2.7 pounds — cleaning can be fun and effortless.
This 18v lithium-ion 2.0 Ah battery provides good suction for a stick vacuum.
You can also convert this into a handheld vacuum for upholstery. It's suitable for all hard floors and carpets.
To eradicate dust, there's a two-stage cloth filtration system. This might also capture allergens lurking in your family home. The cloth may be washable and reused many times.
What We Like
Ergonomic Soft Handle
Something that makes this product a little different is the soft handle. The ergonomic design makes the handle comfortable, with a natural and easy grip.
25 Minutes Charge Time
We love how fast this one powers up again. Thanks to the rapid optimum charger device, it only takes 25 minutes to achieve a full charge before you can get back to cleaning.
LED Battery Charge Level Indicator
You won't be surprised when your vacuum suddenly cuts out in the middle of cleaning. The LED battery charge level indicator shows you when to connect it to the charging dock again.
What We Don't Like
Only 13 Minutes of Run Time
Unfortunately, this one has the lowest run time out of all the models on our list. It works for around 13 minutes. This run time may be enough for small spaces. But if you've got a lot of deep cleaning on your schedule, it might not last long enough to vacuum your whole home.
Product Specs
| | |
| --- | --- |
| Weight | 2.7 pounds |
| Suction | 46 CFM |
| Charge Time | 25 minutes |
| Run Time | 13 minutes |
| Extras Included | Crevice nozzle holder and crevice nozzle |
Our Ratings
Community Feedback
I've been using this lightweight vacuum and it has exceeded my expectations! The battery and charger are well-designed, and the attachments are a breeze to swap out. I was amazed at how much dirt and debris it picked up in just a short amount of time on my wall-to-wall carpet. With its strong suction and ease of use, I can confidently say that I'll be a loyal customer for life.
---
Dyson V7 Motorhead Cordless Stick Vacuum
Best Cordless Stick Vacuum for Easy Storage
Don't have a lot of space to store your new stick vacuum? You don't need to worry since this one includes a slick charging docking station that can be wall-mounted. You can also hang the accessory tools on it, detaching them with the press of a button.
The suction is powered by a Dyson digital V7 motor, delivering 100 air watts. The run time is respectable, with up to 30 minutes of non-stop cleaning.
If you want to clean all-around your home, this one easily transforms into a handheld vacuum. There are two attachments included — a combination tool and a crevice tool. These can help you capture dust, cobwebs, and other debris around the house.
The dust canister holds around 0.53 liters, and you can quickly empty it with the touch of a button.
What We Like
Efficiently Cleans Carpet and Hard Floors
Carpet fibers need regular cleaning too. Thankfully, this vacuum has stiff nylon bristles that are perfect for the job. This encourages an efficient clean to capture any dirt and dust deep down in the fibers.
It's also suitable for hard floors, too. You can say goodbye to dust and dirt on your tile, laminate, and hardwood floors.
Low Profile Head for Easy Cleaning
Thanks to the low-profile vacuum head, you can capture crumbs and dirt from underneath furniture. It might prevent you from having to move the sofa, tables, and chairs when you're cleaning.
Capture Dust With Two Tier Radial Cyclones
Dyson is often known for its cyclone technology, which they used on this vacuum. The high centrifugal forces separate and capture microscopic dust from the airflow with its two tiers.
What We Don't Like
Constantly Having to Press the Trigger
You may not like to constantly hold the trigger to activate the suction. This might get tiring after a while or be awkward for cleaning at different angles.
This is the case with our cordless stick vacuum, and it is a complaint. But the good definitely outweighs the bad!
Product Specs
| | |
| --- | --- |
| Weight | 5.45 pounds |
| Suction | 100 air watts |
| Charge Time | Three and a half hours |
| Run Time | 30 minutes |
| Extras Included | Combination tool and crevice tool. |
Our Ratings
Community Feedback
As a long-time vacuum user, I was blown away by this rechargeable vacuum's performance. It's lightweight, versatile, and powerful enough to clean my entire house in one go. The battery life is good, but it could be better for larger homes. Despite the minor drawbacks, this vacuum has made cleaning a breeze and significantly reduced my back pain.
---
Benefits of Cordless Stick Vacuums
Let's look at the benefits of choosing a cordless stick vacuum over other types.
How to Choose a Cordless Stick Vacuum
Have you decided you'd like a cordless stick vacuum? We've picked out the key features you should consider.
---
FAQs
---
Thank You For Your Feedback!
Thank You For Your Feedback!