Microfiber is a type of mop that gets a lot of hype. If you're curious about them, then you've come to the right place.
Microfiber has been proven to be more effective than traditional mop materials (1). We've put together a review of the six best microfiber cloths currently on the market.
Keep reading to find out what microfiber is, how it will benefit you, and which one to choose if you want to get rid of bacteria in your home.
Image
Model
Product Comparison Table
Features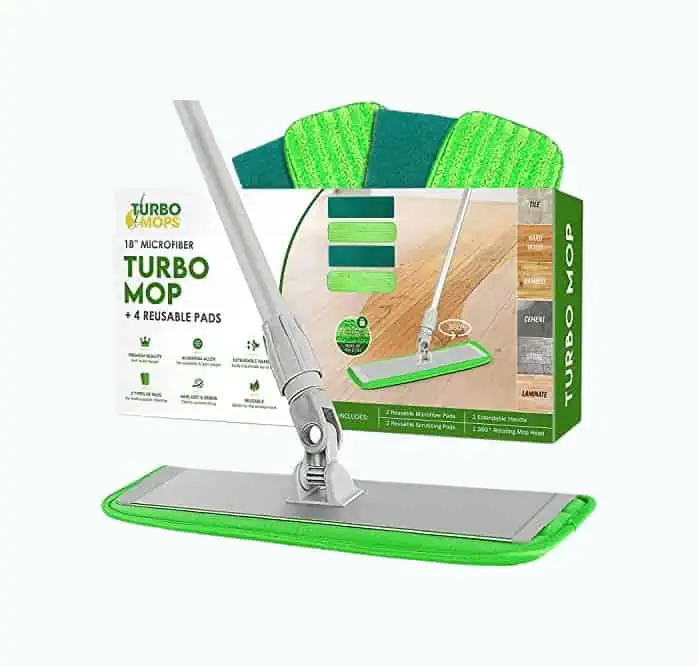 Best Glider
Turbo Microfiber
Built to last
360-degree rotating frame
Environment-friendly
Best for All Around
Temples Pride
A trio of microfiber pads
Fully adjustable telescopic handle
Allows fixed and 360-degree rotation
Durable Dirt Buster
Mr. Siga Mop
Two-in-one microfiber cloths
Double-locking telescopic pole
360-degree swivel
Most Comfortable To Use
Snap Mop Reusable
Cushioned handle for comfort
Handle hanger
Easy to use adjustable pole
Double-sided mop head
Rotating mop head
Adjustable and telescopic pole
Best for 360° Cleaning
Mayshine Reusable
Made from durable materials
Rotating frame
Adjustable frame length
Review Methodology: At Oh So Spotless, our in-depth analysis and hands-on experience with microfiber mops ensure that you receive trustworthy and reliable information. We evaluate products from a user's perspective, focusing on key decision-making factors such as performance, durability, and design. Our team of professionals conducts thorough research, comparing various products based on criteria like ease of use, versatility, and effectiveness on different surfaces. In our assessment, we rank each mop according to its performance and measure its efficiency through quantitative data. By sharing our findings and first-hand evidence, we help you identify the best microfiber mops that set themselves apart from their competitors. Trust Oh So Spotless to provide you with an insightful review and guide you towards making an informed decision.
---
---
The Best Microfiber Mops of 2023
Check out these five magic microfiber mops.
Turbo Microfiber Microfiber Mop
Best Glider Microfiber Mop
Thanks to its flat design and 360-degree swivel head, this mop is easy to glide around. It comes with many convenient accessories such as a handle extender and bonus premium pads. They're also reusable and can be washed up to 100 times.
The clip-on design means you can even use your own cloth if you wish.
With a durable aluminum frame, this mop could last you a while. We also like that this product has US-based customer support. This means if anything does go wrong, you can ask for their assistance.
What We Like
Stainless Steel Adjustable Handle
Tall people will love this mop since there's an option to lengthen the handle. Plus, when it's fully extended, it measures a total of 60 inches.
The handle is made from a durable aluminum alloy which is lightweight but long-lasting.
360-Degree Rotating Frame
You don't have to miss out any areas of your home with this mop. It has a 360-degree rotating frame, meaning you can maneuver the microfiber cloth freely and easily.
Environment-Friendly Mop Pads
This mop includes an additional four microfiber mop pads for dry mopping dirt and dust. It has scrub pads which would be a great choice for thorough cleaning of your tile grouts, basements, and very filthy floors. These mop pads are eco-friendly, and since you can reuse them, that positively impacts the planet, too.

What We Don't Like
Handle Extension Works Loose
Some users have made comments regarding their experiences with the handle extender — while in use, it can gradually loosen. Although not a massive issue, it could test your patience after a while.
Product Specs
| | |
| --- | --- |
| Frame Material | Aluminum alloy |
| Max Length | 60 inches |
| Total Number of Microfiber Cloths | 4 |
| Pad Dimensions | 18 inches wide |
| Weight | 1.2 pounds |
Our Ratings
Community Feedback
"The microfiber mop I recently purchased has been a game changer for my cleaning routine. It works great on both hardwood and tile floors, easily picking up pet hair and other debris. I love the maneuverability of the mop head, allowing me to reach under furniture and even clean my ceilings. Plus, the washable pads are eco-friendly and save me money in the long run."
---
Temples Pride Professional Microfiber Floor Mop
Best Microfiber Mop for All Around the Home
This mop is suitable for use on tiles, polished stone, laminate, and even bamboo floors which is great if you have multiple rooms and floors to match.
It includes three different microfiber pads and with the sliding holder design, you have the option to use your own too. There's even a storage hook on the handle so you can tuck this mop away neatly when it's not in use.
What We Like
A Trio of Microfiber Pads for Specific Purposes
Thanks to the ultra-fine fibers, the dry dust pad is perfect for catching hair, fur, and dust. The drag-resistant wet pad is designed to be absorbent since the weave fibers capture water and dirt.
The third is the drag-resistant wet/dry pad. This can be used on corners and hard-to-reach areas. It's also got an electrostatic charge with a frill edge for trapping dust.
Fully Adjustable Telescopic Handle
This microfiber mop has a fantastic telescopic handle. You can adjust it from 29 to 61 inches, so you could get the whole family involved. It's also designed to fasten securely to prevent it from becoming loose when you're cleaning.
Allows Fixed and 360-Degree Rotation
With a low profile and UV joint, this mop should have the ability to glide across and under anything. Reaching small spaces is straightforward, so you can ensure a thorough clean of your house.
What makes this mop different is that it offers both a fixed head — for attacking tough spots — as well as 360-degree rotation.
What We Don't Like
No Scrubbing Strip
With all the various pads on offer, it would've been nice to see the inclusion of scrubbing strips for tougher floor marks. But considering you can attach your own pads, this may be an option you could fulfill yourself.
Product Specs
| | |
| --- | --- |
| Mop Frame Material | Aluminum |
| Length | 29 inches to 61 inches |
| Total Number of Microfiber Cloths | 3 |
| Pad Dimensions | 15.5 x 4 inches |
| Weight | 2.12 pounds |
Our Ratings
Community Feedback
"I recently purchased the Professional Dredge Microfiber Flat Mop System and I am extremely impressed with its performance. As a professional house cleaner, I have used several flat mops, but this one is by far the best. It makes cleaning vinyl tiles and hardwood floors an absolute breeze. The swivel feature allows me to easily reach under furniture and the mop heads are simple to clean. I even use it for cleaning walls and ceilings. If you're looking for an efficient and durable mop, this one is definitely worth trying out."
---
Mr. Siga Floor Microfiber Mop
Durable Microfiber Mop Dirt Buster
Whether it's muddy feet and paws or a spilled drink from the kids, this could be ideal for a busy family home.
Three microfiber cloths and a scrubber for stubborn dirt are included. If you need to apply pressure for removing tougher grime, the mop's sturdy build, stainless steel handle, and aluminum frame can take the strain.
What We Like
Two-in-One Microfiber Cloths
What we love about this mop are the double-sided microfiber cloths. One face is plush and soft for capturing dirt and soaking up spillages. The other is great for floor waxing and bringing out the natural shine of the surface material.
All you've got to do is flip them around and clip them on.
Double-Locking Telescopic Pole
With a telescopic pole design extending to a total length of 59.5 inches, you can adjust this mop to a suitable length for you.
Simply unscrew the locks, twist the pole to the desired height and then secure the locks again. The double-locking system ensures it remains firmly in place.
Easy Cleaning with 360-Degree Swivel
Microfiber mops with a 360-degree swivel make cleaning so much easier. This construction allows you to glide it along the floors in your home effortlessly. It can turn in any direction, avoiding furniture and collecting dirt.
What We Don't Like
The Pad Doesn't Always Hold
Reports from users mention pitfalls with the reliability of pad placement. They found it didn't always stay on the mop during use.
Product Specs
| | |
| --- | --- |
| Mop Frame Material | Aluminum |
| Length | 59.5 inches |
| Total Number of Microfiber Cloths | 3 |
| Pad Dimensions | 16.5 x 9 inches |
| Weight | 2.82 pounds |
Our Ratings
Community Feedback
"When I first tried this mop, I was pleasantly surprised by its sturdiness and ease of use. I had used trigger pump handle mops before, but this one felt more durable and made cleaning a breeze. The mop head's large size and swiveling ability allowed me to clean my hardwood floors and kitchen tiles effortlessly, even reaching tight corners and spaces under furniture. I appreciated the reusable microfiber pads, which helped me be more eco-friendly and saved me some money compared to disposable options. The only issue I encountered was keeping the mop pad side down, but after some practice, it became less of a problem. Overall, I'm very satisfied with this mop and would highly recommend it to others."
---
Snap Mop Reusable Adjustable Microfiber Mop
Most Comfortable to Use Microfiber Mop
If you're looking for a mop that offers you a little TLC, you may want to think about this one. For avoiding blisters, you might appreciate the cushioned grip feature.
This mop is very lightweight — cleaning up laminate, tile, vinyl or hardwood shouldn't be a struggle. It's also got a full 360-degree swivel so you can clean quickly and in any direction.
One reusable microfiber cloth is included. Attaching it to the pad is a straightforward affair — use the velcro backing to secure it into place.
What We Like
Cushioned Handle for Comfort
We like the cushioned handle on this mop, which you don't find on every option. It's long enough so you can use both hands comfortably and it also offers ample grip.
Handle Hanger
Are you worried about storage? The hanger makes it practical to stow away. You can easily attach it to a hook in your cleaning closet.
Easy to Use Adjustable Pole
Thanks to the adjustable handle, you can clean tight spaces and underneath furniture. You can extend the pole up to 60 inches and it's simple to snap into place.
What We Don't Like
May Not Be Suitable for Taller People
Some users have said this mop could be longer. Even though it has an adjustable handle, this seems to be an issue for those over 6 feet tall.
Product Specs
| | |
| --- | --- |
| Mop Frame Material | Aluminum |
| Length | 60 inches |
| Total Number of Microfiber Cloths | 1 |
| Pad Dimensions | 16 x 6.2 inches |
| Weight | 1.81 pounds |
Our Ratings
Community Feedback
"I've been using this product for a while, and I must say it's been great for cleaning my ceilings and walls. It's not the sturdiest, but it does the job well, especially when it comes to picking up dog hair. I love how you only need water, making it quick and easy to use. The microfiber head is simple to attach and store, but it could be more absorbent for better cleaning results."
---
O-Cedar Dual-Action Microfiber Mop
The Big Foot Microfiber Mop
With a larger mop head of 19 by 6 inches, this one may help you cover more surface area. It's versatile too — you can use it for both damp and dry cleaning.
The head is double-sided for tackling multi-surfaces. You'll be able to deep clean floors, as well as pick up dust and pet hair. Just flip the head and you're ready to get to work.
This mop also has an adjustable telescopic pole for hard-to-reach places. The microfiber cloths have an estimated lifespan of 100 washes.
What We Like
Double-Sided Mop Head
This mop may satisfy all your cleaning needs. It's dual-action, with a white microfiber face for scrubbing and the blue chenille for picking up dust and dirt. Say hello to clean, buffed floors.
Rotating Mop Head
You should be able to finish all the sweeping around the home faster with the rotating mop head. It can turn a full 360-degrees, which should make it easier for you to maneuver.
Features an Adjustable and Telescopic Pole
The telescopic pole can be adjusted by up to 56 inches. This allows you to get underneath furniture and into places you find tricky to reach.
What We Don't Like
Additional Mop Heads Not Included
Although you can use both faces of the mop head, it's disappointing to find only one is provided in this set. We think having an additional refill would have been a nice touch.
Product Specs
| | |
| --- | --- |
| Mop Frame Material | Aluminum |
| Length | 56 inches |
| Total Number of Microfiber Cloths | 1 |
| Pad Dimensions | 19 x 6 inches |
| Weight | 2.76 |
Our Ratings
Community Feedback
"Definitely a game changer for keeping my floors clean, especially with pets around! The mop has a large head that easily picks up dust and animal fur, and it's perfect for reaching those hard-to-reach spots. I've been using it on my LVP flooring for both dry and wet cleaning, and it's been so easy to maintain. In the future, I will be continuously using this mop instead of constantly vacuuming. The only downside is having to wash the reusable pad often, but it's still better than using disposable products."
---
Mayshine Washable and Reusable Microfiber Mop
Best Microfiber Mop for 360 Degree Cleaning
If you're looking for a simple mop to use around the home, this may be the one for you. The 360-degree swivel and extendable frame mean cleaning anywhere could be fuss-free.
It's a flat mop design which is handy for wiping down walls, glass and getting into challenging corners. It can also be used on most surfaces: laminate, hardwood, tile, stone, and concrete.
Five microfiber cloths are included so you shouldn't have to rush on re-ordering.
What We Like
Made From Durable Materials
This one has a stainless steel handle and an aluminum frame combined with quality ABS plastic. These durable materials give you peace of mind that this mop should last a reasonable length of time.
Rotating Frame for Easy Cleaning
A great thing about this mop is that it has a 360-degree rotating frame. This offers you the scope to move it in all directions, cleaning any mess in your way. It's simple to swivel and tuck into those hard-to-reach places.
Adjustable Frame Length
If you are trying to reach under the sofa or dust somewhere up high, this may not be such an issue — this mop has an adjustable frame. You can extend it from 46 inches to 60 inches, so you can deep clean everywhere.
What We Don't Like
Great for Dry Cleaning, Not for Wet
While users note it performs well in dry conditions, remarks on damp mopping weren't so complimentary. Some found the mop had too much grip and consequently it flipped over when pulling back.
Product Specs
| | |
| --- | --- |
| Mop Frame Material | Aluminum |
| Length | 46 inches to 60 inches |
| Total Number of Microfiber Cloths | 5 |
| Pad Dimensions | 15.7 x 5 inches |
| Weight | 2.12 pounds |
Our Ratings
Community Feedback
"The Mayshine mop has been a fantastic addition to my cleaning routine, especially with my newly installed wood floors. I've been using it for both wet and dry mopping, and the washable, high-quality microfiber cloths make it easy to clean up without just pushing dirt around. The sturdy, adjustable handle and impressive swivel range have made mopping more efficient and enjoyable than ever before."
---
| Product | Award | Frame Material | Length | No. of Cloths | Pad Dimensions | Weight |
| --- | --- | --- | --- | --- | --- | --- |
| Turbo Microfiber | Best Glider | Aluminum | 35″ -60″ | 4 | 18″ wide | 1.2 lbs |
| Temples Pride | Best For All Around | Aluminum | 29″ – 61″ | 3 | 15.5″ x 4″ | 2.12 lbs |
| Mr. Siga | Durable Dirt Buster | Aluminum | 59.5″ | 3 | 16.5″ x 9″ | 2.82 lbs |
| Snap Mop | Most Comfortable | Aluminum | 60″ | 1 | 16″ x 6.2″ | 1.81 lbs |
| O-Cedar | The Big Foot | Aluminum | 56″ | 1 | 19″ x 6″ | 2.76 lbs |
| Mayshine | Best for 360° Cleaning | Aluminum | 46″ – 60″ | 5 | 15.7″ x 5″ | 2.12 lbs |
Why Microfiber?
Microfiber is a synthetic material made from polyester and nylon (2). As the name suggests, it's made up of multiple minute fibers — think of them as lots of tiny fingers. They catch more dust, dirt, and filth than other larger woven materials, which is why it's so effective.
You can use this multi-purpose cleaning material for cleaning floors and surfaces in the home, as well as for cars and glass. Plus, it's typically made without any chemicals or pesticides, making it an eco-friendly and safer option around the home.
Different mops will have different densities, but generally, microfiber has 1.0 denier or less. It's a lot finer and more lightweight than other materials, and this means it has excellent cleaning properties (3).
How to Choose a Microfiber Mop
Consider these details when buying a microfiber mop.
---
FAQs
---
Thank You For Your Feedback!
Thank You For Your Feedback!