Mops seem like simple inventions, but they've only been around for a little more than 100 years. The first mop was invented in 1893 (1). But the modern mop that includes a function to wring the mop dry so we don't have to do it by hand was only invented in 1950.
Since then, mops have come a long way. Today, we have 11 different types of mops to choose from. We have a lot of options when it comes to cleaning our floors.
This article will help you find your perfect mop match so you no longer dread this household chore.
---
11 Different Types Of Mops Compared
Mops come in lots of different shapes, sizes, and styles. For every person, there's a couple of mop types that will work better for them than others will. We'll help find a good mop match for you with this comprehensive list.
1.

Flat Mops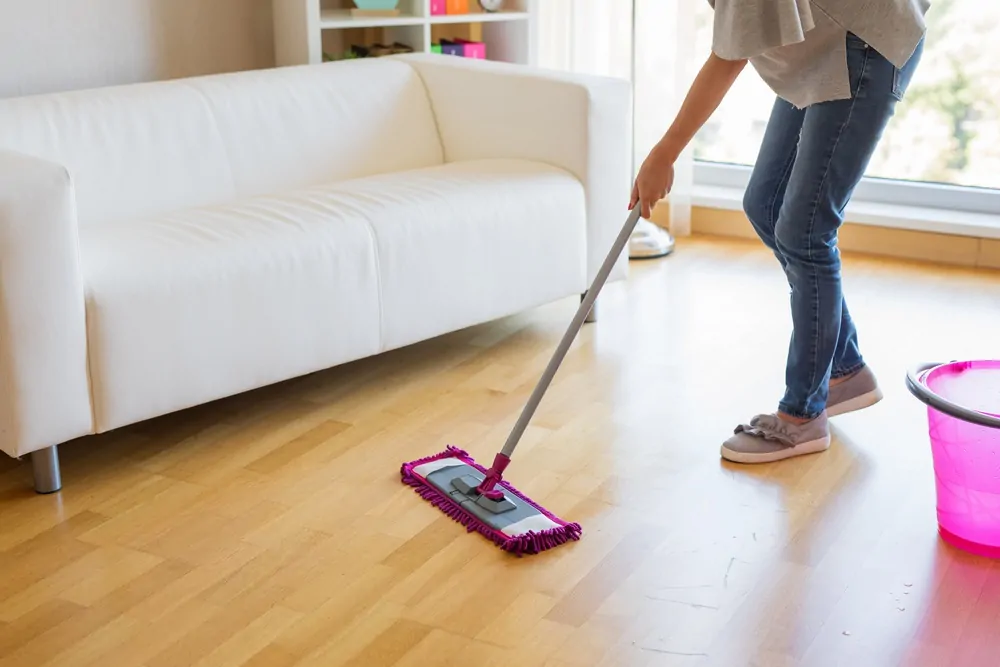 If you have vinyl or hardwood flooring, a flat mop is a good type of mop for you because they don't use too much water. The last thing you want to do to your lovely flooring is ruin it with your mop.
Flat mops are easy to use because of their slender shape. They can fit into small nooks, crannies, and corners. Some have removable heads that can be cleaned in your washing machine.
Pros
360-degree rotation.
Wet and dry cleaning.
Removable head, making it easy to clean.
Good for small spaces.
Cons
Small, so not ideal for large areas.
Product Specs
| | |
| --- | --- |
| Type | Wet, Dry |
| Cleaning Purpose | Stains, Dust, Dirt |
| Type of Surface | Hard floors, Vinyl, Hardwood |
| Price | $$ |
---
2.

Sponge Mops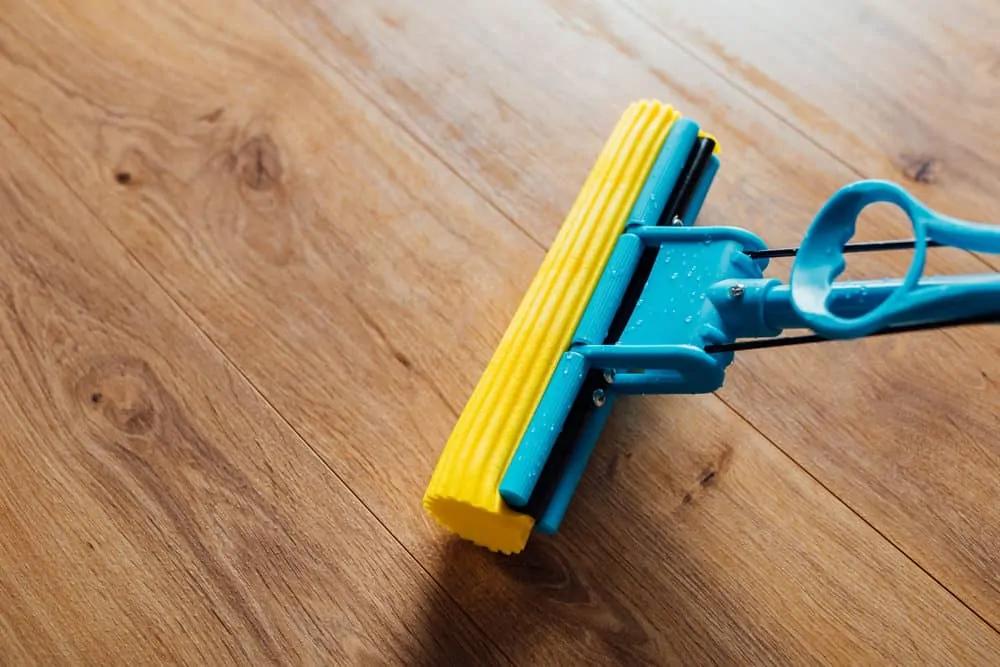 If you're clumsy and spill your juice, soup, or cereal, then a sponge mop is a great choice. It's super-absorbent, so it's ideal for all types of spills.
Sponge mops are just a sponge on the end of a mop handle. It's easy to scrub away a spot of dirt with this type of mop.
Pros
Highly absorbent.
You can use each sponge for a while before replacing it.
Easy to use.
Good for hard-to-reach places.
Most types come with an extendable handle.
Cons
Doesn't glide across floors as well as other types of mops.
Gets heavier as it absorbs liquid.
Product Specs
| | |
| --- | --- |
| Type | Wet |
| Cleaning Purpose | Spills, Stains |
| Type of Surface | Hard floors, Tile, Laminate |
| Price | $$ |
---
3.

Dust Mops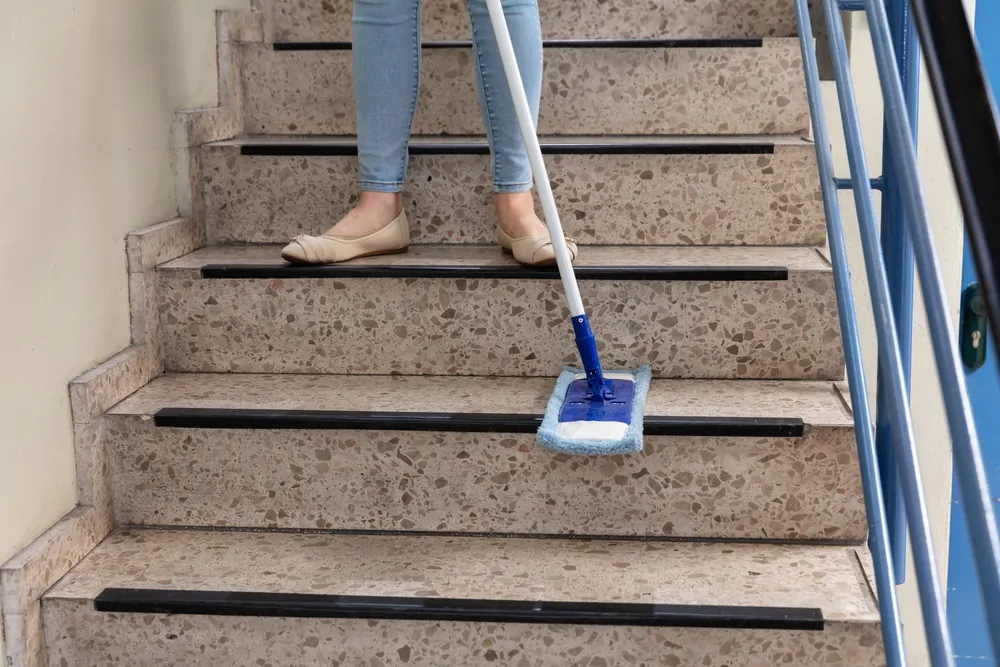 A dust mop is exclusively for cleaning dust. It's a great type of mop to pair with a wet mop. Before you wet clean your floor, you can use your dust mop to remove dust and trash from the ground or from a ceiling fan's blades up above.
It's a bit like a broom but more convenient and effective since it picks up a lot more dust with its gliding ability.
Pros
Collects a lot of dust and trash.
Prepares floors to be wet mopped effectively.
Good for large buildings such as schools or malls.
Cons
Does not clean the floor, it just removes dust and trash.
Can be difficult to clean since you must remove dust and trash before putting in the washing machine.
Not effective in small spaces.
Product Specs
| | |
| --- | --- |
| Type | Dry |
| Cleaning Purpose | Dust, Trash |
| Type of Surface | Hard floors |
| Price | $$ |
---
4.

String Mops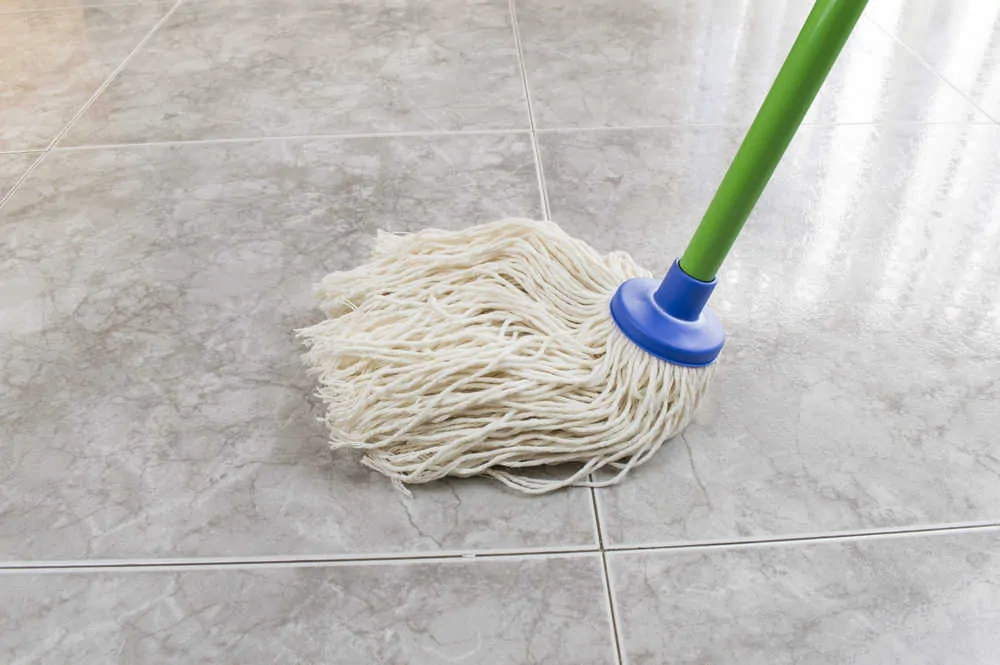 When I visualize a mop, this is what comes to mind. When I was 19, I used my first string mop in a new job and was surprised by how terrible I was at mopping. I basically left a pool behind me in the room I was cleaning.
A string mop is the most common type of mop. It comes with a big mop bucket that is used for the washing liquid and wringing out the mop — a step I skipped my first time using one. While these mops are common, and great for large places, they aren't the most effective at cleaning floors.
Pros
You can use the bucket to make your own detergent.
Good for commercial and home cleaning.
High absorbency.
Cons
You put the dirt back into the water when you dip the mop into the bucket.
Difficult to wring the water out.
Leaves floors so wet there's a danger of slipping.
Product Specs
| | |
| --- | --- |
| Type | Wet |
| Cleaning Purpose | Spills, Stains, Dirt |
| Type of Surface | Hard floors, Tile, Marble |
| Price | $$ |
---
5.

Strip Mops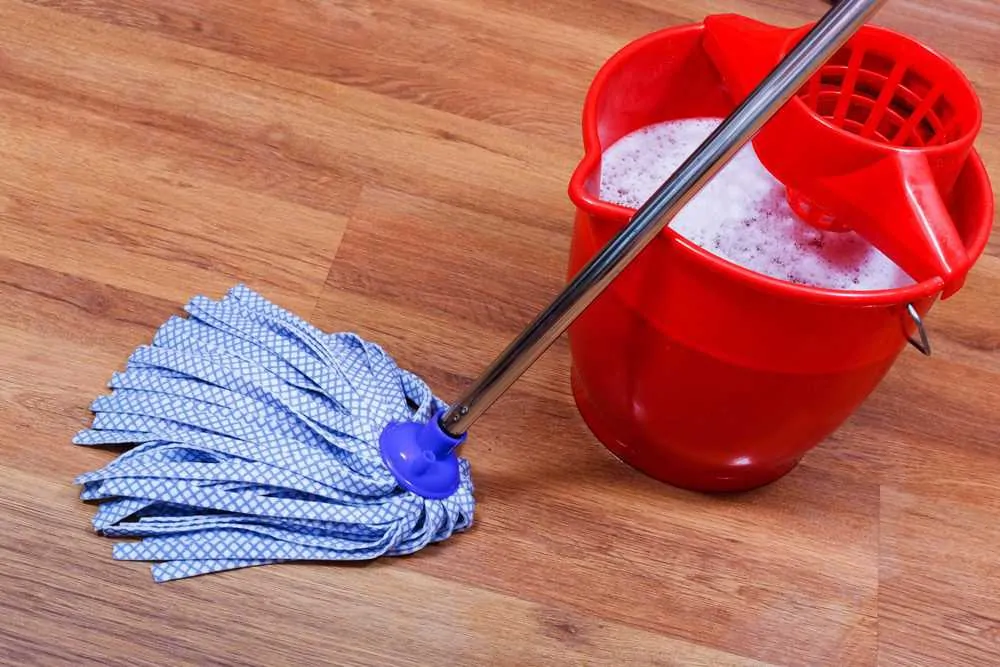 A strip mop is a relative of the string mop, but instead of strings, we've got strips of fabric. These mops can be used wet or dry. When dry, they're great for dusting. The strips easily remove dust from a surface without spreading it around everywhere.
When the strip mop is wet, they're pretty similar to the string mop. However, they're not usually as big as a string mop, so they're not great for bigger areas. The upside to strip mops is that the heads are removable, so you can put it in the washing machine to use again and again.
The strip mop is a great choice for offices and homes.
Pros
You can use them wet or dry.
Removable and reusable heads.
Good for homes and offices.
Cons
Not ideal for larger areas.
You put the dirt into the water if wet washing.
Product Specs
| | |
| --- | --- |
| Type | Wet, Dry |
| Cleaning Purpose | Dust, Spills, Stains, Dirt |
| Type of Surface | Hard floors, Tile, Marble |
| Price | $ |
---
6.

Steam Mops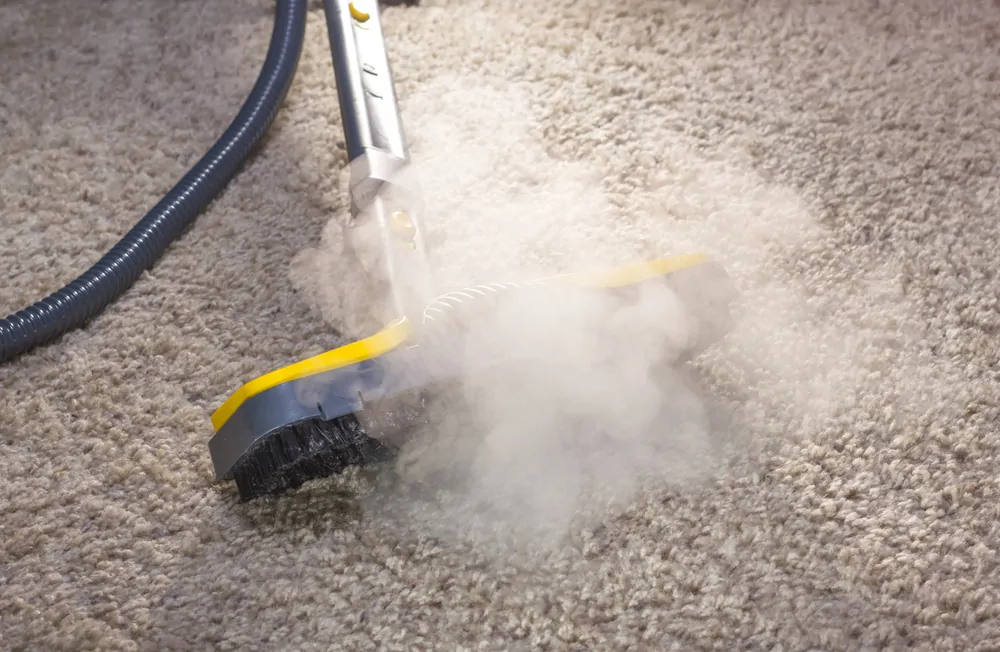 Steam mops are electrical mops that emit steam to clean the gunk from your floors. This type of mop works on hard floors and carpets, so if you have both in your house, this is the mop for you.
You can eliminate the hassle of carrying around a bucket while you clean your floors if you opt for a steam mop. The heads swivel, too, meaning this mop works in small and hard-to-reach spaces. You can also use your steam mop for cabinets, surfaces, and tiled walls.
Pros
Effective at cleaning stubborn stains and spills.
Works on hard floors and carpets.
A range of settings.
Reusable cloths that can go in the washing machine.
Works on floors, surfaces, and walls.
Sanitizes floors.
Cons
You need to clean the cloth every time you steam because it picks up a lot of dirt.
Most need to be plugged into a socket, which can be annoying for some people.
You need to sweep or vacuum first so you don't collect dust.
Product Specs
| | |
| --- | --- |
| Type | Steam |
| Cleaning Purpose | Spills, Stains, Dirt |
| Type of Surface | Hard floors, Carpets, Tiled walls, Surfaces |
| Price | $$$ |
---
7.

Spin Mop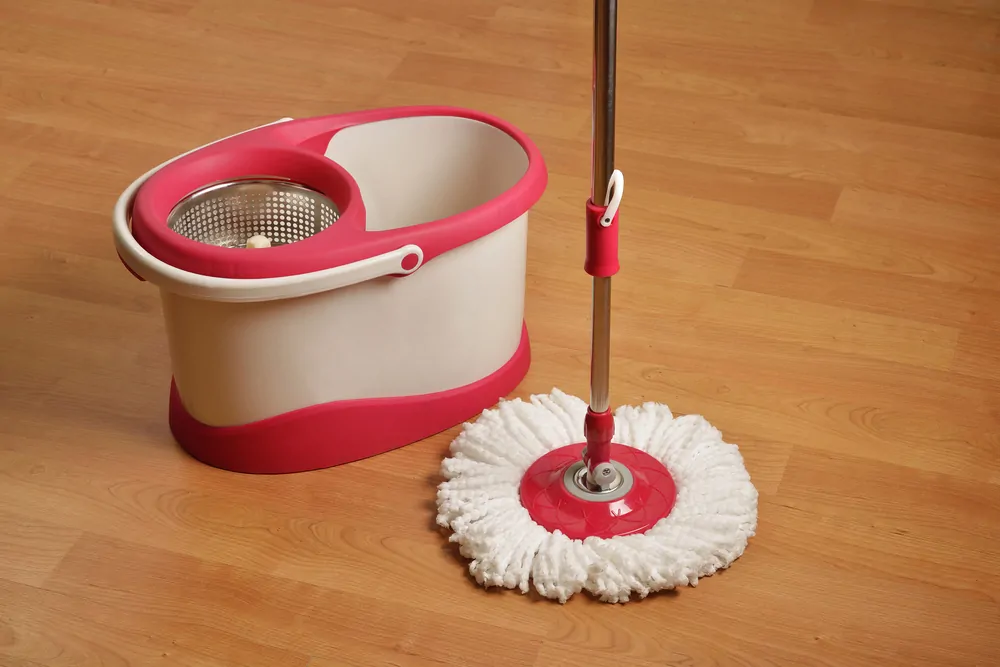 A spin mop is like a string mop, but with a twist. Literally.
Spin mops are made with string and come with a bucket. You can use a spinning function to wring out the water more easily inside the bucket. You can also manually spin the mop to get out stubborn stains without scrubbing super hard.
Pros
More effective on stains.
Good for smaller and hard-to-reach places.
Easy to wring out the water.
Cons
You have to manually spin it if cleaning the floors.
Not great for large commercial places.
Deposits dirt back into the bucket when you wring it.
Product Specs
| | |
| --- | --- |
| Type | Wet |
| Cleaning Purpose | Spills, Stains |
| Type of Surface | Hard floors |
| Price | $$ |
---
8.

Microfiber Mops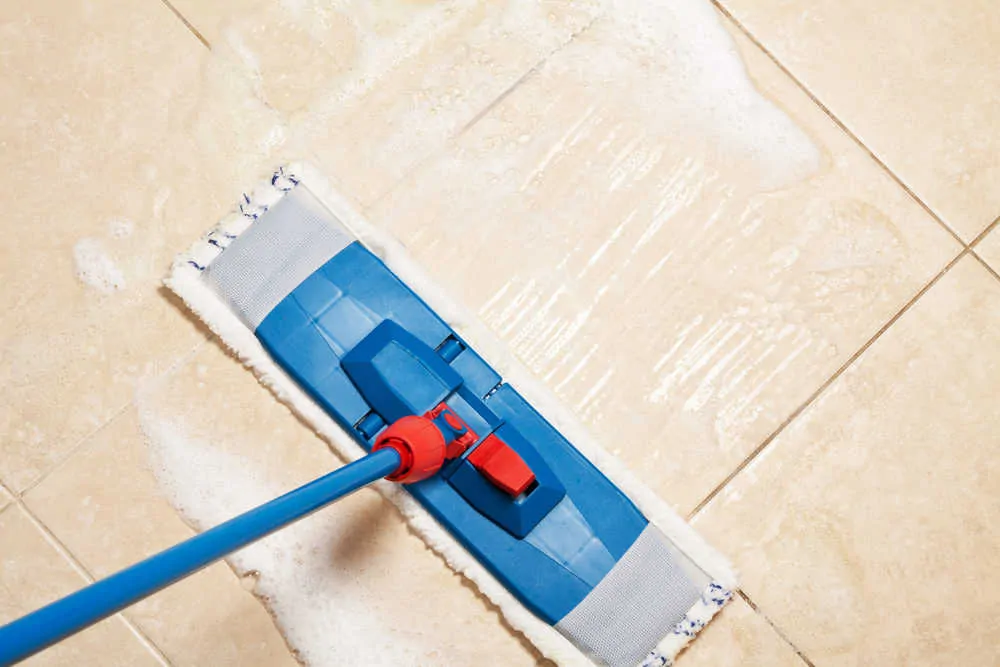 This is a great type of mop that is overtaking the industry. Microfiber has great cleaning abilities and can absorb as much, if not more, than a sponge can. Plus, it's easier to clean than a sponge.
A microfiber mop will last a long time since the microfiber heads can be washed hundreds of times without degrading in quality.
Pros
Highly absorbent.
Easy to clean.
Lasts a long time.
Can be used as a wet or dry mop. Use a dry head to pick up dirt and debris, before using a wet head to clean.
Cons
Difficult for scrubbing out stubborn stains.
Product Specs
| | |
| --- | --- |
| Type | Wet, Dry |
| Cleaning Purpose | Spills, Stains, Dirt, Dust |
| Type of Surface | Hard floors |
| Price | $ |
---
9.

Static Mop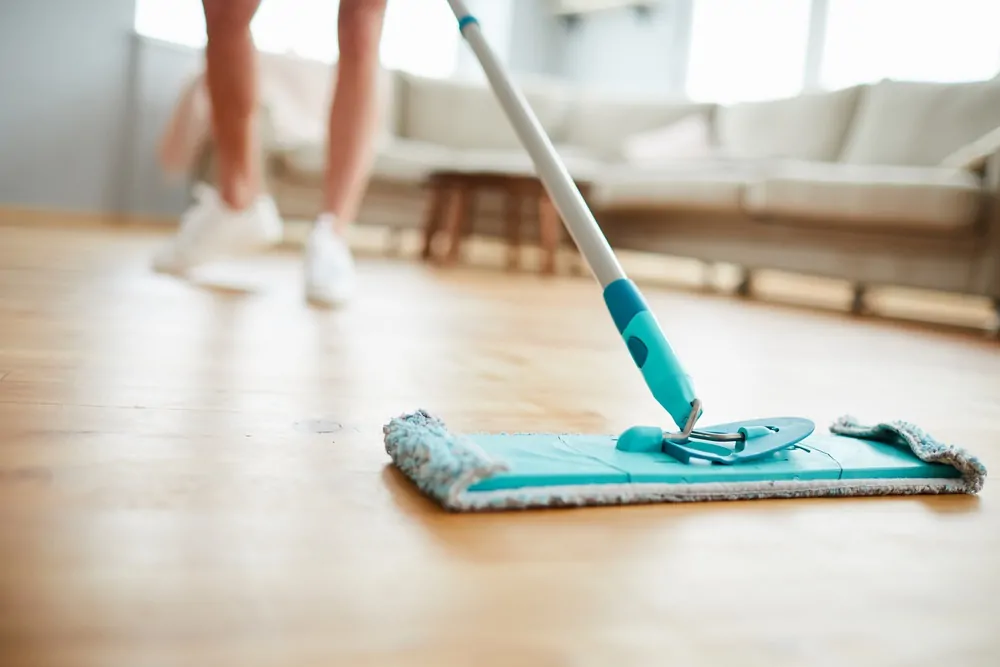 A static mop is another type of mop used for dry cleaning. It collects dirt, dust, and debris using microfiber. Microfiber can act like a static, hence the name static mop. These mops gather up small objects or dust so you can put them into a dustpan before wet cleaning your floors.
Pros
Collects dust, dirt, and debris effectively.
Can be used on floors, ceilings, and surfaces.
Absorbs dust so it doesn't go everywhere.
Good for hard-to-reach areas.
Cons
These mops can be quite flimsy.
Product Specs
| | |
| --- | --- |
| Type | Dry |
| Cleaning Purpose | Dust, Debris |
| Type of Surface | Floors, Surfaces, Blinds, Ceilings |
| Price | $ |
---
10.

Brush Mops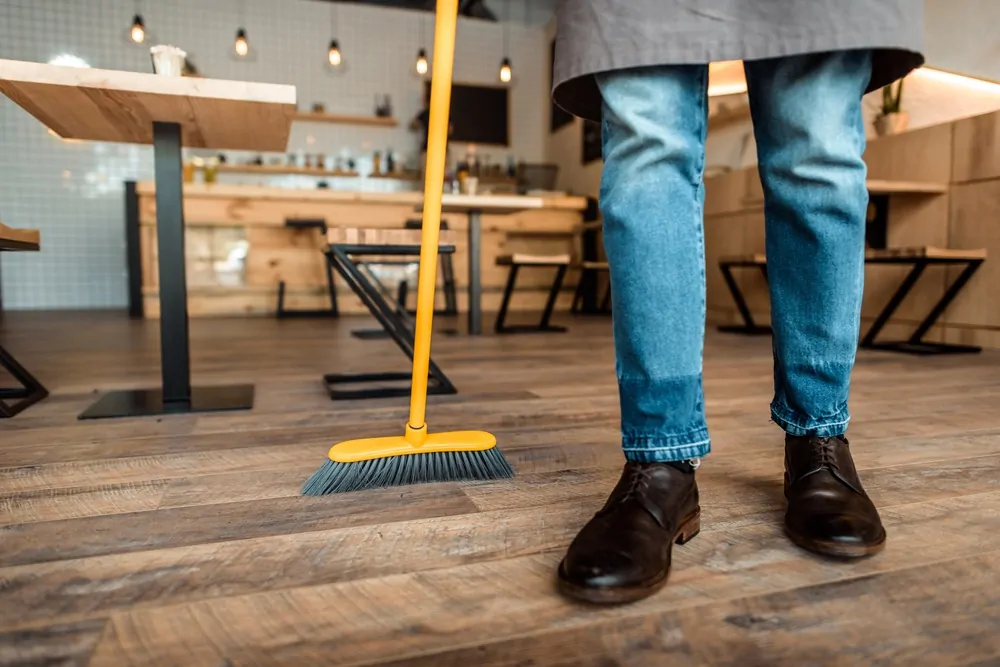 A brush mop is a good combination of a broom and a mop. You can clean the floor like you would with a regular mop, but the added bristles make it easy to scrub stains away.
This is a great mop type to have in the kitchen to eliminate food and drink stains.
Pros
Easy to use.
Scrubbing function for stains.
Dry and wet cleaning.
Indoor and outdoor use.
Cons
Might scratch floors, specifically laminate, because of stiff bristles.
Difficult to use in corners because the head doesn't swivel.
Product Specs
| | |
| --- | --- |
| Type | Dry, Wet |
| Cleaning Purpose | Stains, Spills |
| Type of Surface | Hard floors, Carpets, Indoor, Outdoor |
| Price | $ |
---
11.

Robot Mops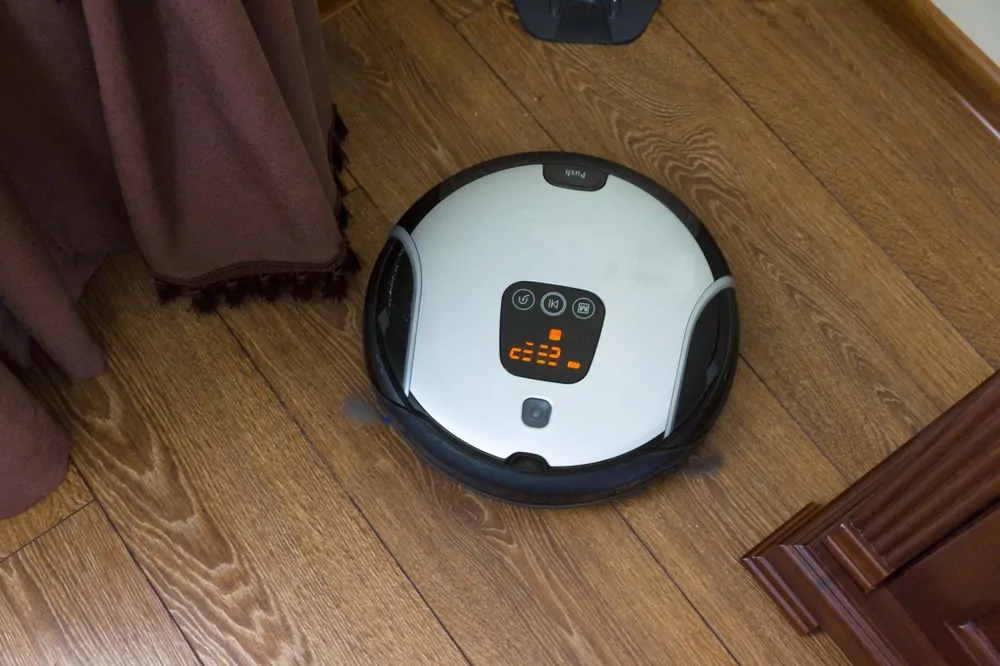 If you're a clean freak and a workaholic, you might need someone else to clean your house. But instead of inviting a stranger to your home, why not try a robot mop?
Robot vacuums have been around for a while now, but robot mops are still pretty new. They still need a bit of work, but they're improving all the time. The robot mop will move around your room, mopping your floors as it goes.
Pros
Hands-free mopping — the robot does the work.
Wet or dry mopping.
Travels to hard-to-reach places, including under furniture and around toilets.
Sweeps floors.
Scrubs floors.
Goes where you want it to go.
Cons
Doesn't clean carpets.
Might not effectively clean bigger stains.
You have to manually start it — it won't run on a schedule.
They need to be topped up with water and charged often.
Product Specs
| | |
| --- | --- |
| Type | Dry, Wet |
| Cleaning Purpose | Dirt, Stains, Dust, Hair |
| Type of Surface | Hard floors |
| Price | $$$ |
---
Frequently Asked Questions
Each mop has different specific functions. Some mops can be used on carpets, while others mops can't. Some mops can clean surfaces, some mops can't.
But in general, mops are used for cleaning floors.
They replace the need to get on your hands and knees with a cloth and brush and scrub until you ache. A mop is a quick fix to messy floors, with its long handle and easy-to-use functions.
Caution
If you have hardwood floors, you can use wet mops, but make sure it's damp, not soaking wet. Work in small areas at a time and don't let water sit on its surface for long. This can damage your floors.
There is some debate over whether mops really clean your floors. The answer is, if you don't do it properly, mops will not clean your floors.
If done incorrectly, mopping is a surefire way to spread bacteria and dirt across your floors. A 2011 study showed that bathroom floors, which are frequently mopped, are actually the dirtiest parts of public restrooms (2).
To tackle this problem, it's important to use hot water and change your water frequently. Opting for a steamer mop here is a good choice.
Pro Tip
Always vacuum or sweep before you mop so you aren't spreading dirt around your floors. Plus, mop the dirtiest and germiest parts of your floor last, such as by the toilet.
If you dunk your mop back into its bucket as you go, you are making your mop increasingly unhygienic. If you use this method to clean your floors, your final result could be an even dirtier floor (3).
If you're going to opt for a traditional mop and bucket type of mop, make sure you clean that bucket regularly. You can rinse with water and distilled white vinegar after every use to disinfect the bucket.
You should also regularly clean your mop, or mop heads, to make sure your mopping is as hygienic as possible.
Why Is My Floor Still Dirty After I Mop?
Uh-oh. Floor still dirty after you've mopped? This could be due to a number of reasons.
You didn't vacuum or sweep: Before every mop should come a good sweep. Get out your broom or vacuum to get rid of every bit of dirt, trash, or hair before you mop. Otherwise, you'll just spread that dirt around your house.
You walked over your clean floors: When mopping, go backwards out of a room. Start at the corner opposite from the door, and go backwards in s-shapes to thoroughly clean every inch of the floor.
You didn't use the right solution: We recommend warm water with a tiny bit of dish liquid and a couple of drops of your favorite essential oil. Don't oversaturate your solution with cleaning products or your floor could be too sticky. If you use a store-bought cleaner, read the instructions beforehand.
You used too much water: You want to use as little water as possible. Too much water can damage your floors.

You didn't go in the right direction: When mopping hardwood floors, go in the direction of the grain. This gives the floors a much cleaner look.
You didn't change the water: If the water looks dirty, change it. Your floors will most certainly look dirty if you continue to clean with dirty, soiled water.
You rushed: Take your time when cleaning your floors. This will result in a much cleaner result.
Can You Mop With Just Water?
You can certainly try, but it's unlikely to be effective. When using a steamer though, just water is fine, because it gets extremely hot and can kill bacteria and break up dirt.
However, for other types of mops, it's best to use a cleaning agent to remove dirt, stains, and disinfect the floors.
Various types of floors require different cleaning products, so make sure you use the right product for your flooring type. And remember, hardwood flooring is best cleaned with a dry or damp mop since water can damage the wood.
Top Tip
Make sure you get a cleaning agent specific for the types of floors you have in your house.
How Many Times A Week Should I Mop?
The magic number here is once.
It's a good idea to mop your floors once a week to keep the house clean and tidy. For kitchen floors, you may want to mop a little more often since there will be more food and drink spills here.
If you have a spill anywhere in the house though, mop it up immediately so you don't attract bugs and bacteria to that spot (4).
For other areas in the house that aren't as frequently visited, such as a guest room, you can mop in there once a month or so.
---
Mop 'Til You Drop
With these pro tips on mopping, you'll be able to find the right mop for your home, whether you have hardwood floors, laminate, or carpet.
Make sure to follow the additional tips and tricks to ensure you have the cleanest floors possible. Mops are always developing in the market, so keep an eye out to see which new mops will be available soon.
Thank You For Your Feedback!
Thank You For Your Feedback!