Do you have long hair and struggle to remove fallen strands from your floors? Does your vacuum's brush tangle easily and cost you more time when you clean? Trust us, we understand the frustration.
Pets aren't the only ones who shed all over the place. As you go about your life, you will lose a few hairs along the way. You might not notice it at first, but they'll build up, and it can be tricky to clear your floors of them.
Sometimes a regular vacuum doesn't cut it. That's why we've spent hours researching products and genuine customer reviews, and concluded the five best vacuums for long hair.
Image
Model
Product Comparison Table
Features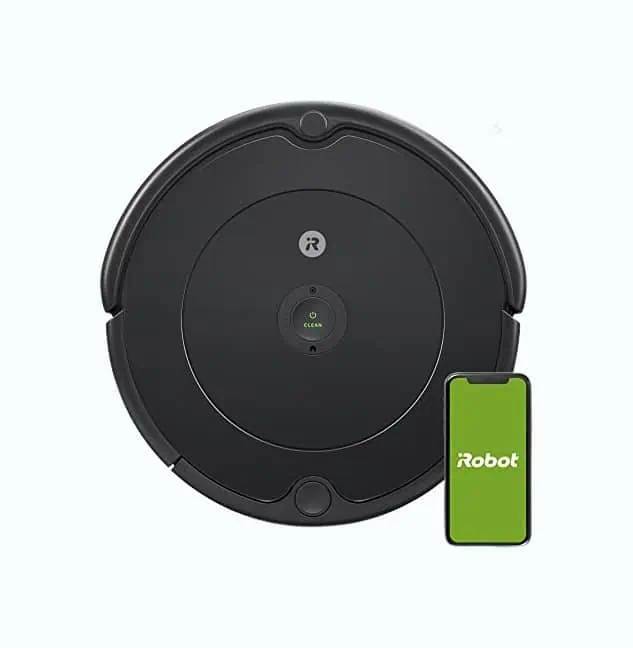 Best Robot Vacuum
iRobot Roomba 694
No manual operation
It can climb up to 1 inch
Safety feature prevent damage
Best Stick
Dyson Cyclone V10 Animal
Multi-purpose
Quieter than other options
Great capacity at 0.76 liter
Best Upright
Bissell Cleanview
Triple action brush
Awesome attachments for deep cleaning
Bissell donates when you buy
Best Handheld
Bissell Pet Hair Eraser
User-friendly design
Tabletop storage and compact design
Great attachments for deep cleaning
Best Canister
Ovente Bagless Canister
Pet/sofa accessory for removing long hairs
Varied brushes for various surfaces
Extra reach with telescopic wand
Review Methodology: At Oh So Spotless, our commitment to providing trustworthy and reliable information is demonstrated through our thorough research, hands-on experience, and professional evaluation of the best vacuums for long hair. We analyze and compare products based on criteria such as performance, design, and user experience to help you make informed decisions. Our assessments include quantitative measurements and first-hand evidence to ensure we're recommending the most effective products. We identify key factors like suction power, brush design, and ease of maintenance, and rank vacuums accordingly. By highlighting what sets each product apart from its competitors, we offer valuable insights into the world of vacuums tailored for long hair.
---
---
The Best Vacuums For Long Hair of 2023
These are five of the best vacuums for long hair that we reviewed based on their capacity, filtration method, suction power, and capacity.
iRobot Roomba 694 Robot Vacuum
Best Robot Vacuum for Long Hair
Why do your own cleaning when you could get a robot to do it for you? If you don't want to struggle with your hair piles, this little-known — but excellent — model should be your first choice.
It's a multi-floor vacuum that works well on hard floors, vinyl, wood, and carpets. This low-profile model fits under furniture with no hassle. You can easily control it with a remote or schedule it to clean automatically.
A self-charging feature saves time, while patented Dirt Detect technology allows it to recognize high-traffic areas and clean them more thoroughly. It comes with two multi-surface brushes.
What We Like
No Cleaning Effort Required
This model has all the features that a robot vacuum should have. You can schedule it to start and clean automatically or set it with a remote and leave it to run without assistance. It requires absolutely no effort from you.
Can Climb About an Inch
This vacuum won't scale your walls, but this little machine can find its way over tracks or small steps and ledges. Thanks to this feature, switching between carpets, rugs, and hard floors is no problem for this vacuum.
Safety Feature Prevents Damage
You wouldn't want your robot to fall and break, so it's great that this one has anti-drop technology. This is extra useful if you live in a multi-story home. You won't have to babysit your vacuum, saving you even more time.
What We Don't Like
More Maintenance Required
If you rely on this robot vacuum to remove hair, prepare to spend more time cleaning it out. Since it's compact, its dirt capacity is much lower than the other models we recommend. Also, remember that it's a robot vacuum and will give you less power than bigger machines.
It's Unpredictable and Easily Confused
Some users say that this robot vacuum isn't as organized as others. Buyers mention that it has no clear cleaning path and is easily confused. It still gets the job done, and customers are satisfied regardless.
Product Specs
| | |
| --- | --- |
| Brush type | Edge-sweeping, dual brush |
| Special features | Anti-drop technology, voice-activated scheduling, climbing ability |
| Capacity | 0.6 liters |
| Multi-Purpose? | Yes |
| Accessories | 2 edge-sweeping brushes, app control, voice control, adapter, charging dock, remote control, 2 batteries |
Our Ratings
Ease of Cleaning & Maintenance
Community Feedback
"I've recently upgraded to this Roomba model and it's a significant improvement over my previous one. It effortlessly transitions from carpet to hardwood floors, and the sweeper effectively picks up dander that a regular vacuum might miss. While it occasionally misses spots, I can easily run it again, making cleaning a breeze and saving me time and effort."
---
Dyson Cyclone V10 Animal Cordless Stick Vacuum
Best Stick Vacuum for Long Hair
Dyson is a leader in vacuum technology, and customers are pleased with this model. It's designed for pet homes, so it will tackle your long hair with ease. Cyclone technology generates more power for greater effect in cleaning.
This vacuum has some nifty features like acoustic engineering for less noise and a fade-free motor for consistent suction. It's a cordless model, and the battery will last you for an hour after a full charge.
The handheld utility makes it an all-rounder, and it's easy to use, adjust and store. A mini motorized brush, mini soft dusting brush, crevice tool, and combination tool are included.
What We Like
Multi-Purpose Ability Deep Cleans Your Home
This is a powerful machine that you can use almost anywhere in your home. It's good for both carpets and hard floors, and it converts into a handheld. It comes with a great selection of tools for cleaning tricky spots, fabrics, and stubborn hairs. Wherever you need to clean, this vacuum can accompany you.
It's Quieter Than Other Options
It's not often that domestic vacuums have sound suppression, but this one does. Its acoustic engineering is an excellent and appreciated feature that keeps noise levels down. It's only natural since this model is intended for use around pets.
Great Capacity at 0.76 Liters
With 40 percent more space than previous models, this one can hold 0.76 liters of dirt. A bonus is that it comes with a simple ejector, so emptying the bin is effortless and cleaner.
What We Don't Like
Inconvenient and Irreplaceable Batteries
You'll have to take extra care when using and charging this vacuum because its batteries are sealed in. So, if you ever need to repair or replace them, you'll have to buy a whole new machine.
Some buyers also say that the charge didn't hold for a full hour. There's no way to tell if this is Dyson's fault or neglect by the users.
Not an Ergonomic Design
Though this model is lightweight and portable, some users say it's slightly uncomfortable to hold. Since you always need to hold it down, the power button could strain your fingers, and operating the vacuum takes some getting used to.
Product Specs
| | |
| --- | --- |
| Brush type | Stiff nylon |
| Special features | Whole-system filtration, acoustic engineering, Direct Drive head, three suction modes, handheld convertible |
| Capacity | 0.7 liters |
| Multi-Purpose? | Yes |
| Accessories | Mini motorized brush, mini soft dusting brush, crevice tool, combination tool |
Our Ratings
Ease of Cleaning & Maintenance
Community Feedback
"This Dyson V10 cordless vacuum is a game changer for me, especially with two Siberian cats shedding hair everywhere. It's lightweight, easy to switch attachments, and has multiple power settings. Although the battery life could be better, it's manageable if you don't use boost mode constantly. The vacuum excels at removing pet hair from furniture, curtains, and other soft surfaces, and the Dyson phone app is a bonus. Despite a few minor design issues, like the power button needing to be held down and the canister being difficult to remove, this vacuum is a fantastic investment for pet owners."
---
Bissell Cleanview Swivel Pet 2252 Upright Vacuum
Best Upright Vacuum for Long Hair
This upright stands out to us because it has a multi-surface utility. It includes a crevice tool, turbo brush, and dusting brush, so it's suitable for furniture, upholstery, and tight spots.
It's powered by patented Triple Action technology that makes cleaning more efficient, faster, and easier. The brush roll lifts, loosens, and clears even stubborn dirt all at once. For hair, this is a great feature; you won't have to struggle with do-overs.
Another feature we love is the multi-level, multi-cyclonic filtration. It boosts the vacuum's suction, so you'll pick up more dirt and hair. Also included is a reusable, washable filter which saves you money in the long run.
What We Like
Less Effort Required From You
A Triple Action brush roll makes a powerful difference in how you clean. You will save a lot of energy and effort thanks to this feature. It's excellent for hair removal and saves you time too.
Awesome Attachments Help You Deep Clean
Apart from the accessories we mentioned, you get a good range of add-ons. There's an extension wand and a 6-foot hose thrown in for extra reach. Uprights don't typically include tools like this, so Bissell earns extra points in our books.
It's for a Good Cause
Bissell donates as much as 10 dollars per purchase to an animal charity of its choice. So, you'll add some much-needed good to the world if you choose this one. Plus, since it's a pet vacuum, your hairs aren't any match for it.
What We Don't Like
Learning Curve to Get Used to It
Customers say that compared to other upright vacuums, it's tricky to get the hang of this one. Most criticism is aimed at inconvenient assembly and frustrating control placement. Regardless, users are happy with this vacuum's efficiency.
It's Rigid and Heavy to Maneuver
Remember that this is an upright model. So, although it includes excellent attachments for versatility, it lacks maneuverability and portability. Some users might think it's a bit heavy at 12.5 pounds.
Product Specs
| | |
| --- | --- |
| Brush type | Soft/triple action |
| Special features | Multi-level and multi-cyclonic filtration, washable filter, scatter-free technology |
| Capacity | 1 liter |
| Multi-Purpose? | Yes |
| Accessories | Turbo brush, dusting brush, crevice tool |
Our Ratings
Ease of Cleaning & Maintenance
Community Feedback
"My experience with this vacuum has been impressive! It's powerful, picking up dirt and pet hair with ease, and the adjustable height and swivel steering make it a breeze to navigate around furniture and baseboards. Though slightly heavier than my previous vacuum, it doesn't bother me because of its effectiveness."
---
Bissell Pet Hair Eraser Cordless Hand Vacuum
Best Handheld Vacuum for Long Hair
If you need a vacuum for small, quick hair cleaning tasks, you won't go wrong with this one. It works well on long hair, dust, dirt, debris, and pet hair. You can use it on carpets, fabrics and hard surfaces too.
We love its tabletop adapter because it makes storage and charging so easy. Its attachments are standard, but they're a wonderful addition. You'll get an upholstery tool, crevice tool, and motorized brush tool.
We're impressed by this handheld's 0.7-liter capacity. Maintenance is simple, and an LED light helps you monitor its battery life.
What We Like
User-Friendly and Hassle-Free Cleaning
Customers are happy with this model's ease of use. There is no fuss in finding your way around it, and it will be up and running in no time.
We recommend it for hassle-free hair cleaning around your dressing table or furniture. It's perfect for touch-ups too.
Tabletop Storage and Compact Design
You won't have to bother with wall mounts, or finding a spot in your cupboards. This compact vacuum takes up little space and is easily set up to dock and charge on your tables, shelves, or counters. It's accessible and convenient.
Great Attachments Included
Not all handhelds come with accessories. The included attachments for this vacuum are standard, but we appreciate them anyway. They're a big help when you need precision in cleaning up your hair.
What We Don't Like
Charging Is Tedious
A prominent complaint is that this vacuum, handy as it may be, takes eight hours to fully charge. It's worth the wait, but we recommend charging it at night when you're unlikely to need it. It would be so frustrating to need it in a fix, and not have it ready to go.
Small Jobs Only
We suggest buying this model alongside a bigger vacuum. It's a wonderful choice that does its job well, but it's not intended for large areas or deep cleaning. So, stick to touch-ups and emergency tidying.
Product Specs
| | |
| --- | --- |
| Brush type | Motorized |
| Special features | Tabletop docking station, triple-level filtration, an indicator light |
| Capacity | 0.7 liters |
| Multi-Purpose? | Yes |
| Accessories | Upholstery tool, crevice tool, charging dock |
Our Ratings
Ease of Cleaning & Maintenance
Community Feedback
"My experience with this handheld vacuum has been quite impressive. It's made of sturdy materials and has a great design that makes cleaning and accessing the waste gate simple. I was pleasantly surprised by its battery life, as it lasted much longer than my previous vacuum. The cleaning power is effective, especially for picking up pet hair on various surfaces. However, it could be improved with better attachment storage and a longer-lasting battery."
---
Ovente Bagless Canister
Best Canister Vacuum for Long Hair
This canister vacuum is a top choice in multi-purpose cleaning. For starters, it includes a bendable telescopic wand and a 360-degree swivel hose. It's more maneuverable and gives you more reach than most other canister vacuums.
A HEPA filter and multi-level filtration add to this product's value and suction power. It's suitable for pet homes, and thanks to its cool accessories will have no problem tackling long hair.
A crevice nozzle, floor brush, pet/sofa brush, bristle brush, and a bendable multi-angle brush are included. It also features automatic cord rewind and a translucent dust bin for easy maintenance.
What We Like
Pet/Sofa Accessory Removes Long Hair
We like the pet-specific sofa brush that will effortlessly take care of your long hair. Additionally, we think it's great that this product includes more accessories than your average canister. The added features increase its value for money.
Varied Brushes for Multi-Purpose Use
The attachments and accessories you get make this vacuum's multi-purpose ability shine. You have a choice of four different brushes to suit your surfaces and needs. The multi-angle brush is bendable, which is safer for your surfaces and saves you effort too.
You can use this vacuum on all types of floors, upholstery and furniture.
Extra Reach With Telescopic Wand
We like the bendable telescopic wand because it makes a big difference in what you can access. The 360-degree swiveling hose compliments how versatile and maneuverable this vacuum is. It's great for cleaning difficult, tight and out-of-the-way areas.
What We Don't Like
It's Not Ergonomic
Users say that it feels as though this model was designed with short people in mind. There are a few complaints that operating it is slightly uncomfortable, or at the very least takes some getting used to. Customers are still satisfied with its efficiency, but warn that it could strain your back.
More Maintenance Due to HEPA Filter
Though the HEPA filter is a great addition, some users note that it's a hassle to clean. Some buyers say that they have to clean it out before every use. Regardless of these complaints, the vacuum was still praised for its ability.
Product Specs
| | |
| --- | --- |
| Brush type | Hard/various |
| Special features | HEPA filter, automatic cord rewind, 360-degree hose swivel, bendable telescopic wand |
| Capacity | 3 liters |
| Multi-Purpose? | Yes |
| Accessories | Floor brush, crevice nozzle, bristle brush, pet/sofa brush, multi-angle brush |
Our Ratings
Ease of Cleaning & Maintenance
Community Feedback
"From my experience with this vacuum, it performed well in compact spaces like a motorhome, offering strong suction power without taking up much storage space. However, I did notice that the hose could be a bit short, causing me to bend slightly while using it, which led to some back discomfort. Lastly, the power cord was shorter than expected, requiring an extension cord for use in larger areas, and the floor head wasn't ideal for tile floors, but overall, it's a decent vacuum for small spaces."
---
How to Choose a Vacuum for Long Hair
There are a few traits you want to make sure the model you settle on has. Pay attention to the following features when buying a vacuum for long hair.
---
FAQs
---
Thank You For Your Feedback!
Thank You For Your Feedback!