Are you tired of dragging around a bulky vacuum? Do you have back problems or find that constantly bending down with a traditional one is taking its toll?
A backpack model might be your solution. This type of vacuum is excellent in many ways. While they're great if you have a commercial cleaning business, we also recommend them for home use.
Today you'll learn everything there is to know about buying the best backpack vacuum. Plus, we've researched far and wide to find the seven best options on the market.
Image
Model
Product Comparison Table
Features
Best Overall
ProTeam Super CoachVac
Powerful yet quiet
Multi-surface cleaning
Advanced filtration system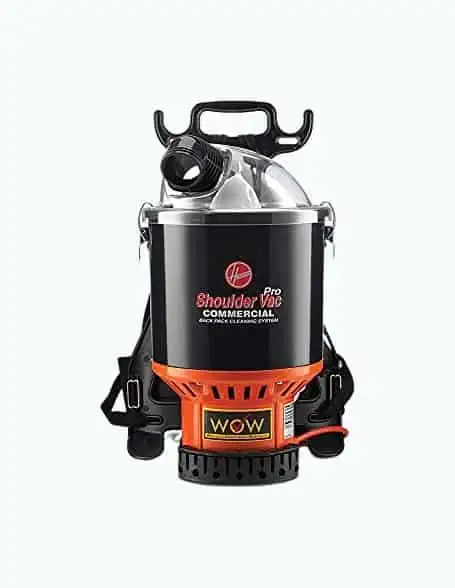 Best Commercial
Hoover Lightweight Vacuum
Lightweight with comfortable harness
Large bagged or bagless canister
Quick connect power cord
Best Canister
Hoover CH30000 PortaPower
Versatile for various uses
Only weighs 8.3 pounds
Excellent suction power & reach
Best for Sore Backs
Powr-Flite Comfort Pro
Ultra comfortable
Powerful 1200W motor
Super quiet at 62 decibels
Best for Bare Floors
Sanitaire Quiet Clean
Great for bare floors
HEPA filtration system
Wide cleaning path
Best for Stubborn Messes
ProTeam ProVac FS 6
Padded harness for comfort
Plenty of extra tools
1,108-watt motor suction
Best for Pet Hair
GV Commercial Vacuum
Powerful machine
Comfortable straps
Perfect for pet hair
---
---
The Best Backpack Vacuum Reviews of 2023
Here are seven of the most brilliant backpack vacuums we found.
ProTeam Super CoachVac Backpack Vacuum
Best Overall Backpack Vacuum
The Super CoachVac backpack vacuum from ProTeam is a powerful appliance equipped with a super filtration system. It's capable of tackling even the hardest jobs in less time.
A great feature is the extra-long power cord. Measuring 50 feet, it allows you to clean a large radius from a single power outlet.
It also comes with a Xover multi-surface telescoping wand and a tool kit that provides attachments for each task. It's excellent for carpets, rugs, hard floors, and furniture — you can even reach the ceiling fan.
Another huge advantage is how quiet it is. This model operates at a mere 66 decibels.
What We Like
Powerful Yet Quiet at 66 Decibels
The Super CoachVac packs a punch in terms of power with its 1,188-watt motor. Many users praise its efficiency in eliminating dirt and dust.
We love the lower sound level — it operates at only 66 decibels. The vacuum is great for homes with kids or pets or public spaces such as schools or offices.
Multi-Surface Cleaning
It comes with a Xover Tool for floors or low-pile rugs. This allows you to move smoothly from carpeted floors to other surfaces like tile, linoleum, and hardwood floors. And thanks to the long telescopic wand, you can use it to clean air vents, stairways, and ceilings.
You also get a kit full of all the essentials. These include a soft dusting brush, a slim crevice tool, and an upholstery tool.
Advanced Filtration System
A strong filter is vital for a thorough clean, and ProTeam knows how to provide it. The backpack vacuum includes a four-level advanced filtration system with HEPA. It practically extracts all the dust bunnies and pet dander from the atmosphere.
It's been certified Gold by the Carpet and Rug Institute (CRI). Also, the 10-quart tank has three times the capacity of a traditional upright vacuum.
Ergonomic Harness Improves Comfort
ProTeam uses a mountaineering-style backpack to ensure this vacuum is comfortable. Instead of carrying the weight on your upper and lower back, the load is primarily concentrated on your hips. This will minimize the chances of injury.
What We Don't Like
The Hose Snaps Off Easily
There have been a few reported incidents of the hose snapping off. While this can be time-consuming to replace, there is a three-year manufacturer's warranty on this model.
Product Specs
| | |
| --- | --- |
| Power | 1,188 watts |
| Cord | 50 feet cord length |
| Weight | 11 pounds |
| Warranty | Three-year warranty |
Our Ratings
---
Hoover C2401 Shoulder Vac Commercial Backpack Vacuum
Best Commercial Backpack Vacuum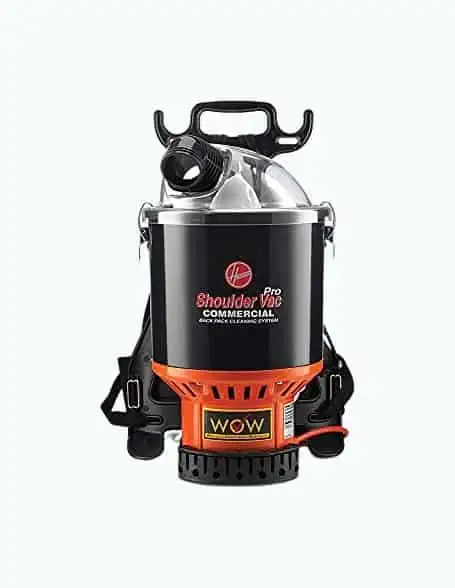 This is from a renowned vacuum manufacturer. Hoover specializes in lightweight machines for personal and professional use. The Commercial C2401 represents all the best of Hoover. It's super lightweight, coming in at just over nine pounds.
The vacuum is also compact, excellent for fitting through doorways and other small spaces. Yet it can carry a large capacity — up to 6.4 quarts, to be exact. A great feature is the clear dome lid which allows you to see your productivity firsthand.
What's more, you get an incredible 48-foot power cord equipped with a Quick Change feature. It also comes with all the tools required for a thorough clean.
What We Like
Lightweight with a Comfortable Harness
Hoover has always been a favorite manufacturer in the vacuum sector. And they certainly pulled out all the stops with this backpack. They brought in a team of chiropractors to assist with it to make it as comfortable as possible.
The harness was specifically designed to reduce pressure, limiting any chance of strains and injuries. It consists of two shoulder straps and a full padded belt focusing the weight on the hips. Plus, it only weighs 9.2-pounds.
Large Bagged or Bagless Canister
The vacuum can hold 6.4 quarts of dirt and dust. Hoover has a solution if you're struggling to choose between a bagless or bagged vacuum. This vacuum offers both options.
It comes with a reusable cloth liner dust bag, or you can choose to use disposable ones instead.
As an everyday vacuum, use the cloth liner. If you're cleaning pet hair or dusty materials, on the other hand, switch to a paper bag.
Useful Features Improve Cleaning
Hoover doesn't hold back when it comes to added features and accessories. In the bundle, you get a 60-inch locking hose and a set of metal wands. It also includes a turbo floor tool, crevice tool, dusting brush, and an upholstery tool.
This model comes with a HEPA filter — a plus if you suffer from allergies or asthma. It annihilates 99.97 percent of particles down to 0.3 microns. This ensures that nothing escapes through the exhaust.
Quick Connect Power Cord
The Commercial C2401 has a 48 feet power cord extension, which you attach using the quick connect system. This also lets you quickly attach it to a longer cord if needed.
What We Don't Like
No Height Adjustments
The wand does not allow for height adjustments. If you're tall, it can be challenging to align the floor brush for the best suction.
Adapter Needed for the Tools
Some may find it frustrating that an adapter is needed to attach the tools. Although it's included in the package, the accessories become useless if you ever misplace them.
Product Specs
| | |
| --- | --- |
| Power | 1,000 watts |
| Cord | 48 feet |
| Weight | 9.2 pounds |
| Warranty | Two-year commercial warranty |
Our Ratings
---
Hoover PortaPower Commercial Canister Vacuum CH30000
Best Backpack Canister Vacuum
Canister vacuums are practical in many ways. They can reach under low furniture or up high for ceiling fans. Pack those benefits into one you can carry, and you've got the Hoover PortaPower vacuum.
It comes with everything a canister machine would, and you can wear it on your shoulder. Plus, it's lightweight and very reliable, with add-on features to reach small, tight spaces. The vacuum is also equipped with a blower option for your garage.
Hoover doesn't stop there. It includes a reusable cloth bag, but you can opt for a disposable one instead. The power cord stretches 33 feet, and it's fitted with a 900-watt motor.
What We Like
Versatile Enough to Handle Every Task
This portable canister vacuum defines the word "versatile." It comes with add-ons for every task. You'll find two different suction heads, an upholstery tool, a crevice tool, and a dusting brush.
We also love that Hoover gives you the option of switching between a reusable cloth bag and a disposable one. Depending on the task, you can apply the most appropriate option.
Only Weighs 8.3 Pounds
The canister shoulder vacuum weighs less than a school bag. It comes in at only 8.3 pounds, making it super comfortable to carry.
The strap is long enough to be used across your body or just over one shoulder. However, it's preferable to use the cross-body option to ensure that it doesn't slip off.
Excellent Suction Power and Reach
The humble 900-watt motor may sound small, but it does provide ample suction. It works well on carpets and is excellent at getting rid of pet hair. You control it all from the convenient button located on the canister handle.
The 33-foot long power cord isn't the longest but is more than enough for smaller spaces or homes. It's also great for curtains and blinds, thanks to the wand and extendable hose.
What We Don't Like
Not for Thick Carpets
This isn't the ideal machine for use on thick carpets. Although the suction power is strong, it isn't great on deeper-pile rugs. This is still an excellent choice if you have lower-pile carpets or uncovered flooring.
No Hook for the Cord
It seems that Hoover missed a step since there's nowhere to place the 33-foot power cord. Instead, you must wrap it around the handle when it's time to store the vacuum cleaner. A hook to hold it in place would've been nice.
Product Specs
| | |
| --- | --- |
| Power | 900 watts |
| Cord | 33 feet cord length |
| Weight | 8.3 pounds |
| Warranty | Limited warranty |
Our Ratings
---
Powr-Flite Comfort Pro BP6S Backpack Vacuum
Best Backpack Vacuum for Sore Backs
If you're prone to back issues, choosing a backpack vacuum that won't cause more damage is essential. As the name suggests, this Comfort Pro from Powr-Flite is specially made for comfortable usage.
This, however, doesn't mean that they've compromised on performance. This is a robust machine that operates quietly. It has a 1,200-watt motor and a sound rating of only 62 decibels – perfect for sensitive ears.
What's more, the five-stage HEPA filter makes it an excellent vacuum for allergy sufferers. It ensures no dander and pollen are let back into the room. Plus, it comes with high-performance tools for each cleaning task.
What We Like
Ultra Comfort for Most Users
This backpack vacuum is all about making your experience as comfortable as possible. It's got a unique harness with several adjustment points, making it suitable for variously sized bodies. It's also very light, weighing only 8.26 pounds.
The straps are conveniently made from a mesh material. This allows your skin to breathe underneath, optimizing your comfort even during hot summer months.
Powerful 1200W Motor
The vacuum earned the Gold Seal of Approval from the Carpet and Rug Institute (CRI). It's engineered to provide superb cleaning power and productivity, and dependability.
With a powerful 1,200-watt motor providing plenty of suction power, this machine is raring to go. It's even great at getting rid of pet hair and dander. Thanks to the five-stage HEPA filtration system, the surrounding air is kept clean.
Super Quiet at 62 Decibels
Powr-Flite made sure to keep the noise level to a minimum – it operates quietly at only 62 decibels. This low rating meets the U.S. Green Building Council LEED-EB as well as the CIMS-GB noise level requirements.
Plenty of Tools Included
Before going into battle with the dust bunnies, you need the right tools. With the Comfort Pro, Powr-Flite has included accessories for crevices, carpets, hard floors, upholstery, and dusting. You also get an extendable, crush-proof hose and a two-section bending chrome wand.
What We Don't Like
Takes Time to Adjust
While the harness is excellent for comfort, it's not that easy to adjust. This isn't a quick up-and-go tool for minor spills. Rather, it's for those times when you truly need a thorough clean.
Just be sure to fit the harness correctly. Otherwise, the machine can feel quite heavy.
Product Specs
| | |
| --- | --- |
| Power | 1,200 watts |
| Cord | 50 feet cord length |
| Weight | 8.62 pounds |
| Warranty | Not specified |
Our Ratings
---
Sanitaire Quiet Clean EURSC412B Backpack Vacuum
Best Backpack Vacuum for Bare Floors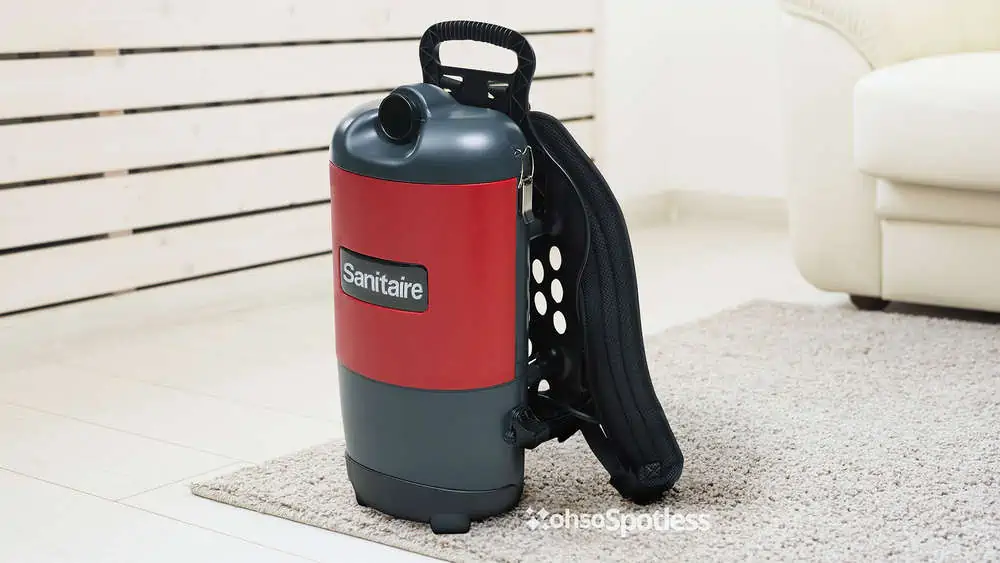 Bare floors require a special vacuum to prevent damage. The Quiet Clean from Sanitaire is great for all types of uncovered flooring, and it's easy on your back. It packs a 1,400-watt motor with immense power for tough carpets or smooth tiles.
The vacuum comes with the CRI Seal of Approval and is equipped with a four-stage HEPA filtration system. It's capable of removing 99.97 percent of particles down to 0.3 microns.
Additionally, the 12-inch wide cleaning path gives you optimal productivity. We also love the 50-foot power cord. It allows you to cover a large radius to clean before switching outlets.
What We Like
Great for Bare Floors
Cleaning uncarpeted flooring isn't as straightforward as it may seem. Because they're smooth, dust and dirt tend to spread everywhere. This vacuum comes with a specialized attachment for bare floors.
Don't worry, though. You still get all other necessary attachments — including one for carpets. It also comes with crevice and upholstery tools and a dusting brush, an extendable wand, and a flexible hose.
HEPA Filtration System
If you're sensitive to dust, a good filtration system is crucial. HEPA filters are generally recommended for people who suffer from allergies and asthma. Fortunately, Sanitaire has included one with this vacuum.
It's fitted with a four-stage HEPA filter, capable of keeping the floors and the atmosphere clean. Nothing is let through to the exhaust, and since it utilizes disposable dust bags, no dust or debris will escape.
Wide 12-Inch Cleaning Path
The broad 12-inch cleaning path optimizes your productivity. There'll be no need to go over the same spot several times. Add in the 50-foot power cord, and you could cut your cleaning time in half. This is without a doubt a very efficient vacuum cleaner.
What We Don't Like
Attachments Require Some Effort
The attachments aren't easy to place on the wand. A few users have commented that it takes a bit of strength. Similarly, they won't come off too quickly either.
But maybe this isn't really a bad thing. No one needs to have tools falling off in the middle of their cleaning jobs anyway.
Incomplete Instructions
Some users have found the instructions in the owner's manual to be incomplete. A few steps are missing, particularly concerning attaching the tools. Fortunately, not much assembly is required to use the vacuum.
Product Specs
| | |
| --- | --- |
| Power | 1,400 watts |
| Cord | 50 feet cord length |
| Weight | 11.5 pounds |
| Warranty | One-year warranty |
Our Ratings
---
ProTeam ProVac FS 6 Backpack Vacuums
Best Backpack Vacuum for Stubborn Messes
When faced with stubborn messes, a few tools are required. This backpack vacuum from ProVac comes loaded with accessories to help you conquer any job. You can use it on hard floors, carpets, chairs, and stairs.
One feature we appreciate is the padded harness. It allows you to use the vacuum for extended periods without feeling the ache.
There's also the adjustable FlexFit, which is suitable for people of all sizes. Additionally, ProVac made it from a breathable mesh fabric to keep you from overheating on warmer days.
This backpack vacuum comes with a 50-foot power cord, providing an ample cleaning radius. It's also equipped with a HEPA filter for a more thorough clean.
What We Like
Padded Harness Provides Extra Comfort
To get the most out of your backpack vacuum, it must feel good to wear. Harnesses can sometimes cause discomfort. ProVac eliminated that risk by adding extra padding to the shoulder straps, making them ultra-comfortable.
The harness also includes an integrated tool kit belt with room for all the accessories. It's handy if you're cleaning a larger area and don't want to run back and forth for tools.
Plenty of Extra Tools
ProVac included an army of tools you can bring to battle — there's one for each task. You get an upholstery tool, two-piece wand, crevice tool, carpet attachment, hard floor attachment, and a soft dusting brush.
The manufacturer recommends this mode for use in the food service industry. This would include restaurants, bars, and school cafeterias.
Easy to Carry From Room to Room
This backpack vacuum gives new meaning to the term "productive." The 50-foot long power cord allows you to clean a large area without stopping and changing outlets continually. You can easily move from the kitchen to the dining or living room.
It's also relatively lightweight, weighing 11.6 pounds. This makes it relatively easy to carry around on your back without feeling like you're lugging a heavy load.
1,108-Watt Motor Suction
The vacuum comes with a 1,108-watt motor, and users are delighted with its suction power. It has an incredibly strong pull. You can be sure it will draw out the tiniest dust particles from your carpet or hard floor.
What We Don't Like
Attachments Aren't Universal
This is a common concern with ProVac. Instead of producing attachments, you can use them across several of its products; each different model requires its own. If you're upgrading from an earlier one or plan to do so later, you'll need a new set of accessories.
If you have a cleaning business that requires various types of vacuum cleaners, they won't be able to share the attachments.
Product Specs
| | |
| --- | --- |
| Power | 1,108 watts |
| Cord | 50 feet cord length |
| Weight | 11.6 pounds |
| Warranty | Three-year warranty |
Our Ratings
---
GV Commercial Backpack Vacuum
Best Backpack Vacuum for Pet Hair
The GV Commercial Backpack Vacuum is an excellent pick for pet owners. It's powerful but reasonably light, great for use on hard floors and carpets. Its aluminum construction makes it durable without adding unnecessary weight.
It comes with all the tools required for a thorough clean, including a pet tool. What's more, the integrated HEPA filter will ensure all dander and odors leave the room. Plus, it's a three-level system, sufficient for domestic use.
The vacuum comes with padded waist and shoulder straps for extra comfort. These are fully adjustable and can fit whether you're tall or short. The canister can hold a 10-quart bag for dust and debris.
What We Like
Powerful Machine With Great Suction
This vacuum has immense power. Users have nothing but praise — you could practically suck flies right from the air.
The large capacity also means that bigger jobs will get done more quickly. You can finish everything in no time without needing to replace a bag.
Comfortable Padded Shoulder and Waist Straps
While this isn't the heaviest vacuum cleaner on the market, it's definitely not the lightest either. With a weight of 11 pounds, good straps are essential. GV fitted them with extra padding on the shoulder and waist, making it extremely comfortable to carry.
They are also fully adjustable to ensure a proper fit regardless of your size. As always, though, make sure that the weight rests on your hips, not your lower or upper back.
Perfect for Pet Hair
This vacuum will become pet hair's worst nightmare thanks to the incredible power and a mini turbo nozzle. This attachment consists of a small spinning brush that loosens the hair from the carpets and floors. It's straightforward to attach and can be used on stairs, carpets, or upholstery.
However, the mini turbo nozzle isn't the only accessory that GV included. There's also a crevice tool, dust brush, deluxe floor tool, and an air-driven mini head.
What We Don't Like
Hose Not as Durable as Some
Users have occasionally reported that the hose bends easily and sometimes detaches. This can be quite inconvenient in the middle of vacuuming.
Product Specs
| | |
| --- | --- |
| Power | Not Specified |
| Cord | 10 inches cord length (extension cord is required) |
| Weight | 11 pounds |
| Warranty | Two-year warranty |
Our Ratings
---
Why Invest in a Backpack Vacuum?
Backpack vacuums have gained immense popularity in recent years and are taking their spot as an essential tool for homes and offices. We're all for them because they make cleaning faster and more efficient when compared to many traditional machines.
Here are some reasons why you should buy a backpack vacuum. We'll also give you a few cases when it might not be the best choice for you.
Advantages
Disadvantages
How to Choose a Backpack Vacuum
To make an informed purchase, it's essential to know what to look for. Backpack vacuums are available in all shapes and sizes. Here are some things to be on the lookout for:
---
Backpack Vacuums FAQs
---
Thank You For Your Feedback!
Thank You For Your Feedback!