Buying a new bagless vacuum is a bigger decision than you might think. What starts as an easy task turns into a tricky one, as there are so many bagless vacuums to choose from.
Now that you've narrowed down that you want a bagless vacuum, we're here to introduce you to five of the best options on the market.
We'll also highlight the wonders of these bagless vacuums and what makes them so popular. Keep reading for our thoroughly researched product roundup.
Image
Model
Product Comparison Table
Features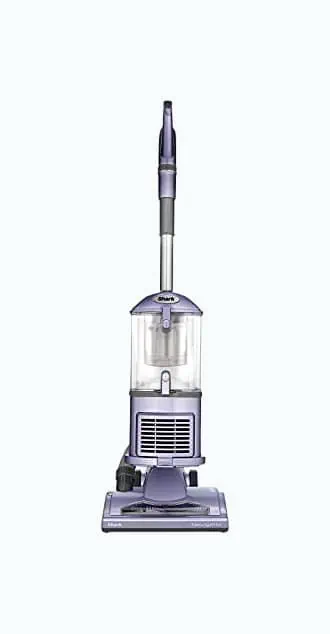 Best for Allergies
Shark Navigator Vacuum
HEPA filter for allergies
Motorized brush roll switch
Lift-away canister
Best for Pet Owners
Bissell Cleanview Swivel
Triple-action brush roll
27-foot power cord
Swivel steering for deeper cleaning
Largest Dust Canister
Eureka NEU182A PowerSpeed
Large dust canister
Five height adjustment
Extended hose for deeper cleaning
Most Lightweight
Dyson Cyclone V10
Weighs 5.9 pounds
Cordless and easy to maneuver
Transforms into handheld
Best for Portability
Bissell Zing Canister
Low profile design
Multi-level filtration
Automatic cord rewind
Review Methodology: At Oh So Spotless, we pride ourselves on providing comprehensive and trustworthy analysis, ensuring you get the most accurate information on the best bagless vacuums. Our experienced professionals conduct hands-on research, comparing various criteria such as performance, design, and user experience. We evaluate products from a user's perspective, measuring and ranking each vacuum based on key decision-making factors like suction power, filtration, and ease of use. By sharing our findings, we help you identify what sets each product apart from its competitors, ultimately making it easier for you to choose the ideal bagless vacuum for your needs.
---
---
The Best Bagless Vacuums of 2023
These are the five best bagless vacuums currently on the market.
Shark Navigator Upright Vacuum
Best Bagless Vacuum for Allergies
If there's one brand that everybody has heard about, it's Shark. This Navigator model may be the best one on our list for allergies. It has anti-allergen technology, which is completely sealed to trap dust and debris.
It also has a HEPA filter which ensures allergens are no longer circulating in your home. Combined with the 10-amp strong suction, 1200-watt motor, and cyclonic technology, this vacuum picks up the maximum amount of dirt, leaving you with a spotless and fresh home.
It also comes with other cleaning accessories. These include a crevice tool for reaching deep and narrow spaces and a dusting brush which can be good for window blinds and shelves. There's also a pet upholstery tool that'll be good for furniture where pet hair gathers.
What We Like
Features a HEPA Filter
With the HEPA filter located on the front of the vacuum, you can trap pollutants. This might help relieve allergy symptoms and remove common particles like pollen and pet dander.
Motorized Brush Roll Switch
Brush rolls can damage hard floors, but you don't have to worry since you can switch this function off. This means you're able to clean all surfaces with this Shark vacuum.
Lift-Away Canister Function
You can detach and use the canister to clean around your home. It has a handle to carry it around, and the hose lets you stretch further away to vacuum anywhere you need to. This versatility gives you portability so you can clean upholstery and stairs.
What We Don't Like
You Might Trip Over the Power Cord
The power cord enters the vacuum at the base. While this may give you a little more length, it also increases the risk of tripping over it. It may also get caught on obstacles or underneath the vacuum.
Product Specs
| | |
| --- | --- |
| Dust Canister Capacity | 1.65 liters |
| Style | Upright |
| Weight | 12.5 pounds |
| Accessories Included | Wide pet upholstery tool, dusting brush, and crevice tool |
| Cordless | No |
Our Ratings
Community Feedback
"If you're seeking a vacuum that combats allergies, the Shark Navigator model may become your best friend. Its anti-allergen technology and HEPA filter keep dust and allergens from circulating, while the powerful 10-amp suction and 1200-watt motor ensure a spotless home. Not only does it tackle allergens, but it also includes handy accessories like a crevice tool, dusting brush, and pet upholstery tool for all your cleaning needs. Just be cautious of the power cord, as it's easy to trip over while using this otherwise impressive vacuum."
---
Bissell Cleanview Swivel Upright Bagless Vacuum
Best Bagless Vacuum for Pet Owners
Does your furry friend shed a lot of hair around your home? It might be time to invest in this vacuum. It has a triple-action brush roll. This is designed to help to lift, loosen, and then remove pet hair that's embedded in your carpet.
The brush roll also has silk-like bristles, which may avoid damaging hard floors. It also has scatter-free technology, encouraging all crumbs and debris into the vacuum. You can enjoy power suction with the multi-cyclonic suction system.
There are also some great cleaning tools to use around the home. This includes a crevice tool for crumbs, a dusting brush, a pet TurboEraser tool, and a pet hair corner tool. There's also an extendable hose and extension wand for areas above your head.
The brush height is adjustable, with dials on the front of the vacuum. So, you can use this when you're moving from hard floors to carpet.
What We Like
On-Board Accessory Storage
All the cleaning tools can be attached to the vacuum so they don't get lost and are easy to store. The automatic cord rewind makes life a lot easier too. These design features make this a user-friendly vacuum.
27-Foot Power Cord
With a 27-foot cord, you can clean your home without having to move to different power outlets. This might let you clean upstairs and into spaces like cupboards.
Swivel Steering for Maneuverability
You can easily maneuver around sofas, fridges, and other bulky furniture that would be hard to move. You may be able to clean faster since the swivel steering adjusts with your movement. The wide cleaning path of 13 inches can also collect more debris in each pass, speeding up your vacuuming time.
What We Don't Like
The Belt Isn't Durable
Many customer reviews report that the belt broke quickly and they had to replace it. It appears that it either tends to melt or burn out.
Product Specs
| | |
| --- | --- |
| Dust Canister Capacity | 0.5 liters |
| Style | Upright |
| Weight | 14.5 pounds |
| Accessories Included | Crevice tool, extendable wand, hose, dusting brush, pet TurboEraser tool, and pet hair corner tool |
| Cordless | No |
Our Ratings
Community Feedback
"If you're searching for a vacuum that effectively tackles pet hair, this product is a game changer. I've rescued a dog with white hair and this vacuum easily removed the hair from my dark green carpet. The attachments are great for furniture and the suction power is impressive."
---
Eureka NEU182A PowerSpeed Bagless Upright Vacuum
Largest Dust Canister
If you have large rooms to clean, you may want to consider this bagless vacuum from Eureka. It has a large dust canister, holding up to 4.1 liters of dirt and debris. This means the average user shouldn't have to empty it until they're finished cleaning.
We're impressed with the motor and brush roll on this one. It has a wide cleaning path at 12.6 inches, which covers more ground quickly. The power cord length is 25-feet in length, allowing you to move around freely.
For an upright vacuum, this model is quite lightweight at 10 pounds. This might mean you can easily carry it up and down stairs without hurting yourself.
This model has a washable filter that you can use many times without replacing it. This could be a money saver.
What We Like
Quick Release Handle for Adding On Tools
It only takes a minute when you need to attach a new tool or accessory. The quick-release handle allows you to add on tools so you can freshen drapes, ceilings, and other hard-to-reach places.
Plus, all the tools are stored on the vacuum to avoid losing smaller parts.
Choose from Five Height Adjustment Settings
You can avoid damaging your flooring thanks to the five height settings. You turn the dial, and you can adjust the motor and roll brush for the surface you're cleaning. This includes low and high pile carpets as well as hard floors.
Extended Hose for Above Cleaning
Is there dust on shelves above your head or on your ceiling? You can use the extended hose to capture it. It also comes with a dusting brush and upholstery tool. Now you can focus on deep-cleaning every inch of your home.
What We Don't Like
Customers Say It's Too Loud
In reviews, we've noticed that customers report this one to be too loud. This may not be the ideal vacuum for you if you've got young children or furry friends who get scared.
Product Specs
| | |
| --- | --- |
| Dust Canister Capacity | 4.1 liters |
| Style | Upright |
| Weight | 10 pounds |
| Accessories Included | Crevice tool, dusting brush, upholstery tool, and extended hose |
| Cordless | No |
Our Ratings
Community Feedback
"This bagless vacuum from Eureka is perfect for those with large rooms to clean. The spacious dust canister holds up to 4 liters of dirt, allowing you to finish cleaning without frequent emptying. I found the wide 12-inch cleaning path and powerful motor to be quite impressive, as it covers more ground quickly. Additionally, the 25-foot power cord offers great mobility during cleaning. Weighing only 10 pounds, this vacuum is easy to carry up and down stairs, and the washable filter is a fantastic money-saving feature. Just be prepared for the noise level, as some users find it to be quite loud."
---
Dyson Cyclone V10 Cordless Stick Vacuum
Best Lightweight Bagless Vacuum
Are you searching for a lightweight bagless vacuum? Look no further than this one from Dyson. This popular company has created a featherweight stick vacuum at just 5.86 pounds. This makes it easy to glide around your home with minimal effort.
We use one of the cordless stick vacuums from Dyson in our home and love it. We especially admire the suction, powered by a V10 digital motor with 125,000 rotations per minute.
There are three power modes you can take advantage of. This suits any cleaning task you will face.
It works for hard floors with a motor-driven soft roller cleaner head. It also has a brush bar for trapping crumbs and debris on the carpet. Fine dust is captured thanks to the carbon fiber filaments.
What We Like
14-Cyclonic Filtration System
We like the 14-cyclonic system, with the ability to cleanse the air and capture bacteria. It's a fully-sealed filtration system, which can trap 99.97 percent of particles.
Cordless for Freedom
You can move around the room at your own pace without any restrictions. Being cordless means you don't have to worry about the cord getting stuck. You can also move away from power outlets.
The run time is also impressive. You can enjoy up to 60 minutes when using a non-motorized tool or 40 minutes when using a soft roller cleaner head.
Transforms into a Handheld Vacuum
Do you want to clean the stairs or even your car? Well, this one transforms into a handheld vacuum. Since it's cordless, you can go anywhere you want, and being handheld makes it versatile.
This is great for cleaning upholstery, worktops, and your car.
What We Don't Like
Small Dust Canister Capacity
The one thing that lets this vacuum down is the size of the dust canister. It's only 0.76 liters, which may mean you've got to empty it sooner rather than later. This might not be convenient if you're deep cleaning a large space.
Product Specs
| | |
| --- | --- |
| Dust Canister Capacity | 0.76 liters |
| Style | Stick |
| Weight | 5.9 pounds |
| Accessories Included | Combination tool, crevice tool, mini soft dusting brush, and mini-motorized tool |
| Cordless | Yes |
Our Ratings
Community Feedback
"My experience with the Dyson lightweight bagless vacuum has been fantastic, as its featherweight design of just 5.6 pounds makes cleaning a breeze. With a powerful V10 digital motor and three power modes, it effectively tackles various cleaning tasks on both hard floors and carpets. The 14-cyclonic filtration system is a bonus, although the small dust canister capacity requires frequent emptying."
---
Bissell Zing Canister Bagless Vacuum
Most Portable Bagless Vacuum
Since this is a canister vacuum, it may be easier to move around than upright vacuums. This can be particularly true if you've got a bad back. You don't have to push it around like the heavy, upright ones.
It also has a carry handle if you want to transport it quickly from room to room and weighs only 7.5 pounds in total.
You can enjoy swivel steering to maneuver around furniture. The flat head design also means you can clean underneath sofas, tables, and chairs. It also offers 4.8 feet of hose for flexibility.
To empty the dust canister, just hit the button and the base automatically releases the debris. It's mess-free.
What We Like
Easily Switch Between Floor Types
We love how easy it is to go from carpet to hard floors. You just have to flip the switch on the vacuum head — you can easily do this with your foot.
Multi-Level Filtration
This model has 9-amp cyclonic technology with multi-level filtration. This means it can capture everything from dust to debris without circulating it back into your home. Great for allergy sufferers.
The dust canister holds around two liters of dirt, so you can clean large spaces without emptying it.
Automatic Cord Rewind
Now you don't have to wrap up the power cord after vacuuming — simply press a button. This brings in the cord automatically and stores it in the vacuum. It's great for storage and tidying up quickly for guests.
What We Don't Like
Short Power Cord
One thing we did notice about this model is that it has a shorter power cord than others on our list. At only 15 feet, it might not be the best for large spaces.
Product Specs
| | |
| --- | --- |
| Dust Canister Capacity | 2 liters |
| Style | Canister |
| Weight | 7.5 pounds |
| Accessories Included | Crevice tool, dusting brush, and multi-surface floor tool |
| Cordless | No |
Our Ratings
Community Feedback
"This canister vacuum is a breeze to maneuver, especially for those with back issues, thanks to its lightweight design and swivel steering. The flat head design allows for easy cleaning under furniture, and the 4-foot hose offers flexibility for various cleaning tasks. With a simple button press, the dust canister releases debris mess-free, making maintenance a cinch. The vacuum also features multi-level filtration and automatic cord rewind, although the power cord is a bit short for my liking."
---
Why Should You Buy a Bagless Vacuum?
By now, you've probably guessed that bagged and bagless vacuums deal with dirt and debris differently. It either goes straight into the bag or into a dust canister. Here are some benefits of using a bagless vacuum.
What to Look For
We've outlined some key features you may want to look out for when you're purchasing a bagless vacuum.
---
FAQs
---
Thank You For Your Feedback!
Thank You For Your Feedback!