If you've got carpets in your home, you may be wondering if robot vacuums work well? Without the manual pushing, do they clean as effectively as uprights? The answer to this question is yes.
Having a robot vacuum can make your life a lot easier, especially since we recommend vacuuming 1-2 times per week.
They might be a new trend in the cleaning world, but they're a fantastic addition to your housework armory. We've reviewed five of the best robot vacuums for carpets and pointed you in the direction of what you should consider when buying.
Image
Model
Product Comparison Table
Features
Longest Runtime
Coredy Robot Vacuum
2200 pascals suction power
Low noise cleaning
Intelligent mopping system
Best for Suction
Amarey 1400 PA Robot
Strong suction power
Four cleaning modes
Anti-collision & anti-drop system
Largest Dustbin Capacity
eufy BoostIQ Quiet RoboVac
0.6 liter dust bin
BoostIQ technology
Triple-filter system
Best for Deep Cleaning
iRobot Roomba 690 Vacuum
Patented dirt-detect sensors
Customizable cleaning with app
Dual mode virtual wall barrier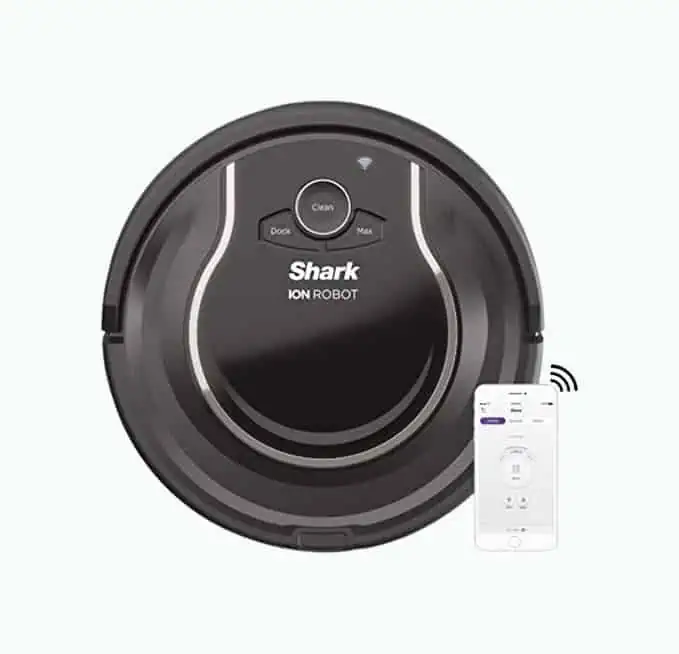 Best for Under Furniture
Shark Ion R75 Vacuum
Low-profile design
Voice control
Detangling technology
Review Methodology: At Oh So Spotless, we understand the importance of providing reliable and trustworthy information when it comes to choosing the best robot vacuums for carpet. Our team of professionals conducts thorough research and hands-on testing, using a variety of criteria to evaluate each product's performance, design, and user experience. We analyze data, compare products, and measure their effectiveness on different carpet types to rank and identify key decision-making factors. By sharing our findings and experiences, we aim to help you make an informed decision on the best robot vacuum for your needs, taking into account factors such as suction power, navigation capabilities, battery life, and ease of maintenance. Trust our assessment and let Oh So Spotless guide you in finding the perfect robot vacuum to keep your carpets spotless and clean.
---
---
The Best Robot Vacuums for Carpet of 2023
Here are the five robot vacuums we recommend for keeping your carpets clean.
Coredy R750 Robot Vacuum Cleaner
Longest Runtime Carpet Robot Vacuum
Do you have a lot of carpet space to clean? This Coredy vacuum has the longest runtime of the products on our list, cleaning non-stop for up to 150 minutes on its lowest setting.
The lithium-ion battery not only lasts longer but helps provide good suction at 2200 pascals. We also like that the unit returns to the charging dock when the battery is low.
Sometimes, carpet can do with a little more agitation, and this one is up to the task. It can clean short and medium pile carpet and also has two large climbing wheels for transitioning onto hard floors.
There are 27-inch dual-edged sweeping brushes for capturing dirt and debris. You can choose from three cleaning modes to suit your needs. These include auto, edge, and spot vacuuming.
What We Like
2.7 Inches Tall for Getting Under Furniture
If you want to clean in hard-to-reach spots like under couches and chairs, this slim vacuum can get into those spaces.
Low Noise Cleaning
You don't have to worry if you have sleeping children or pets as it runs quietly. You might even be able to watch the television without being disturbed.
Intelligent Mopping System
Equipped with the latest technology, it has an electronically controlled water pump that controls the amount of water used. This works by measuring the floor humidity which results in an effective and safe cleaning.
What We Don't Like
WiFi Issues
Some customers have complained that this latest Coredy robot app only works with WiFi 2.4 GHz and would be difficult to connect to the newer 5 Ghz. Others have also encountered trouble connecting if they have dual router.

Product Specs
| | |
| --- | --- |
| Suction Power | 2200 pascals |
| Battery | Lithium-ion |
| Runtime | 90-150 minutes |
| Dustbin Capacity | 0.5 liters |
| Charging Time | Not specified |
Our Ratings
Community Feedback
My experience with the Coredy Robot Cleaner has been quite impressive. As someone who has used different robot cleaners for years, I found the R700 model to be powerful and efficient. It works great on both hardwood floors and various rugs, easily transitioning between surfaces. The dual side brushes and automatic power increase when moving to carpets make it stand out from other models I've used. The R700's smaller size allows it to reach under furniture that other cleaners cannot, and its easy-to-clean dustbin and HEPA filter make maintenance simple. However, the dustbin is a bit smaller and requires cleaning after each use. The Wi-Fi integration with Alexa could use some improvements, but overall, I highly recommend the Coredy R700 Robot Cleaner for its performance and versatility.
---
Amarey A800 Robot Vacuum
Best Suction Robot Vacuum for Carpet
Don't be fooled by this small and compact robot vacuum – it has powerful suction. With 1400 Pascals, it can pick up all the dirt and debris from your carpets.
You'll find it has a main brush plus two side brushes, and it's powered by a 2600 mAh lithium-ion battery.
This model can easily transition between different floor types with its two wheels. These make it easy to move from wood or tile flooring to carpet.
You can choose from multiple cleaning modes to suit your needs, whether it's a quick or deep clean. It has auto, edge cleaning, maximum vacuum, and spot cleaning options.
The included remote control lets you choose from lots of different settings. These include the cleaning mode and time set up, cleaning schedule, and start alternatives.
What We Like
Easy to Empty the Large Dustbin
First, let's note that this has a 0.5-liter dustbin, which is larger than other models. When it's full, it's easy to empty the dustbin directly into the trash.
2.7 Inches Tall for Getting Under Furniture
Let the robot vacuum navigate underneath low furniture. Thanks to the 2.7-inch height, it can easily glide under couches and chairs, so you don't need to get on your hands and knees.
This low profile also makes the compact vacuum easy to store.
Anti-Collision and Anti-Drop System
This robot vacuum has sensors to avoid collisions and drops. It'll turn around and move in a different direction when it comes toward the edge of stairs or near tables.
With 360-degree technology, the vacuum can roam freely. You don't need to worry about it bumping into things or getting damaged.
What We Don't Like
Not Suitable for High-Pile Carpet
If you're buying this robot vacuum only for carpets, you should note that it may not work well on high-pile. However, it's certainly suitable if you've got short or medium-pile carpeting in your home.
Product Specs
| | |
| --- | --- |
| Suction Power | 1400 pascals |
| Battery | Lithium-ion |
| Runtime | 100 minutes |
| Dustbin Capacity | 0.5 liters |
| Charging Time | 300-360 minutes |
Our Ratings
Community Feedback
Definitely impressed with my new robot vacuum, which I named Harold. Right out of the box, it was easy to set up and charge. To my surprise, it came with a remote control, replacement brushes, and even the necessary batteries! Harold did a great job cleaning my living room, kitchen, and even managed to climb over a thick doorjamb divider. It picked up dust, hair, sprinkles, and tiny bits of paper, making my floor feel and look cleaner. As someone who struggles with depression and is studying for the bar exam, having Harold to help with basic cleaning tasks has been a huge relief and well worth the investment.
---
Eufy BoostIQ Quiet RoboVac
Largest Dustbin Capacity
This award-winning robot vacuum has the largest dustbin on our list. It can hold up to 0.6 liters of dirt and debris before it needs emptying. So, you'll need to empty it less frequently, and the vacuum still does its job efficiently.
The lithium-ion battery delivers 1300 pascals of suction power, cleaning hard floors and medium-pile carpet. You can select from multiple cleaning modes using the remote control.
We love the BoostIQ technology, which increases the suction power within 1.5 seconds when it moves onto a rug. This leads to a better cleaning experience on short and medium-pile carpeting.
We love that the runtime is up to 60 minutes on carpet and up to 100 minutes on hard floors. Plus, a full recharge only takes about five hours.
What We Like
Low Profile and Climbing Wheels
This model is designed to get anywhere and everywhere. The 2.85-inch height lets the robot vacuum glide under furniture with ease.
It also has two wheels that can climb up to 0.64 inches, so you don't need to pick the vacuum up manually if it's maneuvering to a rug.
Infrared Sensors Avoid Bumps
This vacuum can enjoy free reign of your home without damaging items. The infrared sensors prevent the vacuum from bumping into objects which protects both your stuff and the vacuum.
It also has the technology to prevent the vacuum from falling downstairs.
Triple-Filter System
This robot vacuum has a dual-layer and high-performance filter to clean the air in your home. It can capture allergens and other pathogens that could be damaging to your family's health.
What We Don't Like
Trouble Finding the Charging Base
Some customers have reported that the robot vacuum occasionally has trouble finding the charging base. This can be inconvenient, especially when you're not at home.
Product Specs
| | |
| --- | --- |
| Suction Power | 1300 pascals |
| Battery | Lithium-ion |
| Runtime | 100 minutes |
| Dustbin Capacity | 0.6 liters |
| Charging Time | Five hours |
Our Ratings
Community Feedback
Best robotic vacuum I've ever used! I've had the Eufy for a while now, and I am still amazed by its performance and durability. The tempered glass top remains scratch-free, and it runs for a solid 100 minutes, cleaning my home efficiently. What sets it apart from other robotic vacuums is the rare on/off switch on the bottom side, allowing me to conserve battery life easily. This vacuum is not app-operated, but it comes with a built-in remote holder for scheduling, and it always finds its way back to the charging station.
---
iRobot Roomba 690 Robot Vacuum
Best Carpet Robot Vacuum for Deep Cleaning
When it's time for a deep clean, you can trust the job to this iRobot Roomba vacuum. We like the patented Dirt Detect sensors, targeting soiled areas with ground-in dirt. It may even help you bring back the natural color of your carpet.
The three-stage cleaning system uses dual multi-surface brushes. They can capture anything from dirt particles to debris. The edge-sweeping brush is also designed to clean at a 27-degree angle.
Another nice feature of this unit is the auto-adjusting cleaning head. It can change the height for a smooth transition between different types of surfaces.
There are intelligent sensors on the robotic vacuum for guidance around objects. The cliff sensors watch out for sudden drops.
What We Like
Automatically Recharges After 90 Minutes
The 90-minute run-time is appreciated, especially when deep cleaning your home. Once it's out of charge, the vacuum automatically returns to its charging dock, where it takes around three hours to refuel.
Customizable Cleaning With App
Using the smartphone app, you can control cleaning even when you're out of the house. You can set the time you want your robot vacuum to clean, plus monitor its progress around the home.
You can also control the vacuum by voice using Amazon Alexa or Google Assistant. Talk about high-tech!
Dual Mode Virtual Wall Barrier
The virtual wall barrier stops the robot vacuum from entering places you don't want it to go. Once it reaches the virtual wall barrier, it'll turn around.
What We Don't Like
No High-Efficiency Filter
We were a little disappointed that this robotic vacuum doesn't have a high-efficiency filter. They're found on other products on our list and are recommended if you have allergies.
Product Specs
| | |
| --- | --- |
| Suction Power | 1000 pascals |
| Battery | Lithium-ion |
| Runtime | 90 minutes |
| Dustbin Capacity | 0.3 liters |
| Charging Time | Three hours |
Our Ratings
Community Feedback
I'm a busy person living in a wooded area with two large, shedding dogs, and keeping the floors clean used to take up a lot of my time. After doing some research, I decided to give the Roomba a try. At first, I was skeptical as it seemed to struggle with navigating my house as it didn't follow a grid pattern and had some trouble finding its way back to the charging dock. However, after running it daily for a week, I noticed a significant improvement in its performance and cleaning abilities. Now, my house is consistently clean, and I don't have to spend hours sweeping and mopping anymore. The Roomba easily transitions between different types of flooring, and my dogs don't seem to be bothered by it. While it does require some maintenance, like emptying the dustbin and cleaning the brushes, the time and effort saved on manual floor cleaning make the Roomba a worthwhile investment.
---
Shark Ion R75 Robot Vacuum
Best Under Furniture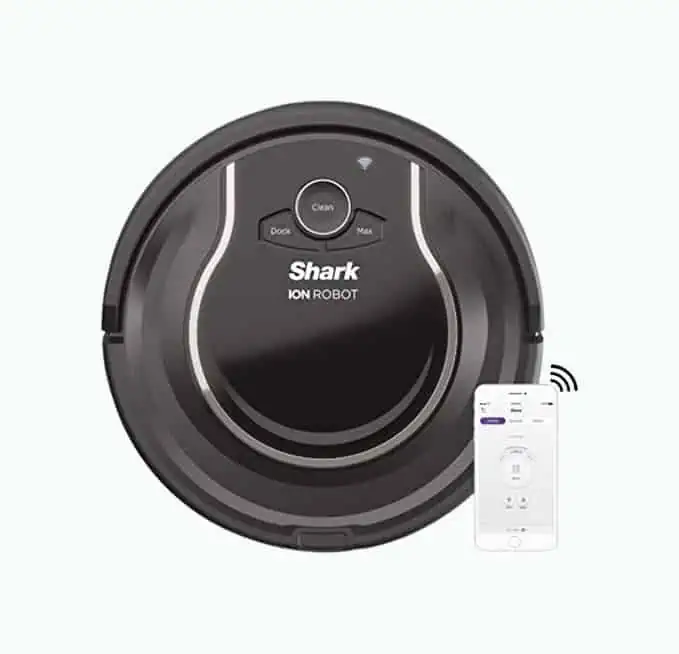 This robot vacuum is the thinnest design on our list, making it an excellent choice for sliding underneath furniture.
At only 2.6 inches tall, it can sneak under sofas, tables, and beds.
In particular, the helix-pattern high-tensile bristles are most suitable for cleaning carpets. Another favorite feature is the detangling technology. The brush roll can unwrap anything that gets stuck. This might include carpet fibers, long hair, or string.
It has two vacuuming modes you can choose from – clean and spot cleaning. We like that it has a brush roll for scrubbing, with dual-spinning side brushes for cleaning corners and edges.
Once you're finished vacuuming, you can quickly empty the dustbin. Just detach it from the side, and you don't have to touch the dirt. It can hold around 0.3 liters of dust and debris.
What We Like
1000 Pascals of Power
This is an excellent option for deep cleaning and spot cleaning. With 1000 pascals of suction power, it can pick up lots of debris and dirt. It also continues running like this for 60 minutes which is enough to clean most homes in one go.
Voice Control Feature
Since the robot vacuum is Wi-Fi enabled, you can use voice control to tell it what you want. This one is compatible with Alexa.
You can also use the downloadable app to stop and start cleaning, schedule cleaning, or dock the robot vacuum on demand.
Detangling Technology
Don't you hate it when your brush roll gets stuck? You won't have to worry about that with this model since it has detangling technology. No need to pull out hair or string manually ­– it's done for you.
Botboundry Strips for No-Go Zones
Create no-go zones with the Botboundary strips. You can place them anywhere, such as in a hallway, so the vacuum turns around automatically.
What We Don't Like
Short Runtime
This robot vacuum lasts for around 60 minutes. While this may be enough for small and medium homes, it might not be enough for deep cleaning larger homes.
This is one of the shortest run times on our list of robot vacuums.
Product Specs
| | |
| --- | --- |
| Suction Power | 1000 pascals |
| Battery | Lithium-ion |
| Runtime | 60 minutes |
| Dustbin Capacity | 0.3 liters |
| Charging Time | Three hours |
Our Ratings
Community Feedback
I absolutely loved this little cleaning robot at first, as it tackled corners and areas of my home with impressive precision. It was fun watching it navigate around obstacles and avoid falling down the stairs. However, after the initial excitement wore off, I started to notice some issues. The magnetic strip provided to block off areas is bulky and unattractive, and the robot can get stuck on certain floor transitions. It also requires a clutter-free home to work efficiently, so be prepared to pick up any loose items before using it. While the robot does a decent job cleaning, if you have a complicated home layout or want a more advanced device, you might want to consider higher-end models with better mapping capabilities.
---
| Product | Award | Power | Battery | Runtime | Dustbin Capacity | Charging Time |
| --- | --- | --- | --- | --- | --- | --- |
| Coredy Robot | Longest Runtime | 2.2 kPa | Lithium-ion | 90-150 min | 0.5 L | N/A |
| Amarey Robot | Best Suction | 1.4 kPa | Lithium-ion | 100 min | 0.5 L | 5-6 hours |
| Eufy BoostIQ | Largest Dustbin Capacity | 1.3 kPa | Lithium-ion | 100 min | 0.6 L | 5 hours |
| iRobot Roomba 690 | Best for Deep Cleaning | 1 kPa | Lithium-ion | 90 min | 0.3 L | 3 hours |
| Shark Ion R75 | Best for Under Furniture | 1 kPa | Lithium-ion | 60 min | 0.3 L | 3 hours |
Do Robot Vacuums Work on Carpet?
Robot vacuums offer many advantages, even on carpets. We'll run through the top benefits of owning one of these cool devices.
What to Look For
There are a lot of things to consider when purchasing a robot vacuum. Here you'll find some of their best features that will help make cleaning your carpets easier.
---
FAQs
---
Thank You For Your Feedback!
Thank You For Your Feedback!