You've probably heard about robot vacuums, and maybe you're wondering if they're really worth it. After all, many of them are more expensive than upright and canister models.
You'll be pleased to know that you don't always have to spend a fortune on robot vacuums. There are plenty of affordable ones you can choose from instead.
Check out our reviews of the five best affordable robot vacuums that will save you time and energy.
Image
Model
Product Comparison Table
Features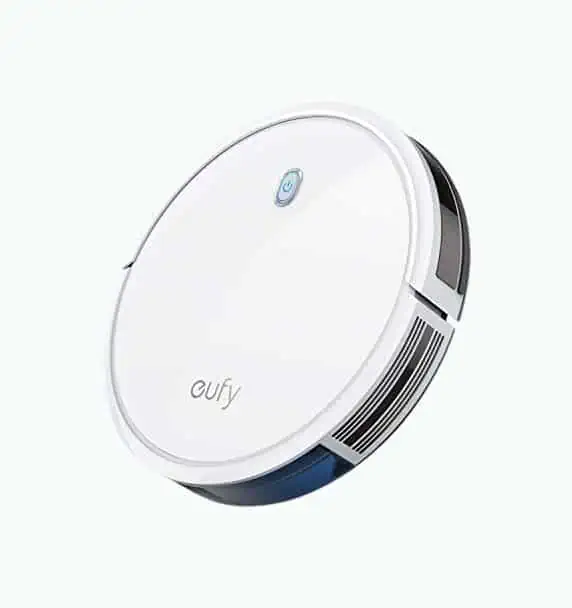 Most Affordable
Eufy RoboVac 11S
Automatically recharges
Triple-filter system
Multiple cleaning modes
Best for Pets
ILife V3s Pro Vacuum
Deals with pet hair
Four cleaning modes
Climbing wheels
Best for Ground-In Dirt
iRobot Roomba 614
Patented Dirt Detect technology
Auto-adjust cleaning head
Smart navigation
Best for Allergies
Pure Clean PUCRC26B
HEPA filter
Low profile design
Includes protective bumper
Longest Runtime
Ecovacs Deebot N79S
120 minutes runtime
Features max mode
Obstacle detection & anti-drop technology
Review Methodology: At Oh So Spotless, we pride ourselves on providing thorough and reliable analysis of the best affordable robot vacuums on the market. Our hands-on experience, coupled with extensive research, allows us to evaluate products from a user's perspective and share quantitative measurements of each vacuum's performance. We carefully assess and rank these vacuums based on criteria such as suction power, battery life, navigation capabilities, and user-friendly features. Our team of professionals compares design choices and their effect on users, identifying key decision-making factors while providing first-hand evidence to support our recommendations. Trust us to guide you in finding the perfect affordable robot vacuum that stands out from its competitors and meets your cleaning needs.
---
---
The Best Affordable Robot Vacuums of 2023
These are our top five favorite affordable robot vacuums.
Eufy BoostIQ RoboVac 11S
Most Affordable Robot Vacuum with Powerful Suction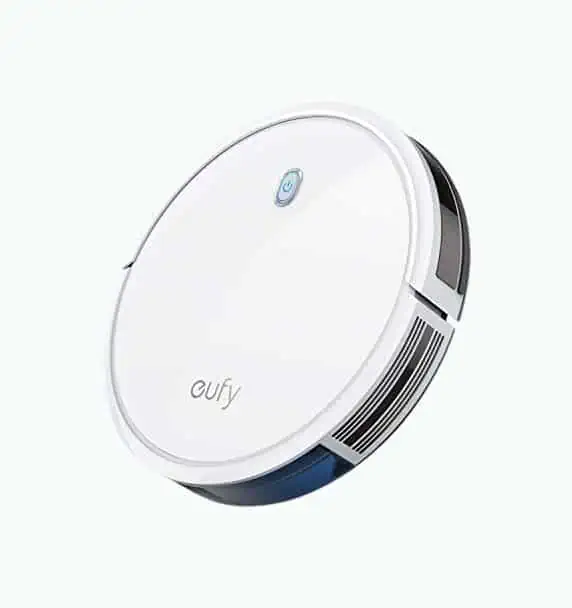 Do you want to capture everything – from small dust particles to large debris? In that case, you may want to choose this robot vacuum.
We're very impressed with the suction power of this model, delivering 1300 pascals of vacuum pressure.
Another reason we think this will fit into your home is because it's designed to fit into your home literally. The slim design can glide underneath furniture. Being only 2.85 inches tall, it can hoover under couches, chairs, tables, and more.
One of the best features is the BoostIQ Technology which changes power and suction as it moves from hard floors to carpet. Carpets need extra cleaning power, which this technology accommodates.
And for your forgetful folk — you'll love that you can program the cleaning schedule and forget all about it. Relax. Let the vacuum do the hard work.
What We Like
Automatically Recharges
When the vacuum is low on battery, it takes itself to the charging base to recharge. Therefore, it's always ready to vacuum when you need it.
Triple-Filter System
Enjoy a cleaner home with this filtration system. It includes a double-layer filter followed by a high-performance filter to give you three layers.
Multiple Cleaning Modes
This vacuum can handle it all. With multiple cleaning modes, such as automatic, hard floors, carpets, and more, this gives you a thorough clean in every room.
Big Cleaning Capacity
With up to 100 minutes of run-time per charge and a 0.6-liter dust box, you've got a lot of capacity before you need to pause. The large dust box means fewer trips to the trash, while the long run time means fewer pauses in the cleaning regime.
What We Don't Like
Brushes Require Maintenence
It's normal to clean your vacuum brushes once a month or so. But this vacuum seems to require maintenance every couple of days! The brushes aren't very durable and wear down quickly. They also get tangled really easily — especially in pet hair. This makes it harder for the machine to pick up more dust and dirt.
Eufy Gets Stuck Often
If you don't want to babysit your Eufy from time to time, you might want to look at another brand. Customers reported that this vacuum got stuck very often, which then emits an emergency sound. Not great if you have napping kids!
Product Specs
| | |
| --- | --- |
| Runtime | 100 minutes |
| Charge Time | Five to six hours |
| Battery | Lithium-ion |
| Remote Control | Yes |
| Smartphone App | No |
Our Ratings
Community Feedback
"These Eufy robotic vacuums are truly impressive and have exceeded my expectations. The sleek design with tempered glass top has held up well without any scratches, and it has been running strong since the day it arrived. With a 100-minute runtime and rare on/off switch, the battery life is fantastic and doesn't need replacing yet. It's super smart, finding its way back to the charging dock every time, and easily navigates under furniture for a dust bunny-free home."
---
ILife V3s Pro Robotic Vacuum
Best Affordable Robot Vacuum for Pets
Another budget robot vacuum we love is this one from ILife. It's an ideal unit for pet owners.
For one, it has the manufacturer's AirAway technology for additional filtering. It also has two long spinning brushes to capture hair from shedding pets. Additionally, the HEPA filter may help to trap pet dander and other allergens.
It can clean any floor surface, including hardwood, tile, and thin carpets. So no matter where your pet sheds, this vacuum can tidy.
You can choose from four different cleaning modes. These include auto, spot, edge, and schedule.
The auto-clean follows a random pattern to vacuum your home, while spot is good for ground-in dirt. For walls and corners, though, you may want to opt for the edge cleaning mode. You can also create a specified start time on the schedule option.
What We Like
Deals With Pet Hair
The combination of AirAway Technology, long spinning brushes, and HEPA filter can benefit pet owners. Say goodbye to your furry friend's shedding worries!
Built-In Obstacle-Drop Sensors
These fancy sensors safely guide the robot vacuum around your home. You don't need to worry about the vacuum bumping into furniture or falling downstairs.
Features Climbing Wheels
With the climbing wheels, this robot vacuum can transition between floor types. They have a reach of up to 15 millimeters.
100 Minute Run Time
This is a very generous runtime. Customers with large homes appreciate it. When the robot runs out of battery, it automatically returns to the dock and begins charging.
What We Don't Like
Doesn't Have a Smartphone App
We're disappointed that this robot vacuum doesn't have a smartphone app. This would improve the user experience and make it easy to monitor and create schedules.
It does come with a remote control, though, so you can manage the vacuum from the comfort of your couch.
Product Specs
| | |
| --- | --- |
| Runtime | 100 minutes |
| Charge Time | Not Specified |
| Battery | Lithium-ion |
| Remote Control | Yes |
| Smartphone App | No |
Our Ratings
Community Feedback
"This ILife budget robot vacuum is a fantastic choice for pet owners, as it effectively captures hair with its two long spinning brushes and AirAway technology. I've found that it cleans various floor surfaces, such as hardwood, tile, and thin carpets, with ease. There are four cleaning modes to choose from - auto, spot, edge, and schedule - making it versatile for different needs. However, it lacks a smartphone app, but the built-in obstacle-drop sensors, climbing wheels, and 100-minute run time make up for it."
---
iRobot Roomba 614 Robot Vacuum
Best Affordable Robot Vacuum for Ground-In Dirt
If you have a lot of stubborn dirt in your home, you may want to check out this Roomba. It has innovative Dirt Detect technology, which recognizes areas that need to be cleaned. It then concentrates on this area to scrub it thoroughly.
There's also an edge-sweeping brush to tackle those hard-to-reach spots. It's designed to work at a 27-degree angle and gets into corners and along the edge of walls without problems.
We like that you don't have to worry about this Roomba crashing into anything. It has 360-degree smart sensors and can make more than 60 decisions per second. There are also "cliff detect" sensors to avoid high drops.
Also, the auto-adjust cleaning head will adapt the height for different surfaces.
What We Like
Three Stage Cleaning System
This fancy cleaning system ensures that the robot vacuum is suitable for carpets and hard floors. It uses a multi-surface brush to loosen and trap dirt before sucking it into the dustbin.
Auto-Adjust Cleaning Head
This model can transition between situations without a problem. The auto-adjust cleaning head can change the height for different flooring types, such as laminate and low-pile carpet.
Features Smart Navigation
Smart navigation can keep this robot vacuum on track without any accidents. The Roomba can make 60 decisions per second, such as avoiding obstacles and drops and moving in different directions.
What We Don't Like
Doesn't Have a Remote Control
This robot vacuum doesn't have a remote control. You have to use the buttons on the top of the unit to operate it. Unfortunately, this is a lot less convenient than controlling it from across the room.
This means that you need to be home to use this vacuum. Consider another model if you're looking for a vacuum that can tidy while you're at work.
Product Specs
| | |
| --- | --- |
| Runtime | 60 minutes |
| Charge Time | Three hours |
| Battery | Lithium-ion |
| Remote Control | No |
| Smartphone App | No |
Our Ratings
Community Feedback
"I've been using this Roomba with Dirt Detect technology, and it's been a game changer for tackling stubborn dirt in my home. The edge-sweeping brush works wonders at a 27-degree angle, reaching corners and edges without any issues. I also appreciate the 360-degree smart sensors, which help it navigate smoothly and avoid high drops. The only downside is the lack of a remote control, but the auto-adjust cleaning head and three-stage cleaning system make up for it."
---
Pure Clean PUCRC26B Automatic Robot Vacuum
Best Affordable Robot Vacuum for Allergies
Does someone in your family have allergies? To prevent sneezing, skin irritation, and general sickness, you may want to consider this robot vacuum.
It has a HEPA filter, which helps to capture and trap pathogens, dust mites, pollen, and dander. This improves the air in your home and makes it safer for your family.
The suction on this model is good, at 1200 pascals. It pulls in debris easier with its dual rotating side brushes and the underbrush.
The runtime on this model is up to 55 minutes of non-stop cleaning. A full charge will take around four hours to complete. All types of flooring are fair game with this device – from tile and hardwood to short pile carpets.
What We Like
Choose Cleaning Mode With a Remote Control
Use the remote control to manage the vacuum. You can select from a few different cleaning modes. This includes a random cleaning mode, a spiral movement for ground-in dirt, and a mode for edge-cleaning.
Low Profile and Minimalistic Design
This one can effortlessly glide under furniture to vacuum. It has a height of 2.9 inches – small enough to clean under sofas, beds, and tables. These are places you don't want to miss if you're trying to capture dust through your home.
The minimalistic design is user-friendly, too. It only has one button – an on/off switch – and everything else is controlled via the app.
Includes a Protective Bumper
We like the protective bumper on this robotic vacuum. It keeps it safe from damage and acts as a backup if the sensors don't detect an obstacle.
The vacuum also has anti-fall sensors to avoid falling from ledges or downstairs.
What We Don't Like
Small Dustbin Capacity
Unfortunately, the dustbin can only hold around 0.2 liters of dirt. This is lower than other robot vacuums on our list, so you'll have to empty it more often.
Product Specs
| | |
| --- | --- |
| Runtime | 55 minutes |
| Charge Time | Four hours |
| Battery | Ni-MH |
| Remote Control | Yes |
| Smartphone App | No |
Our Ratings
Community Feedback
"My experience with this robotic floor cleaner has been pretty satisfactory overall. As a homemaker with two shedding dogs, this little device has cut my floor cleaning time in half! Although I do have to empty the storage bin frequently and it takes a while to cover my entire apartment, I'm still happy with the purchase. I just wish it had a better brush attachment and a mop option to make it even more efficient."
---
Ecovacs Deebot N79S Robot Vacuum
Longest Runtime
If you have a large home, you may be looking for a robot vacuum with a high runtime. In that case, this is the model you should check out. It operates for up to 120 minutes on a single charge.
Of all the models on our list, this has the longest runtime. When it finally runs out of battery, it'll return automatically to the charging dock.
This robot vacuum is small enough for gliding underneath furniture such as sofas, chairs, and tables. It can get rid of dust and dirt that you don't even know is hiding there.
One of our favorite features on this model is the max mode, allowing you to increase the suction power by up to two times. It's great for completing deep cleans around the home.
What We Like
Three Cleaning Modes for Deep Cleaning
You'll love the thorough clean this affordable robot vacuum gives your home. It has three cleaning modes: auto, spot, and edge mode. The unit has a main brush and two side brushes for corners and edges.
Control Vacuum When You're at Work
While this comes with a remote for you to control while you're in the house, you can also manage it when you're not home. This comes with a smartphone app called ECOVAS so that you can arrange your cleaning from your phone.
You can also connect the robot to Alexa or Google Assistant, so you can use voice commands to control it.
Obstacle Detection and Anti-Drop Technology
A lot of people worry that their robot vacuum will crash into objects. That shouldn't be a problem with this unit. It has advanced obstacle detection sensors and anti-drop technology to avoid any accidents around the home.
What We Don't Like
Customer Problems With Scheduling
There have been some complaints about the scheduling feature. Some users have reported that the robot vacuum doesn't always comply with the scheduled cleaning time.
Product Specs
| | |
| --- | --- |
| Runtime | 120 minutes |
| Charge Time | Not specified |
| Battery | Lithium-ion |
| Remote Control | Yes |
| Smartphone App | Yes |
Our Ratings
Community Feedback
"Best decision I've made for my large, restored antebellum home with mostly hardwood flooring and some sealed brick, tile, and short nap rugs! I was skeptical about the Ecovacs N79S robot vacuum's ability to navigate the many rooms and wooden thresholds, but "Rufus the Robot" exceeded my expectations. The slim design allows it to reach under tables and kitchen base cabinets with ease, and the twin side brushes effectively gather dust and debris from baseboards and around furniture legs. The remote control is a handy feature for pausing or steering the vacuum as needed."
---
Benefits of Robot Vacuums
A self-guiding cleaner certainly sounds cool. But is that enough reason to consider getting one? If you've never owned a robot vacuum, you may be wondering what all the fuss is about.
These are some of the benefits you can look forward to, even with a budget model.
What to Look For
Like most technological gadgets, you can find robot vacuums to suit practically every budget. Of course, some budget models might not be as advanced as the more expensive ones. But this doesn't mean they're less effective at cleaning.
Here is a list of features often included even in lower-cost models. Keep these in mind when shopping.
---
FAQs
---
Thank You For Your Feedback!
Thank You For Your Feedback!