Flooring is one of the most expensive aspects of your home, so it's crucial that you take good care of them. Unless you have one type of flooring in the house, you need one of the best multi-surface vacuums on the market. These can clean multiple flooring types.
To help you find such a vacuum, we have rounded up nine recommendations. Based on expert advice and real customer reviews, you can trust that we have an unbiased review for each product. Whether you need a lightweight, bagless, or robotic vacuum, here are nine multi-surface vacuums for your home.
Image
Model
Product Comparison Table
Features
Best Hypoallergenic Vacuum
Dyson Ball HEPA Filter Upright Vacuum
Dyson ball technology
Radial root cyclone™ technology
Comes with multiple accessories
Best Bagless Vacuum
Kenmore AllergenSeal Bagless Vacuum
Compatible with all floor types
Swivel steering
LED headlights
Best Pet-Friendly Vacuum
Eureka Pet Turbo PowerSpeed Vacuum
Wide cleaning path
5 height adjustments
Extra large dust cup
Best Cordless Option
Tineco Cordless Vacuum Cleaner
Infrared sensor
One-touch self-cleaning
Two year warranty
Best Canister Vacuum
Eureka WhirlWind Bagless Canister
Automatic cord rewind
Cyclone filtration system
Easily adjusts to different floor types
Best Budget Choice
Eureka Airspeed Upright Vacuum
Two extra cleaning tools
Powerful 6-amp suction
Washable reusable filter
Best Robot Version
Coredy Robot Vacuum Cleaner
Anti-collision & anti-drop sensor
Seamless moving across floor types
110 minute run time
Best Stick Vacuum
Eureka Stylus Cordless Vacuum
LED headlights shine in dark spots
Cleans all floor types
Powerful 350W motor
Longest Cleaning Reach
Simplicity Multi Surface
HEPA filtration system
Long power cord
Standalone upright vacuum
Review Methodology: At Oh So Spotless, our team of professionals conducts thorough research, analysis, and hands-on testing to provide you with reliable information on the best multi-surface vacuums. We evaluate products from a user's perspective, considering factors such as performance, design, and the unique features that set each vacuum apart from its competitors. Our assessment focuses on key decision-making criteria, such as suction power, filtration, ease of use, and versatility, and we rate each product accordingly. By comparing data, tracking results, and sharing our experience, we ensure that our recommendations are based on solid evidence and facts. Trust our expertise when it comes to finding the ideal multi-surface vacuum for your cleaning needs.
---
---
The Best Multi Surface Vacuums of 2023
Are you ready to find a vacuum that sucks up every piece of dirt in your home? We've put together this list of the best multi-surface vacuums based on hours of research into genuine customer reviews, expert advice, and our own experience. We studied each product's design, weight, what floor types it can clean, and if it has a HEPA filter.
Deep clean your home with one of these incredible vacuums!
Dyson Ball HEPA Filter Upright Vacuum
Best Hypoallergenic Vacuum
This is one of the most excellent multi-surface vacuum cleaners available, but it's even better because it has a HEPA filter. This is amazing for cleaning allergens from your home, making it a more breathable and livable space.
The HEPA filter is completely washable and lasts a lifetime! It traps allergens and bacteria inside the vacuum so they don't recirculate into your home.
What We Like
Dyson Ball Technology
The core components of this vacuum are located in the ball at the bottom. This increases stability since the center of gravity is lower. We have tested this style of Dyson, and it's super easy to operate!
Radial Root Cyclone™ Technology
This vacuum captures more dust than any other vacuum's cyclone. If you have allergies, this will make a difference in your home. It's actually certified by the Asthma and Allergy Foundation of America — so you're good to go!
Awesome Accessories
Clean every corner of your home with this vacuum. It has a long wand to reach high and low places.
It also has a combination tool that helps get into hard-to-reach corners. Don't forget the stair tool, which helps get into the crevices on each step. Last but not least, the HEPA filter is washable, so you can reuse it time and time again.
Self-Adjusting Cleaner Head
When choosing a multi-surface vacuum, a bonus feature is a self-adjusting cleaning head. This cleaning head automatically changes its features depending on the type of flooring. For instance, when you move between hard floor and carpet, the base plate raises or lowers to increase suction.
What We Don't Like
Hard To Clean Stairs
Because this is quite a large and bulky tool, it's hard to vacuum stairs. You can use the attachment and take the hose so far, but you can't sit the vacuum cleaner on each step with the same ease as other vacuums.
Difficulty Emptying the Tank
Emptying the tank can sometimes be challenging. There's a one-press button that pops open the bottom for the debris to fall out. But if you have a lot of fluff and hair in there, it doesn't fall out. You have to go in with your hands, which can be pretty gross!
Product Specs
| | |
| --- | --- |
| Design | Upright and corded |
| Weight | 17.4 pounds |
| Floor Type | Hard floor and carpet |
| HEPA Filter | Yes |
| Pet Friendly | Yes |
Our Ratings
Community Feedback
"My experience with this vacuum has been quite positive so far. I love how I can easily switch between the brush bar for my delicate jute rug and the suction mode for hardwood and tile floors. The canister is easy to empty and allows me to see how well the vacuum is performing. However, I did find the hose feature to be a bit frustrating as it constantly retracts and even caused the vacuum to topple over once."
---
Kenmore AllergenSeal Bagless Upright Vacuum
Best Bagless Vacuum
If you have allergies but still want a bagless vacuum, this vacuum can give you the best of both worlds. While you still need to be careful not to breathe in any floating dust when you empty the vacuum, this vacuum has many features to make life easier for folk with allergies.
It has an AllergenSeal certification. This means it traps 99.97 percent of dust and other particles into the vacuum so they're gone from the air you breathe.
What We Like
For All Floor Types
Multiple floor types in the home? Check this out! It works well on all floor types, including carpets and hardwood floors. So you can enjoy an immaculate home with this product.
Swivel Steering Function
The swivel steering is super handy. It makes vacuuming much easier since going in a straight line isn't always convenient. Now you can maneuver around your home much easier, as well as get into tight corners.
LED Headlights Help With Navigation
We love tons of features about this vacuum, but this one can't be forgotten. The LED headlights light up dark spaces like underneath furniture so that you can see every speck of dirt. Never miss dust or debris again!
Deep Clean Your Ceilings
With an extended wand, with up to 10-foot reach, you can clean even the highest of ceilings! Zap away dust and cobwebs, leaving your home sparkling clean.
What We Don't Like
Heavy and Loud
It might be powerful, but it's maybe not the most convenient. At 14 pounds, it's a little bulky. It's also quite loud, meaning your neighbors might not be happy if you do an early morning clean before work!
Hard To Use on Rugs
When using this on carpets or rugs, the cleaning bar will pull you forward a bit. You need to use strength to remain in control. When cleaning rugs, you might find that the cleaning bar pulls the entire rug up, making it impossible to vacuum!
Product Specs
| | |
| --- | --- |
| Design | Upright, bagless, corded |
| Weight | 14 pounds |
| Floor Type | Any |
| HEPA Filter | Yes |
| Pet Friendly | Yes |
Our Ratings
Community Feedback
"I've been using this vacuum for a while now and it has truly impressed me with its great suction power and lightweight design. The maneuverability makes cleaning a breeze, and the pet hair attachment is a nice bonus for households with furry friends. However, the vacuum head could be wider for better coverage, and the hose length might be a bit short for taller users. The attachments can sometimes come apart easily, but overall, this vacuum is worth the investment for its excellent performance and ease of use."
---
Eureka Pet Turbo PowerSpeed Vacuum
Best Pet-Friendly Vacuum
As a pet owner, we know the messes that come with all their furry love. Whether it be pet hair or all the dirt they track in, this Pet Turbo vacuum is a must-have in your household.
It works on its own for vacuuming pet hair. Just vacuum as usual and see the difference. But if you have pet hair all over clothing or furniture, use the pet turbo brush and vacuum it away!
What We Like
Wide Cleaning Path
Cut down your vacuuming time due to this vacuum's wide cleaning path. It has a 12.6-inch wide floor nozzle, so you can suck up more dirt in less time!
Five Height Adjustments
With five height adjustment levels, you can clean various floor types. Just change the setting when you move from high-pile carpets to hard floors.
Extra Large Dust Cup
The extra-large dust cup means you can capture much more between emptying it. Excellent for vacuuming the whole house without stopping.
Plus, emptying it is super easy. Just hold it over the trash can, press the top button, and watch it all fall out.
Detachable Handle for Cleaning Tight Corners
Use this vacuum's detachable handle to clean high-up corners or low spots. When you choose a vacuum, you don't want to miss a spot in the house. And this vacuum makes that possible!
What We Don't Like
Not Durable
This is a pretty budget-friendly vacuum. The low price ends up reflecting in the quality.
Customers said their vacuums didn't last long, some saying it was bust within a year. It's not a huge issue considering the warranty is two years — so Eureka will cover any manufacturing issues and repair or replace your vacuum.
Clogging Problems
Clogs seem to be a frequent issue with this vacuum. The hose section tends to clog easily and causes the vacuum to lose suction completely. Or worse, it sometimes blows debris back up the tube, which is particularly bad if you have allergies!
Product Specs
| | |
| --- | --- |
| Design | Upright and corded |
| Weight | 10 pounds |
| Floor Type | Any |
| HEPA Filter | No |
| Pet Friendly | Yes |
Our Ratings
Community Feedback
"My experience with this product has been a pleasant surprise, as it effectively cleans both my mid-length pile carpet and tile kitchen floor. The powerful suction is evident in the amount of dirt it picks up, but it comes with the trade-off of being quite loud during operation. Its lightweight design is a relief for my aging wrists, and it performs well on high pile carpets and wood floors alike. However, I did encounter a minor issue with the carpet pile adjustor not working properly, which may contribute to the noise level."
---
Tineco Floor One S3 Vacuum
Best Cordless Option
There are lots of cordless multi-surface vacuums on the market, but this is one of our favorites. With this, you'll get up to 35 minutes of vacuuming time, which is usually enough to vacuum the whole home. But besides that, there are some other amazing features.
Thanks to the 220-watt motor, this vacuum has excellent suction. It can clean up almost twice the amount of standard brushed motors. So whatever you're trying to clean up, this vacuum can handle it.
What We Like
Infrared Sensor Detects Dirt
Its built-in iLoop smart sensor technology monitors cleaning performance while its infrared sensor detects debris and spills. That said, you can be sure this gadget does its cleaning job.
One-Touch Self-Cleaning
This vacuum's design helps busy individuals save time with its single-button cleaning. This helps keep your device free from odor and stain.
Doubles As a Wet Vacuum
This life-changing vacuum made our list due to its ability to clean wet messes, too! Now you don't need to vacuum and mop separately. Do it all at once with this incredible wet/dry vacuum.
Two-Year Warranty
You don't have to worry if this product bogs down because it's been covered with a two-year warranty and 24/7 customer service support.
What We Don't Like
Long Charging Time
This cordless vacuum is almost flawless. However, it takes two hours for the battery to charge up before using it. When you only get 35 minutes of run time, that's a little inconvenient.
Not for Big Homes
With a 35-minute maximum runtime, this isn't the best vacuum for large homes. When mopping, you must refill the tank multiple times per room. Plus, you have to move slowly when mopping, meaning cleaning a large home will take a while.
Product Specs
| | |
| --- | --- |
| Design | Upright or cordless |
| Weight | 17.64 pounds |
| Floor Type | Any |
| HEPA Filter | No |
| Pet Friendly | Yes |
Our Ratings
Community Feedback
"I recently purchased the TINECO Floor One S3 Cordless Hardwood Floor Cleaner and have been impressed with its performance on my hard floors. This product effectively vacuums and scrubs simultaneously, leaving my floors impeccably clean and dry in very little time. The built-in voice alerts for maintenance tasks such as refilling the water tank or running the self-cleaning cycle are quite helpful, and the machine operates quietly and maneuvers easily. As someone with pets and long-haired household members, I've found that using a dust mop before operating this product helps prevent hair clogs, allowing for longer cleaning sessions. While the owner's manual could be clearer, overall, I am pleased with the TINECO Floor One S3's performance and ease of use. A quick note: do remember to clean the dirty water tank promptly after use to prevent unpleasant odors."
---
Eureka WhirlWind Bagless Canister Cleaner
Best Canister Vacuum
This is an awesome canister multi-surface vacuum cleaner. It can deep clean your floors across multiple surfaces, including carpets, upholstery, and hard floors.
The entire unit only weighs eight pounds. So it's super easy and convenient to carry from room to room.
As for the canister, it has a two-liter capacity, so you can vacuum up a lot of dirt before needing to empty it. When you empty it, press one button over a garbage can and enjoy watching it all fall out in seconds.
What We Like
Automatic Cord Rewind
This may seem like a small detail, but it's truly remarkable! The cord automatically reels in when you press a button. This means you save time packing this away after cleaning.
Cyclone Filtration System
The cyclone filtration system helps ensure no loss of suction even while the filtering is super strong to prevent small particles from reaching and damaging the motor. You have a dust cup, dust separator, and a filter for ultimate protection.
Easy To Adjust To Different Floor Types
When you're ready to move from carpet to hard floor or upholstery, simply use the adjustment control to do so. It's within easy reach of your hand, so it's quick and easy to do while you're vacuuming.
Easy To Maneuver
This bad boy is easy to maneuver. Firstly, it only weighs around eight pounds which is pretty light. Secondly, it has swivel steering, which helps navigation. Finally, it has a telescoping metal wand for deep cleaning in tight, low, or high corners.
What We Don't Like
Works Better on Hard Floors
Although this is a multi-surface vacuum, customers say it works better on hard floors than carpets. If you have a ton of carpets in your home, you may want to consider something else.
Light Cleaning Ability
As well as being better for hard floors, some customers say this is more of a light cleaning vacuum than deep cleaning. Not all customers agree on that, but keep this in mind if you have a particularly messy household with many kids and/or pets.
Product Specs
| | |
| --- | --- |
| Design | Canister |
| Weight | 8.3 pounds |
| Floor Type | Carpet, hard floor, and upholstery |
| HEPA Filter | No |
| Pet Friendly | No |
Our Ratings
Community Feedback
"Got this product to tackle the mess from my two hairy dogs and, let me tell you, it works wonders on hardwood floors and upholstery. The suction is strong, but using it on carpets can be a bit challenging due to the excessive suction. Despite this minor drawback, I'm impressed with the overall performance and convenience of this compact vacuum."
---
Eureka Airspeed Upright Vacuum Cleaner
Best Budget Choice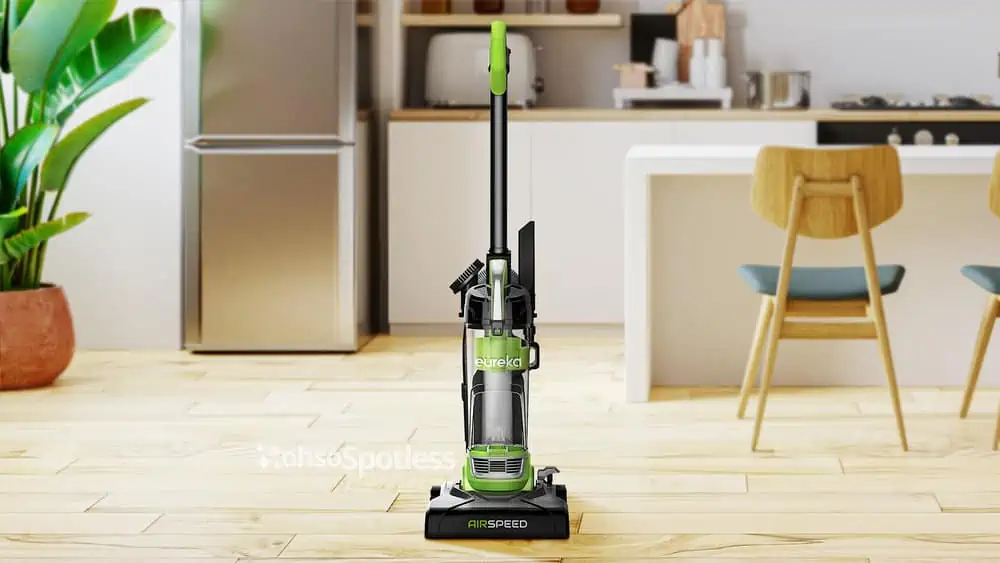 This vacuum is superb for folks on a budget. Better still, it has incredible features to improve your vacuuming routine and make it more effective.
It has a super lightweight design, so you can easily maneuver it around the house. Whether you're old or young, this 7.7-pound vacuum is a breeze to use.
Secondly, it's easy to empty. Empty the dust cup with a press of a button. Once it's emptied, you're good to go again. Just reattach it and get vacuuming again.
We think you'll love this vacuum on your hard floors, upholstery, and carpets!
What We Like
Two Extra Cleaning Tools
This vacuum has two extra tools that can be stored on the vacuum itself, so you never lose them. They include a crevice tool and a dusting brush.
The crevice tool is great for getting into tight corners and between couch cushions. The dusting brush is for more delicate items like upholstery, so you don't cause any scratches.
Powerful 6-Amp Suction
Sick of mediocre vacuum power? This vacuum has a 6-amp motor that lifts debris and dirt from carpets, shag rugs, high-pile carpets, and hard floors. Now your home will be super clean and your floors protected.
Washable and Reusable Filter
When the filter looks dirty, you don't need to toss it out and buy a new one. It's washable, so run it under cold water and let it air dry.
Easy To Empty the Dust Cup
When the dust cup is full, remove it from the vacuum and bring it to the trash can. Empty it into the trash with the press of one button. The dirt will fall out, and the best part is you don't have to touch any of it!
What We Don't Like
Hard To Push Around
Customers complained that the wheels didn't have much glide, so pushing this vacuum along thicker carpets was particularly hard.
Short 18-Foot Cord
The cord for this vacuum is short, so you don't get much leeway. Our vacuum can reach every corner of our apartment from one plug socket, but this vacuum only has an 18-foot cord. Most vacuums have a 25-foot cord.
Product Specs
| | |
| --- | --- |
| Design | Upright and corded |
| Weight | 7.7 pounds |
| Floor Type | Carpet, hard floor, and upholstery |
| HEPA Filter | No |
| Pet Friendly | Yes |
Our Ratings
Community Feedback
"If you're looking for a budget-friendly and lightweight vacuum, this product is an impressive option. From personal experience, it has fantastic suction power, easily picking up dirt and pet hair from both carpets and area rugs. However, it does have a short cord and may not be ideal for larger homes with multiple flooring types."
---
Coredy Robot Vacuum Cleaner
Best Robot Version
Do you want a smart vacuum that can do the work for you when you're too busy? Turn this on and let it clean your floors while cooking, cleaning somewhere else, or working.
It even doubles as a mop. The wet function will clean hard floors after vacuuming. Remove marks, footprints, and stains on the floor.
As for the vacuum function, it has a maximum suction ability. So it can pick up anything from large dirt to pet hair!
What We Like
Seamless Moving Between Floor Types
This robot vacuum can easily move from hardwood to carpets, thanks to its climbing ability. If you have a thick rug, it can climb up there, too! It has an auto-lift, so it can seamlessly move around your whole home.
Protects Itself From Accidents
Don't worry about this getting in any accidents, leading to damage. It protects itself. It has an anti-collision and anti-drop sensor, so it won't bump into things or fall downstairs. These sensors guide the vacuum around obstacles and prevent it from damage.
110 Minute Run Time
Enjoy 110 minutes of quiet operation with this robot vacuum. When it's finished vacuuming, it will automatically recharge itself. You'll never be left with a lifeless vacuum.
2.7 Inches Tall
At only 2.7 inches tall, this robot vacuum can sneak under hard-to-reach areas, like beneath furniture. So the spots you couldn't easily clean yourself — this guy can do it.
What We Don't Like
Not for High Pile Carpets
This is good for low and medium-pile carpets, but unfortunately, it doesn't work on high piles. So keep that in mind before purchasing so you're not disappointed.
Misses Some Dirt
Customers said the vacuum missed bits of the room altogether, therefore missing vital messes. We're sure there's a way to troubleshoot this issue but keep that annoying detail in mind.
Product Specs
| | |
| --- | --- |
| Design | Robot |
| Weight | 7.73 pounds |
| Floor Type | Hard floors and low pile carpets |
| HEPA Filter | No |
| Pet Friendly | Yes |
Our Ratings
Community Feedback
"These robot vacuum cleaners have come a long way in the past decade, and this product is a testament to that. It's quieter than older models, has great suction on hardwood floors, and even knows when it's on a rug versus a hard surface. However, it can struggle to clean some areas, like the master bedroom, and might get stuck under furniture or tangled in cords, so it's not perfect, but it's still a helpful tool for maintaining clean floors."
---
Eureka Stylus Cordless Vacuum Cleaner
Best Stick Vacuum
Stick vacuums are super lightweight and easy to use. This Eureka Stylus cleaner is 6.4 pounds, so it's nice and lightweight for most people. Despite being cordless, it has one of the longer run times on the market, up to 45 minutes.
We also love that this vacuum is convertible. So you can use it as an upright or handheld vacuum. This makes it super easy to vacuum upholstery, under furniture, and your car.
What We Like
Cleans All Floor Types
No matter what flooring you have in the house, this vacuum can handle it. The floor nozzle has an automatic height adjustment, so you don't have to press any buttons when switching. Go from tile floors to carpets seamlessly.
Powerful 350W Motor
Vacuum up all types of debris with this vacuum. This vacuum can handle it all, whether you're picking up small particles or large bits of dirt. The 350-watt motor has powerful suction, leaving no mess behind. Depending on the mess at hand, you can switch between three different suction levels.
Go Wherever
The best thing about this vacuum is that it's super portable. You can use the handheld attachment and go anywhere you like. You can even move underneath furniture since the LED headlights make it easy to see what's under there.
Last but not least, the swivel steering makes maneuvering easier than ever before.
Fingertip Controls
You'll appreciate the fingertip controls when switching between the three available suction levels. They're within reach and easily pressable with just one button.
What We Don't Like
Battery Issues
Some customers reported they weren't getting the full 45 minutes of advertised use time. This could be down to using the higher suction powers, which drain the battery quicker.
Pet Hair and Hairy Carpets
Keep in mind that this isn't the best at picking up pet hair. Nor does it work super well on high-pile or hairy carpets.
What about pet hair on your high-pile carpets? Even worse! So if that sounds like your home, you may want to rethink.
Product Specs
| | |
| --- | --- |
| Design | Upright or handheld, cordless |
| Weight | 6.4 pounds |
| Floor Type | All floor types |
| HEPA Filter | No |
| Pet Friendly | No |
Our Ratings
Community Feedback
"I've been using this product for quite some time and have found it to be both lightweight and easy to maneuver, making it great for quick clean-ups. The vacuum performs well on hardwood floors and is able to pick up pet hair, although it struggles with larger debris. One downside is that the vacuum is not self-standing and must be leaned against furniture or countertops. Additionally, it's important to regularly clean the canister and handle to prevent dirt and hair from backing up."
---
Simplicity Multi Surface Upright Vacuum
Longest Cleaning Reach
Vacuums with the most extended cleaning reach are a big selling point for many people. Although this might not be the lightest, it sure is one of the easiest to assemble. Moreover, thanks to its flexible hose, it gives up to 13-feet of cleaning reach.
It's a corded vacuum with a furniture guard that prevents accidental bumps into the walls or your furniture. It also has a HEPA filter, thereby trapping all allergy-causing dust particles.
What We Like
HEPA-Filtration System
One of the big advantages of this vacuum is the filtration system. If anyone in your family has allergies, this will help. It helps remove particles from the air.
Then the HEPA filter removes 99.97 percent of dust particles in as little as 0.3 microns, ensuring that the air in your home is purified and clean.
Suitable for All Floor Types
This is the vacuum to choose from if you have a range of flooring types since it works on every kind of flooring! That includes hardwood, laminate, vinyl, tile, and much more. You can even use this on furniture!
Standalone Upright Vacuum
You can use this as an upright vacuum, moving around the home without bending too much. Aside from that, it has onboard storage for all the attachment tools.
30-Foot Power Cord
Vacuum all over the house, thanks to the 30-foot power cord. This means less plugging and unplugging. And it allows you to get into rooms where they may not be an outlet option.
What We Don't Like
Noisy Vacuum
A little downside that most people noticed is its noise which is almost 30 percent louder than other models.
Can't Switch Off Floor Roller
Customers dislike that the floor roller is always running. Some prefer not to use a beater bar on hard floors as this can cause damage. It also spins so quickly that it can lift itself slightly off the ground, which seems dangerous.
Product Specs
| | |
| --- | --- |
| Design | Upright |
| Weight | 15.7 pounds |
| Floor Type | All floor types |
| HEPA Filter | Yes |
| Pet Friendly | No |
Our Ratings
Community Feedback
"Got this Simplicity vacuum and I've been using it for a few days now. It's a bit heavier and louder than my previous vacuum, but it has a great HEPA certification and adjustable brush height for different surfaces. The self-propelled feature and wand availability make it easy to reach tricky spots, though the handheld hose's handle can be a bit cumbersome."
---
Why Choose a Multi Surface Vacuum?
You need a multiple-surface vacuum cleaner if you have multiple floor types. This is the best way to pick up every piece of dirt on your floors.
We've noticed that our vacuum cleaners have done well on carpets but not so great on laminate floors. That leaves one room way cleaner than the others!
If you want spotless floors throughout the house, you need a multi-surface vacuum.
How To Choose the Best Multi Surface Vacuum
Not sure what to look for when shopping for a multi-surface vacuum? Here are the most important details to consider.
Keep In Mind
Not all multi-surface vacuums can handle all floor types. Some are specifically designed to handle two or three floor types. So if you have tile, laminate, and carpet, ensure the specific vacuum can handle all three floor types.
---
FAQs
Thank You For Your Feedback!
Thank You For Your Feedback!