It's so easy to become obsessed with perfect grass in your yard. When those edges look a bit overgrown and scraggly, a lawnmower just doesn't cut it anymore.
That's where string trimmers come into play. But with dozens of different brands and models on the market, it can be overwhelming to find the best one.
That's why we've put together this list of the seven best string trimmers. Now you can find the right one for you whether you want something gas, electric, lightweight or quiet.
Image
Model
Product Comparison Table
Features
Best Cordless String Trimmer
Dewalt 20V MAX String Trimmer
Built with a 14-inch cutting capacity
Comes with two-speed settings
QuickLoad spool design
Best Versatile String Trimmer
Black + Decker 20V Max String Trimmer
Converts to edger with no interruptions
Two-speed control feature
EasyFeed technology
Best Lightweight String Trimmer
Black + Decker BESTA510 String Trimmer
Automatic feed spool
2-in-1 trimmer and edger
Cord retention system
Best Electric String Trimmer
Ryobi ONE+ Battery String Trimmer
Jet fan blower included
Variable speed trigger for more control
The head pivots at a 90-degree angle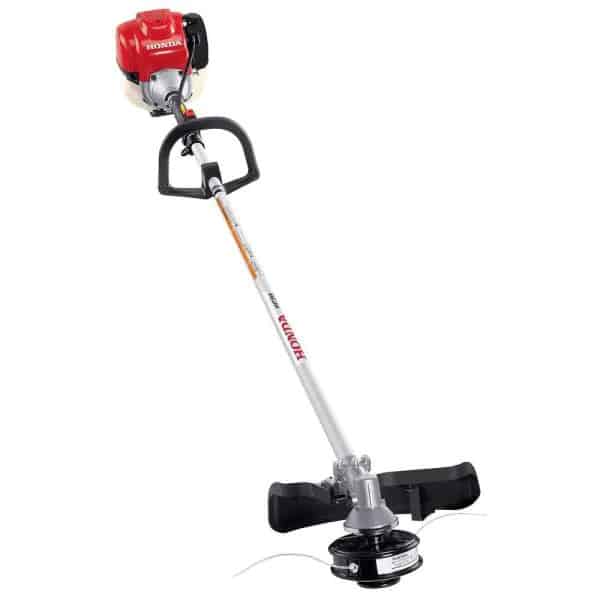 Most Powerful String Trimmer
Honda 35 cc Straight Shaft Trimmer
Powerful 4-stroke engine
Has flexible inner driveshaft
Provides heavy-duty capability
Best Quiet String Trimmer
EGO Power+ Foldable String Trimmer
Long battery life, quick recharge
Rapid reload head
Can withstand any weather
Best Affordable String Trimmer
Greenworks 15-Inch Corded String Trimmer
2-in-1 edger and trimmer
Telescoping shaft for more versatility
Cord lock for safety
---
Electric vs Gas vs Battery Powered
Before we recommend our top choices, it's important to know the difference between the main types of string trimmers. You'll find both electric and gas string trimmers. Within electric, you'll also find battery-powered string trimmers which allow the tool to be cordless.
Electric
Pros
Better for the environment since they don't emit hazardous fumes.
No harsh chemicals get into your grass.
Less cleaning and maintenance for the machine.
Overall lower running costs than gas.
More affordable options than gas.
Cons
They aren't cordless, which limits maneuverability.
Typically less powerful than gas options.
Not ideal for large yards.
Gas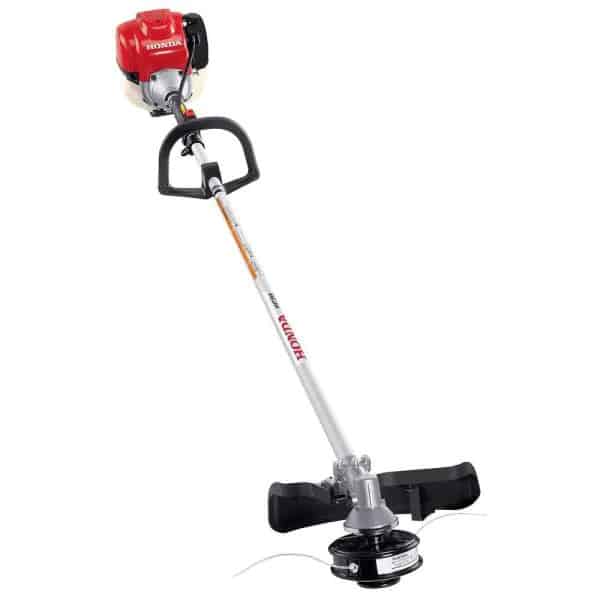 Pros
Super powerful, good for big jobs and yards.
Since they run on gas, they're also cordless.
Many options available on the market.
Cons
More expensive than electric and battery-powered.
Emit fumes, which may upset your grass and plants.
Louder and may require ear protection.
Battery Powered
Pros
Completely cordless, which increases maneuverability.
Nice and lightweight, with many options under 7 pounds.
More affordable than gas.
Quiet, which is good for neighbors.
No toxic fumes.
Cons
Battery life may not last the entire yard.
You need to factor in battery recharge time.
Not as powerful as gas string trimmers.
Batteries aren't always super durable, need frequent replacing.
Overall, each string trimmer comes with its advantages and disadvantages. The best way to decide is to consider your yard size and shop accordingly.
How to Choose the Best String Trimmer
Besides the type, what else should you look at before committing to a string trimmer? Check out these important details.
Look at some key details to decide how well the string trimmer will perform.
First, let's consider the power. The power of a string trimmer is measured by the engine. You'll find various engine sizes, normally between 20 and 30cc. The higher this number, the more powerful the engine.
If you have a big yard and want to zip through jobs quickly, we recommend something around 25cc or more.
You may also want to consider what height grass the string trimmer can cut. If you have super tall grass, make sure it can handle it. This isn't always specified, so check customer reviews to see what others say about tall grass.
If you're looking at a gas string trimmer, you should definitely consider the gas tank capacity. The higher this is, the longer it will run between refuels. On average, this sits around 12-15 ounces, but there are some options with bigger capacities that are suited to bigger yards.
You can get the most out of your string trimmer by choosing one with some versatile features. Whether this allows you to switch up the way you trim (horizontally or vertically), or it comes with attachments, it's good to check.
The shaft length is basically just the length of the handle. The longer this is, the more suited it is for taller people. The average length is around 45-55 inches, with some longer options available.
Weight is super important since it will affect how easy or difficult it is to use the string trimmer. The average weight is 10-12 pounds for a gas option and 5-7 pounds for an electric one. If you'd like something lighter, we definitely recommend choosing electric.
Take a look at the style of the handle and whether it will be comfortable for you. You may want to choose something that's slightly curved, which can increase comfort and control. It's also nice to find something with a grip that can increase control and reduce vibrations.
If you're keen to cut down the noise, then look for an electric or battery-powered tool. The noise will be significantly lower. Power tool noise levels are usually measured in decibels, but most string trimmers don't have their decibel rating advertised, so it's a good idea to check out customer reviews.
If you're on a budget, we recommend sticking to an electric or battery-powered option which tends to be between $40 and $60. Gas string trimmers are much more pricey, costing somewhere between $100 and $200, with many options being even more expensive. Whatever your price point is, there should be something that ticks your boxes.
---
The Best String Trimmers of 2022
Here are seven of the best string trimmers for tidying up your garden.
1. Dewalt 20V MAX String Trimmer
Take your string trimmer anywhere when you choose a cordless option, like the Dewalt MAX. Not only are there no cords or need to plug it in, but this power tool is extremely easy to transport.
It has a folding hinge, so you can easily fold it up and pop it in the back of your car. The folding mechanism decreases the length by about 40 percent, making it very quick and easy to store anywhere.
The Pros
14-Inch Cutting Capacity
This was built with a 14-inch cutting capacity in mind. This allows you to cut a wider area at once, which saves you time in the long run. Get through jobs much quicker with a wider cutting capacity.
Variable Speed Trigger
This comes with two-speed settings so you can make changes where necessary. The higher one is more powerful, which is great for thick brush. The lower one is less powerful but saves battery life if you need to get around a larger area before recharging.
QuickLoad Spool
It's now easier than ever to load the spool, thanks to the QuickLoad Spool design. This makes it quick and easy to replace the 0.080-inch line.
The Cons
Not for Heavy Duty Work
While the high speed can get through some thick brush, it's overall not a heavy-duty trimmer. Don't mistake it for a gas option. If you have a large yard with lots of areas that need to be trimmed, this may not be the best option for you.
Poor Balance
Some customers found that the balance of this string trimmer was poor. The design means that it's a bit heavy towards the motor, and the weight isn't evenly balanced. In fact, for a cordless trimmer, this is about double the average weight coming in at 10.5 pounds.

Additional Specs
| | |
| --- | --- |
| Type | Battery-powered electric |
| Cutting Width | 14 inches |
| Shaft Length | 38 inches |
| Weight | 10.53 pounds |
| Budget | $$ |
---
2. Black + Decker 20V Max String Trimmer
This Black and Decker string trimmer is super versatile, even if you go for the basic option. That model alone allows for both trimming and edging. This 2-in-1 tool is just the thing you need for sprucing up your garden and making it super neat.
However, if you're looking for even more versatility, this has many extra options available. Whether you're looking for a leaf collection bin, extra batteries, a sweeper, a hedge trimmer, or a replacement spool — there are lots of add-ons available.
The Pros
Converts to Edger
Trimmers and edgers are different tools, but buying both can be expensive. If you like the sound of a 2-in-1 trimmer and edger, then check this product out. You can easily and smoothly switch to the edger with no interruptions whatsoever. Now your yard will look neater than ever before.
Two-Speed Control
Take control of this power tool with the two-speed control. This allows you to boost power where needed, which is good for bigger and thicker jobs. You can decrease the speed again when you want to save battery life.
EasyFeed
The EasyFeed is just the technology you need for feeding the spool without interruptions. You can easily advance the string line by pressing the button — and that's it. No other faffing around is required.
The Cons
Light Duty Maintenance Work
If you're looking for a heavy-duty trimmer that can spruce up a neglected lawn, then this isn't the right product for you. This is best for light-duty maintenance work only.
Top Tip
Borrow a gas trimmer from a friend to tidy up extreme overgrowth before buying this Black + Decker power tool and maintaining your yard.

Constant Trigger Holding
A big drawback to this string trimmer is that you need to hold down the trigger button constantly. You don't just turn it off and on as you need. This led to hand fatigue for many customers.
Additional Specs
| | |
| --- | --- |
| Type | Battery-powered electric |
| Cutting Width | 12 inches |
| Shaft Length | 41 inches |
| Weight | 6.3 pounds |
| Budget | $$ |
---
3. Black + Decker BESTA510 String Trimmer
If our suggestions sound like they might be too heavy for you, then this is one you might want to consider. It only weighs 3.19 pounds, so it's extremely lightweight, easy to lift and transport wherever you need!
Your comfort has been a top priority in creating this product. Besides its lightweight, it also has an adjustable handle so you can change the height position. This product stretches from 3 to 4 feet depending on what feels best for you.
The adjustable height is super convenient and allows you a more comfortable experience where you really feel in control of the power tool.
The Pros
Automatic Feed Spool
This string trimmer features an automatic feed spool which allows you to continue working without interrupting your flow to feed the spool. It does it automatically for you.
Doubles as Edger
We love that this is a 2-in-1 trimmer and edger. Both tools are important for maintaining a neat yard, so it's super handy to find a power tool that features both.
It's so easy to switch between the two models, too. Just rotate the machine, and it will quickly switch between trimmer and edger.
Cord Retention System
The cord retention system is super handy to have. We wish all string trimmers featured this! It allows you to store the cord easily when you've packed up your string trimmer for the day. But it also prevents you from accidentally disconnecting the cord while you're working.
The Cons
Spool Runs Out Quickly
We recommend ordering some extra spools to keep you going. Customers noted that the spools ran out quickly, with some of it even being wasted, so it's smart to have a few extra rolls on standby. These must be purchased separately.
Not for Tall People
Although the telescoping shaft allows for flexibility, it's a bit too short for tall people, even at the longest height. Even those of average height, around 5 feet, 7 inches, found that it was too short, and they had to hunch to use it.
Additional Specs
| | |
| --- | --- |
| Type | Corded electric |
| Cutting Width | 14 inches |
| Shaft Length | 3-4 feet (telescoping) |
| Weight | 3.19 pounds |
| Budget | $ |
---
4. Ryobi ONE+ Battery String Trimmer
Electric string trimmers are a top choice because they are better for the environment. They're also quieter, more budget-friendly, and lighter. This electric trimmer goes the extra mile by being electric cordless since it's battery-operated.
The battery lasts for a good while too with many customers reporting up to an hour between charges. Just keep in mind that if you use it on the higher power settings with accessories, it may only last 12 minutes.
The Pros
Jet Fan Blower Included
If you're looking for a versatile tool, this is an awesome option since it comes with a jet fan blower and a trimmer.
This blower runs at 100 miles per hour with a CFM of 280, so it's very powerful and quick to use. It's also lightweight at 6 pounds, so you can use it for long periods of time without tiring.
Variable Speed Trigger
With two speed settings, you get more control over how you want to use the string trimmer. This allows you to switch up depending on the task at hand. But it also lets you save battery life when needed since the lower speed setting drains the battery slower.
Pivoting Head
The head on this power tool pivots at a 90-degree angle. This allows you more flexibility over the tool. But it also swings out so you can achieve easy walk-behind edging, which many customers prefer.
The Cons
Jamming Issues
While most customers were satisfied, a few experienced the trimmer getting jammed quite easily. If you're taking down tall or thick grass, you may experience jams.
Low Battery on High Power
As mentioned, when you use the higher power settings or additional attachments, the battery can drain quickly. It can last up to an hour on regular settings but as little as 12 minutes on the highest settings.
On average, customers found the battery lasted around 30 minutes which was a bit disappointing.
Additional Specs
| | |
| --- | --- |
| Type | Battery-powered electric |
| Cutting Width | 11-13 inches |
| Shaft Length | Not specified |
| Weight | 7.5 pounds |
| Budget | $$$ |
---
5. Honda 35 cc Straight Shaft Trimmer
This is one of the most powerful string trimmers on the market. With a 35cc engine and over 89 percent of customers recommending the tool, this is a suitable option for people with big yards and a lot of ground to cover.
It's fully equipped with a Honda GX35 4-stroke engine. With the Honda brand name behind it, you can rest assured that this has been designed and built by experts. It's also an easy-start engine that is music to the ears of many power tool users. Nothing screams frustration like a power tool you can't get going.
The Pros
Fuel Efficient
When choosing a gas option, you know that it will be emitting some fumes, which is why it's super important to choose something that's fuel-efficient.
With this model, you can enjoy the 4-stroke engine, which is more fuel-efficient than similar 2-stroke engines. This is better for the environment and your bank account since it costs less to run
Flexible Inner Driveshaft
The shaft design on this tool is lighter and more durable than solid shafts. Due to its flexibility, it has incredible torsional strength, allowing it to absorb shock and reduce vibrations.
In fact, Honda is so confident in its design that the shaft alone comes with a limited lifetime warranty.
Heavy Duty Capability
If you're going to demand a lot from your string trimmer, this is a fantastic option. It has been designed to handle thick grass and heavy brush with no problems. It won't clog up, get bogged down, or give up halfway through a job. It can even tackle these jobs at partial throttle if you're looking to save fuel.
The Cons
Poor String Design
Perhaps the manufacturer focused too much time creating a good engine and not enough time creating a good string.
Customers tend to complain about the string, which tends to break, knot up or not feed out correctly during use. This causes a lot of frustration for busy customers.
Expensive Price Point
This is one of the more expensive options on the market. Of course, with the power and technology behind it, the price point is justified. But if you're on a budget, this may not be the right option for you.
Additional Specs
| | |
| --- | --- |
| Type | Gas |
| Cutting Width | 17 inches |
| Shaft Length | 45 inches |
| Weight | 14.8 pounds |
| Budget | $$$ |
---
6. EGO Power+ Foldable String Trimmer
While no string trimmer is completely noiseless (yet), this is a fantastic option if you want something on the quieter side.
Customers love how quiet this product is, compared to other options. If you want to do a bit of work in the morning or evening, this shouldn't annoy the neighbors.
The company's decibel rating isn't specified, but one test found it to be around 80 The company's decibel rating isn't specified, but one test found it to be around 80 (1). While this isn't considered silent by any means and is similar to traffic passing by, it won't be too distracting for others around you.
The Pros
Long Battery Life, Quick Recharge
We think you'll enjoy the extended battery life of this product. The battery lasts up to one hour, which is generous, but it also charges super quickly. It takes as little as 50 minutes to charge the battery back up so you can get back to work quickly.
Rapid Reload Head
This comes with a handy Rapid Reload Head, which allows you to insert new cutting lines quickly and efficiently. It is much easier than previous models. Simply line up the arrows with the head, insert the line, then twist.
Weather Resistant
If you live somewhere with multiple weather types, you're probably after something that can withstand that. This tool is weather-resistant, so it will hold up whether there's rain or shine.
The Cons
15 Pounds Heavy
This is one of the heaviest products we've reviewed. Especially since it's not gas, it's a bit surprising.
At over 15 pounds, this is very heavy and a bit too difficult to manage for some customers. If you've not got the strongest arm muscles, this may not be the right tool for you.
Not Budget Friendly
If you're on a budget, the price point might scare you a little. It's definitely expensive, especially for a battery-powered option.
Many gas models sit around this price, but it's rare for an electric product. However, it is a powerful tool, so many people think the price is worth it.
Additional Specs
| | |
| --- | --- |
| Type | Battery-powered electric |
| Cutting Width | 15 inches |
| Shaft Length | 60 inches |
| Weight | 15.22 pounds |
| Budget | $$$ |
---
7. Greenworks 15-Inch Corded String Trimmer
Not everybody has the desire or means to spend hundreds of dollars on a string trimmer. If you're on a super tight budget, we can recommend this Greenworks string trimmer to you. It's less than half the average string trimmer cost, but it's still mighty good quality.
It's a corded electric option, so while you need to plug it in, you never need to worry about the battery dying while you're in a great workflow.
The Pros
2-in-1 Edger and Trimmer
2-in-1 trimmers seem to be becoming more and more popular. That's because they're super convenient! But with this product, you're already getting a bargain, but now you're getting two tools for a small price? Definitely awesome. Use the edging wheel to quickly switch from trimming to edging for the most beautiful and tidy garden finish.
Telescoping Shaft
With a telescoping shaft, this allows more versatility between short and tall customers. You can extend the shaft an extra 7 inches for more comfort for more people.
Cord Lock
Tired of accidentally unplugging your electric power tools? This comes with a cord lock, so when you accidentally pull on the cord, the pressure goes to the cord lock rather than the outlet. So your power tool shouldn't come undone when you're in the middle of a job.
The Cons
Poor String Feed
While the product advertises easy and automatic line feeding, customers have different experiences. The way the line gets fed seems to be a headache point for many customers. Some complain that the string breaks easily, while others said that the line advance is very stubborn.
Additional Specs
| | |
| --- | --- |
| Type | Corded electric |
| Cutting Width | 15 inches |
| Shaft Length | 51-58 inches |
| Weight | 6.86 pounds |
| Budget | $ |
---
---
Safety Tips for Using a String Trimmer
Here are some noteworthy tips to ensure that you're using your string trimmer safely:
Dress the part: When using a string trimmer, make sure you wear eye protection, face protection (such as a visor), and adequate clothing. We recommend heavy trousers and a long-sleeved shirt rather than shorts, t-shirts, and sandals. You should also consider ear protection, especially if using a gas trimmer since these are extra loud.
Hold correctly: Don't hold the string trimmer directly over the lawn, as this will cause scalping, scarring, and other lawn damage. Instead, keep the trimmer spool parallel with the ground, so the strings are vertical. Then move in a straight line.Nice and lightweight, with many options under 7 pounds.
Tie back long hair: If you have long hair, tie it back in case it gets caught in any element of the power tool.
Wait for a dry day: Ideally, you should work with dry grass and weeds. Firstly, electricity and water don't mix. But secondly, it creates a much messier job if the ground is wet.
Clear the area: Before trimming, make sure the ground is clear. Remove debris such as glass, pebbles, metal, toys, and more, which can easily get caught in the line and fire out at you or someone else nearby.
Practice a secure grip: When holding the string trimmer, make sure you hold tightly with both hands, holding the power tool on the right side of your body. Keep your left arm straight, and your right arm bent slightly.
Watch out for cables: If using an electric string trimmer or working around other power tools, watch out for cables. You don't want to cut any cords accidentally.You need to factor in battery recharge time.
Move this way: Aim to move from right to left to help keep the clippings away from you. You should also go top to bottom down the lawn, which is easier for the string trimmer's engine and kinder to your lawn.
FAQs About String Trimmers
What Size String Trimmer Do I Need?
This depends on your height and preference. If you're taller, aim for one with a longer shaft. You should also consider the weight when shopping. Weight tends to span from 3-15 pounds.
In terms of the string size, these come in a variety of thicknesses. The smaller ones (between 0.065-85 inches) are best for light work. The thicker ones (between 0.085-0.110 inches) suit thick grass and weeds. Finally, if you have thick underbrush, we recommend getting anything above 0.110 inches.

Can I Use a Thicker Trimmer Line?
Sometimes. Some tools can handle a range of string thickness but always check with the manufacturer.

Are Trimmer Heads Universal?
---