Looking to add perfect definition to the edge of your lawn, pathways, and flower beds? You need a lawn edger. Finding durable, ergonomic outdoor equipment can be quite the task — we know.
We've put together a list of the seven best lawn edgers currently available on the market. With the research done and dusted, you can sit back, relax and read these in-depth reviews.
Soon enough, you'll be able to find the right tool for you. Whether that's gas, electric, manual, or something else entirely, we have plenty of recommendations.
Image
Model
Product Comparison Table
Features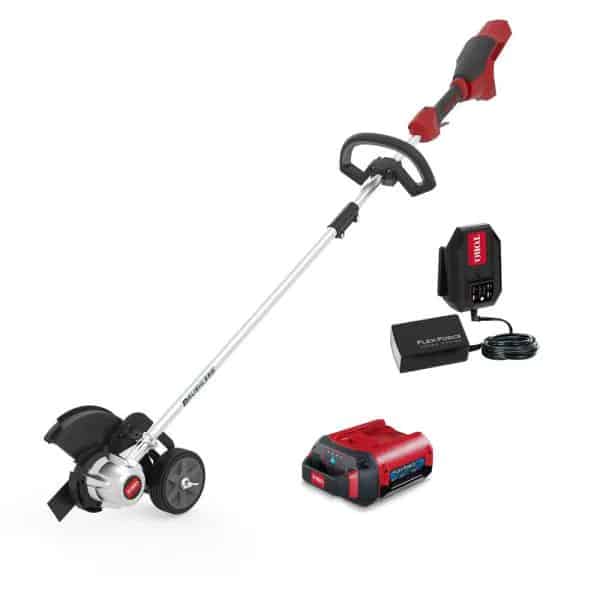 Best Cordless Lawn Edger
Toro Cordless Electric Lawn Edger
Durable brushless DC motor
Features are fully customizable
Comfortable and non-slip handle
Best Manual Lawn Edger
AMES Saw-Tooth Border Edger
One of the cheapest in the market
Arched saw-tooth blade
Comfortable handle
Best Lawn Edger String Trimmer Combo
WORX PowerShare String Trimmer & Edger
Easy switch between different modes
Equipped with command feed spool
7-Position handle for comfortable grip
Best Electric Lawn Edger
WORX 12 Amp Lawn Edger & Trencher
Adjustable cutting length
Comes with cutting line indicator
D-shaped handle for extra security
Best Lawn Edger Trencher Combo
Black+Decker Edger & Trencher
12-amp motor power
Adjustable blade length
Suitable for left- and right-handed folk
Best Gas Lawn Edger
ECHO Gas PAS Trimmer and Edger Kit
Several handy attachments
Quick starting system
Easy-to-attach accessories
Best Lawn Edger for Curves
Ames 2 Wheel Lawn Edger
Lightweight and easy to use
Secure grip on handle
With 15-year warranty
---
---
Product Reviews
Here are seven trustworthy lawn edgers for a neat and crisp lawn.
1. Toro Cordless Electric Lawn Edger
Best Cordless Lawn Edger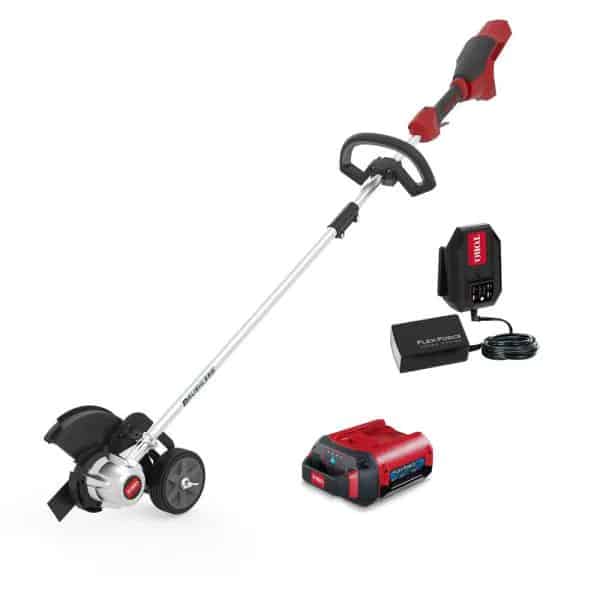 With a 60-volt battery, this cordless electric lawn edger provides both power and convenience. It has a long life, a generous run time, and a super powerful brushless motor that's suitable for tough and thick weeds.
The tool itself is built with cast aluminum housing and high-carbon steel, both intended to last for a long time without breaking.
What We Like
Brushless DC Motor
You can wave goodbye to mixing oil and fuel as you need to do with many gas options. This comes with a durable and powerful brushless DC motor, which gets the job done, time and time again. It's built to last and built to impress.
Adjustable Features
With this lawn edger, you're in complete control. Most of the main features are fully customizable.
For starters, there is a variable speed trigger so you can adjust the speed as desired. You can also adjust the cutting depth, depending on the height of your grass and weeds. Lastly, you can adjust the guide wheel for more precise edging on your lawn.
Stay Clean and Comfy
This is built with a blade guard and debris blocker, so you don't get covered in debris as you edge your lawn. This may seem like a small detail, but if anything can shorten the length of garden chores, it's a winner. It also has a comfortable and non-slip handle so you can feel in control and super comfortable as you work.
What We Don't Like
Heavy and Imbalanced
At 15 pounds — not including the battery — this is a heavy cordless option. Many customers found it awkward to use, especially considering it's bottom-heavy where the motor is. That made it quite difficult to maneuver.
Expensive
This is one of the more expensive options on the market, coming in at a similar price to gas options. For a cordless electric option, it's about double the average price.

Product Specs
| | |
| --- | --- |
| Type | Cordless electric |
| Weight | 15 pounds |
| Handle Length | 35.63 inches |
| Blade | 8-inch high-carbon steel |
| Budget | $$$ |
---
2. AMES Saw-Tooth Border Edger
Best Manual Lawn Edger
Manual lawn edgers can save you money and allow you more flexibility over the edges of your garden. If you have a small yard with oddly shaped corners and edges, check out the Ames saw-tooth border edger.
Customers love how much use they got out of this tool. Whether you're edging sidewalks, flower beds, or grass — this is a versatile and fantastic tool. In fact, it's well suited to men and women of various ages and strengths.
What We Like
Affordable Price
One of the most attractive things about manual lawn edgers is the price, and this product is no different. Costing about half the average lawn edger price, this is one of the cheapest on the market — by price, not quality.
Arched Saw-Tooth Blade
We love the arched blade on this tool. It allows you to cut straight or curved trenches. So if you have uniquely shaped garden beds or grass edging, this is a great option. The blade is also super sharp so that you can achieve your desired results without much effort.
Comfortable Handle
The handle was designed with your comfort in mind. It has a T-shaped grip at the top for ultimate security. The handle is made from steel, so it's durable and long-lasting. It's then wrapped with a grip cover so you can hold it for long periods of time without slipping or fatigue.

What We Don't Like
Not Sharp Enough
Some customers found this wasn't sharp enough for their thick and stubborn grass. It struggled to cut the grass and instead embedded it down into the dirt. This was particularly true for Bermuda grass. Take note of your type of grass and how easy or difficult it is to cut.
Not Fully Made in America
Ames claims the product is made in America, but customers saw that parts of the product were actually made in China when the product arrived. This lack of transparency is something to note with the brand.
Product Specs
| | |
| --- | --- |
| Type | Manual |
| Weight | 13.6 ounces |
| Handle Length | 39 inches |
| Blade | Arched saw-tooth blade |
| Budget | $ |
---
3. WORX PowerShare String Trimmer & Edger
Best Lawn Edger String Trimmer Combo
Looking to save a bit of money by choosing a combo tool? This 2-in-1 lawn edger and string trimmer is just the tool if you want to create manicured edges and trim around obstacles. It does both in the space of one handy tool, which saves you time, storage space, and money.
What We Like
Quick Conversion
With any 2-in-1 product, you may worry about how easy it will be to switch between the different modes. But with this tool, it only takes a couple of seconds. Simply pull the head from the shaft, twist, and it will switch between trimmer and edger.
Command Feed Spool
When using the trimmer, you're in control of the spool feeding through. When you need more, there's a handy button to press so you can smoothly give yourself more spool as necessary. No bumping, no guessing, no faffing around.
7-Position Handle
The handle is ingenious, comfortable, and effective. Not only is it curved at the top for your comfort, but there's an extra D-shaped grip with seven position options. This allows you to get the most comfortable grip possible for you. It also provides extra leverage for when you need it.
What We Don't Like
Poor Quality Spool
While the command feed for the spool is handy, the spool itself is of poor quality. It's not the strongest stuff, and you'll go through quite a lot every time you use the machine.
Thankfully, though, you can buy spools from other brands. Still, it's a bit of a faff, especially when the company offers fresh spools for the life of the product.
Short Battery Life
Some customers found the battery lasted at least 40 minutes, if not longer. However, others said the battery lasted as little as 15 minutes. So keep in mind that the battery life can be temperamental and unreliable.
Product Specs
| | |
| --- | --- |
| Type | Cordless electric |
| Weight | 5.3 pounds |
| Handle Length | 36.34 inches |
| Blade | No blade, only string |
| Budget | $$ |
---
4. WORX 12 Amp Lawn Edger & Trencher
Best Electric Lawn Edger
In the world of electric lawn edgers, this is one of the best. First off, it's a pretty affordable option backed by a 3-year warranty, so you can rest assured you're getting your money's worth.
Secondly, it doubles as a trencher, making it a super versatile tool.
It's also a super powerful option. It has a 12-amp motor with a blade that spins at 4700 RPM. Even if you're a newbie using this for residential purposes only, this will help you achieve a professional finish that will impress the neighbors.
What We Like
Adjustable Cutting Depth
With an adjustable cutting length, you gain more control over how you want your garden to look and how easy edging the lawn is. You can change the cutting depth to 1 inch, 1.25 inches, or 1.5 inches.
Cutting Line Indicator
This tool makes it easy to achieve beautiful and neat edges. With the cutting line indicator, you can follow a straight line guide so that your garden is neater than ever before.
Quality Handle
This handle is one of the best on the market, in our opinion. It's adjustable so you can extend the length to suit you. But it also has a comfortable grip so you can work for long periods of time without tiring. Last but not least, it has a secondary D-shaped handle for extra security.
What We Don't Like
Hard the First Time You Use It
If your yard has thick overgrown grass, this will be quite tricky the first time you use it. It struggles and slows in thick grass. It's much more suited to lawn maintenance than tidying up. But once you've got through the thick of it, it should work totally fine.
Blade Needs to Be More Durable
The blade on this machine is a little disappointing. Customers found that it stopped working pretty soon, whether by stopping spinning altogether or just dulling down. The warranty should cover it, but it's still a hassle to order and wait for a new blade.
Product Specs
| | |
| --- | --- |
| Type | Corded electric |
| Weight | 16 pounds |
| Handle Length | 39 inches, but it extends (not specified length) |
| Blade | 7.5-inch steel blade |
| Budget | $ |
---
5. Black+Decker Edger & Trencher
Best Lawn Edger Trencher Combo
If you're looking for an edger and trencher combo, this is a top choice. Loved by thousands of customers, this is a great tool to manicure and mow those edges without any damage.
The price of this one is also very attractive. Costing about three-quarters of the average edger cost, you're getting a good bang for your buck, especially when you consider you're getting an edger, too!
What We Like
12-Amp Motor
Say hello to awesome power with this tool. The 12-amp motor allows you to get all the desired power and cut through tough and thick grass.
Adjustable Blade Length
Stay in control with this power tool. The Black and Decker edger has a three-position blade adjustment versatility so you can control the cuts you're making.
Suitable for Left- and Right-Handed Folk
With many edgers, you have to be right-handed for a comfortable experience. But this tool is suitable for both left- and right-handed people, thanks to the flexible and comfortable handle.
What We Don't Like
Sticking and Clogging
Some customers found that the wheels were prone to sticking and clogging. The plastic casing could be more durable and resistant to these issues for a smoother cutting experience.
Flimsy Design
Durability isn't the strong point of this product. Some customers found the product didn't last as long as expected, and the design itself is a bit flimsy.
Product Specs
| | |
| --- | --- |
| Type | Corded electric |
| Weight | 13.1 pounds |
| Handle Length | Not specified, but it is adjustable by two inches |
| Blade | Three-position blade |
| Budget | $ |
---
6. ECHO Gas PAS Trimmer and Edger Kit
Best Gas Lawn Edger
This lawn edger kit is a gas-powered and versatile option that is well-loved by keen gardeners. It works with up to 12 different Echo attachments, excluding the shaft edger, ProSweep, ProPaddle, and Bed Redefiner. However, it does come with a handy trimmer and edger attachments (1).
This is ideal for manicured edges and an aesthetic finish. Even if you have tough grass and weeds, this tool can cut right through.
What We Like
Versatile Kit
This isn't just a lawn edger. Nope, it comes with other handy attachments. In the box, you'll get a straight shaft trimmer, an edger, a powerhead, and other various attachments. All parts come with a 5-year consumer warranty and a 2-year commercial warranty if you want to use this for work.
Quick Starting System
Compared to other gas power tools, this one is easier to start. It has an i-30 system which actually reduces the effort by 30 percent, so you have an overall better user experience.
Easy-to-Attach Accessories
With all the compatible attachments, you're probably wondering how much hassle it will be to connect and disconnect them. The answer is — it's easy! This comes with a tool-less coupler so you can quickly and easily make changes.
What We Don't Like
Quite Hard to Use
If you're new to the world of lawn edgers, this may not be the best starting point. Customers reported that this was quite a difficult product to use. Getting perfect edges was a challenge. Feeding the string into the trimmer was also a bit of a hassle.
Lacks Power
You may be a little disappointed in the power of the tool as an edger. While it's powerful as a string trimmer, it could be a bit more powerful as an edger.
Product Specs
| | |
| --- | --- |
| Type | Gas |
| Weight | 16.2 pounds |
| Handle Length | 54 inches |
| Blade | Not Specified |
| Budget | $$$ |
---
7. Ames 2 Wheel Lawn Edger
Best Lawn Edger for Curves
You may struggle with a standard electric or gas option if you have a curved yard or flower beds. Instead, you should opt for a wheeled manual edger, like this one from Ames.
The wheels hold up the cutting blades so that you can easily glide it along your curved edges, ensuring that you get a crisp and beautiful finish. No matter the shape.
What We Like
Lightweight and Easy to Use
Weighing less than four pounds, this is a lightweight option suitable for people of all sizes and strengths. You can maneuver around your yard without additional stress when using this tool.
Secure Grip on Handle
The long wooden handle is finished with a smooth and textured grip so that you can hold it confidently and securely. Fewer fumbles, less slipping, and less fatigue with this handle design.
15-Year Warranty
You can't ask for much more than a 15-year warranty for a product at this affordable price point. This is an incredible length of time that gives you peace of mind in case anything goes wrong.
What We Don't Like
Wheels Get Stuck
The self-sharpening design of this product sounds cool. However, the reality is that this often prevents the wheels from turning effectively which can slow down your progress in the garden.
Product Specs
| | |
| --- | --- |
| Type | Manual |
| Weight | 3.94 pounds |
| Handle Length | 55 inches |
| Blade | Self-sharpening serrated blades |
| Budget | $ |
---
---
Why Should I Edge My Lawn?
Here are some reasons you may want to use a lawn edger:
You get great definition at the edges of your lawn, whether that's the grass, the flower beds, the walkways, and more.
It cuts away overhanging grass and weeds for a tidier finish.
You can easily separate different terrains in your yard.
A lawnmower can't get into the edges, so a lawn edger can help where a lawnmower fails.
You achieve a crisp and tidy finish to your yard, which can help impress potential buyers or just guests that come to your house.
It minimizes weed invasion.
Types of Lawn Edgers
There are three main types of lawn edgers: gas, electric and manual. We'll look at the pros and cons for each so you can decide which is right for you.
Manual
If you're looking to save money, you may want to opt for a manual lawn edger that operates without the use of gas or electric power. These are more affordable, but they do require a bit extra effort when using. These are great for small lawns. Plus, they will last for ages if you take care of them properly.
Pros
They cost about half the price of the average powered lawn edger.
They will last for decades if you maintain and clean them properly.
These are easy to control.
They won't cause as much damage if misused.
Good for using in oddly shaped or hard-to-reach places.
Cons
They require a bit extra effort to use since you're responsible for the power behind them.
Not a great option if you have mobility challenges.
They take longer to use.
Not ideal for medium or large yards.
Electric
An electric lawn edger is a popular option if you want a powered tool. They are lightweight, more eco-friendly, and more affordable than gas. They also come in both corded and cordless designs to suit your specific needs. If you've got a medium or large yard, this is a good option as it will be much quicker to use than a manual.

Pros
Affordable options available, many under $100.
More eco-friendly than gas since they don't emit hazardous fumes.
Little maintenance required to keep it running well.
Cordless options available if you have a larger yard.
Lightweight and easy to maneuver.
Cons
Battery-powered options may have frustratingly limited battery life.
Blades need sharpened occasionally.
Not as powerful as gas options.
Gas
Like any gas power tool, gas lawn edgers are the most powerful. If you have a large yard and need to get through jobs quickly, you may consider a gas option. We also love that these don't require a cord since they run on gas. Therefore, you don't need to worry about tripping hazards or being near an outlet.
Pros
Naturally cordless since they run on gas.
More robust and durable than electric options.
Great for thick and stubborn build-up, such as matted roots.
More powerful than electric models.
Cons
Significantly more expensive than electric, sometimes costing three times the price.
Not as lightweight as electric options, therefore being quite hard to maneuver.
They emit fumes that can harm the environment.
Why Should I Edge My Lawn?
Here are the top details to consider before making your final purchase.

---
FAQs
---
Thank You For Your Feedback!
Thank You For Your Feedback!