There's nothing better than hitting the road in your motorhome and going on family adventures. But, while it's a lot of fun, it's easy for the interior to get grubby.
From outdoor debris in the rugs to mud on your upholstery, road tripping can get dirty – and fast. Plus, with all that time in the great outdoors, there's always a risk that insects or ticks will find their way into your carpets or furniture (1).
How can you fix this? One of the best RV vacuums is a great place to start. It can help you clean up grime and sanitize your motorhome, so you're ready to go again.
Keep reading for our five favorite RV vacuums. With our research and recommendations, you'll soon find the right one for you.
Image
Model
Product Comparison Table
Features
Best for Pets
Shark UltraCyclone
Weighs 2.8 pounds
Pet Power motorized brush
Easy to clean
28 air watts of suction
Multi-functional design
Two-tier radial cyclone system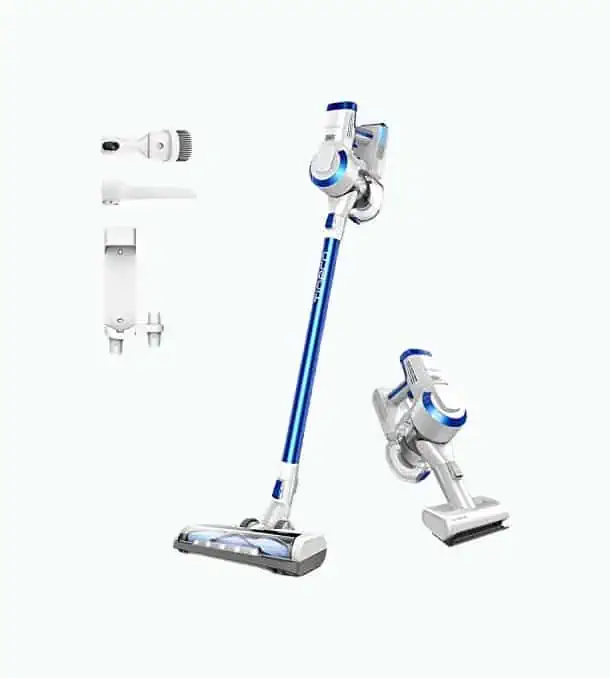 Most Lightweight
Tineco A10 Hero
Weighs 2.87 pounds
LED power brush
Four-stage filtration system
Most Versatile
Black+Decker BDH2000PL
Pivoting vacuum nozzle
Rechargeable battery
Easy-to-use attachments
Best for Allergies
VonHaus 2-in-1
HEPA filter
Extendable handle
19.7 feet cord
Review Methodology: At Oh So Spotless, we meticulously analyze and assess the best RV vacuums on the market to provide you with reliable, hands-on evaluations for your cleaning needs. Our experienced professionals rigorously test each product based on criteria such as performance, design, and user experience. We compare and rank vacuums using quantitative measurements to identify the key decision-making factors, offering you evidence-based recommendations. In our research, we consider factors such as suction power, battery life, portability, and additional features to ensure you make an informed decision. Trust our expertise and thorough reviews to help you find the perfect RV vacuum for your needs.
---
---
The Best RV Vacuums of 2023
These are the five best RV vacuums rated by weight, suction power, brush roll, capacity, and price.
Shark UltraCyclone Pet Pro Plus Cordless Handheld Vacuum
Best RV Vacuum for Pets
Most cats and dogs tend to shed, leaving hair all over your RV. If this is a problem for you, then check out this vacuum from Shark.
We've fittingly awarded this model "Best for Pets." The Pet Pro motorized brush will do a great job on the hair that your shedding dogs or cats leave behind.
This 80-watt Shark UltraCyclone also has many other excellent features, making it an obvious choice for your motorhome. It's excellent on carpets and floors, and has attachments that make it extremely versatile. It's also made for quick use around your RV without any hassles.
What We Like
Only Weighs 2.8 Pounds
Most of us try to keep extra weight and bulk out of our recreational vehicles. That's why you want smaller and lighter vacuum cleaners onboard.
This Shark UltraCyclone only weighs 2.8 pounds, making it very portable. It's sure to make cleaning on the move a lot easier.
Includes Pet Power Motorized Brush
We love how well this attachment can deep clean your RV. As the name suggests, Shark made it specifically with pet owners in mind. The powered roller brush is just what you need to pick up hair that sticks to furniture and floors.
It has powerful suction, which is excellent for cleaning carpets, floors, and upholstery. You can trust this device to capture all the hair and pet dander your furry friend leaves behind.
Cleans Everywhere With Accessories
The accessories included with the Shark UltraCyclone make it an all-rounder; it's not just for rugs. It comes with a dusting brush, excellent for tabletops and counter surfaces.
There's a crevice tool, which is great for getting into corners and edges.
Easy to Clean the Vacuum Itself
The 0.43-liter dust canister on this vacuum is pretty easy to clean. Just press the button to automatically open the compartment and empty the debris into the trash.
It also has a washable filter. Just give it a rinse, let it dry, and then pop it back in.
What We Don't Like
You Can't Remove the Dust Canister
Some bagless vacuum cleaners have a removable dust bin, but this one does not. For some users, this makes it more difficult to empty when it's full.
Being permanently attached to the main machine, it's also harder to wash when it gets filthy.
Product Specs
| | |
| --- | --- |
| Dustbin Capacity | 0.43 liters |
| Weight | 2.8 pounds |
| Style | Handheld |
| Cordless | Yes |
| Handheld Conversion | Already handheld |
Our Ratings
Community Feedback
"Got the Shark vacuum and it's been a big help with cleaning cat litter and pet hair from various surfaces. The battery life is decent, giving me around 10-12 minutes of use before needing a recharge. However, I wish it had a tube extension for tight spots and a replaceable battery for longer life."
---
Dyson DC59 Cordless Vacuum
Most Powerful Cordless RV Vacuum
If you're looking for a powerhouse, this may be the one for you. This model is designed by Dyson – one of the best names in vacuum cleaners.
There are many reasons to love this vacuum, not just the excellent reputation of Dyson. We've included it on our list because of its power and versatility.
You should enjoy 24 minutes of cleaning from its lithium-ion battery. One full charge takes up to 3.5 hours to complete on the convenient docking station.
The Dyson DC59 also converts from a stick to a handheld. Empty its dust canister without fuss: one touch of a button and the contents drop into the trash.
What We Like
28 Air Watts of Suction
For a cordless vacuum, the cleaning power of this Dyson is unsurpassed. It has two vacuuming modes to choose from – standard and boost. This makes it perfect for all your cleaning needs.
On standard mode, you get 28 air watts of suction for light cleaning.
Boost Mode increases the power by over 200 percent to 100 air watts. This is the strongest on our list, making it ideal for deep cleaning.
Multi-functional Design
This model is designed to be multifaceted. It's a lightweight stick model that can transform into a handheld vacuum. You can clean ceilings, floors, and upholstery effortlessly.
The light weight makes it easy to raise it above your head or reach it beneath the furniture. You can also attach the crevice or combination tool for hard-to-reach spots.
We love the motorized brush — it really helps you get deep into the carpet pile.
Two-Tier Radial Cyclone System
Do you or members of your family have allergies? This can be enough of a problem when you spend lots of time outdoors. So you don't want the air inside your RV to make things worse.
With the Dyson DC59, you don't have to worry about dust or contaminants escaping back into the air. It has a two-tier radial cyclone system, trapping everything inside the dustbin.
Extended Warranty
Dyson is one of the most trusted names in vacuum cleaners and stands behind its products. So, you are not likely to experience problems with this machine.
But you can rest easy knowing that Dyson will fix it if you do. They provide a two-year warranty with this model in case anything goes wrong.
What We Don't Like
Small Dustbin Capacity
For a stick vacuum, we're disappointed in the small dustbin capacity. It can only hold 0.45 liters of dirt. For casual everyday cleaning, this should be no problem.
However, it may not be big enough to see you through a truly deep clean. You're likely to need a few extra trips to the trash can to empty it.
Product Specs
| | |
| --- | --- |
| Dustbin Capacity | 0.45 liters |
| Weight | 5 pounds |
| Style | Stick vacuum |
| Cordless | Yes |
| Handheld Conversion | Yes |
Our Ratings
Community Feedback
"I initially loved this vacuum cleaner for its lightweight design and effective cleaning, making vacuuming enjoyable. However, after less than a month, the vacuum stopped working properly and the customer support experience was a nightmare. Despite its potential, I cannot recommend this vacuum due to the poor customer service and the hassle it caused."
---
Tineco A10 Hero Cordless Stick Vacuum Cleaner
Most Lightweight RV Vacuum
Having a lightweight design is essential for easy RV cleaning. That's why we recommend this stick vacuum that weighs less than three pounds.
We like that it easily and quickly converts to a handheld vacuum. Eject it from the stick component to use on furnishings and surfaces.
The 2000 mAh lithium battery provides 350 watts of power to the brushless motor. Thankfully, you can detach and replace the battery when it reaches the end of its life.
When your vacuuming is done, it's easy to empty the dustbin – just hit the button to drop dirt into the trash.
The Tineco A10 comes with a two-year warranty.
What We Like
Three Handy Attachments
We love the variety of attachments you receive with this appliance. There's a crevice tool for getting deep into corners and edges. It also includes a mini power brush and a dusting brush.
With the right tool attached to your vacuum, you'll be ready to tackle every nook and cranny of your RV.
LED Power Brush
Sometimes dirt or dust can be hard to see. But this doesn't mean you have to miss it while vacuuming.
We love the LED light on the front of the power brush. This makes it convenient for cleaning in dark spots, such as underneath sofas or tables. It lets you see any dust bunnies in hiding.
Four-Stage Filtration System
Nobody wants to worry about allergies while they're enjoying RV-living. With this vacuum cleaner, you won't have to.
The four-stage filtration system makes sure any dust mites and allergens are captured from your RV. It traps 99.99 percent of particles – perfect for keeping allergies at bay.
Continuous Power Mode
There's a continuous power mode switch lock on this vacuum. You can use the trigger for control or activate the lock to sustain suction power for cleaning sessions.
The Tineco A10 Cordless allows for up to 25 minutes of vacuuming. If you choose the max mode for deep cleaning though, it only lasts 10 minutes.
What We Don't Like
Customers Disappointed With the Suction Power
Some customers have complained about the suction. Occasionally a user may have to make two or three passes over the same area to collect dirt and debris. This shouldn't be an issue if you don't have deep-pile carpets in your RV.
Product Specs
| | |
| --- | --- |
| Dustbin Capacity | 0.4 liters |
| Weight | 2.87 pounds |
| Style | Stick vacuum |
| Cordless | Yes |
| Handheld Conversion | Yes |
Our Ratings
Community Feedback
"This powerful vacuum has exceeded my expectations and has made vacuuming a breeze. It's lightweight, easy to maneuver, and has impressive suction power on both regular and MAX levels. I appreciate the thoughtful engineering, such as the swiveling powerhead for minimal-clearance furniture and the accessible, washable HEPA filter, which helps with my allergies and asthma. The attachments are well-designed and easy to use, and the vacuum disassembles for thorough cleaning. My only minor complaints include the lack of a wall mount and the need for a manual plug-in charger, but overall, I highly recommend this fantastic vacuum."
---
Black+Decker BDH2000PL MAX Cordless Handheld Vacuum
Most Versatile RV Vacuum
This RV vacuum from Black & Decker has a unique pivoting nozzle.
It's a handheld model that's extremely lightweight and easy to use. It weighs only three pounds and has various cleaning tools already attached.
Emptying the 0.44-liter dirt bowl is easy because it tips straight into the trash with the touch of a button. It also has a wide mouth which allows you to pick up more dust and grime in one pass.
There's a three-stage filtration system that locks in contaminants and allergens. We know they certainly shouldn't recirculate into the air. It also has a washable filter and comes with a two-year warranty.
What We Like
Pivoting Vacuum Nozzle
Sometimes cleaning hard-to-reach places means you have to twist your back or arm in uncomfortable ways. Black and Decker have solved this problem with their pivoting nozzle. It's the only vacuum on our list with this unique feature.
You can set it at any angle up to 200 degrees to capture dirt anywhere in your RV. Simply use the pivoting lock button to secure it to the angle you desire, then turn it on.
Rechargeable 20-Volt Battery
This Black and Decker vacuum is powered by a 20-volt lithium-ion battery, providing strong suction for picking up dirt and debris. It can supply non-stop vacuuming for 15 minutes at 35 air watts.
A full charge will take around four hours to complete, and there's a light to indicate when it's done. The charging base is compact and can be placed on a worktop or surface.
Easy-to-Use Attachments
A neat feature is that the attachments are fixed to the vacuum. So, you won't have to worry about where to store them or risk losing them.
The two attachments included are a flip-up brush and an extendable crevice tool. They are easy to use and make this vacuum ready to tackle nearly any part of your RV.
What We Don't Like
Shorter Runtime Than Expected
Not all customers are satisfied with the runtime. Some estimates claim that it can run for up to 25 minutes on a single charge. However, we've seen users complain that they haven't been able to get a full 15 minutes out of this vacuum.
For everyday tasks, though, this should be more than enough. However, a deeper clean may require a recharge to get the job done.
Product Specs
| | |
| --- | --- |
| Dustbin Capacity | 0.44 liters |
| Weight | 3 pounds |
| Style | Handheld vacuum |
| Cordless | Yes |
| Handheld Conversion | N/A |
Our Ratings
Community Feedback
"When I first tried this handheld vacuum, I was blown away by its ease of use and powerful suction. As a busy mom, it has been a fantastic investment for quick cleanups in the car, on couches, and in the kitchen. The bristle attachment helps with stubborn pet fur, and the battery life is impressive, lasting through most cleaning tasks. It's lightweight and versatile, making it perfect for tackling hard-to-reach spots. Although I wish the battery life were slightly longer, overall, I am extremely pleased with this vacuum's performance and convenience."
---
VonHaus 2-in-1 Stick & Handheld Vacuum Cleaner
Best RV Vacuum for Allergies
If you have allergies, the last thing you need is to be traveling in an RV with pollutants. The good news is that the VonHaus vacuum has a HEPA filter.
This stick vacuum weighs only 5.5 pounds and works on hardwood floors or short pile carpets. It also converts to a handheld to clean surfaces and upholstery.
When in stick mode, you can adjust the telescopic handle to suit your height. It extends up to 48 inches long.
The dustbin capacity for this bagless vacuum is a whopping 1.3 liters — massive compared to some on our list.
What We Like
HEPA Filter for Allergies
We gave this VonHaus the "Best for Allergies" award for an excellent reason. The HEPA sponge filtration system is great for ridding the air in your RV of allergens. It will remove and trap pollen, dust mites, and dander.
Capturing contaminants should help to reduce sneezing, skin irritation, itchy eyes, and wheezing.
Extendable Handle for Comfort
This is the only RV vacuum on our list that features an extendable handle. Being telescopic, it can reach any length up to 48 inches.
This makes it comfortable to use even if you're on the shorter side. And if you're tall, it can help you avoid back pain from awkward bending.
Attachments and Accessories
There's a fair choice of attachments for removing dust and dirt – a crevice tool, mini brush, and extension tube. Just choose the one you need, and you should be able to clean anywhere.
We also like that this model comes with a shoulder strap. This helps to distribute the machine's weight more comfortably when using it as a handheld. The strap is simple to attach and remove as needed.
19.7 Feet Cord
There's no need to worry about the cord limiting your movement. It has an impressive length of 19.7 feet, so you can cover most ground without moving from plug to plug.
We also like that there are two cord wraps. These help for quickly unraveling, securing, and storing the cord compactly.
What We Don't Like
Doesn't Vacuum Long Pile Carpet
The suction power on this vacuum is not the greatest for longer pile carpets. Some users have said they needed several passes in order to pick up all the debris.
If your RV has mostly flooring or low-pile rugs, you should have no problem at all.
Product Specs
| | |
| --- | --- |
| Dustbin Capacity | 1.3 liters |
| Weight | 5.5 pounds |
| Style | Stick |
| Cordless | No |
| Handheld Conversion | Yes |
Our Ratings
Community Feedback
"I recently purchased a lightweight vacuum that, despite its toy-like appearance, has proven to be surprisingly powerful and efficient. As a 70-year-old with arthritis, I appreciated its easy assembly and how effortlessly I could maneuver it. While it's not suitable for heavy-duty cleaning or thick carpets, it's perfect for small tasks like picking up cat litter or spilled craft supplies, making it an excellent budget-friendly option for those in need of a simple, compact vacuum."
---
Why Should You Buy an RV Vacuum?
You may be thinking – can't I use my ordinary upright vacuum to clean my motorhome? Do I need to buy one especially for my RV?
It might not seem like the most essential accessory to take on the road. But trust us — it's going to make your life a lot easier if you have an RV vacuum. Here are some of the reasons why it's a great tool to keep on board.
How to Choose (Buying Guide)
If you've decided to buy an RV vacuum, but aren't sure what to look for, don't sweat it. Our team has explored the internet to find the best vacuum for your recreational vehicle.
After examining different models, we've put together this list of features to look out for. Think about which of these are important to you for making cleaning your RV easier.
---
FAQs
---
Thank You For Your Feedback!
Thank You For Your Feedback!