Corded stick vacuums are very popular, and therefore, there is an overwhelming amount of options to choose from.
If you're considering one of these types, we can help. We've put together a buying guide and a list of the seven best corded stick vacuums.
Whether you're looking for something with a large dust canister, or helpful for allergies, or good for a specific floor type, keep reading for our recommendations.
Image
Model
Product Comparison Table
Features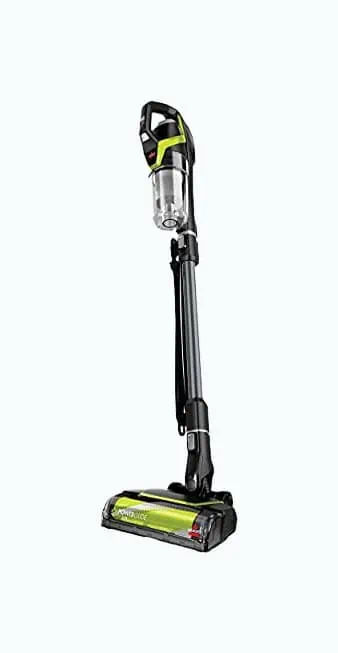 Large Dust Canister
Bissell PowerGlide Pet
Wall-mounted storage
For both hard floors & carpets
Easy to empty
Longest Power Cord
Shark Rocket Vacuum
25 feet power cord
Can be mounted on walls
Two-speed brush roll
Best for Allergies
Nequare S181 HEPA Vacuum
Quadruple filtration
Extra lightweight at 2.5 pounds
180-degree swivel
Powerful Suction
Black+Decker Corded Stick
Weighs 3.6 pounds
Powerful suction
One-click empty dust canister
Best for Corners & Edges
Bissell Featherweight Stick
Bagless
3-in-1 vacuum
Weighs 3.78 pounds
Best for Carpets
Eureka Flash Vacuum
Brush roll to clean carpets
Washable filters
Convertible handheld option
Most Versatile
Eureka NES210 Swivel
Swivel steering
3-in-1 vacuum
Convenient dust canister latch
Review Methodology: At Oh So Spotless, we understand the importance of trust when it comes to choosing the best corded stick vacuums. Our team of professionals has conducted extensive research, hands-on testing, and thorough evaluations to bring you an unbiased assessment of the top products in this category. We've compared and ranked each vacuum based on criteria such as performance, design, user experience, and key decision-making factors. We've also analyzed data and quantitative measurements to determine what sets each product apart from its competitors. By sharing our expertise and first-hand evidence, we aim to provide you with the most relevant information on the best corded stick vacuums available, helping you make an informed decision.
---
---
The Best Corded Stick Vacuum of 2023
These are the seven best corded stick vacuums available to you.
Bissell PowerGlide Pet Slim Corded Vacuum
Best Corded Stick Vacuum for Pet Hair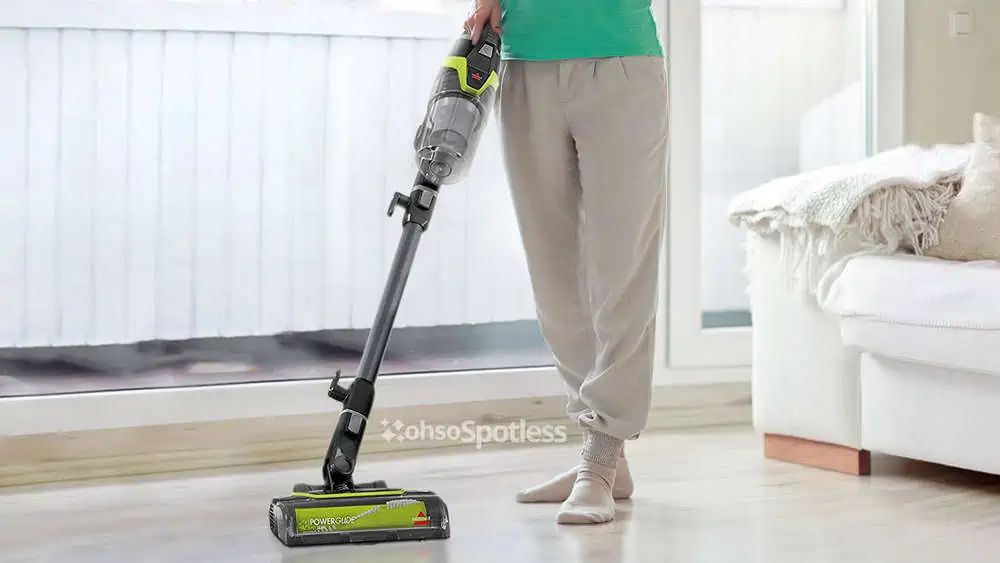 As a parent of fur babies, you may love them, but their hair gets everywhere. And we mean everywhere. We have had dogs in the family for years, and it's brilliant to find a vacuum that can eliminate their pesky hair. Whether you need to clean hard floors, carpets, or upholstery, the Bissell PowerGlide Pet vacuum can come to the rescue.
How does it work so well for pet hair? Firstly, it has a tangle-free brush roll. This patented design prevents pet hair from wrapping around it and limiting the suction power.
Next, it comes with something called a Pet TurboEraser tool. This gets rid of embedded pet hair from surfaces. It works on upholstery, dog beds, and basically any other surface.
What We Like
Febreze Foam Filter Included
This enjoyable feature is the cherry on top for pet owners. The Febreze Foam Filter freshens up pet odors so that your home smells less like a wet dog and more like a hotel.
For Both Hard Floors and Carpets
The vacuum comes with a handy on/off switch for both hard floors and carpets. You can switch between floor types with the flick of a switch.
We also appreciate the crevice tool and dusting brush which add to the versatile design of this vacuum.
Easy to Empty
When you're vacuuming up your pets' messes, the last thing you want to do is touch the dust tank. This is super easy to empty into the trash — and you never have to touch the gunk inside!
What We Don't Like
Small Dust Tank
At only half a liter, this dust tank is pretty small, especially for pet owners. You'll find that it fills quickly with all that hair, fluff, and dander.
Hard to Maneuver
Being top-heavy, this vacuum is tricky to maneuver. It can feel pretty cumbersome, which isn't ideal for quick vacuuming sessions.
Other customers noted that the vacuum couldn't stand up on its own. That's pretty inconvenient when you need to move some furniture between vacuuming strokes.
Product Specs
| | |
| --- | --- |
| Weight | 9.25 pounds |
| Power Cord Length | 30 feet |
| Bagless | Yes |
| Dust Canister Capacity | 0.5 liters |
| Power Rating | Not specified |
Our Ratings
Accessories & Attachments
Community Feedback
"My experience with this vacuum has been fantastic, especially with its ability to pick up pet hair from various surfaces. Even my 12-year-old was able to use it with ease, and it's much quieter than other vacuums I've tried. The only downside is that it doesn't stand on its own, but the excellent performance and ability to handle pet hair make it a worthy purchase."
---
Shark Rocket Ultra-Light Corded Vacuum
Longest Power Cord
If you've got a lot of floor space to vacuum, you may be interested in this one from Shark. It has a 25-foot power cord — one of the longest on our list. It might enable you to clean an entire room without having to move to another power outlet.
We love that this model converts from an upright to a handheld machine within minutes. The motorized brush roll lets you clean carpets, hard floors, upholstery, and countertops.
Another benefit of this model is the swivel steering. You can move around furniture easily, so there is no need to rearrange all your armchairs every week.
What We Like
Super Convenient Attachments
This vacuum comes with a handy crevice tool and dusting brush. These features allow you to pick up more crumbs and dust from hard-to-reach and delicate places, like corners or windowsills.
Another great feature is the foam filters which trap allergens, so they don't circulate back into the air. The filters are washable, too, so you can reuse them.
Wall Mount for Easy Storage
You can use the wall mount to hang up this stick vacuum in a convenient place. This might save you having to fish it out of the cupboard every time you want to use it.
Two-Speed Brush Roll
There are two-speed options for the brush roll on this vacuum. To avoid damage to low-pile rugs and hard floors, you can choose the slow-spin setting. For effectively cleaning the carpet, choose the high-speed setting.
What We Don't Like
Small Dust Canister
We were disappointed that this Shark vacuum has a small dust canister compared to others on our list. It only holds up to 0.4 liters of dust and dirt. This might mean you've got to empty it regularly.
Product Specs
| | |
| --- | --- |
| Weight | 7.6 pounds |
| Power Cord Length | 25 feet |
| Bagless | Yes |
| Dust Canister Capacity | 0.4 liters |
| Power Rating | 4.2 amps |
Our Ratings
Accessories & Attachments
Community Feedback
"From the moment I started using this vacuum, I noticed its lightweight design and powerful suction capabilities. The corded feature provides consistent power and the handheld portion works exceptionally well, even on cat litter pellets. While I occasionally need to clean hair from the roller due to multiple pets, the dust cup is sizable and simple to empty. The vacuum is highly maneuverable and performs well on low pile carpets in my condo."
---
Nequare S181 HEPA Vacuum Cleaner
Best Corded Stick Vacuum for Allergies
If you have allergies, you may be looking for a corded stick vacuum with a HEPA filter. If so, this product from Nequare could be the one.
The filter traps small particles and allergens with a four-stage filtration system. Say goodbye to the dust, debris, and pet dander that floats around in your home. And say hello to cleaner air.
The suction on this vacuum is powerful at 20 kPa. The brush features stiff nylon bristles. This helps to scrub away ground-in dirt from hard floors. It can bend 180 degrees underneath furniture. These features will help you achieve a deeper clean of your floors.
What We Like
Self-Standing
A feature that makes this stick vacuum stand out from the rest is its self-standing feature. You no longer need to balance the vacuum awkwardly in a closet. It stands firmly on its own.
LED Powerhead Illuminates Dust
You'll love this feature if you have low lighting in your home or are cleaning under furniture. The LED powerhead illuminates your floors so you can see dust and debris. Now nobody can shout: "Missed a spot!" You'll be able to clean every inch of your floors thoroughly.
180-Degree Swivel
We like how easy it is to move this vacuum around — you don't have to rearrange any furniture.
When you're cleaning floors, the head can swivel at 180 degrees. It can also reach underneath low objects, as it can lie flat at 180 degrees.
What We Don't Like
Not Suitable for Carpets
Unfortunately, it appears this vacuum doesn't work well on high pile carpets or wet floor surfaces. This vacuum is suitable for hard floors only due to the nylon bristles.

Product Specs
| | |
| --- | --- |
| Weight | 2.5 pounds |
| Power Cord Length | N/A |
| Bagless | Yes |
| Dust Canister Capacity | 0.4 liters |
| Power Rating | 5 amps |
Our Ratings
Accessories & Attachments
Community Feedback
"This compact Nequare S181 vacuum has proven to be a surprisingly efficient and versatile addition to my cleaning arsenal. While the suction power isn't as strong as my previous vac and requires a few passes to pick up fine dust particles, the lightweight design, LED lights, and smooth maneuverability make it a great choice for everyday use. Despite the small dust bin requiring frequent emptying, the overall performance and affordability make this vacuum a solid purchase for those seeking a reliable, corded option."
---
Black+Decker 3-in-1 Corded Stick Vacuum
Most Powerful Suction
We're pleased to see that this corded stick vacuum provides good suction power for lifting dirt and debris. This is combined with a crevice tool, a washable HEPA filter, and a brush attachment to get rid of allergens.
The crevice nozzle is perfect for scooting around sofas and other furniture. There's a 15-feet power cord, which is a good length for most home cleaning sessions.
Of course, this vacuum is bagless. It's convenient and hygienic to empty the 0.8-liter dust canister. With the touch of a button, you can empty it into the trash without getting your hands dirty.
What We Like
Only Weighs 3.6 Pounds
Nobody wants to push and drag around a heavy vacuum anymore. Thankfully, you don't have to do that with this model. It's super light at 3.6 pounds. Enjoy gliding around the floors and moving from room to room without hassle.
Powerful Suction for Deep Cleaning
We're impressed by this vacuum's efficient suction. The specially-designed motor can blast through dirt, dust, and debris, leaving you with cleaner floors in fewer passes. Want to speed up your household chores? This vacuum can help.
Detachable Handheld Feature
Another feature that might make vacuuming less burdensome is the convertible design. Quickly transform this from a stick vacuum to a handheld one. This gives you more flexibility when cleaning stairs, upholstery, and your car.
What We Don't Like
Faulty Orientation of Motor Fan
The only downside with this unit is that its motor fan is located to the side of the vacuum, with the vent pointing almost directly downwards, thereby causing dust and dirt to fly around.
Product Specs
| | |
| --- | --- |
| Weight | 3.6 pounds |
| Power Cord Length | 15 feet |
| Bagless | Yes |
| Dust Canister Capacity | 0.8 liters |
| Power Rating | 4 amp |
Our Ratings
Accessories & Attachments
Community Feedback
"I've been using this stick vacuum for quick cleanups and I must say it's quite convenient for both stick and handheld use. It performs exceptionally well on hard floors, but struggles a bit on carpets. The suction power could be better, but for the price and ease of use, it's a decent choice for small cleaning tasks."
---
Bissell Featherweight Stick 2033M Bagless Vacuum
Best for Corners and Edges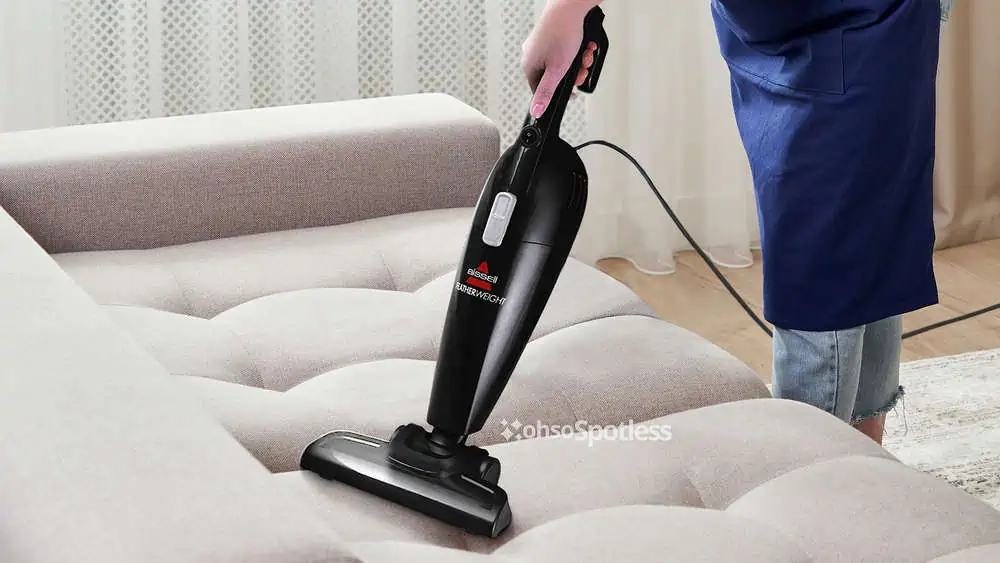 This vacuum can be used in three ways; it can act as a stick vacuum, hand vacuum, and a stair vacuum. This can make cleaning easy peasy for all your cleaning needs. You can maneuver the vacuum at any angle. You can vacuum around chairs, tables, and other furniture in your way.
It is designed to trap small dirt and it can capture pet hair. The vacuum head traps debris with its suction. The power rating is 2 amp.
With 15 feet of cord, you can work in large spaces with minimal problems.
Last but not least, this vacuum is bagless, and it's easy to empty the canister into the trash.
What We Like
3-in-1 vacuum
We love that the vacuum can serve three purposes. It can be used as a stick, handle vacuum, and a stair vacuum.
Now you need not to buy separate vacuum for different purpose.
Easy to Maneuver
The head of this vacuum can maneuver at any angle. You can swivel in all directions to capture dirt and dust. This means you can easily work around and under sofas, tables, and chairs.
Only Weighs 3.78 Pounds
This model is only 3.78 pounds in weight. No more bulky vacuums or struggling to transport the machine up and down stairs. This lightweight design makes it easy to glide around your home effortlessly.
What We Don't Like
Customers Complain About the Small Cleaning Path
We noticed that several reviews comment about the limited cleaning path. This means that you need to cover as much area as possible to make sure that no areas are left behind. Thus, it can take some time for your vacuuming routine to be over.
Product Specs
| | |
| --- | --- |
| Weight | 3.78 pounds |
| Power Cord Length | 15 feet |
| Bagless | Yes |
| Dust Canister Capacity | 0.67 liters |
| Power Rating | 2 amp |
Our Ratings
Accessories & Attachments
Community Feedback
"These little Bissell Stick Vacs are surprisingly powerful and perfect for pet owners like myself. I easily pick up dog hair on my laminate and tiled floors with just one hand, making daily clean-ups a breeze. The lightweight design is great for older folks or anyone who struggles with heavier vacuums. The only downside is the short cord, but overall, this is a fantastic buy for quick clean-ups on non-carpeted surfaces. Be prepared to clean the small dustbin regularly, but that's a minor trade-off for the convenience and affordability of this handy little vacuum. Highly recommended for those with mostly bare floor surfaces or just a few rugs in their home."
---
Eureka Flash Stick Vacuum
Best Corded Stick Vacuum for Carpets
For cleaning down into carpet and rug fibers, you might want to check out this Eureka corded stick vacuum. Thanks to the on-and-off brush roll switch, you can use it to deep clean your carpet.
It's also safe to clean hard floors when the brush roll is turned off since it won't scratch the surfaces. Another versatile feature is the 2-in-1 design. Turn this into a handheld device and get into hard-to-reach places, like corners, couches, and other surfaces. Nowhere is out of bounds for you.
We also appreciate how easy it is to store the vacuum. It dismantles into smaller parts so you can fit it into small closets and corners. If you're taking it to work with you, it can easily fit in the trunk of your car.
What We Like
30-Foot Power Cord
If you have large rooms, you'll appreciate the long power cord. You can vacuum an entire room without switching from plug to plug. This can save you time during your cleaning routine.
Washable Filters to Save Money
The vacuum is fitted out with filters to improve the air quality. Great for people with allergies, but it also saves money over time since the filters are washable.
Hygienic Dust Cup System
It's easy to empty the dust cup with one touch of a button. This saves you time and stress. Plus, you can easily wash the dust cup out, ensuring your vacuum is hygienic and functioning well.
What We Don't Like
Docking Base Dependent
The vacuum cannot stand on its own apart from the docking base. Moreover, the hair gets easily tangled in the machine.

Product Specs
| | |
| --- | --- |
| Weight | 7.4 pounds |
| Power Cord Length | 30 feet |
| Bagless | Yes |
| Dust Canister Capacity | 1 liter |
| Power Rating | 4.2 amps |
Our Ratings
Accessories & Attachments
Community Feedback
"I recently purchased a new vacuum and I couldn't be happier with its performance. It glides smoothly over hardwood floors, picking up crumbs in the kitchen and stray hairs in the bathroom. The vacuum even tackled spilled formula powder on my son's area rug and low pile carpeting in our bedroom. It's lightweight, making it easy to maneuver around my apartment with various types of flooring. The bagless canister and washable filter are convenient for clean-up. Although the cord could be longer, it didn't hinder my overall vacuuming experience, and I'd highly recommend this vacuum for its excellent suction and results."
---
Eureka NES210 Swivel Stick Vacuum
Most Versatile Corded Stick Vacuum
If you're searching for a vacuum you can use all over the house, this might be the one. Eureka has designed a three-in-one vacuum. This one can convert from an upright stick to a handheld and stair vacuum.
You can use it on many types of flooring, from laminate and tile floors to low-pile carpets. Then you can transition it into a handheld one for upholstery and high surfaces with a crevice tool to capture debris. There's even an attachment for vacuuming stairs efficiently.
This vacuum comes with washable filters that can help to remove pesky allergens. The washable feature saves you money over time. Just be sure to read the manual for the correct instructions for washing the filters.
What We Like
Swivel steering for Efficiency
If you want to get the cleaning done quickly, the swivel steering may help you. Maneuver around your home and furniture super easily. The vacuum also bends at 180 degrees, allowing you to travel underneath tables and furniture.
Easy Bagless Design
A bagless design saves you money over time. Plus, this vacuum is easy to empty. Simply unlatch the dust bin from the machine and empty the contents into your garbage can.
Frustration-Free Packaging and Design
Another cool thing about this one from Eureka is that it comes in frustration-free packaging. It has FFP certification, which means you can start vacuuming in no time. For organization, there are lower and upper cord wrap hooks.
What We Don't Like
Low Suction Power
We noticed that this corded vacuum only has two amps of suction power. This is lower than other models on our list. Still, customers seem to like the suction, so it may be down to personal preference and should depend on your flooring.
Product Specs
| | |
| --- | --- |
| Weight | 4 pounds |
| Power Cord Length | 18 feet |
| Bagless | Yes |
| Power Rating | 2 amp |
Our Ratings
Accessories & Attachments
Community Feedback
"If you're looking for a reliable and affordable vacuum, this one is definitely worth considering. I've had issues with previous vacuums, but this one has exceeded my expectations. It glides smoothly over hardwood floors and does a fantastic job picking up debris on various flooring types in my apartment. The suction is strong, making it easy to pick up dirt and hair along the edges of the floor attachment. It's lightweight and portable, so I don't see myself using it as a handheld often."
---
Why Buy a Corded Stick Vacuum?
Here are three main advantages to buying this type of vacuum.
What to Look For
You may notice that corded stick vacuums have a lot of different features. We've highlighted some of our favorites to help you make a purchasing decision.
---
FAQs
---
Thank You For Your Feedback!
Thank You For Your Feedback!