If you're renovating your kitchen, it's no wonder if you want everything to match. Thankfully, there are a few great customizable dishwashers on the market. This allows you to find a dishwasher that matches the rest of your kitchen cabinets.
With our reviews of the best panel ready dishwashers, you'll find seven awesome products. Our reviews, pros, cons and additional specs will help you find out which is best for you!
Image
Model
Product Comparison Table
Features
Best Quiet Panel Ready Dishwasher
Bosch 800 Series CrystalDry White
Advanced drying technology
24-hour delay start
4 part leak protection
Best Drying Panel Ready Dishwasher
Bosch 800 Series with CrystalDry Tub
Quiet 42 decibels sound
16 place settings
10 cycle settings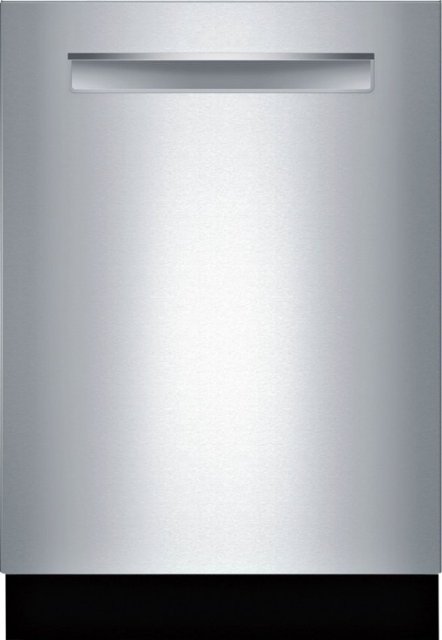 Best Spacious Panel Ready Dishwasher
Bosch 500 Series Stainless Steel
Good airflow
Foldable cup shelves
Quiet 44 decibels sound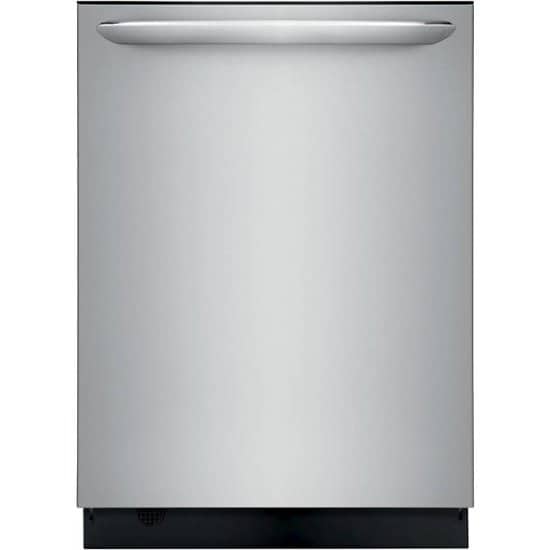 Most Stylish Panel Ready Dishwasher
Frigidaire Gallery 24
Dual orbitclean wash system
Flexible loading
Heated dry
Best Eco-Friendly Panel Ready Dishwasher
KitchenAid Built-In Dishwasher
Thorough cleaning
Accommodates all dishes
6 handy wash cycles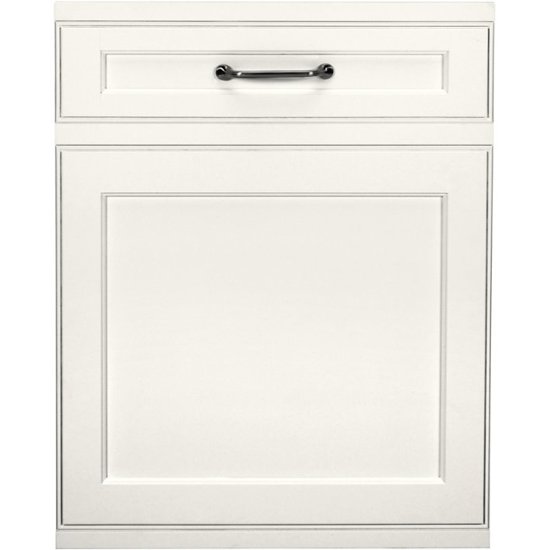 Best for Hard Water
Monogram Built-In Dishwasher
Spacious design
Heated dry function
3 extra features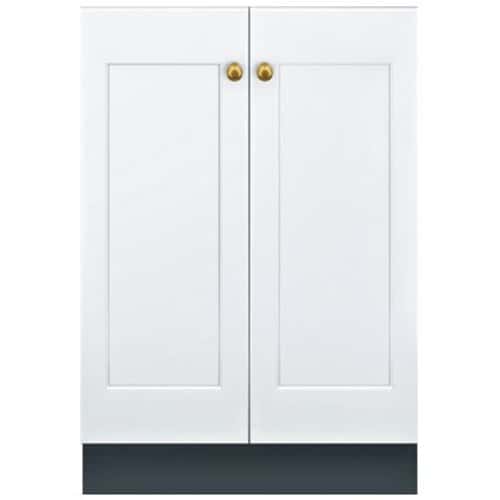 Best Budget Panel Ready Dishwasher
Thermador Custom Panel Dishwasher
24-hour delay start
15 place settings
Sanitizes 99.9% of bacteria
---
What Are Panel Ready Dishwashers?
Panel ready dishwashers are designed to fit in seamlessly with the rest of your kitchen cabinets. Instead of a stainless steel, black, white or grey finish, which doesn't look good in every kitchen, you can add on your own custom panel.
Keep In Mind
The custom panel and handle must be purchased and installed separately.
Can You Put a Panel on Any Dishwasher?
No. You need to buy one that is panel ready. There aren't many on the market, but there are a few great choices. Panel ready dishwashers also go by the name of "fully-integrated." So if you notice that phrase during your shopping, that's one to consider, too.
How to Choose the Best Panel Ready Dishwasher
When looking at buying a panel-ready dishwasher, here are the top details you should consider.
You should consider the size of your dishwasher and the cabinet space you have to ensure it will fit.
How Do I Know If a Dishwasher Will Fit?
Take note of the depth of the dishwasher. The standard counter depth is 24 inches. While most panels are ¾ of an inch thick, you need your dishwasher to be less than 23.25 inches deep, so that it seamlessly fits in and doesn't jut out. Overall, just pay attention to the dimensions to make sure it will fit and make sure it's installed properly.
All dishwasher noise levels are measured in decibels (dB). The higher this number, the louder it is. The most quiet dishwasher on the market is 39 dB, for reference.
Consider your budget when buying your dishwasher. Factor in that the panel and handle must be purchased separately.
Consider how powerful and reliable the dishwasher itself is.
Wash Cycles
Look at how many wash cycles there are and if they will suit your dish habits. For instance, if you have a lot of heavily soiled pots and pans, make sure your dishwasher has a heavy or intensive cycle.
Drying Capacity
Consider the drying capacity. This may be condensation drying, heated drying or a combination. Some dishwashers even use their own drying technology, for example, Bosch's CrystalDry.
Dishwasher Capacity
Make sure to check if the dishwasher will be big enough for your family's needs. Look at the place setting capacity as well, and if there is a third rack, or adjustable racks.
Check for an Energy Star certification to ensure the dishwasher is energy-efficient and affordable to run.
Consider how easy it is to install the dishwasher, as well as applying the panels and handles. You may need to add on the panel and handle yourself, so you should be prepared for this task.
Check the manufacturer's warranty. Usually this is around one to two years, but some brands have a longer warranty. You can always add on extra cover at checkout.
While you can customize the design, some panel ready dishwashers already have a front to see you through until you've got your own panel. Consider if you like this, as it may be in your kitchen a while until your parts arrive.
Finally, consider any extra features. Some people prioritize certain details such as LED lighting, foldable tines, mobile apps, child lock capabilities, and more.
---
The Best Panel Ready Dishwashers of 2021
After hours of researching expert advice, real customer reviews as well as applying our own insight, we have the list of the seven best panel ready dishwashers.
Bosch 800 Series CrystalDry White
Noisy dishwashers are a thing of the past. However, modern dishwashers still come in a range of noise levels. The quietest are between 39 and 42 decibels.
The Bosch 800 Series CrystalDry in white is only 42 decibels, meaning it's nearly silent. This is our top recommendation if you want a quiet panel-ready dishwasher. It won't interrupt your sleep, conversations or coffee dates in the kitchen.
Why We Love It
CrystalDry™ Technology
This advanced drying technology uses a naturally occurring mineral called Zeolite (1). It absorbs moisture and turns it into heat which blows back through the tub to dry the dishes. So even if you have plastic items in there, this is sure to do a better job than other dishwashers on the market.
24-Hour Delay Start
With the option to delay the dishwasher start time up to 24 hours, you can ensure this dishwasher fits in with your busy schedule.
AquaStop Leak Protection
Prevent leaks 24/7 with this feature. The four-part leak prevention system stops leaks in its tracks using sensors to locate them before they've made a mess. This works whether the dishwasher is on or off which is very convenient.
Keep In Mind
Hot, Hot, Hot!
This dishwasher does get very hot so be careful with your plastic items. It can warp them a little bit. Always put plastic items on the top rack and avoid using super hot cycles with these items.
Third Rack Limitations
You can always remove the third rack if you don't like it. Most customers love it, but many don't. It takes up a bit of space so you can't fit tall items in the upper rack. Plus, the dishwasher does sometimes struggle to clean everything on the third rack.
Additional Specs
| | |
| --- | --- |
| Size | 23.7 x 23.54 x 33.85 inches |
| Noise | 42 dB |
| Wash Cycles | 10 |
| Dry Cycles | CrystalDry |
| Capacity | 16 place settings |
---
Bosch 800 Series with CrystalDry Tub
Bosch's CrystalDry tub is one of the most practical drying dishwashers on the market. It works 60 percent better than other drying features, drying everything inside the dishwasher — even plastics.
The CrystalDry tub works by turning moisture into heat which then lifts off every item in the dishwasher. The dishwasher is, of course, panel-ready too so you can seamlessly style it to fit in with your kitchen decor.
Why We Love It
EcoSilence
Enjoy this dishwasher's quiet operation. At only 42 decibels, this is nearly silent. You won't even know it's running, unless you're really listening out for it.
16 Place Settings
This dishwasher is perfect for large families or cleaning up after dinner parties. With room for 16 place settings, you don't need to wash a single item by hand!
10 Cycle Settings
This dishwasher has 10 cycle settings for you to choose from. Now, you can get the best results for your specific load. These include normal, auto, eco wash, sanitary and many more.
Keep In Mind
Loading Difficulty
Some customers find that loading the dishwasher is a bit of a challenge. For instance, the third rack is shallow so doesn't fit standard mugs and bowls.
The second rack loses a bit of space due to the third rack above it. Lastly, the cutlery rack on the bottom tier is placed in an inconvenient spot. Tall butter knives can interfere with the spray arm which prevents dishes from getting properly cleaned.
Rinse Aid Required
Customers recommend using the rinse aid with this one. Even if you don't live in a hard water area, the minerals used for the CrystalDry feature can build up on your dishes.
Additional Specs
| | |
| --- | --- |
| Size | 23.7 x 23.54 x 33.85 inches |
| Noise | 42 dB |
| Wash Cycles | 10 |
| Dry Cycles | CrystalDry |
| Capacity | 16 place settings |
---
Bosch 500 Series Stainless Steel
For something a little roomier, check out the Bosch 500 series panel ready dishwasher. It has 16 place settings, so there's definitely enough for everyone's daily dishes.
This model also has a third rack for laying utensils flat at the top of the dishwasher. In fact, the entire loading experience is very flexible. The upper basket can be adjusted to suit your preferred height. The tines can fold and there are FlexSpace tines, too.
Why We Love It
AutoAir™
When the cycle is finished, the door will automatically open to allow good airflow. This helps get the dishes totally dry. It is especially useful if you're not going to be home for a while as it prevents damp odors.
Foldable Cup Shelves
The foldable cup shelves make loading super easy. You can fold these out to make room for a variety of cups and utensils. Everything has its place in this dishwasher.
44 Decibels
At only 44 decibels, this super quiet dishwasher won't interrupt you. While it may make a little noise, similar to the sound of you washing your hands, it fades into the background nicely.
Keep In Mind
Plastic Items May Not Dry
This dishwasher does a good job drying, especially if you unload it a little after the door is open. However, it still struggles to fully dry plastic items.
Difficulty Loading
If you're used to a basic dishwasher, then loading this one may be a bit tricky to begin with. The third rack causes the upper rack to lose a bit of space, which makes stacking larger items, like tall glasses, very difficult.
Additional Specs
| | |
| --- | --- |
| Size | 23.7 x 23.5 x 33.85 inches |
| Noise | 44 dB |
| Wash Cycles | 10 |
| Dry Cycles | AutoAir |
| Capacity | 16 place settings |
---
Frigidaire Gallery 24
Of course, all panel-ready dishwashers will be stylish eventually as you can add your own panel. But in the meantime, this Frigidaire dishwasher is already sleek, classy and eye-catching!
It's available in black or stainless steel. So as you're waiting to get your panel ready and fitted, you can enjoy a lovely looking appliance in the kitchen.
Why We Love It
Dual OrbitClean Wash System
This dishwasher is kitted with something called Dual OrbitClean. This tackles tough stains and dried on foods so that you never need to pre-rinse again! It also has a sanitize cycle which kills 99.9 percent of harmful bacteria.
Flexible Loading
Load your dishwasher a few different ways with this appliance. The upper basket is adjustable so you can make more room where you need it. Plus, the dishwasher is kitted out with a SpaceWise system which provides a super large silverware caddy so there's space for everything!
Heated Dry
The heated dry function dries your dishes quickly and effectively so they're ready to be put away in no time.
Keep In Mind
Compact Sizing
This dishwasher has room for 14 place settings, but it is more of a compact design inside. Lots of dishwashers now have three racks, but this only has two which makes it a little harder to find a place for some items.
On the Noisier Side
At 49 decibels, this isn't one of the most silent dishwashers. It's not loud by any means, but you can expect it to make a bit of noise. Compare it to the sound of normal conversations.
Additional Specs
| | |
| --- | --- |
| Size | 25 x 24 x 35.23 inches |
| Noise | 44 dB |
| Wash Cycles | 10 |
| Dry Cycles | AutoAir |
| Capacity | 16 place settings |
---
KitchenAid Built-In Dishwasher
Looking to save on water and energy? The KitchenAid dishwasher is an eco-friendly option.
This pick is Energy Star certified, scores a tier one CEE rating, and only costs around $32 per year. It uses 7.9 gallons of water per cycle — far less than hand-washing. This dishwasher will save you time, cost you less money and look incredible in your kitchen!
Why We Love It
Thorough Cleaning
Nothing makes us happier than opening our dishwasher to see sparkling clean dishes. With this model, you'll experience the same thing. The three wash arms and 40 spray jets power off stuck-on food, ensuring that your dishes are as clean as possible every time.
Accommodates All Dishes
This dishwasher has 14 place settings, plus a third rack for extra items. There's also a fold down shelf for stemware!.
ProWash Cycle
This dishwasher has six handy wash cycles, including ProWash. This cycle is ideal for heavily soiled items. It even makes adjustments during the cycle if it senses the dishes require more or less cleaning power.
Keep In Mind
Items on Top Rack May Not Dry
Items on the top rack, especially plastic items, may not dry super well. However, this dishwasher is highly praised for its drying capabilities otherwise.
Tall Plates
While this is a pretty spacious option, some customers said it didn't fit their specific items. If you have super tall plates, check that they will fit in beforehand.
Additional Specs
| | |
| --- | --- |
| Size | 23.75 x 23.87 x 34.5 inches |
| Noise | 46 dB |
| Wash Cycles | Six |
| Dry Cycles | Heated Dry |
| Capacity | 14 place settings |
---
Monogram Built-In Dishwasher
If you live in a hard water area, it's best to get a dishwasher with steam wash as this eliminates the hard water spots. Apart from this Monogram dishwasher, there aren't many on the market.
Thankfully, this super awesome one uses a Certified to NSF Standard 184 and steam setting. This setting will naturally create powerful steam within the dishwasher to help eliminate water spots. Of course, you should also add rinse aid to ensure sparkling clean dishes.
Why We Love It
Spacious Design
This dishwasher has a 16 place setting capacity so there's tons of room for everyone's dishes. There is also a third rack for all the bits and bobs you can't fit in elsewhere such as large knives and other utensils. Lastly, there's a cup shelf so you can organize these items, too.
Heated Dry
Utilize the heated dry function to ensure that your dishes are dry after each cycle. This means you can put them away immediately without having to hand dry them.
Three Extra Features
On top of the seven wash cycles, there are three extra features which make the dishwashing experience a lot better. First, TempBoost which adds an extra hot temperature to the cycles, then Zone Wash which focuses on specific zones, and finally, pre-soak for caked on food.
Keep In Mind
Over Designed
Some customers think this dishwasher is a bit over-designed. There are a lot of features in this dishwasher that may get in the way a little bit.
For one, there are a lot of physical features that aren't necessary for every family. For example, the dishwasher plays a little song when you open it which can get annoying. There is a bottle washer which isn't necessary for every load.
Third Rack Issues
The third rack limits space in the upper rack, especially for larger items like salad bowls. But sometimes, the items on the third rack don't get clean.
Additional Specs
| | |
| --- | --- |
| Size | 24 x 23.74 x 34.01 inches |
| Noise | 42 dB |
| Wash Cycles | Seven |
| Dry Cycles | Heated dry |
| Capacity | 16 place settings |
---
Thermador 24 Inch Custom Panel Dishwasher
For those on a budget, consider the Thermador 24 inch dishwasher. It is very affordable, especially compared to other Thermador dishwashers. You can choose your own custom panel so that this powerful dishwasher fits right in with the rest of your kitchen decor.
Besides its aesthetic, this dishwasher has a range of other practical features. Once this is in your home, you'll find after-dinner clean-up is a total breeze.
Why We Love It
24-Hour Delay Start
If you're going away for the weekend and want your dishes to be dry and fresh for when you're back, instead of sitting in the machine for a while, this is one to consider.
The 24-hour delay start means you can programme the start time for up to 24 hours after you leave. This dishwasher will fit in with your schedule!
15 Place Settings
This dishwasher is made to suit the whole family. With 15 place settings, this spacious dishwasher is perfect for everyone's daily dishes or cleaning up after a party.
Extra Dry Option
For dry dishes, use the extra-dry cycle. The higher drying temperature at a longer length will give you bone-dry dishes, even on plastic items. Plus it sanitizes 99.9 percent of bacteria!
Keep In Mind
Hook Up Kit Sold Separately
Not only are the panels and handles sold separately, but so is the hook-up kit. This is a bit inconvenient, but not the end of the world. Keep it in mind so you can have a swift installation.
Only Two Wash Cycles
While many modern dishwashers have at least five wash options, the fact that this only has two is a little disappointing. Of course, it keeps things simple, but it doesn't give a huge variety.
Additional Specs
| | |
| --- | --- |
| Size | 23.06 x 23.56 x 33.88 inches |
| Noise | 48 dB |
| Wash Cycles | Two |
| Dry Cycles | Extra dry |
| Capacity | 15 place settings |
---
---
Fitting Right In
When you choose a panel ready dishwasher, you get something that fits right in with your kitchen decor. Apart from this cool feature, these top seven dishwashers have other awesome features.
To choose the best one for you, consider the size, noise levels, washing and drying cycles, capacity and warranty.