In our home, we're always looking for ways to make domestic chores easier. While having a dishwasher is a huge help, it can be really annoying when the dishes come out soaking wet.
Want to skip the extra step of hand drying your dishes? Then you need one of the best drying dishwashers on the market. These will use drying technology to ensure the dishes are bone dry. That way, you can put them away immediately after the cycle is finished.
Image
Model
Product Comparison Table
Features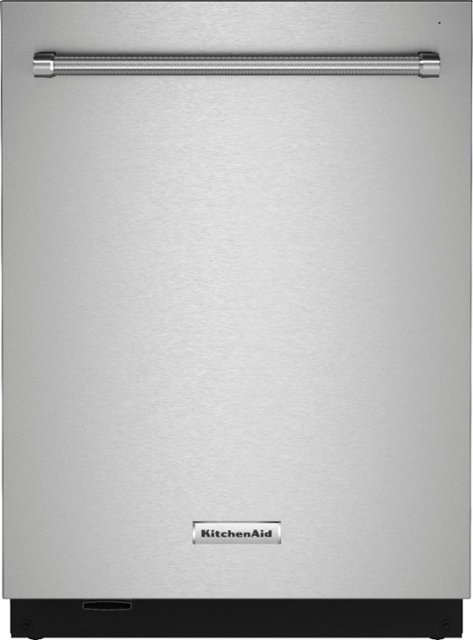 Best Built-In Drying Dishwasher
KitchenAid Top Control Dishwasher
Freeflex third rack
44 decibel sound
Clean water wash system
Best for Stain Removal
LG STUDIO Wi-Fi Dishwasher
Adjustable racks
40 decibel sound
Smart, wi-fi operated, controls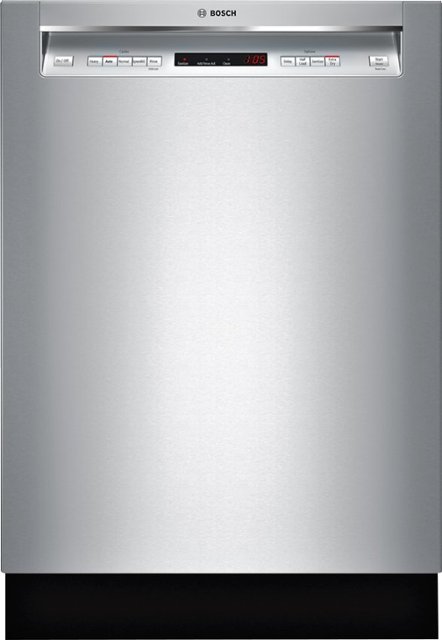 Best for Large Families
Bosch 300 Series Stainless Steel
9 adjustable racks
4-part leak prevention system
3 clever features
Best Quiet Drying Dishwasher
Samsung StormWash 24
StormWash technology
Third rack
6 cycles, 6 controls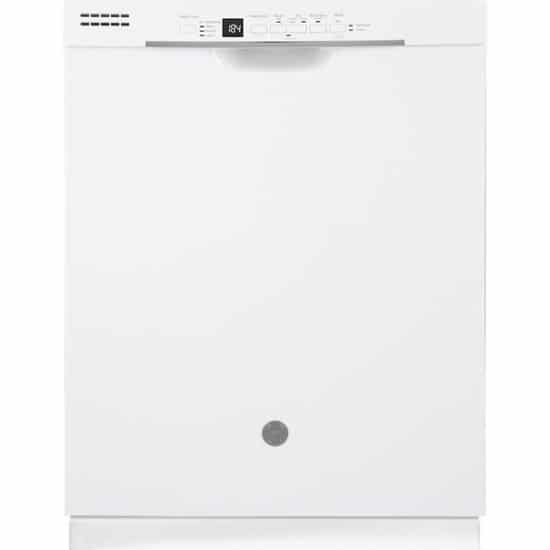 Best Smart Drying Dishwasher
GE Built-In Dishwasher
Bottle wash jets
Wash zones
Hard food disposer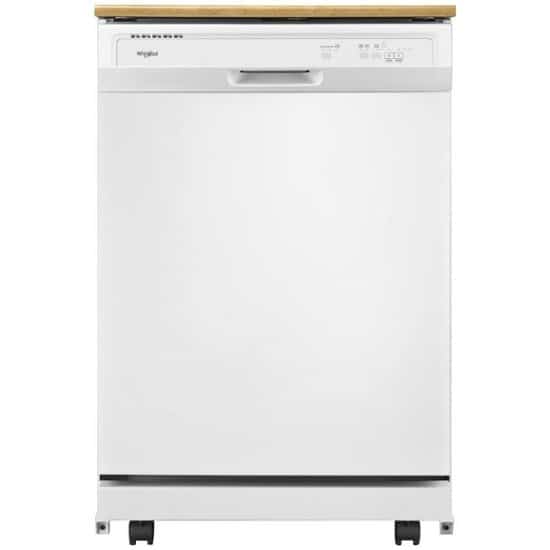 Best Portable Drying Dishwasher
Whirlpool Tall Tub Portable Dishwasher
High temperature wash cycle
Soil sensor
Extra counter space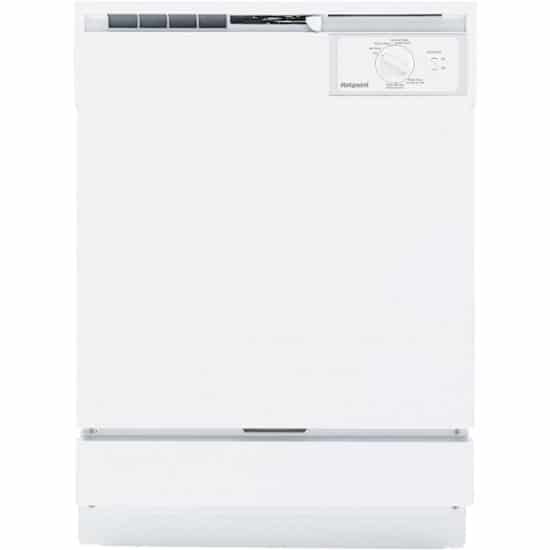 Best Budget Drying Dishwasher
Hotpoint 24
Hard food disposer
Spacious 12 place settings
5 wash cycles
---
---
Product Reviews
To create our list of the seven best drying dishwashers, we've studied real customer reviews, expert advice, and product descriptions.
1. KitchenAid Top Control Built-In Dishwasher
Best Built-In Drying Dishwasher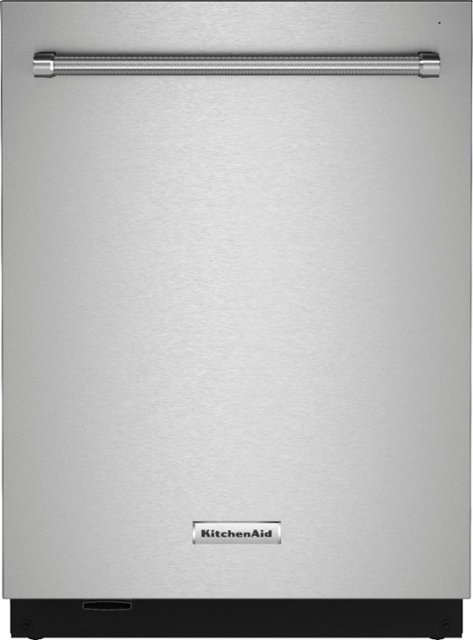 For a built-in dishwasher that will fit perfectly into your free space under the counter, we recommend this top control dishwasher.
Not only is this KitchenAid dishwasher sleek and powerful, but it has ProDry technology. This heated drying cycle uses a fan enabled system and drying bars to ensure every item in the dishwasher is free of moisture.
If you're still not satisfied, enable the extended ProDry option which adds an extra 15-minute drying cycle in at the end.
What We Like
FreeFlex Third Rack
An extra rack is always a bonus, in our opinion. But it's even better when it really provides a ton of extra space.
The FreeFlex third rack is large enough to fit six-inch glasses, mugs and bowls. It has its own rotating wash jets to ensure the items in this rack are clean. Plus, it has a drying bar to make sure the items are dry.
44 Decibel Sound
We love a quiet dishwasher, and with 44 decibels, this is a super quiet appliance. Run your dishwasher overnight, while you're working or during a party — and nobody will even know.
Clean Water Wash System
For the cleanliness of cycles, this dishwasher uses a clean water wash system. Microfiltration constantly removes food particles during all stages of the cycle to circulate clean water over the dishes instead. You never need to worry about crumbs, gunk and food being redeposited back into your dishwasher.
What We Don't Like
Expensive
One of the major complaints about this dishwasher is that it's very expensive. It's similar to one of the older KitchenAid dishwashers, with slightly upgraded parts, but a vast price difference. You're really forking out a little extra cash for the brand name.
No Interior Lights
You'd think for such an expensive product, there would be interior lights to highlight some of the ongoings inside the dishwasher. Keep in mind that there is no interior lighting system. If this is important to you, we recommend looking at other options.
Product Specs
| | |
| --- | --- |
| Drying Mechanism | Heated drying |
| Material | Stainless steel |
| Noise | 44 decibels |
| Cycle Options | Five, plus three control options |
| Capacity | 16 place settings |
---
2. LG STUDIO Wi-Fi Dishwasher
Best Drying Dishwasher for Stain Removal
Sick of stains on your dishwasher? In your dishwasher? All over your dishes? The LG Studio dishwasher can kick that problem right out of the park.
Firstly, it has TrueSteam® technology for up to 60 percent less water spots. With four steam jets, this gives you the cleanest results imaginable. If you live in a hard water area and are tired of water stains, then this is the dishwasher for you.
As for the exterior, this dishwasher has a PrintProof finish. So fingerprints and other marks either don't show up or are extremely easy to remove.
What We Like
Adjustable Racks
Not a big fan of the way the racks are positioned? Adjust them. All three racks can be adjusted. The top two can be height adjusted so you can fit in particular dishes or utensils. And the middle and bottom racks have adjustable tines so you can fit more in your dishwasher than ever before!
LoDecibel™ Operation
This is one of the quietest dishwashers on the market. At only 40 decibels, the only thing giving this dishwasher away are the subtle cycle status lights. If you're sensitive to noise, this whisper-quiet dishwasher might be the one for you.
Smart, Wi-Fi Operated, Controls
You can now control your dishwasher through your phone. The SmartThinQ® technology means you can turn on your dishwasher and set your cycles remotely. If you're laying in bed, or are on the bus to work, check the app and begin the dishwasher. Plus, the SmartDiagnosis™ technology helps troubleshoot issues from the app. You can also control the appliance with Google Assistant or Amazon Alexa.
What We Don't Like
Drying Inconsistencies
This dishwasher uses heated dry or condensation dry to wick away moisture. However, these features haven't been the main priority in designing this dishwasher. Customers reported inconsistent results. While this dishwasher is known for its smart technology and hard water resistance, the drying is so-so. A rinse aid definitely helps though!
10 Wash Cycles
Many people love the variety of options with this dishwasher. There are 10 wash cycles and nine additional control options. However, this can be very overwhelming for some and it can take a while to find the perfect combination for your needs.
Product Specs
| | |
| --- | --- |
| Drying Mechanism | Heated and condensation drying |
| Material | Stainless steel |
| Noise | 40 decibels |
| Cycle Options | 10 plus nine control options |
| Capacity | 15 place settings |
---
3. Bosch 300 Series Stainless Steel
Best Drying Dishwasher for Large Families
Dishwashers are a super handy appliance for large families. The Bosch 300 Series stainless steel dishwasher has 16 place settings. We think it's perfect for an entire day's worth of dishes for every member of the family, or cleaning up after dinner time.
As for drying your dishes, it uses a heated drying system. You can add an extra dry to ensure the dishes are dry enough to be put away. Even when you use the Speed 60 option, the dishes are dry at the end of it.
What We Like
RackMatic® Design
For larger families, sometimes many place settings just aren't enough. This is especially true when you cook from scratch and have tall cutting boards and mixing bowls.
Thankfully, with this dishwasher, you can adjust all three racks into three different places. In total, there are nine adjustable options for the racks in this dishwasher.
24/7 Aquastop®
This dishwasher has a four-part leak prevention system. It uses sensors to detect leaks and stop them before they have done any damage. This works 24/7, even if you're not home.
We don't think you'll have leaks with this dishwasher. But if you do, your floors are safe.
Three Clever Features
We love the three smart features this dishwasher has. Firstly, it has a self-cleaning filter so you don't have to check it after every wash. This cuts down maintenance efforts significantly.
This dishwasher also has a water soil sensor to detect how dirty the water is during the cycle. It then adjusts the energy and water usage as needed which can save energy and money.
Lastly, enjoy the sensor wash which detects soil levels of the dishes and adjusts accordingly.
What We Don't Like
Doesn't Dry Plastic Items
Many dishwashers struggle to dry plastic items, but some brands have found a technology that works. Unfortunately, this Bosch dishwasher isn't quite there yet. So your plastic tubs and bottles will still be clinging to moisture.
Bad Odor
Many customers complain about the odor of this dishwasher. Some say it smells like plastic, others say it smells like petroleum.
Although it's a stainless steel dishwasher, it still has plastic parts which may be causing the smell. Usually, these smells fade over time but with this dishwasher, even after a deep clean, that doesn't seem to be the case.
Product Specs
| | |
| --- | --- |
| Drying Mechanism | Heated drying |
| Material | Stainless steel |
| Noise | 44 decibels |
| Cycle Options | Four, plus sanitization setting |
| Capacity | 16 place settings |
---
4. Samsung StormWash 24
Best Quiet Drying Dishwasher
If you want a whisper-quiet dishwasher that cleans and dries your dishes thoroughly, we recommend a Samsung dishwasher. At only 42 decibels, you'll hardly notice this dishwasher is running at all. The sound-reduction system ensures that it's quiet throughout the whole cycle, even during the main wash.
As for drying your dishes, it uses condensation drying and heated drying so you can decide which one to go for. It also has an automatic release door which cracks open at the end of the cycle to aid with removing any leftover moisture.
What We Like
StormWash Technology
This super-clever technology is one of a kind. It ensures the deepest clean of your dishes, prioritizing hard to reach spots. The spray arms move in every direction to ensure the water is angled into every inch of the dishwasher.
Third Rack
This dishwasher is super spacious with room for 15 place settings. But what's even cooler is the third rack. It's very large with enough space for all kinds of utensils. Just slide the drawer out from the top of the dishwasher, lay your utensils flat and enjoy a deep clean.
Six Cycles, Six Controls
With six cycle options, you can choose from a variety of useful options. These cycles are: Auto, Normal, Heavy, Delicate, Express 60, and Rinse Only.
You can customize cycles by playing around with the other six controls: Half-Load Wash, StormWash™, Hi-Temp Wash, Sanitize, Delay Start, and Control Lock. This flexibility ensures you can programme your dishwasher specifically for your dishes.
What We Don't Like
Trouble Placing Tall Items
The racks are adjustable so you can adjust the top racks to make room for tall items on the bottom. However, if you have lots of tall items that you'd usually place on both racks, you'll struggle with this.
The third rack takes away some space at the top of the dishwasher so you can't have tall water bottles at the bottom and tall glasses at the top. It just won't fit. You can remove the top rack though to troubleshoot this issue.
Shallow Third Rack
The third rack, designed for utensils, is quite shallow. Certain larger items, like spatulas and ladles, will not fit without bumping the spinning arm. Therefore, they won't clean properly. You'll need to lay these flat on the top rack as you would in a normal dishwasher.
Product Specs
| | |
| --- | --- |
| Drying Mechanism | Heated and condensation drying |
| Material | Stainless steel |
| Noise | 42 decibels |
| Cycle Options | Six, plus six control options |
| Capacity | 15 place settings |
---
5. GE Built-In Dishwasher
Best Smart Drying Dishwasher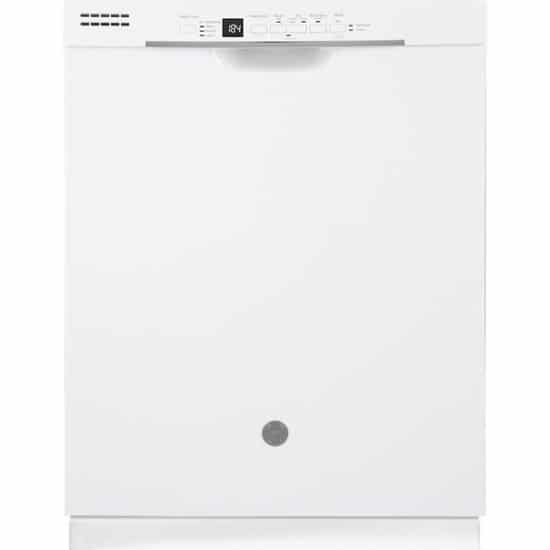 Technology is always changing, and many dishwashers are now Wi-Fi enabled. These smart dishwashers are very handy. Once you install your Wi-Fi adapter, you can control the GE Built-In Dishwasher with Amazon Alexa and Google Assistant.
As for its drying functions, this dishwasher has a heated dry boost function. This ensures dishes that are three times dryer than standard drying cycles.
What We Like
Bottle Wash Jets
We always wash tall glasses and bottles by hand, because the dishwasher just doesn't do an adequate job. But with this dishwasher, you no longer need to do so! It has four bottle wash jets to ensure a deep clean in tall dishes, such as glasses and bottles. These are situated for top rack items only.
Wash Zones
Many dishwashers have a half-load option, but this one is true to its word. It uses wash zones so when you fill the cycle half-full, it doesn't waste unnecessary water for both racks.
Just programme which rack you've filled, start the half-load and let the dishwasher work its magic. As for full coverage, the dishwasher has three pressurized wash zones to ensure a deep clean of every item.
Hard Food Disposer
This dishwasher has a built-in food disposer. So if you've left a few food scraps on your dishes, you don't have to worry about clogs. The dishwasher uses stainless steel blades to blend up food scraps and drain them away so your dishes and the dishwasher are super clean.
What We Don't Like
Not Super Quiet
If you want something whisper-quiet, you may want to look elsewhere. This dishwasher comes in at 50 decibels which isn't loud, by any means, but it's still noticeable. We can compare it to the sound of a quiet office with a little chitter-chatter.
Cheap Construction
Customers tend to say that the construction feels cheap. This dishwasher uses a plastic tub which isn't as durable as stainless steel. The rubber seam around the frame can easily fall off. And the door latch doesn't feel sturdy.
Product Specs
| | |
| --- | --- |
| Drying Mechanism | Heated drying |
| Material | Plastic |
| Noise | 50 decibels |
| Cycle Options | Four, plus sanitize and heat dry |
| Capacity | 15 place settings |
---
6. Whirlpool Tall Tub Portable Dishwasher
Best Portable Drying Dishwasher
Not everyone has room for a standard dishwasher. If you have a small kitchen, live in dorms or are in an RV, then you may need a portable dishwasher. But you shouldn't have to sacrifice dry dishes when you choose this type of dishwasher.
That's where the Whirlpool dishwasher comes in. On wheels, but still has a heated dry cycle to help deliver bone dry dishes. This option works best with a rinse aid, so keep that in mind.
What We Like
High-Temperature Wash Cycle
A high temperature wash cycle is super important, in our opinion. It uses extremely hot water to help kill bacteria and germs on your dishes. We recommend this for all kinds of dishes, especially baby bottles, to give them a deep clean.
Soil Sensor
When you use the normal cycle, for everyday messes, the soil sensor kicks in. It determines how dirty the dishes are and adjusts the cycle to clean the dishes accordingly. This saves energy when necessary.
Extra Counter Space
Small kitchens can be a pain, especially if you're a keen cook! Running out of counter space is inconvenient. But this portable dishwasher has an installed countertop to provide you more storage or prep space. So not only do you save time on dishes, you also get extra space!
What We Don't Like
Long Cycles
For a portable dishwasher, the cycles are quite long, matching that of regular dishwashers. The heavy cycle can take up to three and a half hours! The normal cycle can take up to two hours and 50 minutes. And the drying cycle is an extra 52 minutes.
So even if you use the one hour wash, you could be looking at a total of nearly two hours for dishes to wash and dry.
Plastic Interior
The tall tub is made of plastic. This isn't a drawback for many people, especially since the heated dry cycle does a decent job. But plastic does cling to moisture more easily, it's not as durable and it's not as easy to clean.
Product Specs
| | |
| --- | --- |
| Drying Mechanism | Heated drying |
| Material | Plastic |
| Noise | 64 decibels |
| Cycle Options | Three, plus heated dry and high temperature |
| Capacity | 12 place settings |
---
7. Hotpoint 24 Inch Built-In Dishwasher White
Best Budget Drying Dishwasher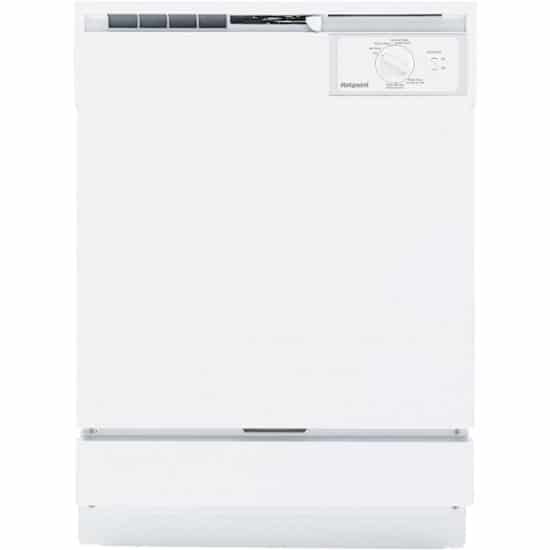 If you're on a tight budget, we recommend the Hotpoint Built-In dishwasher. It's one of the most affordable dishwashers on the market, but still does a decent job at drying your dishes. It uses heated drying to achieve that, but you can turn this off when you want to save energy.
The interior is plastic, so the condensation trick won't work on this one. The best way to achieve dry dishes is to turn on the heated dry cycle. Then you can crack the door at the end to aid with wicking moisture away.
What We Like
Hard Food Disposer
Hate scraping and rising plates? Us, too. While it's never necessary to rinse plates with a quality dishwasher, now you can minimally scrape your plates, too.
If you leave some food residue behind, no problem. The hard food disposer in this dishwasher will grind up and drain the food away without causing clogs in the filter.
Load It All Up
You get 12 place settings with this dishwasher which is perfect for families! If you have large items, you can fit it all in easily, too. The top rack can be removed so if you have tall chopping boards or large pots, pack them in with no issues.
Five Wash Cycles
Variety is a big bonus when choosing a dishwasher. Not every load of dishes is the same so it's important to be able to customize the cycles.
With this appliance, you have five wash cycle options: Heavy Wash, Normal Wash, Water Saver, Rinse Only, and Plate Warmer.
What We Don't Like
Noisy Operating
This dishwasher isn't super quiet. It runs at 64 decibels and that's with a sound reduction system in place. Of course, it is a budget option so you sacrifice some important features. But we recommend keeping the noise level in mind, especially if you're sound-sensitive.
Plastic Interior
Another reason the price of this appliance is so low is because of the interior. Plastic is cheaper than stainless steel. It comes with its advantages (you can bleach clean it, for example) but it's not as amazing as stainless steel.
Firstly, it's less durable, but secondly, it clings to moisture. While the heated dry will dry your dishes well, the dishwasher itself might struggle to become fully dry. This can lead to some funky smells.
Product Specs
| | |
| --- | --- |
| Drying Mechanism | Heated drying |
| Material | Plastic |
| Noise | 64 decibels |
| Cycle Options | Five, plus heated dry |
| Capacity | 12 place settings |
---
How Do Dishes Dry in the Dishwasher?
Dishwashers dry their dishes using either of these methods: condensation dry or heated dry.
Condensation Dry
This is the most energy-efficient way for dishwashers to dry your dishes. These dishwashers don't use a heating element or a fan to wash the dishes.
What happens here is that the final rinse uses extremely hot water. This means the dishes are hotter than the dishwasher's interior. So the stainless steel tub begins to cool down before the dishes, and this pulls condensation off the dishes onto the dishwasher walls. The water trickles down and is then drained away.
Keep In Mind
This isn't always as effective as heated drying, but it's cost-efficient and it saves energy.
Heated Dry
The heated dry cycle uses an electrical heating element to create hot air. It's pumped through the dishwasher during the heating cycle to dry the dishes. Inside the dishwasher, you'll find a small exhaust fan which pulls the moisture off the dishes and through the vents.
How to Choose (Buying Guide)
In the market for a drying dishwasher? Consider these important factors before investing in your new appliance.
---
Drying Dishwasher FAQs
Why Are My Dishes Still Dirty After the Dishwasher?
If your dishes are coming out unclean, this could be down to a few factors, including:
You aren't using quality dishwasher detergent.
The filter is clogged.
The drain is clogged.
Your dishwasher is too full.
The dishwasher tablet got jammed in the drawer and didn't get released.
Something was blocking the spray arm from spinning properly.
The water wasn't hot enough to dissolve the detergent.
You didn't load the dishwasher correctly.
You need to use a rinse aid.
Troubleshoot these issues to figure out what's going wrong with your appliance.
Why Don't My Plastics Dry in the Dishwasher?
Plastics cling to moisture. They love it! This is because plastic doesn't get as hot, so it can't naturally evaporate the water droplets. Even with a drying dishwasher, you may struggle to dry plastic.
We always place plastic items on a drying rack after the dishwashing cycle for 30 minutes. This helps them air dry before putting them away.
Why Do New Dishwashers Not Dry?
If your new dishwasher has plastic on the racks, you may find it's not fully dry at the end of the cycle. New dishwashers are using more plastic these days, so consider this before choosing yours.
If the dishwasher has a condensation drying feature, and uses a lot of plastic, it's going to be nearly impossible to get fully dry.
Should You Leave the Dishwasher Door Open To Dry?
Yes. This is a simple but effective way to air dry your dishes after the cycle. Of course, wait until the very end of the cycle before doing this. Once the cycle is up, crack the door and wait around 30 minutes.
---
Dirty to Dry
With these dishwashers, your dishes will go from dirty to dry. With this range of the best drying dishwashers, you'll find both condensation and heated drying dishwashers.
Overall, our seven options all do a good job at drying, but some are more powerful than others. Which is best for you is down to personal preference. When shopping for your drying dishwasher, consider the type of drying mechanism, the material, the noise level, how many cycle options and the capacity.
Thank You For Your Feedback!
Thank You For Your Feedback!