KitchenAid dishwashers have been around for a long time. Now, they are more innovative than ever before with some of the coolest features on the market. If you're looking for a KitchenAid dishwasher but aren't sure which model to go for, we can help.
We've done tons of research on KitchenAid dishwashers and chosen our absolute seven favorites. With this list of the best KitchenAid dishwashers, and the accompanying reviews, you'll know exactly what to expect from each appliance. Therefore, it's easier than ever to find the perfect match for you and your kitchen.
Image
Model
Product Comparison Table
Features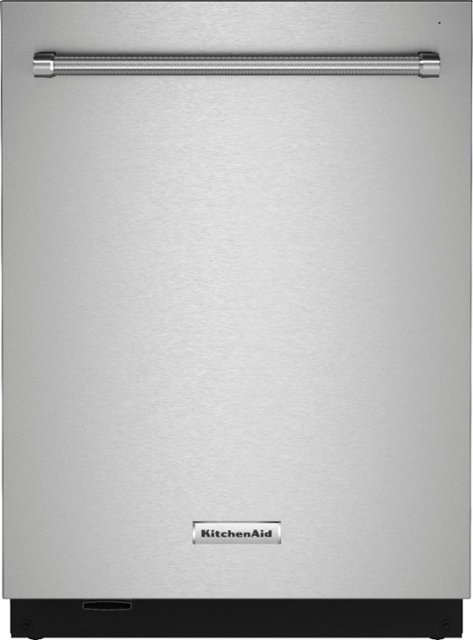 Best Spacious
KitchenAid Top Control Built-In Dishwasher
Comes with third rack
Clean water wash
Has sensors for soil levels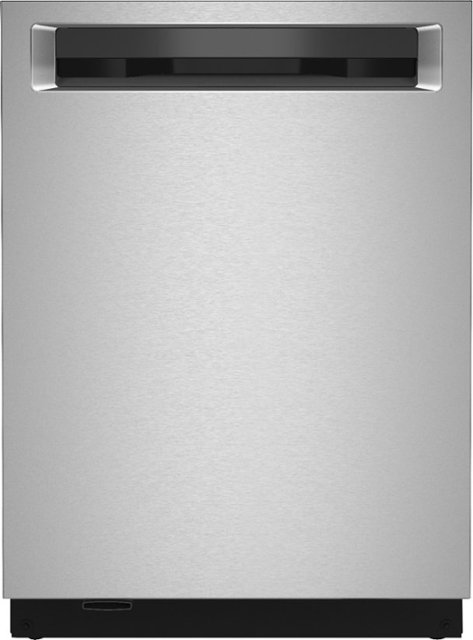 Most Stylish
KitchenAid Top Control with Tub
Tub finish
LED interior light
Extended drying cycle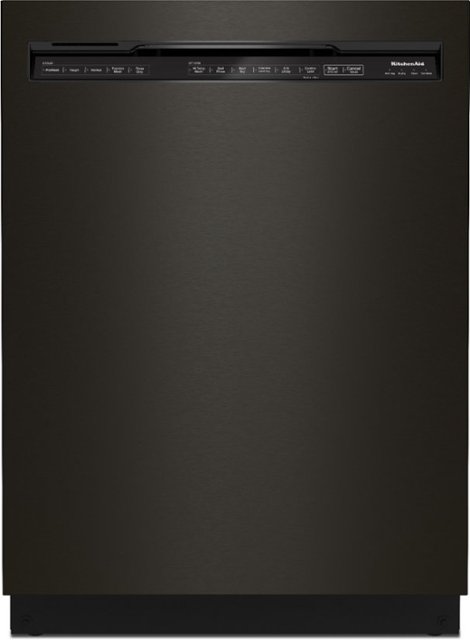 Best Drying
KitchenAid Black Front Control Dishwasher
Uses microfiltration system
Printshield finish
Wide range of cycle options
Customizable loading options
Generously sized
Extra sanitization features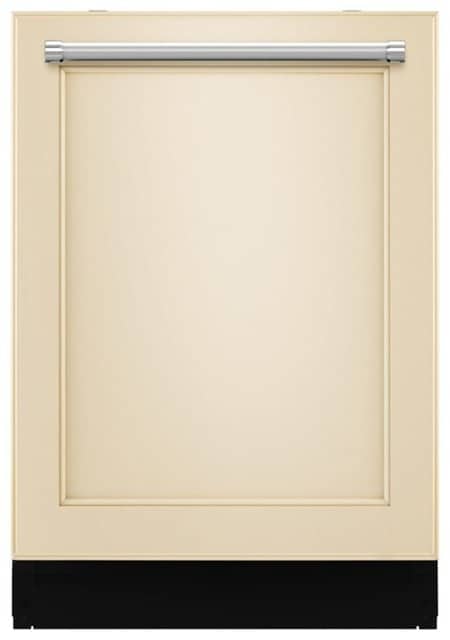 Best Panel Ready
Custom Panel Ready Built-In Dishwasher
Spotless finish
Heavy-duty capacity
Safe for kids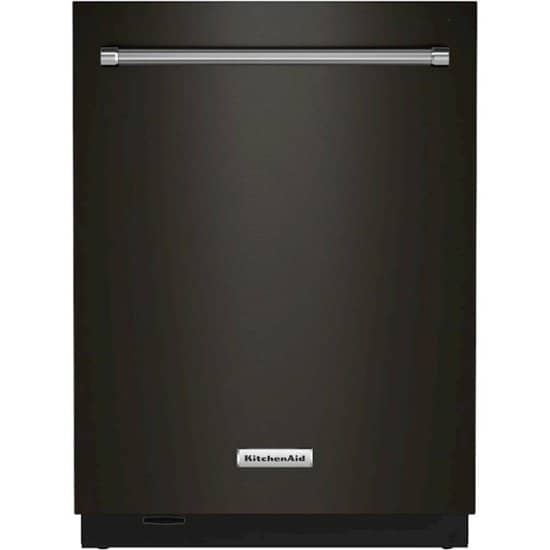 Best Luxury
KitchenAid 44dBA Black Stainless
Spacious & versatile
Fan enabled drying
Time-delay option
Most Quiet
Top Control Stainless Steel Tub Dishwasher
Third level utensil rack
Five washing cycles
Adjustable middle rack
---
---
Product Reviews
Dishwashers are definitely an investment. That's why we've done our research on expert advice and real customer reviews to recommend you only the best of the best KitchenAid dishwashers.
1. KitchenAid Top Control Built-In Dishwasher
Best Spacious KitchenAid Dishwasher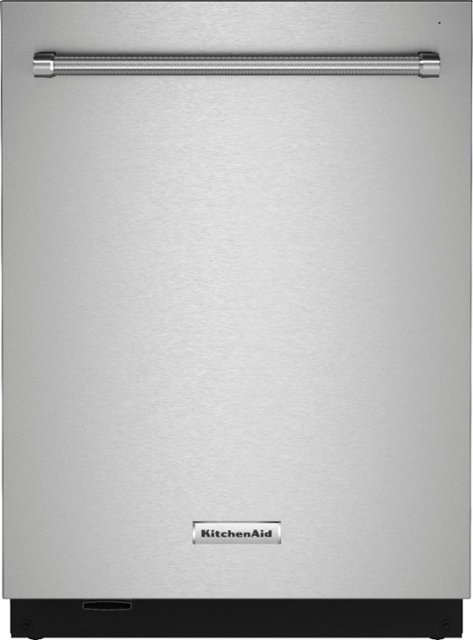 This generously sized KitchenAid dishwasher is a great option if you have a lot of dishes and run the dishwasher frequently. It has two standard racks with space for all your daily dishes. But it also has the third rack for awkward items such as scissors, pacifiers, and dishwasher-safe knives.
If you do a lot of cooking from scratch, this is a great option because of space. You can fill it as you go, making sure there's a space for every kitchen utensil you could think of. Plus, with the complete wash coverage, every single item will get clean.
What We Like
FreeFlex™ Third Rack
The third rack provides extra space, and a special place for flat items such as scissors and knives. The removable utensil tray makes sure there's space for these items. But the third rack also has an angled part, so it can actually fit bowls, glasses, and mugs, too.
So if your family goes through a lot of coffee, tea or hot chocolate every day, and don't normally have space for all the mugs, this gives you that extra accommodation!
Clean Water Wash
This dishwasher has a microfiltration system which removes food particles throughout the entire wash and rinse cycles. This ensures the water washing your dishes is always as clean as possible on all three racks.
ProWash™ Cycle
The ProWash technology uses sensors to recognize soil levels throughout the cycle. It then adapts the wash time and water temperature needed to ensure messes are completely spotless, or lighter loads can be completed with less energy. This ensures that your dishes come out sparkling clean every time, and it saves energy where possible.
What We Don't Like
44 Decibel Sound
While 44 decibels is still practically unnoticeable, it's still on the higher sound level of KitchenAid dishwashers. It will be roughly the same as your fridge.
To put it into context, it's similar to a computer humming or light rain. From another room, you shouldn't be able to hear it. However, customers have noticed that there are louder parts of the cycle where you can hear the water hit the door and some sort of grinding noises, too.
Top Control Panel
Because it has a top control panel, you can't see what stage the cycle is at while the door is closed.
While the dishwasher has an indicator light that changes colors depending on the stage of the cycle, the user manual does not explain which color means which stage. So you'll have to learn that by yourself, unfortunately!
Product Specs
| | |
| --- | --- |
| Type | Top control panel |
| Dimensions | 26.75 x 23.9 x 34.5 |
| Number of Racks | Three |
| Noise Level | 44dBA |
| Number of Wash Cycles | Five |
---
2. KitchenAid Top Control Dishwasher with Tub
Best Stylish KitchenAid Dishwasher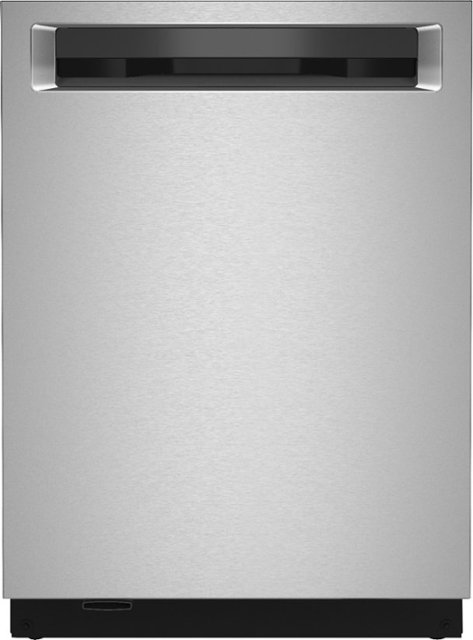 This is the most stylish of KitchenAid dishwashers, in our opinion.
It has a lovely sleek stainless steel finish. The control panel is at the top, so you don't have to see it.
It also has an almost futuristic-looking handle, which will definitely capture guest's attention as they wander through your home.
What We Like
Tub Finish
This dishwasher has a tub finish and tall tub design. That means the materials inside are more durable and can handle higher temperatures so you can run the hottest cycles without causing any damage. Plus, it makes the appliance more efficient so you save money over time. The tall tub design also ensures extra capacity inside: up to 16 place settings!
LED Interior Light
There is LED lighting inside the dishwasher so when you open it up you can better see what's inside. This makes it easier to load and unload, especially later at night or early in the morning. Never miss a teaspoon again!
Extended ProDry Cycle
This dishwasher has a ProDry cycle to ensure the dishes are dry. But it has the option of extending this by 15 minutes to ensure that the dishes are ready to be put away immediately.
What We Don't Like
Handle Design Flaw
While the handle looks nice, it can scrape the back of your hand a little as you move it in and out. If you have larger hands, this may not be a comfortable option for you.
Not ADA Compliant
Keep in mind that this dishwasher isn't ADA compliant. Therefore, it does not meet the standards laid out by the Disabilities Act Standards to be accessible for all users.
Product Specs
| | |
| --- | --- |
| Type | Top control panel |
| Dimensions | 24.5 x 23.9 x 34.5 |
| Number of Racks | Three |
| Noise Level | 44dBA |
| Number of Wash Cycles | Five |
---
3. KitchenAid Black Front Control Dishwasher
Best Drying KitchenAid Dishwasher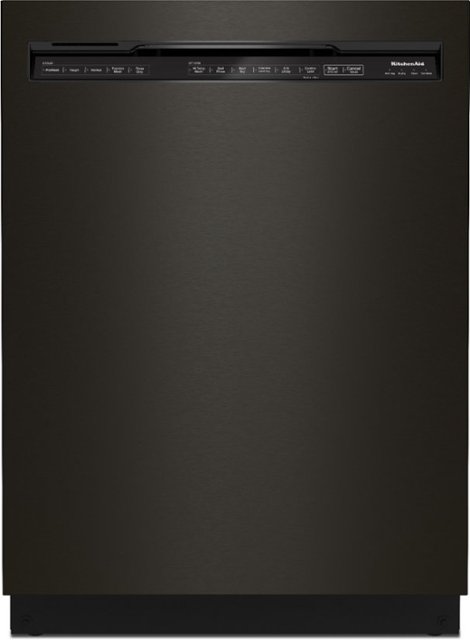 If you want a dishwasher that can better deliver dry dishes after the cycle, this is one to consider. This dishwasher has a heat dry option and an extended option, so you can add drying time for the best results possible.
Its stainless steel interior helps with drying too since it doesn't absorb moisture. There is also a drying bar with tabs to remove moisture from glasses. So when you next open your dishwasher, you're less likely to see spots of water everywhere.
What We Like
Clean Water Wash
For the most hygienic results, this dishwasher uses a microfiltration system. This gets rid of food particles during the cycle and ensures that only clean water is circulated on all three racks. There's less build-up, better use of your dishwasher detergent and it provides the cleanest results.
PrintShield Finish
This is an aesthetic dishwasher, and will look great in all kitchens, especially modern black and white ones! But to keep it nice, KitchenAid has ensured a PrintShield finish. This resists smudges and fingerprints so your dishwasher is clean inside and out. The stainless steel has a specialized coating that cleans easily with just water and a cloth.
Many Cycle Options
You'll see on the front control panel that there are a wide range of cycle options. You have your five main washing cycles: Express Wash, Normal, ProWash, Rinse, Tough. But you also have other programmes such as Extended Heat Dry, 4 Hour Delay, Heated Dry, Hi-Temp Wash, and Sani Rinse.
Lastly, there is also a sensor wash which detects soil levels.
What We Don't Like
Delayed Timer Options
This dishwasher only has one option for a delayed start and that is four hours. While it's better than nothing, it's a bit annoying if you want to customize your cycle start times a bit more flexibly.
Unclear Manual
With this user manual, you get a lot of information, but they still seem to miss out some frequently asked questions. It gives a rough idea for the cycles — they average around 2.5 hours. But they don't explain the specific times for different cycles. You'll have to learn that as you go, which can be a bit mind-boggling.
Product Specs
| | |
| --- | --- |
| Type | Front control panel |
| Dimensions | 24.5 x 23.9 x 34.5 |
| Number of Racks | Three |
| Noise Level | 44dBA |
| Number of Wash Cycles | Five |
---
4. KitchenAid 24
Best Budget KitchenAid Dishwasher
KitchenAid dishwashers are generally on the pricier end of the market.
What if you have the budget for a KitchenAid dishwasher but don't want to fork out a huge amount of cash? Their most affordable option is the 24" Built-In Dishwasher in stainless steel.
It has a third-level rack to host hard-to-place items. And even though it's a cheaper option, it still has the ProWash cycle which adjusts the cleaning levels in real time to help with different types of soil levels.
Keep In Mind
This dishwasher is 46 decibels, which is KitchenAid's loudest option. Still quiet, but there's no sound reducing system in place.
What We Like
You've Got Loading Options
With this dishwasher, you can customize the way you load it. The upper rack is adjustable so you can lower or raise it depending on the amount of space you need.
The SatinGlide roll means when you pull out the dishwasher racks, even if they're full of heavy items, they move smoothly and safely. Lastly, the tines fold in and out, and there's a third rack for hard-to-place items.
Generously Sized
Payless, but get a good amount of space. While slightly smaller than some of the other KitchenAid dishwashers, we don't think you'll notice! There is still space for up to 14 place settings, so if you've got a big dinner party — this dishwasher is your friend.
Sanitization Options
There are five extra features for cycles on this dishwasher. Two of them can help with ensuring the utmost hygiene for your dishes. First, you can use the high-temperature wash which provides a hot clean. Or go the extra mile with the Sani Rinse which kills bacteria.
What We Don't Like
Delayed Timer Options
This dishwasher has a delayed timer, but it's not very flexible. You can delay your dishwasher start time by two, four or eight hours. But if you want to delay it by five, six or twelve hours — no can do.
Wet Dish Worrying
A common customer complaint with this dishwasher is that the dishes don't come out dry — no matter what cycle they choose. While there are extended dry and heated dry options, they don't do an immaculate job. So keep that in mind before you purchase, so you know what to expect.
Product Specs
| | |
| --- | --- |
| Type | Top control panel |
| Dimensions | 24.5 x 23.9 x 34.5 |
| Number of Racks | Three |
| Noise Level | 46dBA |
| Number of Wash Cycles | Five |
---
5. Custom Panel Ready Built-In Dishwasher
Best Panel Ready KitchenAid Dishwasher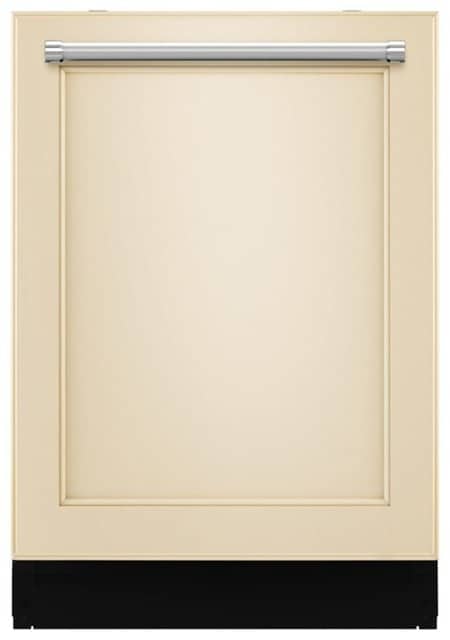 Do you want a dishwasher that can match the rest of your kitchen decor? This custom panel ready, built-in, dishwasher might be the one for you!
You can easily adjust the front panel to suit your other cabinets so that the dishwasher fits into your kitchen seamlessly. If you change up your decor at any point, it's easy to change over the panel, too. Fully-integrated, you won't even know the dishwasher is there. It's that discreet.
What We Like
Spotless Finish
This dishwasher has three washing arms and 40 spray jets to give your dishes a deep thorough clean. Combined with the ProScrub cycle, your dishes will be cleaner than ever before. No need to pre-rinse your plates with this dishwasher.
Heavy-Duty Capacity
Lots of dishes? Are they extra dirty? This dishwasher can handle it. The ProWash cycle gives the dishwasher a life of its own. It can detect how dirty your dishes are and how high the soil levels. Then it modifies the wash cycle accordingly, adjusting its power throughout, to ensure that dirty dishes are super clean, and saving energy where it can.
Safe for Kids
While some think the control lock option is pointless, we think it's actually genius. If you have curious kids around that know how to press the dishwasher buttons, then this is a lifesaver. You can actually lock the control panel so that no buttons can be pressed, and the dishwasher cycle will not start until the controls are unlocked.
What We Don't Like
Not Good for Tall Items
While there's a lot of space in this dishwasher, the extra arms may get in the way a bit. It does have an adjustable upper rack but you may still struggle fitting in large plates, cutting boards and casserole dishes.
Short Warranty
There is only a one year warranty on all parts of the dishwasher, and labour. There's a five-year warranty on electronic parts and nylon racks but if anything else goes you'll have to pay for it out of pocket.
Product Specs
| | |
| --- | --- |
| Type | Top control panel |
| Dimensions | 24.75 x 23.9 x 34.5 |
| Number of Racks | Three |
| Noise Level | 46dBA |
| Number of Wash Cycles | Six |
---
6. KitchenAid 44dBA - Black Stainless
Best Luxury KitchenAid Dishwasher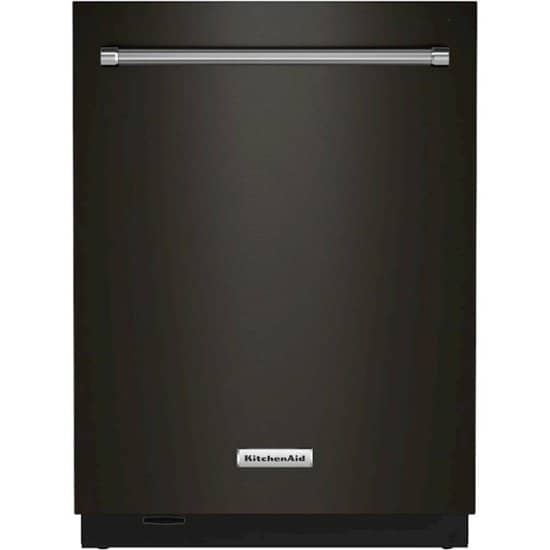 Do you want to find something a little more special than our other options? If you want a luxury, high-end, KitchenAid dishwasher — then this is the one for you. It's one of their most expensive options, and we think it shows.
At first glance, you'll notice it's much sleeker than some of their options. The black stainless steel and silver handle really makes it a statement in the kitchen.
Plus, if you want to support the brand name, the logo isn't subtle at all. Your guests will know exactly where and from whom you purchased this awesome appliance.
What We Like
Room for Everything
This spacious dishwasher has room for everything. The three racks give you flexibility and versatility when it comes to loading your dishwasher. The third rack has space for mugs, bowls, silverware, utensils and other things that haven't found space in the main racks.
Plus, the Culinary Caddy basket provides space in the lower rack for tall utensils that would otherwise need to lay flat. Finally, with the clean water filtration system and drying cycles, everything will come out sparkling clean.
Fan-Enabled ProDry
This dishwasher has the ProDry cycle that some of our other recommendations have — but it goes the extra mile. This one is fan and heating enabled so it has extra drying power. It circulates the hot air around afterwards to ensure a thorough dry. You can even extend the ProDry cycle if you want a little extra time to wick moisture away.
Delay Options
With this dishwasher, you can delay the start time anywhere from one to 24 hours. Other options aren't nearly as flexible so this is a great bonus. If you're out for the whole day, you can time it to be finished exactly when you get home so the dishes aren't sitting around waiting for you.
What We Don't Like
One Year Warranty
Keep in mind there is only a one year warranty. For such an expensive dishwasher, this is a little concerning but you can definitely add on more cover at checkout if you wish.
44 Decibels
For such an expensive dishwasher, it's a shame that it isn't any quieter. True, 44 decibels is still very low in noise. But it's not got the same whisper quietness of the 39-decibel models.
Product Specs
| | |
| --- | --- |
| Type | Top control panel |
| Dimensions | 26.75 x 23.9 x 34.5 |
| Number of Racks | Three |
| Noise Level | 44dBA |
| Number of Wash Cycles | Five |
---
7. Top Control Stainless Steel Tub Dishwasher
Best Quiet KitchenAid Dishwasher
Need something whisper quiet? This model has a decibel rating of 39 which is by far the lowest on our list!
You'll barely even notice this dishwasher while it's running. It has a sound reduction system to ensure that it remains super quiet no matter what kind of cycle you choose to run.
You can run this at any time of the day, even in the middle of the night, and it won't disturb anybody's sleep!
What We Like
Third Level Utensil Rack
Struggle to find a place to put your utensils? This dishwasher has a separate utensil rack so you're never in doubt. Plus, even though it's quite discreet, they'll still come out sparkling clean.
Cycle Choice Galore
There are lots of cycle choices with this dishwasher. There are five main washing cycles, including a ProWash cycle for ultimate cleanliness. Plus, there are other features such as extended heat dry, high temp wash and sanitization washes so you can sterilize your dishes.
Adjustable Middle Rack
You can easily adjust the middle rack to make it higher or lower. This allows for maximum flexibility. You can lower it to fit larger items on the top, or raise it to fit larger items on the bottom. Your choice!
What We Don't Like
One Year Warranty
You only have a one year warranty on parts and labor with this dishwasher. For such a big purchase, this is a little unsettling. You can, of course, add on more cover for an extra price.
Range of Issues
Customers complain about a range of issues with this dishwasher. It's not the most durable option on the market, further backed up by its short warranty. You may find that there are leaks, issues with the control panel or perhaps the motor.
Most customers are perfectly happy with their dishwasher, but some other KitchenAid products have a more secure warranty cover.
Product Specs
| | |
| --- | --- |
| Type | Top control panel |
| Dimensions | 26.75 x 23.9 x 34.5 |
| Number of Racks | Three |
| Noise Level | 39dBA |
| Number of Wash Cycles | Five |
---
History of KitchenAid
KitchenAid began as an idea in 1886 (1). Josephine Cochrane patented an invention that today is known as a dishwasher. While the invention was originally sold to restaurants and luxury hotels, now they are used widely across the world to clean and sanitize dishes.
It was in 1949 that the KitchenAid dishwashers finally came to domestic kitchens. The first model was the KD-10 dishwasher which was revolutionary for the time. So much so that the general design is still used as the base for dishwashers today.
Now, KitchenAid sells a huge range of kitchen products including ovens, fridges, and freezers. They also sell cookware, kettles, blenders, coffee machines, standing mixers and much more.
Are KitchenAid Dishwashers Reliable?
KitchenAid dishwashers are definitely a reliable choice, but compared to other dishwasher brands, they sit somewhere in the middle.
According to the annual Yale Appliance report, KitchenAid has an average reliability report with around 13 percent of dishwashers requiring servicing or repairs within a year of purchase (2).
Compared to other brands, let's look at how that fares. At the higher end of the lineup, Whirlpool only had 2.58 percent of service calls. On the other end, Jenn-Air had a 38.13 percent service requirement. So KitchenAid sits somewhere in the middle.
Types of KitchenAid Dishwashers
Maybe you've decided that you are in the market for a KitchenAid dishwasher. But within that category, you're still met with many options. So which is the best one for you?
Front Control
Front control dishwashers have the control settings on the exterior of the appliance, rather than inside.
Pros
Many KitchenAid budget options have front control panels.
This is a classic look, similar to the early dishwasher models.
It's easy to see your control options, which is especially useful during a cycle.
Cons
Not a sleek, polished aesthetic.
You can easily push the buttons accidentally.
Top Control
Top control dishwashers have the control panel at the top inner frame of the dishwasher. So you choose your cycle and click start before closing the dishwasher. The chosen cycle will begin immediately, unless you've selected the delay option.
Pros
Sleek, polished look.
Can't accidentally nudge the buttons.
More kid and pet friendly.
Nicer handle options.
They come in a range of prices.
Cons
There may not be an indicator for how long is left on a cycle, or if it is finished.
The control buttons may be smaller, and more difficult to read.
Panel Ready
Panel ready dishwashers can be customized to suit the rest of your kitchen cabinets. KitchenAid currently has one type of panel ready dishwasher. You can add your custom panelling to the front so it suits your kitchen decor.
Pros
Matches the rest of your kitchen decor for a seamless look.
Quieter because of the panel.
Top panel control.
Cons
KitchenAid only has one option.
KitchenAid's option is in the mid-price range for them.
Stainless Steel
Stainless steel dishwashers are the most popular choice, and for good reason.
Pros
Easy to clean.
Durable.
Easy to get rid of bad smells and odors.
Many stainless steel options.
Cons
You cannot clean stainless steel with bleach.
It may not match your kitchen decor.
How to Choose (Buying Guide)
You're going to have your KitchenAid dishwasher for years to come. To find the perfect one for you, consider these important criteria.
FAQs
---
Choose KitchenAid
When you choose KitchenAid, you're choosing a reliable and durable dishwasher with over a century of experience behind it. Plus, our best KitchenAid dishwasher recommendations have a range of cool features.
Whether you're looking for something that can sanitize your dishes, dry them thoroughly, has control lock for curious kids or something else entirely — you'll find an awesome appliance with any of these options!
Thank You For Your Feedback!
Thank You For Your Feedback!