You're probably going to be running your dishwasher overnight, so it's a bonus if it's quiet. Even if it's on during the day, you don't want it to distract you from work, entertaining guests or listening to music.
Thankfully, there are tons of amazing quiet dishwashers on the market. With our list of the seven best quiet dishwashers, you'll find one that cleans your dishes but doesn't interrupt your life.
Image
Model
Product Comparison Table
Features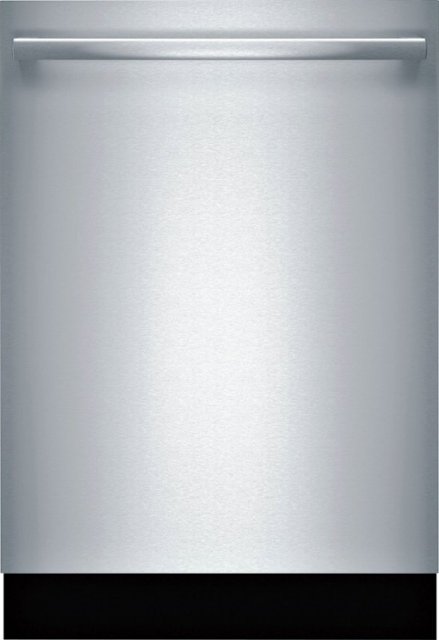 Best Flexible Quiet Dishwasher
Bosch 800 Series CrystalDry Tub
Patented drying technology
24-hour delay start
10 cycle options
Best Smart Quiet Dishwasher
LG STUDIO Dishwasher with TrueSteam
Minimize water spots
Great rack design
3-stage filtration system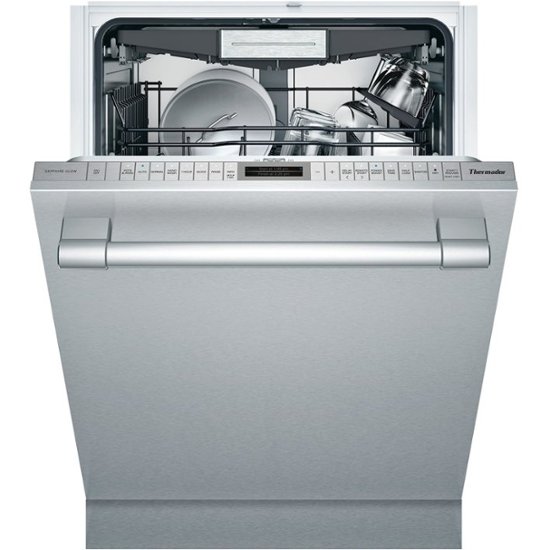 Best for Large Families
Thermador Top Control Built-In Dishwasher
App controlled
13 cycle options
Water softener system
Best Fingerprint Resistant
GE Profile Series Dishwasher
Twin turbo dry boost
Wi-fi connection
Extra jets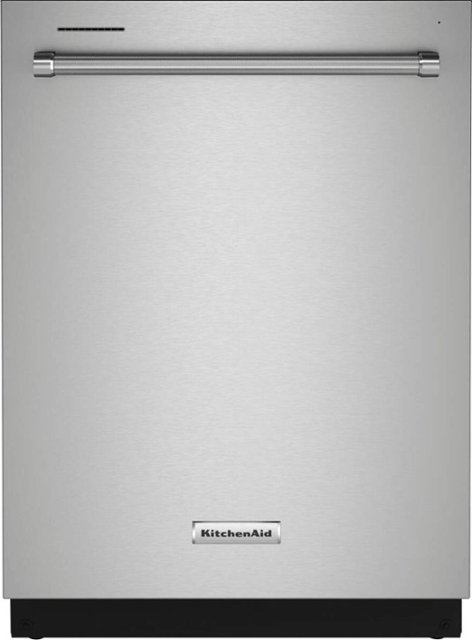 Best Stainless Steel
KitchenAid Built-In Dishwasher PrintShield
5 main washing cycle
Heated dry cycle
Adjustable middle rack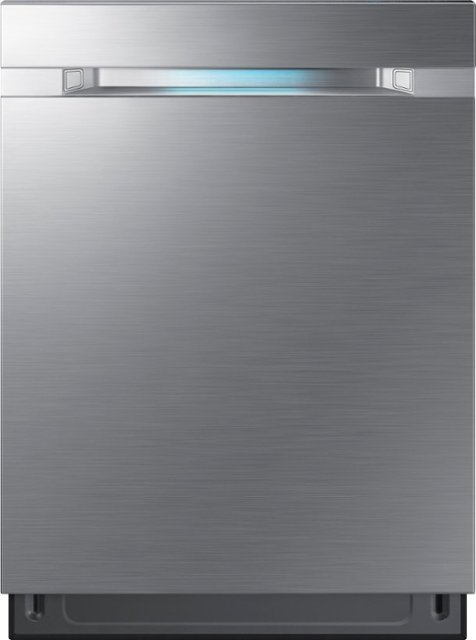 Best Budget Quiet Dishwasher
Samsung Linear Wash Dishwasher
Linear spray arm
Auto-release door
Flexible loading
Best With Multi-Level Wash
Viking Dishwasher with Stainless Steel Tub
Simple navigation
11 wash cycles
Energy-efficient
---
What Makes a Dishwasher Noisy?
Some dishwashers are quieter than others. If your dishwasher is noisy, it might be because of these few reasons.
Self-cleaning filter: Self-cleaning filters grind up food and wash it away to minimize food clogs. These filters are noisier than manual filters.
Draining water: That gurgling noise you hear during a dishwasher cycle is just the water draining away. It's noisier on quick cycles, so if you hate that noise — use a different cycle or get a dishwasher with sound-reducing technology.
Splashing water: Water splashes around during the cycle. You may hear it against the walls of the dishwasher. If this bugs you, we recommend getting a dishwasher with sound-reducing technology.
Tub material: The sound of the water hitting a plastic tub is louder than on a stainless steel tub.
Motor: Dishwashers motors aren't 100 percent silent (yet). But if yours is making a weird noise, it may be defective.
Faulty functioning: If your dishwasher is suddenly making loud noises, there may be a fault. Something could be stuck in the dishwasher, perhaps in the filter. There may be a loose drain line. The wash pump, motor and drain pump make noises when they're broken. It sounds like a whining or squealing noise. Lastly, make sure your dishwasher is fastened to the floor to reduce unusual noises.
Troubleshoot
If you're unsure about a particular noise and can't find a fix, contact the manufacturer. You may also need to contact a plumber or an electrician depending on the problem.
How to Choose the Best Quiet Dishwashers
When shopping for a quiet dishwasher, look at these important details to find one that suits your preferences.
Of course, the main criteria you should consider is the noise level. This is measured in decibels. The lower the decibel number, the quieter the dishwasher.
What Is a Quiet Decibel Level for a Dishwasher?
For quiet dishwashers, you want to look for anything under 55 decibels. However, all the recommendations in this post are between 39 and 42 decibels, meaning they are basically unnoticeable.
You can get a self-cleaning filter (which has a hard food disposer) or a manual filter. However, self-cleaning filters are noisier, so keep that in mind.
Lastly, consider the tub material. Not only is stainless steel easier to clean and more durable, the sound of the water hitting it is quieter. Plastic, on the other hand, is more budget-friendly.
Consider how many wash cycles the appliance has. While noise levels are perhaps your priority, clean dishes probably are, too. We love a dishwasher with options. Wash cycle varieties may include a heavy, normal, eco, high temperature, sanitization and drying cycles.
You will pay extra for dishwashers this quiet. While these are a big investment, the price does vary slightly. If you have a tighter budget, you should be able to find something that suits. If not, you may have to go up a few decibels to find one within your price range.
Consider the warranty of the dishwasher. We'll let you know the warranty for each appliance. The longer the warranty, generally, the more reliable the dishwasher.
---
The Best Quiet Dishwashers of 2022
1. Bosch 800 Series CrystalDry Tub
Best Flexible Quiet Dishwasher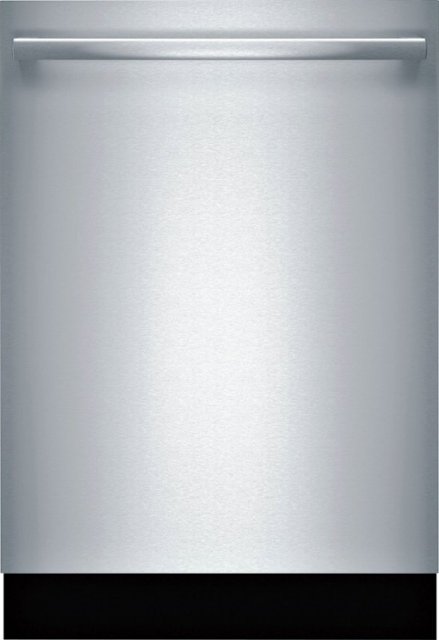 Many people want to be able to customize their dishwashing routine. Flexible racks and placing systems are a huge bonus. For that, as well as ultra-quiet operation, we recommend the Bosch 800 Series CrystalDry Tub.
It has a flexible MyWayRack so you can make space for every dish. That's not all it's flexible with. It also has a flexible cycle — the auto cycle uses soil sensing to change up its operation mode. This helps ensure you receive the cleanest dishes possible, while cutting energy and water usage where necessary.
The Pros
CrystalDry™ Technology
Patented CrystalDry™ technology ensures your dishes are 60 percent drier than average drying cycles. This includes plastic items. This technology works by the appliance turning moisture into heat so that your dishes are bone dry and ready to put away.
24-Hour Delay Start
You can delay the start time to suit in with your schedule. With the option to delay it between one and 24 hours, you can time it to finish at exactly the same time you wake up or come home.
10 Cycle Options
This dishwasher has every cycle you could imagine. This includes 10 awesome cycles: half load, delicate wash, normal, auto, rinse, eco wash, heavy wash, sanitary, 1 hour, and CrystalDry. For more information on each cycle, refer to the manufacturer's guide.
The Cons
Minimal Space at Top
Many people love a third rack. However, in this dishwasher, it takes away quite a bit of space from the middle rack. You can remove the top rack, but it's great for laying utensils flat.
Keep in mind that the middle rack loses a bit of space. Many people struggle to find the best way to stack the dishes. It's a bit like playing Tetris!
Additional Specs
| | |
| --- | --- |
| Noise Level | 40 decibels |
| Warranty | One year, extended limited warranty is available |
| Filter Type | Manual |
| Wash Cycles | 10 |
| Tub Material | Stainless steel |
---
2. LG STUDIO Dishwasher with TrueSteam
Best Smart Quiet Dishwasher
If you use smart technology in the home, expand that to your dishwasher, too.
The LG Studio Dishwasher can be controlled using an app, Amazon Alexa, and Google Assistant. Whether you're in another room, at a friend's house or on the train — you can turn the dishwasher on. That way, it's ready for you when you come back home.
Of course, this dishwasher is also super quiet. At only 40 decibels, you'll barely notice it's on. Thankfully, it has cycle status lights that remind you it's operating.
The Pros
TrueSteam® Technology
If you live in a hard water area, you'll know the pain of water spots on your dishes and in your dishwasher. This appliance uses TrueSteam technology to minimize water spots by 60 percent. The four steam jet design ensures maximum steam coverage so your dishes are sparkling.
Great Rack Design
You can easily adjust the three racks in this dishwasher. This allows you to create room for all dishes, whether you have tall mixing bowls or espresso cups you want to squeeze into the top rack. Customize the rack design to suit your needs.
We also love that the racks have been designed to glide smoothly, making it easier to load and unload your dishwasher.
LoDecibel™ Technology
We've already mentioned that this dishwasher is nearly silent at only 40 decibels. But each feature of this dishwasher has been designed with silence in mind. The Inverter Direct Drive Motor and advanced 3-stage filtration system are created to be silent, even though they're super powerful. This ensures quiet operation from start to finish.
The Cons
Drying Inconsistencies
Some customers complained about the drying inconsistencies. It helps to leave the door open after each cycle and use a rinse aid. The dishwasher uses heated and condensation drying to wick away moisture, but we recommend using the heated dry for best results.
Technical
Even people that work in IT have struggled with this dishwasher. Connecting to the Wi-Fi can be a bit tricky. From there, there are lots of cycle options so it can be a bit overwhelming.
Additional Specs
| | |
| --- | --- |
| Noise Level | 40 decibels |
| Warranty | Two years general, five years control and rack, 10 years motor, lifetime for door liner and tub |
| Filter Type | Manual |
| Wash Cycles | 10 plus nine control options |
| Tub Material | Stainless steel |
---
3. Thermador Top Control Built-In Dishwasher
Best Quiet Dishwasher for Large Families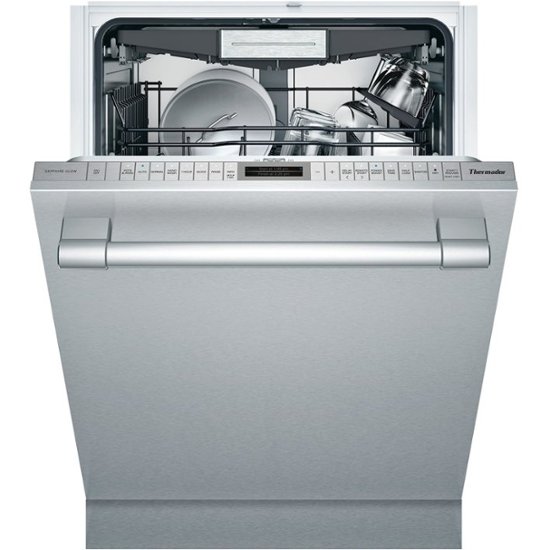 With 16 place settings, this quiet Thermador dishwasher is the best for large families. Cleanup has never been easier — and no more arguing over who's doing the dishes! This appliance also has flexible folding tines and a tool drawer to maximize space for utensils and larger dishes.
As for the sound, this dishwasher comes in at 42 decibels so it's nice and quiet. Perfect for running overnight or while guests are over.
The Pros
App-Controlled
You can control this dishwasher with an app. This smart feature means you can customize your cycles and start, stop and self-clean on the app all from the comfort of the couch.
13 Cycle Options
The Thermador dishwasher has one of the most extensive cycle lists on the market. You have 13 different cycles to choose from. So you can customize the settings to do exactly what you want.
These cycles include: half load, quick wash, normal, auto, rinse, sanitary, pots and pans, glass, 1 hour, Time Saver option, PowerBoost, Star Speed, and StarDry.
Water Softener System
If you live in a hard water area, this dishwasher will blow your mind (and clean your dishes). The dishwasher softens water so that limescale won't be deposited on your dishes. It uses special salt to do so. Check the manufacturer guide for specific instructions to use this function.
The Cons
Expensive
This is one of the most expensive dishwashers you can find on the market. However, you get a lot of bang for your buck. It's heavy-duty, professional, perfect for large families, Wi-Fi enabled, and it has a five-year warranty. But keep in mind that the price is high.
Star Speed Cycle Detergent
The Star Speed cycle is one of the fastest in the world. It washes lightly soiled dishes in only 20 minutes. Super convenient, but keep in mind that you cannot use tabs or pods type detergent with this cycle. If you use dishwasher tabs or pods for regular cycles, you'll need to purchase powder or liquid specifically for this Star Speed cycle.
Additional Specs
| | |
| --- | --- |
| Noise Level | 42 decibels |
| Warranty | 5 years for control board and rack; Lifetime for inner tub liner |
| Filter Type | Manual |
| Wash Cycles | 13 |
| Tub Material | Stainless steel |
---
4. GE Profile Series Dishwasher
Best Fingerprint Resistant Quiet Dishwasher
Curious kiddos can leave nasty fingerprints on dishwashers. As for adults, so can we! These fingerprints can leave unsightly marks on the dishwasher's exterior which can ruin the aesthetic of your kitchen.
Thankfully, this GE dishwasher Profile series is both fingerprint resistant and ultra-quiet. At only 42 decibels, and finished with a sleek stainless steel design, we think you'll love this.
The Pros
Twin Turbo Dry Boost
This dishwasher will dry every dish in the cycle — even plastics. The Twin Turbo Dry Boost uses a dual-fan system and inline heater which effectively dries dishes so they're ready to be put away immediately.
Wi-Fi Connection
Control the dishwasher from your phone. With a Wi-Fi connection, you can check on the cycle status, rinse aid levels and even order dishwasher detergent from the app.
Keep In Mind
You can't begin a cycle or control the dishwasher with a smart speaker.
Extra Jets
With the extra jets, this dishwasher will deep clean bottles and silverware. Both of these dishes have their own independent jets to blast away all kinds of dirt and soil, even in hard to reach places.
The Cons
Tough to Install
Customers didn't have a breeze installing it. Many reported missing parts, tricky instructions or difficult connections. Keep in mind you may need DIY experience (and patience) to get this up and running.
Cheap Door and Racks
Customers have a hateful relationship with the door and racks on this dishwasher. The closing mechanism for the door is cheap and breaks easily. The racks are also cheap and flimsy.
Additional Specs
| | |
| --- | --- |
| Noise Level | 42 decibels |
| Warranty | One year |
| Filter Type | Manual |
| Wash Cycles | Five, plus seven control options |
| Tub Material | Stainless steel |
---
5. KitchenAid Built-In Dishwasher PrintShield
Best Stainless Steel Quiet Dishwasher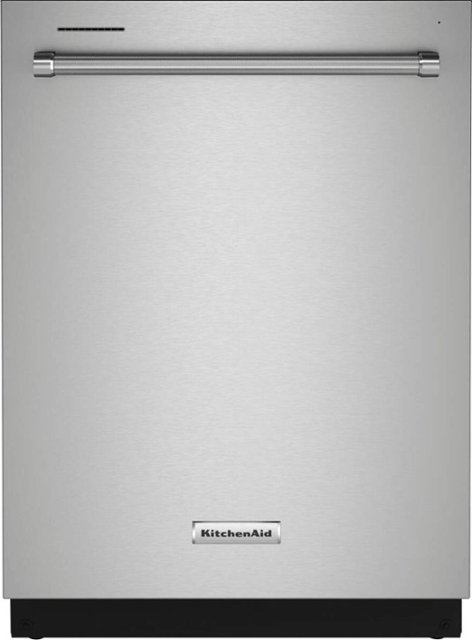 Stainless steel dishwashers are more durable, easier to clean and dry your dishes better. But they also help with noise levels since water splashing against stainless steel is quieter than against plastic.
This KitchenAid PrintShield dishwasher is a fab choice if you want something quiet in stainless steel. At only 39 decibels, this is as quiet as dishwashers currently go.
The Pros
ProWash™ Cycle
This dishwasher has five main washing cycles. One of them is the ProWash cycle which uses sensors to measure soil levels during the cycle. It then adapts the wash time and temperature to ensure it cleans dishes thoroughly and saves water where necessary.
Dry Dishes
It's great when you can put your dishes away immediately after the cycle. With the heated dry cycle, you can ensure your dishes are bone dry at the end of the cycle. You can even extend this setting for maximum results. It only takes an extra 14 minutes.
Adjustable Middle Rack
This is a very spacious dishwasher. With 13 place settings and a third rack for utensils, it's perfect for families. But if you struggle to fit in larger items like mixing bowls and casserole dishes, then you'll love this dishwasher. The middle rack is adjustable so you can raise or lower it to make room for items on the bottom rack.
The Cons
Exposed Heating Element
The heating element on the bottom is exposed, meaning plastic items on the bottom rack could warp. It also means that if something falls through and lands on the heating elements, it could melt.
One Year Warranty
The warranty for this dishwasher is only one year. It's not very long. If anything goes wrong after that, it will have to be paid from your own pocket. There is an option to add a three or five-year protection at checkout.
Additional Specs
| | |
| --- | --- |
| Noise Level | 39 decibels |
| Warranty | One year |
| Filter Type | Manual |
| Wash Cycles | Five |
| Tub Material | Stainless steel |
---
6. Samsung Linear Wash Dishwasher
Best Budget Quiet Dishwasher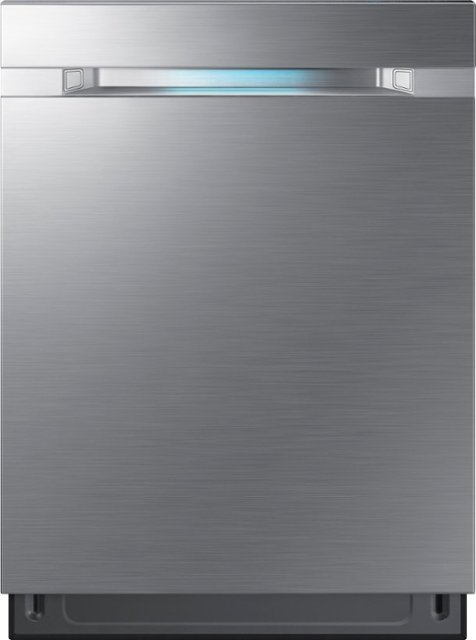 If you don't want to break the bank getting your quiet dishwasher, we think you'll love this Samsung dishwasher. It's ultra-quiet, at only 42 decibels, but it's also pretty budget-friendly.
While it does have some drawbacks (such as long cycles and a tricky-to-use interface), it has a lot of awesome features, too.
The Pros
Linear Spray Arm
This dishwasher gets its name from the linear spray arm cleaning ability. It uses a WaterWall feature to provide a streaming wall of water that evenly travels across the interior. This provides incredible cleaning results so your dishes come out sparkling clean every time.
Auto-Release Door
For ultra-dry dishes, this machine uses condensation drying. This means it uses a super hot final rinse so the walls of the appliance wicks away moisture from the dishes. To aid this process, the door automatically releases afterwards so the dishes can air dry a bit before you put them away.
This is especially useful if you put your dishwasher on overnight or while you're out. The door will open, the dishes will dry and they'll be ready to put away when you're back.
Flexible Loading
We love this dishwasher for big families or sociable couples. It has 15 place settings. But what makes it even more useful are the flexible loading options. You can easily adjust the racks to maximise your space, especially when fitting in large or tall items. Also, there's an additional silverware rack for extra utensils.
The Cons
Bit Technical
If you're not tech-savvy, you may struggle with this dishwasher. It has seven cycles to get familiar with, which can be a bit overwhelming if you're used to a more basic model. From there, it also has five other control options so you can customize your dishwasher cycles. This is great for many people, but for others, it's a bit advanced.
Long Cycles
Dishwasher cycles are always a bit longer than you'd expect. But the normal wash cycle on this is nearly three hours, which is just a bit lengthy. If you put your dishwasher on at night, this won't be a problem but if you need to wash dishes in between meals, it's a bit long.
There is an express 60 mode which does a quick clean in one hour, but it's not as powerful.
Additional Specs
| | |
| --- | --- |
| Noise Level | 42 decibels |
| Warranty | Lifetime for liner and tub; five years for circuit board and racking; one year for everything else |
| Filter Type | Manual |
| Wash Cycles | Seven, plus five control options |
| Tub Material | Stainless steel |
---
7. Viking Dishwasher with Stainless Steel Tub
Best Quiet Dishwasher With Multi-Level Wash
Multilevel wash can provide a deeper clean of your dishes. Instead of one spray arm, this Viking dishwasher has three spray arms to ensure that all dishes on both racks get deeply cleaned.
As for sound, this comes in at 42 decibels so it's super quiet. It has three layers of insulation to help with noise levels during each cycle.
The Pros
Simple Navigation
Choosing your buttons has never been easier. With a light touch, you can decide your cycle. The LED lighting behind each button makes it easier to see, even at night time.
11 Wash Cycles
With 11 different cycles to choose from, you can find the perfect one for you each load of dishes. Cycles include: quick wash, intensive wash, Rinse & Hold, auto, sanitary, express cycle, Regular, 1 hour, GlassCare, CombiClean, High Gloss option.
So whether you need something super quick, something for glasses, or heavy-duty cleaning — this appliance has you covered.
Energy Efficient
Eco-friendly cycles are the way forward. This dishwasher is Energy Star certified and has a CEE Tier One rating. Each year, it uses on average $29 of energy which is super affordable!
The Cons
Durability in Question
Many customers had issues with various parts of this dishwasher. Whether it's the drain or the timer light, keep in mind that it doesn't have the best reputation for being faultless.
Thankfully, everything is covered by a two-year warranty. So you should know about any issues before that time period is up.
Doesn't Dry Well
This dishwasher doesn't have a separate drying function. If your dishes are still wet, you'll need to hand dry or air dry them. While this doesn't seem to be a problem with most dishes, it is an issue with plastic. This machine will not dry plastic items. It leaves them soaking wet.
Additional Specs
| | |
| --- | --- |
| Noise Level | 42 decibels |
| Warranty | Two years |
| Filter Type | Manual |
| Wash Cycles | 11 |
| Tub Material | Stainless steel |
---
---
Oh, So Quiet
With the best quiet dishwashers on the market, you'll not even notice they're running. Take a nap, have a party, or listen to some music — these dishwashers will never get in your way. Although they're all ultra-quiet (between 39 and 42 decibels), they still have unique features.
To find the best for you, consider the extra features, the warranty, the material and how well it can wash and dry your dishes.