Frigidaire dishwashers have a huge range of cool features that customers love. They have great heated drying functions, dual spray arms for thorough washing, as well as other features, such as sanitization cycles.
Whether you want a dishwasher that's small, large, quiet, good at drying or budget friendly, our best Frigidiaire dishwasher reviews will help you find the right one for you.
Image
Model
Product Comparison Table
Features
Best Quiet Frigidaire Dishwasher
Frigidaire Gallery Built-In Dishwasher
Dual OrbitClean technology
Ultra-quiet at 49 dB
Adjustable settings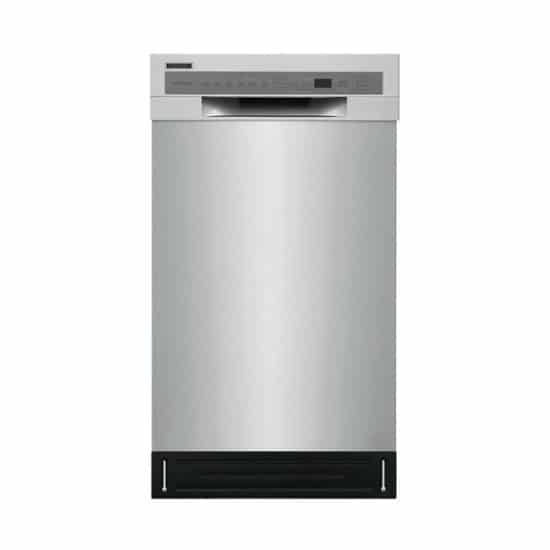 Best Slim Frigidaire Dishwasher
Frigidaire 18-Inch Built-In Dishwasher
NSF certified
Nine washing cycles
Front control panel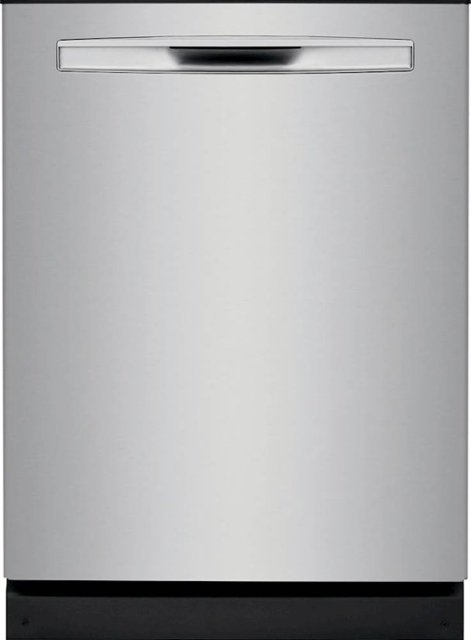 Best Drying Frigidaire Dishwasher
Frigidaire Gallery Dual OrbitClean Dishwasher
MaxBoost Dry technology
Adjustable space-saving racks
34-minute quick wash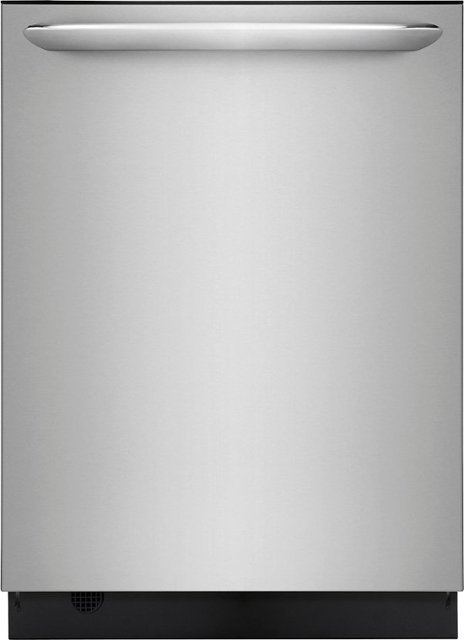 Best Large Frigidaire Dishwasher
Frigidaire Gallery EvenDry™ Dishwasher
14 place settings
Auto cycle time sensor
30 minute quick cycle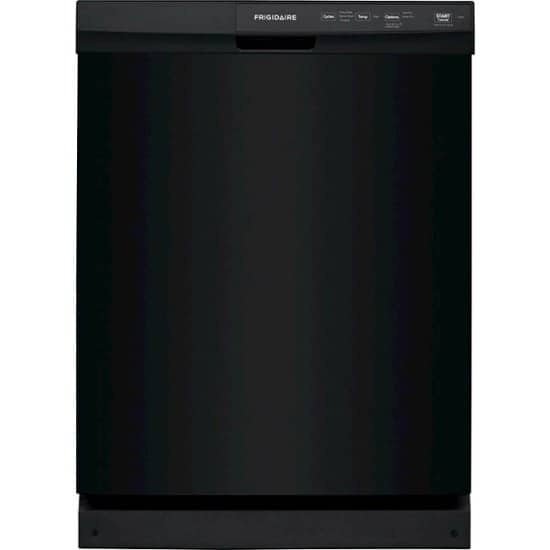 Best Budget Frigidaire Dishwasher
Frigidaire 24-Inch Built-In Dishwasher
3 spray arms
Stay put door
4 hour delay start timer
---
---
Product Reviews
Our list of the five best Frigidaire dishwasher reviews reflects hours of research into real customer reviews, expert advice, and product descriptions. With that in mind, we know this comprehensive guide will help you find the best Frigidaire dishwasher for your kitchen.
1. Frigidaire Gallery 24-Inch' Built-In Dishwasher
Best Quiet Frigidaire Dishwasher
Technically, Frigidaire's most quiet dishwasher is the Professional model (available to view on their website) at 47 decibels. Unfortunately, it isn't as easy to source. So our next top recommendation for a quiet Frigidaire dishwasher is this Gallery 24-inch built-in model.
This dishwasher is 49 decibels, so it's quieter than many of their other models. But do keep in mind that compared to other brands, 49 decibels is still quite a bit louder. So you will notice it when it's on, but it shouldn't be too distracting. Happily, it has amazing features that make up for the extra bit of sound.
What We Like
Dual OrbitClean
This cleaning function ensures a thorough clean of your dishes, every time, no matter how dirty they are. Dried, baked-on and stubborn foods are no match for this cleaning technology!
Favorite Cycle
You can programme your favorite cycle settings into this dishwasher. Now instead of going through the motions of setting your cycle, you can just click the favorite option and it will know what you want to do.
AquaSurge
Not only can you adjust the cycle and the temperature, but you can also adjust the washing pressure. If you want it higher or lower, depending on what's inside, now you can do that!
What We Don't Like
Plastic Tub
The plastic tub gives the dishwasher a cheaper feel. It's not as durable as stainless steel, nor is it as easy to clean. Plus, it clings to moisture more which makes the MaxBoost Dry function a little less performative than if the tub were stainless steel.
Rack Issues
Many customers have issues with the racks. They don't glide as smoothly as other brands. With the upper rack being adjustable, this is quite annoying!
Product Specs
| | |
| --- | --- |
| Noise Level | 49 decibels |
| Washing Cycles | Eight |
| Drying Cycle | MaxBoost Dry |
| Dishwasher Capacity | 14 place settings |
| Size | 24 inches |
---
2. Frigidaire 18-Inch Built-In Dishwasher
Best Slim Frigidaire Dishwasher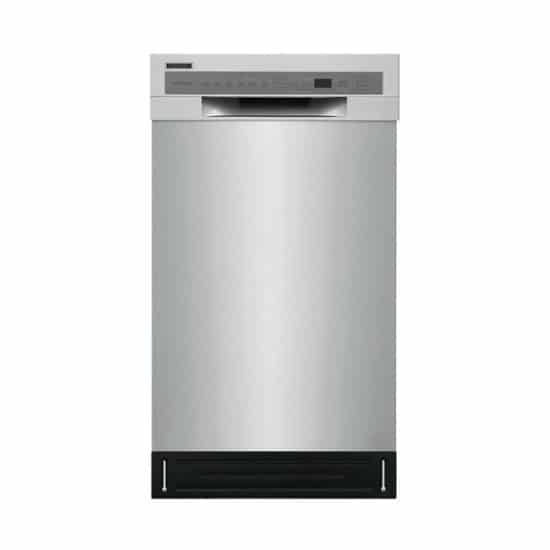 Don't have space for a 24-inch dishwasher? Frigidaire has a great 18-inch option. It's still built-in, too, so you don't have to faff with faucet connections each time you want to use it.
This dishwasher has room for eight place settings, so it's great for couples or small families. Despite being on the smaller side, it still has great cleaning abilities. Thanks to the dual spray arm, both racks receive an equal and thorough clean so your dishes come out spotless.
The bottom line is: for small kitchens? This is a great dishwasher option.
What We Like
NSF Certified
This dishwasher is NSF certified. This means that it's proven to kill 99.9 percent of common household bacteria when using the sanitization cycle. Pop this cycle on when someone in the family has been sick, or to sterilize baby products like pacifiers and bottles.
Nine Cycles
You'll never do a load of dishes that this appliance can't handle. With nine various cycles, there will always be the perfect cycle to choose from. These cycles are Energy Saver, Normal, PowerPlus, Rinse, China/Crystal, High-Temperature Wash, 1 hour, NSF Certified Sanitize Option, and Heated Dry.
Front Control Panel
The front control panel makes it easy to choose your desired cycle and see how long is left to go. You'll never be left in the dark about when your dishes will be ready to be put away.
What We Don't Like
52 Decibels
It's not the loudest on the market, but it's not super silent either. At 52 decibels, this will make noticeable sounds. This is similar to an office or average home noises, so it may interrupt conversation.
Limited Space
You already know that this has limited space, but keep in mind that it's pretty noticeable. You may need to wash some dishes by hand, as this doesn't always have room for a day's worth of dishes.
Product Specs
| | |
| --- | --- |
| Noise Level | 52 decibels |
| Washing Cycles | Eight |
| Drying Cycle | Heated dry |
| Dishwasher Capacity | Eight place settings |
| Size | 18 inches |
---
3. Frigidaire Gallery Dual OrbitClean Dishwasher
Best Drying Frigidaire Dishwasher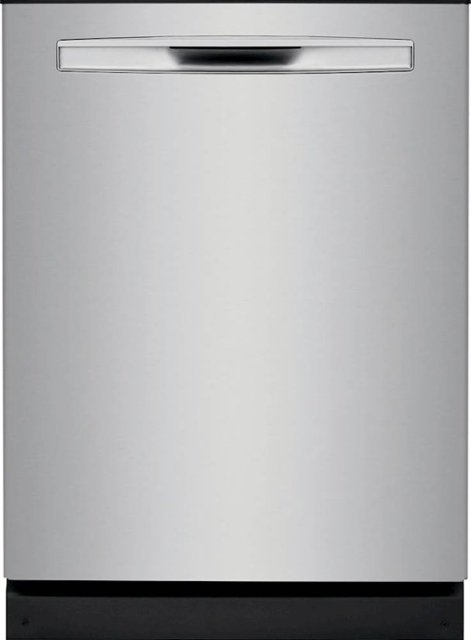 This drying dishwasher looks good on the outside, and does well on the inside. What more could you want?
If you're in the market for a Frigidaire dishwasher that can dry your dishes thoroughly — this is the one to choose!
It uses a fancy system called MaxBoost Dry which Frigidaire claims works better and faster than any other dishwasher on the market.
What We Like
Dual OrbitClean
This dishwasher has two rotating spray arms which target every area of the dishwasher to help remove tough, dried, and baked-on food. The arms use a multi-motion rotating spray to provide maximum coverage, without using any additional water.
SpaceWise Racks
You can now fit dishes of any size into your dishwasher. Simply raise or lower the upper rack to create more space in it or more space in the bottom. Tall glasses? Baking trays? Huge pots? Not a problem anymore.
34-Minute Quick Wash
Did you know this dishwasher can clean a whole load of lightly soiled dishes in only 34 minutes? That's quicker than we could hand-wash them, plus with more power!
What We Don't Like
Trouble Turning On
Many customers have reported they had issues turning it on. Whether that was down to the finicky buttons or the surplus of options, it is quite a common problem. Plus, you can't really tell when it's on because there are no indicator lights. You just have to listen out for the noises.
Racks Aren't Smooth
Pushing and pulling out the racks isn't the most seamless operation. They don't glide smoothly, which is an issue when they're adjustable. You'd think they'd be easier to operate so you could adjust them with no problems.
Product Specs
| | |
| --- | --- |
| Noise Level | 49 decibels |
| Washing Cycles | Eight |
| Drying Cycle | MaxBoost Dry |
| Dishwasher Capacity | 14 place settings |
| Size | 24 inches |
---
4. Frigidaire Gallery EvenDry™ Dishwasher
Best Large Frigidaire Dishwasher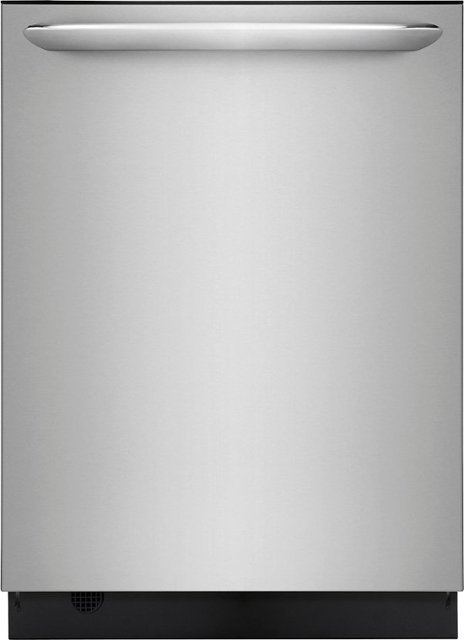 Looking for something with extra space? This dishwasher is perfect for large families or sociable couples! It has 14 place settings so there's room for everyone's dishes. Never wash anything by hand again. Except, of course, non-dishwasher-safe items.
But 14 place settings isn't all. This dishwasher also has a third rack which helps you to store even more in your dishwasher. Designed for utensils, this is perfect for knives, spatulas, and other items. However, if you're not loving this rack — you can easily remove it.
What We Like
OrbitClean
OrbitClean is a unique washing system from Frigidaire. It uses four times more water coverage to ensure that every single dish gets cleaned, no matter where it is in the dishwasher.
DishSense Technology
The dishwasher uses sensors to automatically adjust the cycle time based on how long it needs to clean. This saves water and energy where possible.
30 Minute Cycle
This dishwasher has seven great cycles, but the one that stands out is the 30-minute quick cycle. Perfect for light loads, this can quickly clean your dishes. Great if you have guests coming, need to go out or want to go to sleep early!
What We Don't Like
UnEven Dry?
Although this dishwasher has a unique heated drying system called EvenDry — many customers haven't had a good experience with it. There are common complaints that the dishes come out soaking wet!
Long Cycles
The normal cycle is between two hours and 3.25 hours. While this is average for dishwashers, it's still a long minimum time. Plus, if it averages around the three-hour mark, that can be a long time to wait for your clean dishes.
Product Specs
| | |
| --- | --- |
| Noise Level | 49 decibels |
| Washing Cycles | Seven |
| Drying Cycle | EvenDry |
| Dishwasher Capacity | 14 place settings |
| Size | 24 inches |
---
5. Frigidaire 24-Inch Built-In Dishwasher
Best Budget Frigidaire Dishwasher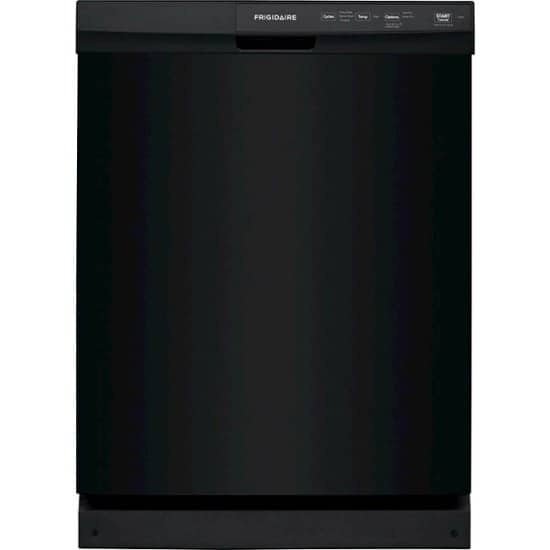 You don't have to spend a fortune to get a Frigidaire dishwasher. This one is pretty budget-friendly, especially if you get in black or white rather than stainless steel. Plus, it's still high quality and loved by tons of customers!
What can you expect from this affordable dishwasher? Firstly, it has a nice front control panel which makes it easy to choose your settings and view the remaining time.
Next up, enjoy the 14 place settings which means this is a great choice for big families. Last but not least, there's a four-hour delay start timer which allows you to program the dishwasher to suit your schedule a little better.
What We Like
Three Spray Arms
Many dishwashers only have one spray arm. While this is suitable most of the time, three spray arms provide a thorough and even clean every single cycle.
Stay Put Door
The stay put door stays open at whatever angle you open it to. This prevents it from falling open or snapping shut when you don't want it to. Overall, it makes loading the dishwasher a whole lot easier.
Angled Upper Tines
The tines on the upper rack are slightly angled. This makes it super easy to place mugs and cups without them falling over. The top rack is designed to make your life easier, and your dishes cleaner.
What We Don't Like
60 Decibels
This dishwasher is on the louder end of the market. At 60 decibels, be prepared to hear this during the washing cycle. 60 decibels is similar to a normal conversation or laughter.
Plastic Tub
The plastic tub is a big reason this is on the cheaper side. Stainless steel is more durable and easier to clean. Plus, plastic clings to moisture more. So even while there is a heated drying function, the plastic holds this technology back a little.
Product Specs
| | |
| --- | --- |
| Noise Level | 60 decibels |
| Washing Cycles | Three |
| Drying Cycle | Heated dry |
| Dishwasher Capacity | 14 place settings |
| Size | 24 inches |
---
History of Frigidaire
Frigidaire began with their first refrigerator, their most loved product, in 1918 (1). W.C. Durant purchased the company that built the first self-contained refrigerator, and began a new company called Frigidaire.
In 1929, after selling their one-millionth fridge, they expanded their products to creating a freezer — otherwise known as an ice cream cabinet (2). The same year, they brought out the first room air conditioner. They continued to create more products including a laundry center (combined washer dryer) in the 70s.
Finally, in the 1990s, Frigidaire came out with a complete collection of household appliances. This included microwaves, air conditioners, stoves and of course, dishwashers.
Now, Frigidaire offers high-tech and easy to use products. For instance, you can organize their fridges in lots of different ways to suit your contents. You can find 2-in-1 fridge freezers. There are Wi-Fi operated air conditioners. Their washing machines can do three days of laundry in one go.
Types of Frigidaire Dishwashers
Fridgiaire has three main types of dishwashers: Professional, Gallery and their regular Frigiadaire range. All their options are built-in, meaning they don't currently offer portable dishwashers. However, they do have a few different sizes to choose from.
Frigidaire Professional
This dishwasher provides a more professional clean. It's on the more expensive side, but it works at a better level, with a range of amazing features. There is only one dishwasher in this collection at the moment.
Pros
EvenDry drying technology for amazing results every time.
SpacePro™ organization and a third rack.
PrecisionWash Pro Zones for cleaning in hard to reach places.
30-minute cycle — which is good for commercial environments as well as at home.
Status indicator floor beams.
The most quiet from Frigidaire.
Cons
47 decibels is quite noticeable.
Only one option in the range.
Not available at the main appliance stores.
Expensive.
Frigidaire Gallery
This range includes six high-end dishwashers from Frigidaire. They come in a range of prices, so even if you're on a bit of a tighter budget — you may be able to find something from this collection.
Pros
Range of prices.
A few color options.
Effective drying cycles.
OrbitClean for thorough cleaning in every area of the dishwasher.
30-minute wash cycles.
Many smudge-proof options.
Cons
49 decibels is quite loud.
Silverware tray is inconvenient.
Some drying cycles are better than others.
Some of the cheaper options aren't as durable.
Frigidaire
The rest of the dishwashers are categorized only as "Frigidaire". This includes nine models. They come in a wide variety of prices, as well as both top and front control panels, and a few different sizes. You'll find both 24- and 18-inch dishwashers.
Pros
A few budget-friendly options.
24- and 18-inch options.
Multiple color options.
Some good drying cycles.
Some have a third rack for extra space.
Some have a BladeSpray arm.
Many are NSF certified.
Both front and top control options.
Cons
Louder dishwashers. Some are 49 decibels, but others are in the 50s.
Some drying cycles work better than others.
A lot of control options can be difficult to figure out.
The plastic tubs don't dry well.
How to Choose (Buying Guide)
When shopping for a Frigidaire dishwasher, here are the top details you should consider. Pay attention to these factors, as it will help you find a dishwasher that ticks all your boxes.
Firstly, consider the size. Measure your space, and make sure your chosen dishwasher will fit. You can always choose between a 24-inch and 18-inch dishwasher.
Frigidaire offers a range of features that assist with washing performance. If you want to take advantage of these features, look out for OrbitClean. This cycle uses four times more water coverage to help remove stubborn stains and bits of food in one cycle.
Also consider how many washing cycles the dishwasher has. Then, you can set your preferred one depending on the load of dishes.
Frigidaire has three main drying cycles. The two fan-assisted ones are SaharaDry and EvenDry. There shouldn't be much difference between these two but EvenDry is used more on the expensive models, so it may be a bit more effective.
However, the most effective drying cycle from Frigidaire is the MaxBoost Dry which does a better and faster job than any other dishwasher, according to Frigidaire.
Dishwasher capacity is measured in place settings. On average, Frigidaire dishwashers have 14 place settings, with the smaller model hosting eight.
If you need even more space, check for ones that have a third rack which gives you space for utensils. This means you can utilize more space in the other racks.
Frigidaire dishwashers aren't the quietest. Their quietest one is 47 decibels, whereas other brands go down to 39. If you do want to prioritize noise levels, go for a 47 or 49-decibel option, rather than the louder ones around 55.
Dishwashers these days aren't without amazing extra features. Frigidaire dishwashers have cool extra features including a BladeSpray arm, sanitization cycles, cycle indicator lights, filtration systems, and much more.
Frigidaire dishwashers are Energy Star certified so they are eco-friendly products. Plus, most have an energy saver mode to limit water and energy use during the cycle.
Frigidaire dishwashers come in a huge range of prices. Some are very expensive, like the Professional collection model. Others, though, are very affordable with some of the lowest prices on the market. No matter your budget, you should find a Frigidaire dishwasher in your price range.
Frigidaire offers a one-year limited warranty on their products. There are a lot of things this warranty does not cover though, including damage during installation (3).
Top Tip
For peace of mind, you can get an add-on warranty plan from Frigidaire or the supplier you purchase the dishwasher from.
---
Frigidaire Dishwasher FAQs
Are Frigidaire Dishwashers Reliable?
It depends on who you ask. While many customers are satisfied, and the dishwashers have glowing reviews, the experts often say differently. For instance, Consumer Reports found Frigidaire to be one of the most repair-prone dishwashers between 2012 and 2016 (4). They had a service ratio of 18 percent whereas Bosch had a 10 percent service ratio.
You should also investigate Frigidaire's warranty. A one-year limited warranty doesn't cover damage during installation. So if something goes wrong during this process, it may be a costly mistake.
How Long Do Frigidaire Dishwashers Last?
Frigidaire says their products are built to last for more than 10 years (5).
Are Whirlpool and Frigidaire the Same Company?
No. They are separate brands owned by separate companies. Whirlpool Corporation owns Whirlpool. Electrolux owns Frigidaire.
Is Frigidaire Made in the USA?
Almost all Frigidaire products are made in the United States with Swedish maker Electrolux as its parent since the 1990s.
However, the brand recently removed their "American Pride" page from their website, perhaps indicating that they may intend to shift their production outside of the USA.
---
Round Up
That concludes our list of the five best Frigidaire dishwasher reviews. With all this information at your fingertips, which one will you choose?
Maybe you're sold on something a little extra quiet, at 49 decibels. Perhaps you're focused on a great drying dishwasher, like one that has MaxBoost Dry. Or maybe you're sold on the 18-inch dishwasher that will fit into your kitchen seamlessly. Either way, it's a good choice.
Thank You For Your Feedback!
Thank You For Your Feedback!