Not all homes have room for a built-in dishwasher. Whether you live in a small apartment, a dorm room or an RV, you can still get a dishwasher. It just may need to be portable.
This way, you can spend less time hand-washing your dishes and more time watching Netflix. We mean, working…
With our list of the five best portable dishwashers, we're sure you'll find something that fits your kitchen and your dishwashing needs. Plus, if you need to move house, it's super easy to pack up and take with you!
Image
Model
Product Comparison Table
Features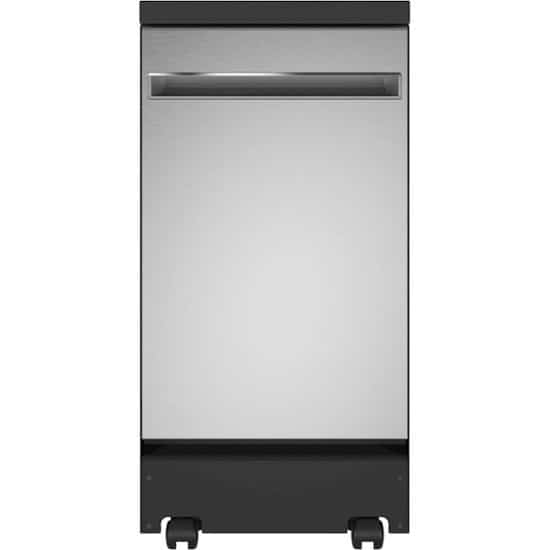 Best for RVs
GE 18 Inch Stainless Steel
Cool Autosense feature
Hard food disposer
Smart dishwasher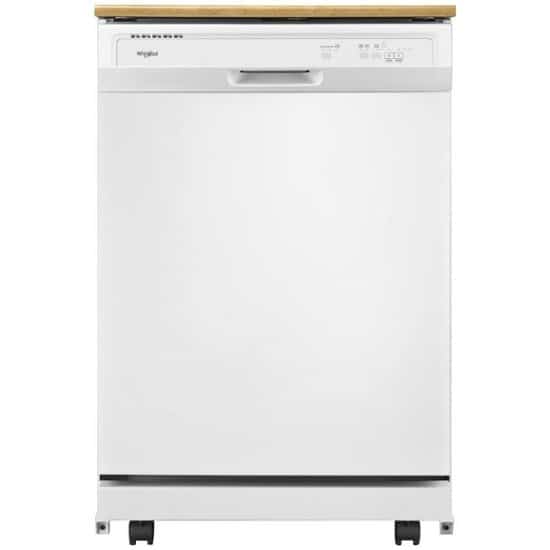 Best Convertible
Whirlpool Tall Tub Portable Dishwasher
High-temperature wash
Sensor wash feature
12 place settings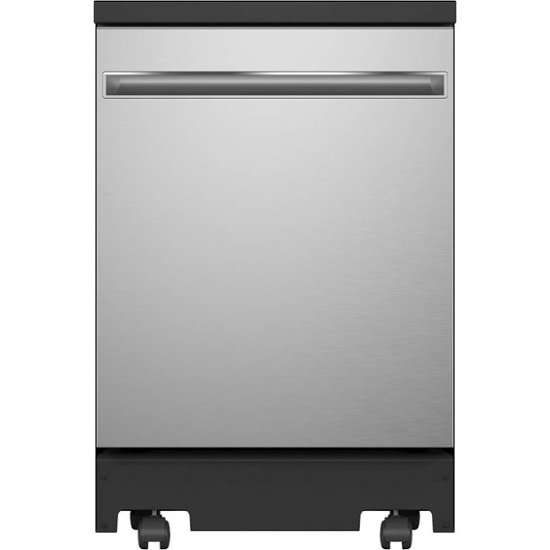 Best Stainless Steel
GE 24 Inch Stainless Steel
3-level wash
Condensation drying
Smart controls via app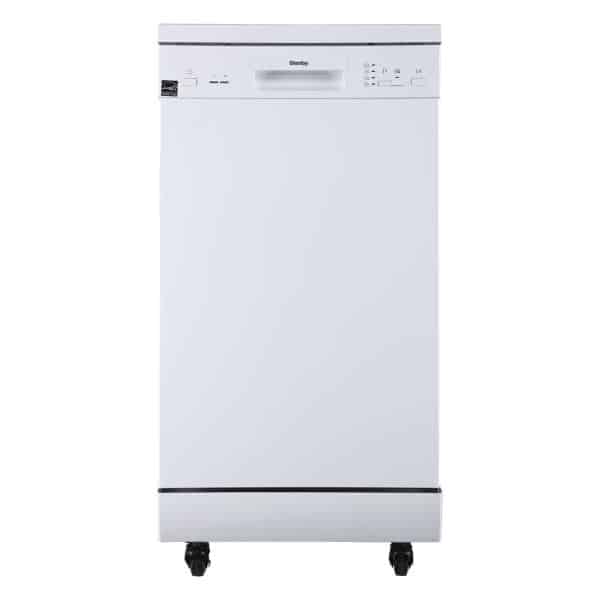 Best Heavy-Duty
Danby 18 in. Portable Dishwasher
Eco-friendly
Flexible loading
Great cycle options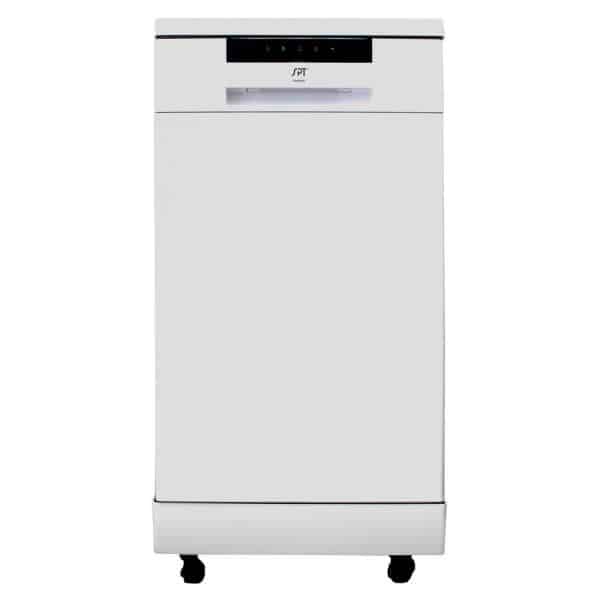 Best Affordable
SPT Portable Dishwasher
User-friendly control panel
6 wash programmes
24 hour time delay
---
---
Product Reviews
We've spent hours researching real customer reviews, product descriptions, and expert advice. With that in mind, we've put together a list of the five best portable dishwashers. If you're in the market for this kind of appliance, these are the best of the best!
1. GE 18 Inch Stainless Steel
Best Portable Dishwashers for RVs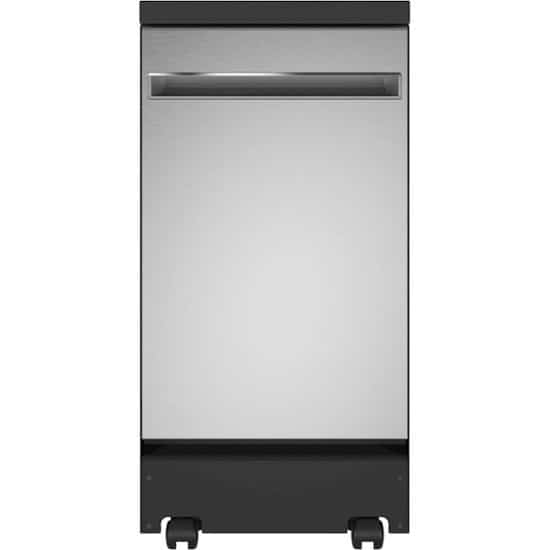 Whether you're looking for a portable dishwasher for your small apartment or for an RV, this is a great option. It's an 18-inch appliance, so it is ideal for tight spaces.
Keep in mind that it's recommended to have a circuit breaker and an individual outlet for this appliance.
You must also have 120V, 60Hz, AC-only, 15-ampere or 20-ampere fused electrical supply. The wiring must be two-wire and earth, and rated for 167°F. If your RV doesn't meet these requirements, contact an electrician before installing this dishwasher.
That being said, this is an awesome dishwasher once it's set up.
What We Like
Autosense Cycle
This dishwasher has a cool autosense feature. Inside the dishwasher, a beam of light measures the soil levels. Then it adjusts the water temperature and the cycle time to effectively clean the dishes without using unnecessary energy.
Hard Food Disposer
Say goodbye to food clogs in the dishwasher. It has an included hard food disposer which grinds up food particles at 3,600 reps per minute. The stainless steel blade helps ensure that your dishes come out sparkling clean every time. It also makes maintenance easier as you don't need to clean the filter or spray arms as often.
Smart Dishwasher
You'll also love that this dishwasher works with Amazon Alexa and Google Assistant. You can boss this dishwasher around with your own voice, once it's connected to your smart devices.
What We Don't Like
Hose Durability
Keep in mind that you may need to replace the hose every so often. The durability isn't up to par with the rest of the dishwasher. Customers have some concerns about how often it can be bent before it cracks, breaks or leaks.
Can't Be Used as a Surface
True, portable dishwashers are popular because they can actually create more counter space. However, it's not recommended that you use this as an extra surface.
The manufacturer advice is to not place items on top of the dishwasher. To be safe, that includes lighter items. So even if you're looking for a place to store your fruit bowl, it's not recommended you do that with this appliance.
Product Specs
| | |
| --- | --- |
| Size | 25.37 x 18 x 36 inches |
| Capacity | Eight place settings |
| Material | Stainless steel |
| Cycle Options | Three, plus a sanitization cycle |
| Noise | 52 dBA |
---
2. Whirlpool Tall Tub Portable Dishwasher
Best Convertible Portable Dishwasher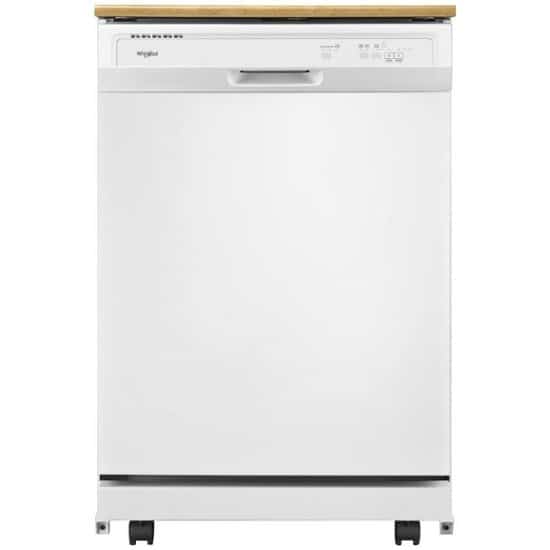 If you want a portable dishwasher now, but a built-in later on, then you need a convertible dishwasher. The Whirlpool dishwasher has been upgraded, and it's now convertible!
To transform it into a built-in dishwasher, you'll need a convertible kit for this product. This is available on the Whirlpool website (1). At the moment, this dishwasher has a countertop-like surface, so you can use it as extra storage or prepping area.
What We Like
High-Temperature Wash
While it doesn't have a certified sanitization cycle, it has a high-temperature wash. This keeps the water between 150-160°F to give you super clean and hygienic results. This is ideal for washing baby items like bottles and pacifiers.
Sensor Wash
The sensor wash feature automatically detects the dish's soil levels. The appliance then adjusts the wash cycle length and temperature as needed. This can save a lot of water, which will then save you money and cut back on unnecessary energy.
12 Place Settings
If eight place settings aren't enough for you — then consider this dishwasher. It has room for 12 place settings which is big, even for a regular dishwasher! Perfect for couples over a few days, or families. There's definitely room for an entire day's worth of dishes so you can wash by hand a lot less.
What We Don't Like
Loud Operating Noise Level
This dishwasher is on the louder side, at 64dBA — louder than our other options. Compared to other sounds, it's similar to that of a normal conversation or a shower running. It may disturb your sleep, though, so keep this in mind.
Four Hour Delay
While a four-hour delay timer is better than nothing, it's not really practical. If you need to be there to disconnect the dishwasher at the end of the cycle, then this isn't great for overnight. For instance, if you set a four-hour delay timer, you'll have to get up before your eight hours of sleep to disconnect the dishwasher. Unless you've converted this to a built-in dishwasher, it's best to run this during the day when somebody is home.
Product Specs
| | |
| --- | --- |
| Size | 27.5 x 24.1 x 37 inches |
| Capacity | 12 place settings |
| Material | Plastic |
| Cycle Options | Three |
| Noise | 64 dBA |
---
3. GE 24 Inch Stainless Steel
Best Stainless Steel Portable Dishwasher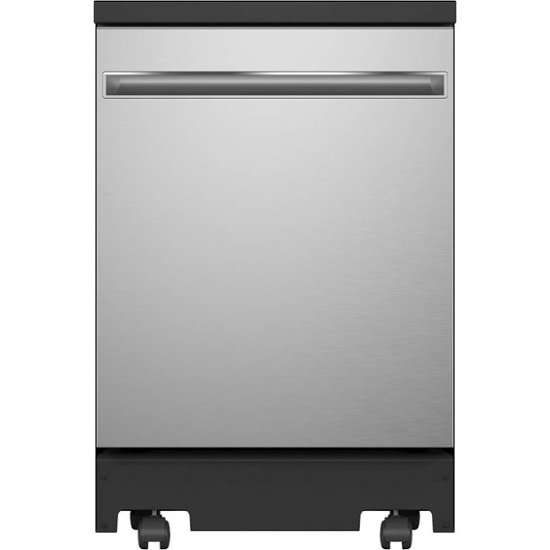 Stainless steel dishwashers are very durable, easy to clean and help with drying dishes since they don't cling to moisture.
Our recommendation for a stainless steel dishwasher is the 24 inch appliance from GE. Similar to its 18-inch partner, this is slightly bigger with room for 12 place settings. Perfect for families!
What We Like
3-Level Wash
This dishwasher will thoroughly clean your dishes with its three-level wash system. It has three arms to provide a deep clean of the dishes on both racks and in the silverware caddy.
Condensation Drying
Stainless steel already does a good job at drying dishes. It doesn't cling to moisture like plastic does.
However, this dishwasher also has a condensation drying feature. This is an energy-efficient way to dry dishes. It doesn't use a heating element. Instead, the high-temperature wash during the final rinse condenses the water and then drains it out of the machine, leaving you pretty dry dishes.
Smart Dishwasher
Once you've got your Wi-Fi adapter (sold separately), this dishwasher is compatible with Amazon Alexa and Google Assistant. This smart dishwasher makes it easier for you to control the dishwasher using your smart speaker, your voice or an app!
What We Don't Like
Tablets Don't Always Release
Some customers have complained that detergent tablets don't always get released. They may get stuck in the detergent drawer. This obviously leaves the dishes uncleaned. But it's also a waste of energy since you have to run a full cycle before you know if the detergent has been released or not. Then you need to wash the dishes again. Other times, the tablet is released but doesn't dissolve at all.
No Heating Element
While we think the energy-efficient condensation drying feature is pretty neat, not everybody agrees.
Many customers dislike that this dishwasher is without a heated drying element. Dishes do sometimes come out a bit damp and require air drying before being put away.
Product Specs
| | |
| --- | --- |
| Size | 25.37 x 23.62 x 36inches |
| Capacity | 12 place settings |
| Material | Stainless steel |
| Cycle Options | Three, plus sanitization option |
| Noise | 54 dBA |
---
4. Danby 18 in. Wide Portable Dishwasher
Best Heavy-Duty Portable Dishwasher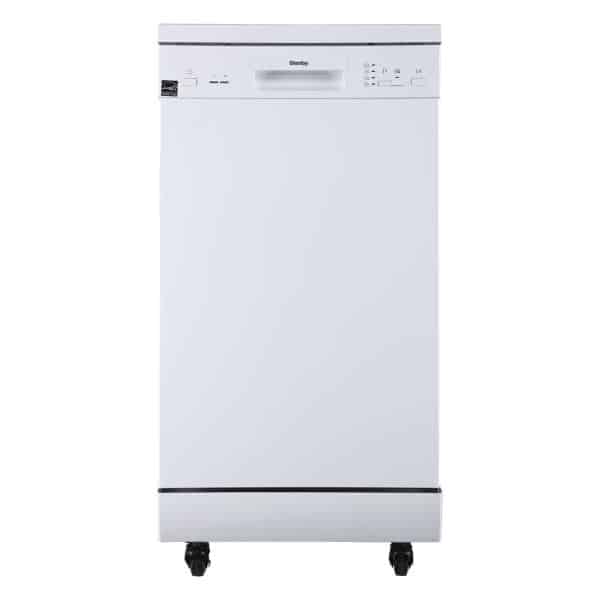 If you need something to tackle a variety of jobs, lots of dishes and big messes — this is the portable dishwasher for you.
This dishwasher has four cycles, including a heavy cycle, for super dirty dishes with caked-on food and burnt bits. It also has four temperature options, including a sanitization feature, to give you the most hygienic results.
Lastly, there are eight place settings, so it's perfect for a small family.
What We Like
Eco-Friendly
Dishwashers are more energy-efficient than hand-washing dishes. But this one goes the extra mile. It is Energy Star certified, proving it to be very efficient. It also has a valuable low-water consumption at a maximum of five gallons of water per cycle, saving you energy and money.
Flexible Loading
There are eight place settings within this dishwasher so it's perfect for a couple that make all meals from scratch, or a small family.
This appliance has a silverware basket for placing your cutlery safely. But it also has an adjustable top rack so you can position it if you have larger items on the bottom.
Great Cycle Options
This portable dishwasher has four cycle options: heavy, normal, 90 minute and rapid. So whether you have super dirty dishes, or just need a quick wash, this appliance can do the trick. Y
You can also customize the temperature using four different options. This includes a sanitization cycle which keeps the water at 160°F; and it's available with all four cycles!
What We Don't Like
Hose Maintenance
The hoses require a bit of maintenance. You'll need to make sure all water is emptied after every cycle, as customers found that there was often water still in the hoses.
You also need to regularly tighten the hoses — ideally before each use — otherwise they may leak. Also, the connecting hoses are plastic so may need to be replaced often.
Dishwasher Tabs Get Stuck
A few customers complained that the dishwasher drawer didn't open and so the tabs got stuck. This resulted in unclean dishes which is very inconvenient.
Product Specs
| | |
| --- | --- |
| Size | 23.63 x 17.69 x 35.63 inches |
| Capacity | Eight place settings |
| Material | Stainless steel |
| Cycle Options | Four, plus four temperature settings |
| Noise | 52 dBA |
---
5. SPT Portable Dishwasher in White
Best Affordable Portable Dishwasher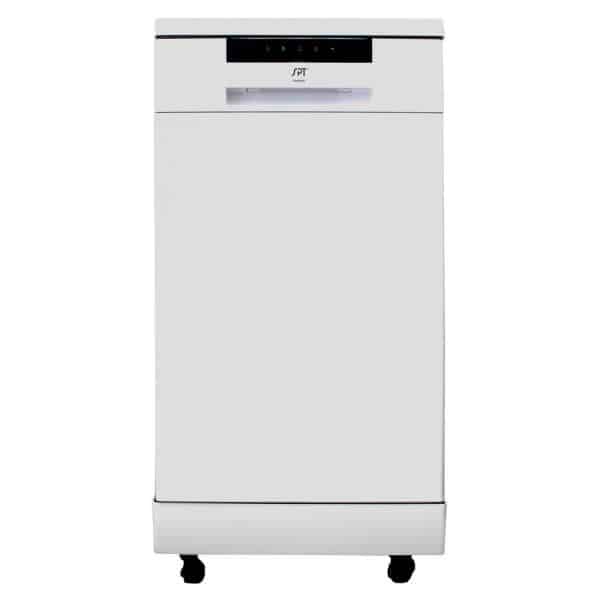 Portable dishwashers aren't a cheap purchase, mostly because they're quite niche products. But if you're looking for something on the less expensive side, we recommend the SPT portable dishwasher in white.
It has a stainless steel interior so it's still very durable. It's stylish, and will fit in with most kitchen decor. We also love that it has many cycle options, it's easy to install and it will fit in small homes without taking up too much space at all.
What We Like
User-Friendly Control Panel
The control panel has been specially designed to be easy to use and customizable.
You can mix and match your settings for the most effective wash of your dishes. Plus, specific buttons light up to show you the settings you have chosen, which is great in case you accidentally pressed a button and aren't sure which one it was. Also, there is a rinse aid indicator light to let you know if you're low on rinse aid.
Six Wash Programmes
There are six washing programmes with this dishwasher: heavy, normal, eco, glass, 90 min, and rapid.
Heavy is great for really dirty dishes, such as pots with caked on food. Rapid, on the other end of the spectrum, is great for lightly soiled dishes that don't need drying.
During all cycles, a little image will be shown to represent which stage of the cycle the appliance is at.
24 Hour Time Delay
You can delay the start time of any cycle so that it fits in with your schedule. This is especially helpful since you need to be around at the end of the cycle to disconnect the dishwasher from the faucet.
With this dishwasher, you can delay it anywhere from one to 24 hours which is very flexible.
What We Don't Like
Hose Storage
There isn't good storage for the hoses between cycles. This is very inconvenient for customers. Some have made their own storage hooks so the hoses aren't taking up extra space.
Weak Top
While the manufacturer doesn't specifically advise against putting items on top of the dishwasher, you should do so with caution.
Some customers noted that the top bent or dented when they placed items on it. If you're looking for a dishwasher that can provide more counter space, think twice before choosing this one.
Product Specs
| | |
| --- | --- |
| Size | 23.63 x 17.64 x 35.63 inches |
| Capacity | Eight place settings |
| Material | Stainless steel |
| Cycle Options | Six |
| Noise | 52 dBA |
---
Do Portable Dishwashers Work Well?
If you go for a quality one, yes. They may even match the powers of a regular dishwasher!
Portable dishwashers can also provide more space. Many have a built-in countertop so you can use that for storage or food prepping.
Some drawbacks, however, include less variety on the market, lower durability and louder noise. Specifically, there are far fewer portable dishwasher options on the market so you may not find one that ticks all your boxes. Secondly, they're not as durable as regular dishwashers, and lastly, they're not as quiet.
Portable vs Countertop Dishwashers
If you're low on space, but still want a dishwasher, you may be deciding between a portable and countertop dishwasher. The main differences are obviously size and location.
Countertop dishwashers are much smaller and can usually only hold around four place settings. They sit on your countertop and may actually take up valuable counter space.
Portable dishwashers are much bigger, and can hold up to 12 place settings. They can go underneath a cabinet or they can be placed in a separate area of the kitchen.
If you have the space, we recommend going for a portable dishwasher as they are going to be more powerful and more practical.
Things to Consider (Buying Guide)
When shopping for a portable dishwasher, we think paying attention to these factors will help you find the best match for you.
---
Portable Dishwasher FAQs
How Do Portable Dishwashers Drain?
Some models can be drained directly into the sink if the hose is long enough to reach. However, you can also plumb the hose into the pipes beneath the sink where it will drain from there. This requires more work, but it's less messy.
Keep in mind that some portable dishwashers cannot be plumbed into the pipes beneath the sink. If the hose cannot reach, you will need to have it draining into a bowl which is then manually emptied.
Best Results
Check your manufacturer advice on how to install your portable dishwasher and how to drain it. Each brand differs slightly, so you should check the instructions. Guesswork can often lead to bigger issues.
Can You Permanently Install a Portable Dishwasher?
It depends on the brand. But most portable dishwashers can be installed permanently. We recommend contacting the manufacturer for advice, as their installation guides usually do not cover this.
However, with some plumbing skills and some extra parts, it is possible to permanently install a portable dishwasher.
Can You Run a Portable Dishwasher Overnight?
Since the portable dishwasher is connected to your faucet, you'll need to turn off the water supply at the end of the cycle to avoid overflow and damage. You can run your portable dishwasher overnight if you use the delay timer function, and ensure that you will be up before the cycle is finished.
Does a Portable Dishwasher Need a Garbage Disposal?
Nope! If you find that yours can be plumbed into the garbage disposal, and you don't have one, purchase a dishwasher drain adapter for the sink drain.
How Long Should a Portable Dishwasher Last?
We aren't exactly sure. Regular dishwashers tend to last around 10 years, but not much research has been conducted regarding the lifespan of portable dishwashers.
However, most warranties last around one year, so keep in mind it should last at least that long. We predict, based on our experience and research, that it should last at least three years depending on the quality of the appliance.
What Is the Difference Between a Portable Dishwasher and Built-In?
A built-in dishwasher is installed directly into your plumbing. So all you need to do is load the dishwasher and press start before each use. It's usually installed within your cabinets so there are no gaps around it.
Portable dishwashers need to be manually plumbed into the faucet before each use. They also require a bit more effort between uses. For example, you can't leave it running while you're out of the house. The same applies overnight unless you're sure you'll be there to turn off the water supply at the end of the cycle.
Built-in dishwashers also have more fun features, are more durable and are usually a bit quieter.
Lastly, built-in dishwashers are more spacious than portable ones. However, portable ones are easy to transport, are usually on wheels and are great for small homes or people on the move a lot.
---
Dishes on Wheels
Portable dishwashers clean your dishes on wheels. You can move them around when they're not in use, transport them easily and even use them in RVs. As long as you meet the right electrical requirements and have access to a sink — you can use these dishwashers.
We recommend looking at the size and capacity to make sure the dishwasher will suit your kitchen and your family. We also recommend considering the material type. Stainless steel is our favorite.
Lastly, consider the cycle options and of course, the noise. With these factors in mind, you'll find a dishwasher you love!
Thank You For Your Feedback!
Thank You For Your Feedback!