Whirlpool is a popular brand of home appliances. If you're in the market for a new dishwasher, you may be considering Whirlpool. But with dozens of dishwashers in their range, how do you know which one to pick?
We've created a list of the five best Whirlpool dishwasher reviews. Whether you want something quiet, stylish, budget-friendly, spacious or portable — we can recommend the best of the best.
Image
Model
Product Comparison Table
Features
Best Stylish Whirlpool Dishwasher
Whirlpool Fingerprint Resistant Dishwasher
Fingerprint resistant
Five wash cycles
Sanitization cycle
Best Quiet Whirlpool Dishwasher
Whirlpool Built-In Stainless Steel Dishwasher
Flexible loading
Sensors for superior washing
Soak & clean cycle
Best Spacious Whirlpool Dishwasher
Whirlpool Built-In Dishwasher
Flexible loading
24-hour delay
TotalCoverage spray arm
Best Budget Whirlpool Dishwasher
Whirlpool 24 Inch Built-In Dishwasher Black
Heated drying
High-temperature wash
Panel ready design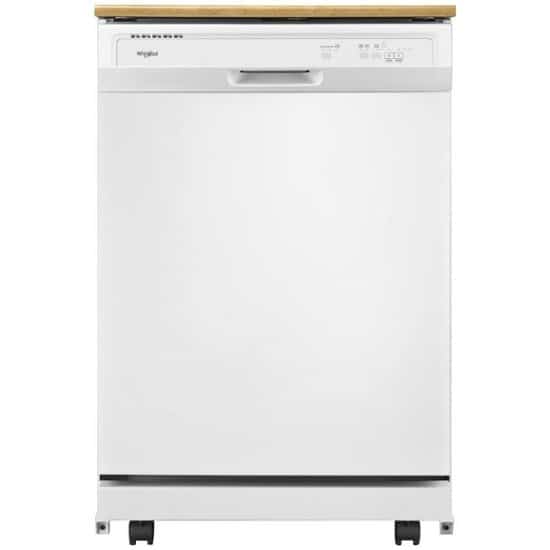 Best Portable Whirlpool Dishwasher
Whirlpool Tall Tub Portable Dishwasher
12 place settings
Sensor wash
High-temperature wash
---
History of Whirlpool
Whirlpool's company history dates back to 1908 when Lou Upton invested his savings in the hopes to create a company that made household equipment (1). Unfortunately, this failed and so he focused on a hand washing machine solely instead. In 1911, he patented an electric motor-driven wringer washer.
Thankfully, this venture took off, and sales doubled until 1945 when the business experienced expansive growth. They went from being a small manufacturer of washers to a large manufacturer with a full range of major home appliances which included a fully-automatic washer and electric dryer.
Dishwashers appeared in their range in the 1970s when they were making appliances for food preservation, prep, consumption and cleanup. In general, their main mission was to make household tasks easier than ever before.
Now, they continue to make practical products including dishwashers, washers and dryers, ovens, hobs, fridges, freezers and much more.
Is Whirlpool a Good Dishwasher Brand?
According to the Yale Appliance 2020 report, Whirlpool was the most reliable dishwasher brand (2). They had a service ratio of 4.04% whereas the highest was Jenn-Air with a ratio of 38.13% (3).
Not only are the experts raving about them, but so do customers. Their dishwashers have sparkling reviews online, so we think they're a great brand to choose for your kitchen!
Something To Note
The biggest drawback to Whirlpool dishwashers is that they aren't that quiet. They go down to 47 decibels, which is similar to a normal conversation. So it's definitely noticeable.
How Long Do Whirlpool Dishwashers Last?
Your Whirlpool dishwasher should last around 10 years (4). Whirlpool offers a two years manufacturer's warranty, plus a 10-year guarantee for parts (5).
Types of Whirlpool Dishwashers
Whirlpool offers three types of dishwashers: front control, top control and portable. Let's look at the main differences, pros and cons.
Front Control
Front control dishwashers have the buttons and display on the front of the dishwasher. This is a classic look, as well as making the buttons easier to press and see. However, they're not as aesthetic as top control panel dishwashers.
Pros
A few budget-friendly options.
Classic look, similar to original dishwashers.
The buttons are easier to see.
You can check the remaining time during cycles.
Cons
Not as aesthetic.
You, kids or pets can accidentally push the buttons.
Price: 5/5
Usability: 4/5
Top Control
Top control dishwashers have their buttons on the inner frame of the dishwasher. So before you start your dishwasher, you need to open it slightly, choose your setting, click start and close it again.
Pros
Sleek look.
Nicer handle options.
Curious kids and pets can't play with the buttons.
You can't accidentally nudge the buttons.
Variety of prices.
Cons
There may not be an indicator for how long is left on the cycle.
The control buttons are smaller, and therefore, may be more difficult to read.
Portable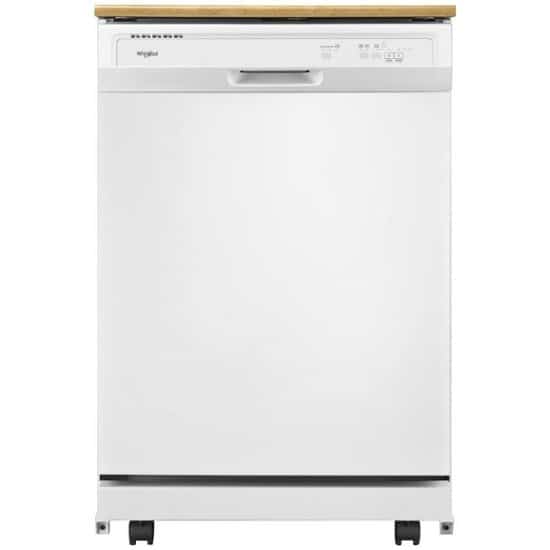 Portable dishwashers are usually on wheels, or are designed to be easy to transport. They're smaller, so ideal for tiny homes, apartments or dorms.
Pros
Compact in size.
Still have good features.
A few different color options.
Great for single people or couples.
Cons
You need to disconnect them and reconnect them before use.
They're not as spacious.
They are louder.
How to Choose the Best Whirlpool Dishwasher
When shopping for a Whirlpool dishwasher, it's important to consider certain factors to make sure you choose the best one for you. This includes size, noise level, design and many other details.
Of course, you want a dishwasher that fits. So always measure your existing space and check the dishwasher will fit. Whirlpool offers standard sizes and slim sizes as well as their portable options.
Dishwasher noise levels are measured in decibels. Whirlpool goes down to 47, and their loudest dishwasher is 64 decibels. If you want something quiet, stick to 47 decibels. But keep in mind, this is still a noticeable noise level.
Consider the design of the washing machine. This includes the aesthetics — make sure it's something you'll enjoy having in your kitchen for years to come. But also make sure the interior design is practical for you.
Dishwashers have a variety of wash cycles. Make sure the dishwasher has the wash cycles you want. For example, Eco, Intensive and Delicate wash cycles are all useful to many families.
How well is the dishwasher going to dry? Does it use heated dry or condensation dry? Both are good, but heated dry is a bit more effective and preferred by many customers. However, the heated dry cycle on Whirlpool dishwashers isn't a well-loved feature. It seems to do an adequate job.
Consider the extra features on the dishwasher. This will make the whole experience better. This may include cycle memory, control lock, a dual spray arm, sensor wash, status light indicator and much more.
Consider if the dishwasher is Energy Star certified, which means it's energy-efficient and kinder on the environment. You can also check how many gallons of water it uses per cycle. Lastly, check if it has an eco cycle which will use less heat, energy and water. This is good for lightly soiled dishes.
Finally, check the warranty. While Whirlpool offers up to 10 years warranty, not every distributor does. So check if you can add on more years, or if you register your product that you'll get more time. You could also check in with Whirlpool if they will honor their warranty even if you bought the product from a different supplier.
---
The Best Whirlpool Dishwashers of 2022
We've spent hours researching product descriptions, real customer reviews, and expert advice. As well as applying our own insight, we've created a list of the best Whirlpool dishwasher reviews so you can find one that suits your lifestyle. And kitchen, of course!
1. Whirlpool Fingerprint Resistant Dishwasher
Best Stylish Whirlpool Dishwasher
Dishwashers can be practical and good looking. For a stylish addition to your kitchen appliances, check out this fingerprint-resistant dishwasher.
It's available in black, as well as stainless steel, biscuit and white.
So whether your style is modern, bohemian, or cottage core — we think this dishwasher will complement any interior!
The Pros
Fingerprint Resistant
Not only is the dishwasher exterior beautiful, but it's also practical. The fingerprint-resistant finish reduces the appearance of smudges and fingerprints. This is ideal for families with small children.
Five Wash Cycles
With five different wash cycles, you can switch it up depending on what you're washing. These include Normal, Heavy, Quick Wash, Sensor Wash and Soak & Clean.
Sanitization Cycle
This dishwasher has an NSF certified sanitization cycle, ensuring that the hot water kills germs and bacteria. Now, your dishes are as clean as possible. This is great if somebody in the family has recently been unwell.
The Cons
Third Rack Washing
The third rack does not have its own dedicated spray arm. Therefore, it only gets water from the other spray arms. This doesn't always provide a thorough clean.
High Price
You'll notice the high price on this dishwasher. Unfortunately, it's pretty average compared to other brands, it doesn't have the same features that justify the price for many customers.
Additional Specs
| | |
| --- | --- |
| Type | Top control |
| Noise Level | 47 decibels |
| Wash Cycles | Five |
| Drying Cycle | Heated drying |
| Capacity | 13 place settings |
---
2. Whirlpool Built-In Stainless Steel Dishwasher
Best Quiet Whirlpool Dishwasher
Whirlpool doesn't do the quietest dishwashers on the market. Their quietest is 47 decibels, which is quiet, but still noticeable. This is one of Whirlpool's most quiet, but it has other awesome features which we think makes it stand out from the crowd.
But in regards to sound, you can turn this on, shut the door, leave the room and it won't bother you as you relax for the evening.
The Pros
Flexible Loading
This is a great option for a family, or people who do a lot of cooking from scratch.
If you find that you struggle to fit everything into your current dishwasher, then this option will work out great for you. It has flexible loading options so you can fit every last item into it. How? It has a third rack, adjustable tines and an adjustable upper rack.
Sensors for Superior Washing
Sensors in dishwashers can make a huge difference to the ability to clean and wash your dishes. This dishwasher has two sensors.
One is the sensor cycle which automatically chooses the right wash and dry settings for the dishes. But it also has a soil sensor which determines how dirty the dishes are before adjusting the settings on your chosen cycle to ensure sparkling clean dishes.
Soak & Clean
While this dishwasher has five wash cycles, we think the Soak & Clean cycle is the one that makes it stand out from the crowd. This cycle presoaks and washes in one cycle, dissolving tough food particles so your dishes are clean. And you can eliminate the need for pre-rinsing.
The Cons
Doesn't Dry Well
This dishwasher doesn't seem to dry well, according to customers. The extended dry cycle is good, but it's too long for some people, stretching over three hours long.
Difficult Install
One of the most common complaints about this dishwasher is the difficulty to install it. You can ask the supplier to install it for you. However, customers noted that even that was a challenge since the dishwasher comes without some vital parts.
Additional Specs
| | |
| --- | --- |
| Type | Top control |
| Noise Level | 47 decibels |
| Wash Cycles | Five |
| Drying Cycle | Heated drying |
| Capacity | 13 place settings |
---
3. Whirlpool Built-In Dishwasher
Best Spacious Whirlpool Dishwasher
Looking for a dishwasher with a bit of extra space? Most families will benefit from this spacious Whirlpool dishwasher. It has 15 place settings, which is one of the biggest options from Whirlpool, as well as dishwashers across the market.
It also has a third rack which provides extra space in the dishwasher. But that's not all — the top rack and middle rack are adjustable. So you can customize the height to make the most room for taller or shorter items.
The Pros
Flexible Loading
Not only does this dishwasher have 15 place settings, but it allows for flexible loading. You can change the layout of your dishwasher for each cycle, so that nothing gets left behind.
There are three racks, two of which are height adjustable so you can make room for everything. The silverware basket is also in the door to make more room in the racks.
24-Hour Delay
24 hour delay timers are the best, because you can programme the dishwasher to start at a time that suits your schedule. For instance, if you want an early night — programme the dishwasher to start around 5:00 A.M. so the dishes are clean when you wake up in the morning.
TotalCoverage Spray Arm
You can definitely rely on this dishwasher to thoroughly clean your dishes. As well as its range of cleaning features, it also has a TotalCoverage spray arm which provides twice as many jets for full coverage. It also uses a unique sequence of spray patterns using multiple nozzles so every dish gets cleaned.
The Cons
Silverware Cleaning
While the silverware basket on the door is a good feature, it does mean the basket is smaller than usual. So it may not fit all of your utensils. Also, some customers found it hit the bottom rack, so you may have to reposition it a couple of times to find the best place for it.
Wet Dishes
This dishwasher doesn't dry dishes that well, particularly plastic items. It uses heated drying plus a stainless steel tub, but you may still have to air dry or hand dry some dishes after the cycles.
Additional Specs
| | |
| --- | --- |
| Type | Top control |
| Noise Level | 47 decibels |
| Wash Cycles | Five |
| Drying Cycle | Heated drying |
| Capacity | 15 place settings |
---
4. Whirlpool 24 Inch Built-In Dishwasher Black
Best Budget Whirlpool Dishwasher
Dishwashers are a big investment, but you can definitely find quality options within budget.
This budget-friendly dishwasher by Whirlpool won't break the bank, but it still has raving reviews and other cool features.
Despite a modest price, you'll also find three color options, a classic front control panel, 12 place settings, and heated drying. But that's not all!
The Pros
Heated Drying
It's not every day you find a budget-friendly dishwasher that has a heated dry cycle. This is a big bonus for such an affordable dishwasher.
Keep In Mind
The tub is plastic, so the water won't get wicked away as well as if the dishwasher were stainless steel.
High-Temperature Wash
Enjoy the high-temperature wash on this appliance. While it doesn't have a sanitization cycle, the high-temperature wash still works wonders for cleaning your dishes thoroughly and reducing spots on glasses.
Panel Ready Design
If you don't love the look of this dishwasher, don't worry. It's panel ready so you can add your own custom front to it so it matches the rest of your kitchen decor.
The Cons
63 Decibels
This dishwasher is not quiet. It's 63 decibels, which is similar to the volume of laughter. So it will definitely interrupt normal sounds in the kitchen which can be a bit inconvenient for some families and homes.
Plastic Tub
While your dishes may get dry, the dishwasher won't. The plastic tub clings to moisture and can't expel it between cycles. This leads to some weird odors. Plus, plastic isn't as easy to clean, nor is it as durable as stainless steel.
Additional Specs
| | |
| --- | --- |
| Type | Front control |
| Noise Level | 63 decibels |
| Wash Cycles | Three |
| Drying Cycle | Heated drying |
| Capacity | 12 place settings |
---
5. Whirlpool Tall Tub Portable Dishwasher
Best Portable Whirlpool Dishwasher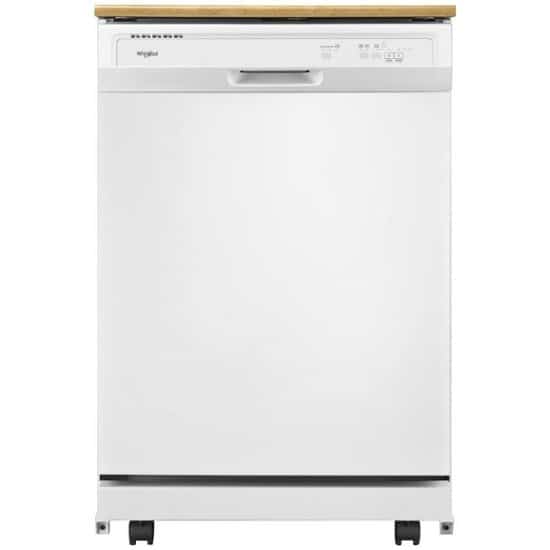 Are you in the market for a portable dishwasher? If you live in a dorm, small apartments, or RV, this is a good option. These don't take up cabinet space like built-in dishwashers do. Plus, this one by Whirlpool has a wooden surface so you can use it as extra prep or storage space in the kitchen.
Not only is this a good portable dishwasher, it has other features you'll love too. This includes two color options, multiple wash cycles, a high-temperature wash and many other details to enjoy.
The Pros
12 Place Settings
Despite its smaller size, it still offers almost as much room as standard size Whirlpool dishwashers. It has 12 place settings so it's great for couples but also larger families.
Sensor Wash
The sensor wash cycle automatically registers the soil levels of your dishes. It then adjusts the length and temperature to save you water where possible, as well as money. But it will also lengthen cycles if need be, ensuring your dishes come out spotless.
High-Temperature Wash
The high-temperature wash keeps water between 150-160°F which gives you clean, hygienic dishes. While it's not a certified sanitization cycle, it is great for baby items like bottles and pacifiers.
The Cons
64 Decibels
64 decibels isn't quiet, especially if you have an open plan or tiny home. You may be able to hear this from another room. This is similar to a normal conversation or loud laughter, so it may disturb your peaceful evenings.
Four-Hour Timer
The four-hour delay timer can come in handy if you're popping out the house for a short amount of time. But it's not practical if you're out for a long period of time, or for overnight since you need to be there to disconnect the dishwasher at the end of the cycle.
For example, if you choose a four-hour delay, you'd need to get up before your eight hours of sleep is finished to disconnect the dishwasher. It would be better to have a six or eight-hour timer.
Additional Specs
| | |
| --- | --- |
| Type | Portable |
| Noise Level | 64 decibels |
| Wash Cycles | Three |
| Drying Cycle | Heated drying |
| Capacity | 12 place settings |
---
---
The Whirlpool Way
If you're considering a new dishwasher, what about going down this route? Whirlpool dishwashers are super reliable and built to last. Plus, there are lots of options. So you can easily find one that suits your home.
We have recommendations for most families. Whether there are a lot of people, or just a couple of you. If you want something spacious, you're in luck. If you want something portable, the Whirlpool portable dishwasher is great! Overall, make sure to consider important specs when shopping for a new appliance to make sure you tick every box.