There are hundreds of dishwashers on the market. Shopping for your new kitchen appliance can be a tricky task. But we're here to make it easier.
We've narrowed down the best GE dishwashers, with accompanying reviews, so you can find the best of the best from this brand.
Whether you want something spacious, stylish or mega quiet — we've got seven great recommendations for you.
Image
Model
Product Comparison Table
Features
Best Quiet GE Dishwasher
GE Profile Series 39 dBA Dishwasher
Twin turbo dry boost
Wi-fi compatibility
Active floor protect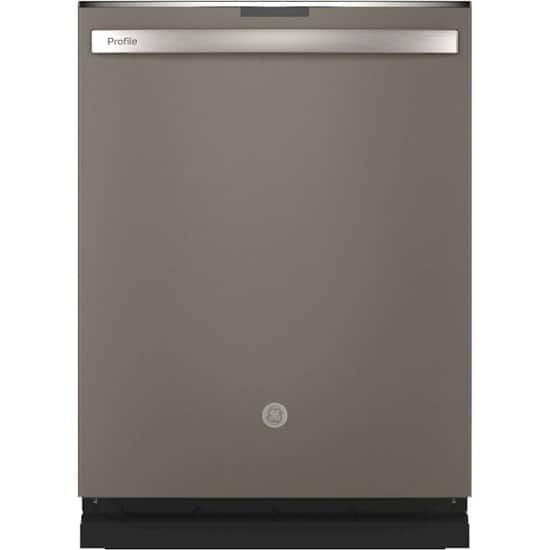 Best Drying GE Dishwasher
GE Profile Series Fingerprint Resistance
Deep clean silverware jets
Includes third rack
Fingerprint resistance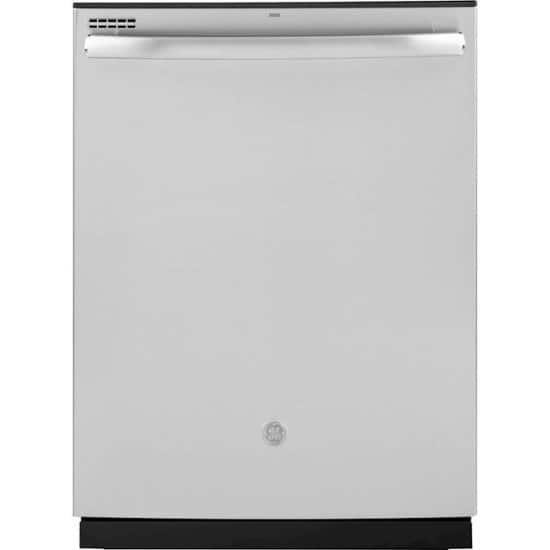 Best Smart GE Dishwasher
GE 24 Dishwasher With Tall Tub
Dry boost feature
Three-level wash system
Steam Prewash feature
Best Stylish GE Dishwasher
GE Fingerprint Resistant Dishwasher
Dry boost with fan assist
Targeted washing
Steam & sanitize function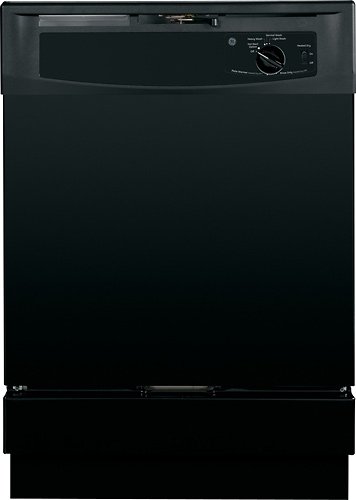 Best Budget GE Dishwasher
GE 24 Inch Built-In Dishwasher
Extra fine filter
Food disposer
5 cycles with heated options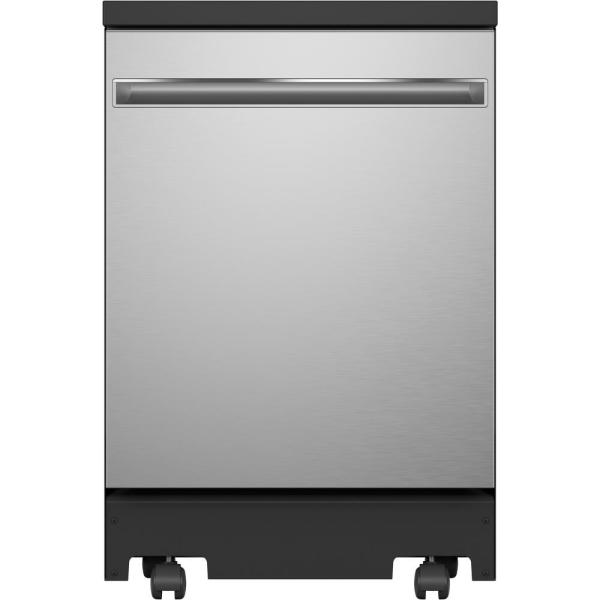 Best Portable GE Dishwasher
GE Portable 12 Place Settings
Autosense washing cycle
Includes food disposer
54 dB operation
Best Slim GE Dishwasher
GE Profile Series Built-In Dishwasher
ADA compliant
Three-level wash
Autosense washing cycle
---
History of GE
GE, the General Electric Company, was founded by Thomas A. Edison in 1889 (1). It started with the first incandescent light bulb and has spanned all the way into the 21st century.
Now, GE now makes all sorts of products for the home. This includes refrigerators, microwaves, ice makers, washers, dryers, water softeners, dishwashers and much more.
They made their first dishwasher in 1953, and quickly started making washers and electrical ranges afterwards (2).
GE's mission statement is to challenge themselves to "a world that works." This American multinational company has been at the heart of invention for over 125 years. They've pioneered huge changes that have changed billions of lives.
They continue to do so, as well as working on power, renewable energy, aviation and healthcare. When you choose a GE dishwasher, you're choosing one with over a century of innovation behind it and a promise that it will make your life easier.
Is GE Owned By Whirlpool?
No. Whirlpool owns many appliance companies including Jenn-Air, Maytag, Amana, Roper, and KitchenAid (3). However, GE is currently owned by Haier, a Chinese company, that bought them in 2016.
Are GE Dishwashers Made in the US?
At the moment, 73 percent of GE's funds to make dishwashers are spent in the US (4). So some dishwashers are made in the US, but others aren't. However, GE is investing more and more money to ensure that the majority of their products are made in the US.
Are GE Dishwashers Any Good?
The burning question — is a GE dishwasher worth your money? We think so! Not only are they innovative products with a lot of cool features, they are also very durable. Yale Appliance's report concluded they had a service ratio of 2.7 percent which is very low compared to the average service ratio of 13.55 percent (5).
Types of GE Dishwashers
GE currently makes three types of dishwashers: built-in, under the sink and portable.
Built-In Top Control
From their built-in dishwashers, which are built into your cabinets, there are top and front control options.
Pros
The controls are hidden from kids and pets.
Many options.
Sleeker look.
Nicer handle options.
Cons
Can't see how long is left on the cycle.
Buttons are often smaller and harder to press.
Built-In Front Control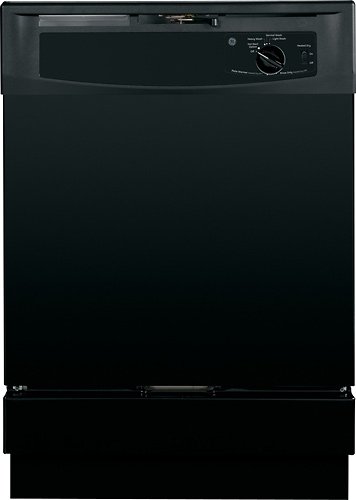 Pros
You can see how long is left on the cycle.
Many options.
More user-friendly interface.
Cons
Kids may press buttons, which is inconvenient especially during a cycle.
You, your kid, or pets, may accidentally push the buttons.
Not as sleek of a design.
Portable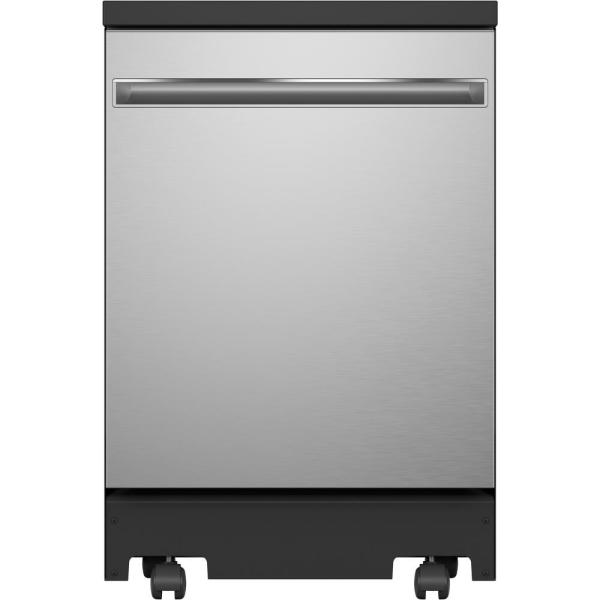 Portable dishwashers are on wheels. GE currently has one option, available in two different sizes. They are great for smaller homes, such as apartments, dorms or RVs.
Pros
Great for small homes.
Easy to transport and maneuver.
Two different sizes.
Useful features.
Still pretty quiet (54 dB).
Cons
More expensive than some of GE's built-in models.
You need to connect it to your faucet for every use.
Not as spacious as standard dishwashers.
It's not as powerful as standard dishwashers.
Under-The-Sink
We don't have any under-the-sink options in our reviews, but we'll let you know the pros and cons anyway. Under-the-sink dishwashers can be installed under the sink to save cabinet space.
Pros
Saves cabinet space.
Spacious.
They have useful features.
Front controls.
Cons
Expensive.
Loud.
There is only one option (but it's available in three colors).
How to Choose the Best GE Dishwasher
No two dishwashers are alike, so it's important to consider some crucial details when shopping for a dishwasher. This includes size, noise level, performance and many more factors.
Consider the size of the dishwasher. Most of GE's dishwashers are 24-inch built-in models. But they do have one 18-inch built-in model, available in a variety of colors. The portable dishwasher is also available in 18 inches. So if you want something smaller than standard size, GE can provide.
Dishwasher noises are ranked in decibels. The higher the number, the louder the dishwasher.
GE dishwashers come in a range of noise levels, with 39 being the quietest. If you want something uber quiet, we recommend looking at dishwashers between 39 and 42 decibels.
Did You Know
The decibel scale rating is really interesting. But it does take some getting used to. To put it into perspective, 45 decibels is similar to the sounds of a library
(6)
. So 39 decibels is much quieter than that — which is nice for sound-sensitive folk.
GE has special features to improve its performance levels. This includes their Sanitize cycle which kills germs and bacteria. They also have Deep Clean Silverware Jets which consists of over 40 jets to blast away tough food on silverware in the basket.
Many GE dishwashers use a filtration system which keeps water extra clean. Look at the dishwasher's extra features to judge how performative the appliance will be.
Do you want bone dry dishes at the end of the cycle? Then look for a dishwasher with the Dry Boost or Twin Turbo Dry Boost feature.
The Dry Boost feature is a new design that targets every item in the dishwasher, including plastics. It's three times more effective than standard heated drying.
The Twin Turbo Dry Boost has a hidden heater and fan assist to push preheated dry air into the tub which dries ceramics and plastics.
You want your dishwasher to be able to hold everybody's dishes. Dishwasher capacity is measured in place settings. Most dishwashers have between 12 and 16 place settings. Make sure yours will be spacious enough for your family.
Consider the extra features your dishwasher may have. This could include a food dispenser, Wi-Fi, LED lights, foldable tines, a third rack, plate warming, a sound reduction system and much more.
GE dishwashers are Energy Star Certified, so they are eco-friendly in terms of their energy usage. Some models have the eWash option which is more eco-friendly.
You can check how much it costs to run the dishwasher annually, too. The cheaper it is, the less energy it uses.
GE has a one year warranty on all their dishwashers.
---
The Best GE Dishwashers of 2022
We've spent hours researching real customer reviews, expert advice, and product descriptions. With that in mind, we have the list of the seven best GE dishwashers and their accompanying reviews.
1. GE Profile Series 39 dBA Dishwasher
Best Quiet GE Dishwasher
Our overall top pick for a GE dishwasher is this model and not just because it's a quiet dishwasher at 39 decibels! This one also has incredible reviews and awesome features. But let's talk about the noise.
39 dB is the lowest volume for dishwashers on the current market. We think that dishwashers will be even quieter in a few years, but for now, this is barely noticeable.
39 decibels is quieter than a computer hum. So once you shut the door to the kitchen and leave the room, there's no way you'll know this is running. Perfect for small apartments or busy households!
The Pros
Twin Turbo Dry Boost
We told you the sound level wasn't the only reason we love this dishwasher. It also has GE's most advanced drying system. This ensures a complete dry for every item in the dishwasher, even plastics.
Wi-Fi Compatibility
From the mobile app, you can check on the dishwasher. It allows you to monitor the cycle status, check the rinse aid levels and reorder detergent. We're sure that in time to come, you'll be able to operate the dishwasher straight from your phone. How cool would that be?
Active Floor Protect
If you live in an apartment, there's nothing scarier than an appliance leaking. Not only will it ruin your floors, but it could leak to neighbours downstairs. Thankfully, this appliance has a floor protection that detects leaks and contains them before it's too late.
The Cons
Expensive
This is definitely not a budget-friendly dishwasher. You're paying a lot of money for the extra features, the low sound level and the performance.
Of course, for many people the price is worth it. But for others, the extra few hundred dollars just isn't worth the reward of quieter sound.
Glasses Fall Over
While this is a niche complaint, it's still very annoying. Because of the way the top rack is built, it's really hard for glasses to stay standing.
Customers would prefer if the top rack had a slightly tilted area for glasses so they could rest against the racks. Instead, they easily fall over which can result in breakage and unclean dishes.
Additional Specs
| | |
| --- | --- |
| Type | Top control built-in |
| Noise Level | 39 decibels |
| Number of Cycles | Five |
| Drying Capacity | Twin Turbo Dry Boost |
| Dishwasher Capacity | 16 place settings |
---
2. GE Profile Series Fingerprint Resistance Dishwasher
Best Drying GE Dishwasher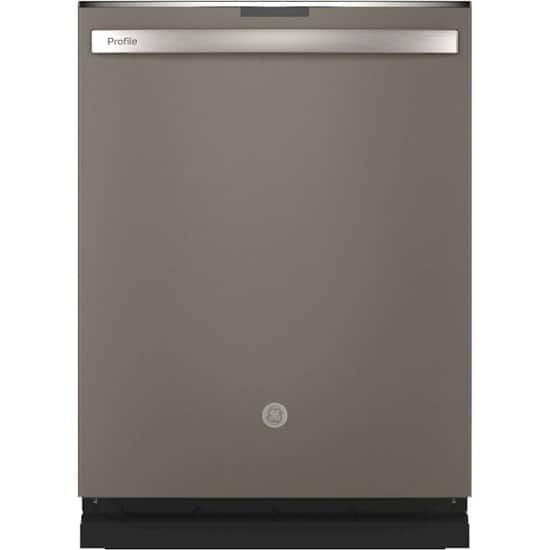 The point of a dishwasher is to save you time. So it's very inconvenient if the dishes come out soaking wet, and you have to dry them all by hand before putting them away.
Thankfully, most GE dishwashers do a good job of drying, but if you want the best of the best, check out this model. It uses Dry Boost with fan assist, as well as a heated dry function, to get your dishes super dry.
We're impressed that the technology is powerful enough to dry plastic items. Everything else will get up to three times drier than regular heated dry cycles.
The Pros
Deep Clean Silverware Jets
You'll also love the deep clean silverware jets on this dishwasher. If you've ever had a dishwasher, you're probably familiar with the struggle of dirty forks, knives and spoons. But with the extra jets that target your cutlery caddy, tough food will get blasted away altogether.
Third Rack
For long utensils, such as knives and spatulas, this dishwasher has a specific third rack. It provides a little extra room in the dishwasher, and means you have more space on your top rack for cups and bowls.
Fingerprint Resistance
We know that the interior of this dishwasher is awesome. But so is the exterior. This fingerprint resistant stainless steel finish means your dishwasher looks good all the time, even if you have kids and pets around.
The Cons
Taking Time
The normal cycle is supposed to take one hour and 28 minutes, but many customers say that it takes much longer. Using extra features, such as bottle jets, adds a lot of time to the cycle.
If you're in a rush, familiarize yourself with the user manual. That way, you'll know exactly how long the cycles will take when you customize the settings.
Not Clean in Every Area
While most customers are happy with the overall performance of the wash cycles, not everybody is. Because it's easy to customize the racks, it can be hard to place things properly so they all get clean.
Some customers say that this dishwasher can't clean in every single corner. You have to find the right loading method for you to ensure that all of your dishes get clean.
Additional Specs
| | |
| --- | --- |
| Type | Top control built-in |
| Noise Level | 45 decibels |
| Number of Cycles | Five |
| Drying Capacity | Heated dry and Dry Boost |
| Dishwasher Capacity | 16 place settings |
---
3. GE 24 Dishwasher With Tall Tub
Best Smart GE Dishwasher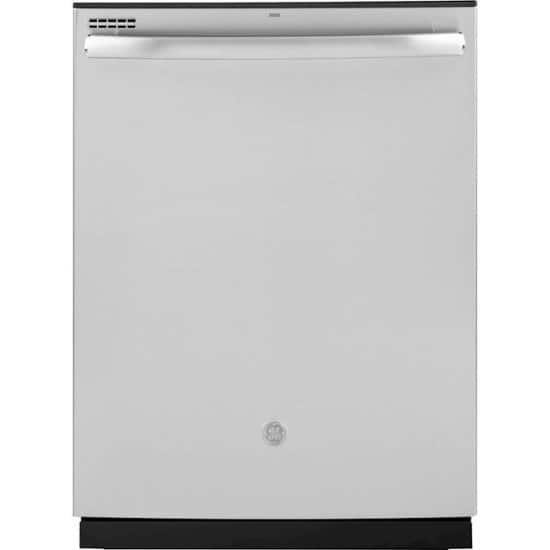 Do you want a dishwasher with a little something extra — such as WiFi? Then this model is for you. You can use your phone or your smart speaker to monitor performance, check the cycle status and automatically reorder dishwasher detergent so you never run out.
That's not all that's great about this smart dishwasher. Even without WiFi, it would stand out from the crowd. Why? Because it has a three-level wash system, dedicated silverware jets, quick cycles, and a built-in food dispenser.
The Pros
Dry Boost
No more wet dishes. This dishwasher has GE's advanced Dry Boost feature that gets dishes three times drier than normal heated dry cycles. No need to hand dry dishes after the cycle anymore. They're ready to be put away straight away.
Three-Level Wash System
For the cleanest of dishes, you'll love this appliance. It has a three-level wash system that uses three pressurized wash zones to shoot out water and detergent. This provides full coverage so every single item is sparkling clean.
Steam Prewash
This is a bit of a luxury feature, but we love it. Especially if you have caked-on or tough food on your dishes. The steam prewash can loosen these bits of food so that your dishes come out absolutely sparkling.
The Cons
Hybrid Tub
This dishwasher has a hybrid tub made of both stainless steel and plastic. While this isn't a negative, stainless steel on its own is much more durable and helps with drying.
However, plastic reduces the price a bit, making this a bit more budget-friendly than some of the other GE dishwashers.
Not Super Durable
Many customers fled to GE's website to review that this model didn't last for more than three or four years.
Of course, the warranty is only one year long, so after that time, you'd have to buy a new dishwasher out of your own pocket. A series of problems tend to arise after a certain amount of time, so keep that in mind.
Additional Specs
| | |
| --- | --- |
| Type | Top control built-in |
| Noise Level | 48 decibels |
| Number of Cycles | Four |
| Drying Capacity | Dry Boost |
| Dishwasher Capacity | 16 place settings |
---
4. GE Fingerprint Resistant Dishwasher
Best Stylish GE Dishwasher
If style is your top priority, but you still want a quality dishwasher, then check out this model. At first glance, you'll notice that it's sleek and classy. The recessed pocket handle gives it a fancy appearance that will stand out strong in your kitchen.
When it comes to cleaning power, it has a range of fun features that will aid your dishwashing desires. Finally, it's a quiet model, so not only will it look good in your kitchen, it will sound good.
The Pros
Dry Boost With Fan Assist
Remember how we said to look for a dishwasher with Dry Boost if you want bone dry dishes? This dishwasher has just that function. This Dry Boost feature gets items up to three times dryer than standard heated drying systems. This includes plastic items. Never hand dry dishes again!
Targeted Washing
For sparkling clean results on every single item, this is the dishwasher for you.
Firstly, it has bottle jets to deep clean tall bottles. It also has a wash zone option so if you're just doing half a cycle, you can programme the appliance to clean just the top or bottom rack which saves time and energy.
Steam It, Sanitize It
This dishwasher has steam and sanitize functions. This is double the power! Steam is great for loosening caked-on bits of food and reducing water spots at the end of a cycle.
Sani cycles are great for killing germs and bacteria so your dishes are safe for every member of the family.
The Cons
Cheaper Construction
Switching from another brand to GE? The first thing you may notice is that the construction feels cheaper than other models. Samsung and LG, for example, use higher quality materials especially for the tines and silverware basket.
Long Cycles
Customers complain about the long cycle. An average cycle can take between two and three hours, which is pretty average for dishwashers, but it's still something to note. Thankfully, there is a one-hour wash option, but this is best for lightly soiled dishes.
Additional Specs
| | |
| --- | --- |
| Type | Top control built-in |
| Noise Level | 48 decibels |
| Number of Cycles | Five |
| Drying Capacity | Heated dry and Dry Boost |
| Dishwasher Capacity | 16 place settings |
---
5. GE 24 Inch Built-In Dishwasher Black
Best Budget GE Dishwasher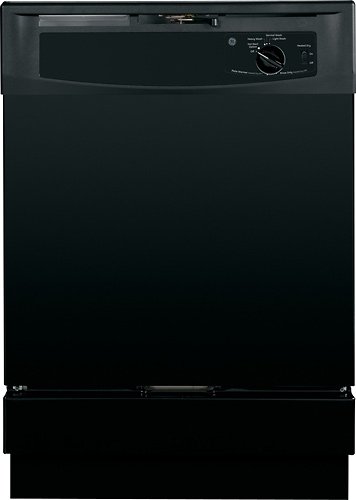 GE dishwashers come in a wide range of prices, and they're not the most budget-friendly brand overall. However, they do have some budget-friendly options, such as this black 24-inch built-in dishwasher. It's also available in white, if you prefer.
Despite its affordable price point, it still has great reviews and a ton of useful features to make your dishwashing routine easier. This includes a built-in food dispenser, a hot start option, 12 place settings, a short wash option and much more.
The Pros
Extra Fine Filter
This dishwasher has a two-stage filtration system with an extra-fine filter to get rid of nasty gunk in the middle of the cycle. So once the water gets all dirty, it's filtered out and replaced with clean water so your dishes are sparkling clean and hygienic.
Food Disposer
With an included hard food disposer, you don't have to pre-rinse plates ever again. The fast blade finely grinds up food and disposes it without clogging the filter or spray arms.
Five Cycles and Two Options
With five cycles to choose from, and two customizable options, you can customize the cycles to suit your dishes. The five cycles include heavy wash, light wash, normal wash, plate warmer, and rinse. The two extra options are heated dry and hot start.
The Cons
64 Decibels
If you're after something whisper quiet that won't disturb your evenings or nap times, then this isn't the dishwasher for you. At 64 decibels, it's definitely a noticeable dishwasher. The noise level is similar to a normal conversation if you're standing three feet away from somebody.
Sturdiness in Question
Many customers question the sturdiness and durability of this dishwasher. The door especially is very light and customers are worried that at some point, it will just break or fly off! With this dishwasher, you're paying for a cheaper, plastic, finish.
Additional Specs
| | |
| --- | --- |
| Type | Front control built-in |
| Noise Level | 64 decibels |
| Number of Cycles | Five |
| Drying Capacity | Heated dry |
| Dishwasher Capacity | 12 place settings |
---
6. GE Portable Dishwasher With 12 Place Settings
Best Portable GE Dishwasher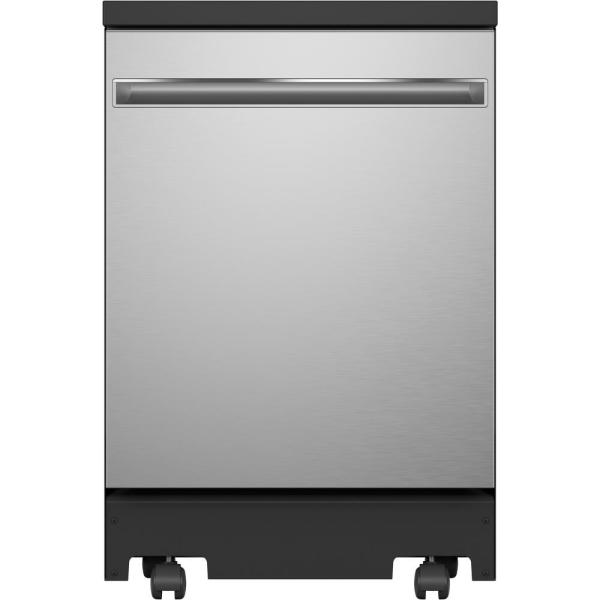 GE currently has two portable dishwasher options. One has eight place settings, but this one has 12 place settings, so it's a bit more spacious. It's a good choice for small homes, dorms, apartments or RVs.
Although it's a portable dishwasher, it still has a huge range of awesome features. It makes the perfect addition to a busy family, leaving you more time for hanging out and less time for chores.
The Pros
Autosense Cycle
In this dishwasher, there is a smart beam of light which detects how dirty the dishes are. It adjusts its cleaning power accordingly to ensure it uses extra power for dirtier loads, and less energy for a light wash.
Food Disposer
No need to rinse plates ever again. This dishwasher has an included food disposer to grind up food particles and dispose of them. You don't need to worry about clogged drains or wash arms either.
54 dB
This dishwasher is pretty quiet, especially for a portable option. While you'll be able to hear it running — it's not silent — it keeps the kitchen nice and peaceful. Customers love how quiet it runs.
The Cons
Doesn't Dry Well
Drying dishes isn't a strong point of most portable dishwashers. If dry dishes are a top priority for you, you may want to go for a built-in dishwasher with a dry boost option.
This dishwasher doesn't have any drying features. It has a sanitization option which helps to dry dishes quicker afterwards. But other than that, your dishes will need to be air or hand dried afterwards.
Short Hose
A common customer complaint is that the hose is very short. It's 4.17 feet long so you need to have it very close to your sink for it to connect. This is fine in most kitchens but if your sink is awkwardly placed already, it might be a struggle for the hose to reach.
Additional Specs
| | |
| --- | --- |
| Type | Top control portable |
| Noise Level | 54 dB |
| Number of Cycles | Three |
| Drying Capacity | None |
| Dishwasher Capacity | 12 place settings |
---
7. GE Profile Series 18 Inch Built-In Dishwasher
Best Slim GE Dishwasher
Need something a bit slimmer for your kitchen? GE offers an 18-inch built-in dishwasher which is six inches thinner than their standard built-in dishwashers. Not every kitchen is made for standard dishwashers in mind, so it's great that GE has a good slim option.
Not only is it practical, but it's also very stylish. It has a top control panel, which means the front of the appliance is sleek and stylish with a nice recessed handle. As for its performance level, it's great, too.
The Pros
ADA Compliant
Finally — a dishwasher that's ADA compliant. Not enough dishwashers are compliant with the Disabilities Act (ADA) Standards for Accessible Design. But this one is. This dishwasher is great for 34-inch countertop heights and raised subfloors.
Three-Level Wash
With the three-level wash system, absolutely everything in this dishwasher gets the sparkling clean treatment. Enjoy spotless dishes with the extra cleaning power.
Autosense Cycle
This dishwasher uses a light beam to detect how dirty dishes are. If they're especially soiled, the dishwasher will up its cleaning power; if they're lightly soiled, the dishwasher will use less energy.
The Cons
Expensive
Considering this dishwasher is smaller and only has eight place settings, it's on the expensive side. You're forking out a bit of extra cash just because this is more of a niche product from GE.
Loading Issues
Customers claim that this is a difficult dishwasher to use and load. The instructions aren't clear, and the racks aren't well designed. Items can easily fall down the gaps, and the silverware caddy isn't ideal either as it doesn't hold everything it should.
Additional Specs
| | |
| --- | --- |
| Type | Slim top control built-in dishwasher |
| Noise Level | 47 dB |
| Number of Cycles | Three |
| Drying Capacity | Condensation drying |
| Dishwasher Capacity | Eight place settings |
---
---
Which to Choose?
Now that you know all about the seven best GE dishwashers as per their reviews, which one will you choose? Of course, each one has its own benefits and drawbacks. So you must choose the one that best fits in with your lifestyle.
Perhaps you want something whisper quiet. If so, we recommend going for one between 39 and 42 decibels. Maybe you want something that dries dishes well. In that case, choose something with Dry Boost or Turbo Twin drying.
Lastly, what about style? There are lots of stylish GE dishwashers. For something sleek, choose a top control built-in option. These have a sleek finish and nicer handles.