How often do you vacuum? Daily? Weekly? Whether it's your favorite task, vacuuming is an essential part of cleaning.
Having a good vac can make all the difference in removing fine dust and dirt. An effective vacuum cleaner can even speed up the cleaning process.
Hoover is one of the most popular brands in North America, and its vacuums are durable, reliable, and versatile.
Today, the name Hoover is synonymous with vacuum cleaners — literally. And we're to examine why.
We'll also share our five best Hoover vacuum picks so that you can find the right one for you.
Image
Model
Product Comparison Table
Features
Best for Wet Messes
Hoover Utility Wet/Dry
Strong suction
Large three gallon capacity
Multiple tools and attachments
Best Handheld
Hoover OnePWR Handheld
Dual HEPA filtration
Comfortable handle
Easy storage
Best Lightweight Stick
Hoover Linx Cordless
Fade-free battery
Side bristles clean baseboards
Lightweight under 10 pounds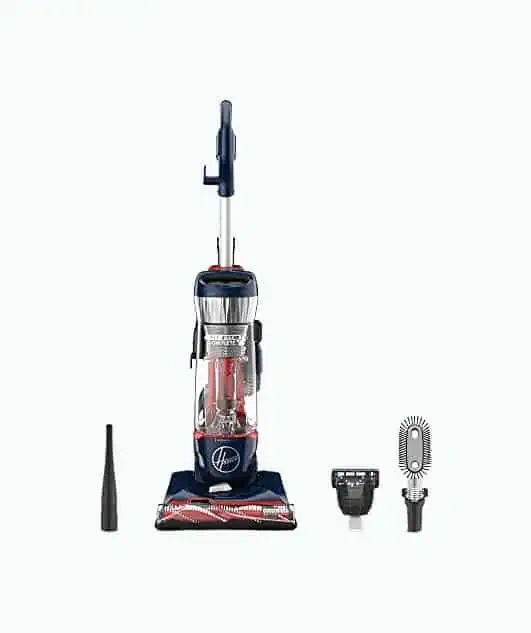 Best Bagless
Hoover MAXLife Upright
Innovative and high-tech technology
Multi-floor capability
Traps allergens
Best Bagged
Hoover WindTunnel Upright
Headlights illuminate dust
Clean-drop bagged dust tank
Long 30-foot cord
Review Methodology: At Oh So Spotless, we pride ourselves on providing you with trusted, thorough analysis and assessment of the best Hoover vacuums available. Our team of professionals conducts hands-on research, measuring each product's performance using various criteria, such as suction power, maneuverability, and filtration efficiency. We carefully evaluate products from a user's perspective, comparing design choices and their effect on users, along with benchmarking against competitors. Our data-driven evaluations and first-hand experience allow us to rank and review the top vacuums in the market, helping you make informed decisions based on facts and evidence. Trust in our expertise when it comes to identifying key decision-making factors, and know that our findings will guide you to the perfect Hoover vacuum for your needs.
---
---
The Best Hoover Vacuum Reviews of 2023
Check out our curated list of the best Hoover vacuums.
Hoover OnePWR Wet/Dry Vacuum
Best Hoover Vacuum for Wet Messes
This utility vacuum is an excellent option for homeowners who need to hoover outside. It can tackle any mess, including wet leaves and soil.
Mobility is also a bonus here. The cordless design means you can take the vac anywhere you'd like, thanks to the lithium-ion battery.
The various attachments suit any task ahead. Plus, you can store all tools conveniently on the body of the device.
What We Like
Strong Suction Cleans Any Mess
Being able to tackle any cleaning task with a vacuum can make it much more manageable. Most people dread tidying garages, but with a vacuum such as this, the job is a little easier.
With this model, you can quickly remove soil, wet leaves, soapy water, and any other challenging mess.
3-Gallon Capacity
Wet/dry vacuums are often limited by their capacity. However, this vac can hold up to three gallons of dry and wet mess. It's also easy to empty since you can remove the top and quickly dump the contents in the garbage.
Multiple Tools Allow You to Clean Anywhere
You get everything you need to tackle the task ahead. The vacuum is equipped with its toolkit, including an extendable hose, utility nozzle, washable filter, and crevice tool. You can store all of the tools on the vacuum. This makes storage much easier as well since you won't have to worry about losing parts.
OnePWR Battery
Hoover's OnePWR technology enables you to remove and recharge the battery easily. It also gives you a longer runtime, and the battery is compatible with all OnePWR products.
What We Don't Like
Short Battery Life
The battery life is quite poor — some customers found that it needs frequent recharging as the unit can only be used for roughly fifteen minutes.

Product Specs
| | |
| --- | --- |
| Weight | 9.8 pounds |
| Swivel Steering | No |
| Battery Runtime | 15 minutes |
| Bin Capacity | 11 liters |
| Cord Length | Cordless |
Our Ratings
Community Feedback
"If you're seeking a compact vacuum with powerful suction, look no further than this versatile product. In my experience, this vacuum is excellent for small home projects and car cleanups, especially when paired with a 4.0 battery for extended use. However, be prepared to invest in an additional battery, as the cordless convenience comes at the cost of limited runtime."
---
Hoover OnePWR Cordless Handheld Vacuum
Best Handheld Hoover Vacuum
Being able to whip out a handheld vacuum is a life-saver for busy parents. This handheld vac is powered by a lithium-ion battery that gives you a long runtime.
It has a clear, plastic front and container, which enables you to see exactly what's going on inside.
The compact design is comfortable to hold and even easier to store. It's ready to go when you need it, thanks to the OnePWR battery.
There's a built-in crevice tool that can be pulled out whenever needed. You can easily remove the filter and change it to increase the performance.
What We Like
Versatile Uses, Including the Car
The handheld vac can be used anywhere needed. Thanks to the battery, you can even use it in the car.
We love it for cleaning the couch and stairs.
The strong suction will quickly get rid of dust, dirt, and pet hair.
Comfortable Handle Reduces Strain
Having an ergonomically designed handle means holding this vac for a long time doesn't cause strain. It enables you to keep the vacuum at a natural angle to avoid sore wrists.
Easy Storage Thanks to the Compact Size
Because of the compact size, you can store the vacuum anywhere. The charging station is also small, so it won't take up much space. Plus, you won't be dealing with a ton of small attachments that get lost. Just pull the crevice tool out from underneath the vac!
Dual Filtration System Captures Small Particles
The dual filtration removes even the smallest dust particles. It's easy to maintain and can be removed and washed when needed. When you feel it's time for a change, the filter can quickly be removed and replaced.
What We Don't Like
Loud Noise Level
Although customers were, overall, very pleased with the performance, some noted that the noise level is quite high.
Product Specs
| | |
| --- | --- |
| Weight | 3 pounds |
| Swivel Steering | No |
| Battery Runtime | 14 minutes |
| Bin Capacity | 13.5 ounces |
| Cord Length | Cordless |
Our Ratings
Community Feedback
"I'm absolutely thrilled with the Hoover ONEPWR Cordless Hand Held Vacuum Cleaner. It's lightweight, easy to maneuver, and even my kids can use it without any issues. The battery life is impressive, making it perfect for quick clean-ups around the house. While it may be slightly heavier than some other handheld vacuums, the superior suction power and sleek design more than make up for it."
---
Hoover BH50020 Linx Cordless Stick Vacuum
Best Lightweight Stick Hoover Vacuum
A lightweight stick vacuum makes cleaning much faster and easier. Hoover's signature, Linx, is an excellent option for smaller homes.
It's a cordless model that runs on a lithium-ion battery. The slim design allows you to reach more places, especially underneath furniture.
Dust and dirt often accumulate in corners and close to the walls where it's difficult for vacuums to reach. However, the Linx is fitted with edge brushes that effectively clean close to edges and corners.
You can also start or stop the vac right from the handle. There's a small switch you can control using your fingertip. This is a much better feature than some competitors' models, which have the button further down the unit.
What We Like
Fade-Free Battery for Long Cleaning Sessions
The fade-free battery will give you a reasonable amount of time to get your cleaning done. Purchase an extra battery to change when the first is low on power. This gives you more freedom as you move from room to room.
There's also a battery gauge that will tell you how much battery power's left. This eliminates the unwanted surprise of the vacuum stopping in the middle of a cleaning session.
Versatile, Use on Various Floor TYpes
The Linx is suitable for any flooring and easily transitions from rugs to hard floors. The WindTunnel technology creates strong and concentrated suction. So this machine lifts and removes even embedded dirt and dust.
Only Weighs 10 Pounds
Moving around the house is a breeze without the limits of a cord or a heavy canister. Weighing only 10 pounds, this vacuum won't leave you with a sore back or arms.
Side Bristles Cleans Corners and Baseboards
Cleaning baseboards and corners is sometimes close to impossible without awkward movements. But thanks to the side bristles, the Linx can get up close and personal with all edges and baseboards in your home.
What We Don't Like
Long Charge Time
Unfortunately, it takes the Linx a couple of hours to recharge. Many customers said they purchased an extra battery to change when needed.
Product Specs
| | |
| --- | --- |
| Weight | 10 pounds |
| Swivel Steering | Not specified |
| Battery Runtime | Not specified |
| Bin Capacity | Not specified |
| Cord Length | Cordless |
Our Ratings
Community Feedback
"I'm thrilled with my Hoover Linx vacuum cleaner after trying out several stick vacuums. It's lightweight and powerful, effortlessly handling my oriental rugs, hardwood floors, and carpets. The battery life is decent, but I suggest purchasing an extra battery for uninterrupted cleaning. It's essential to check the roller and remove any hair or threads to prevent jams."
---
Hoover Pet Max Complete Bagless Upright Vacuum Cleaner
Best Bagless Hoover Vacuum
If you're on the hunt for a versatile vacuum that can handle the whole house, this vac is it. The MAXLife Pet Max vacuum has a ton of features to make cleaning a breeze.
You can get rid of 97 percent of pet hairs, danders, and dust. It also incorporates Hoover's WindTunnel and Advanced Action Brush Roll technologies.
The vacuum features a filter that can be removed and washed when needed. The MAXLife system enables them to retain great suction performance even without filter maintenance. This makes it an excellent choice for families dealing with allergies.
All of the controls are conveniently placed at the top of the handle. So you won't have to bend to switch it on.
What We Like
Innovative Technology Increases Quality
The floorhead is equipped with advanced action brush roll that removes deep-seated impurities and reduces hair wrap.
Hoover has also incorporated its WindTunnel technology for extra power. It channels the powerful suction to remove even the toughest dirt. Nonetheless, the extra large 2.5 liter dust bin capacity is a game-changer.
Multi-Floor Capability
A large upright vacuum might not be ideal when you need to clean the stairs. However, you can easily lift the canister off the vacuum and use the flexible hose to clean. It's light to carry and as powerful as ever.
Simply attach one of the various tools to accommodate the task ahead. The vacuum comes with an extra-large crevice tool, a turbo tool, and a dusting brush for smaller areas.
Traps Up to 97 Percent of Allergens
The sealed allergen system will capture and contain up to 97 percent of allergens such as dust mites and hair. Nothing will escape as the system prevents even the tiniest particle from escaping.
Take Note
This feature could prove essential in homes where parents or children deal with allergies or asthma.
Tough on Pet Hair
Pet-families often have to deal with large amounts of hair. This can certainly be uncomfortable and trigger various reactions.
This vacuum has been tested to make sure it picks up as much hair as possible. Many customers mention they purchased this model especially to tackle pet hair.
What We Don't Like
Weighs Over 17 Pounds
Weighing a little over 17 pounds, many customers found it too heavy to carry around. If you want a lighter option, you may want to look elsewhere.
Product Specs
| | |
| --- | --- |
| Weight | 17.1 pounds |
| Swivel Steering | No |
| Battery Runtime | Not specified |
| Bin Capacity | 2.5 liters |
| Cord Length | 27 feet |
Our Ratings
Community Feedback
"This Hoover vacuum is a worthwhile investment for pet owners, as it effectively picks up dirt and pet hair, leaving carpets looking new. The detachable wand is convenient and user-friendly, but the included attachments could be better. While it's on the heavier side, it doesn't hinder the vacuum's performance and is manageable to move around. The only downside is the vacuum's loud, high-pitched sound, which may be bothersome to some users."
---
Hoover UH30600 WindTunnel Max Upright Vacuum
Best Bagged Hoover Vacuum
Bagged vacuums are the best option for families dealing with allergies and asthma. Once the bag is full, you can remove it and throw it in the garbage without the risk of releasing allergens.
The T-Series features Hoover's WindTunnel technology, among other intelligent features that enhance its performance.
This is a versatile model. It's easy to remove the bag without touching or seeing the contents. Also, you can quickly move between rooms thanks to the extra-long cord.
It also has a HEPA filter to remove and trap even the tiniest particles.
What We Like
Eliminates Dust Via HEPA Filter
This vacuum won't leave anything behind by combining the thorough HEPA filter with WindTunnel technology. The filter will trap up to 99.97 percent of dust particles as small as 0.3 microns.
This makes the T-Series excellent for households with allergies and asthma.
Clean-Drop Bagged Dust Tank
When the bag is full, it's released using a one-tap bag door. The whole bag will be released straight into the garbage by the click of a button. It won't release any allergens back into the air, and you won't have to touch anything.
Long 30-Foot Cord
This cord will give you enough freedom to move between rooms by extending a whopping 30 feet. You won't have to stop every few feet to change the outlet, so you can get the cleaning done quicker.
Headlights Illuminate Dust Particles
Seeing what's hiding underneath the couch or bed can be an insurmountable cleaning challenge. However, you can see every little particle of dust and hair thanks to the bright headlights.
What We Don't Like
Manual Cord Rewind
30 feet is a lot of cord to rewind manually, and it often ends with tangles. A few customers also thought this was an inconvenience.
Product Specs
| | |
| --- | --- |
| Weight | 15 pounds |
| Swivel Steering | No |
| Battery Runtime | Not specified |
| Bin Capacity | Bagged |
| Cord Length | 30 feet |
Our Ratings
Community Feedback
"My experience with the Hoover WindTunnel Max has been a mix of pros and cons. On the positive side, the suction power is impressive, and the easy bag drop feature makes changing the bag a breeze. However, the attachments, particularly the extension wand and crevice tool, left me frustrated due to their design flaws and lack of effectiveness. The hose length, while intended for extended reach, seems too long and cumbersome for the vacuum itself."
---
The History of Hoover
Hoover was founded in 1907 by Murray Spangler, an inventor who also worked as a janitor. He was searching for a solution to his asthma and finally tried his luck with a tin soapbox, a fan, a broom handle and a pillowcase.
His invention looked rather odd and cumbersome, but it worked. The "suction sweeper" would pull dust and dirt away from the air he breathed, reducing his asthma.
In 1908, he sold his concept to W.H "Boss" Hoover, who owned a leather products manufacturing shop. Hoover kept Spangler as a partner, and soon they had six employees manufacturing six "suction sweepers" a day.
Hoover started out offering a 10-day trial for anyone interested in the new invention. He chose some of the biggest retailers at the time and allowed them to sell the sweepers.
Instead of requesting all of the profit, Hoover also let the stores keep any commission if they became a Hoover vacuum dealer. This proved to be a successful tactic and the best way to develop relationships with retailers.
While "Boss" Hoover was busy trying to sell products, engineers were developing new methods for carpet cleaning. One of Hoover's most significant inventions was the beater bar. It was introduced in 1926, and today is one of the company's signature features (1).
The beater bar started as a metal bar that tapped gently into the carpet to loosen the embedded dirt. The bristles would then quickly sweep dirt and dust up and out of deep carpets.
In 2007, Techtronic Industries Co. Ltd. acquired Hoover from Whirlpool Corporation. TTI was the largest floor care company in Northern America — and adding Hoover only made it grow.
Types of Hoover Vacuums
Hoover has a wide selection of vacuums on the market to cater for all needs. The brand offers several lines of different types of vacuums. So let's take a closer look at the various types:
Upright Hoover Vacuums
Upright vacuums are easy to maneuver and come with a wide range of features and attachments. Hoover offers a few different upright vacs. Some are bigger and have more features, while others are light and slim.
One feature that's common among these, however, is swivel steering. The steering allows you to move smoothly between furniture and around corners.
Pros
Easy maneuvering due to the swivel steering.
Low-noise levels which is good for families with kids and pets.
Large dust bin captures more dirt, debris and hair between emptying.
Extra powerful suction with handy features and attachments.
Both bagged and bagless options available.
Cons
Some models are quite heavy coming it at 15 pounds.
Cordless Stick Hoover Vacuums
Cordless vacuums are excellent for homeowners who feel restricted by a cord. These lightweight, cordless vacs from Hoover could be the perfect tool to tackle the stairs step by step.
You can use these vacuums on all flooring types. The durable batteries also give you enough time to scoot around the whole house.
Finally, the WindTunnel Technology easily captures a vast amount of dirt, dust and pet hair.
Pros
Lightweight option making it easier to maneuver around your whole home.
Slim design makes it easier to use and store.
Handy attachments allow you to deep clean every area, including hard-to-reach places.
Durable battery with quick charging.
WindTunnel Technology is effective on dirt, dust and pet hair.
Cons
Limited run time since it runs on batteries.
Wet/Dry Hoover Vacuums
Wet and dry vacuums are an excellent way to tackle all kinds of messes. No more crying over spilled milk because this type of vac will clean it all in one go.
These vacuums feature powerful suction and a large tank to hold the dirt and grime you've cleaned up. They look quite cumbersome but are easy to tow around where needed. Plus, you can move around without being limited by a cord.
Pros
Cleans all types of mess from cereal to milk, and much more.
Large capacity dust tank holds a lot of dirt and grime.
Reasonably lightweight, making it easy to tow around the house.
Powered by an efficient lithium-ion battery.
Cons
Battery limits run time; these are not corded options.
Handheld Hoover Vacuums
Handheld vacuums are great at tackling small areas such as the couch, stairs and even the car.
Hoover's handheld vac features the OnePWR system — a durable battery with extended runtime and quick charge.
The handheld models are light and comfortable to hold. Some models also feature multi-cyclonic technology and LED headlights.
Pros
OnePWR system improves runtime and is quick-charging.
Comfortable to hold; you won't get tired when using these.
Lightweight options, since it doesn't include the whole body.
Great for deep cleaning couches, stairs and your car.
Some models feature LED headlights which illuminates dust.
Cons
Some customers find these handheld vaucums quite loud.
They aren't suitable for cleaning the whole house; you wouldn't use these on the floor.
---
About Hoover
Hoover is one of the biggest floor care companies in the world. They're headquartered in Australia, Europe, North America, and Asia. The brand also manufactures carpet cleaners, hard floor cleaners and vacuums, as well as cleaning solutions.
FAQs
---
Thank You For Your Feedback!
Thank You For Your Feedback!