Are you a pet owner who also wants a neat, fur-free home? If so, you understand how tedious cleaning up after pets can be. We love our fur babies, but we can't say the same about the fluff they leave behind on our furniture.
Even if you don't mind the sight of hair everywhere, someone in your home could be sensitive to it. There are many reasons why you should buy a pet-specific vacuum cleaner. Others often don't have the capabilities to clean up hair effectively.
That's why we've decided to show you the best cordless vacuums for pet hair on the market. We've put in the research, so you don't have to. Let's get started.
Image
Model
Product Comparison Table
Features
Best for All Surfaces
Tineco A11
Only weighs 5.5 pounds
Two suction modes & batteries
Seven handy attachments
Best for Indoor Pets
Shark Ion F80
1.20 hours run time
Easy-to-use dust cup
MultiFLEX technology
Best for Allergies
Dyson Animal V8
Pet-owner specific
Multi-floor machine
Attachments included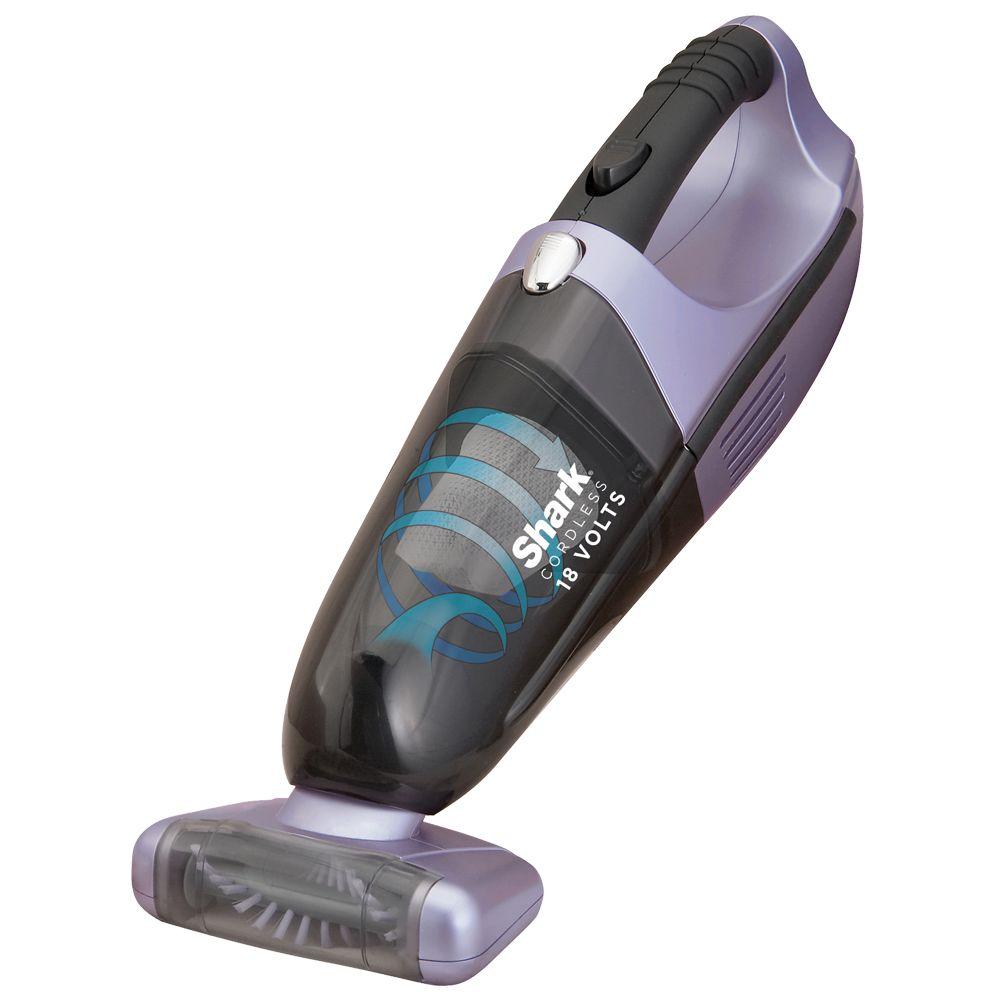 Best Budget-Friendly Option
Shark Pet Perfect II
Works well on carpets
Motorized brush roll
Versatile storage
Best for Small Tasks
Bissell Adapt Ion
Extra large dust cup
Compact design
Pet-specific attachments
---
Standard Vacuums vs Cordless Vacuums
Many pet parents aren't aware that there is a difference between ordinary vacuums and those for pets. This could be why cleaning up after our animals is usually such a struggle. Using the former won't be as effective on pet hair.
The main difference is in the vacuum's build. Standard vacuum cleaners use a brush and hose mechanism. This structure isn't designed to release hairs from carpets or material. Instead, as the brush rotates, it pushes the hairs even further into the fabric, which perpetuates the problem of pet hair.
Another issue is that traditional vacuums have no mechanism to prevent hairs from getting tangled inside the machine. This can create a hairball that will clog your machine's brush and block the suction.
You'll be left with a machine that makes noise but doesn't suck anything up, not even loose debris.
On the other hand, pet-friendly cordless vacuums use brushes specifically designed to pull hairs out of fabric. They resist tangling and are often made with extra features too.
You'll also find some cordless vacuums with special filters that trap dirt and clean the air of allergens. You can use them as you would a standard vacuum, but you can't use a standard one as you would one for pets.
What Do You Need in a Pet Vacuum?
We'll point you in the direction of what we determine to be important features when shopping for a cordless vacuum for pet hair. These features can make a difference in the success of your cleaning.
Ultimately, choose a vacuum you're comfortable using, but make sure that it suits your needs. If you're unsure where to start, keep the following in mind when you're shopping.
The larger your carpets or floors, the bigger you'll want your vacuum to be. They'll cover more ground in less time, and they'll be easier to use. Don't disregard storage, though: it won't help if you choose a vacuum that's too big to stow.
Alongside the surface area, you'll want to figure out how often you need to vacuum. If pet hairs are a persistent problem, you should go for a machine that works fast. These are often the bigger models too.
Most pet owners look for vacuums that work on furniture and carpets, but it's a myth that a carpet vacuum is the best for pet hairs. It's actually a matter of what the vacuum was built for.
Therefore, choose a vacuum that is designed for your flooring. Vacuums intended for hard floors will most likely be useless on carpets (and vice versa). This is because their brush heads are different and won't work on floors unsuited to their bristles.
If you have different floor types in your home, there are two options. You could buy a multi-floor vacuum or invest in the necessary attachments, which we'll discuss in detail soon.
How Much Does Your Pet Shed?
This is an essential consideration because it ties into your vacuum's capabilities. For pets that shed a lot, inside pets, or multiple pets, you will need higher suction power.
But if it's not a disaster when your pet leaves some hairs behind, you don't need the big guns. A lighter, low-power machine should do the trick.
If you live with people sensitive to your pet's hair, you will need a vacuum with a filter to clean the air around you. HEPA filters are a common choice, but other types can also effectively clear the air of allergens.
Which Vacuums Are Best for Pet Hair?
Beyond pet-specific vacuum cleaners, various builds could affect how you clean. This depends on your needs, so it's not to say that one is superior to others.
Plug-in vacuums sometimes get in their way and aren't always suitable for out-of-reach places. So, we've chosen to focus on cordless vacuums. They're convenient and work especially well on those hidden spots your pet might have claimed in your home.
Stick Vacuums
Stick vacuums are popular cordless options. They often have the same capabilities as traditional vacuums but with less fuss.
Plus, they're sleek and take up little room. Think of them as a middle-ground between upright vacuums and handhelds.
Pros
Most versatile, especially for hard-to-reach spots.
Lightweight and sleek design.
Battery operated, no cord getting in your way.
Cons
Often cost more than corded upright vacuums.
Handheld Vacuums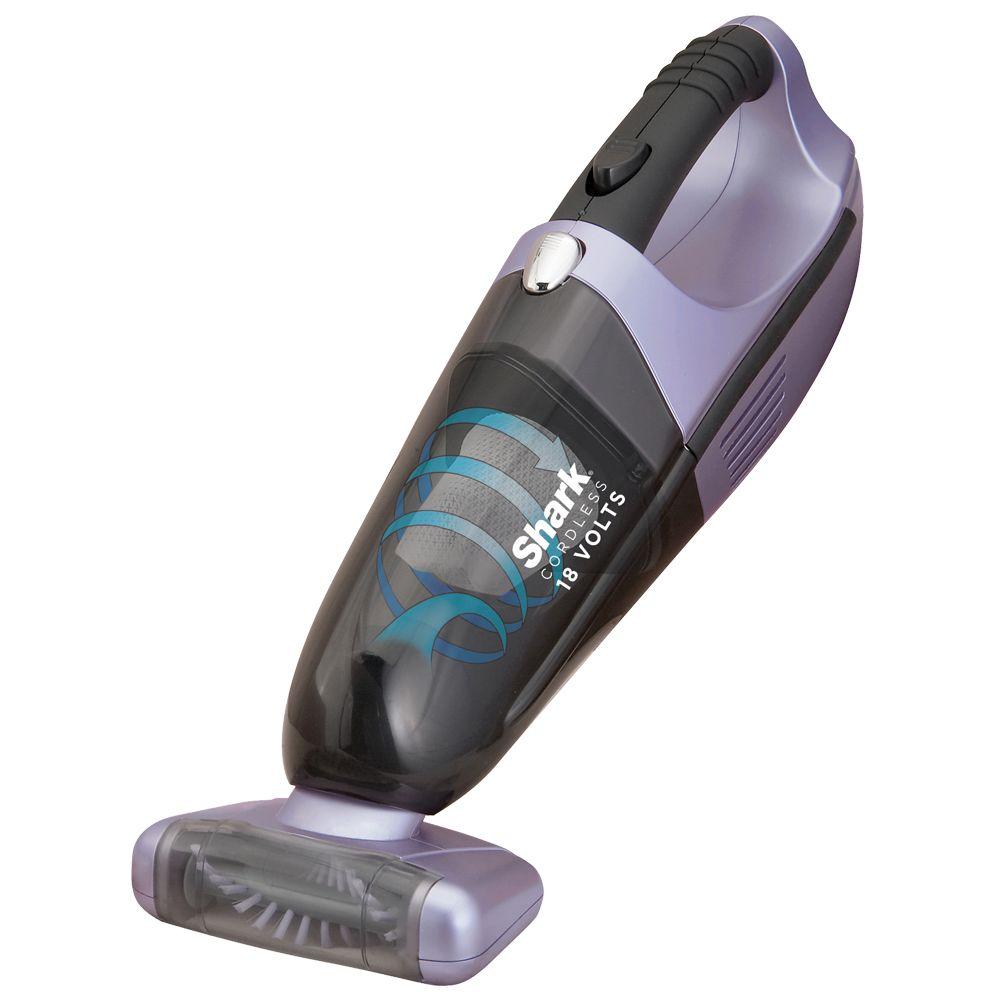 Handheld vacuums are perfect for small cleaning tasks. They're portable, simple to use, and demand almost no effort on your part. Their most significant advantage is that you can easily use them to clean furniture, your car's interior, stairs, or tricky spots.
Since they're so compact, they cost less than other models. Additionally, they run on batteries, so they'll save you even more money.
Pros
Compact design for easy use and storage.
Lightweight design makes them a breeze to carry around your home.
Affordable price point since they are smaller.
Cons
Not as powerful as bigger models.
Not suitable for floors.
Vacuum Accessories to Look Out For
No matter the vacuum you choose, there are handy add-ons you should keep in mind. They'll improve your machine's efficiency and make your vacuum more versatile. Some are included with the vacuum, while others you may need to purchase separately.
Pet owners should go for:
These are used for various fabrics, be it thick and hardy or delicate. You can use them on couches, cushions, mattresses, and even your curtains. It's a handy tool if you are a cat owner or if your pets sleep in your bed or on your sofa.
These are designed to fit into corners or other tight spaces your machine can't reach on its own.
They're angled tools, so you can reach behind furniture and other places where your pet has left an unreachable mess.
As the name implies, this adds extra reach to your vacuum, allowing you to clean spots you can't get to. They're also excellent for cleaning underneath furniture or in higher places.
Dusting brushes: These assist with cleaning surfaces that are likely to gather dust, like shelves and cupboards.
Brush rolls: An attachment made for deep cleaning carpets if your vacuum is for hard floors instead.
Motorized tool: In some machines, these allow you to use it as a handheld. In others, they supply extra power for stubborn dirt.
Combination tool: Why not get the best of both worlds with a handy tool that collects dust and reaches awkward spots?
---
The Best Cordless Vacuums for Pet Hair of 2022
We're bringing you the five best cordless vacuums for pet hair.
1. Tineco A11 Master+ Cordless Stick Vacuum
Best for All Surfaces Cordless Vacuum
Clean all floor types with this sleek and lightweight vacuum. It has three power modes, making it suitable for all floor types. The Max Power mode is super incredible, making it the right choice for clearing dust and dirt from carpets. The other two modes (Gentle and Daily) are great for everyday cleaning on hard floors, such as wood and tile.
We also love that this vacuum uses two batteries for up to an hour of running time. The batteries then recharge simultaneously, which is extra handy.
You can also convert this vacuum into a handheld machine which is excellent for tackling pet hair from your car, furniture, and stairs.
You might also appreciate the LED lights which illuminate the path ahead of you. Now you can ensure you've picked up every last piece of pet hair.
The Pros
Only Weighs 5.5 Pounds
Weighing in at 5.5 pounds, this vacuum is extremely easy to carry, handle and maneuver. Its light weight makes it a versatile vacuum that you can use as a handheld or floor machine. If you spend a lot of time vacuuming, you'll be at less risk of strain.
Transparent Dust Bin
The 0.6-liter dust bin is transparent so that you can see the dirt and you collect it. This helps you know when the dust bin is full and when to empty it. We think this is a very convenient feature.
Fully-Sealed Filtration System
This machine collects dirt and uses two filters for a boost in freshness. It also has a four-stage HEPA filter which traps 99.97 percent of small particles.
These filters are washable so that you can reuse them time and time again.
Seven Attachments
We firmly believe that other manufacturers could stand to learn a thing or two here. Tineco is generous with its attachments, almost unheard of in cleaning. Both the quantity and quality are excellent.
This includes a standard crevice tool, two dusting brushes, an extension hose, a multi-angle tube, and a soft-crevice tool. There's also a mini-power brush that pulls pet fur from all surfaces, including carpets.
The Cons
It's Loud
Users complain that this vacuum makes a lot of noise. This is not only frustrating to us, but to pets, it's even louder and potentially frightening. This could be a dealbreaker if your pet is sensitive to or afraid of loud noises.
Additional Specs
| | |
| --- | --- |
| Power | 120 watts |
| Weight | 5.5 pounds |
| Dimensions | 10.4 x 11.2 x 43.7 inches |
| Special Features | LED lights, two suction modes, two batteries |
| Accessories | Docking station, seven other accessories |
---
2. Shark Ion F80 Cordless Stick Vacuum
Best Cordless Vacuum for Indoor Pets
This has two rechargeable batteries, and they last longer than any other stick vacuum. With 80 minutes of battery power, this is great for deep cleaning large homes where you keep your indoor pets.
This machine is suited for out of reach places, like under or behind furniture. It's also excellent for indoor pets, thanks to its "MultiFLEX" technology.
This trademarked engineering means that your wand can bend. It assists in cleaning difficult spots and makes a big difference in storage.
It also uses "DuoClean" technology, making it a versatile machine that you can use on an array of surfaces. We love that it effectively removes hair, dust, and other debris from carpets and hard floors alike. Plus, it has attachments that complement this function.
The Pros
Two Included Brush Rolls
This vacuum comes with two brush rolls, which you can easily switch between. This makes it very effective on both carpets and hard floors, so you can clean pet hair from every room in the house.
Easy-To-Use Dust Cup
The dirt cup included in this vacuum is free of hassle. Emptying it is easy, quick, and efficient. It detaches smoothly and has a release button that will dump your dirt for you.
We must note, though, that the cup itself is quite small, so you'll have to empty it often. However, we don't think this is earth-shattering. It just emphasizes how compact this model is.
MultiFLEX Technology
This vacuum is one of the best when cleaning behind and under furniture or in other hard-to-reach places. Some other vacuums don't accommodate these spots that pets like to hang out in. But, this one takes care of it and reduces the effort you put into your cleaning.
The Cons
No HEPA Filter
If you or your family have sensitivities to pet hair, this vacuum won't help you fight off allergies. It doesn't have the HEPA filter, which clears the air of allergens.
Additional Specs
| | |
| --- | --- |
| Power | 25.2 volts |
| Weight | 8.51 pounds |
| Dimensions | 13.4 x 10.2 x 46 inches |
| Special Features | MultiFLEX technology, DuoClean technology |
| Accessories | Crevice tool, upholstery tool |
---
3. Dyson Animal V8 Animal Cord-Free Vacuum
Best for Allergies Cordless Vacuum
Dyson made the top five with their animal range which keeps pet owners in mind. It's an effective machine that gives you up to 40 minutes of battery life. It's lightweight, versatile, and designed to penetrate difficult carpets to remove hair.
Another reason we love it is because it is great for families who suffer from allergies. The V8 Animal captures allergens and small dust particles while expelling cleaner air. Every time you vacuum, you're left with cleaner air than before.
Besides that, this device is powered by the unique Dyson V8 motor, which has more suction than other cordless vacuums. It's also bagless, so depositing your dirt is faster and more efficient too.
This vacuum has everything you need to maintain your home, no matter how many pets you have.
The Pros
Pet-Owner Specific
All pet vacuums are indeed specific to animal lovers, but this one stands out. Dyson created a powerful machine that's not only for pet hair. It's a versatile vacuum that will solve all your cleaning needs, from light dust to tough hairs.
Multi-Floor Versatile Machine
We like that this machine's default "Direct Drive" cleaner head does well on both carpets and hard floors. You can also switch it to Max mode if you need more suction for your carpets. This is handy for pesky hairs that just won't budge.
There's also the "Powerful Suction" mode for longer bouts of vacuuming. Last but not least, this machine converts to handheld, which is great for stairs and upholstery.
Attachments Included
Thanks to the included attachments, you won't have difficulty reaching those tight and delicate spaces. You can use them to clear your pet's bed, basket, or special cushion. The crevices in chairs and couches won't be out of reach either.
This includes a mini soft dusting brush, a combination tool, a mini-motorized tool, and a crevice tool.
The Cons
The Dust Bin Is Small
For all this vacuum's outstanding features, it falls short in its dust capacity. It's a 0.52-liter container, which is not bad but could be better. This is not a dealbreaker — you'll just spend more time on maintenance.
Additional Specs
| | |
| --- | --- |
| Power | 115 a/w |
| Weight | 5.63 pounds |
| Dimensions | 8.8 x 9.8 x 49 inches |
| Special Features | Handheld convertible, max mode, whole-machine filtration |
| Accessories | Combination tool, mini-motorized tool, crevice tool, mini soft dusting brush |
---
4. Shark Pet Perfect II Cordless Vacuum
Best Budget-Friendly Cordless Vacuum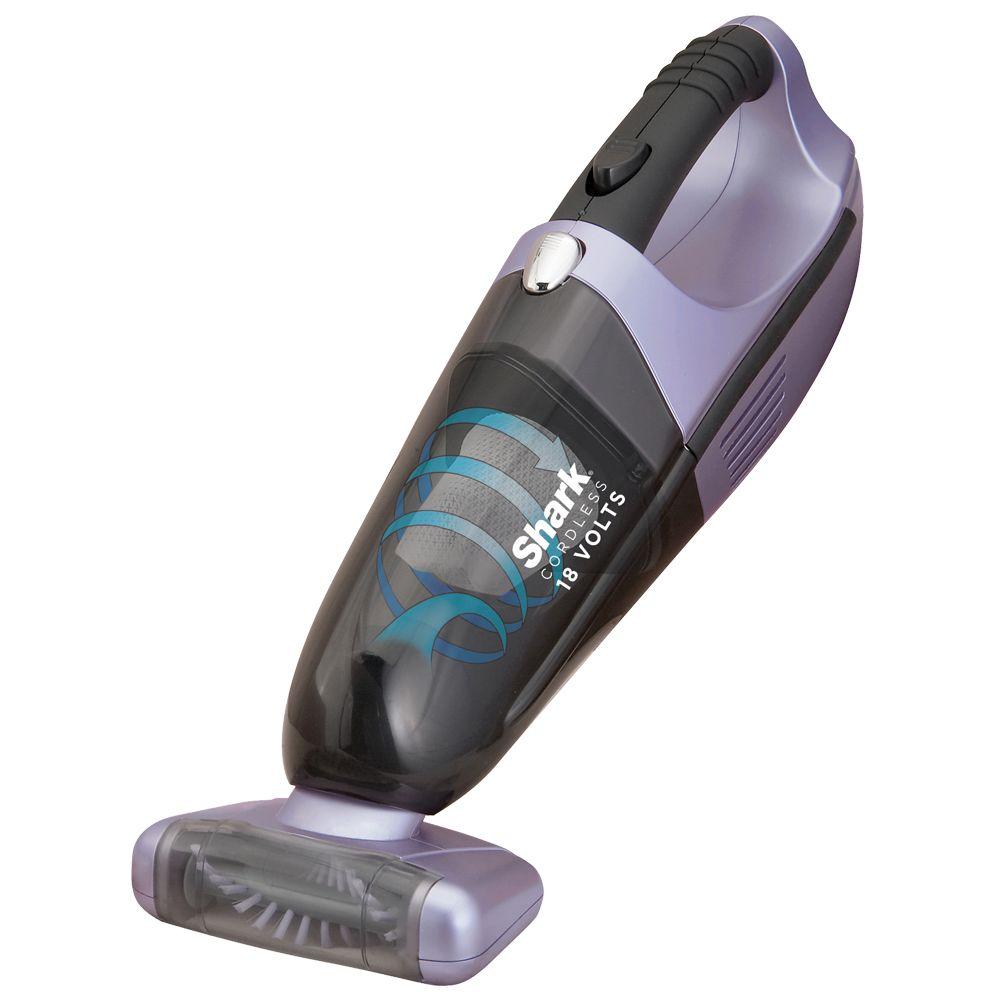 We have to give Shark another spot here because it's given you another impressive machine at a budget-friendly price point.
Some handhelds aren't designed for pets, but Shark has brought a nifty little vacuum that cleans up pet hair well.
It's designed to remove traces of fur — be it stubborn or fine — from upholstery. Since it's handheld, you can easily clean up your car, pet's bed, or even curtains.
It works exceptionally well on carpets, too, in the case of small messes that need tidying.
This machine has some cool features. It contains a washable filter, which is always handy in pet-friendly homes. It also includes an extra-large motorized brush roll — the reason it works so well on upholstery and carpets.
The Pros
Twister Cyclonic Technology for Carpets
Handheld vacuums aren't usually designed for floors, but this one is powerful enough to clean your carpets. The Twister Cyclonic Technology is so useful when you have to clean beyond pet hairs, like tidying small food pellets or litter grains.
Handy Attachments Included
The attachments make cleaning fussy hairs and dirt a breeze. It's another feature that handheld vacuums tend to lack. These include a crevice tool, dusting brush, and an extra-large motorized brush roll.
It's helpful when it comes to cleaning tough fabrics. Shark makes it work, and we love it.
Versatile Storage
You can choose between mounting the docking station on your wall or leaving it to stand free. It can also fit on countertops if you want the vacuum within reach.
We love that it takes up little room, and its station can hold each of its attachments.
The Cons
Short Range
Sure, it's excellent for tidying carpets, but at the end of the day, it's still a handheld. It won't be sufficient for cleaning larger areas, which may be a drawback in large homes.
Battery May Be Unreliable
Some customers have complained that the battery in this machine doesn't do well. There's a chance it will cut out unexpectedly or burn out with excessive use.
Additional Specs
| | |
| --- | --- |
| Power | 18 volts |
| Weight | 4.92 pounds |
| Dimensions | 4.6 x 15.7 x 6.1 inches |
| Special Features | Washable filter |
| Accessories | Crevice tool, dusting brush, motorized brush roll, charging stand |
---
5. Bissell Adapt Ion Pet Cordless Stick Vacuum
Best Cordless Vacuum for Small Tasks
Not every pet owner needs a machine with high capacity. This lightweight machine is sufficient for cleaning pet hair without taking too much room or using a lot of energy.
You get 15 minutes of run time, so it's better suited for small homes and surface areas. It's also flexible enough to fit under furniture and other tight spots that may be beyond your reach.
What's special about this machine is that it has a two-way folding handle specifically designed for removing pet fur underneath the furniture. So you can navigate under tables and chairs without having to bend over yourself.
It also uses the power of swivel steering to maneuver around obstacles, so you don't need to rearrange all your furniture before a vacuuming session.
The Pros
2-in-1 Handheld Design
This starts out as an upright vacuum, but you can quickly convert it into a handheld option with the press of a button. This is invaluable for cleaning stairs and upholstery, two places where pet hairs like to gather.
It's a Compact Design
This is an excellent choice for people with limited room in their homes. It's a lightweight and compact machine that you can store easily. It also has a foldable handle so that you can save room in your closet.
Pet-Specific Tools
We love that this vacuum has tools that are made for pet owners. Want to go beyond removing hair from your carpet? The upholstery and crevice tools are must-haves for any pet owner.
The Cons
Suction Power May Not Be That Strong
Some customers complained about the vacuum's suction capability. Don't let this deter you, though. The advantages of this machine are worth the extra maintenance.
Additional Specs
| | |
| --- | --- |
| Power | 10.8 volts |
| Weight | 7.88 pounds |
| Dimensions | 6 x 10 x 44 inches |
| Special Features | Flexible handle, swivel steering |
| Accessories | Specialized pet tools |
---
| Product | Award | Power | Weight | Dimensions |
| --- | --- | --- | --- | --- |
| Tineco A11 | Best For All Surfaces | 120 W | 5.5 lbs | 10.4″ x 11.2″ x 43.7″ |
| Shark Ion F80 | Best For Indoor Pets | 25.2 V | 8.51 lbs | 13.4″ x 10.2″ x 46″ |
| Dyson Animal V8 | Best For Allergies | 115 a/w | 5.63 lbs | 8.8″ x 9.8″ x 49″ |
| Shark Pet Perfect II | Best Budget-Friendly Option | 18 V | 4.92 lbs | 4.6″ x 15.7″ x 6.1″ |
| Bissell Adapt Ion | Best For Small Tasks | 10.8 V | 7.88 lbs | 6″ x 10″ x 44″ |
---
Bag or Bagless?
Bagged vacuum cleaners take more effort to empty and clean and could send all your collected dirt into the air. Disposable bags are not great for the environment, but they require little-to-no maintenance.
On the other hand, bagless vacuums are less of an immediate hassle. Plus, they're a green solution and save you money long term. However, the overall maintenance of your machine increases because you will have to manually clean the dust tank and keep tabs on how dirty it is.
For pet owners, our recommendation is to go by how often you clean. If your pet sheds a lot and your vacuum will fill up faster, bagless is a better option. It's healthier for the air and the earth.
If you don't vacuum as often or have no allergies, then bagged vacuums will do just fine.
---
Pet-Friendly Cleaning
Cleaning up after your pets doesn't have to be a hassle. So long as you choose a pet-friendly vacuum, tidying will be easy.
Effective pet vacuum cleaners are built to pull hairs from the fibers and fabrics they cling to. The higher your machine's power is, the more effective it will be at clearing pet hairs.
So, choose a vacuum that suits your household, health needs, and storage. This is dependent on the pets you have, your floor type, and the size of your home. Our recommendations can't predict this, but they conform to the needs of all pet owners.