Choosing one of the best trash compactors can cut down the number of trips you take to the dumpster. A trash compactor reduces the volume of trash so you can minimize this nasty chore.
Are you looking for something to go under the counter, or something manual? Perhaps you'd prefer a budget-friendly option? Either way, we've got you. With our seven best trash compactor recommendations, you'll find something perfect for your home.
Image
Model
Product Comparison Table
Features
Best Under the Counter Trash Compactor
KitchenAid Built-In Trash Compactor
Super compact trash
Anti-jam
Quiet
Best Budget Trash Compactor
Creative Bath Manual Trash Compactor
Three times more trash
Easy to use
Durable
Best Freestanding Trash Compactor
Gladiator Freestanding Trash Compactor
Hands-free
Anti-jam feature
Four times reduction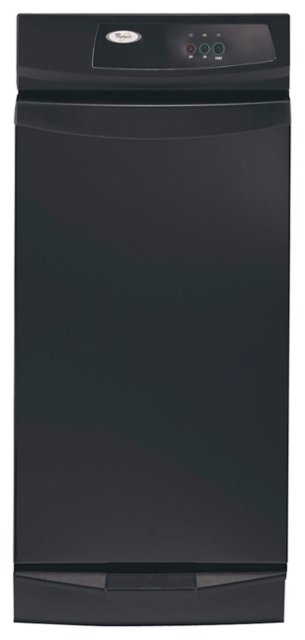 Best Convertible Trash Compactor
Whirlpool Convertible Trash Compactor
Four times reduction
Safety features
Quiet
Best Odorless Trash Compactor
Joseph Joseph 30030
66% less trash volume
Anti-tear and stretch design
10-year guarantee
Best for Small Businesses
Household Essentials Trash Krusher
11 gallon capacity
Easy to clean
Compact
Best Powerful Trash Compactor
GE Built-In Trash Compactor
Removable key lock for safety
Hands-free opening design
Automatic anti-jam design
---
What Does a Trash Compactor Do?
A trash compactor is a garbage can with a twist. They look similar to regular trash cans, but do much more.
Trash compactors use hydraulic pressure from your household's water connection to crush the garbage. Some use a metal ram to compress the trash.
The waste then becomes a more compact size. That way, you can fit more in there before needing to take out the trash. When it's full, you can easily bag and dispose of it as normal. They're handy devices, albeit not very common.
Caution
Keep your children away from trash compactors. They're very powerful and should be handled by adults only.
What Can You Put in a Trash Compactor?
Here are some things you can compact:
Paper.
Cans.
Plastic containers.
Wrappers.
Debris you've swept up.
Most food waste.
What Can You Not Put in a Trash Compactor?
Here are some things that should never go in a trash compactor:
Raw meat and fish.
Tough fruit peel.
Personal hygiene items.
Diapers.
Shotgun shells or explosive items.
Flammable materials.
Containers of toxic materials, such as bleach.
Aerosol cans.
Lit cigarettes, or other burning items.
Batteries.
Liquids.
Wood.
Glass jars or bottles.
Electronic items.
Dirt of gardening waste.
Pet waste.
Types of Trash Compactors
Let's review the main types of trash compactors.
Built-In
If you're on a mission to save space in the kitchen, then a built-in trash compactor is for you! These simply slot into your kitchen cabinet area for a seamless and practical solution to compacting trash. While these are more on the expensive side, they are subtle and help contain odors.
Convertible
Get the best of both worlds with a convertible trash compactor. They can either be built-in or you can leave them freestanding. You can switch it up when you want to redo your kitchen or when you're moving house.
Free-Standing
If you don't have free cabinet space in your kitchen, you can also choose a free-standing option. These replicate traditional trash cans.
Instead of built-in trash compactors, free-standing ones have a manual compacting function. So you'll have to use a lever, button or handle to initiate the compacting process rather than an automatic option.
Industrial or Outdoor Compactors
Industrial and outdoor compactors are best for commercial waste. Many businesses use these to make their waste more compact. We won't be recommending any of these today as they're probably a bit too big for your home! But they still exist and they can handle tough and high-volume waste.
How to Choose the Best Trash Compactor
Here are the top criteria you should consider when shopping for a trash compactor.
Always check the dimensions of the trash compactor to ensure it will fit in your given kitchen space.
Also consider the capacity to know how much waste the compactor can consume.
Weight is important, too, especially if you're going for a portable or free-standing option. Lighter options are easier to move from place to place if you're planning on redecorating.
Check to see if the trash compactor works automatically or manually. Usually, a built-in or convertible trash compactor will be automatic. Manual compactors are more budget-friendly but take more effort.
Arguably one of the most important elements, the reduction ratio is something to consider. This tells you how small the trash compactor can make your waste. For example, some compactors can reduce the waste to ⅕ of its original size, while others can cut the waste size in half.
Lastly, consider if the trash compactor has any odor-eliminating technology. Because you will be taking the trash out less often, it's important to think about the odor. The bad smells can start to radiate through your kitchen very quickly. But with odor-eliminating technology, this doesn't need to be a problem.
---
The Best Trash Compactors of 2022
Hours of research into customer reviews, expert advice and product descriptions have gone into creating this list of the best seven trash compactors.
1. KitchenAid - 1.4 Cu. Ft. Built-In Trash Compactor
Best Under the Counter Trash Compactor
For something that easily slots into your cabinet space, the KitchenAid 1.4 Trash Compactor is a great choice. It's sleek, classy, and comes in two color options.
Save space in your kitchen by installing this compactor under the counter. It's designed to provide amazing trash compacting and minimizing of odors.
The new model even has a panel-ready design so you can attach your own custom panel to the front. This way, it seamlessly matches the rest of your kitchen decor.
The Pros
Super Compact Trash
The KitchenAid trash compactor can reduce trash volume by 80 percent, which is astounding! So you'll save space, trips to the dumpster and also, trash bags. Not only does this save you time, it saves you money and plastic waste.
Anti-Jam
This trash compactor has a handy anti-jam feature. It prevents the compactor from jamming. The machine uses sensors to find potential or existing jams. It then automatically adjusts the operator and power to avoid the system jamming.
Quiet
If you want something that's both seamless and quiet, then this is the trash compactor for you. It has a sound-reduction system to minimize noise. So you can utilize this when the rest of the family is sleeping, or if you have neighbours.
Also, with this compactor you can put glass inside. You will hear a noise when the glass breaks, but that's probably the noisiest this machine will ever get.
The Cons
Awkward Foot Pedal
Customers don't love the foot pedal control option. You need to step on it to open the drawer and remove items. Customers find it awkward and hard to get used to. It's small and hard to press down because it's inconspicuously placed at the bottom of the unit.
Short Warranty
Keep in mind that the warranty for this product is only one year. For something so expensive, that warranty doesn't give customers much reassurance that the product will last long. It also means if there is damage after the one year mark, repair costs need to come out of your own pocket.
Additional Specs
| | |
| --- | --- |
| Type | Built-in |
| Size | 34.1 x 15 x 24 inches |
| Reduction Ratio | Five |
| Capacity | 1.4 cubic feet |
| Odor | Yes, fan with charcoal filter |
---
2. Creative Bath Manual Trash Compactor
Best Budget Trash Compactor
While most trash compactors are expensive, reaching up to four digits, the Creative Bath trash compactor is a good option if you're on a budget.
It has a 6.16-gallon capacity which is great for most families. The compacting function is easy to use, but note that is manual. So it's not ideal if you experience wrist pain or arthritis.
The Pros
Three Times More Trash
At a budget-friendly price point, you can save up to three times more trash space. This means three times fewer trips to the dumpster, three times fewer trash bags and three times more space in your bin!
Easy to Use
Although this is a manual compacting trash can, it's not difficult to use. Simply push down the middle rectangular handle a couple of times to compress the trash to its smallest size. We don't recommend children use this in case their fingers get caught. But it's definitely safe for teenagers and adults!
Durable
Made of polypropylene and manufactured in the USA, you can be guaranteed that its quality that will surely last for years. Maintenance is easy by simply using soap and water.
The Cons
On Repeat
The best way to save up to three times as much space in this trash can is to repeat the pressing motion. It can take a few good pushes to get the trash to a small enough size to save space. Keep in mind that you need to have a little patience with this compactor.
Additional Specs
| | |
| --- | --- |
| Type | Freestanding manual |
| Size | 13 x 10 x 22 inches |
| Reduction Ratio | Three |
| Capacity | 6.16 gallons |
| Odor | No odor-fighting technology |
---
3. Gladiator Freestanding Trash Compactor
Best Freestanding Trash Compactor
The Gladiator Freestanding Trash Compactor is industrial in appearance, but perfect for home kitchens.
The freestanding design makes it a top choice for homes that don't have free cabinet space to store a trash compactor.
It has a rugged, textured design which is easy to clean. Being on wheels, it's also easy to move and transport.
The Pros
Hands-Free
If your hands are full when you approach the compactor, don't worry! The Touch-Toe foot pedal opens the drawer for you. The bin flies open, even if it's nearly full. So you can drop your next load of trash inside without ever having to touch the can.
Safe
There are two prominent safety features. One to protect you and one to protect the machine. First up, there is a key to lock the device and protect children. Turn off the unit when it's not in use, lock it then hide the key from children.
Secondly, this unit has an anti-jam feature. If the door is opened while the compactor is running, the compression ram automatically reverses to prevent the unit from jamming.
Four Times Reduction
With the Gladiator compactor, you can reduce your trash volume by four times. It uses a compression force of 2,2000 pounds per square inch to reduce trash volume by 75 percent to powerfully crush trash and give you more space.
The Cons
Trash Bags
You have to use low-density heavy-duty bags for the best results. Otherwise, the high pressure can rip the bags and leave you with a big mess. Customers also find that changing the bags requires a lot of steps and isn't an easy process.
Additional Specs
| | |
| --- | --- |
| Type | Freestanding |
| Size | 24 x 15 x 38 inches |
| Reduction Ratio | Four |
| Capacity | 1.4 cubic feet |
| Odor | No odor fighting technology |
---
4. Whirlpool Convertible Trash Compactor
Best Convertible Trash Compactor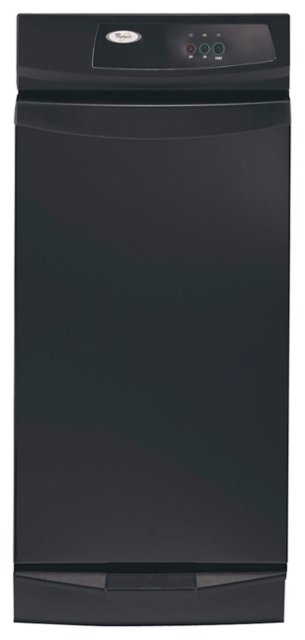 A convertible trash compactor can be used as a freestanding option or you can build it in underneath your cabinets to save space. The Whirlpool convertible trash compactor is a popular and high-quality option.
It's on wheels so you can easily move it around your kitchen for ultimate versatility. It also comes in a few different color options so you can match it to your existing decor.
The Pros
Four Times Reduction
This unit has a four times reduction ratio, so you can save 75 percent of trash space. Reduce your trips to the dumpster and plastic bag usage by up to four times. This saves both money and time!
Safe
The hidden and removable key knob provides ultimate safety. You can control accidents by utilizing this feature, so curious kids don't risk injury with this unit in your home.
It also has an anti-jam feature. If you open the door while it's in use, it will automatically reverse the compression jam to protect your machine.
Quiet
Noise control is important to many customers, us included! The Whirlpool Convertible has Quiet Pack sound conditioning technology to reduce noises. Quietly run this machine, even while people are sleeping.
The Cons
Unaesthetic Finish
If you decide to use this as a freestanding unit, be prepared for some ugly features. The back of the unit isn't finished, so if it's not against a wall, it can look unsightly. It also has some holes at the top that are intended to be screwed into your cabinet. But when used as a freestanding unit, they just look unaesthetic.
No Lock Feature
For something this pricey, customers wish that it had a lock feature. This would mean when you compress the trash, it holds it down for a while to really minimize the volume. But unfortunately, this unit doesn't have that feature.
Additional Specs
| | |
| --- | --- |
| Type | Freestanding |
| Size | 24 x 15 x 34 inches |
| Reduction Ratio | Four |
| Capacity | 1.4 cubic feet |
| Odor | No odor-fighting technology |
---
5. Joseph Joseph 30030 Intelligent Titan Compactor
Best Odorless Trash Compactor
Now you can compact your trash, but you can also control foul odors. This Joseph Joseph trash compactor has a fancy door control feature.
There is an integrated filter inside the lid. Install carbon filters, and you'll be pleasantly surprised at how much better your kitchen smells!
The Pros
66 Percent Less Trash Volume
This trash compactor has a lot of room for waste. The 30-liter trash can now holds 90 liters when compacted. That's a 66 percent increase. Wow!
Keep Your Hands Clean
We love this can's hygienic design. Only the inside of the bag touches the waste while the machine is compacting. This means that your trash can remains clean, and so do your hands!
Anti-Tear and Stretch Design
If you find your trash bags are ripping and stretching all the time, this trash can is a game-changer. It has an anti-tear and anti-stretch design to be more gentle on the liners.
You can use standard plastic trash liners for this can. But we do recommend extra-strong IW4 custom-fit liners for the best experience.
10-Year Guarantee
This trash compactor was built to last. You should be able to use it over 100,000 times before you notice wear and tear. To guarantee that, Joseph Joseph offers a 10-year warranty on this product.
The Cons
Garbage Bags Slip Down
You may appreciate a bit more security if you choose this trash compactor. The garbage bags tend to slip down. Even if you use larger bags to avoid this issue, you might find they don't fit well and cause clogs.
Additional Specs
| | |
| --- | --- |
| Type | Freestanding |
| Size | 15.35 x 13.54 x 26.93 inches |
| Reduction Ratio | Three |
| Capacity | 24 gallons |
| Odor | Carbon filters |
---
6. Household Essentials TK10XL-1 Trash Krusher
Best Trash Compactor for Small Businesses
Do you run a small business and want to reduce your trips to the dumpster? Check out the Household Essentials TK10XL-1 Trash Krusher. It can reduce your waste volume by 50 percent.
Now you can cut your trips to the dumpster and your use of plastic bags by twice as much! It's perfect for small businesses, as larger businesses would most likely need something with higher volume.
The Pros
11 Gallon Capacity
With this can, you get 11 gallons of capacity which is pretty generous on its own. But combine that with the compactor function and you suddenly have 22 gallons of space! You can use low-density 13-gallon bags to provide good security and space for all your waste.
Easy to Clean
The exterior is stainless steel which means it's simple to clean. Any stains can easily be wiped off with soap and water. The inner bin is removable so you can take it outside to hose it down when it's dirty.
Compact
If you want something both compact and aesthetic, this is the trash can for you. Its compact size makes it easy to store in any kitchen. Put it underneath a countertop or in the corner of the room where it will look unobtrusive and classy.
The Cons
Compactor Comes Loose
If you open the lid and it hits the wall behind, the compactor top can come loose and fall into the trash. This is both super inconvenient and pretty gross to fish out of a dirty trash can.
Additional Specs
| | |
| --- | --- |
| Type | Freestanding manual |
| Size | 17.5 x 14.6 x 25.5 inches |
| Reduction Ratio | Two |
| Capacity | 11 gallons |
| Odor | No odor-fighting technology |
---
7. GE Built-In Trash Compactor
Best Powerful Trash Compactor
Compact your trash in seconds, thanks to the GE built-in trash compactor. The powerful motor runs at 2300 pounds of ram force. This compacts your trash in less than 30 seconds.
If you're after fast speeds to get your trash under control in the blink of an eye, we think you'll enjoy this. It also offers a 75 percent compression ratio so that you can hold up to four times as much trash.
The Pros
Removable Key Lock for Safety
Since this is a powerful tool, you want to keep away curious little hands. Thankfully it comes with a hidden lock and start control that can only be activated using a key. Keep the key in a high place, out of reach of children, for ultimate safety.
Hands-Free Opening Design
Even if your hands are full, you can open the compactor drawer. There is a handy foot pedal so you can drop trash in.
There is also a second drawer with a side-release bin so you can remove trash bags easily.
Automatic Anti-Jam Design
When the trash compactor senses the door opening during the operation, it automatically reverses the compression ram. This prevents jamming.
The Cons
Noisier Than Other Options
If you're sensitive to noise, this trash compactor might get on your nerves. The decibel rating isn't specified, but customers complained of it being loud.
Additional Specs
| | |
| --- | --- |
| Type | Built-in |
| Size | 35 x 14.87 x 24 inches |
| Reduction Ratio | Four |
| Capacity | 10.47 gallons |
| Odor | No odor-fighting technology |
---
---
Trash Compactor FAQs
Do Trash Compactors Need Special Bags?
Yes, you'll need to look for low-density, heavy-duty trash compactor bags. We recommend getting the ones recommended for your chosen machine to avoid inconvenience.
Trash compactors use high pressure so you need a bag that's been designed to withstand this. Compactor trash bags can carry more weight than everyday trash bags.
Can You Put Food in a Trash Compactor?
Most food can go in a trash compactor, but not raw meat, fish or tough fruit peel like that from a grapefruit. You also shouldn't put liquid in your trash compactor. That includes juice, oil, fat, and grease.
Can Trash Compactors Crush Cans?
Most trash compactors can crush aluminum cans quickly and easily. This saves space in your trash compactor.
How Do You Clean a Trash Compactor?
We recommend cleaning your trash compactor every couple of weeks to keep it in the best condition and avoid rotting food.
Turn off the power: Always disconnect your trash compactor before cleaning. Unplug it if possible.
Remove the trash bag: Take out the trash bag and remove any bits of food that have snuck underneath the bag. Wear protective gloves while doing this. You can also use a vacuum cleaner if you'd rather.
Clean: Mix together warm water and a few drops of dish soap in a spray bottle. Spray the entire interior of the trash compactor and let it sit for 10 minutes.
Scrub: Using a clean damp cloth, scrub the inside of the trash compactor, removing dirt, buildup and stains.
Dry: With another cloth, thoroughly dry the interior to minimize the risk of mold and mildew buildup.
If you have drawers or rams, now's the time to clean those, too. Just make sure not to dampen any electrical parts of your compactor.
How Do I Know If My Trash Compactor Is Full?
Visually, you can tell when it's full. Plus, some compactors have an alert system or a sensor to tell you when it's time to change the bag.
---
Tackle the Trash
A great trash compactor can minimize your waste volume. So you can go longer between trips to the dumpster and save on plastic bags.
Our top recommendation is the KitchenAid Built-In Trash Compactor. It's especially good if you want something that's anti-jam and quiet.
We also recommend the Step N Sort Compacting Trash Can. It's the most affordable option on our list, but it's still one of the best.
Lastly, check out the Gladiator Freestanding Trash Compactor if you want something you can use hands-free.