When the temperature drops and you turn your heat up, the humidity level in your home can drop considerably. A humidifier can be useful in the winter months for adding moisture into the air. However, you can also use humidifiers during the warmer months.
With so many different models and types out there, it can be difficult to decide which humidifier is right for your home. Humidifiers come in warm, cool or dual mist. Cool mist humidifiers moisturize while cooling the temperature of the room.
Tired of dry skin and stuffy noses? Looking to tackle dry nasal and sinus passages? A cool mist humidifier could be a helping hand.
Image
Model
Product Comparison Table
Features
Best Overall Humidifier
AquaOasis Cool Mist
Highly-customizable
360 degrees rotating nozzle
Whisper quiet
Most Aesthetic Humidifier
Pure Enrichment MistAire Ultrasonic
Easy clean-up
Modern & sleek design
16-hour run time
Best Budget Humidifier
Levoit Ultrasonic
Silent operation
Array of mist settings
Quality tested
Best for Health
Crane Drop Ultrasonic
Easy to clean
Whisper-quiet operation
Child-safe
Best Portable Humidifier
Boneco Travel Ultrasonic U7146
Portable
Quiet operation
Automatic shut off
Best for Sleep
Pure Guardian H920BL Ultrasonic
Silver clean protection
Runs quietly
Compact & lightweight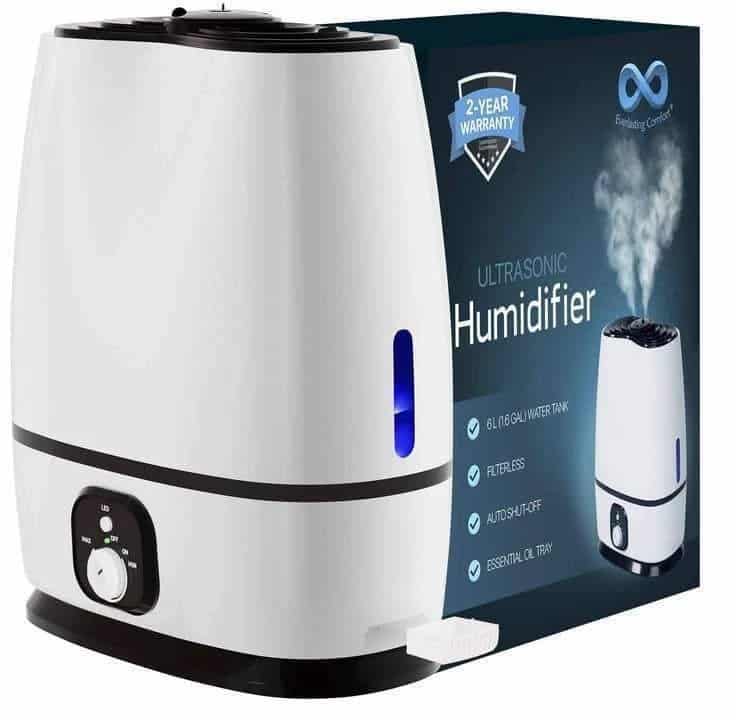 Best Runtime
Everlasting Comfort Ultrasonic
Long runtime
Essential oil tray
Filter-free
---
Warm Mist vs. Cool Mist Humidifiers
The main difference between these two is that the warm mist option creates steam by vaporizing water with heat. They're faster and more efficient at humidifying the air but can be really noisy.
Warm mist humidifiers can also be dangerous if you have children in the home. The tank contains boiling hot water and can easily burn skin if it tips over or leaks.
Cool mist humidifiers, on the other hand, are a much safer option if you have children. The lack of heat makes them a safer choice for busy homes filled with children or pets — or even clumsy adults.
They also tend to be much quieter than their warm mist counterparts. The only annoying thing about cool mist humidifiers is that they require thorough cleaning.
Things to Consider Before Purchasing
Use these factors to narrow your search:
There are two main versions of cool mist humidifiers:
Evaporative Cool Mist Humidifiers
Evaporative models utilize a built-in fan to blow air through a porous wick. The wick absorbs water from the tank or reservoir. The air then cools as it collects moisture from the wick. Keep in mind that this means you'll have to buy replacement wicks.
Since these types of humidifiers are fan-powered, they can be a bit noisy.
Ultrasonic Cool Mist Humidifiers
Ultrasonic humidifiers use something called a nebulizer. This is a compact high-frequency vibrating diaphragm that creates cool mist.
Since there's no fan involved, ultrasonic models are usually pretty quiet or almost completely silent. They also require less maintenance than the evaporative options because they're less likely to grow mold. You'll just need to scrub it down once a month.
This simply determines how much square footage of coverage you need from your humidifier. The coverage area can vary widely depending on the type and the model's output capacity.
If you're looking to only humidify small spaces, a tabletop or personal humidifier will get the job done. However, if you're looking for something to cover larger spaces, you'll need a console model — they generate a lot of moist air and have larger water tanks.
Ease of use matters greatly for humidifiers. You also want a humidifier that's relatively easy to move. This is important because you may need to move it for monthly cleaning. So whether you're looking at a table or floor model, you'll still want it to be portable.
User-friendliness also means easy maintenance. If you're leaning towards the evaporative models, be sure to check that the wick is easy and inexpensive to replace. You don't want to buy a new humidifier and find out the wick replacements are hard to find or expensive.
First, you want to be on the lookout for controls and displays of the humidity level and other settings. Not all humidifiers have these, but it can be necessary to control the humidity levels.
Not all humidifiers come equipped with a humidistat, either. Humidistats can make or break the decision for some since some models shut off the unit when the room reaches the desired humidity level.
This can help you conserve water and electricity and save money on your energy bills. If you find a humidifier that you really like, but it doesn't have a humidistat, buy a hygrometer instead. This monitors your room's humidity levels and can help you determine when you want to turn the humidifier off.
Some humidifiers have a user-friendly design that makes it easy to refill and clean. Others have more moving parts and require more maintenance. It's critical to clean your humidifier according to the manufacturer's instructions.
How often you clean it also depends on how often you use it. You may need to drain, rinse and dry it daily. It's important to clean your humidifier because bacteria thrive in moist environments.
The last thing you want your humidifier doing is circulating bacteria into your home's air. The standing water in the tank can be teeming with bacteria that could potentially get you sick!
---
The Best Cool Mist Humidifiers of 2022
We dedicated a good week of our time to filter through the wide range of cool mist humidifiers out there. We focused on real customer feedback and then compared it to what the experts say.
The result? This list of the best cool mist humidifiers on the market.
1. AquaOasis Cool Mist Humidifier
Best Overall Cool Mist Humidifier
This humidifier is perfect for both small rooms or larger spaces as it has fully customizable output settings with a 360-degree rotating nozzle that covers all areas of your house of up to 400 square feet.
It can run up to 24 hours on the low setting. You don't have to worry about this too much, though, as it will automatically shut off as well.
The Pros
Highly-Customizable
For such a small humidifier, it comes with a wide array of mist settings. You can have the power to set it on either standard or strong mist.
360-Degree Rotating Nozzle
You might have doubts as to whether this can do its task to bigger areas but its rotating nozzle will make sure that no areas will be left dry and arid.
Whisper Quiet
Thanks to the ultrasonic technology, this humidifier makes absolutely no noise. Place it in the background, and you'll forget it's even there.
The Cons
Difficult to Clean
Users tell us that the humidifers' opening will make it difficult to thoroughly clean the item.

Additional Specs
| | |
| --- | --- |
| Type | Ultrasonic |
| Dimensions | N/A |
| Weight | N/A |
| Tank capacity | 2.2 liters |
| Coverage area | 400 square feet |
---
2. Pure Enrichment MistAire Ultrasonic Cool Mist Humidifier
Most Aesthetic Cool Mist Humidifier
This cute little humidifier is perfect for humidifying small spaces such as bedrooms or offices. Its modern, aesthetically-pleasing design makes it a great addition to any space.
Similar to the Pure Guardian, this humidifier gives you the option to turn on a blue night light. You can turn it on at night when you're falling asleep and turn it off when you no longer need it in the morning.
The MistAire Ultrasonic from Pure Enrichment controls are very basic. It only has one button at the base of the device. Simply push once to turn on and push again to increase the speed.
The Pros
Easy Clean-Up
This humidifier only has two main parts: the water tank and the base. This makes for a really easy clean up. It also comes with a disk-cleaning brush to clean those hard-to-reach places. Also, it has no filter or other additional removable parts that need maintenance.
Modern and Sleek Design
This humidifier's water droplet design and small size make it easy to store anywhere. It's one of the more aesthetically-pleasing humidifiers on the market, so it will be a nice addition to any room.
16-Hour Run Time
Humidifiers with small tanks like this usually only run for 8-10 hours maximum. The MistAire impresses with 16 hours of continuous operation, and that's when it's on the high setting.
The Cons
Unstable Mist Nozzle
You can change the direction of the mist by adjusting the mist nozzle. However, customers report that this has a tendency to get stuck and doesn't turn with ease.
Additional Specs
| | |
| --- | --- |
| Type | Ultrasonic |
| Dimensions | 10.9 x 9.2 x 6.9 inches |
| Weight | 1.75 pounds |
| Tank size | 0.39 gallons |
| Coverage area | 250 square feet |
---
3. Levoit Ultrasonic Bedroom Cool Mist Humidifier
Best Budget Cool Mist Humidifier
The Ultrasonic from Levoit surprised us with its great performance and awesome price tag. It features a 360 degrees rotating nozzle that disperses cool mist in different directions. It also features a built-in night light. However, for those who wish not to use it as they may find the light a little distracting, you have the option to turn it off, unlike the other humidifiers in the market.
Additionally, it is a perfect addition to your kids' room as it emits 24 decibels of sounds at the lowest setting while 30 decibels at the high mist setting, thanks to its patented removable silencer.
If its cool customizable features weren't enough, this unit also delivers impressive performance. While its tank is more than half a gallon, it will last you up to 24 hours at the lowest setting. It can cover around 290 square feet, so it's perfect for small to medium-sized rooms.
The Pros
Silent Operation
This humidifier boasts nearly silent operation. No wonder it's marketed as a good option for babies or for sleeping. It's true, it's whisper-quiet.
Array of Mist Settings
Along with the 360-degree nozzle that disperses mist all throughout the space, this model comes with a variety of mist settings. This amount of customizability is impressive for this price point.
Quality Tested
While almost everything that is sold at a lower price point compromises its quality, Levoit is an exception. It has obtained certifications from FCC, ETL listed, CA65 tested, and ROHS. And oh, did I forgot to mention that it's BPA-free? It surely is!
Automatic Shut-Off
The humidifier will shut off automatically when it detects a low water level. You don't have to worry about wasting energy if the humidifier empties out while you aren't around.
The Cons
Not for Larger Room
Unfortunately, this humidifier can only do so much in a large area. You might want to consider the floor area on where to use this humidifier for.
Additional Specs
| | |
| --- | --- |
| Type | Ultrasonic |
| Dimensions | 8.5 x 6.7 x 10.2 inches |
| Weight | 2.5 pounds |
| Tank Size | 0.63 gallons |
| Coverage area | 107 to 290 square feet |
---
4. Crane Drop Ultrasonic Cool Mist Humidifier
Best Cool Mist Humidifier for Health
This unit from Crane is a powerful, user-friendly humidifier designed for 500 square feet spaces or lower. The ultrasonic technology is quiet and makes almost no noise.
What's unique about this humidifier is its made of clean control anti-microbial material which reduces the growth by up to 99.96 percent of any bacteria, fungus, or mold that might fester in the tank. This is great if you are concerned about possible bacteria build-up.
Our favorite thing about this item is its user-friendliness. It's super easy to clean with its detachable water tank which can be found at the bottom. You can easily fit your whole hand in there for scrubbing or drying.
The Pros
Easy to Clean
If you are concern that your humidifier might serve as a breeding ground for bacterial growth, you can be sure with this humidifier that it won't be a problem since its refill tank is detachable at the bottom which allows for you to have full access to getting into the tight nooks and crannies by hand.
Whisper-Quiet Operation
Crane Drop Ultrasonic was designed with the light sleepers in mind. It runs in a Whisper-Quiet technology that ensures you and your baby won't be annoyed by its noise.
Child-Safe
When you are to place this humidifier in the nursery, you will have peace of mind that it won't do harm even when the water tank is left empty as it has an auto-shut-off feature. Moreover, this item is also BPA-free. Plus, it comes in a variety of colors to suit your child's room theme.
The Cons
Essential Oil Issue
The only downside with this humidifier is that it cannot tolerate essential oils as it would make your maintenance with the machine more tedious.
Additional Specs
| | |
| --- | --- |
| Type | Ultrasonic |
| Dimensions | 8.6 x 8.6 x 13.4 inches |
| Weight | 4.5 pounds |
| Moisture Output | 1 gallon per day |
| Coverage area | 500 square feet |
---
5. Boneco Travel Ultrasonic Humidifier U7146
Best Portable Cool Mist Humidifier
This portable cool mist humidifier is small enough to be tossed in a bag. It's super convenient for traveling, especially if you're going to a place with a harsh, dry climate.
It has a bottle-mouth adapter that you can pop any standard PET water bottle into. Not having a water tank makes it really light at 1.3 pounds, so it won't weigh your bag down.
This humidifier utilizes ultrasonic technology to produce micro-droplet mist. It operates quietly and effectively, making minimal noise. Did we mention it can run for up to 24 hours?
The Pros
Portable
Weighing only just over 1 pound, it's so easy to transport with you. It even comes with a travel bag, cleaning brush and an interchangeable plug for worldwide use.
Quiet Operation
The ultrasonic technology makes for almost silent performance. On its highest setting, it almost sounds like the fan of a laptop.
Various Settings
It comes with a variable output knob control that allows you to control the humidification rate. It also has an automatic shut off feature — once the inserted water bottle is empty, it'll turn off.
The Cons
Not Stable for Large Bottles
Some users have tried attaching larger water bottles to this model, causing it to tip over.
Additional Specs
| | |
| --- | --- |
| Type | Ultrasonic |
| Dimensions | 2.6 x 4.4 x 3 inches |
| Weight | 1.3 pounds |
| Tank Size | Not applicable |
| Coverage area | 100 to 200 square feet |
---
6. Pure Guardian H920BL Ultrasonic
Best Cool Mist Humidifier for Sleep
The H920BL is a tabletop cool mist humidifier for small rooms. It's portable, compact and lightweight so you can take it with you from room to room.
It emits a very soft blue that can be very calming and great for sleep. If you're a light-sensitive sleeper, don't worry. This unit's light setting can be switched on and off with the push of a button.
It's our favorite nighttime humidifier not only for its glowing blue light but also for its completely silent operation. It makes absolutely zero noise even when it's set on high.
It has a modest coverage area and a relatively small tank, but that's because this humidifier is super tiny. Don't be fooled, though — it can run for 10 hours straight.
The Pros
Silver Clean Protection
This technology eliminates the growth of mold and mildew. Sometimes you just forget to clean your humidifier, and that can lead to the growth of all types of bacteria. This humidifier will make sure that it's only pumping out clean, healthy mist.
Runs Quietly
Ultrasonic models tend to be virtually silent while operating. This humidifier is no exception; you can place it right next to your bed while sleeping and not be disturbed.
The Cons
Beeping Noise
Despite its overall silent performance, users mention an annoying beeping noise when the water runs out. This can disturb your sleep, so be sure to fill it up before you hit the sack.
Additional Specs
| | |
| --- | --- |
| Type | Ultrasonic |
| Dimensions | 4.7 x 4.7 x 10.8 inches |
| Weight | 1.1 pounds |
| Tank Size | 0.21 gallons |
| Coverage area | 210 square feet |
---
7. Everlasting Comfort Ultrasonic Cool Mist Humidifier
Best Runtime Cool Mist Humidifier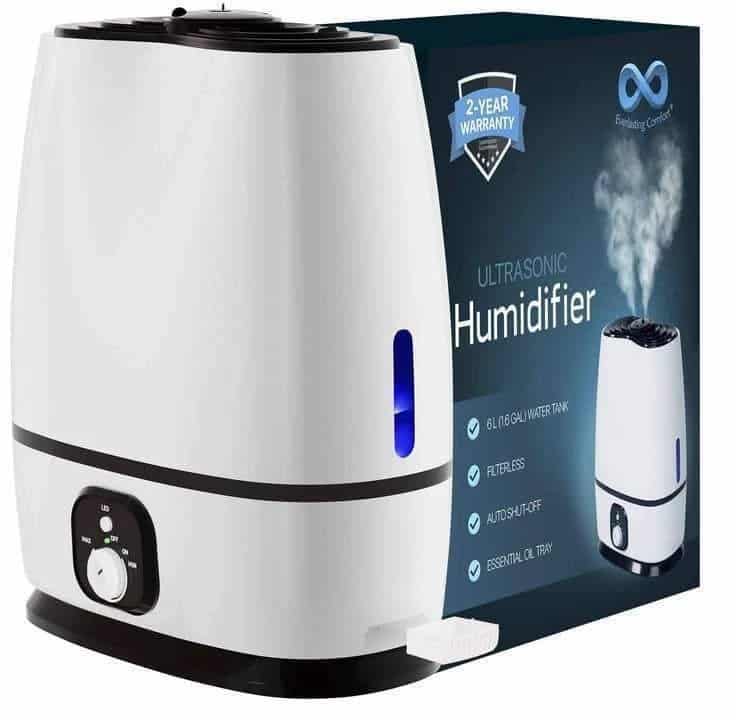 Let's begin by saying that this humidifier's runtime is 50 hours. That means you can set it going and not worry about it for several days. If the water runs out, it automatically turns off by itself, so there's no wasting of energy or damaging the unit.
Since it's an ultrasonic model, you won't need to worry about purchasing replacement filters all the time. The ultrasonic technology makes for a nice heavy spray. It can output up to 9 ounces of water per hour, so it can cover large bedrooms.
Some cool features include a user-friendly dial for adjusting the intensity of the moisture and a 360-degree rotating mist nozzle. As a bonus, it comes equipped with an essential oil tray for aromatherapy.
The Pros
Long Runtime
This humidifier can keep pumping out moisture for six whole days uninterrupted. This is ideal if you live in a particularly dry climate. You can keep this running even when you're away from home to keep the humidity level up.
Essential Oil Tray
This nice addition creates a pleasant aroma around the room. Add a few drops of lavender, and you'll be asleep in no time.
Filter-Free
No filter means no need to buy expensive replacements. This makes for minimal maintenance and upkeep, except for cleaning, of course.
The Cons
Difficult to Clean
This Everlasting Comfort model isn't the most convenient to clean. The water tank opening is less than 3 inches, making it difficult to clean by hand, according to customers. Also, the machine itself has many nooks and crannies where mold and mildew can build up.
Additional Specs
| | |
| --- | --- |
| Type | Ultrasonic |
| Dimensions | 14 x 12 x 8 inches |
| Weight | 4.1 pounds |
| Tank Size | 1.6 gallons |
| Coverage area | 500 square feet |
---
---
Cool as a Cucumber
Cool mist humidifiers can be perfect for tackling dry skin, congestion and uncomfortable breathing. The ones we've listed are sure to circulate purifying, moisture into your home with efficiency and style.
Our top choice is awesome for being able to include aromatherapy oils, which we know some of you will be looking for. The majority of the best cool mist humidifiers have awesome extras to entice you, but don't forget only to grab one that directly suits your needs.
If you only need a small, portable one, don't go for a whole-house humidifier. A good way to avoid this is to look for the coverage area and compare that to the space you need humidifying.