Do you live in a very dry part of the country, or do you have to keep your home heated by a furnace all through the winter? Whatever the reason is, you may have had to deal with dry, discomforting air in your home. Fortunately, this is a problem that can be solved.
The best whole-house humidifiers offer an excellent solution to humidify the entire home at once rather than relying on a portable option that can be cumbersome. They increase the humidity level by injecting water vapor into the air throughout the home.
We've put together a list of seven amazing whole-house humidifiers. Based on expert advice and real customer reviews, we looked at each product's individual specs. This includes the type of humidifier they are, their capacity, coverage, and more.
Keep reading to meet one that might suit your home beautifully.
Image
Model
Product Comparison Table
Features
Best All Round
Honeywell Whole House Humidifier
Flow-through technology
Easy Control
Easy installation
Best Budget Pick
Aircare MA1201 Humidifier
Mist evaporative technology
Easy maintenance
Has caster wheels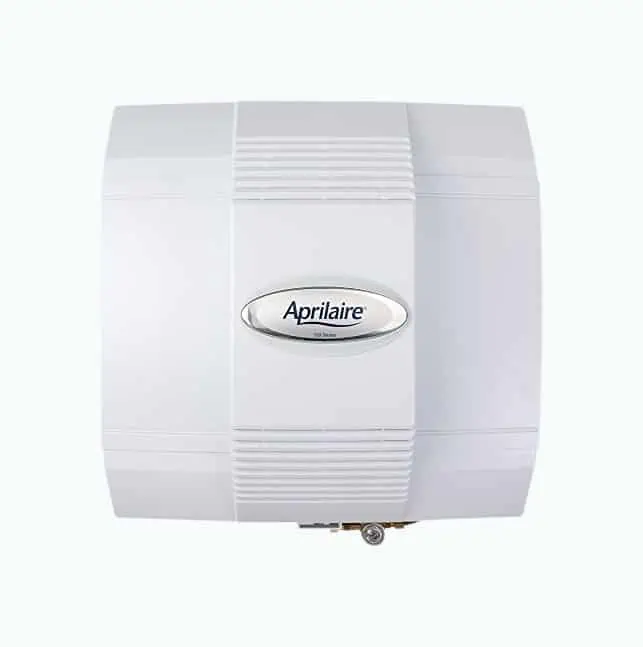 Best Furniture-Friendly Humidifier
Aprilaire 700 Automatic Humidifier
Automatic digital control
Quiet operation
Programmable features
Best Range
Aprilaire 800 Steam Humidifier
Electrode technology
User-friendly interface
Dual-sensor & humidistat
Best Industrial Whole-House Humidifier
Lacidoll Dehumidifier
Easy refill
Ultra portable
Moisture control
Best Multi-Purpose Humidifier
Aircare EP9 800 Digital Pedestal-Style
Multi-functions
User-friendly
Automatic shutdown
Most Aesthetic
Aircare 831000 Space-Saver
Convenient refilling
Trapmax filter
Large coverage area
Review Methodology: At Oh So Spotless, our team of professionals conducts thorough research and hands-on testing of the best whole house humidifiers to provide you with an accurate assessment. We evaluate products from a user's perspective, considering factors such as performance, efficiency, installation, maintenance, and cost. Our in-depth analysis compares various models, highlighting what sets each product apart from its competitors. We measure and rank each humidifier based on key decision-making factors, taking into account design choices and their effect on users. Trust our extensive experience and first-hand evidence to guide you in finding the perfect whole house humidifier to suit your needs.
---
---
The Best Whole House Humidifiers of 2023
We've extensively researched some of the most in-demand products on the market and have also taken into consideration consumers' reactions. The result? These seven best whole-house humidifiers.
Honeywell Light Gray Whole House Humidifier
Best All Round
The backlash of very low humidity could be cracks on wooden furniture, carpet shock, and dry skin (1).
This Honeywell model is built to eliminate dry air in the house. It's equipped with a distribution tray, which allows the most efficient use of water in reducing heat and saves on energy consumption.
What We Like
Flow-Through Technology
Flow-through technology ensures that water isn't stagnant in a humidifier reservoir. This maintenance-related feature ensures that the unit will stay cleaner for a longer period. It's reported that you won't need to clean every two to three months, depending on your house settings.
Easy to Control
We like how user-friendly this unit is and that the humidistat can be set for optimal humidity relative to outside humidity. Also, the user manual includes a recommendation table for reference while setting the thermostat.
Easy Installation
This model is installed directly onto the air handler or warm air supply of your forced air furnace. It's a process that's fairly easy to do. You'll need the installation kit and connecting components to complete the installation.
Up to 4,200 Square-foot Reach
The 4,200 square-foot coverage makes this model ideal for a big house. It'll produce up to 18 gallons of moisture daily to keep your home adequately moist.
What We Don't Like
Installation Kit Sold Separately
When purchasing this humidifier, keep in mind that you'll have to procure the installation kit separately.
Floor Drain Required
This model requires a floor drain, which may be an additional cost if there isn't one at the installation site.
Product Specs
| | |
| --- | --- |
| Type of Humidifier | Cool mist |
| Capacity | 18 gallons per day |
| Coverage | 4,200 sq. ft. |
| Weight | 18 pounds |
| Dimensions | 10.2 x 15.2 x 14 inches |
Our Ratings
Installation Compatibility
Community Feedback
"I installed this product in my 120-year-old home during the winter months and found it to be an effective solution for increasing humidity levels. The installation process took about two hours, and while the instructions were a bit of a challenge, careful reading and some DIY skills made it manageable."
---
Aircare MA1201 Whole-House Evaporative Humidifier
Best Budget Pick
Have you considered why many health problems seem to surface during wintertime? Ranging from the flu to allergy reactions to skin problems and static electricity shocks? Well, these may have a lot to do with dry air during the cold seasons.
The Aircare MA1201 is built to be of immense help in mitigating these problems. Plus, it's an option that doesn't set you back financially. It's built with features that ensure your atmosphere is perfectly humidified at the recommended levels.
What We Like
Up to 3,600 Square-Foot Reach
This humidifier has an extensive reach and will serve spaces as large as 3,600 square feet, which is about the equivalent of a small house. Alternatively, you could go for the model with a 2,600-square-foot reach if you don't have this much space.
Mist Evaporative Technology
It employs cool mist evaporative technology to inject moisture into the surroundings, reducing the risk of static shocks. Moisture is vital in rendering the flu virus powerless and slowing the transmission rate (2).
Tank Refill and Maintenance
The 3.6-gallon tank means that it serves for up to 36 hours before a refill is required. On top of this, the tank is moderately easy to fill, as you will just need to lay it flat in a sink while it fills up.
It's also relatively easy to clean, with the best practice being to clean every two weeks to avoid mold growth.
Easy to Transport Around
If ease of movement is important to you, this model should be a consideration. It comes with tiny caster wheels, removing the need for lifting it for transportation.
Top Tip
If you need to take it upstairs, it's advisable to empty the tank before lifting it.
Included Humidistat
This model is equipped with an automatic digital humidistat that displays humidity levels. The humidistat also triggers an auto shut-off when the desired level is reached.
This feature is a great energy-saver. The auto-shutdown feature is also triggered by low water levels in the tank.
What We Don't Like
Too Noisy for Nights
Since this is a cool mist humidifier, users report that the fan can be noisy at night. Consider adjusting the fan speed to keep the noise minimal while the household sleeps.
Tank Issues
Customers state that the tank empties quickly, and you must refill it often. This wouldn't be such an issue if it weren't so hard to refill. Plus, it's opaque, so you never know how much water is left in there.
Hygrometer Isn't Always Accurate
A built-in humidistat is handy, but customers note that the readings on this are off. Since it's so close to the output, it often overestimates the humidity levels. Therefore, you might think you have suitable humidity levels when actually, they're still relatively low.
Product Specs
| | |
| --- | --- |
| Type of Humidifier | Cool mist |
| Capacity | 3.6 gallons |
| Coverage | Up to 3,600 sq. ft. |
| Weight | 14 pounds |
| Dimensions | 14.5 x 21.5 x 20.5 inches |
Our Ratings
Installation Compatibility
Community Feedback
"My experience with this whole home humidifier has been excellent as it effectively covers my 2000 sqft living area, even with an open, vaulted ceiling floor plan. The device is easy to fill, maintain, and clean, and though it can be quite loud on higher fan speeds, the overall benefits it provides, such as relief for my dry, cracked hands, make it worth the noise. The auto mode and simple controls make this humidifier user-friendly, and its performance has exceeded my expectations, especially compared to more expensive units I've tried in the past."
---
Aprilaire 700 Automatic Humidifier
Best Furniture-Friendly Humidifier
This Aprilaire 700 does not have the coverage strength of the larger models. However, with an up to 4,200 square foot range, it still classifies as a high-capacity humidifier.
This model is fan-powered and works together with the home's cooling and heating system. It does this by the fan sucking in non-humidified air, humidifying it, and circulating it via the vents to every room in the house.
What We Like
Up to 4,200 Square-Foot Reach
This 4,200-square-foot capacity utilizes approximately 0.75 gallons of water every hour and a total of 18 gallons daily. This may not seem like a lot of water, but it's enough water to humidify a big house.
Great for Furniture and Electronic Devices
This humidifier ensures that the static electricity from dry air is checked by drawing in non-humidified air. This gives longevity assurance to your wooden furniture, paintings, artwork, and electronics.
Automatic Digital Control
The automatic digital control allows you to adjust the humidity levels of the surroundings according to your desired preferences. You'll need to first enter your desired humidity for this to work.
Low Noise Level
It's a perfect humidifier for nighttime since it'll work efficiently, raising the humidity by up to 50 percent using little energy. It integrates directly with your home HVAC system and doesn't have loud fans. In comparison to other console models, it's quiet and smooth.
Programmable Features
The Aprilaire 700 has integrated programmable features and statistics, such as relative humidity and the current temperature. This gives it an edge in comparison to similarly priced models.
What We Don't Like
Installation Is Hard
With this model needing to integrate into an HVAC system, users report the installation to be a bit tricky. Consider calling in an expert to help with this process, and remember that it will cost you, so factor that in if you have a budget.
Uses a Lot of Water
Be aware that this unit uses a lot of water. Your water bill might jump significantly after installing this.
Product Specs
| | |
| --- | --- |
| Type of Humidifier | Cool mist |
| Capacity | Not Specified |
| Coverage | 4,200 sq. ft. |
| Weight | 15 pounds |
| Dimensions | 16 x 11 x 18 inches |
Our Ratings
Installation Compatibility
Community Feedback
"When I installed the Aprilaire 700 in my vacation home in rural Northwest Montana, I was impressed by how easy it was for me, a contractor, to set up and connect to my Gen3 NEST thermostat. Within the first week, the humidity levels in my home increased significantly, making the environment much more comfortable and preventing damage to the house from dryness."
---
Aprilaire 800 Whole-House Steam Humidifier
Best Range
The Aprilaire brand has more than 50 years of experience in the air quality business and is famous as the creator of the whole-home evaporative humidifier. It's a leader in indoor air quality solutions, and the Aprilaire 800 is one of the company's more popular whole-house humidifiers.
This model is a steam humidifier and replaces the thermostat with a humidistat. It functions to sense the moisture of the surrounding atmosphere. Then, it triggers a humidifying process when the humidity drops below the ideal level.
What We Like
6,200 Square-Foot Reach
Of all the humidifiers we recommend, the Aprilaire 800 whole-house humidifier has the largest reach of 6,200 square feet. This, typically, is space equivalent to a big house.
Electrode Technology
It makes use of an electrode technology, which is reported to be energy-efficient and user-friendly.
At the end of the winter season, you can easily replace the canister that houses the electrodes without needing to call an expert.
User-Friendly Interface
Some humidifiers come with complex interfaces and control options. With this model, the user interface is intuitive and ideal for someone who hasn't operated a humidifier before.
The interface contains the following with indicator lights:
Power button.
Steam icon.
Fill icon.
Drain icon.
Service icon.
Dual-Sensor Automatic Mode & Humidistat
We like that this model is built to function either manually or automatically, depending on user preference. However, it comes with an auto-mode that's even more impressive.
This mode allows it to monitor and automatically respond to humidity changes inside your home, depending on the outside temperature levels.
Also, this mode will notify you when heat is released, or water is drained. It'll also drain the water automatically after 168 hours in preparation for canister replacement.
What We Don't Like
Warranty Conditions
The Aprilaire 800 comes with a 5-year limited warranty. However, the initial installation must be done by an authorized technician, or else the warranty is void. Users report that the installation process is relatively easy, and most people prefer to do it themselves.
Doesn't Always Turn On
This humidifier won't turn on when the readings are at a certain level. However, the unit overestimates humidity levels. So while yours might actually be 30 percent, the unit might think it's higher and then not switch on.
Not Suitable for Soft Water
The unit will indicate insufficient water conductivity if your water is too soft. The unit will then not work. You can add some salt to the tank to increase conductivity, but figuring it out is quite the faff.
Product Specs
| | |
| --- | --- |
| Type of Humidifier | Warm mist |
| Capacity | 11.5 to 34.6 gallons |
| Coverage | 6,200 sq. ft. |
| Weight | 34.5 pounds |
| Dimensions | 10.125 x 20.875 x 7.125 inches |
Our Ratings
Installation Compatibility
Community Feedback
"In my experience, the Aprilaire 800 is a fantastic whole-house humidification solution, especially during brutal winters with near-zero humidity. The installation process took around 8 hours, but it was worth the effort as it had a significant impact on the indoor air quality. The system effectively raised the humidity in my 2,800 sq ft, two-story home, making the air much more comfortable."
---
Lacidoll Commercial & Industrial Humidifier
Best Industrial Whole-House Humidifier
The Lacidoll LCDJSQ-J001 has a sturdy rectangular-shaped design. Compared to other humidifiers, it's the lightest, weighing only 13.42 pounds. It also has a wheel for easy transport from one room to another.
If you've never used a humidifier, this easy-to-use and beginner-friendly model may be a great starting place despite being considered a commercial-grade humidifier.
What's great about it is the unique atomizer and UV light technology, which helps reduce allergy symptoms by cleaning dust and pollen.
What We Like
Easy Refill
Unlike other humidifiers wherein you have to power down the unit in order to refill water, this item from Lacidoll can be refilled while you are still using it by loading the water on the top portion of the humidifier. Otherwise, an alternative method of refilling it is opening the wide water tank. An empty tank will also trigger a shutdown.
Ultra Portable
The built-in wheels of the unit make it a breeze to transfer from one area to another. Plus, it comes with a remote control to set the timer.
Moisture Control
It has an adjustable moisture control with various output settings. This can trigger an automatic shutdown when the desired moisture level is reached.
Automatic Humidity Levels
You can adjust your desired humidity level between 40 and 90 percent. The unit will run until the humidity levels are reached. So you can sit back, relax and not think about it again.
What We Don't Like
Extendable Tube Not Included
If you plan to use this for commercial settings, you might need a customized pipe, but unfortunately, it is not included in the package.
No Memory Function
When you switch the unit off to refill or take a break, it won't remember your desired settings. Customers find this really irritating.
Leaves Behind Residue
Customers found that this output a lot of water sometimes. This left behind a white residue, or sometimes a miniature flood!
Product Specs
| | |
| --- | --- |
| Type of Humidifier | Cool mist |
| Capacity | 5.5 gallons |
| Coverage | 2000 square feet |
| Weight | 13.42 pounds |
| Dimensions | 27 x 13 x 12.5 inches |
Our Ratings
Installation Compatibility
Community Feedback
"My experience with these humidifiers has been mostly positive, as they are efficient in producing moisture and have a large water capacity, making them easy to operate. However, there are a few downsides like the difficulty in seeing the water level through the window and the occasional damp spots on the floor. Despite these minor issues, I found them to be effective in humidifying my large home, and with proper maintenance, they have lasted me a good amount of time."
---
Aircare EP9 800 Digital Whole-House Pedestal-Style Humidifier
Best Multi-Purpose Humidifier
Aircare is famous for its well-designed, efficient, and aesthetically pleasing humidifiers. This model falls nicely into this category.
It can control the humidity in a house of up to 2,400 square feet, which is almost equivalent to an average United States home size.
When set in a central location, it can increase humidity without the need to buy a furnace humidifier.
What We Like
Multi-Functional
The primary role of a humidifier is to control atmospheric humidity levels. This unit serves that purpose and a bit more.
The pedestal-style humidifier can be a makeshift table with an espresso color and a replaceable 12 x 12-inch tile top. It can match your living space's design and serve the function of extra furniture.
User-Friendly Design
It's pretty straightforward to operate since there are only three buttons:
Power.
Target humidity.
Fan levels.
If you're not technologically gifted, you might appreciate this.
Auto Humidistat Included
This function takes the burden of determining the required humidity levels from you. The unit will adjust the inside humidity of the house relative to the outside humidity levels.
Automatic Shutdown
If you have concerns over energy use, this feature may be the one to take note of. To make it easier to use, the burden of shutting down is handled by the unit itself. When the desired humidity level is reached, the shutdown mechanism is triggered.
What We Don't Like
Noisy Fan
Users report that the noise from this fan is off-putting when running at high speeds.
Hygrometer Isn't Always Accurate
The hygrometer on this unit overestimates the humidity levels. So if you want 40 percent humidity, you might need to set the unit to 55. We recommend getting another hygrometer to double-check the levels at home.
Annoying to Fill
There is a small door at the front of the unit to refill the tank. But it's very small and easy to spill water. Thankfully, you can also fill from the top.
The fill line is also inside the unit, so it's hard to see. Lastly, it's a small tank and must be refilled often.
Product Specs
| | |
| --- | --- |
| Type of Humidifier | Cool mist |
| Capacity | 3.5 gallons |
| Coverage | 2,400 square feet |
| Weight | 27 pounds |
| Dimensions | 18 x 18 x 27.2 inches |
Our Ratings
Installation Compatibility
Community Feedback
"In my experience, this product has truly improved the quality of my life by effectively humidifying my home during the dry season. After using it for a month, I found that it took a couple of days for the house to be fully humidified, but once it did, the results were impressive. The AirCare Pedestal humidifier was easy to assemble, set up, and fill with water, although I had to be cautious not to overfill it. One downside was the noise level when the fan was on a higher setting, but I was able to place it in an out-of-the-way spot to minimize the disturbance."
---
Aircare 831000 Space-Saver Humidifier
Most Aesthetic
The Aircare 831000 Space-Saver is a great way to increase humidity at home. By raising the indoor humidity levels, it makes airborne virus particles become dormant.
It's a sleek-looking, space-saving whole-house humidifier. The top of the unit sucks in dry air, which is moisturized as it passes through the reservoir's evaporative wick and disperses back into the air from the top of the unit.
What We Like
Convenient Refilling
Refilling water is very easy with this humidifier. Since it's filled from the top, all you need to do is pour water directly from above into the reservoir. There's no tilting or turning to get a good filling angle, which is something users report with other models.
It has a 6-gallon tank and an extended runtime of 70 hours, allowing some spacing between refills.
Presence of a Filter
The Aircare 831000 comes equipped with a powerful Trapmax filter. This helps trap allergens and possesses antimicrobial properties for cleaner air.
Wick Replacement
We recommend that you change the wick at the start of every season. If you live in areas with hard water, you may need to make more frequent replacements.
Large Coverage Area
Consider this model as ideally suited for small houses. It'll work efficiently to humidify spaces as large as 2,700 square feet.
Easy to Maneuver
Being on casters, this is super easy to transport around. Whether you're moving it from room to room, or just want to change its position, that's no problem.
What We Don't Like
Flimsy Build
While others may find its construction a bit flimsy, some users have reported that the product lasts long for them. This all boils down to how well-maintained the unit is post-usage.
Can Be Noisy
If you want to use something at night or while your little ones are napping, this might miss the mark. The noise level is quite loud and may get on your nerves.
Product Specs
| | |
| --- | --- |
| Type of Humidifier | Cool mist |
| Capacity | 6 gallons |
| Coverage | 2,700 sq. ft. |
| Weight | 14 pounds |
| Dimensions | 17.5 x 12.5 x 22.5 inches |
Our Ratings
Installation Compatibility
Community Feedback
"Best purchase for battling dry air in my home! This product is fairly quiet and doesn't bother me while working from home, even when it's just 15 feet away. It effectively raised the humidity levels in my house, helping with dry cough and skin issues. It's also easy to refill with water and has a clear water level line, making it a convenient and user-friendly choice for maintaining comfortable humidity levels."
---
Types of Humidifiers
Cool mist humidifiers function without a heating element and often use a wick to diffuse mist around your home. The fan is important and serves to blow air through the filter.
Due to the lack of a heating element, cool mist models are relatively energy-efficient. This lack of element also makes them safer to use around children.
Pros
Energy-efficient.
Reduces room temperature on hot days.
Includes filters to purify the air.
Safer for children.
Ideal during the summer.
Cons
Harder to clean and maintain.
Noisy at maximum capacity.
The water in a warm mist humidifier is heated almost to the boiling point by a heating element. This heated water is then dispersed around as vapor, bringing a snuggly and warm feeling to the home when it's cold.
Since warm mist models need to heat the water first, they use more energy. Despite this, they're reported to be a popular choice for many.
Pros
Don't use fans, so they are quieter.
Raises room temperature.
Less prone to mold.
Easy to maintain.
Well-suited to the winter.
Cons
Consume more electricity.
Risk to children due to heating elements.
What to Consider Before Buying a Humidifier
We know you're keen to jump to the best whole-house humidifiers that we've recommended. But, wait a few more moments and consider the following factors before you buy!
---
FAQs
---
Thank You For Your Feedback!
Thank You For Your Feedback!