If you spend a lot of time at home, you may notice your skin feeling dry. The air in your house typically lacks moisture, which is why your skin will be more prone to drying out indoors (1). You may even find your eyes and nose become irritated too.
If this is the case, then you may need a humidifier. In this article, we'll be talking about the five best ultrasonic humidifiers available right now. So, wave goodbye to dry skin caused by the air in your home.
To conclude our list, we spent hours researching real customer reviews and expert advice. We investigated each product's humidifying ability, capacity, use type, and additional features. We're confident in our top choices and their power to transform your home air.
Image
Model
Product Comparison Table
Features
Best Overall Ultrasonic Humidifier
Levoit LV600HH Hybrid Ultrasonic
High mist output
Warm & cool mist settings
Long runtime
Best Small Ultrasonic Humidifier
Geniani Top Fill Cool Mist
Smart mode
Easy-access control
Easy refill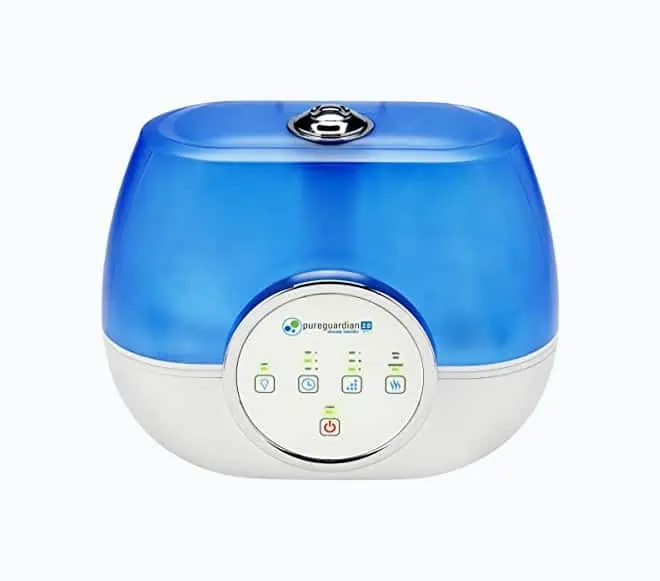 Best Large Ultrasonic Humidifier
PureGuardian H4810AR Cool Mist
Silver clean tank
Long runtime
Aromatherapy tray
Best Budget Pick
Winix Cool Mist
Night light feature
Silent operation
1-year warranty
Best Portable Option
Pure Enrichment MistAire
Whisper-quiet technology
Five year warranty
Optional night light
Review Methodology: At Oh So Spotless, our extensive analysis and hands-on experience with ultrasonic humidifiers enable us to provide you with a trustworthy assessment of the best products available. Our experts meticulously research, compare, and evaluate products based on criteria such as performance, design, and user experience. We gather data, rank products, and share quantitative measurements to help you make informed decisions. Our reviews address key factors such as mist output, noise levels, capacity, energy efficiency, and ease of use. By examining the design choices and their effects on users, we identify what sets the top ultrasonic humidifiers apart from their competitors and provide first-hand evidence to support our recommendations. Trust us to guide you through the process of selecting the perfect humidifier for your needs.
---
---
The Best Ultrasonic Humidifier of 2023
You'll find that there are many ultrasonic humidifiers online or in stores. If you're struggling to narrow down your search, we've collected five of the best ultrasonic humidifiers. We concluded this comprehensive list based on expert advice and what real customers had to say.
Keep reading to meet humidifiers that can transform the air in your home thanks to their fantastic output, room coverage, and unique features.
Levoit LV600HH Hybrid Ultrasonic Humidifier
Best Overall Ultrasonic Humdifier
This first entry on our list should suit the majority of users. The Levoit LV600HH is a germ-free and whisper-quiet ultrasonic humidifier that offers warm and cool mist settings.
The great thing about this humidifier is its convenience. It has a low noise level, a timer to switch itself off, remote control, and a built-in sensor to detect humidity levels. The benefit of all these features is that you won't have to spend too much time fiddling with them.
Those of you with larger homes will also want to consider this model. It can cover over 700 square feet. The design is sleek and modern, which should fit with the majority of the decor.
What We Like
High Mist Output
This is a particularly attractive option if you're looking to cover a larger space. This humidifier provides a mist output of 500 milliliters an hour, meaning it can easily cover 753 square feet.
Warm and Cool Mist Settings
You will want different temperatures of mist depending on the time of year. This setting means you can get warm mist in the winter and cold mist in the summer. It's way easier than having to buy more than one humidifier.
50 Hours of Use
Another significant advantage of this humidifier is that it can run an impressive 50 hours on the low mist setting.
Fast Humidity Results
This super-efficient humidifier works four times faster than its competitors. In fact, it can raise humidity levels by 10 percent in just 20 minutes, providing instant relief.
Less Than 28 Decibels
Do you want something quiet? Then this is a fantastic option. Running at less than 28 decibels, this is one of the quietest humidifiers we have found.
To put it in context, 28 decibels is quieter than a whisper — more like leaves rustling.
What We Don't Like
Some Reports of Leakage
Customer feedback suggests this humidifier may have issues with leakage. We do want to stress that this doesn't appear to be a frequent issue and may be related to defective units. You should contact the manufacturer if it happens to you.
Inconvenient Bottom Fill Design
When you have a bottom-fill design, it can be really frustrating, especially when everything else about the unit is so good. Refilling this bad boy is slightly annoying, but once you get the hang of it, hopefully, it doesn't bother you so much.
Hygrometer Could Be More Accurate
One common complaint about humidifiers is their built-in humidistat. This one can give you inaccurate readings sometimes. This can cause you to prematurely switch off the machine when you think the humidity is at 55, but it's maybe only around 45.
Product Specs
| | |
| --- | --- |
| Dimensions | 11.3 x 7 x 10.5 inches |
| Capacity | 7.1 L / 1.58 Gallon Capacity |
| Refill Type | Bottom Filled |
| Use Time | 50 hours on Low Mist Level |
| Additional | Essential Oil Diffuser |
Our Ratings
Community Feedback
My experience with this humidifier has been largely positive, though not without a few minor issues. I appreciate the dual hot and cool mist options, as well as the adjustable humidity levels. However, I highly recommend purchasing a separate hydrometer, as the one built into the unit is not entirely accurate. The humidifier performs decently in a smaller room, but may struggle with larger or high-ceilinged spaces. When it comes to cleaning, the process can be a bit cumbersome, especially for those with larger hands. Despite these drawbacks, I find that the humidifier effectively adds moisture to the air, helping to alleviate dryness and improve the overall air quality in my home.
---
Geniani Top Fill Cool Mist Humidifier
Best Small Ultrasonic Humidifier
Great things can come in little packages: say hello to the Geniani top-fill cool mist humidifier. With a 4-liter capacity that covers 220 square feet, it may not be the humidifier for a large office, but it won't let you down.
This machine has one of the most convenient filling options we've seen. The water is poured into the top rather than the bottom, and you don't need to remove the cap.
One of the benefits of this humidifier is that it offers a smart mode with an intelligent sensor that automatically adjusts moisturizing speed to match the environment.
This is the best option for you if you want a humidifier for a small room or space.
What We Like
Smart Mode Humidity Sensor
We really can't overstate how cool this smart mode is. You don't have to pay attention to how your environment is changing because the built-in sensor does it all for you. It really puts this one on another level.
Easy-Access Control Button
Having a control button is important anyway, but it's even better when you have a button you can easily reach. It's right on the front!
Easy to Refill the Tank
This is probably the easiest of the humidifiers to refill. It only takes a couple of minutes, and you don't even have to remove the cap. Just pour the water straight into the top.
Good Looking Machine
If you're a minimalist, you'll love this sleek machine. It's a simple white unit that will look good in any home or office.
Optional Oil Diffuser
If you love essential oils, you can use this as a diffuser. You add essential oils to a small tray, and it will distribute them as it runs. This is amazing if you like diffusing lavender at night or peppermint during the day.
What We Don't Like
White Dust Accumulates
We have seen some feedback that suggests this humidifier may generate more white dust than other options.
You Need Distilled Water
This adds a running cost to using the machine since you can't use tap water. This leads to a build-up of mineral deposits in the machine.
Mold Issues Arise
This machine is quite hard to dry out. When you deep clean it, you must leave it for a while to air out completely. Otherwise, mold and mildew quickly become an issue.
Product Specs
| | |
| --- | --- |
| Dimensions | 9.06 x 6.69 x 12.2 Inches |
| Capacity | 4 Liters |
| Refill Type | Top Fill |
| Use Time | 18 Hours on Low-Speed Mode |
| Additional | Smart humidity mode and essential oil diffuser |
Our Ratings
Community Feedback
Love this product for its sleek design and quiet operation, making it a great addition to my desktop. The light feature adds a nice touch to the overall mood, and it's perfect for supplementing the humidity in my dry environment. However, the button is a bit loud and the mist output could be more effective. Despite these minor drawbacks, the smart setting and automatic shut-off features are convenient, especially when I forget to turn it off or refill the water. I've used it daily for over half a year, and it has made a noticeable difference in my sleep quality. Just be prepared for the possibility of a shorter lifespan if you plan to use it as frequently as I did.
---
Pure Guardian H4810AR Cool Mist Humidifier
Best Large Ultrasonic Humidifier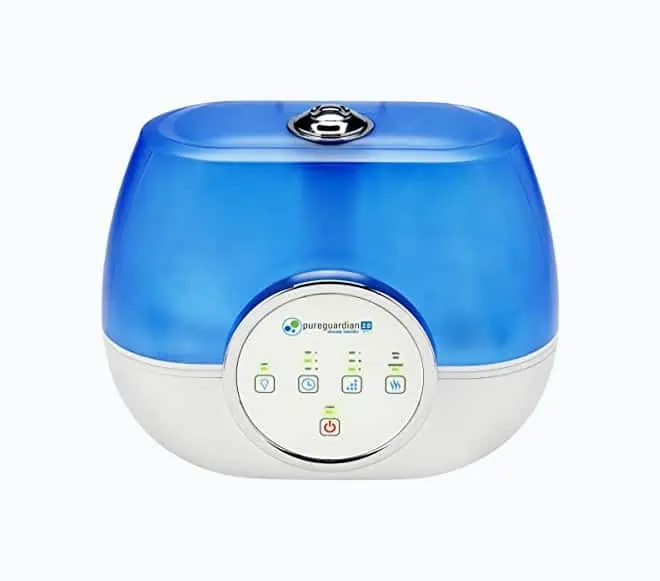 The Pure Guardian H4810AR cool mist humidifier is probably the best of the large options. It has a two-gallon capacity and can cover 600 square feet.
This compact humidifier is quiet, filter-free, and offers a huge 120-hour run time. It's not as convenient as other options in terms of functionality. However, it has everything you need without paying much extra money.
It also can generate both cool and warm mist, which is always a bonus in a humidifier.
What We Like
Silver Clean Tank
Humidifier tanks get dirty very easily, and you don't want nasty gunk building up in yours. This model helps tackle the issue by providing silver clean protection, which helps prevent the build-up of mildew.
Long Continuous Use
This model has an impressive running time of 120 hours. This is thanks to the extravagant 2-gallon tank. That's a great feature if you don't want to be constantly checking up on your machine.
Included Aromatherapy Tray
If you want to add essential oils, this is the humidifier for you. Simply add a few drops to the aromatherapy tray and enjoy the soothing mist that distributes into the air around you.
What We Don't Like
Not the Easiest to Clean
Many of the humidifier's parts can't be removed or moved about, making deep cleaning a little tricky. It also develops scum and deposits quite quickly, so don't forget to deep clean weekly.
It Might Leak
While this isn't a super prevalent complaint among customers, it's still worth noting. A few people have found that the tank leaks, especially in certain settings. So while high and low might be fine, the medium setting might sometimes cause leaks.
Product Specs
| | |
| --- | --- |
| Dimensions | 7.75 x 15.03 x 12.48 Inches |
| Capacity | 2 Gallons |
| Refill Type | Top Fill |
| Use Time | Up to 120 Hours |
| Additional | Silver Clean Tank and aromatherapy tray |
Our Ratings
Community Feedback
I'm thrilled with this product as it has made a noticeable impact on the comfort of my living space. The quiet operation allows for a peaceful night's sleep, and the two-gallon capacity lasts for a few nights before needing a refill. I appreciate the ease of use and the visible vapor output, which is both pretty and effective. To maintain optimal performance, I ensure my hands are clean when handling the device and use distilled water to prevent white dust accumulation.
---
Winix Ultrasonic Cool Mist Humidifier
Best Budget Pick
The Winix Cool Mist Humidifier will keep your room fresh for 30 hours, depending on the setting.
This humidifier is the perfect example of how something on the cheaper end doesn't necessarily mean it lacks features or convenience.
In fact, this humidifier and its 0.06-gallon tank produce a phenomenal amount of mist, enough to make your room or office feel like a tropical jungle.
What We Like
Night Light Feature
If you're someone who can't sleep in pure darkness, this humidifier offers you a night light. That should also work if you plan to put the ultrasonic humidifier in your kid's room. You can choose from colors blue, green, or amber as a nighttime glow.
Silent Operation
This model operates in near-silence. In general, background machine noise can be annoying, but this is especially advantageous when you're sleeping or trying to relax.
1-Year Warranty
Warranties can be a real lifesaver. Even when you buy a fantastic product, there's always the most minor of chances that you might get a defective unit.
User-Friendly Design
This unit is easy to use. You can set the mist output level by turning the dial on the front of the unit. It's also super easy to refill, thanks to the top-fill design.
When the unit is low on water, it will automatically shut off. So if you're out of the house or busy in the kitchen, you don't have to worry about the device.
What We Don't Like
Slightly Fidgety When Full
There is a slight annoyance to this one: it's hard to carry around when full. After you refill it, you have to hold it super steady. Otherwise, water will splash out of it, causing puddles along your floor. The lid also isn't secure, so you have to be super careful when transporting it.
Leaks Can Happen
After a few months, a handful of customers noted that the unit started to leak from the bottom. Another issue is that some of the lower settings don't push out enough mist, which causes water to settle around the unit.
Product Specs
| | |
| --- | --- |
| Dimensions | 6.9 x 7.1 x 9 inches |
| Capacity | 2.27 L Capacity |
| Refill Type | Top Refill |
| Use Time | 30-Hour Continuous Use on Low Mist Setting |
| Additional | Three nightlight colors |
Our Ratings
Community Feedback
I recently purchased this humidifier and have noticed a significant improvement in my skin and hair's dryness. The compact design is perfect for small spaces, and it's super easy to clean and fill. The only downside is the lack of an angled nozzle, but overall, this product is efficient, quiet, and a great value for the price.
---
Pure Enrichment MistAire Ultrasonic Cool Mist Humidifier
Best Portable Option
The Pure Enrichment large room humidifier is one of the best models out there in terms of continuous operation. It runs for 25 hours.
Weighing only 1.35 pounds, this is indeed a handy humidifier you can easily transfer from one room to another. Moreover, the mist output can be adjusted from high to low depending on the room's humidity.
What we love about this MistAire humidifier is its nightlight option, wherein it transforms into a beautiful bedroom essential.
What We Like
Whisper-Quiet Technology
This machine is perfect for use in the nursery as it runs quietly and won't cause a disturbance to your precious one.
Five Year Warranty
Here's a big bonus point for you! It comes with a whopping 5-year warranty giving you the confidence that this will surely last you a lifetime.
Optional Night Light
In the realm of nifty features, this model has a really nice one — an optional night light. It gives your room a modern fancy touch with its soft blue hue. The entire humidifier turns off, so you won't have to see it lit up in the dark.
Easy to Use and Refill
The uncomplicated design is a plus point for customers. It's also super easy to refill the tank. Simply take it to the sink and fill it up. We also love the auto-shutoff, which kicks when the water level is low, or you've removed the tank.
360-Degree Mist Nozzle
If you want evenly distributed mist, then this is totally up your street. The 360-degree mist nozzle will balance the humidity across the home, which can help with flu and cold-like symptoms.
What We Don't Like
Some Reports of Leaking
Some buyers report issues with leaking. Contact the manufacturer if you find this issue with your humidifier.
Delivers Slow Results
If you want quick results — which is useful in particularly dry climates — you might be disappointed in this. It can take a long time for the humidity levels to rise to your desired percentage.
Avoid Tap Water
If you live in a hard water area, this unit will require distilled or purified water. Hard water can cause the unit to leave behind a residue in and around itself.
Product Specs
| | |
| --- | --- |
| Dimensions | 8 x 6 x 9 Inches |
| Capacity | 1.7 L Capacity |
| Refill Type | Top Fill |
| Use Time | 25-Hour Continuous Use on Low Mist Setting |
| Additional | Night light and 360-degree mist nozzle |
Our Ratings
Community Feedback
Great product with a few learning experiences along the way! I've had the MistAire Ultrasonic Cool Mist Humidifier for a while now, and it works wonders for both my room's atmosphere and my indoor greenhouse. Just remember to use distilled water instead of tap water to avoid mineral buildup and potential mold, and you'll have a fantastic humidifier that delivers great results!
---
| Product | Best | Dimensions | Capacity | Refill Type | Use Time | Additional |
| --- | --- | --- | --- | --- | --- | --- |
| Levoit LV600HH Hybrid Ultrasonic | Overall Ultrasonic Humidifier | 11.3 x 7 x 10.5″ | 7.1 L | Bottom Filled | 50 hours | Essential Oil Diffuser |
| Geniani Top Fill Cool Mist | Small Ultrasonic Humidifier | 9.06 x 6.69 x 12.2″ | 4 L | Top Fill | 18 Hours | Smart Humidity Mode and Essential Oil Diffuser |
| Pure Guardian H4810AR Cool Mist | Large Ultrasonic Humidifier | 7.75 x 15.03 x 12.48″ | 7.57 L | Top Fill | 120 Hours | Silver Clean Tank and Aromatherapy Tray |
| Winix Ultrasonic Humidifier | Budget Pick | 6.9 x 7.1 x 9″ | 2.27 L | Top Refill | 30 Hours | Three nightlight colors |
| Pure Enrichment MistAire | Portable Option | 8 x 6 x 9″ | 1.7 L | Top Fill | 25 Hours | Nightlight and 360-Degree Mist Nozzle |
Types of Humidifiers
If you're a novice to these gadgets, let's first talk about the different types of humidifiers.
Evaporative
An evaporative humidifier produces moisture by sucking in air from the surrounding environment — via a fan — and moving that air over a wick. The wick is moist, and the water vapor is released back into the air.
Ultrasonic
Ultrasonic humidifiers contain built-in tanks or reservoirs, and water vapor is released through rapid vibration. The inaudible vibrations create this vapor by breaking down water particles.
Nowadays, ultrasonic humidifiers have become the most popular option. One of the main reasons for this is the quiet noise level. Ultrasonic humidifiers are easily the quietest of all humidifier types.
There is some controversy around ultrasonic humidifiers due to "white dust" (2). This forms because there are minerals in the tap water you are likely to use in your humidifier. We suggest reading up on this and being aware of the type of water you use in your machine.
How to Choose the Best Ultrasonic Humidifier
Every humidifier comes with a set of unique features. Consider these to pick the right one for your home:
---
What Makes an Ultrasonic Humidifier Different?
We've gone through the basics of how an ultrasonic humidifier works differently from an evaporative one; you may wonder if that affects anything.
Let's take a look at the benefits an ultrasonic humidifier gives you.
How Long Do Ultrasonic Humidifiers Last?
Ultrasonic humidifiers usually last around two to six years, depending on how well you maintain them. Lifespans vary for different brands and different sizes.
Make sure you clean your humidifier regularly to keep it running efficiently, and you'll get your money's worth.
FAQs
---
Go Ultrasonic
If you have dry skin, the sniffles, or allergies, and you're sure the air in your house is a significant factor behind it, then a humidifier is an excellent idea. Or if you simply want a more natural humidity balance in your environment.
On top of that, do you want a safer and quiet humidifier – or even totally silent? Then the best ultrasonic humidifier is the choice for you.
Remember, when looking for an ultrasonic humidifier, consider the humidistat, size of the tank, noise level, and pre-programmed settings.
Thank You For Your Feedback!
Thank You For Your Feedback!