Chapped lips and a dry throat can become too familiar during dry weather. However, running a humidifier can make your home a little more comfortable.
Humidifiers work by emitting water vapor or steam into the air to increase humidity. There are many different types of humidifiers, but lately, diffuser humidifiers have become very popular. These combine a cool mist with aromatherapy using your favorite essential oils.
To find the best diffuser humidifiers, we've spent hours researching expert advice and real customer reviews. We investigated each product's run time, unique features, and construction to ensure we only recommend the best.
Image
Model
Product Comparison Table
Features
Best Overall
Asakuki Oil Diffuser
16-hour run time per fill
Smart app compatible
Includes timer settings
Best-Looking Diffuser Humidifier
Urpower Aromatherapy Oil Diffuser
Unique cube design
Seven light color options
Three timer options
Best Small Diffuser Humidifier
Earnest Living Diffuser
Minimalist design
Multi-purpose ability
Color-changing lights
Best Bohemia Diffuser Humidifier
Pure Daily Care
Complete bundle
Seven mood lights
Timer and auto-shutoff
Best Design Options
Urpower Essential Oil Diffuser
High-quality materials
Color-changing lights
Helps you relax
Easiest to Fill
Raydrop Cool Mist
Effective humidifier
Large 88 ounce capacity
Space-saver minimalistic design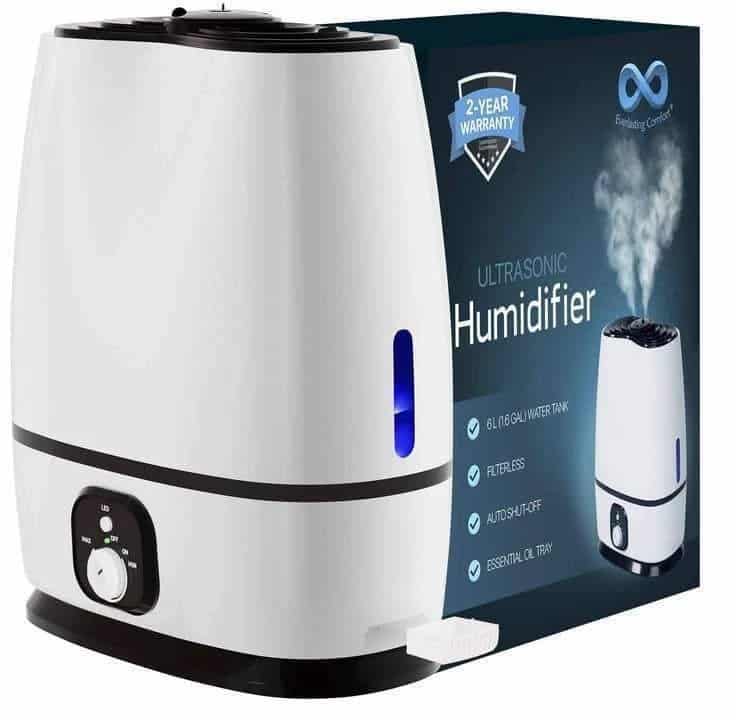 Best Humidifier With Essential Oil Tray
Everlasting Comfort Humidifier
Large 1.5 gallon tank
Essential oil tray
Balances the humidity
---
---
Product Reviews
As we searched for diffuser humidifiers, our goal was to find devices that were effective at diffusing oils as well as humidifying. We paid close attention to the materials to ensure your safety as well as your family's. We also prioritized aesthetics, useful features, and tank capacity.
Check out the seven best diffuser humidifiers.
1. Asakuki Aromatherapy Humidifier Oil Diffuser
Best Overall
If you want to create a zen-vibe in your home, this diffuser humidifier is for you. The Asakuki is a soothing addition to any space needing some aromatherapy. It works effectively and efficiently, creating a long-lasting fragrance with a single fill.
In addition, the humidifier function creates a cool mist that will increase humidity without dampness. The device also has a few innovative features, such as a timer.
What We Like
16-Hour Run Time Per Fill
With the Asakuki diffuser, you'll only need to fill it once with your favorite essential oil and water. The device keeps a lasting scent for 16 hours on low mode.
This enables you to sit back and enjoy your favorite aromas without needing to refill it all the time.
Operate Via a Smart App
Asakuki had adopted the convenience of technology as this can be controlled using their Tuyasmart diffuser app and can be synced with Alexa and Amazon Echo. Moreover, you can adjust how concentrated you want your diffuser to be.
You Can Set Timers
As a convenience, you can set a timer to suit your needs. The diffuser humidifier will automatically turn off when the time is up.
Aesthetically Pleasing Design
This little unit is cute. With a faux wood base and plenty of light colors to choose from, you can match it to your room decor. It's a great option for bedrooms, offices, and even spas.
Less Than 35 Decibels
Running at less than 35 decibels, this is quiet enough for nighttime use if you like a white noise background. This might be a bit too loud for you if you're a super light sleeper.
What We Don't Like
It Doesn't Work with Google Assistant
We love how it gives us the liberty to choose from whatever essential oil we like to pair it with and how we can use voice commands. However, we find it tricky to set up using the app. Aside from that, it is incompatible with Google Assistant. This can be very inconvenient and slightly frustrating, but it is manageable.
Can't Use All Settings Mannually
You need to use the app if you want to take advantage of all the features — like light colors and timers. Some customers couldn't get the app working, meaning they weren't in complete control of the unit.
Annoying Green Light
While you can turn the dome light off, you can't turn off the indicator light. This little green light is an annoyance for many customers. Some even consider it a breaking point.
It's super bright and might put you off your sleep.
Product Specs
| | |
| --- | --- |
| Working Hours on Low Setting | 16 hours |
| Working Hours on High Setting | 6 hours |
| Tank Capacity | 16.9 ounces |
| Dimensions | 6.81 x 6.81 x 5.39 inches |
| Weight | Not specified |
---
2. Urpower Aromatherapy Oil Diffuser Humidifier
Best-Looking Diffuser Humidifier
If you're looking for something more unique, the Urpower diffuser is right up your alley. It has a unique square design that looks appealing in any setting. This model also features color-changing LED lights, so you can choose your preferred color.
The humidifier can run for over 20 hours, thanks to the large tank capacity of 24 ounces. It does, however, tend to create condensation underneath the lid. All in all, this is an excellent diffuser loved by many customers.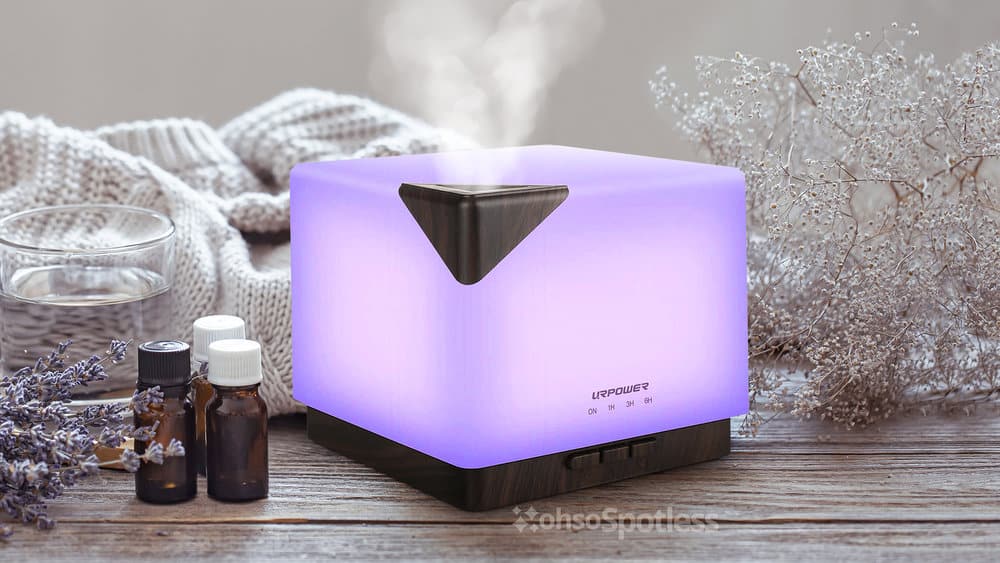 What We Like
Unique Cube Design
The first thing you'll notice with this diffuser humidifier is the design. It has a modern cube design that will look unique and attractive in any room. In addition, the wooden base really adds to the zen vibe diffusers create.
Seven Light Color Options
The squared shape looks attractive, but you can also change the LED light to your favorite color. Choose between seven colors to create chromotherapy along with your aromatherapy.
24 Ounce Tank Capacity
Because of the design, this humidifier can hold up to 24 ounces of water. This enables it to go for longer without the need to be refilled.
In fact, it can run for 20 hours straight on the low setting and more than 10 hours on high. Finally, once the tank empties, the device will automatically turn off to prevent damage.
Set a Timer (Three Options)
We love the timer feature since it enables you to use the diffuser humidifier at night without worrying about shutting it off. Set the timer to one, three, or six hours, depending on your preferences.
What We Don't Like
Creates Condensation in the Lid
Because of the humidifying feature, the diffuser produces significant condensation underneath the lid. This can cause a few leaks as you remove the lid. If you don't clean it regularly, it can quickly harbor mold and bacteria.
Too Loud for Light Sleepers
This isn't the quietest diffuser humidifier that we have found. Customers said that unless on the low mist setting, it's loud enough to wake them up at night.
Not an Effective Humidifier
While this does increase humidity levels in a room, it does so very slowly. You might want to choose a different product if you need instantaneous results.
Product Specs
| | |
| --- | --- |
| Working Hours on Low Setting | 20 hours |
| Working Hours on High Setting | 10 hours |
| Tank Capacity | 24 ounces |
| Dimensions | 6.5 x 6.3 x 5.7 inches |
| Weight | 1.8 pounds |
---
3. Earnest Living White Ceramic Diffuser Humidifier
Best Small Diffuser Humidifier
We highly recommend the Earnest Living diffuser humidifier for smaller rooms and areas. It has a compact design with seven color-changing options to set the mood in the room.
Despite the small size, it's powerful with a high-performance ultrasonic plate. The plate creates a cool mist infused with your favorite essential oils. As a result, you get a thick, powerful vapor to enjoy and show off when guests are over.
What We Like
Compact Size Suits Small Spaces
This diffuser is an excellent addition to any small bedroom or area of the house. It has a very compact design enables you to place it on a shelf or small coffee table. It's easy to carry to where you might need it and looks stylish in any setting.
Minimalist Design
We love its uniquely crafted minimalist design that will suit room decor. Unlike most diffuser humidifiers made of plastic, this one is made of ceramic material.
Auto-Shutoff Protects the Unit
If a humidifier runs out of water, it can be damaged or burn out. However, Earnest Living has equipped its diffuser with an auto-shutoff feature to prevent this. Whenever the reservoir is low in water supply, it turns off automatically.
Color-Changing Lights
As a fun feature, you can choose between seven different bright colors to brighten the day. You can easily set a romantic mood or a dim light for movie night. In addition, it can be used as a night light if desired.
Multi-Purpose Ability
This can serve as an oil diffuser, a night light, a humidifier, or even home décor. You see, it comes with different uses and can be easily given as a get-well gift.
What We Don't Like
Prone to Breakage
When not handled with extra care, this item is prone to breakage as it is made of ceramic material that, as we all know it, is brittle.
Not the Most Durable
Keep in mind that this unit isn't built to stand the test of time. Many customers reported that the unit completely stopped working after a few months. It only has a 30-day warranty which doesn't exactly settle our minds.
Small Tank Runs Out Quickly
This tank only holds around three ounces of water which is barely anything compared to other options. On the lowest setting, this lasts for three hours. But if you use a high setting, you could be refilling the tank every half an hour.
Product Specs
| | |
| --- | --- |
| Working Hours on Low Setting | 3 hours |
| Working Hours on High Setting | 0.5 to 2 hours |
| Tank Capacity | 3.38 ounces |
| Dimensions | 3.45 x 3.45 x 6.3 inches |
| Weight | 15.5 ounces |
---
4. Pure Daily Care Ultrasonic Diffuser
Best Bohemia Diffuser Humidifier
Pure Daily Care is one of the prettier diffusers on the market. It has an earthy design with subtle color-changing mood lights that suit any type of home. Furthermore, it creates a strong mist of cool moisture and essential oils that can work for a long time on the low setting.
You can set the timer to suit your needs or program it to either high mist or low mist. It also includes ten pure essential plant oils so you can get the scents flowing ASAP.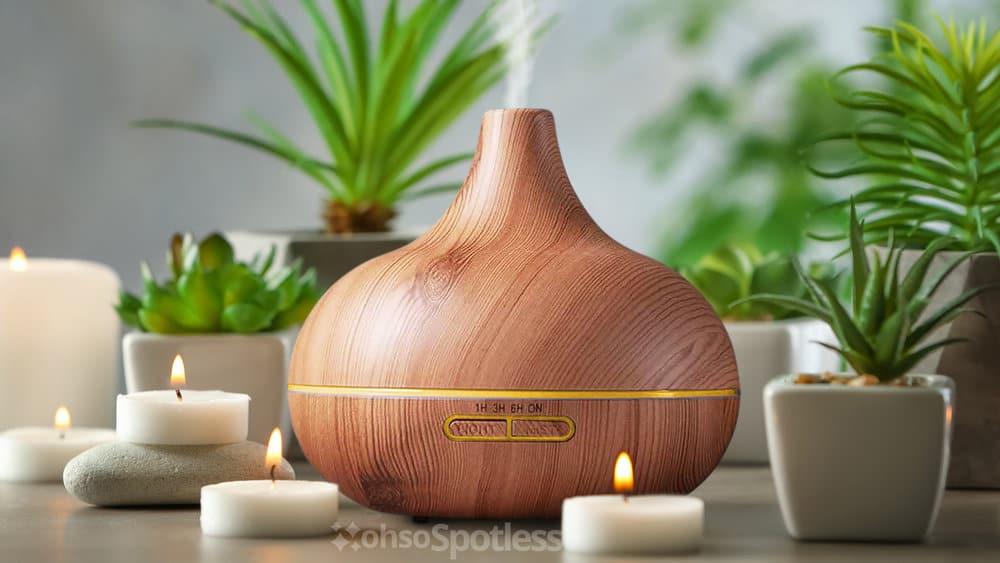 What We Like
Complete Bundle
This bundle is a complete all-in-one package that includes the diffuser and ten essential oils that are therapeutic in nature.
Timer and Auto-Shutoff
You can set the timer to one, three, or six hours of continuous use. It's such a handy feature if you like to keep the humidifier running as you fall asleep. In addition, to avoid any damage to the diffuser, the device will automatically turn off when the reservoir runs low.
Seven Color Options
You get to choose between seven soothing color settings to suit your mood. As well as the seven colors, you can choose between bright and dim settings for each color — excellent for night or day.
Very Easy to Use
If you're new to the world of diffusers, this is a great starting place. Our first diffuser looked just like this, and we never had any complaints. Simply fill the tank up by pouring water from a cup into it — no need to take it to the sink.
Plus, there are only two buttons, so they're not trying to figure out what all the different settings mean.
What We Don't Like
Covers A Small Room
The humidifier can cover between 107 and 140 square feet at a time. It's an excellent option for a bedroom or even a yoga studio.
Moreover, the earthy design gives it a peaceful look, as if it was a little flower emitting essential oil mists. Should you want bigger area coverage, you may want to check Urpower.
Low-Quality Oils Included
While this comes with 10 essential oils that many customers love, others prefer their favorite brands. These ones aren't as strong or nicely smelling as some higher-end oil brands.
Product Specs
| | |
| --- | --- |
| Working Hours on Low Setting | 6 hours |
| Working Hours on High Setting | 2 hours |
| Tank Capacity | 10 ounces |
| Dimensions | 7 x 7 x 7 inches |
| Weight | 2 pounds |
---
5. Urpower Essential Oil Diffuser Cool Mist Humidifier
Best Design Options
Urpower 2nd Version Diffuser is a favorite among many customers, and it's easy to see why. It works like a dream when it comes to spreading essential oils, along with a cool mist to help soothe your chapped skin.
This device is very user-friendly, as it comes with two options: intermittent mist and continuous mist. When in continuous mode, it will mist continuously for three hours at a time. However, in intermittent mode, it will mist on and off at 30-second intervals for up to six hours.
What We Like
High-Quality Materials
To ensure safety for you and your family, Urpower uses high-quality plastic free of harmful chemicals.
Color-Changing Lights
The entire device lights up in bright LED lights, and you can choose between seven bright colors. These can be set to dim or bright, depending on your preferences. On the other hand, if you don't like the amount of light this device creates, there are other options.
You can choose between a yellow wooden design, dark wood and grey, and white design. Note, though, that these won't light up similarly to the white design. They only feature a small LED light at the top of the device.
Helps You To Relax
When the weather gets dry, we're left dealing with chapped lips, skin, and even dry sinuses. This can be very uncomfortable. But with the help of this diffuser humidifier, you can enjoy a more comfortable environment without the risk of dampness.
Adjustable Mist Modes
You can choose from two mist modes. One runs continuously for three hours. The other options run intermittently for six hours.
For a tank so small, this is a generous run time.
What We Don't Like
Smooth Texture
Although the material is high-quality, it can be rather slippery as you're trying to move it around due to the smooth texture. We'd like it to have more texture to allow a better grasp.
It Won't Last All Night
If you want something that lasts overnight, this will miss the mark. Running at six hours maximum, this won't get you through the night. Sometimes, all you need is something to send you off to sleep, so this won't be a deal breaker for everyone.
Won't Dramatically Raise Humidity
If you need to raise your humidity levels massively, this won't cut it. While it can lift them a few percent, it's not strong enough to maintain healthy humidity levels.
Product Specs
| | |
| --- | --- |
| Working Hours on Low Setting | 6 hours |
| Working Hours on High Setting | 3 hours |
| Tank Capacity | 3.4 ounces |
| Dimensions | 3.1 by 3.1 by 5.5 inches |
| Weight | 10.88 ounces |
---
6. Raydrop KC-RD05 2.5L Cool Mist Humidifier & Essential Oil Diffuser
Easiest to Fill
If you're looking for a humidifier that will last a long time, this is your guy. This is equipped with an extremely large tank that provides up to 30 hours of humidification. Furthermore, you can add a few drops of your favorite essential oils to the water tank, which will be emitted into the air.
This unit is user-friendly and easy to fill by removing the lid at the top. In addition, it features an auto-shutoff when the tank is empty.
What We Like
Effective Humidifier
Unlike the previous models on our list, this little device is actually a humidifier. It's designed to effectively increase the humidity in a room with up to 30 hours of continuous use.
Easy to Fill
Many humidifiers are tricky to fill since you have to take them apart to find the tank and then risk it spilling everywhere. However, this humidifier has a clever top-fill design that allows you to simply open the lid and fill the tank.
Large 87.9 Ounce Capacity
The water reservoir can hold an impressive 87.9 ounces of water. This reduces the need to refill frequently and enables the unit to work for longer in both low and high modes.
Great Design Suits Most Spaces
One thing that caught my attention with this unit is its simplicity and minimalistic feel. It's also a huge plus that it does not occupy much space in my area, which could be helpful if you live in a small apartment.
What We Don't Like
Annoying Noise Levels
This humidifier tends to create a slight whine noise that can be annoying. If you want to use this overnight, it can be disruptive.
Hard to Clean
To clean this unit, you have to take it all apart. Some customers say it feels like disassembling the whole unit each time. Considering you should clean your humidifier every week, this is a hassle.
Not Durable and No Warranty
Customers noted that after a few months, this unit died out. It's a pretty affordable unit, but of course, you want it to last at least a few years. Unfortunately, it doesn't seem to come with a warranty either.
Product Specs
| | |
| --- | --- |
| Working Hours on Low Setting | 30 hours |
| Working Hours on High Setting | 12 hours |
| Tank Capacity | 87.9 ounces |
| Dimensions | 12.01 x 7.28 x 7.24 inches |
| Weight | 2.38 pounds |
---
7. Everlasting Comfort Humidifier With Essential Oil Tray
Best Humidifier With Essential Oil Tray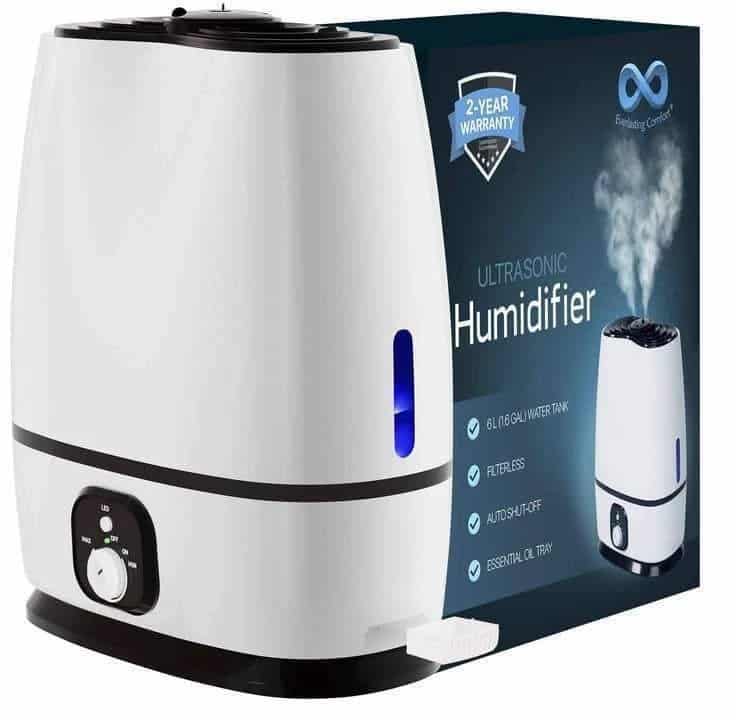 If you're looking for a real humidifier with the additional option of a diffuser, the Everlasting Comfort humidifier is for you. This device has an impressive capacity that will last up to 50 hours of continuous mist. In addition, it has an essential oil tray where you can add a few drops of your favorite oil.
To increase its efficiency, the air fan will distribute the cool mist as well as the scented oils through the air. Furthermore, it effectively balances humidity for an optimal home environment.
What We Like
Large 1.5-gallon Tank
This humidifier can run for 50 hours at a time thanks to its 1.5-gallon tank. Furthermore, it has a very high mist output due to ultrasonic technology. It can also cover large rooms of up to 500 square feet.
Essential Oil Tray
Instead of adding a few drops of essential oil directly into the water tank, you can add the drops to a special tray. This resembles that of regular oil diffusers. The oil is then circulated into the mist by the humidifier air fan.
Balances the Humidity
Too high humidity isn't good, but neither is too low humidity. This humidifier works effectively at keeping the humidity to a balanced level above 30 percent. It won't cause dampness or other issues caused by high humidity.
User-Friendly Refill System
There's no need to fill the tank with distilled or filtered water; simply fill it straight from the tap. Plus, there are no expensive filters that need to be replaced regularly — you save time, effort, and money.
What We Don't Like
Easy to Spill After Refilling
To refill the tank, you have to remove the top and flip it upside down. However, there can be a significant amount of condensation that flows out as you flip the device. Plus, there's no handle, so it's easy to spill some water as you transport the unit back to its designated spot.
Difficult to Clean
This unit can be hard to clean. The tank opening is narrow (three inches), so it's hard to get into the unit for a thorough clean. Mold and mildew tend to build up in all the crevices.
Expect Gargling Noises
When trying to sleep, the last thing you need is some humidifier gargling next to you! This is enough to keep customers up at night.
Product Specs
| | |
| --- | --- |
| Working Hours on Low Setting | 50 hours |
| Working Hours on High Setting | Not specified |
| Tank Capacity | 1.5 gallons |
| Dimensions | 14 x 12 x 8 inches |
| Weight | 4.1 pounds |
---
What Is a Diffuser Humidifier?
A diffuser humidifier is a combination of a humidifier and an essential oil diffuser. They work by combining a cool mist with your chosen essential oil. Consequently, they raise your humidity levels slightly and spread a fresh scent.
However, despite having a humidifying feature, these devices aren't generally as effective as an actual humidifier. Thankfully, you can find effective humidifiers with an essential oil option instead of a combo version.
Diffusers are also commonly used to provide aromatherapy by emitting essential oils into the air. Different scents and plants can make you feel different things. For example, lavender reduces stress, and peppermint improves headaches.
How Can It Benefit Me?
Humidity plays an important role in our environment and personal comfort. High humidity can cause dampness, clamminess, mold, and health issues. On the other hand, very low humidity can cause dry skin, irritated mucous membranes, and even increase the risk of viral infections (1).
It's crucial to create a well-balanced home environment for you and your family's health. If you live in a dry area, especially as winter approaches, a humidifier would be beneficial. A humidifier will return lost moisture to the air you breathe — easing your chapped skin and lips.
Many homeowners who suffer in dry climates prefer to keep a humidifier running at night. This can help to reduce snoring, stuffiness, and even nosebleeds.
The added feature of an essential oil diffuser is only a bonus. Not only do you get to enjoy the lovely scent, but you can also benefit from their abilities.
Are There Any Risks of Using a Diffuser Humidifier?
Although a diffuser is a helpful device for spreading essential oils, there's one thing to keep in mind. If you have pets, you might want to reconsider which oils you're using.
According to the ASPCA, cats and dogs are especially sensitive to various essential oils. It can affect them in numerous ways, including gastrointestinal issues, liver damage, and even depression (2). Merely inhaling essential oils could cause aspiration pneumonia (3).
Experts thus advise that you should keep diffusers away from your pets. If you want to use a diffuser, do so in an area where your pets don't have access.
How to Choose (Buying Guide)
Knowing what you need to look for, you can quickly find the best diffuser humidifier.
---
FAQs
Do Diffusers Cause Mold?
Diffusers can cause mold because fungal spores can grow in the water tank, where conditions are wet and dark. You must keep the diffuser disinfected with white vinegar to kill mold growth that can pollute your indoor air.
Can a Diffuser Make You Sick?
A diffuser can make you sick if you fail to maintain and clean it. Mold likes dark and wet conditions, which pollutes the air inside your home. Some people feel the effects after a few hours, while others may take a couple of days to feel ill.
How Can I Humidify a Room Without a Humidifier?
You can humidify a room without a humidifier using shower steam or by placing a bowl of boiling water in the room. You can also boil food without pan lids or buy house plants.
How Often Should I Clean My Diffuser?
It is recommended that you clean your diffuser at least monthly. Failing to maintain the diffuser causes mold spores to grow inside the diffuser and pollute the air inside your home.
Can Essential Oils Damage a Humidifier?
Essential oils can damage your diffuser because chemicals react with the plastic and metal elements inside to cause a malfunction. It also means you risk polluting your indoor air. Check the user manual before adding essential oils.
---
Thank You For Your Feedback!
Thank You For Your Feedback!