It can be very frustrating when your washer and dryer suddenly break. You're left with soggy clothing and a growing pile of laundry to be washed. You need a new washer and dryer immediately.
The question quickly becomes where's the best place to purchase a washer and a dryer. You need a place that won't cost you an arm and a leg. Plus you need a company who will deliver the bulky appliances to your house and possibly even hook them up.
Thankfully there are some wonderful places to purchase a washer and a dryer.
Key Takeaways
Popular places to buy washers and dryers include Lowe's, Home Depot, Amazon, Costco, Best Buy, Wayfair, and Walmart.
Delivery, installation, and return policies vary between retailers, so consider these factors when choosing where to purchase your appliances.
The best time to buy a washer and dryer is during holiday sales, which can save you between 20-50% off the manufacturer's price.
Buying a washer and dryer together can result in discounts and a matched set, but consider your budget and individual needs before making a decision.
---
Where to Buy Washers and Dryers
Costco
Costco is a national chain that offers both a physical location and an online store. While you need a Costco membership to shop inside the physical locations, you do not need one to shop at the online store. However, you may have to pay a surcharge.
Delivery and installation packages are available.
They have a wide selection of washers and dryers.
90-day return policy.
Costco offers sales throughout the year, usually every month.
Home Depot
Home Depot offers a wide variety of washers plus they have a detailed product listing online. In addition, their staff is knowledgeable. You'll need to be aware that they use third-party companies for many services.
Home Depot has a strict no lemon policy. This means that appliances are replaced or refunded if you need three service repairs for the same issue. They also offer free delivery and basic hookup.
Delivery and basic installation are available.
A wide variety of washers and dryers are available.
Strict return policy.
Home Depot offers many sales throughout the year.
Lowe's
Lowe's offers timely local delivery and will give you a brief tutorial after setting up your appliance. However, you must purchase all connections from Lowes. There's also an extra fee if you're hooking up a gas dryer.
While shopping online, you can ask any questions you might have using their excellent online chat service.
Delivery and installation packages are available.
Lowe's offers a wide selection of washers and dryers.
30-day return for like-new appliances.
Lowe's offers frequent sales and specials throughout the year.
Best Buy
Best Buy doesn't have a large selection, but they do offer free consultations especially online or by phone. The Geek Squad is ready to answer any questions you may have.
Free delivery for products over $399.
Installation packages.
Smaller selection.
15-day return policy.
Best Buy offers sales throughout the year.
Wayfair
Wayfair offers an excellent online shopping experience for modern appliances. They're an online retailer that offers everything that the larger box stores offer.
Offer delivery and installation packages.
Wide selection of appliances.
Flexible return policy unless the item has been installed.
Frequent sales.
Walmart
Walmart is an excellent place to shop if you're looking for budget-friendly options. You can shop either online or at a physical store.
No installation service.
Walmart offers a wide selection of major brands of washers and dryers.
Most washing machines and dryers can be returned to Walmart within 90 days.
Walmart offers various sales, especially the first 5 days of the month.
Sears
You will find a large selection of appliances online at Sears. While there are physical stores, you may not have a location local to you. You will need to provide the connections if you want the appliances hooked up.
There's also a haul away fee to remove an old appliance.
Local delivery and installation service.
Wide selection.
30-day return policy
Offers sales throughout the year.
AJ Madison
AJ Madison has a massive online selection, but only has 2 physical locations for you to shop. There is free nationwide delivery but no installation is offered.
Free nationwide delivery.
No free installation is offered however you can pay for installation and for your old appliance to be removed.
A wide variety of brands are available.
Strict 24-hour return policy.
Has a price match policy.
PC Richard and Son
PC Richard and Son offers an easy-to-navigate website for you to browse as you're looking for a new washer and dryer. You'll easily be able to complete your online research here. However, there are only a select few physical locations for you to shop in person.
Free delivery service.
Installation packages offered.
Wide selection of washers and dryers.
Strict return policy.
Offers a low-price guarantee.
Amazon
Amazon offers a wide selection of appliances online and carries most of the top brands. Amazon is easy to use and many people enjoy shopping at Amazon.
Delivery is usually free.
If your purchase is eligible, installation may be available.
Offers a wide selection of washers and dryers.
30-day return policy.
Amazon often has sales on various products.
ABT
ABT is an appliance and electronics store located in Chicago. They also sell appliances online.
Free shipping applies to most orders over $35 within the continental United States.
Installation is available for most places nationwide.
Wide selection of major brands.
30-day return policy.
Offers to meet or beat a better price that you find on any product at an authorized retailer.
Appliances Connection
Appliances Connection sells most of the major brands of washers and dryers. The online store is easy to navigate making it easy to find the types of washers or dryers you're looking for.
Free Delivery for purchases over $99.
An installation service is offered through Appliances Connection although it may not be available in all areas.
Excellent selection of major bands.
30-day return policy unless the washer or dryer has been installed.
Sales and rebates are offered throughout the year.
LG
LG offers an online store where you can shop the LG brand. When you place the washer or dryer in the cart, LG will check your zip code and let you know if they can ship to your area. Otherwise, you can press the button to find another retailer.
Only the LG brand is available.
Sales are offered at times throughout the year.
Best Place to Buy Used Washers and Dryers
Used washers and dryers can be an excellent option if you choose your machine carefully. You'll want to consider the capacity of the machine, how easy it is to find someone to repair it, and the age of the machine. Usually, you'll want a machine that's 2-3 years old and no older than 5 years old.
Facebook Marketplace is a good place to look for used washers and dryers. You can filter the marketplace to only look at machines within a certain distance of your house. You can also look for machines in a good condition, a specific brand you'd like, or a price you'd prefer.
Amazon also sells used washers and dryers for you to consider in your search. Make sure that you use the filter buttons on the side to find the machines you're looking for.
Craigslist is another option to find used washing machines and dryers that are available in your area.
Local appliance dealers often carry many used washers and dryers for you to consider when you're looking for a good bargain.
Best Front Load Washer and Dryers in 2023
If you're looking for some popular and reliable washer and dryer brands, here are a few for you to consider.
Electrolux
The Electrolux front load washer comes with both steam and SmartBoost technology. The SmartBoost technology is designed to make sure that your clothing will be washed with the right amount of detergent. It does this by mixing the detergent and the water before the wash cycle begins.
Washer Features Include:
4.4 cu ft capacity
Steam
Stackable
The Electrolux dryer comes with Predictive Dry that does a much better job at predicting when your clothing will be dry after 90 seconds than a regular dryer. This way you can leave the dryer and know that when you come back, the dry cycle will be finished.
Dryer Features Include:
8,0 cu ft capacity
Instant refresh cycle to revive clothing in 10 minutes.
A LuxCare Dry System
Steam
Luxury Quiet to minimize noise
15 minute fast dry
General Electric
The GE UltraFresh Vent System Front Load Washer and Electric Dryer Set with Odorblock is an excellent choice for a large front load washer and dryer set in 2023. The set runs around $2300 at this time.
Washing Machine Features:
5 cu ft
Wi-Fi compatible
Stackable
Sound reduction
Steam cycle
ENERGY STAR certified
Delay start
Dryer Features:
7.8 cu ft
Quick express cycle
Wrinkle freecycle
Interior lighting
Window indoor
Energy-efficient cycle
Steam cycle
Check lint screen light
LG
The LG washing machine is a very large machine with a 5.2 cu ft capacity. It comes with turbo wash technology which uses a power motion wash action system and higher water temperatures. It helps the washing machine wash and removes stains from clothing more effectively. It runs around $1200 at this time.
Washer Features:
5.2 cu ft capacity
High efficiency
Steam cycle
Stackable
The LG dryer offers a large machine and several excellent features as well. It runs around $1200 at this time.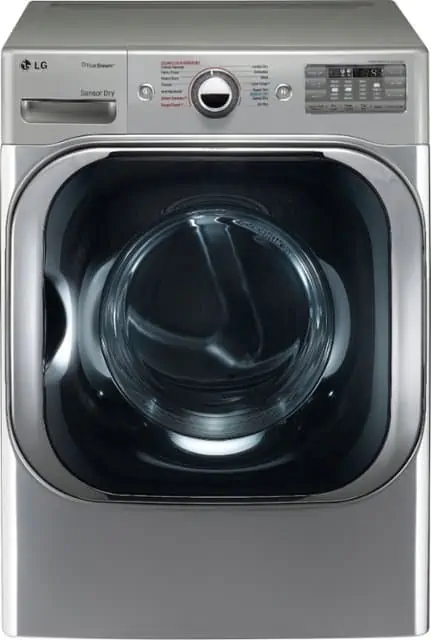 Dryer Features:
9 cu ft capacity
Moisture sensor
Stackable
Best Deals on Washers and Dryers
Finding the best deals on washers and dryers can be challenging, especially as machines rarely break while a sale is happening. Do some research online before heading down to your local appliance sellers to find a new washer and dryer so you can find the best deal available to you.
You may even be able to find your perfect machine at a clearance price.
What is a Good Price for Washer and Dryer?
According to consumer reports (1), you can expect to pay somewhere between $500 and $2500 for a washing machine or a dryer.
Washer and Dryer Bundles Under $500
If you're looking for new washers and dryers at a budget, here are a few budget machines to consider. The price of these machines varies week to week, but you may be able to find them for under $500 in your area.
When is the Best Time to Buy a Washer and Dryer?
You can often find the best price on a washer and dryer during the long holiday weekends such as Martin Luther King Day, President's Day, Memorial Day, and Labor Day. In addition, you'll find great deals on Black Friday. The weekends around the 4th of July and New Year's Day are also an excellent time to go looking for sales on washers and dryers.
A good time to look for the cheapest deal on a new washer and dryer is also between September and November as the new machines are usually released in January.
Purchasing a washer and dryer set during one of these holiday sales may save you between 20-50% off the manufacturer's price.
Is It Better to Buy a Washer and Dryer Together?
It is better to purchase a washer and dryer together. Chances are that if one appliance is failing, the other machine is about to fail as well. You'll also be able to purchase a matched set so you'll know that your dryer will fit all the clothing from your washing machine.
Both the washer and dryer will be on the same maintenance schedule, and you'll be able to use the same company to repair both machines. Not all repair companies will service every brand of washers and dryers available.
In addition, most stores will offer a discount if you're purchasing both a washer and dryer together, and you'll have both machines under the same warranty.
However, you also need to consider your budget as well. Replacing both the washer and the dryer at the same time is expensive. It may be better to replace the broken machine and wait to replace the other machine when it gives out later.
Tips for Buying a Washer and Dryer Set
When you go to purchase a washer and dryer set, there are several factors you'll need to consider such as the configuration, size, and also what features you'd like your washer and dryer to include.
Configuration
The first consideration should be what type of configuration or setup will work best in your home. A small apartment may need to have the washer and dryer stacked. A large laundry room may have plenty of room for the washer and dryer to sit next to each other.
You may wish to include pedestals for your washer and dryer, or you may prefer to purchase an all-in-one machine that will both wash and dry your clothing.
Size of Your Machine
You will need to consider the size of the machine you will need. A large family will need a larger washing machine in order to wash clothing efficiently. However, a small household may prefer doing small loads and will need a small-capacity washing machine. Read our comprehensive guide to help you determine what size machine you need.
Factor in the types of items you need to wash as well. If you frequently need to wash large items such as king-size comforters you may wish to purchase large capacity machines so you don't need to run to the local laundromat to wash these items.
Front Load or Top Load
Think about if you'd prefer to have a front load or top load washing machine. A front load washing machine will use less water while cleaning your clothing. However, a top load washing machine will allow you to fill the drum with more water to give your clothing a deep wash.
Interior Dryer Light
Have you ever lost baby socks in the dryer? Then you may want to consider purchasing a dryer that includes an interior dryer light. The light will allow you to easily see inside the dryer to find missing articles of clothing.
Quiet Washer and Dryer
If you work at home or need quiet in the house, you may want to consider the noise a washer and dryer make. Some washing machines are designed to be very quiet.
Dual-Bin Washers and Dryers
Another feature you might want to consider is dual-bin washers and dryers. The dual-bin washers allow you to wash two loads of clothing such as whites and colors at the same time instead of needing to run two separate loads.
The dual-bin dryers also allow you to separate clothing based on drying needs. You can dry delicate clothing while drying your regular clothing.
FAQs
---
Best Place to Buy Washer and Dryer
You can find many excellent places to buy washers and dryers both online and at physical locations. Be sure to check the pricing of the places you visit. Also, check the cost of installation and delivery as that can add to the price of your new washer and dryer.
As many stores offer a price match policy, your best option may be to look for the best price you can find and then shop at a store that will match the price while offering free installation and delivery.
Thank You For Your Feedback!
Thank You For Your Feedback!