LG dishwashers are some of the most advanced on the market. With super cool features, great power and built in Wi-Fi, these dishwashers make cleaning up easy. If you're in the market for one of these, but aren't sure which one to choose, our best LG dishwasher reviews will help.
With our roundup of the best five, you'll find one that suits your lifestyle. Whether you want something stylish, budget-friendly, quiet, good at drying or something that works in hard water areas — we've got you covered!
Image
Model
Product Comparison Table
Features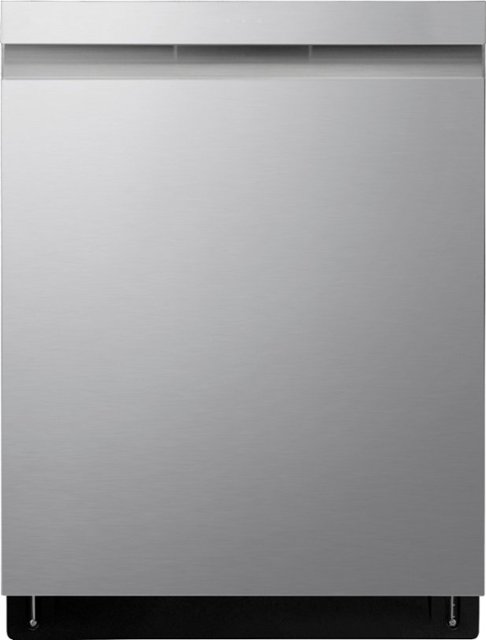 Best Drying LG Dishwasher
LG Dishwasher with QuadWash
Uses 4 spray arms
Has sanitization feature
Printproof finish
Best Stylish LG Dishwasher
LG STUDIO PrintProof Stainless Steel
40 decibel dishwasher
Adjustable racks
10 washing cycles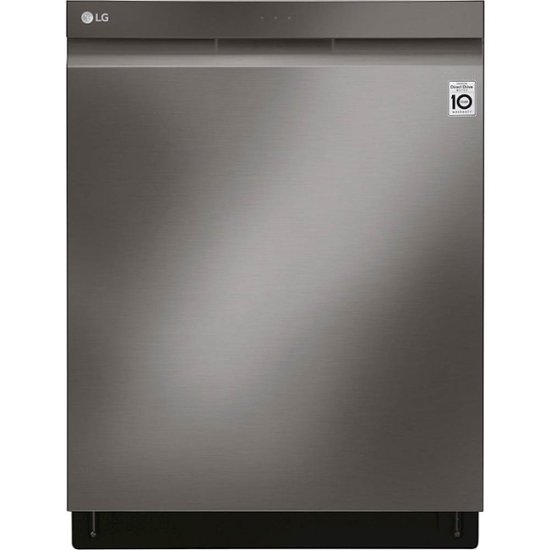 Best for Hard Water
LG PrintProof Dishwasher with TrueSteam
Smart technology
Printproof finish
3-stage filter system
Best Quiet LG Dishwasher
LG Built-In Dishwasher with TrueSteam
Has a glide rail
Interior tub light
10 wash cycles
Best Budget LG Dishwasher
LG Built-In Dishwasher with QuadWash
Auto-wash cycle
15 place settings
NSF-certified sanitization cycle
---
---
Product Reviews
After looking at expert advice, real customer reviews and applying our own insight, we have created our list of the five best LG dishwasher reviews. Now, you can find one that works for you, your home and your family.
1. LG Dishwasher with QuadWash
Best Drying LG Dishwasher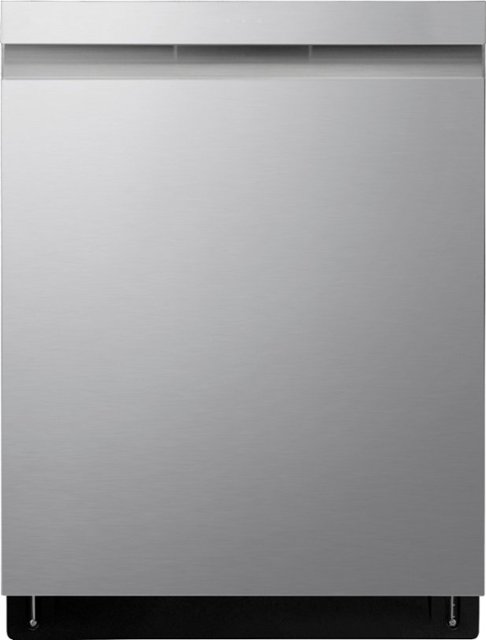 The drying function in LG dishwashers is a common complaint. However, this model goes above and beyond to dry your dishes.
This dishwasher uses Dynamic Dry and TrueSteam together to get your dishes dry. The final rinse cycle uses extremely hot water. The cool walls of the tub help to turn damp air to water droplets that are then drained away.
We love that this one doesn't use extra energy or extended drying cycles either. It saves you money and ensures eco-friendliness!
Customers say even the plastics come out dry. If you run your dishwasher overnight, use the night dry feature which will prevent condensation before the door is opened.
What We Like
QuadWash™
The QuadWash feature is one that helps LG dishwashers stand out from the crowd. It uses four spray arms while conventional dishwashers only use two. The arms rotate back and forth while they spin to provide maximum coverage throughout the entire cycle.
TrueSteam® with Sanitization
This dishwasher uses TrueSteam to help bust off dried food particles and reduce water spots so your dishes come out sparkling clean. But it also uses a sanitization feature to get rid of germs and bacteria.
PrintProof™ Finish
No more fingerprints all over your dishwasher. The PrintProof finish ensures that the exterior of your dishwasher is looking classy, sleek and clean all the time.
What We Don't Like
Short Top Rack
Due to the third rack, the top rack isn't tall enough to fit some larger items. This is especially noticeable for glasses and plastic tubs. Thankfully, you can remove the third rack, but it's necessary for hosting a lot of silverware.
Silverware Rack Issues
The silverware rack for the bottom is less than adequate for some users. That's why it's often necessary to use the third shelf, but then that obviously creates less space for the upper rack. Dilemmas!
The silverware rack is rigid and the handle gets in the way. There isn't an open section for larger utensils either.
Product Specs
| | |
| --- | --- |
| Noise Level | 44 dB |
| Performance | QuadWash, TrueSteam and Dual Zone |
| Drying Capacity | Dynamic Dry |
| Dishwasher Capacity | 15 place settings |
| Annual Operating Cost | $34 |
---
2. LG STUDIO 24 Inch PrintProof Stainless Steel
Best Stylish LG Dishwasher
True, LG doesn't do custom panel dishwashers, so you aren't able to find something that fits seamlessly into your kitchen decor. Still, though, this is one of their most stylish options.
So even if you are particular about your interior, we think you'll love this.
It has a super classy and sleek stainless steel finish. The bar style handle is timeless and easy to hold.
The LG logo at the bottom also boasts the high-quality brand that you've chosen!
Something To Note
This is available in three different finishes — PrintProof stainless steel, stainless steel and PrintProof black stainless steel. However, each one is priced differently. This option is the most affordable.
What We Like
LoDecibel™ Operation (40dBA)
If you're in the market for something super quiet, this is the dishwasher for you! Noisy dishwashers can be disruptive especially if you live in an open plan home, a tiny house, or a dorm.
This 40 decibel dishwasher is so quiet you'll barely know it's running. Even though it has a super powerful motor and three-stage filtration system, this doesn't affect the noise levels at all.
EasyRack™ Plus
With this dishwasher, you have options. Loading has never been more practical! You can use the adjustable racks to position them where they'll best fit. Now, you can squeeze in every last item. Don't forget about the third rack which provides a good place for utensils and espresso cups.
Plenty Washing Options
No matter your dishwashing needs, this machine can handle it. There are 10 different washing cycles, such as auto, heavy, delicate, turbo, machine clean and more.
On top of that, there are nine more settings you can choose from to complement the cycles. These include half load, energy saver, delay start and many more!
What We Don't Like
Drying Not Great
A common complaint of LG dishwashers is that they don't dry the dishes well. You can use the night dry to get them pretty dry, but it's nothing compared to some of the other drying dishwashers on the market.
Can't Control the Dishwasher Remotely
You can check up on your LG dishwasher and troubleshoot issues using the app. However, you actually can't control the dishwasher through the app. You can't select a cycle and start. You can only monitor what's going on.
Product Specs
| | |
| --- | --- |
| Noise Level | 40 dB |
| Performance | TrueSteam and Dual Zone |
| Drying Capacity | Condensation and heated drying |
| Dishwasher Capacity | 14 place settings |
| Annual Operating Cost | $31 |
---
3. LG PrintProof Dishwasher with TrueSteam
Best LG Dishwasher for Hard Water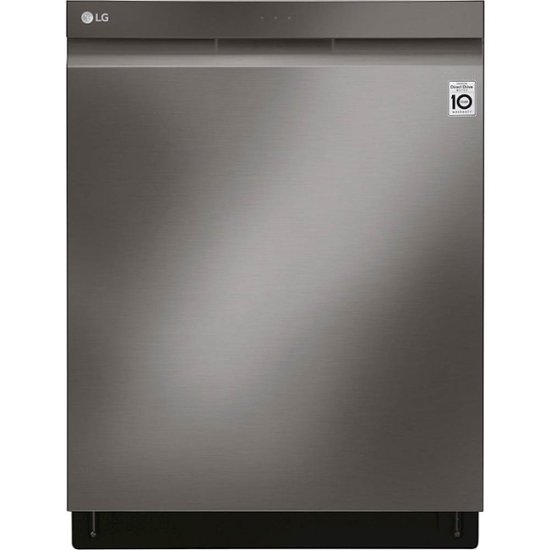 If you live in a hard water area, you'll be familiar with the hassle it is to get your dishes 100 percent spot-free. Sparkling clean dishes just haven't seemed within reach before. But with this LG TrueSteam dishwasher, they can be!
TrueSteam technology gets you up to 60 percent less water spots. Two powerful blasts of steam get rid of tough food during the cleaning cycle. During the drying cycle, they reduce water spots!
What We Like
LG SmartThinQ Technology
You can check up on this smart dishwasher through your phone or smart speaker.
The SmartThinQ technology helps you monitor the cycle time when you're out the house. You'll get an alert on the app when the dishes are clean. Now you can text your kids or partner to ask them to unload the dishwasher before you get home!
PrintProof Finish
We think this is the perfect dishwasher for families, especially if you have kids around. Their hands can easily mark a dishwasher, making it look dirty. But this print proof finish keeps your dishwasher looking clean and classy all day long. Also, it has a top control panel so little ones can't mess with the buttons.
Three-Stage Filter System
This three-stage filtration system uses filtered water throughout the cycle. This helps to remove minerals and chemicals, especially found in hard water, before the wash cycle. Therefore, you're less likely to have stained dishes at the end.
This system is super tough on food residue, too. No need to pre-rinse anymore.
What We Don't Like
Hybrid Condensing Drying System
Many customers aren't a fan of this drying cycle. While it's more eco-friendly because it doesn't use heat the whole time, it isn't 100 percent reliable. You may find that your dishes are a bit damp, even after using the extra dry option.
Long Cycle
While most dishwashers take between 1.5 and four hours to dry, the long cycles aren't for everyone. This dishwasher takes over three hours on the normal setting, so you will be waiting a while for your freshly washed dishes.
Product Specs
| | |
| --- | --- |
| Noise Level | 44 dB |
| Performance | TrueSteam, QuadWash and Dual Zone |
| Drying Capacity | Hybrid Condensing Drying System |
| Dishwasher Capacity | 15 place settings |
| Annual Operating Cost | $34 |
---
4. LG Built-In Dishwasher with TrueSteam
Best Quiet LG Dishwasher
This dishwasher is among the quietest in the world. At only 42 decibels, it's nearly silent. It won't interrupt your sleep, movie nights, dinner parties or conversations. We think it's perfect for any home, including tiny ones and apartments.
Customers rave about how quiet this one is. Thankfully, there is an indicator light to let you know it's on, but otherwise, it would be very difficult to tell!
What We Like
Glide Rail
This feature may not seem as innovative as some of LG's other features, but you'll be glad it's there. When you glide the racks in and out, they move smoothly even if loaded with heavy pots and pans. The ball bearing wheel design allows smooth unloading and loading of your dishwasher.
Tub Light
The interior tub light automatically lights up when you open your dishwasher. This makes everything easy to see so you can check if they're dry before unloading, even at night times.
Ten Wash Cycles
Everybody loves options, and no two loads of dishes are the same. Whether you have heavily soiled dishes or just need to do a quick rinse, you can programme that in with this appliance. The cycles are: Auto, Heavy, Delicate, Refresh, Normal, Turbo, Download Cycle, Machine Clean, Rinse, Express.
What We Don't Like
Expensive
This is one of LG's most expensive models, so you will be paying a bit extra for it. Of course, it does have a lot of great features and customers do say it's worth the money. Just know it isn't a budget-friendly choice.
Third Rack Gets in the Way
The third rack on dishwashers is a hit or miss. Some love them, some hate them. However, they do tend to get in the way of taller items on the upper rack. You can remove the third rack, but it is so convenient that it's a bit disappointing to do so.
Product Specs
| | |
| --- | --- |
| Noise Level | 42 dB |
| Performance | TrueSteam, QuadWash and Dual Zone |
| Drying Capacity | Hybrid Condensing Drying System |
| Dishwasher Capacity | 15 place settings |
| Annual Operating Cost | $31 |
---
5. LG Built-In Dishwasher with QuadWash
Best Budget LG Dishwasher
LG is definitely not the most budget-friendly dishwasher brand on the market. However, this model is pretty affordable compared to their other ones, and it's super reliable.
This dishwasher gets the job done right the first time. It uses the QuadWash spray system to provide maximum cleaning for every item in the dishwasher. The EasyRack means you can customize your loading. Finally, it has a front control panel which makes it super easy to choose the settings you want and you can see them during the cycle.
What We Like
Auto Cycle
For everyday dishes, we recommend utilizing the auto cycle. It uses sensors to determine how dirty the dishes are and adjusts to the best wash cycle for maximum cleaning. This also saves energy where possible.
15 Place Settings
Big family? No problem. This dishwasher has 15 place settings! There's room for everybody's dishes all day long. The two racks can be adjusted to fit in tall items. There are also adjustable tines, a cup shelf and stemware holders.
NSF-Certified Sanitization Cycle
This dishwasher has nine cycles to choose from. Nine! One that we love is the sanitization cycle which has been proven to kill germs and bacteria. This is the most hygienic cycle for your dishes. Great for baby items, and also if someone in the family has been sick lately.
What We Don't Like
Drying Performance Poor
Customers aren't a fan of the drying performance of this dishwasher. It uses heated and condensation drying, but even with that, dishes still seem to be wet or damp. Keep this in mind so you're not disappointed.
Sensitive Controls
If you have curious hands about, or your dishwasher is directly under your prepping area, be cautious of the sensitive controls. You may find yourself accidentally turning it off and on throughout the day.
Product Specs
| | |
| --- | --- |
| Noise Level | 48 dB |
| Performance | QuadWash and Dual Zone |
| Drying Capacity | Heated and condensation drying |
| Dishwasher Capacity | 15 place settings |
| Annual Operating Cost | $34 |
---
History of LG
In 1958, LG was established in Korea (1). Since then, they've designed and sold innovative products that make the home a better place. They started out with radios, refrigerators and TVs and now are the second-largest LCD TV brand worldwide.
In 2013, LG started making smart appliances. Nowadays, all their dishwashers have built in Wi-Fi so you can monitor them with your smart speaker or the app.
Are LG Dishwashers Reliable?
LG dishwashers are very reliable. They provide a powerful wash, leaving dishes sparkling clean. With a range of awesome features, you can find an appliance that suits your dishes' needs. They also have a 10-year warranty for the motor, ensuring that your dishwasher is built to last.
Warning
LG dishwashers are super reliable in the durability and cleaning department, but not so much in the drying department. While there are a few options that do a great job drying, damp dishes are a common complaint. Keep that in mind so you're not disappointed by your machine.
Types of LG Dishwashers
LG has a few different types of dishwashers so you can find one that works best for you.
Front Control
Front control dishwashers have all the control buttons on the front of the dishwasher.
Pros
Easy to see the controls during the cycle.
Reads the time remaining on the cycle.
A classic look, similar to traditional dishwashers.
A few budget-friendly options.
Cons
Curious kids and pets might play with the buttons.
You could accidentally push the buttons during the cycle.
Not as sleek and polished as top control dishwashers.
Top Control
Top control dishwashers have the control panel at the top inner frame of the dishwasher. You need to have the dishwasher open to choose the control settings.
Pros
Sleek look.
Keeps buttons away from kids and pets.
Nicer handle options.
A few budget-friendly options.
Cons
You can't see how long is left on the cycle.
Most top control dishwashers are expensive.
Fully Integrated
Fully-integrated dishwashers are designed to fit in with the rest of your kitchen cabinets, which gives the kitchen a seamless look. Unfortunately, LG don't have any current fully-integrated dishwashers in their collection. But we'll tell you the pros and cons anyway in case they bring them back.
Pros
Match the rest of your kitchen decor.
May be quieter because of the extra insulation of the panel.
Top control panel which is great for families with kids.
Cons
LG currently don't have any available.
Custom panel and handle must be purchased separately.
Semi-Integrated
Semi-integrated dishwashers are panel-ready dishwashers but have a front control, so it's like the best of both worlds. Let the dishwasher suit your interior, but you can still see how long is left on each cycle. Again, LG has discontinued this range, but we'll let you know the pros and cons in case they bring it back.
Pros
Front control panel.
Fits well with your interior.
May be a bit quieter because of the insulation of the panel.
Cons
Currently discontinued.
Not the most aesthetic.
How to Choose (Buying Guide)
What exactly should you be considering when shopping for an LG dishwasher to make sure you choose the best one? Our top criteria includes noise level, performance, drying capacity and a few other important details.
---
Years of Clean Dishes
When you choose LG, you are choosing years of clean dishes. With their reliable technology and long warranty, you're in for the long haul.
While you may not be getting the driest dishes possible, your dishes will be clean every time. Plus, you can customize the cycles. With lots of cycle settings to choose from, each LG dishwasher is easy to use and versatile!
Thank You For Your Feedback!
Thank You For Your Feedback!