Laminate flooring is an excellent budget-pick replacement for hardwood. Similar to hardwood, laminate can be somewhat tricky to clean.
However, by knowing how to clean laminate floors correctly, you can enjoy your hardwood dupe for years to come.
We'll walk through the best way to clean your laminate and what to avoid. That way, you won't cause any damage. It's all sleek and shine, here!
Key Takeaways
Vacuum, sweep, or dry mop laminate floors regularly to remove dust and dirt, and avoid using abrasive tools or harsh chemicals.
Use a damp microfiber mop with warm water, vinegar, or rubbing alcohol for deeper cleaning without damaging the laminate.
Spot treat stains with acetone nail polish remover, window cleaner, or ice depending on the type of stain.
Protect laminate floors with doormats, rugs, and by trimming pet nails to prevent scratches and wear.
---
How to Clean Laminate Floors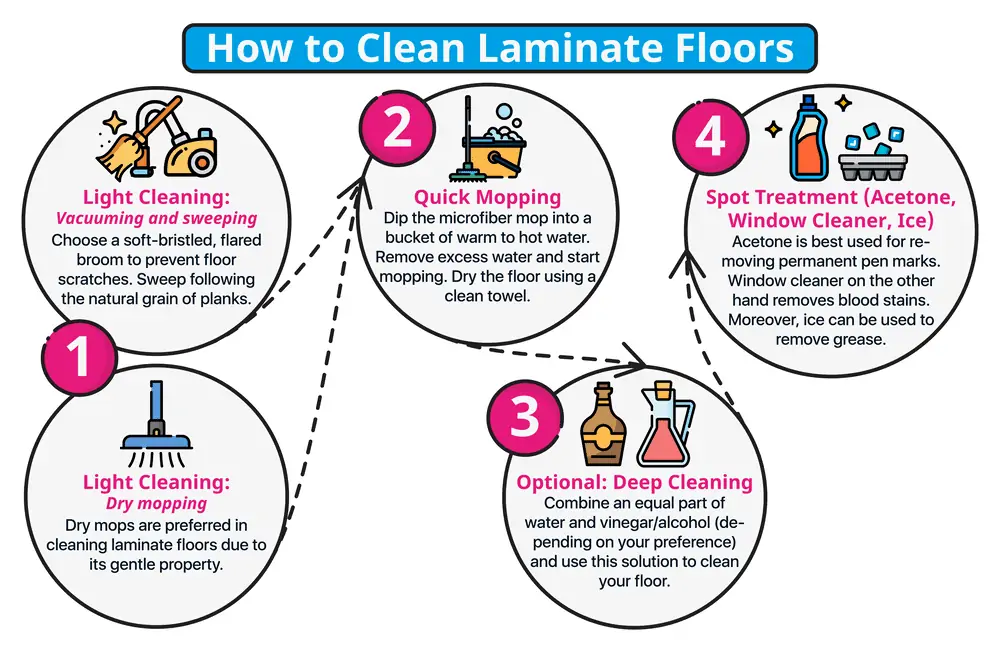 Cleaning and maintaining laminate floors is easy when you know the right approach. There are many cleaning methods you can use to suit your lifestyle and the level of cleaning required.
Things to Avoid When Cleaning Laminate Floors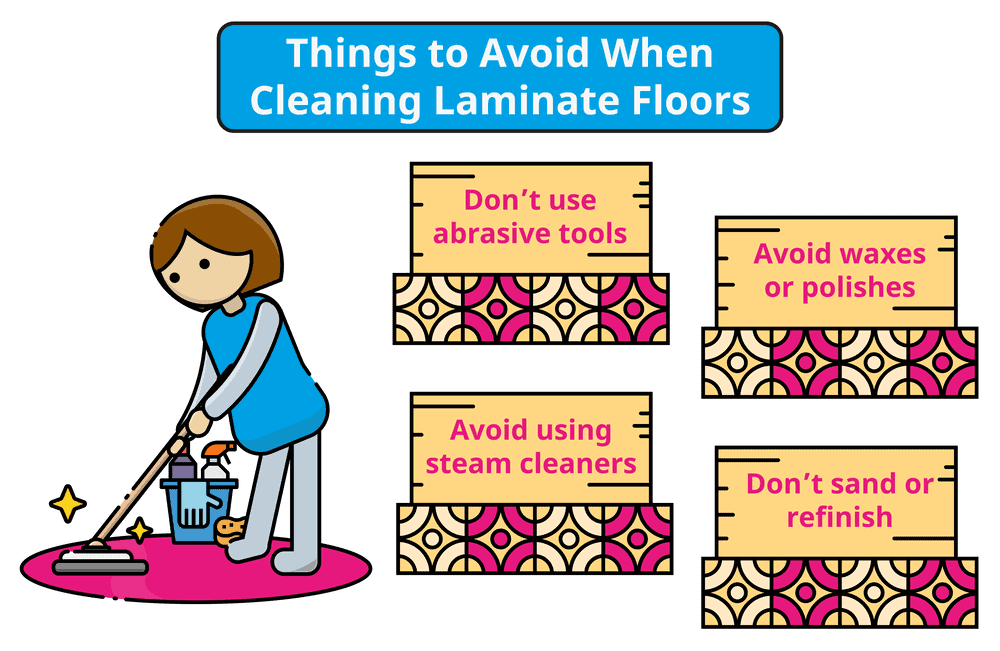 Cleaning laminate floors is easy as long as you use the proper techniques and tools. You can get rid of stubborn stains and spots without using harsh chemicals. Here are a few things you should avoid:
Abrasive tools: Never use abrasive tools like steel wool or stiff brushes on laminate floors. These will cause scratches and can damage the protective layer.
Waxes or polishes: Using polishes or waxes on laminate floors can make them slippery and create a filmy residue. It can also dull the finish and attract dirt and dust. Instead, use vinegar or rubbing alcohol to restore shine to the surface.
Ammonia: Ammonia might be an effective stain remover, but you should keep it far away from your laminate floors. The strong chemical can strip the top coating from the planks over time (4).
Steam is a no-no: Avoid using steam cleaners — even mops — on laminate floors. These tools use high temperatures to blast dirt and bacteria away. However, the steam is jetted into the surface to remove all embedded dirt. While this works great on grout, laminate is another story. The moisture from the steam might make its way into the seam and can damage the planks from within.
Don't sand or refinish: Keep in mind that laminate might look like hardwood, but it's very different. While you might sand hardwood floors to refinish them or restore the surface, you can't do this on laminate. If you try to sand it, you will remove the top layer and create scratches that can't be fixed.
Use doormats and rugs: To avoid scuff marks and wear, place a few throw rugs or doormats to protect the floor. Doormats will also help keep dirt outside and work as a friendly reminder for guests to remove their shoes.
Trim pet nails: Laminate doesn't scratch as easily as hardwood, but it can still happen. If you have an eager pup running around, make sure their nails are trimmed to avoid scratches.
Advantages of Laminate Flooring
Although laminate flooring has many advantages, it's essential to compare it to what you're trying to replicate — hardwood. Here are a few benefits of laminate flooring that are worth considering:
Appearance: Laminate looks identical to other wooden floors due to the photorealistic image layer, but it's much more durable. It's great for families with pets since the laminate can handle claw attacks better.
Easy installation: It's straightforward to install laminate over your existing floor. It's also cheaper. If you're handy, you can lay laminate yourself, but hiring a professional is best.
Child and pet-friendly: Although laminate isn't entirely safe, it's still more protected due to the wear layer. While hardwood can get deep scratches, laminate might see subtle scratches that can be removed. There are special markers and putties available to treat scratches.
Allergy-resistant: The hard top layer of laminate is more resistant to dust, mites, and pet hair. There aren't as many crevices for allergens to hide in compared to hardwood planks.
Great warranty: Flooring manufacturers often offer an excellent warranty depending on the quality and price. The smallest warranty usually covers your floors for up to a year, whereas some manufacturers offer a lifetime limited warranty.
Eco-friendly: Laminate can be recycled and reused. You can remove and reinstall it in a different room or home. Many laminate manufacturers use eco-friendly practices to help protect forests and the environment.
Easy maintenance: Keeping your laminate floors looking top-notch isn't as difficult as hardwood floors. Regular vacuuming or sweeping is the best way to keep dirt and dust at bay. Laminate floors also don't require any harsh chemicals. You can easily remove stains and spots with a solution of equal parts white vinegar and water.
FAQs
---
Thank You For Your Feedback!
Thank You For Your Feedback!