Anyone with a tree-lined yard may be familiar with the pain of a flimsy leaf rake that breaks under the slightest pressure. If you're in the market for a new leaf rake, it can be hard to know which can keep up with the task.
But I've spent hours researching genuine customer reviews and expert advice to bring you the ultimate list of the best leaf rakes available. These rakes will get leaves together for a long time while being easy on your back.
Whether you're looking for something budget-friendly, super durable, or lightweight and easy to maneuver, have I got recommendations for you? Keep reading to meet your best garden match.
Image
Model
Product Comparison Table
Features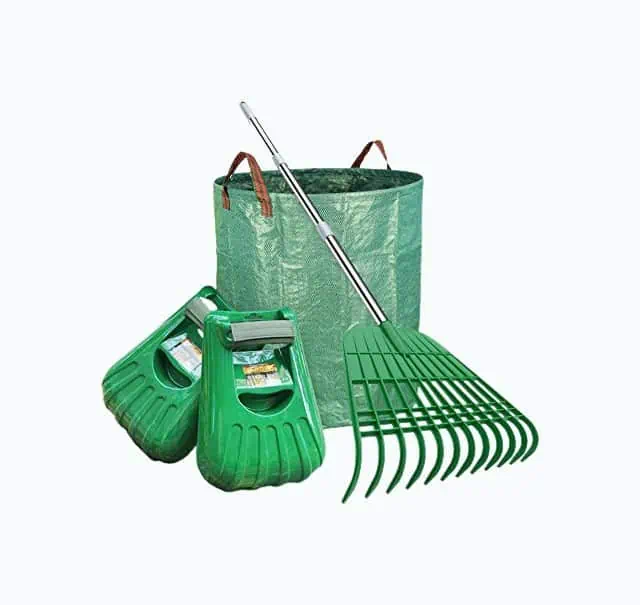 Best Set
Gardzen Gardening Leaf Rake Set
57-inch long handle
Complete package
Lightweight and compact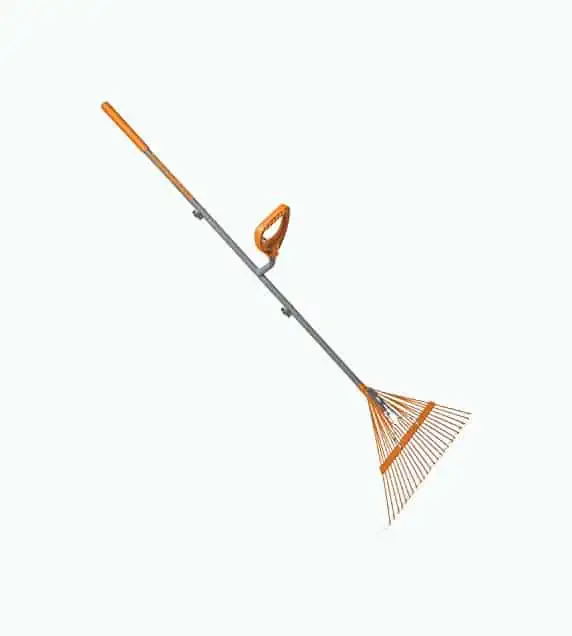 Best Ergonomic Handle
Ergie Systems ERG-LFRK24 Leaf Rake
24 two-inch teeth
Simple to store
Reduces back pain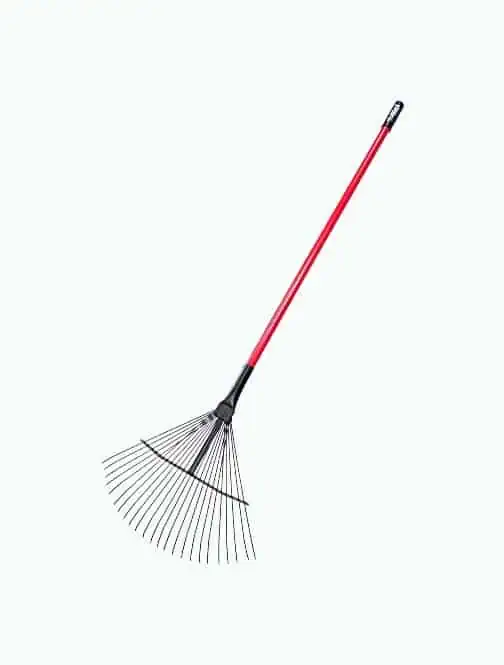 Most Durable
Bully Tools Leaf and Thatching Rake
Made in America
High-quality steel tines
Good for heavy duty work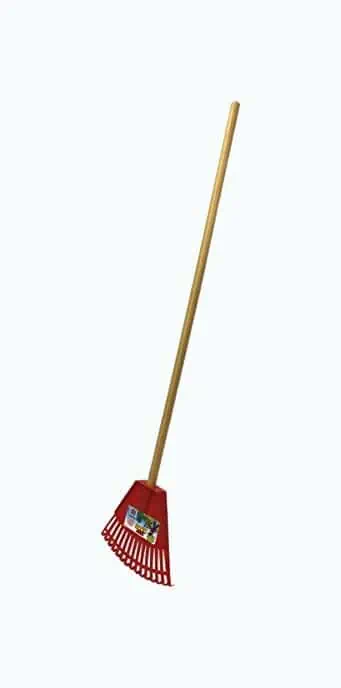 Best Leaf Rake for Kids
Emsco Group Rake
Children-safe design
Rust-proof plastic
Fully functional tool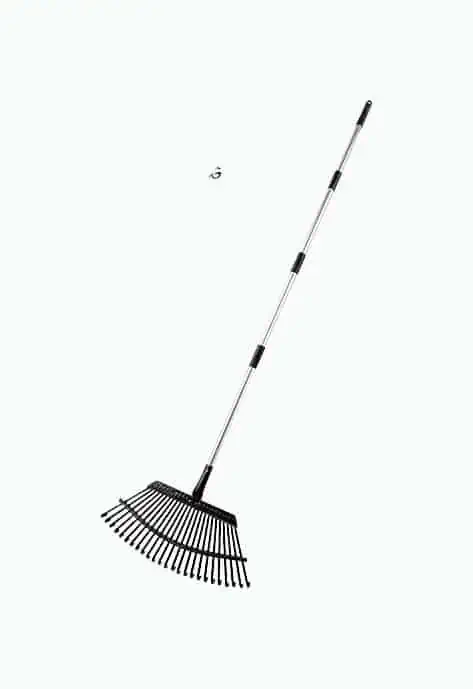 Best Budget Leaf Rake
Yangbaga Lawn Leaf Rake
High-quality metal construction
38 to 63 inch adjustable handle
Easy installation & transport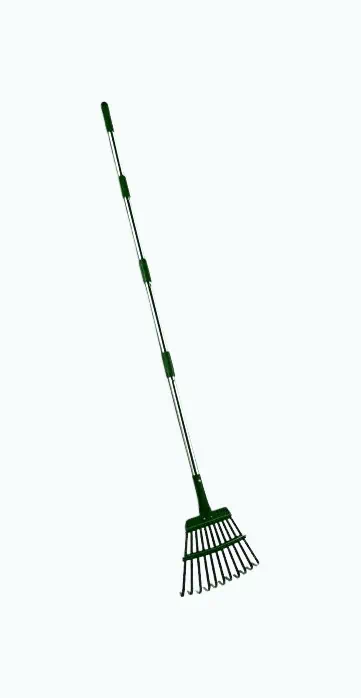 Best Lightweight Leaf Rake
HOMIMP Adjustable Garden Leaf Rake
Retractable buttons for adjusting length
Stainless steel handle
Multi-purpose rake
Best Long Leaf Rake
Jardineer Adjustable Garden Rake Leaf
23-inch wide head
Lightweight but sturdy
Can be used all around the garden
Review Methodology: At Oh So Spotless, we pride ourselves on providing you with the most reliable and comprehensive analysis of the best leaf rakes available on the market. Our hands-on experience, combined with extensive research and data-driven evaluations, allow us to assess and compare each product based on key performance criteria, such as durability, ease of use, and effectiveness. We also consider design choices and their impact on user experience. Our thorough reviews and rankings of top leaf rakes are supported by first-hand evidence and professional expertise, ensuring that we help you make informed decisions on which rake best suits your needs. By examining factors like tine material, handle length, and overall rake design, we strive to offer you an unbiased and trustworthy guide to selecting the perfect leaf rake for your gardening endeavors.
---
---
The Best Leaf Rakes of 2023
Here's a list of the seven best leaf rakes for cleaning up your yard. I've spent hours researching customer reviews, expert advice, and all the details about each rake. This includes each rake's construction, material, weight, and special features.
Get ready for a leaf-free yard because these are some seriously excellent rakes!
Gardzen Gardening Leaf Rake Set
Best Set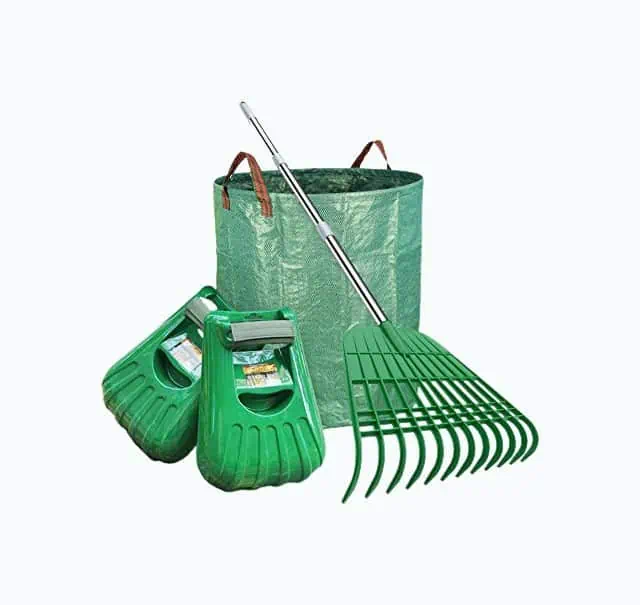 Flexibility is a must-have for many customers. The Gardzen unit is an all-complete set that includes a leaf rake, a pair of leaf scoops with protective paddings, a garden bag, and gloves.
The rake expands to 57 inches long by adding or removing a pole to get the desired length. This makes it awesome for squeezing into tight spaces and under furniture to get every last leaf.
Meanwhile, the leaf scoops have deep grip areas for efficient leaf removal and are equipped with protective padding for your wrist.
What We Like
57-Inch Long Handle
If you're tall, you'll be familiar with the struggle of finding tools that make the chore comfortable. Thankfully, this has a 57-inch long handle, which is generous compared to other models.
Tall people, relax. This will make it easier than ever to rake.
Complete Package
I don't know about you, but I sometimes find it laborious to jump from one store to another looking for a separate product that I need which could've been easier if it comes in a set. This is a problem-solver as it has everything you need to tidy up your garden.
Lightweight And Compact
Customers love how lightweight the build of this rake is. It weighs 4.61 pounds, and the pole can be removed for easy storage.
Extra Large Claw Hands
Scoop up three times more debris than you could with your bare hands. These extra-large claw scoops are incredible for picking up leaves, trash, and debris quickly and efficiently. Get through your chores much quicker.
What We Don't Like
Use With Reservation
Using the gloves in your backyard is totally fine and gets the job done, but some customers mentioned that they got bruises after doing the task, especially when using dense, heavy garden debris. Good thing the manufacturer provided a pair of gloves and protective padding included in the set.
Rake Handle Isn't Durable
Beware that the rake handle isn't the most durable. Many customers noted they had to keep tightening it as it would come loose during their chores. On top of that, some customers reported that it broke pretty quickly.
Product Specs
| | |
| --- | --- |
| Handle Length | 57 inches |
| Tine Features | 17.2-inch wide tines |
| Handle Material | Not specified |
| Weight | 4.61 pounds |
| Tine Width | 17.2 inches |
Our Ratings
Community Feedback
I recently tried this product to tackle the heaps of leaves in my yard after winter. To my surprise, it worked quite well and allowed me to pick up massive amounts of leaves with ease. The comfortable fit and durability make these leaf scoops a standout compared to other, cheaper options I've tried in the past. On the downside, I found the top handle to slide off occasionally, which can be annoying during use.
---
Ergie Systems ERG-LFRK24 Leaf Rake
Best Ergonomic Handle
Thanks to its ergonomic handle and double grip, this leaf rake makes raking even easier.
The added handle provides extra leverage and security. This takes off some of the strain, so you can rake for longer without getting uncomfortable.
It can also reduce the aches and pains you usually experience when raking. Not only that, but the top of the handle has a nice cushioned grip for extra comfort.
What We Like
24 Two-Inch Teeth
Rake more leaves with every pull. The 24 two-inch tines make it easier to collect more leaves and debris with each stroke. You can rake quickly and get back to a lovely Saturday afternoon in front of your TV.
Simple To Store
The rake splits up into four smaller pieces so you can store it easily. Even if you don't have a ton of space, you should be able to make room for this somewhere.
Reduces Back Pain
Many customers praised this rake for reducing back pain. So if you are prone to aches, pains, and fatigue, this could definitely change the game for you.
Added D-Grip Handle
Take your raking to the next level with this incredible D-grip handle which makes this chore so much easier. Instead of holding both hands onto the thin handle, you can now place one hand into the lower D-grip handle. This gives you ultimate control and increases your comfort while you rake.
What We Don't Like
Top Heavy
This is on the heavier side for leaf rakes. It weighs 4.2 pounds which is lightweight for some, but if you're not super strong, you may struggle. Others found that it was top-heavy. Balance makes raking easier, so if you find this to be the case, you may struggle.
Low Durability
You might find that this isn't the most sturdy of rakes on the market. Customers reported the handle is quite flimsy and that the metal tines bent or broke after a few uses.
Product Specs
| | |
| --- | --- |
| Handle Length | 54 inches |
| Tine Features | 24 2-inch tines for gathering more per stroke |
| Handle Material | Steel |
| Weight | 4.2 pounds |
| Tine Width | Not specified |
Our Ratings
Community Feedback
Definitely a valuable addition to my yard work arsenal, this product boasts impressive build quality and has proven to be heavy-duty and stable. The ergonomic handle provides good balance and helps reduce strain on my back, though it may require occasional tightening. There was a slight break-in period where the edge dragged on concrete, but after that, it performed smoothly.
---
Bully Tools Leaf and Thatching Rake
Most Durable
Most of us are used to buying cheap and flimsy rakes that break under the slightest amount of pressure. Well, with the Bully Tools leaf rake, you can forget that possibility.
This is a sturdy and durable leaf rake made from commercial-grade materials. Even if it does bend or break, you're insured by the limited lifetime warranty that's guaranteed to repair or replace any defects during your lifetime.
What We Like
Made in America
It's always nice to find products that are made more locally. This one is 100 percent American-made, so you can relax a bit about potential working conditions and ethics.
High-Quality Steel Tines
You'll love how sturdy and quality this rake is. The tines are made from extra-thick steel, so you don't need to worry about bending or breaking as you rake.
Good for Heavy Duty Work
Rake up leaves, for sure, but you can also rake up heavier items. This rake is great for picking up river rocks and other heavier kinds of debris.
Durable Fiberglass Handle
This rake is made with super durable fiberglass that is easy to hold and unlikely to break. The fiberglass has triple wall construction to increase its durability.
What We Don't Like
Heavy for Some
Customers say you need to be strong to handle this. It only weighs 3.85 pounds, but due to the metal construction, it's weighty for some people.
Product Specs
| | |
| --- | --- |
| Handle Length | 66 inches |
| Tine Features | Spring steel — they can handle heavy objects |
| Handle Material | Reinforced fiberglass |
| Weight | 3.85 |
| Tine Width | 24 inches |
Our Ratings
Community Feedback
Definitely a durable and efficient rake, this product has helped me clear massive loads of debris from my yard. Although it is a bit heavy, the solid construction of the rake ensures it will last for a long time. The fiberglass handle adds to its sturdiness and can withstand tough usage. As a bonus, this rake is made in the USA, supporting American workers.
---
Emsco Group Rake
Best Leaf Rake for Kids
I have a few options for kids and adults, but here's one just for the kids!
This cute rake is the perfect way to introduce the love of yard work to your little one. They'll be super excited to use this, as it's just the right size for little ones.
Why not both take a rake outside and work together?
What We Like
Children-Safe Design
This leaf rake is totally safe for kids. It's made from durable resin rather than metal. So there's no risk of injury under regular use. Of course, you should still supervise your kids while they use any toys or tools.
Rust-Proof Plastic
Even though it's made of plastic, it's still rust-proof. Therefore, it's safe to use this in all weather types. Even if your little one forgets to bring it back inside, it won't get damaged in the rain.
Fully Functional Tool
Even though it's made for kids, it's not a pretend gardening tool. It's fully functional and totally works to rake leaves. So while they work alongside you, it will get the job done even quicker.
Made in the USA
This rake is made in America and built to last. This includes FDA-approved plastic, so you can rest assured that it involves safe materials.
What We Don't Like
Dimension Proportions Are Off
Keep in mind that the handle is quite long, and the rake head is quite small. The proportions are off, which can make it quite tricky for kids to use.
Not for Toddlers
If you want to get your toddler into gardening, this rake is probably a bit too long. It's 42 inches in height, meaning it's best for elementary kids and up.
Product Specs
| | |
| --- | --- |
| Handle Length | 42 inches |
| Tine Features | Rust-Proof plastic |
| Handle Material | Durable resin |
| Weight | 14.9 ounces |
| Tine Width | 9.5 inches |
Our Ratings
Community Feedback
This product serves as an efficient alternative to traditional pooper-scoopers and small weed removal tools, with its sturdy plastic head and perfect handle length. Although designed as a kids rake, it is suitable for adults as well, especially those of shorter stature. The durability and versatility of this rake make it ideal for various tasks such as spreading mulch, reaching under shrubs, or cleaning up after pets, providing a valuable addition to any collection of gardening tools.
---
Yangbaga Lawn Leaf Rake
Best Budget Leaf Rake
Save some cash when you choose the Yangbaga leaf rake. It's one of the least expensive rakes, so you can use the money saved for another garden tool. Or better yet, pay your kids to do the raking for you!
Despite the low price, this has a lot of great features. It has a great adjustable handle, making this the perfect rake for kids and adults.
What We Like
High-Quality Metal Construction
Even though the price is low, the quality is high. It's made from sturdy stainless steel, with the head being made of aluminum. The whole thing is sturdy and rust-resistant.
38 to 63 Inch Handle
The handle extends from 38 to 63 inches. This is ideal for kids and teenagers, so if you're trying to get your children involved in the chores, this is a fantastic choice. But the handle is also long enough for average-height adults, too.
Easy Installation and Transport
When this arrives, simply snap and buckle it into place. It's ready for use within minutes. It's also easy to disassemble, so if you need to take it with you, it's no problem. You can easily fit it into your car trunk or even a bike rack.
Versatile Functions in the Garden
Use this for all kinds of garden cleanup jobs! You can, of course, rake leaves, but it also works for raking artificial grass and weeds. Pick up pine cones, remove debris from plant feeder roots or even vegetable gardens.
What We Don't Like
Handle a Bit Too Long for Some
While the majority find it advantageous to have a long handle length, still some it finds cumbersome. I guess it all boils down to preference.
17 Inch Tine Width
Most tine widths are around 20 to 24 inches. This one is 17 inches, making it a bit shorter than average. You might find it takes a bit longer to get through your gardening chores.
Product Specs
| | |
| --- | --- |
| Handle Length | 38-63 inches |
| Tine Features | Rugged metal |
| Handle Material | Non-slip metal |
| Weight | 2.4 pounds |
| Tine Width | 17 inches |
Our Ratings
Community Feedback
I initially found assembling this product to be tedious due to its numerous sections, but soon realized the adjustable length feature was advantageous for various tasks. Upon using it, I discovered that it effectively gathers small debris, such as pine needles and leaves scattered by birds in my yard. However, when applying excessive pressure, the rake's bottom section broke off, which was expected given its segmented design. Despite this, the product is lightweight and easy to use, and its variable length is a bonus. The tines could be longer and wider to improve its effectiveness, but overall, the rake is a reliable and efficient tool for my gardening needs.
---
HOMIMP Adjustable Garden Leaf Rake
Best Lightweight Leaf Rake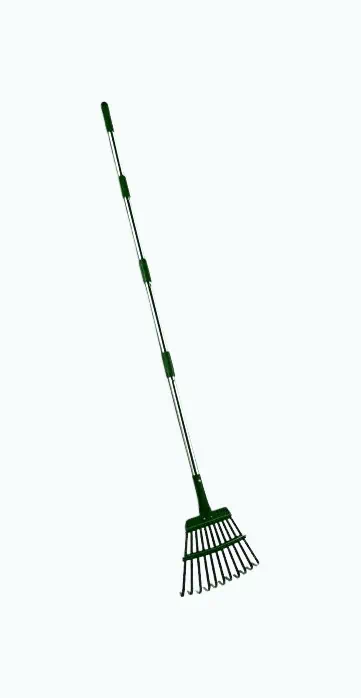 Weighing only 1.59 pounds, this is a brilliant option for a lightweight leaf rake.
It's suitable for both adults and kids. Since it's not too heavy, your kids might even complain less when you ask them to clear the yard up.
It also has an adjustable handle spanning from 34 to 55 inches. So it easily suits people of different heights.
What We Like
Retractable Buttons for Adjusting Length
This has handy retractable buttons — similar to those found on an ironing board — for adjusting the length. Customers love how easy it is to use, and it also means the pole won't fall down or collapse while you're raking.
Stainless Steel Handle
The rake is made from stainless steel. This is durable, rust-proof, and also lightweight enough for almost everybody to use.
Multi-Purpose Rake
The curved 11 metal tines mean you can use this for various cleaning jobs. Of course, it's great for leaves, but you can also use it for cleaning up other natural debris, such as pine cones. Not only that, but it's great on various surfaces, such as grass, camping grounds, and patios.
Two Year Warranty
This is already one of the most affordable leaf rakes available, but to have a two-year warranty attached is even better. If the quality is not up to standard or something goes wrong, you have two years to contact the company for a refund or replacement.
What We Don't Like
Small Size
Because this rake is made for kids as well as adults, it's not that big. The tine head is only eight inches wide, which surprised many customers. If you have a larger yard, it's a good idea to get this for the kids and a separate one for you.
Product Specs
| | |
| --- | --- |
| Handle Length | 34-55 inches |
| Tine Features | Rugged metal and curved |
| Handle Material | Stainless steel |
| Weight | 1.59 pounds |
| Tine Width | 8 inches |
Our Ratings
Community Feedback
When I first started using this product, I was pleasantly surprised by its lightweight and sturdy design. It made tackling various tasks in my garden much easier, especially when it came to raking leaves from under the lilac bushes and in narrow spaces around the house. Additionally, this rake proved to be useful for cleaning up after my dogs and even worked well on artificial grass. Though it's not suitable for raking an entire yard, its 11-inch width is perfect for smaller areas and getting between pots.
---
Jardineer Adjustable Garden Rake Leaf
Best Long Leaf Rake
Looking for a long-handled leaf rake? This is the one. It is 63 inches long, which is terrific for taller people, especially if you're after less backache as you work.
But that's not the best part.
If you want to share the yard work with someone shorter than you, this telescoping handle allows that. You can change the height all the way down to 32 inches which is excellent for both adults and children.
What We Like
23-Inch Wide Head
This has a nice, broad head at 23 inches. This means you can collect more leaves and debris with each stroke, allowing you to get through the chore of raking much quicker.
However, that's not all. You can also make the head more narrow for raking in tighter spots. This is a super versatile rake!
Lightweight But Sturdy
This rake only weighs 1.41 pounds which is comfortable and lightweight. However, the handle is one inch thick, making the whole raking experience more sturdy.
Rake Anywhere
Don't limit yourself to just raking grass with this rake. It also works on small cobblestones, flower beds, and bushes. As long as you're raking leaves, you can put this to the test almost anywhere.
Adjustable Handle Up to 63 Inches
You can't beat a telescoping handle when it comes to rakes. This Jardineer rake spans from 23 to 63 inches, making it a fantastic choice for young kids and taller folk.
What We Don't Like
Locking Issues
While this leaf rake does have a lock to keep the height secure when you adjust it, some customers found that it still collapsed while they used it.
Bend… And Snap!
Quite a few customers found the rake bent in the middle after a few uses. This can lead to snapping. Less than ideal, but hopefully, this doesn't happen with yours.
Product Specs
| | |
| --- | --- |
| Handle Length | 32-63 inches |
| Tine Features | Expandable |
| Handle Material | Aluminum |
| Weight | 1.41 |
| Tine Width | 7-23 inches |
Our Ratings
Community Feedback
My experience with this adjustable rake has been quite positive, as it effectively handles both big and small tasks in my yard. The lightweight design makes it easy to carry and use, while the adjustable handle length and tine width allow for versatility in various situations, such as raking leaves in the yard or tending to my garden. I appreciate that the tines are strong and do not bend, ensuring a consistent performance even after multiple uses. However, the plastic lever for adjusting the handle position could be more robust, as it occasionally struggles to hold the handle in an extended position. The rake's compact design when stored is another plus, as it doesn't consume much space in my garage.
---
What Type of Rake Is Best for Leaves?
There are lots of different kinds of rakes available: leaf rakes, bow rakes, shrub rakes, garden rakes, and many more. Two common types that people are torn between are leaf rakes and bow rakes.
While you can clean up leaves with a bow rake, these are actually designed for leveling grounds, dirt, sand, and other materials. They're built for heavier objects, so they're not the best for raking leaves. Plus, the tines are shorter and thicker than a leaf rake, leaving space for leaves to escape as you rake.
The bottom line is: for raking leaves, definitely choose a leaf rake. Use your bow rake for other garden jobs.
How To Choose the Best Leaf Rake
Each leaf rake differs slightly. Here are some key details to consider to find the best one for you.
---
Tips for Raking Leaves
Make the most of your new leaf rake by checking out these top raking tips:
Pull the leaves: The most effective way to rake is to pull the leaves towards you rather than to the side. Keep your ab muscles tight to take the strain off your back as you pull.
Rake onto tarp: Putting the leaves in bags takes a long time. Instead, rake the leaves onto a tarp, roll it up, and bring it to your community collection center. You can empty the tarp out, take it home and use it again!
Bag immediately: Bag your leaves as soon as possible otherwise, the wind can easily undo all of your hard work.
Rake the right way: Figuring out which direction to rake is very important. Go with the wind rather than against it. Also, rake downhill rather than uphill if you live on a slope.
Dress the part: Raking is actually really dusty. So it's important to protect yourself by wearing long-sleeved shirts and long pants, heavy-duty gloves, and even eye protection if you feel the need.
Stomp: If you need to take a break but haven't bagged your leaf piles yet, stomp on them. This can prevent them from blowing away.
Go in rows: Split your garden into sections and then break it down into rows. Don't bring all the leaves into a pile in the center of your yard. This is a waste of energy.
Keeping mowing: Mowing isn't just a summer job. You should continue mowing as long as your grass is growing. A mower can collect leaves which will cut down the amount of raking you need to do when the leaves fall.
Watch the weather: It's much easier to rake dry leaves, so keep an eye on the weather forecast and rake before rain.
Don't rush: When the leaves start falling, don't run out to the yard to collect them. Wait until the trees are bare if you can. This will save you from too many raking days. Of course, if it's going to rain, work around the weather.
FAQs
Thank You For Your Feedback!
Thank You For Your Feedback!