When you buy new clothes, we recommend looking at the clothing label. There, you'll find little symbols which will tell you exactly how to clean the garment.
But what do laundry symbols mean? Don't worry! We're here to tell you about what all the washing symbols mean so you can protect your clothes well and wash them properly.
Key Takeaways
Laundry symbols on clothing labels guide proper care in five categories: washing, drying, bleaching, ironing, and dry cleaning.
Washing symbols indicate the method (hand or machine) and temperature for washing clothes.
Drying symbols provide instructions for tumble drying and air drying, such as heat settings and drying positions.
Bleaching, ironing, and dry cleaning symbols help ensure proper treatment to protect clothes and extend their lifespan.
---
What Do Laundry Symbols Mean?
Laundry symbols first appeared on clothes in Europe around the 1950's (1). The USA hopped on the helpful trend in the 1970's and since then, care labels on clothing have been the norm.
We'll be using the International Organization for Standardization laundry symbols, which is the most common. Each symbol acts as guidance on how to properly care for your garment.
Laundry symbols are typically broken down into five categories: washing, bleaching, ironing, drying and dry cleaning. We'll go through all five categories and explain what different washing symbols mean.
Washing Symbols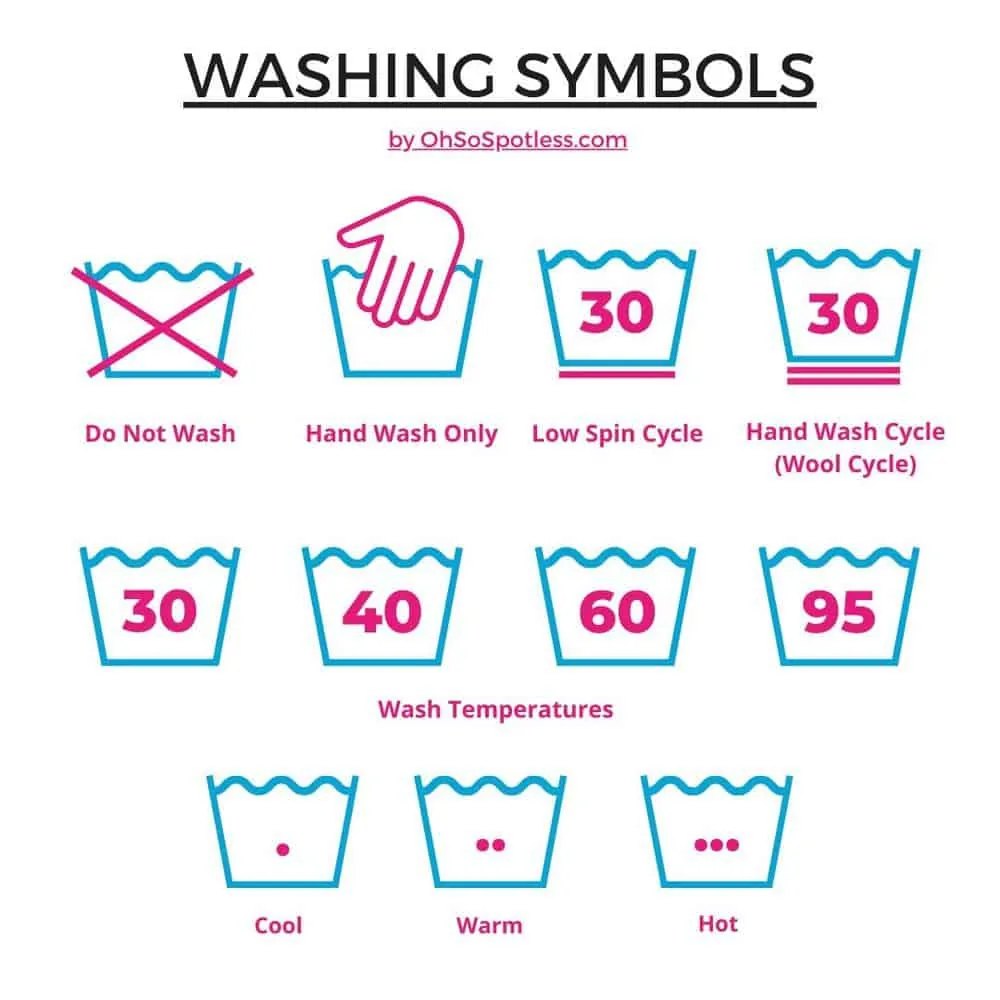 First up — washing your clothes. These symbols will help you know what method of washing to use (hand or machine) and at which temperature.
---
Bleaching Symbols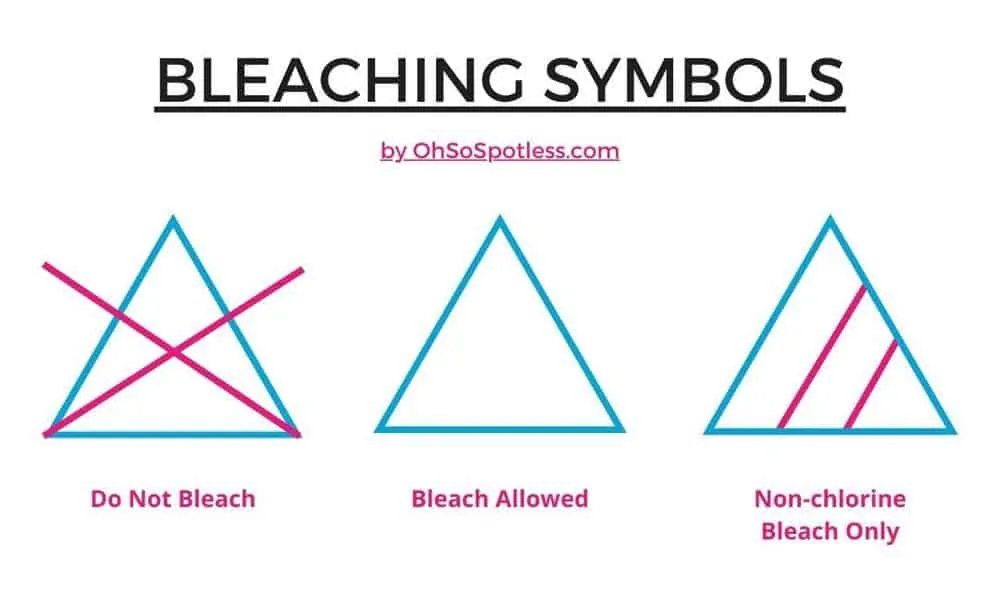 Bleaching is a useful process for stain removal and whitening clothes. But not every garment can handle it. Check out what the different bleaching symbols mean.
---
Drying Symbols
There are two categories of drying symbols: tumble drying and air drying.
Tumble Drying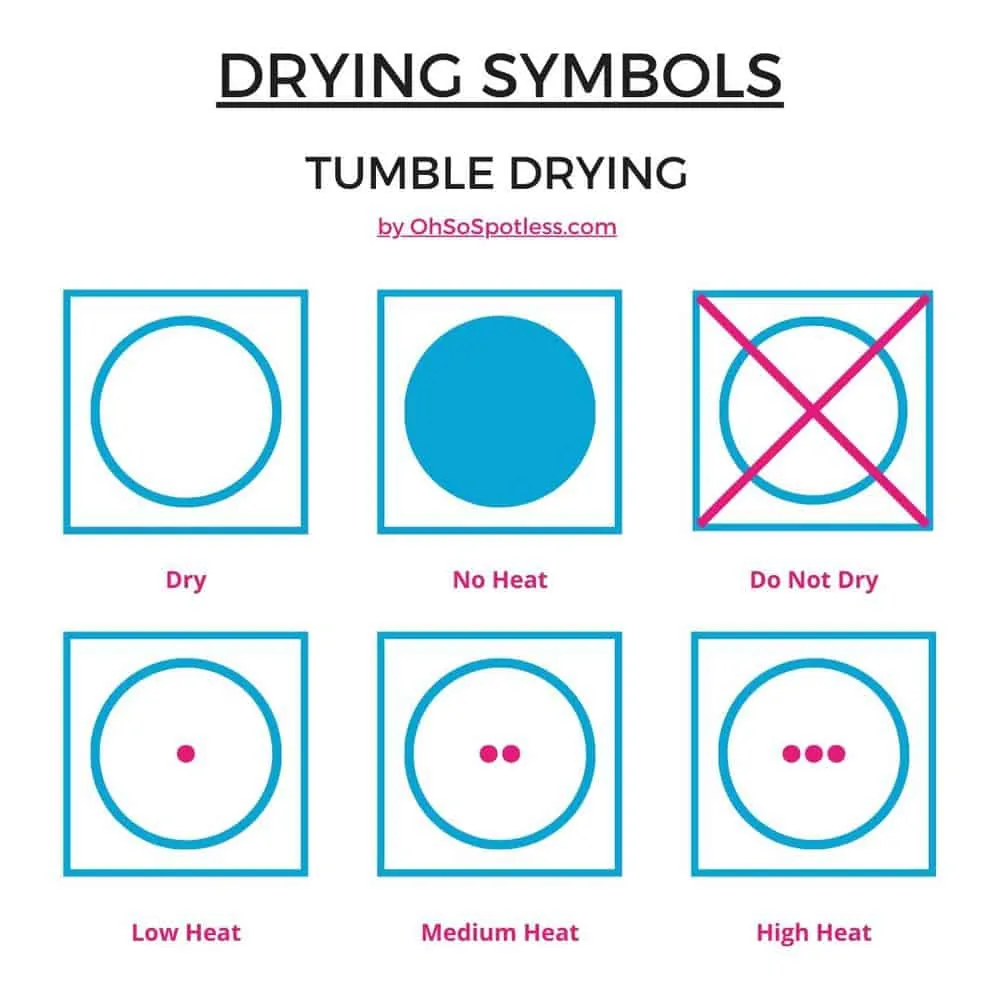 ---
Air Drying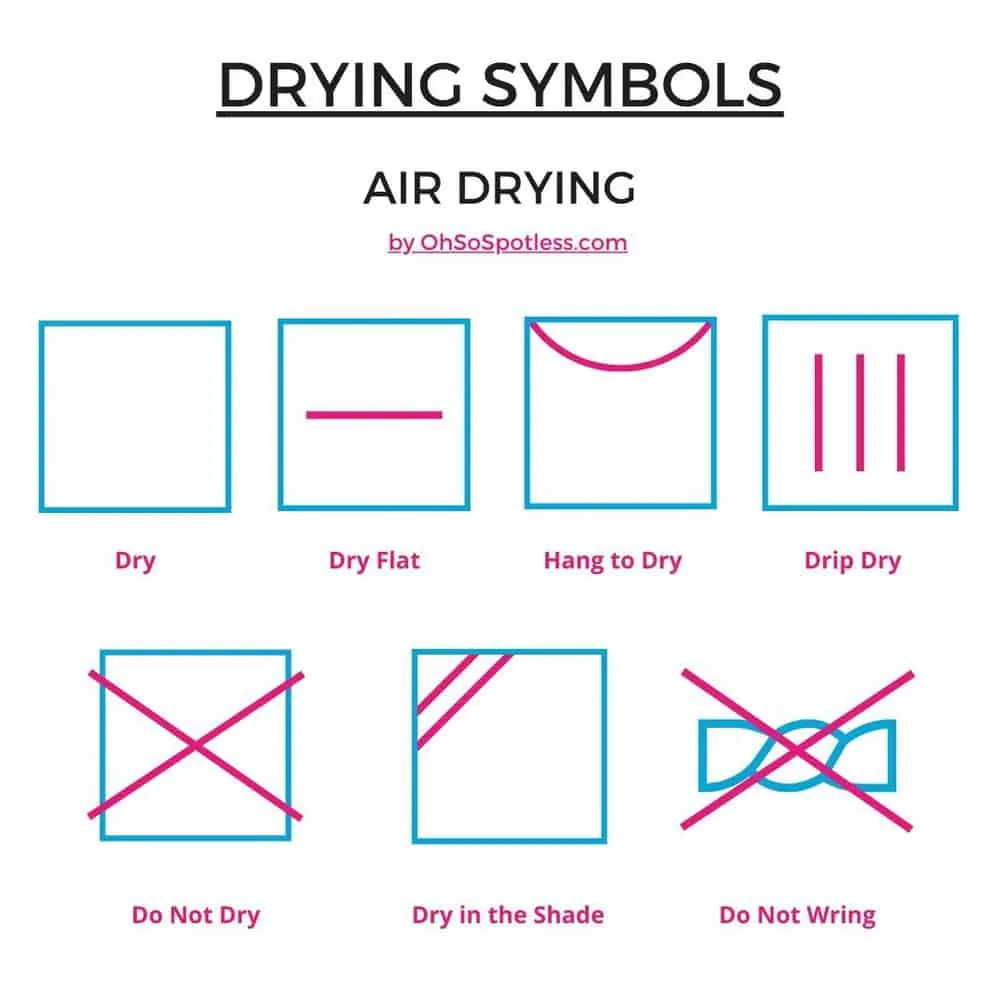 ---
Ironing Symbols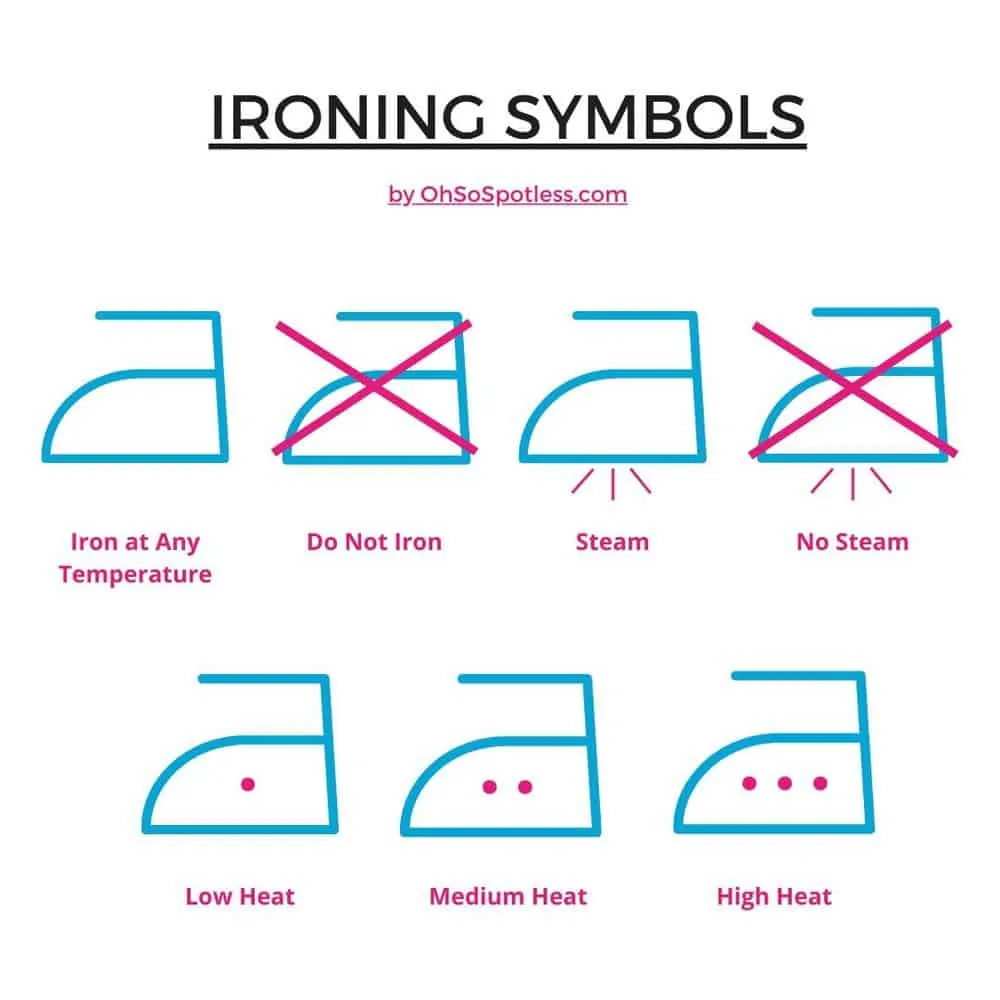 ---
Dry Cleaning Symbols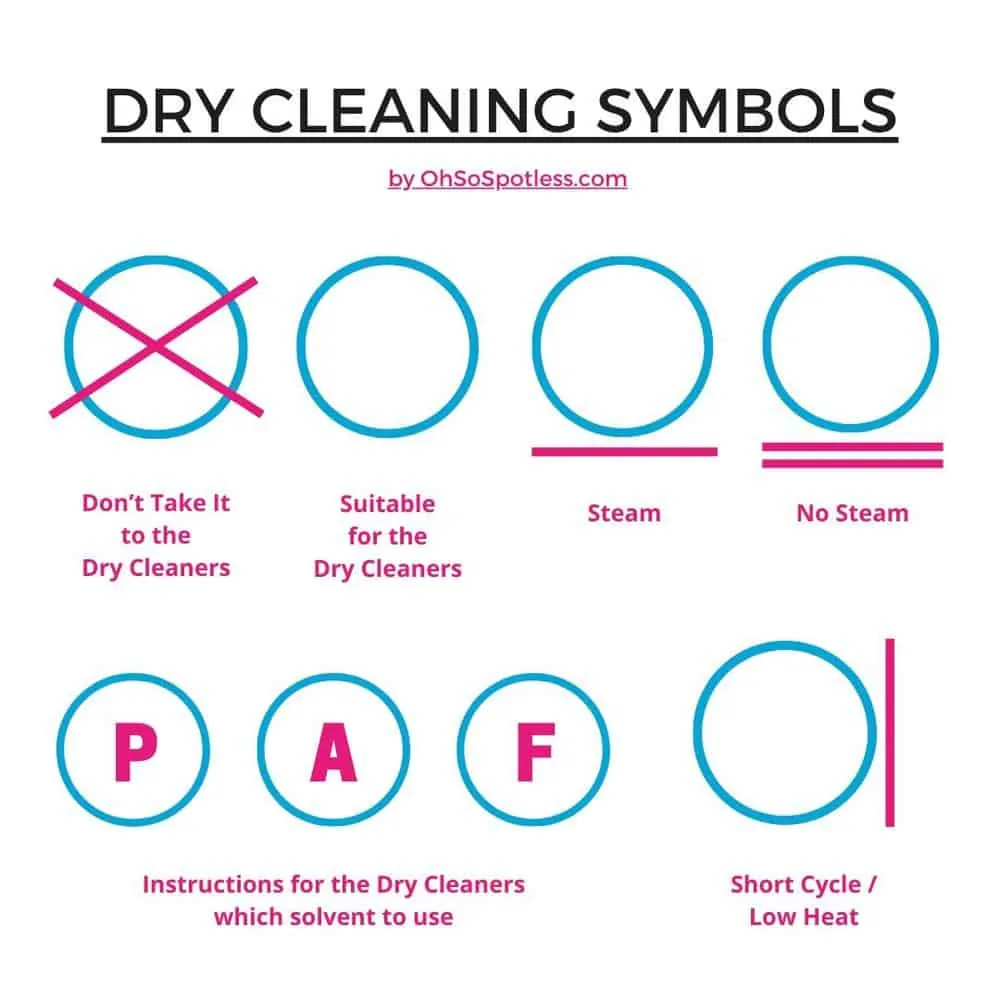 How to Use Laundry Symbols
Always check the care label when you get a new garment. It's important to know how to wash, dry and iron a garment so that you don't ruin the item and waste money.
Garment labels also sometimes offer other advice, such as turning the garment inside out or washing with similar colors.
If, for some reason, you can't adhere to the labels, do your best to stay as close as possible. For example, some washing machines don't have a 30° cycle. Ours, in fact, only has 20, 40, 60 and 90°. When a care label says wash in 30°, we wash in 20° to be safe.
---
Follow the Rules
We know, rules are boring. But they're there for a reason. When you learn how to read clothing labels, you'll be thankful. Your clothes will stay in better condition for much longer!
If you do happen to find a symbol that's not on our list, simply look it up online as it might be unique to that brand.
Thank You For Your Feedback!
Thank You For Your Feedback!