Do you work in construction, woodwork, or mechanics? Is your workplace challenging to clean due to the nature of your environment?
Cleaning your workshop or factory doesn't have to be a hassle, and we'll show you why.
Vacuuming industrial spaces is different from residential cleaning because heavy-duty machines are typically required. Your choice of shop vacuum will need multi-purpose capabilities to handle all sorts of messes.
We've spent hours researching wet/dry shop vacuums, and our analysis has led us to these seven best choices.
Image
Model
Product Comparison Table
Features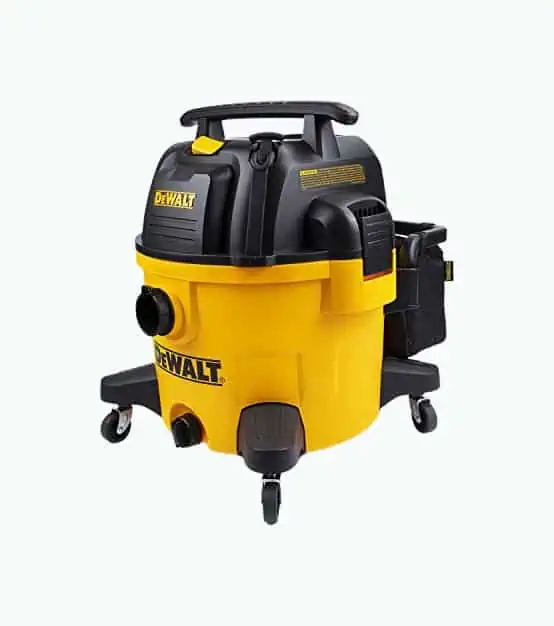 Most Versatile
DeWalt Poly Wet/Dry Vacuum
Handy accessories included
Maneuverable With Swivel Casters
Multi-purpose vacuum
Highest Capacity
Craftsmen Heavy-Duty
16-Gallon capacity
Great accessories included
Excellent 20-foot reach
Best Value for Money
Vacmaster Professional
Quieter than other models
Extra maneuverability with 360-degree swivel
Powerful 370 air watt suction
Best for Home Use
Bissell MultiClean
Upholstery tool included
Multi-floor use including indoor
Good for deep cleaning
Best for Storage
Vacmaster 6 Gallon Vacuum
Only weighs 15.8 pounds
Great accessories included
Easy on-board storage
Most Affordable
Armor All Vacuum
Compact and lightweight
Budget-friendly
Practical accessories
Best for Dry Dirt
Stanley Wet/Dry Vacuum
Swiveling casters
1400 pascals suction power
Basic but effective
Review Methodology: At Oh So Spotless, our mission is to provide you with the most reliable and trustworthy information on the best wet/dry shop vacuums. Through our rigorous evaluation process, we analyze, assess, and compare various models based on essential criteria such as performance, capacity, power, and durability. Our hands-on experience, research, and professional reviews allow us to measure, rank, and score each product based on its unique features and design choices. We evaluate products from a user's perspective, sharing quantitative measurements and first-hand evidence to recommend the top-performing wet/dry shop vacuums that set them apart from their competitors. Our results are based on facts and data, ensuring that you make informed decisions in choosing the perfect wet/dry shop vacuum to suit your needs.
---
---
Best Wet/Dry Shop Vacuum Reviews of 2023
Here are the seven best wet/dry shop vacuums that we tested and reviewed:
DeWalt DXV09P 9 Gallon Poly Wet/Dry Vacuum
Best Versatile Wet/Dry Shop Vacuum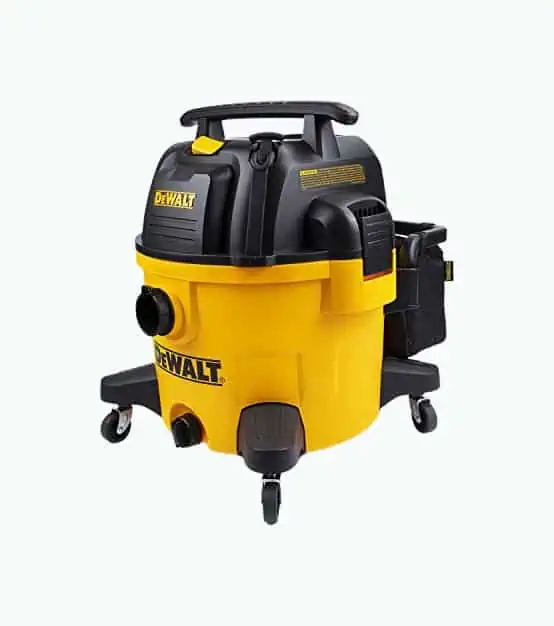 For starters, this model has powerful suction at 1400 pascals, so it's efficient. Its 9-gallon dust bag gives extended usage before needing to be emptied.
The large wheels spell faster and easier work, and its swiveling casters make for better maneuverability.
It comes with an accessory bag for handy storage of the extras you receive.
Then a fine-dust cartridge filter is built-in for smaller messes. It also features a tank drain for effortless emptying. There's a handle for easy lifting and carrying if all else fails.
You can also use this vacuum as a blower. We love that it includes a floor nozzle, utility nozzle, and crevice nozzle.
What We Like
Handy Accessories Included
We like that this model comes with a range of handy extras. Each component increases the utility of this shop vacuum and is reminiscent of standard machines. You also save money on buying them separately.
We especially like the utility nozzle. It's also great that you can easily organize your accessories with the complimentary bag.
It's Maneuverable Thanks to the Swivel Casters
The swivel casters attached to this model make it easier to move and control. Shop vacuums can be hefty, but this one is designed to lessen the load.
You won't have to overexert yourself, and the machine will face all directions for better reach and accessibility while vacuuming.
Convenient Features Save You Time
This is a true multi-purpose vacuum that you can use on almost all surfaces and substances. We appreciate the addition of a fine-dust filter, tank drain, and accessory bag. These features will save you effort and time.
We recommend this model to those of you who often deal with all sorts of mess in their workspace. The vacuum will handle everything efficiently.
What We Don't Like
The Cable Is Short
While customers are pleased with the efficiency of this machine, they're not so satisfied with its power cable. It's only 10 feet long and won't serve you well in large spaces. A few customers have also mentioned a tendency for the cable to disconnect from the machine.
This isn't a deal-breaker in our books, but it can be mildly frustrating while you clean. Regardless, we think the efficiency of this vacuum is worth the minor hassle.
It's Not Ergonomic or Comfortable
The body of this vacuum isn't very tall, so operating it and reaching the handle may place some strain on your back. A few users noted discomfort in bending too far to grasp it.
Even so, users are still happy with this product, and there are no reports of the handle being inconvenient while the vacuum is carried.
Product Specs
| | |
| --- | --- |
| Power | 5 hp, 90 CFM, 1400 Pa |
| Capacity | 9 gallons |
| Hose length | 7 feet |
| Features | Swiveling casters, fine-dust filter, carry-handle, tank drain, a built-in blower |
| Accessories | Crevice nozzle, floor nozzle, utility nozzle, Two extension wands, washable cartridge filter, mesh accessory bag |
Our Ratings
Community Feedback
After using the DeWalt 9-gallon Poly Wet/Dry Vac extensively, I am extremely pleased with its performance and versatility. The vacuum's suction power is impressive and the accessory bag is spacious enough to hold all the included attachments and more. My only gripe is that the hose accessories do not rotate, making maneuverability a bit challenging, but overall, I highly recommend this vacuum for its power and convenience.
---
Craftsmen CMXEVBE17595 Heavy-Duty Shop Vacuum
Best High Capacity Wet/Dry Shop Vacuum
Right off the bat, this vacuum has a whopping 16-gallon capacity. This should be more than enough for most workshops. It includes a 20-foot power cord and a 1440-watt motor.
It's intended for heavy-duty work over large areas. You can use it as a blower, and it has a built-in drain. The hose implements dual-flex technology for 180-degree mobility.
You get a few handy accessories too. Included are a utility nozzle, car nozzle, and wet nozzle. It also comes with a Qwik Lock filter, a dust collection bag, and two extension wands.
What We Like
Immense 16 Gallon Capacity
This shop vacuum has the highest dirt capacity that we could find. Sixteen gallons will go a long way. Think of all the time you'll save on maintenance.
It's convenient for those who work in large workshops or factories or people who have giant messes to clean. This might be the vacuum for you if you deal with metal shards, wood shavings, or other large debris.
Great Accessories (Including a Car Nozzle)
Like our top choice, you will receive a handful of valuable accessories when purchasing this model. We think it's excellent that Craftsmen added a car nozzle into the mix.
It's also an excellent pick for those who work in autobody shops, as it will kill two birds with one stone.
Excellent Reach With 20-Foot Cord
Not only do you get a 20-foot power cord, but there's also a dual-flex hose and two extension wands. You'll be able to reach difficult spots and clean large surface areas with ease.
We particularly like the dual-flex hose. This is the only shop vacuum we found that boasts one. So if you're looking for extra versatility, this is an excellent place to start.
What We Don't Like
It's Noisy, and Muffler Isn't Included
Customers note that this vacuum makes excessive noise. If you have pets or children around your workshop, they may be easily frightened by the motor in this machine.
It may be possible to install a muffler, but this will cost you extra. Remember, though, that this is an industrial vacuum, so noise is expected.
Storage Can Be a Hassle
Buyers also say that this vacuum is larger than you'd expect. It makes sense, considering the high capacity, but storage might be inconvenient if your space is small.
Product Specs
| | |
| --- | --- |
| Power | 6.5 hp, 1440 watts |
| Capacity | 16 gallons |
| Hose length | 7 feet |
| Special features | Dual-flex hose, built-in drain |
| Accessories | Qwik Lock Filter, car nozzle, wet nozzle, utility nozzle |
Our Ratings
Community Feedback
I've recently purchased the CRAFTSMAN CMXEVBE17596 20 Gallon Wet/Dry Vac and let me tell you, it's a powerhouse! The 6.5 peak HP motor can tackle both wet and dry messes with ease, and the 20-gallon capacity means I don't have to stop and empty the tank as often. The variety of accessories, like the 7-foot hose and crevice tool, make reaching tight spots a breeze. I also love the built-in blower port for clearing debris from my garage. However, I did notice that the hose and cord storage could use some improvements, as they tend to fall off easily.
---
Vacmaster Professional Wet/Dry Vac
Best Value Wet/Dry Shop Vacuum
This mid-range model incorporates a multitude of useful features and accessories. It gives you 370 air watts of suction and has a 20-foot cord. What's more, it can hold 12 gallons of dirt and has a built-in drain.
Its casters swivel a full 360 degrees, and it has a kink-resistant hose. The power button and handle are conveniently placed for easy access and control. Plus, you can use this vacuum as a blower too.
Accessories include a utility nozzle, floor nozzle, crevice tool, and squeegee brush. You also get a fine dust cartridge filter, foam wet filter, and an air and noise diffuser.
What We Like
It's Quieter Which Reduces Distraction
The noise and air diffuser make a big difference. Most shop vacuums do not include this technology. It makes for less stressful cleaning and is easier on your ears.
This could be the perfect choice if you have animals or children around you. The noise it produces will also be less distracting if you share your workspace with others.
Extra Maneuverability With 360-Degree Swivel
We like that the casters swivel a full 360 degrees. Though this vacuum is a little on the large side, you shouldn't have any problem moving it around. So, it's convenient for faster, less strenuous vacuuming.
370 Air Watts Suction
Customers are delighted with the suction power that this model offers. Some users mention that it exceeds expectations and goes above and beyond in cleaning. In conjunction with the swivel wheels, your cleaning time will speed up even more.
What We Don't Like
Cord and Hose Tangle Easily
In what appears to be an oversight of the manufacturer, the cord and the hose are on the same side. Customers say that the wheels and cord tangle too easily because of this careless design.
However, we think the suction power outweighs this small inconvenience. Given enough time, you will get used to it. Still, be prepared to untangle often if you don't keep an eye out while you're busy.
There's a Design Flaw
Another problem with this vacuum's design is the small twist in the suction hole, where some debris is likely to clog. This could be pretty frustrating because shop vacuums shouldn't clog easily.
Users who brought this up still complement the machine's capabilities. You'll have to spend a little extra time on maintenance, but other than that, the product is terrific.
Product Specs
| | |
| --- | --- |
| Power | 5.5 hp, 370 air watts |
| Capacity | 12 gallons |
| Hose length | 7 feet |
| Special features | 360-degree swivel wheels, noise and air diffusion, built-in drain |
| Accessories | Utility nozzle, crevice tool, floor nozzle, squeegee brush, fine dust cartridge filter, foam wet filter, air, and noise diffuser. |
Our Ratings
Community Feedback
Love the power and versatility of the Vacmaster Beast 16-gallon shop vac! I recently used it to clean up a 20'x20'x4' koi pond full of sludge, and it handled the task with ease, even with 10 feet of hose and two extensions attached. Surprisingly, this vacuum is quieter than my smaller one, yet more powerful. The filter is top-notch, keeping the inner portion spotless even after heavy usage, and the 20-foot cord provides excellent reach.
---
Bissell MultiClean Wet/Dry Garage and Auto Vacuum
Best for Home Use Wet/Dry Shop Vacuum
This popular model has a 6-gallon dust bag and is built for multi-floor use, even inside your home.
This vacuum is suitable for hard floors, rugs, and low pile carpets, with wet/dry capacity for each. You get handy tools that other shop vacuums often lack. These include tools like a dusting brush, a crevice tool, and an upholstery tool.
It's intended for and best used in garages but has the same capabilities as most standard vacuums. So, it's a great choice if you're looking for a shop vac that you can also employ on your residential floors. Plus, it uses two-stage filtration, so it's efficient for deep cleaning too.
What We Like
Upholstery Tool Included for Furniture
We mentioned that shop vacuums typically exclude upholstery tools and aren't intended for fabrics. However, this machine breaks the mold. It's a great addition to an already versatile vacuum.
Indoor and Garage Multi-Floor Use
Unlike other shop vacuums, you can use this model inside your home. It's designed to work on all types of floors, including carpets and rugs. The wet/dry capabilities apply here too.
So, with this machine, you can save money by not buying different vacuums for different tasks.
Good for Deep Cleaning
We like that this vacuum utilizes two-stage filtration — a step above most other shop vacuums. It's more effective at cleaning and strengthens the overall suction of the machine.
What We Don't Like
It's Better for Liquids
Customers say that the dry suction from this machine is somewhat mediocre. Users agree that it shines in wet suction capability, so it is still a worthy investment.
We recommend this model if you deal with frequent spills in your workshop but don't have much use for dry vacuuming.
Product Specs
| | |
| --- | --- |
| Power | 1.59 hp, 11 amps |
| Capacity | 6 gallons |
| Hose length | 6.5 feet |
| Special features | Adjustable wand, two-stage filtration |
| Accessories | Dusting brush, crevice tool, upholstery tool, precision wet and dry suction tool, detailing/inflating nozzle, precision blower tool |
Our Ratings
Community Feedback
My experience with this shop vac has been fantastic! The reusable cloth filter is easy to maintain, and the suction power is impressive - I only have to vacuum my carpets once before steam cleaning. The vac's slim design makes it easy to maneuver and store, though it can occasionally tip over. It's perfect for cleaning the garage, patio, and fireplace, and it's definitely worth the investment.
---
Vacmaster 6 Stainless Steel Wet/Dry Vacuum
Best for Storage Wet/Dry Vacuum
If you're looking for a more compact shop vacuum, have a look at this Vacmaster. Though it's small, it matches the capacity of many other shop vacuums.
This model includes a 7-foot hose and a 12-foot power cord. It has onboard storage for the range of accessories that come with it, saving more space. You can easily store this one in a closet or corner.
Accessories include an air control nozzle, two extension wands, and a multi-surface floor nozzle. You also get a reusable foam sleeve, dust brush, cartridge filter crevice tool, and 2-in-1 utility nozzle.
What We Like
Only Weighs 15.8 Pounds
Shop vacuums tend to be heavy, but this one is compact and only weighs 15.8 pounds. It's easier to maneuver, which in turn gives you faster cleaning. Consider this machine if your workshop has more than one story.
11 Great Accessories Included
In total, you get 11 useful accessories with this product. The attachments help you clean various surfaces, while the extras give you more reach and suction. Considering that it's lightweight, you get more accessibility with this vacuum.
Easy On-Board Storage
In addition to being quite a small model, its onboard storage makes organization straightforward. It's unlikely that this machine will be a burden when you need to stow it.
What We Don't Like
Decreased Suction Power
Because of its size, some suction is lost. Users seem to be aware of this going in and are satisfied with the machine regardless. The only frustration expressed is that vacuuming takes a bit longer because of the lower suction.
Short 12-Foot Cable
This vacuum is better for smaller spaces, as its cable is only 12 feet long. In its defense, it has a standard 7-foot hose, and it comes with two extendable wands for extra reach.
Product Specs
| | |
| --- | --- |
| Power | 3 hp, 840 watts |
| Capacity | 6 gallons |
| Hose length | 7 feet |
| Special features | Onboard accessory storage |
| Accessories | Two extension wands, multi-surface floor nozzle, crevice tool, round dust brush, reusable foam sleeve, cartridge filter, air control nozzle, dust bag |
Our Ratings
Community Feedback
I recently purchased a vacuum that has exceeded my expectations for its price. After spending hundreds of dollars on other vacuums that disappointed me, this one has been a real beast in tackling dirt, pet hair, and other debris. I've been using it for three years and it still performs like a champ, even with my heavy usage. Though it may not be the most stylish vacuum out there, its incredible suction power and durability definitely make up for it. If you're looking for a reliable and effective vacuum, I highly recommend this one – you won't be disappointed!
---
ArmorAll 2.5 Gallon Wet/Dry Shop Vacuum
Best Affordable Wet/Dry Shop Vacuum
This little guy sets the bar for affordability. It's a compact machine, not intended for the same duties as others on our list, but efficient regardless.
Its capacity is 2.5 gallons, with a two-horsepower motor. It converts to a blower, and automatic shut-off protects the vacuum from overflowing. A 6-foot hose and a 10-foot power cord give you reach.
It comes with cool accessories too. Included is a 2-in-1 utility nozzle with a brush, crevice tool, blower adapter, deluxe car nozzle, and detail brush. You also get a reusable cloth filter and foam sleeve filter.
What We Like
It's Compact and Lightweight
This shop vacuum will save a lot of space in your workshop and fit easily inside cabinets or on shelves. You can consider it the handheld of the shop vacuum world. It's lightweight, portable, and accessible.
Budget-Friendly Option Saves You Money
This Armor vacuum is the most affordable shop vacuum we've found. So, if it does what you need it to, it will save you money. Plus, the addition of all of its accessories also saves you money on purchasing add-ons.
Practical Accessories Included
For such a compact vacuum, the range of attachments is excellent. The car nozzle is a great addition — definitely not a standard extra in shop vacuums.
What We Don't Like
Better for Detailing
It's expected with such a small machine, but this model lacks the suction and range of standard shop vacuums. It's best used for detailing or cleaning smaller spots. The same applies to its wet capability; use it on minor spills for optimal efficiency.
Low 2.5 Gallon Dirt Capacity
This vacuum can hold 2.5 gallons of dirt. It's impressive relative to its size, but customers criticize its high maintenance. Some users say you will have to clean it out after every use.
Product Specs
| | |
| --- | --- |
| Power | 2 Hp, 53 CFM, 720 watts |
| Capacity | 2.5 gallons |
| Hose length | 6 feet |
| Special features | Auto shut-off protection |
| Accessories | 2-in-1 utility nozzle with brush, blower nozzle/adapter, crevice tool, deluxe car nozzle, detail brush, reusable foam sleeve filter, reusable cloth filter |
Our Ratings
Community Feedback
My experience with this compact vacuum has been fantastic for cleaning up after my birds and tidying the car. Its size is perfect for hiding in a corner, yet it holds enough capacity to handle large messes without constant emptying. The powerful suction and various attachments make it versatile for different tasks, including sucking up dog hair effortlessly. I even found the brush attachment to be perfect for dusting the car dashboard and instrument panel.
---
Stanley 6 Gallon Wet/Dry Vacuum
Best Wet/Dry Shop Vacuum for Dry Dirt
This vacuum has many features that you'll appreciate. It gives you 1400 pascals of suction and has a 4-horsepower motor. Plus, it can hold six gallons of dirt.
Intended for heavy-duty work, it can convert easily into a blower. It has swiveling casters for a full range of cleaning and extra maneuverability. A crevice nozzle, utility nozzle, clamp ring, dust bag, and foam filter are included.
This machine is also efficient for dry dirt and works well in large spaces. It doesn't have too many bells and whistles, but it does fine.
What We Like
Swiveling Casters Increase Maneuverability
Swiveling casters make a world of difference in how you move your vacuum. They compensate for the hefty size of the machine with increased maneuverability. This vacuum is easy to control, so you'll be able to clean faster and more efficiently.
1400 Pascals Suction Power
At 1400 pascals, you're getting a fair amount of suction power from this vacuum. It's highly effective on dry dirt. Plus, thanks to its design, it helps you clean better and faster than many other models. There's also the 6-gallon dust container, which is a good working size with the machine's suction power.
Basic But Effective
Some shop vacuums are flashy but ineffective. This model is the opposite. Though it doesn't have all the bells and whistles others may have, it works well, and isn't that what counts?
What We Don't Like
Water Suction Could Be Stronger
There are a few users who, although satisfied with the machine's specs, say its water suction isn't as efficient as they'd hoped. So, it will suit you best if you only have to deal with small spills in your workshop.
It's Not As Durable
Some users say that this vacuum isn't built to last. A few people reported mishaps that led to easy breakage, and some note that it's not as sturdy as expected.
Handle it with extra care to prevent unnecessary damage and prolong its lifespan.
Product Specs
| | |
| --- | --- |
| Power | 4 Hp, 1400 Pa |
| Capacity | 6 gallons |
| Hose length | 5 feet |
| Special features | Blower convertible, swiveling casters, accessories holder, carry handle |
| Accessories | Two extension wands, crevice nozzle, utility nozzle, foam filter, clamp ring, cloth bag, dustbag |
Our Ratings
Community Feedback
As a homeowner, I found the Stanley Wet/Dry Vacuum to be an excellent addition to my cleaning arsenal. Its powerful suction and large capacity make it perfect for cleaning the garage, cars, and other areas without needing to lug around a heavier vacuum. The vacuum comes with multiple accessories that conveniently fit around the canister, making it even more practical. Despite its low price, the Stanley vacuum exceeded my expectations and has become an indispensable tool for maintaining a clean and organized home.
---
Shop Vacuums vs. Residential Vacuums
A shop vacuum, also known as a wet/dry vacuum, is a machine with industrial capabilities in workshops. They're built to handle dirt not commonly found in homes, as well as spills.
Also, these vacuums have larger capacities than standard vacuums. They're usually modeled after canister machines for ease of use.
At their core, shop vacuums aren't that different from residential ones.
However, one thing that sets them apart is that shop vacuums can pick up all sorts of debris. They suck up everything from wood chips and sawdust to nails and bits of metal (1).
Shop vacuums are made of more substantial and more durable materials to support this.
They're multi-purpose machines with more versatility than their standard counterparts. So, if you were to use a home vacuum in place of a shop vacuum, it would probably break in no time.
Residential machines aren't designed to accommodate the heavy-duty work that shop vacuums can handle. The latter is standard in various industries because of their efficiency and usability.
Advantages of a Shop Vacuum
Beyond their ability to manage heavy-duty messes, there are more benefits to using a shop vacuum in your workshop or studio. Here's what you can expect when you invest in one:
How to Choose a Shop Vacuum
You won't have as much variety in shop vacuums as in residential machines. Most shop vacuums have the same set of features, with only their specs setting them apart from each other.
That said, don't buy one blindly. Choose one that will work well for you by keeping the following in mind:
---
Considerations Before You Buy a Shop Vacuum
We strongly recommend shop vacuums, but they may not be for everyone. Before you place your order, think about what owning one entails.
They're not for home use: Shop vacuums are powerful, multi-purpose machines, but there are some things they can't do. Typically, they're not built with brush rolls and will be ineffective at picking up hair. Tools for upholstery also often aren't included, so that they won't do well on fabrics.
Storage is tricky: Storage can be a problem depending on how big your machine is. They're unlikely to fit into closets easily and are better suited for workshops with more space.
Not the best for allergies: We mentioned that they tend to lack HEPA filtration, so they won't do if you have allergies. If you can install a HEPA filter into the machine, it will probably cost extra money and effort.
Maneuvering them can be difficult: Remember that shop vacuums are heavy-duty. They're not designed for precision but rather focus on the effect. They take on more debris, dirt, or liquid, and the heavier they become, the more effort it takes to move them.
They can be loud: Standard vacuum cleaners average between 70 and 80 decibels—as loud as a traveling car. Shop vacuums are bound to be louder than domestic models, as they're built for more substantial work. Their noise levels can be amplified further if there's sound reflection by the walls of your workshop.
Vacuum Getting Louder?
If you notice that your vacuum is louder than usual, it may need maintenance. Blocked fans, broken attachments, or clogged filters can increase a vacuum's noise level
(2)
.
FAQs
---
Thank You For Your Feedback!
Thank You For Your Feedback!