If your vacuum is letting you down, triggering your allergies, and letting dust and debris back into your home, it's time to switch it up.
Have you heard of water filtration vacuums? They differ from traditional vacuums in that they use water as the filter. Besides that, they're not that different — often more powerful and thorough, but still easy to use.
We've created a list of the 10 best water filtration vacuums so that you can find one that suits your home.
Image
Model
Product Comparison Table
Features
Best for Carpets
Rainbow Model E2 Type 12 System
10 vacuum attachments
Purifies air & removes odors
Active edge cleaning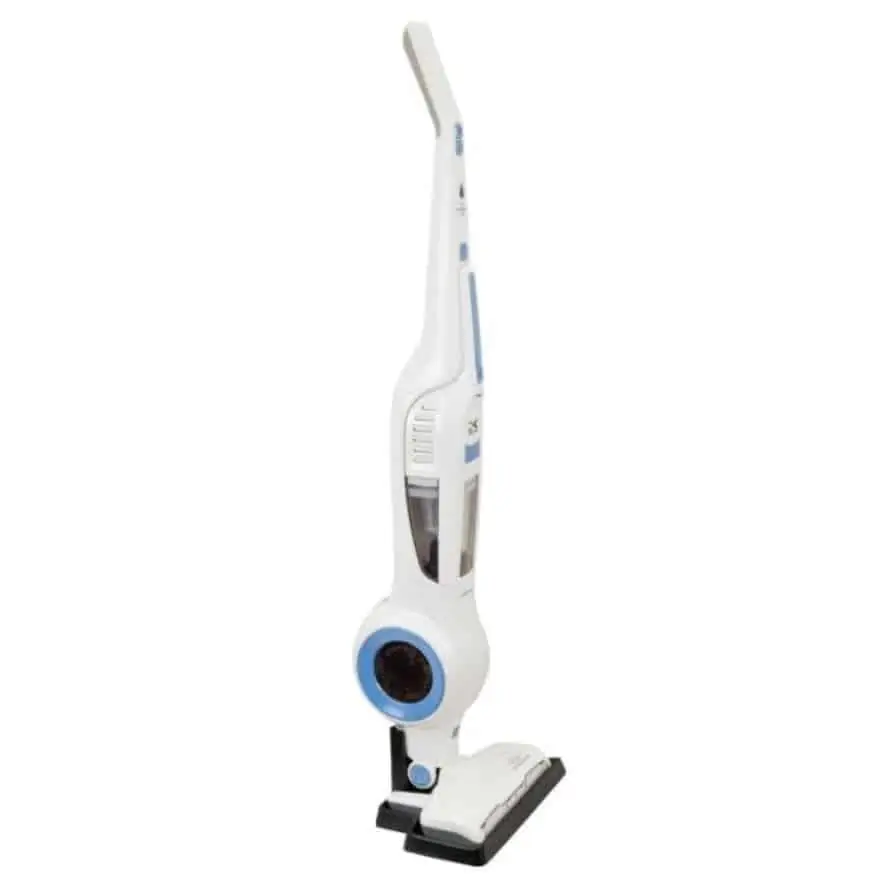 Best Upright Water Filtration Vacuum
Kalorik Cordless Water Filtration Vacuum
Lightweight & cordless
Motorized floor brush
LED headlights
Best Bagless Water Filtration Vacuum
Kalorik Water Filtration Canister Vacuum
Easy to maneuver
Auto-stop switch
On board storage
Best for Apartments
Quantum X Upright Water Vacuum
Easy to clean
Telescoping body
Automatically adjusts to floor types
Best for Pet Hair
Genuine Rainbow Vacuum Cleaner
Powerful 72 CFM
Carpet shampoo system
Switch between floor types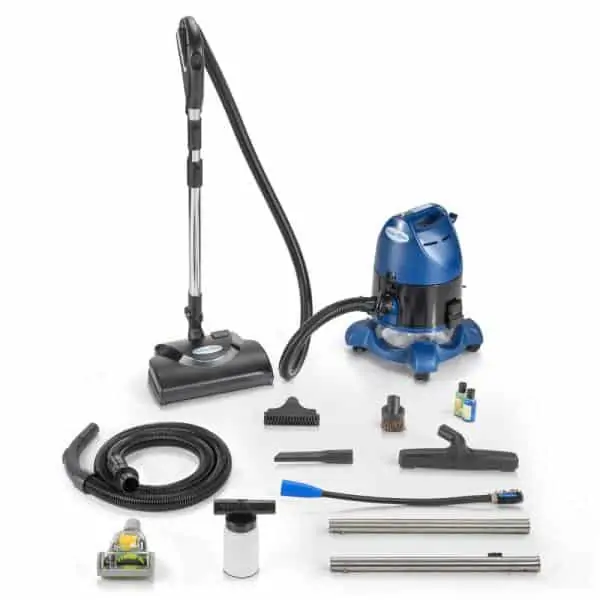 Best With HEPA Filter
Ocean Blue Bagless Canister Vacuum
Comes with HEPA filter
Hygenic filtration systems
15-HP motor
Best for Hard Floors
Hyla GST Water Filtration Vacuum
LED lit basin
Fluorescent lights on nozzle
Great for pet hair
Best for RVs
Sirena 2-Speed Canister Vacuum
Two speed modes
Transparent canister
1200-Watt motor
Best Budget Water Filtration Vacuum
Kalorik Water Filtration Canister Vac
Pet brush attachment
Wet & dry messes
Bagless design
Best With Attachments
Polti Eco Steam Vac Dual Cleaner
Steam cleaning vacuum
Deep clean your mattress
British Allergy Foundation certification
---
What Are Water Filtration Vacuums?
A water filtration vacuum works like a regular vacuum. They suck up dirt and clean your floors thoroughly. But instead of a dust bin or a dust bag for collecting debris, they have a water filter.
How Do Water Filtration Vacuums Work?
The dirt is sucked up into the water, rather than a dirt bag or bin. The water absorbs the dirt. You may think this looks gross, but that just means it's working. From then on, the water better filters out and traps the dirt which prevents it from being blown back out of the vacuum.
Are Water Filter Vacuums Better Than Regular Vacuums?
Some people prefer a water filter vacuum over a regular vacuum. Let's take a look at the main pros and cons.
Pros
They may hold more dirt than a standard vacuum, meaning you need to empty it less often.
Any air that comes from the vacuum will be cleaner since the water traps more dust.
Great for people with allergies since the air is cleaner.
You eliminate the risk of clogged filters.
Easy to empty — less messy.
May be more energy efficient.
It can clean wet and dry messes.
Good for cleaning up pet hair.
Cons
They can be much more expensive than regular vacuums.
They're heavier and therefore, harder to transport.
Not as many options on the market.
How To Choose the Best Water Filtration Vacuum
To find the best water filtration vacuum for your home, consider these important factors.
The two main types of water filtration vacuums are upright or canister. Upright ones are more traditional vacuums, but because they are heavy, some people prefer a canister vacuum. That way you're not pushing around the weight of the vacuum with every sweep. You just have to move the canister when you're going into a different room.
You should also consider what type of mess the vacuum can clean. Many vacuums can tackle all kinds of messes, but some are designed for specific kinds. Or perhaps it comes with attachments to help with certain things, like pet hair.
The weight is very important. Make sure it's not going to be too heavy for you to maneuver around your home.
True, these vacuums already do a great job at preventing allergen particles from shooting back out. Still, you could get one with a HEPA filter for extra protection.
The sound level is measured in decibel. The higher this number, the louder the vacuum. Most will be between 60 and 70 decibels.
Consider your budget carefully. These vacuums are pretty expensive, but there are a few budget-friendly options.
Last but not least, check the warranty. The longer it is, the more reliable the vacuum. It should be at least one year long.
---
The Best Water Filtration Vacuums of 2021
With a limited number of water filtration vacuums on the market, it can be hard to know the pros and cons of each one. We've spent hours researching real customer reviews, expert advice, and product descriptions to create a comprehensive guide. With all this information, you're sure to find the best one for your home!
1. Rainbow Model E2 Type 12 System
This brand may be what comes to mind when you think of a water filtration vacuum. It's one of the best! And if you have carpets, it's particularly good as that's the manufacturer's recommendation for the floor type.
The power nozzle, specifically, is for carpets. This lightweight attachment gets dirt out from deep within carpet and rug fibers. This includes lint, threads, hair, and dirt, so your carpet is not only clean but super soft!
Why We Love It
10 Attachments
With 10 different attachments, you can deep clean your entire home. The power nozzle is great for carpets, but what about the other attachments?
Well, the dusting brush can lift dust from blinds and furniture.
The upholstery tool can clean furniture, stairs, and windows.
Another example is the floor and wall brush. If your walls are looking a little dull and dusty, you can clean them, too!
Purifies Air
This vacuum doesn't only clean your floors (and walls and windows) but it also cleans the air. Simply add water to the basin, put the Rainbow in the middle of a room and turn it on low-speed mode. It will clean out bad odors, dust, and other particles.
Active Edge Cleaning
When using the power nozzle, you'll be mega impressed by the active edge cleaning technology. It has brush cleaners on both sides, which helps you to deep clean along skirting boards, the edges of rooms, and around furniture.
Keep In Mind
Expensive
This vacuum is on the more expensive side. It's one of the best, so we think the price is justified, especially considering how much it can do. But it is very pricey.
Hard to Set Up and Put Away
With all the attachments, it can be hard to set this vacuum up and put it away. If you don't have a ton of storage space, it can be quite bulky.
Additional Specs
| | |
| --- | --- |
| Type of Machine | Canister |
| Type of Floor | Any but recommended for carpet |
| Weight | 17 pounds |
| HEPA Filter | HEPA neutralizer |
| Warranty | Warranty does not apply to this listing |
---
2. Kalorik Cordless Water Filtration Vacuum Cleaner
Looking for an upright vacuum?
Some customers prefer these as they don't feel like such a big change from traditional vacuums. This Kalorik cordless one is a popular choice.
It's a 2-in-1 option in that it works as a stick vacuum. It also has a handheld attachment for getting into tight corners, getting under furniture, and cleaning the car.
Why We Love It
Lightweight and Cordless
The lightweight and cordless design of this vacuum make it easier than ever to maneuver around your house. Weighing only 7.9 pounds, anybody can use this vacuum! Plus, the cordless design means no tripping over wires as you clean the home.
Motorized Floor Brush
The strong motorized floor brush is suitable for many floor types including hardwood, carpet, laminate, and ceramic.
LED Headlights
The LED headlights are an awesome feature. They show you the dust and dirt ahead of you, which is especially useful under furniture so that you can make sure every corner is clean.
Keep In Mind
Short Run Time
The battery life on this vacuum isn't great. It takes around six hours to charge, and the battery lasts a maximum of 25 minutes. It's 15 minutes if you use it on the high-speed setting.
Small Water Tank
Many customers find the water tank is quite small and therefore needs frequent emptying. We recommend emptying your water tank after every use, no matter which vacuum you go for, so it's not a huge drawback, in our opinion. But do keep it in mind!
Additional Specs
| | |
| --- | --- |
| Type of Machine | Upright |
| Type of Floor | Hard and carpet |
| Weight | 7.9 pounds |
| HEPA Filter | No |
| Warranty | One year |
---
3. Kalorik Water Filtration Canister Vacuum Cleaner
Bagless vacuums are a preference for many because they are easier to use. There's no long or dusty emptying process.
This is a great option for a bagless water filtration vacuum. It has a range of useful features which make it a popular choice amongst customers.
With this vacuum, your house will be cleaner and your air will be healthier.
Why We Love It
Easy to Maneuver
This canister vacuum is super easy to maneuver. Transporting it around your house on the four caddy wheels is simple and hassle-free!
Useful Technology
This vacuum has two useful bits of technology. One is the indicator to let you know the water tank and dust tank are full. The other is the auto-stop switch so that the vacuum automatically turns off when you're not using it.
On Board Storage
This vacuum has onboard storage for the accessories, making it easy to keep everything contained. When it comes to the accessories, you'll find the heavy-duty floor brush, a dust brush, and a crevice tool.
Keep In Mind
Not Great on Carpets
The carpet attachment isn't great. Customers don't like how hard it is to use and the fact that it doesn't glide well. Some of the other attachments haven't gone down well either, with the main hose being described as cheap and too short.
Hard to Clean
Cleaning this is a hassle for many customers. It's such a big canister that emptying it all out and deep cleaning it is a big job that takes a lot of time.
Additional Specs
| | |
| --- | --- |
| Type of Machine | Canister |
| Type of Floor | Hard and carpet (but works best on hard) |
| Weight | 14.3 pounds |
| HEPA Filter | No |
| Warranty | One year |
---
4. Quantum X Upright Water Vacuum Cleaner
For apartments, we recommend this Quantum X Upright vacuum. It is compact and upright, so you can slide it into a cupboard or a corner where it won't take up much space at all.
Plus, it's shaped like a traditional vacuum so if your roommates are confused by your new purchase, they'll find it pretty easy to transition to.
Last but not least, it's available in three colors so you can choose one that matches your decor. Choose from rose gold, red, or grey.
Why We Love It
Easy to Clean
This vacuum doesn't use any filters. That includes HEPA, so if you do have allergies, you may want to choose another option. But the big advantage of no filters is that the vacuum is much easier to clean. You don't need to wash out gross, dirty, or clogged filters. Just the tank!
Telescoping Body
The body telescopes up four inches which give you more clearance for getting the vacuum in tight corners or underneath furniture.
Automatically Adjusts to Floor Types
This is another great reason why it's good for apartments. If you're renting, you may not be a huge fan of your varying floor types. And it can be hard to find a vacuum that does a good job. But this one automatically adjusts to different floor types to give you perfect cleaning results in every room.
Keep In Mind
17 Pounds
At nearly 17 pounds, this is a heavy vacuum. Many customers — even very happy ones — complained that this was a pain to push around.
Nowhere to Hang Power Cord
On normal vacuums, there is a hook to wrap the power cord around. This creates easy storage and protects the wire. But with this vacuum, there's no hook which is really annoying!
Additional Specs
| | |
| --- | --- |
| Type of Machine | Upright |
| Type of Floor | Hard or carpet |
| Weight | 16.93 pounds |
| HEPA Filter | No |
| Warranty | Three years |
---
5. Genuine Rainbow Vacuum Cleaner
This is a super powerful water filtration vacuum, so you know it will do a great job with your pet hair. It's one of the most powerful on the market, with 72 CFM of power!
It also has six different attachments, hoses, tools, and wands so that you can switch between different surfaces.
These attachments make it even more effective at getting dirt, dust, and hair off of your chosen surface.
Why We Love It
Carpet Shampoo System
This vacuum can clean up wet and dry messes, as well as shampoo carpets! So for this one product, you're getting a ton of different cool features to bring your home back to its cleanliest state.
Switch Between Floor Types
With the flick of a button, you can switch between different floor types. This vacuum works on hard floors and carpets. However, it's important to switch so the vacuum can adjust its suction power to best clean the floors.
Cleaning Stairs
With the long hose and the useful attachments, this is a great vacuum for cleaning stairs. Stairs can often get neglected, especially if your vacuum doesn't make it easy.
Keep In Mind
It's a Refurbishment
Keep in mind that this is a refurbishment, so it's not brand new. Therefore, some customers found theirs to be quite cheap or not as sturdy.
Additional Specs
| | |
| --- | --- |
| Type of Machine | Canister |
| Type of Floor | Hard or carpet |
| Weight | 15 pounds |
| HEPA Filter | No |
| Warranty | Five years |
---
6. Ocean Blue Bagless Canister Vacuum Cleaner
For a water filtration vacuum with a HEPA filter, this is a top option. Besides giving you cleaner air, it's super powerful, so it can get every speck of dirt on your floors.
This uses a state-of-the-art filter system to better capture dust and dirt. It has a large dustbin so that you take can longer between emptying it. All this adds up to being one of the most hygienic filtration systems. So if you're trying to limit dirt from circulating back into the home — this is a great option.
Why We Love It
Great for All Floors
This has a nozzle, making it easy to switch between carpets and hard floors. This ensures a deep clean of whatever floor type you're on.
When you're not using it on hard floors, though, and want to switch to carpets, you can connect this to a shampooer system. You can shampoo and deep clean your carpets with this handy little fella!
Powerful Features
There are a few awesome features to this vacuum that make it super powerful. Firstly, it has seven attachments that allow you to tackle all kinds of dirt on all kinds of surfaces. Secondly, it has strong headlights so you can see the dirt before you, even in dark spaces. Lastly, it's great for cleaning up pet hair!
1.5-HP Motor
With a 1.5-horsepower motor, this is a super strong and reliable vacuum. This great suction power makes it triumphant over all sorts of messes.
Keep In Mind
No Instructions
Many customers struggled to use this vacuum. It didn't come with any instructions, which made it hard to navigate. Besides that, if you want to use the carpet shampoo feature, it's really tricky to figure out how without the instructions!
Additional Specs
| | |
| --- | --- |
| Type of Machine | Canister |
| Type of Floor | Hard or carpet |
| Weight | 32 pounds |
| HEPA Filter | Yes |
| Warranty | Five years |
---
7. Hyla GST Water Filtration Vacuum
This is a great option for hard floors, and carpets since it has varying attachments depending on the floor types.
It's also great for cleaning up wet and dry messes since this vacuum is capable of both.
No matter what you're cleaning up, this vacuum will give you purified and dust-free air. You can rest assured that your home is healthy, clean, and safe for folks with allergies.
Why We Love It
LED Lit Basin
The water basin has LED lighting in it. This may seem like a random feature, but it's actually very useful. This allows you to see everything going on inside so you can check how dirty the water is and when it needs changing.
Fluorescent Lights on Nozzle
Besides the bright lights in the basin, there are also fluorescent lights on the nozzles. This helps with vision in dark spots, corners, and underneath furniture.
Great for Pet Hair
Pet owners love this product. It has superior suction for pulling pet hair out of all types of flooring, even deep rugs, and high-pile carpet.
Keep In Mind
Pricey
One of the big drawbacks to this vacuum is the high price tag. While this is discounted, the other models can be up to three times the price. Even discounted, it's very expensive!
Plus, you can't replace some parts, which is how the company makes even more money. If you have any faulty parts, you'd need to buy a whole new machine!
Additional Specs
| | |
| --- | --- |
| Type of Machine | Canister |
| Type of Floor | Hard or carpet |
| Weight | N/A |
| HEPA Filter | No |
| Warranty | Five years |
---
8. Sirena 2-Speed Canister Vacuum Cleaner
If you have an RV, you don't want something that takes up too much space. That's why we recommend this Sirena canister vacuum.
It's nice and compact so you can slot it under a bed, or at the bottom of a cupboard, and it won't take up much space at all.
It's also suitable for hard floors and carpets. So no matter what kind of flooring your RV has, this is a great option for deep cleaning it between guests and road trips.
Why We Love It
Two Speed Modes
This vacuum does more than just suck up dirt. When you use it at high speed, yes, that's its main power. It will quickly clean carpets, floors, furniture, and more. But check this out: If you switch to low speed, you can use the vacuum as an air purifier. Move it around a room and it will trap allergens, bacteria, odors, and other nasties in the air.
Emptying is a Breeze
With the transparent canister, you can see everything that's going on inside the vacuum. That lets you know when it's working, and when it's time for a water change. Besides that, there's an included separator to hold back large debris when you're pouring the water out. This stops you from clogging up your sink, which is a nice bonus.
1200-Watt Motor
The 1200-watt motor is super strong and powerful. It can tackle all kinds of debris and dirt, at a quick and efficient pace. Besides that, it's built to last for 10 years. So this investment should stay with you for a long time.
Keep In Mind
Tricky to Navigate
While the option for many attachments is good, some customers found it overwhelming. There are six attachments, as well as a DVD to explain everything. So it's just a lot to learn.
Cheap Plastic
The canister and the attachments are made of a cheap plastic material. Many customers experienced the attachments or the water tank snapping or cracking.
Additional Specs
| | |
| --- | --- |
| Type of Machine | Canister |
| Type of Floor | Hard or carpet |
| Weight | 40.2 pounds |
| HEPA Filter | Yes |
| Warranty | 10-year motor and three years parts |
---
9. Kalorik Water Filtration Canister Vacuum
On a budget but still want to try out a water filtration vacuum for yourself? The Kalorik canister vacuum is one of the more affordable options.
It can remove dust, dirt, and allergens from your home, making each room much cleaner.
It's great for people with allergies and asthma since it improves the air quality. The water reservoir traps particles and stops them from recirculating in your home.
Why We Love It
Pet Brush Attachment
The special pet brush attachment is perfect for cleaning up pet hair and dander. If you have furry friends in the home, and their hair is sticking to every last piece of furniture — then you need to try this out!
Wet and Dry Messes
You can clean up every last mess with this vacuum. The wet vacuuming function picks up spills and other liquid messes. The dry function has super strong suction and a high-torque blower to pick up stuck-on dirt.
Bagless
This is super easy to empty and clean. You can simply empty out the contents with no mess at all. Plus, the bagless design means you're not faffing with emptying bags and replacing them.
Keep In Mind
Short Hose Attachment
The solid hose attachment is short for some users. If you're tall, you may find you need to hunch over to use this.
Not Smooth on Carpets
Some customers found that it didn't glide on the carpet that well. It may get stuck, and not glide as smoothly as other options.
Additional Specs
| | |
| --- | --- |
| Type of Machine | Canister |
| Type of Floor | Hard or carpet |
| Weight | 14.33 pounds |
| HEPA Filter | No |
| Warranty | One year |
---
10. Polti Eco Steam Vac Dual Steam Cleaner
Do you like having a lot of attachments that give you great options for cleaning? The more attachments, the more meticulously you can clean different areas of your home.
The Polti Eco Steam Vac comes with over 10 attachments! You can deep clean pretty much everything in your home, including your grout, mattress, and of course, floors.
Why We Love It
Steam Cleaning
This is a very unique item because it actually uses steam to clean, as well as vacuum.
The steam gets rid of bacteria and germs so your floors are cleaner than ever before. Not only can you use this on every floor type, but you can use it on pretty much every surface. This includes cabinets, mattresses, walls, windowsills, shower doors, and much more.
Deep Clean Your Mattress
We think the mattress cleaning function is one of the coolest things about the vacuum. Firstly, vacuum the mattress to get rid of dust, dirt, and other debris. Then steam clean it, giving it an all new freshness.
Helps With Allergies
This vacuum is great for homes with allergies. It's been certified by the British Allergy Foundation to help with allergies. It gets rid of up to 99.99 percent of germs and bacteria, so your home is a healthier and happier place.
Keep In Mind
Hard to Maneuver
This vacuum is heavy for some customers and therefore, hard to use and maneuver around the home. Coming in at 20.5 pounds, it's not one of our heaviest options but it still requires some strength to use and move.
High Price Tag
As well as being heavy, it's also expensive. This is one of the pricier options on the market, so keep in mind that it is a big investment.
Additional Specs
| | |
| --- | --- |
| Type of Machine | Canister |
| Type of Floor | Any |
| Weight | 20.5 pounds |
| HEPA Filter | No |
| Warranty | One year |
---
---
Water Filter Vacuums vs HEPA Vacuums
Water filter vacuums are better than traditional vacuums at catching the particles and delivering cleaner air. But HEPA vacuums are the most effective at this of all.
HEPA filters can usually capture 99.9 percent of particles as little as 0.3 microns. You can get water filter vacuums with HEPA filters, which are going to be super reliable. If you have allergies, this is a super-safe option.
How to Clean Water Filtration Vacuums
You should regularly clean the water filtration vacuum. This may seem like a big task, but it will keep the vacuum in mint condition. You'll have to go through the four main elements of the vacuum.
Top Tip
These instructions are subject to change depending on the manufacturer, so check your user's manual first.
Rotating Brush
Unplug the vacuum cleaner.
Use scissors to cut hair and fabric so you can pull it from the brush.
If you can't get it all, unplug the drive belt and housing plate.
Clear it out thoroughly.
Put the pieces back together. Spin the brush to check it's rotating smoothly.
Dust Canister
If you have a separate dust canister, empty the bin over the trash until all the dirt is gone.
Use an old toothbrush to pull out any debris that is stuck.
Use a dampened microfiber cloth to clean inside.
If the dirt and water are mixed together, empty this after each use. You can pour this down a drain outside or use a sieve to separate the water and the gunk.
Discard the dirt and debris into the trash.
Pour the water down the sink.
Clean the tank with a microfiber cloth.
Foam Filters
Most filters can be washed with soapy water but check with your manufacturer. Once you've washed it, let it air dry until completely dry.
HEPA Filters
Tap the HEPA filter onto the side of the trash can to remove excess dirt.
Wash with warm soapy water.
Air dry thoroughly.
Always check with the user's manual before washing your HEPA filter in case the instructions differ.
---
Whole New World of Vacuuming
Out with the old, in with the new! If your vacuum is letting you down, and triggering your allergies, then you should try out a water filtration vacuum. They trap more dirt and dust so that it doesn't recirculate into the air.
There aren't tons of options on the market, but we can see them becoming more and more popular. We've rounded up 10 great options to choose from.
When shopping, don't forget to consider the most important details. That includes the type of machine, what type of flooring it works on, the weight, whether it has a HEPA filter, and the warranty.