If you're paying for the water that your household uses, you likely want to know which type of washing machine uses the least amount of water. This will allow you to save money each month on your water bill while also being more environmentally friendly.
So today, we're chatting about how much water the different types of washing machines use to clean clothing.
Key Takeaways
HE front load washing machines use the least water, as little as 7 gallons per load, while standard top load machines use around 19-20 gallons per cycle.
High-efficiency (HE) washers use up to 80% less water compared to traditional top load washing machines.
Factors affecting water usage include washer capacity, cycle settings, age of the washing machine, and ENERGY Star certification.
To reduce water usage, run full laundry loads, choose correct load sizes and cycles, and limit wash days to a couple of times a week.
---
Which Washing Machines Use the Most Water?
A standard top load washing machine where the agitator spins the laundry uses the most water. In the past, these washing machines used around 45 gallons of water per load, but modern top load washing machines are able to use less water than they did in the past. However, a top load washing machine still uses the most water to wash your clothes.
By contrast, an HE front load washer uses a tumbling action to wash the clothing. The tumbling action means that the front load washers only need far less water per load in order to clean your clothing.
How Much Water Does a Washing Machine Use?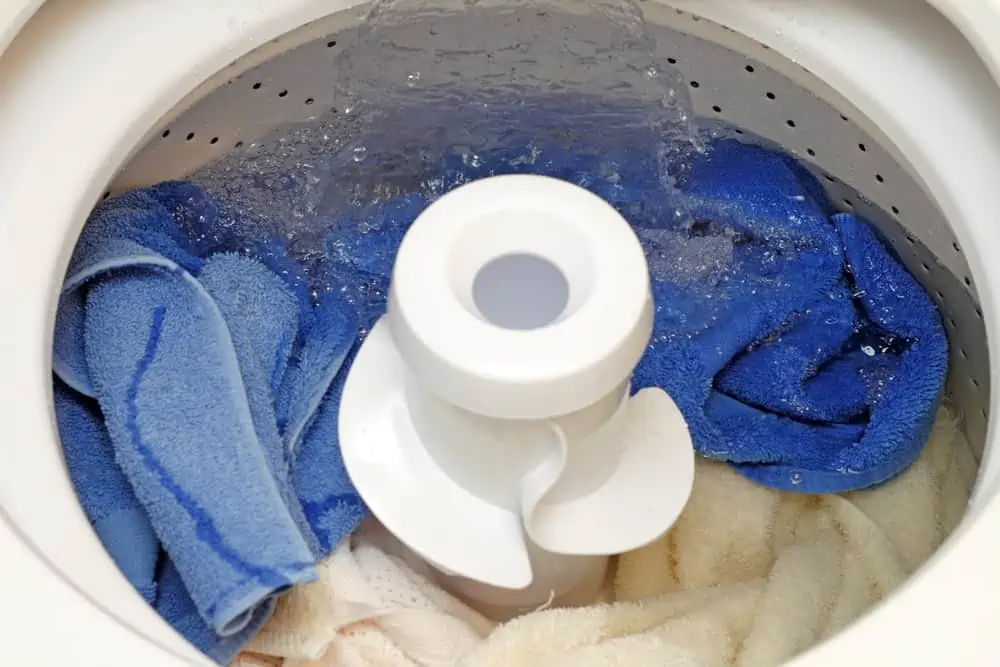 Washing machines vary in the amount of water they use. A traditional top load washing machine with an agitator uses much more water than a front load washing machine. The average user will run 295 loads a year and the average machine will last for 10 or more years.
You can see how many gallons of water a washing machine uses in the table below.
Average Water Usage Comparison
| | | | | |
| --- | --- | --- | --- | --- |
| | Top Load Washer | HE Top Load Washer | Front Load Washer | Energy Star Certified |
| Per cycle in gallons | 19 | 13 | 7 | 14 |
| Per year in gallons | 5605 | 3835 | 2065 | 4130 |
| Over washer's 10 year lifetime in gallons | 56,050 | 38,350 | 20,650 | 41,300 |
High-Efficiency Washer
High-efficiency washing machines are available in both top and front load washer styles. They're designed to use less water and energy than a regular washer. In addition, the large tub capacity means that you can wash large loads less frequently.
HE machines can use up to 80% less water than traditional top load washing machines.
Top Load Washer
A traditional top load washer uses an agitator in the middle of the drum. The agitator is like a tall spindle with fins sticking out.
The machine works by filling the drum with water. Then it spins and rubs clothing against the agitator which causes dirt and soil to loosen. The detergent in the water pulls the dirt and soil into the water and suspends it there. The top load washing machine needs a large volume of water to work.
An HE top load washing machine uses an impeller to clean clothing. The impeller is a low-profile mound that you'll see at the center of the bottom of the drum. The machine will add the right amount of water-based on the weight of the laundry inside the machine.
The impeller tumbles the clothing inside the drum and causes the pieces of clothing to rub against each other instead of rubbing against an agitator. This means that the HE washer needs less water to clean the clothes since they're tumbling over and over into the water at the bottom of the drum.
Front Load Washer
Front load washing machines spin vertically like a large wheel. This creates a large space in the drum that will hold quite a bit of laundry. The washer then has the impellers spray water onto the clothing to clean the washing.
A front load washing machine works by lifting the clothing up and then dropping the clothing down into the water.
Factors Affecting Water Usage
There are several factors that will affect the water usage of your washing machine. You can use a water usage calculator or simply consider these factors when you purchase your next washing machine.
Washer Capacity
The size of a washing machine is measured in cubic feet and affects the water capacity of the machine. Portable washing machines are less than 3.5 cubic feet and have low water usage for each cycle. A standard washer is around 3-4 cubic feet and will require more water for each cycle.
A larger washing machine is able to wash 17-20 pounds (8kg – 9kg) of laundry or more. This reduces the number of loads that you will need to wash each week. However, the larger machine will use more water to wash each load of laundry than a smaller machine.
The water savings comes by balancing the size of the washing machine you need. Washing multiple small loads every day will use more water than running one big load once a week. However, washing a small load of wash in a large washing machine uses more water than washing that small load of washing in a standard washer.
Ideally, you'll want to find a machine that's large enough so you can wash laundry only once or twice a week without having leftover space in your machine.
Cycle Settings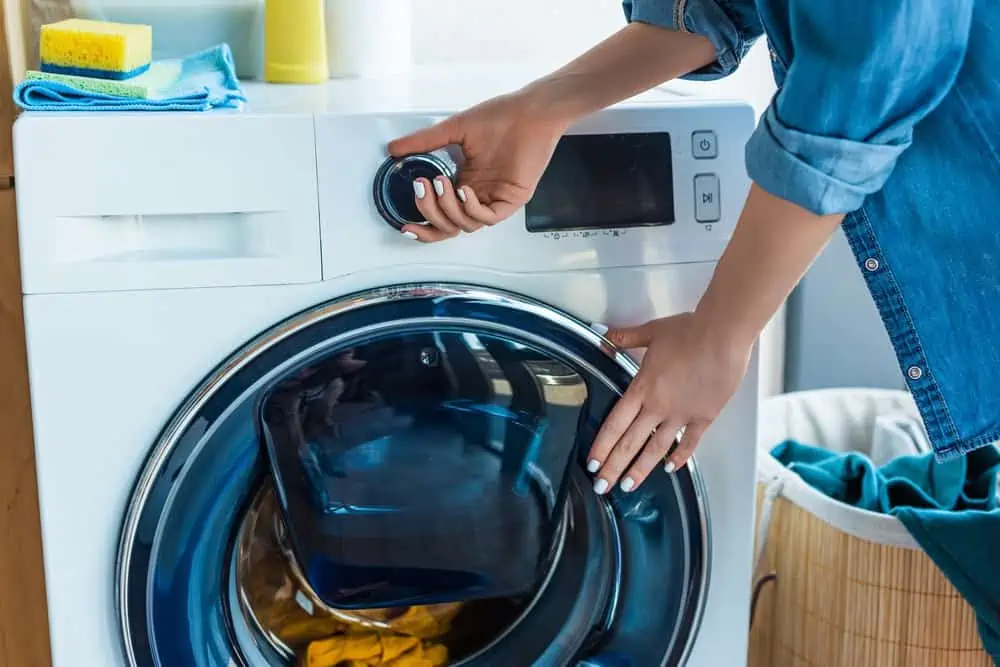 Washing machines have different cycles. The heavy cycle for heavily soiled clothing uses more water than the regular wash cycle will. Using an extra rinse or the deep wash cycle uses more water as well.
The eco-friendly or water-saving cycle works to clean clothing while conserving water and will use very little water to wash your clothes. The cold water setting will also save a significant amount of energy over using the hot water setting.
Age of Washing Machine
Older washing machines are not as water-efficient as the newer machines. Technology has improved so that less water is required to wash a load of laundry.
ENERGY Star Washers
The ENERGY Star program is a government-backed program designed to help people save money and protect the environment. The label identifies energy-efficient products.
ENERGY Star Washers must meet a series of standards in order to qualify for the ENERGY Star label. The standards have to do with size, energy performance, and water performance. In general, they will use 33% less water than washing machines without certification.
How to Reduce Your Washing Machine Water Usage
Here are a few tips you can use to help save on your water usage beyond just purchasing an HE front load washing machine.
It's best to run a full load of laundry instead of a series of smaller loads.
Choose the correct load sizes and cycles for the load you're washing.
Skip the extra rinse unless you truly need it.
Wear your clothing more than once and only wash clothes when they're dirty.
Use your towels more than once before washing.
Limit wash days to a couple of times a week instead of every day.
Check for leaks in your hoses. Hoses should be replaced every 5 years.
Use the right amount of laundry detergent.
Use concentrated detergents that don't require a high volume of water.
FAQs
---
How Many Gallons of Water Does a Washing Machine Use
The amount of water a washing machine uses varies depending upon the type and size of washing machine you have. A high-efficiency Samsung front load washing machine will use far less than a standard top load washing machine. If you want to save on water usage per load, look for the HE washing machines as they're designed to wash clothing in very low amounts of water.
Thank You For Your Feedback!
Thank You For Your Feedback!