Shag carpets and other high pile options feel luxurious to the feet and are often lovely to look at. But they can be hard to maintain. It can be difficult to remove dust, dirt, or pet hair from these carpets.
Many vacuums aren't up to the task. The rules of hard floors don't apply to carpets — especially when dealing with thick, fluffy, high-pile materials. For the best results in vacuuming these, you'll have to choose a specific machine.
We've been there, and we have a solution (or seven) for you. Take a look at the best vacuums for cleaning shag carpets and high-pile rugs, based on our extensive research.
Image
Model
Product Comparison Table
Features
Best for Plush Carpets
Soniclean Carpet Vacuum
Ultra-soft brush roll
Vibrations remove extra dirt
Fragrance pod scent your carpet
Best for Pets
Dyson Cyclone V10
Torque drive cleaner head
Whole-machine filtration
Multi-purpose vacuum
Best Multi-Floor Upright
Shark Navigator Deluxe
Extra-long wand
Upholstery tool for deep cleaning
Brushroll shutoff protects carpets
Best Budget Pick
Eureka NEU182A PowerSpeed
Adjustable heights
Wide nozzle
4.1-liter dust container
Best Deep Cleaning
Shark Apex (AZ1002)
Tangle-free brush roll
Pet-friendly Design
DuoClean technology
Most Convenient
Roomba 980
Great for pet hair
Online commands via Alexa or Google
2 hours run time
Best Canister
Miele Complete C3 Marin
Automatic setting
Six suction control options
Comfortable ergonomic handle
Review Methodology: At Oh So Spotless, our professional team conducts extensive research, hands-on testing, and data analysis to provide you with trustworthy information on the best vacuums for shag carpets and high pile. We evaluate each product from a user's perspective, comparing performance, design, and key decision-making factors such as suction power, maneuverability, and ease of maintenance. Our experts measure and rank vacuums based on criteria like effectiveness, durability, and value, helping you make an informed decision. By sharing our first-hand experience, evidence, and results, we aim to set the standard in product reviews and ensure that you find the perfect vacuum to keep your carpets looking pristine.
---
---
The Best Vacuums for Shag Carpets and High Pile of 2023
Here are seven excellent vacuums for shag carpets and high pile, rated according to their power, brush type, capacity, special features, and versatility.
Soniclean Soft Carpet Upright Vacuum
Best Vacuum for Plush Carpets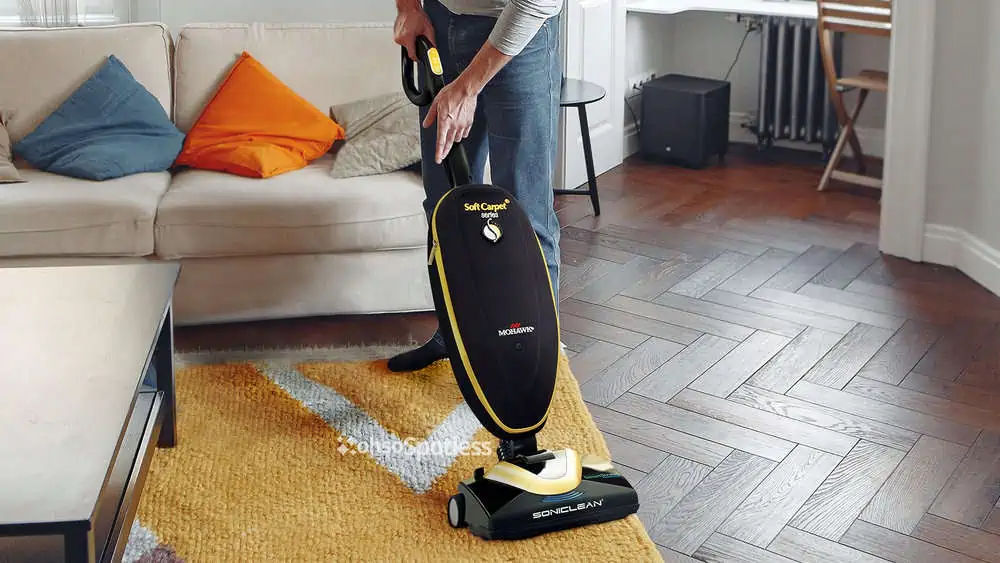 This vacuum places emphasis on soft carpets. It has patented technology that vibrates to loosen stubborn dirt set on your carpet.
Its EZ-Push adjustable vent system and large wheels allow smooth movement over thick carpets. The Soniclean features an ultra-soft brush roll, which effectively cleans and protects your shag and plush materials.
You can switch between Quiet Mode to reduce noise and Deep Cleaning Mode for your extra-thick carpets. It also works when laid flat for extra reach under furniture. The addition of a HEPA filter means it's suitable for allergy sufferers too.
What We Like
Ultra-Soft Brush Roll
This vacuum could be for you if you're worried about damaging your plush carpets. It's built primarily to preserve the condition of your high pile materials. So, it's extra gentle while cleaning them.
It Vibrates to Remove Embedded Dirt
Most vacuums only suck up whatever is within reach of their head. This model uses unique, patented technology to drive dirt out of your carpets. By vibrating, embedded dirt comes loose for more efficient vacuuming.
It rotates at a whopping 200 vibrations per second. We don't think dirt is a match for this vacuum.
Fragrance Pod Included
Don't you think it's lovely that Soniclean included this? We do. Your carpets will smell better than ever after you vacuum them, and it removes the need for other products.
The fresh laundry scent will give your home a super clean vibe with very minimal effort from you.
What We Don't Like
It's Louder Than Other Options
It's handy that Soniclean built this with a quiet mode because customers say it's one of the loudest. Its efficiency is worth the noise, but it might not be ideal around pets or those with sensitive hearing.
It's Not Bagless
The dirt is collected in HEPA filter bags that come separately bought in packs of seven. This will be an ongoing additional cost.
Mediocre on Hard Floors
Though this model does have multi-floor capabilities, it's spectacular on carpets but average on hard floors. Users mention that it didn't meet expectations when switching between the two.
Product Specs
| | |
| --- | --- |
| Power | 552 watts |
| Brush roll type | Soft nylon bristles |
| Capacity | N/A |
| Multi-floor? | Yes |
| Special features | EZ Push, ultra-soft brush roll, quiet mode, jam protection, full bag indicator light |
| Accessories | HEPA filter bag, Sonicfresh fragrance pod |
Community Feedback
"For those with soft carpet, this Soniclean vacuum cleaner is a fantastic choice. It's lightweight, easy to use, and the self-adjusting feature works well on various surfaces including hard floors. The scent pod adds a pleasant touch, but the lack of hose and accessory tools is a minor drawback."
---
Dyson Cyclone V10 Cordless Stick Vacuum
Best Carpet Vacuum for Pets
The Dyson Cyclone V10 is a cordless model that gives you an hour's run and three suction modes to choose from. It's a multi-surface vacuum that you can use on all carpets and floor types.
Advanced whole machine filtration makes this model an excellent choice for pet owners. The Torque Drive cleaner head digs deeper into carpets to remove more dirt and debris, including pet hair.
You also get handy accessories to optimize your carpet cleaning. A crevice tool, combination tool, soft dusting brush, and mini motorized tool are included. Its low suction setting is best for high pile carpets.
What We Like
Torque Drive Cleaner Head
The brush with this machine is engineered to remove more stubborn dirt from carpets. Its motor gives stiff nylon bristles a boost in dislodging dirt embedded between carpet fibers.
On this vacuum's lowest suction setting — which we recommend for this task — the Torque Drive cleaner head gives you 35 minutes of fade-free power.
Whole-Machine Filtration
Another reason this vacuum is excellent for pet owners is its filtration. It traps up to 99.97 percent of allergens, leaving you with cleaner, fresher air. This is an important feature for shag carpets that could harbor unseen dust, dirt, and other irritants.
The whole-machine filtration also means that you get steadier suction. Your vacuum won't lose its efficiency, and you'll get more out of it for longer.
Multi-Purpose Vacuum
This vacuum works well on high pile carpets, but you can use it for so much more. You can easily convert this stick vacuum into a handheld. It's suitable for floors, furniture, upholstery, fabrics, and car interiors.
We think it's got great value, and its included accessories will save you money.
What We Don't Like
Inconvenient Sealed Battery
Customers note a design flaw in this model. The battery is sealed and inaccessible. This doesn't affect its efficiency but means you can't replace it.
Charging Required Between Uses
It's great that this vacuum is cordless because it's easily accessible and maneuverable. The only problem is that it takes almost four hours to charge. This is less time than many other sticks, but it won't always be ready to go.
Product Specs
| | |
| --- | --- |
| Power | 25.2-volt lithium-ion battery |
| Brush roll type | Stiff nylon bristles |
| Capacity | 0.75 liters |
| Multi-floor? | Yes |
| Special features | Fade free power, whole machine filtration, acoustic engineering, handheld convertible, three power modes |
| Accessories | Combination tool, crevice tool, mini motorized brush, soft dusting brush |
Community Feedback
"I've been using the Dyson V10 vacuum for a while now and it has both impressed and frustrated me. The battery life allowed me to clean my entire 1,600 square foot house on a single charge, but I wish it had removable dual batteries for increased convenience. The vacuum's power is amazing, with three settings that cater to different cleaning needs, but the push button design can cause some discomfort for those with smaller hands."
---
Shark Navigator NV42 Deluxe Upright Corded Vacuum
Best Multi-Floor Upright Vacuum for Shag Carpet
Customers are happy with this product's efficiency on shag carpets. It's an upright, weighing in at just under 15 pounds. The two-liter dustbin is easy to empty. And the extra-long wand adds an extra 10 feet to this vacuum's reach.
The unit boasts a few advanced features, like Brushroll Shutoff technology for precision. It also includes anti-allergen complete seal technology and is built for lossless suction.
Accessories include a crevice tool, a dusting brush, and an upholstery tool. You can switch between them comfortably for more efficient cleaning of your whole home.
What We Like
Extra-Long Wand
Unlike many other uprights, you can attach a wand to this model and clean above ground. It's one of the most versatile and maneuverable products of its kind.
Upholstery Tool for Deep Cleaning Furniture
We like that this upright comes with an upholstery tool. This model is an excellent choice if you're looking for powerful cleaning beyond your carpets. Use this to clean your couches, chairs, and even rugs.
Brushroll Shutoff for Safer Cleaning
You can control the brush roll in this model. This makes it a tremendous multi-floor vacuum that gives you more control in cleaning your shags. Your high piles are safe from damage.
What We Don't Like
Cord Is Unsatisfactory
The design of the vacuum could be a little more ergonomic. While the cord is 25 feet long, some users say its placement is inconvenient. It's difficult to reach. Customers also mention that it can get in the vacuum's way.
Frustrating Assembly
A few users say that attaching the accessories is not easy to do. Working with the detachable canister also takes some getting used to. Regardless of these criticisms, customers are happy with the vacuum's efficiency.
Product Specs
| | |
| --- | --- |
| Power | 1200 watts |
| Brush roll type | Stiff |
| Capacity | 2 liters |
| Multi-purpose? | Yes |
| Special features | Brush roll shutoff, anti-allergen complete seal technology |
| Accessories | Crevice tool, dusting brush, upholstery tool, extra-long wand |
Community Feedback
"Love my Shark Navigator Deluxe (NV42) vacuum! It transformed my apartment from a hairy, dusty mess to a spotless sanctuary. This lightweight and easy-to-use vacuum tackles every surface with ease, and it even rivals the performance of more expensive vacuums like Dyson. Trust me, if you need a reliable and powerful vacuum that won't break the bank, the Shark Navigator Deluxe is the way to go."
---
Eureka NEU182A PowerSpeed Bagless Upright Vacuum
Best Budget-friendly Vacuum for Shag Carpet
Here's a vacuum that gives you the best of carpet cleaning and saves you money too. It includes a dynamic motor that works with its brush roll to lift stubborn dirt and debris. Its 12.6-inch nozzle covers more ground in less time.
This multi-floor vacuum has five adjustable heights, including a "High Carpet" setting. It's suitable for both carpets and hard floors. Smooth wheels prevent scratches, imprints, and other damage on your floors.
What's nice about this machine is that it has an extra-large dust container that can hold 4.1 liters of dirt. Accessories included are a crevice tool, upholstery tool, brush tool, and detachable wand.
What We Like
Adjustable Height Head for Various Flooring
You can choose between five different levels of cleaning. We like that you can be specific for your different floorings. This makes cleaning your shags easier and safer.
Wide 12.6 Inch Nozzle
A 12.6-inch cleaning path is helpful on high pile carpets that generally take longer to clean. It also saves effort if you need to go over a spot more than once.
4.1-Liter Dust Container
Compared to most other vacuums, a 4.1-liter dust container is a lot. You'll be able to contain more dirt, which means you'll spend less time emptying it.
Combined with the wide cleaning path and ample 25 feet cord length, this is a wise choice if you want to save time.
What We Don't Like
It's Clunky
Customers say that this machine, although efficient, is not the smoothest. It's not the heaviest upright, but it is large. Users mention that when switching to different floors, some effort is required.
Quite Noisy
Customers have also said that this vacuum makes a fair amount of noise. Regardless of the criticism, both in its size and sound, most people are satisfied with its power.
Product Specs
| | |
| --- | --- |
| Power | 960 watts |
| Capacity | 4.1 liter |
| Multi-floor? | Yes. |
| Special features | Five adjustable heights, 12.6-inch cleaning path, dynamic motor. |
| Accessories | Crevice tool, upholstery tool, brush tool, detachable wand |
Community Feedback
"My experience with this vacuum has been fantastic, especially with its powerful 8-amp suction, which easily tackles dirt and pet hair. As a long-hair cat owner, the pet-hair mini roller brush was a great addition for cleaning small spaces. The vacuum is lightweight, making it easy to carry and maneuver around my home. Although the vacuum doesn't swivel side-to-side and has a taller build, the overall performance and usefulness of the attachments make it a worthwhile investment for any household."
---
Shark Apex AZ1002 Upright Vacuum
Best Deep Cleaning Vacuum for Shag Carpet
This model has a few features you'll appreciate. For one, its Zero-M technology resists tangles, so it's an excellent choice for pet homes with high pile carpets. It features a Powered Lift-Away canister for extra reach and versatility.
A dual brush roll system penetrates deep carpets and polishes hard floors. It's one of the best multi-floor vacuums on the market.
Accessories include a crevice tool, upholstery tool, and a Pet Power Brush.
What We Like
Tangle-Free Brush Head
This vacuum won't only clean your floors; it will clean itself too. The Zero-M brush roll is designed to automatically remove hair and other fibers from its bristles. You'll save a lot of time on maintenance.
Designed With Pets In Mind
The brush roll, HEPA filter, and Pet Power Brush are a testament to how pet-friendly this vacuum is. It won't just remove hair and dander from your high pile carpets; it will also clean the air around you.
DuoClean Technology
This excellent multi-floor vacuum deep cleans carpets and shines hard floors. It goes above and beyond in cleaning all types of floors.
What We Don't Like
It's Heavy at 16 Pounds
Customers say that this is a hefty machine that can be awkward and cumbersome. But it is an upright model, so its weight and mobility are within reason.
It Cuts Out Sometimes
While users are satisfied with the efficiency of this vacuum, a few have mentioned that it cuts out without warning sometimes. This is a mild inconvenience that not all users experience.
Product Specs
| | |
| --- | --- |
| Power | 1350 watts |
| Brush roll type | Tangle-free |
| Capacity | 1.13 liters |
| Multi-purpose? | Yes |
| Special features | Zero-M Brushroll, DuoClean technology, Powered Lift-Away Canister |
| Accessories | Crevice tool, upholstery tool, Pet Power brush |
Community Feedback
"I recently purchased a vacuum that exceeded my expectations with its bagless design, strong suction, and long hose. After using it for about an hour on various surfaces, I was impressed by its power, quiet operation, and versatility as both an upright and handheld vacuum. The only downside I noticed was the cheaply made pet brush attachment, but overall, I believe the vacuum is well worth the investment."
---
iRobot Roomba 980 Vacuuming Robot
Most Convenient Vacuum for Shag Carpet
Widely regarded as the best robot vacuum for high pile carpets, this model isn't lacking in features. It has ten times the suction power of previous Roombas. Plus, it can last for up to 120 minutes a run.
It comes with a filter, dual multi-surface rubber brushes and uses the Premium 3-Stage Cleaning system. The iAdapt 2.0 Navigation leads it effortlessly around and under furniture.
You can schedule this vacuum to run at any time, and it is compatible with Alexa and Google Assistant. So if you don't feel like getting up off the couch, sit back, relax and order this vacuum about.
What We Like
Great for Pet Hair
The multi-surface rubber brushes have many uses, but our favorite is removing pet hair. These brushes co-operate to manage all types of dirt. They resist clogs and tangles as well.
Online Command Compatible
You can use Alexa and Google Assistant to operate this vacuum through voice commands. There's also the option to monitor and control the vacuum through the Roomba app.
2 Hours Run Time
Two hours of run time is a lot by robot vacuum standards. It's more than enough time to deep clean high pile carpets. When the battery runs out of juice, the Roomba will find its way to its charging station.
What We Don't Like
Small 0.6 Liter Dust Container
It's a robot vacuum, so don't expect too much from its capacity. It holds 0.6 liters of dirt, which is not bad for a robot vacuum. Still, customers say that they wish it were larger to reduce maintenance.
No Remote Included
Unlike other robot vacuums, this one does not come with a remote control. You will have to use your smartphone or virtual assistant to operate it.
Product Specs
| | |
| --- | --- |
| Power | Ni-MH Battery, 14.4V; Capacity: 4500mAh, 64.8Wh |
| Brush roll type | Rubber |
| Capacity | 0.6 liters |
| Multi-purpose? | No |
| Special features | Self-charging, scheduling, Google Assistant and Alexa compatible, Roomba App |
| Accessories | N/A |
Community Feedback
"This Roomba has been amazing at keeping my house clean and picking up more dirt than I realized was there! I no longer have "dog hair bunnies" thanks to its thorough cleaning capabilities. However, it does get stuck on cords and shoes quite often, so I need to prepare the room beforehand."
---
Miele Complete C3 Marin Canister Vacuum
Best Canister Vacuum for High Pile Carpets
This canister vacuum will work well on all carpets, including shags and rugs. The five height adjustments make for a quick transition from hard floors to carpets.
The automatic setting makes it effortless and safe when switching between surfaces.
With a massive 4.5 liter capacity, it will efficiently complete vacuuming most homes before needing to be emptied.
The ergonomic handle is a comfortable addition. Six-stage suction control, an LED headlight, and a telescopic wand are added for your convenience. It also features an automatic cord rewind and a bumper strip.
The standard accessories include a dusting brush, an upholstery tool, and a crevice nozzle.
What We Like
Automatic Setting Depending on the Floor Type
Not many canister vacuums have automated features, so this one is ahead of its class. Beyond the sophistication, it means that all of your floors — not just your high pile carpets — are protected.
The vacuum automatically adjusts depending on the type of carpet it detected.
Six Suction Control Settings
You can choose between six suction levels, which are excellent for your shag rugs. We recommend starting on the lowest setting to see which one works best for you.
Comfortable and Ergonomic Handle
Canister vacuums are not always easy on your hands, so we like the ergonomic handle. Lifting and carrying this model is easy and won't cause strain, pain, or discomfort.
What We Don't Like
Requires Some Care When Using
Customers who rated this vacuum highly say that you must be careful. It works well for shag rugs and high pile carpets but has powerful suction. So you shouldn't use it on extra-delicate carpets. It might get stuck on shag carpets on its higher suction settings.
Not Budget-Friendly
This model is one of the more costly ones on our list. Compared to most other canister vacuums, it has advanced features, so it's justified in our books.
Product Specs
| | |
| --- | --- |
| Power | 1200 watts |
| Brush roll type | Electro brush |
| Capacity | 4.5 liters |
| Multi-purpose? | Yes |
| Special features | HEPA filter, six-stage suction control, automatic cord rewind, LED light, ergonomic handle, bumper strip, telescopic wand, Parquet twister floorhead, five height adjustments |
| Accessories | Upholstery tool, crevice tool, dusting brush |
---
Shag vs. High Pile: What's the Difference?
In the carpeting world, "pile" describes the height or density of your rug. Carpet fibers longer than half an inch are considered high pile, while those longer than 3/4 of an inch are plush. (1).
Shag is a superficial title that refers to the look of some high pile carpets. They vary in size, shape, material, and length, but each has a common denominator. Shag carpets are deliberate in their unkempt appearance, hence the name.
Shag carpets and high pile carpets are designed for comfort. Sure, they protect your floors as all rugs will, but they are much cozier.
Their drawback is that they attract more dirt. It's easier for dust, dander, and hair to cling to the lengthened fibers of high pile carpets. These materials are also excellent at harboring dirt that you can't see.
Why You Need a High Pile Vacuum
The easiest way to combat this extra, hidden dirt is to buy a high pile-specific vacuum cleaner. We'll cover individual specs once we've convinced you that you need one. For now, here's what a high pile vacuum can do for you.
Types of High Pile Vacuums
You can choose any vacuum you prefer, provided that it's equipped for high piles. There are many kinds to choose from, and here's what we recommend:
Upright Vacuums
Uprights are sometimes seen as the original and best. Though they're not the most versatile machines, they work exceptionally well on carpeted and hard floors.
Upright vacuums are an excellent choice for high piles because what they lack in features, they make up for in suction and efficiency. They'll clean your carpets more consistently than other types of vacuums will.
They're an affordable option too and are easy to use. An upright's shape is the most ergonomic you can find, and it's unlikely that you'll strain your back while using one.
Pros
Usually multi-floor, with the ability to work on hard floors as well as carpets.
Easy to store due to the slim upright shape.
Affordable, with many budget-friendly options available.
Better for your back since they're ergonomic and upright.
Cons
Not versatile since you can't usually use them for upholstery and stairs.
Heavier than others, with some options weighing up to 15 pounds.
Usually lack accessories, making them useless for deep-cleaning corners and furniture.
Canister Vacuums
Canister vacuums are designed very differently to uprights. Rather than containing the machine's motor, dust bag, and head in the same unit, canisters have independent components. The wand is attached to the case with a hose, and the machine trails behind you as you work.
These models are wonderful when it comes to versatility. They usually come with a range of accessories that make it easy to clean various objects. You can use them on drapes, upholstery, mantles, and picture frames.
A great benefit of canister vacuums in carpet cleaning is that you can easily switch out the brush roll to match your needs. This is useful in preserving the condition of your shag carpets.
Pros
Versatile since you can use it for upholstery, mattresses, and more.
Accessories are typically included so you can deep clean various surfaces.
Great for most surfaces, including hard floors, shag carpets, and more.
Affordable, with many budget-friendly options available.
Lighter to use since you only need to hold the wand.
Cons
Storage is a hassle since the canister element is bulky.
Decreased control over the machine's path.
Assembly and dismantling are required.
Stick Vacuums
If you don't want a chunky vacuum, consider a stick. You can even choose a cordless model if you like. Stick vacuums may fall short of uprights and canisters in some areas, but they're fantastic for cleaning your whole home.
Stick vacuums are designed to have higher dirt capacities and stronger suction in a more compact and versatile machine. They also often convert into handheld vacuums.
Almost all stick vacuums are multi-surface. You can use them to clean your car's interior just as easily as your floors.
Stick vacuums are great for high pile carpets because of how easily you can control them.
Pros
Most versatile; you can use them for floors, upholstery, stairs, and your car.
Could be a handheld convertible which gives you more flexibility.
Cordless and corded options are available.
Storage is a breeze since the vacuums are so thin.
Most portable due to the lightweight design.
Cons
They're expensive, with many options sitting around $400-500.
Less suction than traditional vacuums.
Not as durable as traditional vacuums.
Requires charging between uses if you choose a cordless model.
Robot Vacuums
Robot vacuums are the new kid on the block, and very few models are designed to cope with shag and high pile carpets. But some have large wheels that auto-adjust the height of the vacuum.
This helps the robot move easily on different surfaces. It also ensures that they can apply optimal suction for that surface.
They're not for everyone, but they could change how you clean your floors. The idea is that you don't have to think about cleaning at all. Robot vacuums are automated, and no manual effort is needed to operate them.
Pros
No manual effort is needed (apart from maintenance and recharging).
Often include automatic floor adjustment between hard floors and carpets.
Battery operated; no cord gets in the way.
They're compact, making them great for small homes.
Quieter than other vacuums.
Cons
Low dirt capacity, so you will need to empty it often.
Charging is required between uses.
They have blind spots, so you might not achieve a deep clean.
Take Note
Commercial vacuums
are highly efficient. But there's an increased risk that the suction could be too intense for delicate carpets. Also, avoid handhelds; they're often too small and weak to handle shag or entire floors.
How to Choose the Best High Pile Vacuum
Though there are many to choose from, you shouldn't buy a vacuum solely based on the type you like most. Its specs, features, and capabilities matter more. Here's what you should look out for when purchasing one.
---
How to Vacuum a Shag Carpet
We have a few helpful tips that you can use once your new vacuum arrives. They will supplement your machine and make your cleaning so much more effective. Plus, they take little effort and are worth considering.
1.

Shake It First

For rugs, shake them outside to loosen dirt. That way, the vacuum won't struggle when it sucks it up.

Another method is to hang your rug over a clothesline and gently beat it. Don't be too aggressive with it, especially if you have a plush rug. The objective is to loosen the dirt, not tear your rug apart.

Using both of these methods can send dirt flying straight into your face. So, try to position yourself so that the wind will carry it away from you. This is even more important if you have allergies.

Warning

There's an old wive's tale that leaving your rug out in the sun will kill bacteria. If you do this, your rug can get sun-bleached. And, if it's synthetic, it can also dry out or, in extreme circumstances, melt.
2.

Don't Use Shampoo

Dry shampoos work well on carpets because they penetrate the fibers and loosen dirt inside them. For shag carpets, though, the risk of damage is too high. The chemicals are often too harsh, and you could be left with a stained or ruined carpet.

If you have stains or caked-in dirt on your high pile rugs, it's better to get them professionally cleaned.
3.

Upholstery Attachments Work Well

Upholstery tools are designed to handle fabric. Some are even built to tackle delicates, so they'll work well on your plush carpets. They're usually made with smaller surfaces in mind, so you may not be able to clean wall to wall with one.

They can be more efficient on smaller rugs, though.

If you don't mind the effort, they're a great way to care for your shags. These tools are considered standard, and many models come with them included.
FAQs
---
Summary
See? Cleaning your shag carpets doesn't have to be a pain, and it doesn't have to cost you a fortune either. Vacuums suited to your needs are easier to find than you may think.
The best vacuums for shag carpets and high pile rugs take precautions to protect your floors.
Make sure the vacuum you choose specifies the type of floors and fabrics it's best suited for. This will remove any confusion and save you from any damage to your precious rugs and carpets.
Thank You For Your Feedback!
Thank You For Your Feedback!