Keeping one's home clean and fresh-smelling can be tricky when you also have pets. If not emptied or replaced, kitty litter quickly becomes a stink bomb, and those poopy dog bags can quickly cause a stench.
If you're used to simply dumping your pet's waste in the kitchen bin or bathroom trash, you might want to rethink that habit.
We've researched dozens of products, customer reviews, and expert advice. We analyzed each product's features, size, lid type, and more. To conclude, we have the five best trash cans for dog poop and cat litter to share with you.
Image
Model
Product Comparison Table
Features
Best for Outdoor Dog Poo
Doggie Doo Drain
Easy to install
Eco-friendly option
Convenient and quick to use
Best Trash Can for Cat Litter
PetFusion Portable Cat Litter Disposal
No scatter with deodorizer
Long-lasting refill bags
Smart features increase usability
Best Odor-Control
Litter Genie Pail Plus
Easy to use
Excellent for multiple cats
Reduced trash take out
Largest Capacity Pet Waste Trash Can
Lucky Champ Litter Champ
Easy to use and empty
Biodegradable waste liners
Child lock included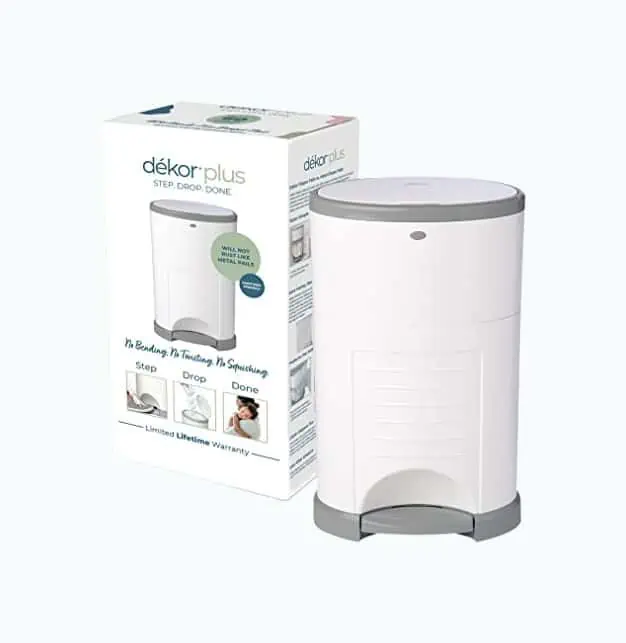 Best for Litter and Diapers
Dekor Diaper & Pet Waste Disposer
Scented liners prevent odors
OdorKeeper trap door
ABS plastic is easy to clean
Review Methodology: At Oh So Spotless, we pride ourselves on providing thorough analysis and assessment of the best trash cans for dog poop and cat litter. Our hands-on experience and extensive research ensure that we evaluate products from a user's perspective, demonstrating our expertise in the field. We compare and rank trash cans based on key decision-making factors, such as odor control, capacity, and design. Our professional team measures each product's performance, identifying standout features that set them apart from competitors. Through our in-depth reviews and evidence-backed findings, we guide you in selecting the ideal trash can to meet your pet waste disposal needs.
---
---
The Best Trash Cans for Dog Poop and Cat Litter of 2023
As we searched through the best on the market, we considered how well each pail controlled odors and germs. Our expert team had an important input to ensure our list only includes the best products. To round it up, here are five awesome trash cans to consider.
Doggie Doo Drain
Best for Outdoor Dog Poo
If you're tired of bagging your dog's waste and disposing of it inside your house in the trash, this is for you. This Doggie Doo Drain is easily attached to your septic or sewer clean-out, allowing you to quickly eliminate waste.
We highly recommend this if you have an active dog who uses the yard as a private restroom. It's more eco-friendly than using disposable plastic bags, and it reduces bad odors within your home.
Customers love the convenience of this sewer plug. The teal color looks more natural in the yard and makes the drain blend in with the surrounding plants.
What We Like
Easy to Install
All you have to do is locate your septic or sewer clean-out and remove the lid. Screw the Doggie Doo Drain into the clean-out, which will act as the lid.
Easy to Use and Clean
Whenever you need to dispose of your dog's waste, simply remove the plug and drop the poop into the opening. It's important to finish off by flushing the drain — you can do this using a garden hose or a bucket of water. Flushing it prevents anything from getting stuck and causing trouble such as clogs.
Eco-Friendly Option
Using disposable plastic bags is not good for the environment. If you have one or more dogs, you might be using multiple bags throughout the week. This sewer drain eliminates the need for disposable bags; all you have to do is scoop up the poop and throw it in the drain.
Convenient and Quick
Cleaning dog poop from the yard can be a tiring chore. However, this drain makes it easy to scoop up the feces and dispose of them safely and quickly.
What We Don't Like
Requires Plenty of Water
You must flush the drain after disposing of the feces. This task becomes more important if you have a large dog or multiple dogs.
Cheap Quality, Expensive Price
This is one of the more expensive disposal units on the market. Unfortunately, the build quality doesn't reflect the price. It's quite a flimsy design and it might only last a year or two before you need to buy a new one.
Product Specs
| | |
| --- | --- |
| Size | 10.3 x 10.2 x 10 inches |
| Hands-Free Lid | No lid |
| Deodorizer | N/A |
| Type of Bag | N/A |
| Weight | 2.01 pounds |
Our Ratings
Community Feedback
"I've been using this product for a few months now, and it has made cleaning up after my dogs a breeze. The simple design is easy to install and use, making it a hassle-free solution for disposing of dog waste. The screw-on cap keeps any unpleasant smells contained, and the hands-free design means I can maintain a clean yard without much effort. I've noticed a decrease in flies around my property since using this product, and it has held up well in various weather conditions."
---
PetFusion Portable Cat Litter Disposal
Best Trash Can for Cat Litter
This litter disposer could be just what you need if you have multiple cats.
The large handle makes it easy to move around as you go from box to box. You can also remove the inner basket for even lighter transportation.
The litter disposal includes everything you need to get the most out of the product. You get multiple extra bags and a built-in deodorizer to help keep odors at bay.
What We Like
Wide Opening Means No Scatter
One common fault with many litter disposals is a narrow opening that causes the litter to scatter everywhere. However, the PetFusion Litter Disposal features a wide opening that lets you quickly throw away clumps using any scoop size.
Charcoal Deodorizer Included
To help keep odors to a minimum, this disposal is fitted with a built-in deodorizer. Underneath the lid, there is non-toxic charcoal that effectively absorbs odors. The locking handle and silicone gasket underneath the lid both help to further lock odors and germs inside the pail.
Long-Lasting Refill Bags
You get a total of five refill bags with the pail. Each bag can hold up to two weeks of waste — so you should be covered for several months.
Another thing we appreciate about PetFusion is its affordability. Although the pail is rather pricey, you can choose to use any type of bag instead of purchasing special refills. This, in itself, makes the PetFusion Litter disposal worth it in our book.
Smart Features Increase Usability
Another common problem with trash cans is when the plastic bag drops down into the pail, and you have to fish it out. Luckily, this pail features two convenient snaps on either side.
Simply slip the bag into the snaps, and they're locked in place. No more sticking your hand into the litter to retrieve a runaway bag.
What We Don't Like
No Scoop Storage
The only thing missing for us is scoop storage. We like to keep our pooper scooper close at hand whenever needed, so it would be nice to have a small hook on the side of the pail. You can hack this issue and attach a small hook using a stick-on or a strong glue.
Excess Moisture at the Bottom of the Pail
When you remove the liners, you may notice excess moisture at the bottom of the pail. There's a lot of condensation inside the bin, which can lead to some pretty disgusting odors when you change the liner.
You may also need to clean the whole bin between bags to ensure it doesn't lead to mold and other nasties.
Another idea is changing the bags more often so that condensation doesn't have as much time to build up.
Included Liners Aren't Durable
The liners degrade in the can, so if you don't replace them often, you will notice they start to wear down. This can lead to leaks and excess odors.
The Bin Is Top Heavy
The bin might start to tip when you open the lid to add or remove kitty litter since it's top-heavy. This is not ideal when you're dealing with animal waste.
Product Specs
| | |
| --- | --- |
| Size | 16.7 x 9.5 x 9.5 inches |
| Hands-Free Lid | No |
| Deodorizer | Yes |
| Type of Bag | You can use any type of bag |
| Weight | 6.2 pounds |
Our Ratings
Community Feedback
"I've been using this product for a while now, and it does a great job of containing odors when closed. However, when opened, the smell can be quite strong depending on the type of litter used and how often it's emptied. The hinge could be better quality, so I suggest handling it with care. Despite the price being on the higher side, it has been effective in keeping my mischievous cat from eating plastic bags and overall, it's been a helpful addition to my litter box routine."
---
Litter Genie Pail Plus
Best Odor-Control
If you're struggling to keep the smell from the litter box out of your home, this Little Genie Plus can make a difference. It's super simple to use and keeps all odors locked away. That way, you won't have to smell cat pee or poop again.
The pail has an antimicrobial treatment that prevents odors and bacteria from escaping. When dumping litter in the regular trash, you must take it out daily to prevent odors from building up. However, this pail can hold litter for an extended period, making your life easier.
What We Like
Easy to Use
Using this litter disposal is as straightforward as can be. You simply scoop the clumps and feces from the litter box and drop them directly into the pail. After closing the lid, you pull the large handle on the front of the can.
As you pull the handle, the bag is sealed tight — locking away feces and urine. This prevents any bacteria or odor from sneaking back out.
Excellent for Multiple Cats
The more cats, the merrier, but having multiple kitties means double (or even triple) the poop. This can quickly build up within your trash, causing unpleasant odors and germs to form. Luckily, the Litter Genie is easily stored next to the litter box and can hold an impressive amount of litter.
Reduced Trash Take Out
Thanks to the easy seal, you won't need to replace the bag daily. Whenever you dump some litter clumps, pull the handle to seal. Then before you dump next time, push the handle to reopen the seal. This litter disposer will prevent odors and bacteria for up to two weeks.
Easy Setup
You can quickly get the trash can set up since it arrives nearly assembled. All you have to do is put a bag in it, and you're good to go.
What We Don't Like
Expensive Refills
For a product to be convenient, it has to be affordable in the long run. Unfortunately, this litter disposer is anything but. Refills are quite pricey, and many customers deemed they weren't worth it.
Lids Don't Always Latch
Many customers love the lids, but there are also many who don't. Some found that the lids didn't latch properly, which doesn't always seal in odors. It also means that if the bin tips, then litter can fall out. Lastly, if you have other pets or toddlers, they might be able to sneak their way into the bin!
Bin Opening Is Too Narrow
When you empty your kitty litter into this bin, you might find it's a struggle. The opening is small and narrow, so if your scooper is larger, you might experience some spillage.
Product Specs
| | |
| --- | --- |
| Size | 8.5 x 8.5 x 17 inches |
| Hands-Free Lid | No |
| Deodorizer | Yes |
| Type of Bag | Continuous liner |
| Weight | 3.26 pounds |
Our Ratings
Community Feedback
"This Litter Genie has been a game changer for managing my two cats' waste. It's discreet, traps odors effectively, and holds about a week and a half worth of daily litter clean out for my two furry friends. The pail is compact and easy to use once you've learned how to put it together and change the bags. However, the biggest drawback is the price of the refill bags, but with some creativity, you can find ways to use less and save money."
---
Lucky Champ Litter Champ
Largest Capacity Pet Waste Trash Can
This extra-large pail can hold up to four gallons of litter and dog waste. It's super simple to use, and it keeps odors and germs inside the bag instead of in your home.
The tall can is easily stored next to the litter box or in a corner out of sight. The small opening can cause minor issues when using a large scoop. Thankfully, you get a medium-sized ABS scoop with the pail.
Lucky Champ keeps our precious environment in mind, using eco-friendly liners. You don't need to fret if anything breaks or does not work as promised. A five-year manufacturer's warranty covers your pail.
What We Like
Easy to Use and Empty
It's super simple to use this pail. After scooping up your cat's litter, throw it in the bin. The bag should hold up to two or three months per cat.
When the liners begin to fill up, open the door on the pail and pull the liner downward. Use the mounted cutter to remove the bottom (full) part of the bag, tie a knot, and throw it out.
Then tie a knot on the remaining liner inside the pail to continue using the bag. Finally, close the door to keep odors inside.
Biodegradable Waste Liners
Disposable litter bags can take a toll on the environment. However, Lucky Champ has thought this through and created biodegradable waste liners. These will naturally biodegrade within nine months to five years underground.
Child Lock Included
This feature will come in handy if you have a young, curious toddler in the house. The last place you'd want to find your little one is digging through the cat litter.
Lucky Champ has fitted this pail with a childproof lock that prevents your child from opening the pail. This feature is also important due to the cutter inside the door.
Triple Seal Protection Traps Odors
Nobody wants their pet's waste stinking up the house. Thanks to the triple seal protection of this trash can, your home can remain fresh and hygienic.
Hands-Free Design
To add to the hygiene, this bin is hands-free. You can open and shut it using the foot pedal. No more pushing buttons or lifting lids; just step on it and drop in your litter.
What We Don't Like
Difficult to Get Waste to the Bottom
After throwing the litter into the pail, getting it to the bottom can be tricky. You need to give it a slight shake sometimes to get the litter to drop to the lower chamber. Obviously, this isn't a dealbreaker — it's just not fun.
The Lid Area Can Get Dirty
Although you can open the lid with your foot, there is a second lid inside. You have to open this by hand and push in your litter. This leaves some debris around the inside of the lid, which can be challenging to clean.
Product Specs
| | |
| --- | --- |
| Size | 10 x 9 x 9.2 inches |
| Hands-Free Lid | Yes |
| Deodorizer | No |
| Type of Bag | Continuous liner |
| Weight | 5.6 pounds |
Our Ratings
Community Feedback
"When I first began using this product, I immediately noticed the compatibility with my jewaytec metal scoop for pine pellets. The litter champ has a foot pedal opening, making it much more convenient to use than other products I've tried. I also appreciate the handle, which I didn't realize I needed until I started using it. The odor from the bags is not offensive, and I like that they're biodegradable. I've been using the included bag for over a month, and it's still going strong. A few improvements, such as a built-in mechanism to open the flap and a funnel-shaped top, would make this product even better, but overall, I'm very satisfied with its performance and odor control."
---
Dekor Plus Diaper and Pet Waste Disposer
Best for Litter and Diapers
You could benefit from this trash can if you have kitties and a baby in the house. Although it's mainly marketed as a diaper disposer, you can also use it for kitty litter and dog poop.
The extra-large pail can hold a significant amount of diapers and litter. It's easy to remove a section of the full bag using the cutter inside the pail. It keeps odors inside the pail without absorbing or holding onto unpleasant smells.
You get to choose between five lovely colors to suit your taste and the style of your home.
What We Like
Scented Liners Keep Odors at Bay
Dekor has created powder-scented refill liners that deodorize the pail while adding a fresh scent.
Using liners instead of tall bags is also very convenient since you decide when to cut it off without wasting a whole bag.
If preferred, you can easily cut the liner off after a few scoops of litter or poop and a dirty diaper. Or, you can leave the liner until it's fuller.
OdorKeeper Trap Door
Dekor has fitted the pail with a spring-loaded OdorKeeper trap door to prevent odors from escaping. Step on the foot pedal and push the scoop through the trap door when you need to dispose of litter or diapers.
There's also a rubber liner around the rim that further traps odors inside the pail. Once you're done, remove your foot from the pedal, and the lid will close quietly without waking the baby or kitten.
Easy to Use and Open
When it's time to empty the pail, open the easy-access service door. Pull the liner out just far enough to remove the full part. Cut the full part using the child-safe cutter, which is mounted inside the door.
Tie a knot on the bag and throw it out in the garbage. To continue to use the liner, tie a knot at the bottom to form a new bag. Close the door and continue using the pail as usual.
ABS Plastic Is Easy to Clean
Thanks to the durable design, this pail is easy to clean. It won't scratch, and it won't absorb odors. You can basically use any household cleaner to freshen it up, too.
Childproof Design
With a childproof lock included, this trash can is ideal for homes with curious kids. Plus, the lid closes so quietly that it shouldn't ever wake a sleeping baby.
Last but not least, it has a childproof cutter. Inside the door is a cutter that will cut the bin liner, but it's completely hidden, so little fingers can't get to it.
What We Don't Like
Odors Might Escape
If you've left the pail full for an extended period, you might catch a whiff of an unpleasant odor as the trap door opens. To fix this issue, consider removing the full part of the liner more often to prevent a buildup of odors.
Cheap, Non-Durable, Quality
While the plastic design is easy to clean, it's not the most durable. It's quite flimsy. After a few months, customers noticed that elements of the trash can were already starting to break.
Product Specs
| | |
| --- | --- |
| Size | 22.2 x 13.5 x 9.8 inches |
| Hands-Free Lid | Yes |
| Deodorizer | No |
| Type of Bag | Continuous liner |
| Weight | 7 pounds |
Our Ratings
Community Feedback
"I'm thrilled with this diaper pail for its hands-free and odor control features. With five kids, I've changed countless diapers and struggled with other pails, but this product simplifies the process with its foot pedal and trap door system. It's not perfect in eliminating all odors, but it does a better job than others I've tried, and I find it easy to use even for cloth diapers."
---
| Product | Best | Size | Hands-Free Lid | Deodorizer | Type of Bag | Weight |
| --- | --- | --- | --- | --- | --- | --- |
| Doggie Doo Drain | For Outdoor Dog Poo | Fits a 3- and 4-inch sewer/septic clean-out | No | N/A | N/A | 2 lbs |
| PetFusion Portable | Trash Can for Cat Litter | 16.7 x 9.5 x 9.5″ | No | Yes | Any type of bag can be used | 4 lbs |
| Litter Genie Pail Plus | Odor-Control | 8.5 x 8.5 x 17″ | No | Yes | Continuous liner | 3.26 lbs |
| Lucky Champ Litter | Largest Capacity Pet Waste Trash Can | 10 x 9 x 9.2″ | Yes | No | Continuous liner | 5.6 lbs |
| Dekor Plus Diaper and Pet Waste | For Litter and Diapers | 22.2 x 13.5 x 9.8″ | Yes | No | Continuous liner | 7 lbs |
Why Use a Trash Can for Pet Waste?
Picking up pet waste — though often dreaded — is integral to having pets. Disposing the waste correctly is essential to avoid pungent odors and germs spreading through your home.
Mixing different pet feces or old and new feces can cause bacteria to accumulate. This will not only cause a pungent smell to linger, but it's also highly unhygienic (1).
These trash cans are specifically made to prevent odors and germs from escaping. Dog poop and cat litter contain many bacteria that can harm you and your family if not handled properly (2).
Finding the Best Trash Can for Dog Poop and Cat Litter
Finding a good trash can for the disposal of dog poop and cat litter requires a few considerations:
---
FAQs
---
No More Doo Doo
Using the best trash can for dog poop and cat litter ensures your house will stay fresh at all times. Disposing of pet waste correctly is crucial to avoid any form of contamination.
Some pet owners think it's alright to leave dog poop in the yard. But this is a huge mistake, especially if you also have young children. Having a good and safe way to dispose of pet waste can save you and your family from unwanted illnesses.
Thank You For Your Feedback!
Thank You For Your Feedback!