If you want a luxury dishwasher, you can't really beat Thermador. These beautiful and performative dishwashers will provide clean and dry dishes every cycle. They're expensive, yes, but we think they're worth it if you have the budget.
Do you want something stylish, smart, quiet, good at drying or within a tighter budget? Then, our five best Thermador dishwasher reviews can match you with the appliance of your dreams.
Image
Model
Product Comparison Table
Features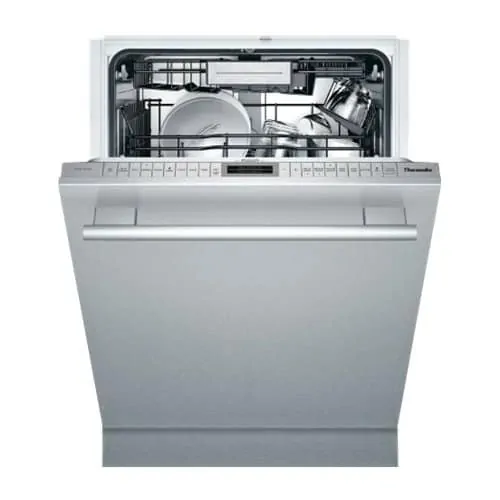 Best Drying Thermador Dishwasher
Masterpiece® Stainless Steel Star Sapphire
LED interior lighting
20-mi Star Speed cycle
Time remaining Powerbeam®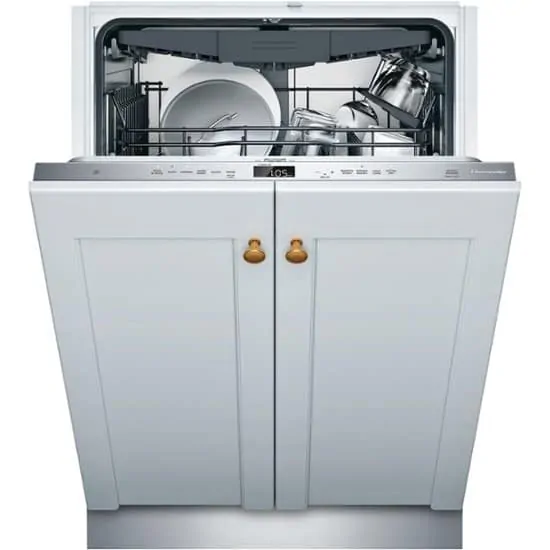 Best Stylish Thermador Dishwasher
Thermador Emerald Built-In Dishwasher
Three-stage filtration system
Wi-fi connection
Extra dry feature
Best Smart Thermador Dishwasher
Thermador Masterpiece® Emerald®
Touch sensitive controls
Nine washing cycles
Comes with third rack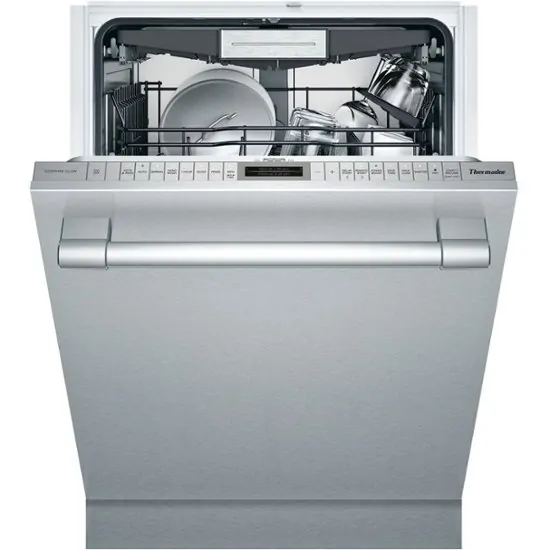 Best Quiet Thermador Dishwasher
Thermador Top Control Built-In
Stardry™ drying cycle
Push to open feature
Spacious interior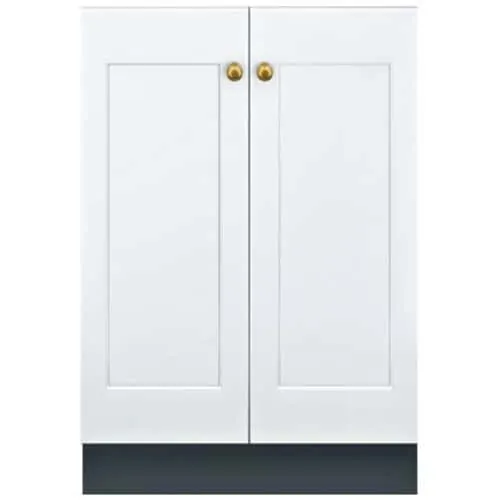 Best Budget Thermador Dishwasher
Thermador Built-In Custom Panel
Gentle cycle
Dosage assistant for detergent
Sprinkler for tall items
---
Are Thermador Dishwashers Good?
Yes. Thermador dishwashers are performative, reliable and durable. But they are also expensive, costing at least double than most other brands. So they're not suitable for people on a tight budget. If you want something that performs similarly for hundreds of dollars less, consider a Bosch dishwasher.
You may be wondering why Thermador dishwashers are so expensive. The main reason is because they're quicker than other dishwashers. Their wash cycles are shorter, including the 20 minute Star wash. Plus, their drying cycles are more consistent.
How Long Do Thermador Dishwashers Last?
You can expect your Thermador dishwasher to last around 10 years, even though the labor warranty is only two years long.
Quick Note
The warranty for the control board is five years. The warranty for the inner tub is 10 years.
Types of Thermador Dishwashers
Thermador offers a few different types of dishwashers which we'll look into it a bit more detail.
Emerald
The Emerald series includes the most basic dishwashers from Thermador, but they're still more advanced than some other brands. This is their most affordable collection.
Pros
Most affordable collection.
Powerful wash cycles.
Wi-Fi compatible.
Third rack.
Custom panel option.
Free if you buy a Thermador range.
Wi-Fi connection.
Cons
48 decibels isn't super quiet (but it's still better than other brands).
Still expensive.
Sapphire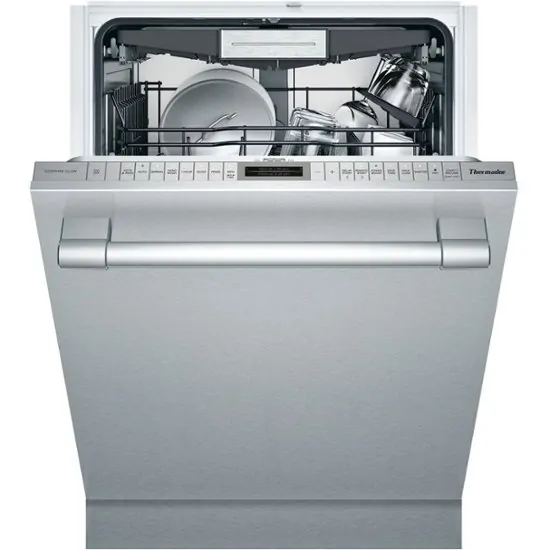 The Sapphire range features some new details that are super amazing, but of course, raise the price a little bit. But if you have the budget for it, you may definitely benefit from these features.
Pros
Interior lighting.
Star Dry function for extra dry dishes.
Push to open door.
42 decibels.
Custom panel option.
Chef Tool Drawer.
Wi-Fi compatible.
Cons
Expensive.
The handleless design isn't loved by everyone.
Star-Sapphire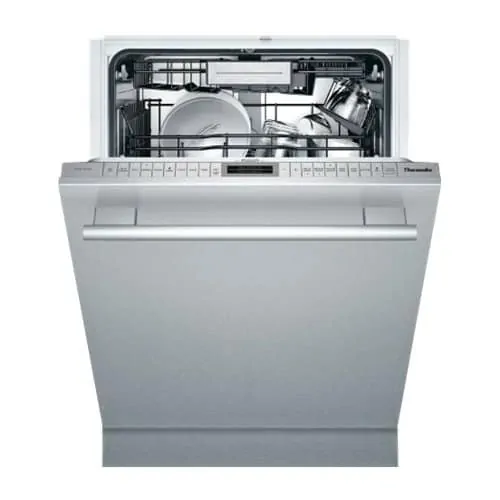 This is the highest, most luxurious, collection from Thermador, and also their most expensive.
Pros
More flexible third rack.
Ultra-smooth glide racks.
Illuminates the interior with blue or white light.
20-minute hot wash cycle.
Push to open door.
Star Dry for drying dishes.
Wi-Fi connect.
Topaz
The next step up are the Topaz dishwashers which are extra quiet at 44 decibels. These are also great for hard water areas.
Pros
44 decibels.
Water softener to help in hard water areas.
A time remaining indicator shines on the floor.
Foldable tines.
Custom panel option.
Third rack.
You can save money when you buy a range from Thermador.
Cons
More expensive than the previous collection.
Unique installation.
How to Choose the Best Thermador Dishwasher
With a few different Thermador dishwashers to choose from, we'll tell you the top details to consider so you can find the best one for your kitchen.
Make sure the dishwasher will fit in your kitchen. Measure your space, and check the dimensions of the dishwasher to ensure it will be a seamless installation.
Check the decibel level of the dishwasher. Thermador dishwashers range from 42 to 48 decibels so they're all pretty quiet. However, 42 is the quietest from this brand.
Consider the design of the dishwasher. The main difference is if it's custom panel ready or not. If you want something that seamlessly fits in with your kitchen decor, then we recommend a panel ready dishwasher.
Also consider if you want the push to open feature. It's good if your hands are full, but you will have to go for one of the higher-end collections to get this feature.
Check out the different wash cycles. The more wash cycles there are, the easier it will be to customize each cycle for your dishes. One wash cycle many Thermador customers are after is the Star Speed cycle which washes dishes in 20 minutes!
Dishwasher capacity is measured in place settings. The more place settings, the more suitable it is for bigger families.
While all Thermador dishwashers do a good job of drying, the Star Dry feature is the best of the best. It uses Zeolite to ensure that all dishes are completely dry — even plastics.
Thermador dishwashers are known for their cool features. You'll find interior lights, a time remaining indicator for the floor, push to open doors, foldable tines and much more. Check the extra features to make sure you're getting a dishwasher that has everything you want.
Thermador dishwashers are Energy Star Certified so they're already pretty eco-friendly. But make sure yours has the Sens-A-Wash® setting which saves energy, water and heating where possible.
Check the warranty from your supplier as they may modify this. In general, a Thermador dishwasher should offer a two-year warranty.
However, some suppliers specify this differently as a two-year warranty for labor and a five-year warranty for the control board and racks. Plus, a lifetime warranty for the tub liner.
---
The Best Thermador Dishwashers of 2022
1. Masterpiece® Stainless Steel Star Sapphire
We've spent hours researching real customer reviews, expert advice, as well as applying our own insight. All of that helped us create this list of the five best Thermador dishwasher reviews.
This is one of the all-time best dishwashers from Thermador. This Star Sapphire collection is a must-have for many reasons, including the fact it will give you 100 percent dry dishes every single cycle.
It uses StarDry to achieve dry dishes across all types, including plastics, no matter where they're placed in the dishwasher. The natural Zeolite minerals do an astounding job at evaporating moisture. This is one of the most exceptional drying mechanisms in the world.
The Pros
Star Glow
This is a fun feature to have on your luxurious dishwasher. The LED interior lighting is super useful, so you can see every item, speck of dirt and remaining moisture. However, with the app, you can actually set the lights to be any color you want!
Star Speed™
For lightly soiled dishes, check out this 20-minute Star Speed cycle! It uses all hot water to get your dishes clean and dry very quickly. This will definitely come in handy if you have guests coming round and need certain dishes to be clean ASAP.
Time Remaining PowerBeam®
At 44 decibels, it's not always easy to tell if your dishwasher is running. Thankfully, this has a Time Remaining PowerBeam that shines the remaining time on the floor.
The Cons
Very Expensive
As part of Thermador's top range of dishwashers, this is super expensive. You can get a discount if you buy a range from Thermador, but for a domestic appliance, this is definitely no budget-friendly dishwasher.
Additional Specs
| | |
| --- | --- |
| Noise Level | 44 decibels |
| Collection | Star Sapphire |
| Wash Cycles | Seven cycles |
| Drying Cycle | StarDry |
| Dishwasher Capacity | 16 place settings |
---
2. Thermador Emerald Built-In Dishwasher
When choosing a Thermador dishwasher, style is guaranteed. Each dishwasher is luxuriously designed to stand out from the crowd. Guests will definitely be complimenting your fancy appliance!
However, for ultimate style — get one with a custom panel. This way, it can match your lovely kitchen decor, fitting in seamlessly with your cabinets.
We recommend this Emerald collection built-in dishwasher for many reasons. We'll get deeper into it, but look out for amazing features such as the power beam, dosage assistant, Wi-Fi connection and much more.
The Pros
Maximum Cleaning
Compared to other brands, this Thermador dishwasher will wow you with its cleaning abilities. First, it uses Sens-A-Wash technology which adjusts its specs during the cycle to ensure clean and dry dishes every time. Secondly, this dishwasher uses a three-stage filtration system to ensure the water is super clean the entire cycle.
Wi-Fi Connection
This is a bonus feature found on all Thermador dishwashers, but let's look at it more closely. The Home Connect App allows you to personalize your controls, receive notifications and diagnose issues within the dishwasher. You can even start the dishwasher remotely which is a one-of-a-kind feature across all smart dishwashers.
Extra Dry
Enjoy extra dishes with the Extra Dry function. While it's not Star Dry, it still does a fantastic job at drying your dishes at the end of each cycle.
The Cons
48 Decibels
48 decibels isn't loud, but it's noticeable. It's the loudest from Thermador, anyway! If you're looking for something super quiet, or nearly silent, we recommend upgrading to one of their other collections.
Additional Specs
| | |
| --- | --- |
| Noise Level | 48 decibels |
| Collection | Emerald |
| Wash Cycles | Six cycles |
| Drying Cycle | Extra Dry |
| Dishwasher Capacity | 16 place settings |
---
3. Thermador Masterpiece® Stainless Steel Emerald®
All Thermador dishwashers are smart. They all have built-in Wi-Fi so you can control it with your smartphone once you've downloaded the Home Connect app. However, this is one of our favorite smart dishwashers for many reasons!
Firstly, it's part of the Emerald collection so it's a bit more budget-friendly than the higher collections from Thermador. It also has a third rack to give you more space for hard to place items. Lastly, we love the Dosage Assist for detergent, as well as the PowerBeam that shines the remaining time on the floor.
The Pros
Touch Sensitive Controls
If you struggle to press stiff buttons on appliances, you'll enjoy this dishwasher. It has touch-sensitive controls, making them easy to press for most people.
Nine Cycles
Some Thermador dishwashers have a very limited number of cycles, especially in the Emerald collection. But this one has nine, so there are plenty of options to choose from! They are: Half Load, Delicate Wash, Quick Wash, Normal, Auto, Rinse, Pots and Pans, Extra Dry, and PowerBoost.
Third Rack
The third rack gives you extra space for hard to place items like utensils, spatulas and other items. It doesn't take up much space in the dishwasher. But if it does limit space in the upper rack, you can remove the third rack when you feel like it.
The Cons
48 Decibels
It's not the quietest dishwasher from Thermador. At 48 decibels, it's similar to a rainfall or quiet office. So it might be soothing background noise for some, in tiny homes, it may interrupt your peaceful evenings.
Additional Specs
| | |
| --- | --- |
| Noise Level | 48 decibels |
| Collection | Emerald |
| Wash Cycles | Nine cycles |
| Drying Cycle | Extra Dry |
| Dishwasher Capacity | 16 place settings |
---
4. Thermador Top Control Built-In Dishwasher
At a near silent 42 decibels, this is a dishwasher that will do its job without making a fuss about it! Nice and quiet, it's perfect for both small and large houses, since it won't interrupt conversations, sleep, and chilled evenings at home.
Besides its decibel rating, it's also part of the Sapphire collection. So it has a range of amazing features including interior lighting, Star Dry, a push-to-open door and much more.
The Pros
StarDry™
StarDry is one of the most effective drying cycles on the market. It uses a mineral called Zeolite, which is completely exclusive to Thermador. The Zeolite works to dry all dishes, even plastics, no matter where they're placed in the dishwasher.
Push to Open
The handleless design of this dishwasher makes it possible to open the appliance even when your hands are full. Simply push the door and it will pop open.
Spacious Interior
This dishwasher has 16 place settings, so it's already big on its own. However, it also has an adjustable chef's tool drawer — or third rack — for long utensils. You can also adjust the other racks to make space for awkwardly sized items.
The Cons
Two-Year Warranty
The short two-year warranty is something to watch out for. While this is still longer than some dishwasher suppliers, the price is up to five times as expensive, so it's not super reassuring.
One customer had the heat pump break after the warranty was over — so that's an expensive mistake to fix yourself.
Keep In Mind
The warranty includes a five-year limit for the control board, and lifetime for rust on the inner tub liner.
Additional Specs
| | |
| --- | --- |
| Noise Level | 42 decibels |
| Collection | Sapphire |
| Wash Cycles | 12 cycles |
| Drying Cycle | StarDry |
| Dishwasher Capacity | 16 place settings |
---
5. Thermador 24 Inch Built-In Dishwasher Custom Panel
If you're looking for a budget-friendly Thermador dishwasher, you'll need to shop within the Emerald collection. However, this custom panel dishwasher from Thermador is heavily discounted from the Emerald range, so it's super budget-friendly.
It's also custom panel-ready so you can swap out the front cover to suit the rest of your kitchen decor. This helps to create a seamless design in the kitchen. Since you're already saving a huge amount, hopefully the cost of the custom panel and handle won't be too hard on the bank account!
The Pros
Gentle Cycle
While this dishwasher has a range of exciting features and cycles, the gentle cycle is one that you'll love, especially after having a fancy dinner party. You can wash up to 26 wine glasses on the gentle cycle so that you don't have to hand wash a single item.
Dosage Assistant
Have you ever experienced a dishwasher that didn't fully break down the detergent? Well, this dishwasher has a dosage assistant to help break down detergent so it's used thoroughly in the cycle and none is left behind.
Sprinkler for Tall Items
Tall items are hard to clean, even by hand. Well, now you can just pop them in the dishwasher and allow the sprinkler for extra tall items to clean the item. It works for items up to 22 inches high!
The Cons
48 Decibels
48 decibels isn't loud, by any means, but for Thermador, it's on the louder end of the spectrum. It's not silent, so if the door to the kitchen is open, you may still be able to hear the appliance at certain stages of the cycle.
Additional Specs
| | |
| --- | --- |
| Noise Level | 42 decibels |
| Collection | Emerald |
| Wash Cycles | 12 cycle |
| Drying Cycle | StarDry |
| Dishwasher Capacity | 16 place settings |
---
---
Luxury Is Calling
When you choose a Thermador dishwasher, you're definitely splashing the cash on a luxurious model. While we think the investment is worth it, you still need to decide which is the best for your home.
Our five reviews should help you find the best for your kitchen. Whether you want something quiet, a bit more budget-friendly or stylish — we've got you covered.