Your car's interior is most likely full of sticky fingerprints, pet hair, spills, and other messes. If you're looking for a way to deep clean and sanitize the car (inside and out), then a steam cleaner will come in handy.
For this task, you need one of the best steam cleaners available. It must be suitable for your car. We've reviewed dozens of products to conclude our five favorites.
During our research, we looked at tank size, mobility, power, versatility, accessories, and heating time. We wanted to ensure we offered the most practical, effective, and easy-to-use steamers. Keep reading for our summary.
Image
Model
Product Comparison Table
Features
Best Overall
Dupray Neat Steam Cleaner
Lightweight
Multi-purpose
Large tank, long runtime
Best Accessories
Pure Enrichment PureClean
18-piece accessories set
Long reach
Powerful steam
Best Mobility
McCullough Steam Cleaner
Incredibly mobile
18 accessories
Quick heat up
Best Runtime
Steamfast SF-370WH Steam Cleaner
Easy storage
15 accessories
Requires no scrubbing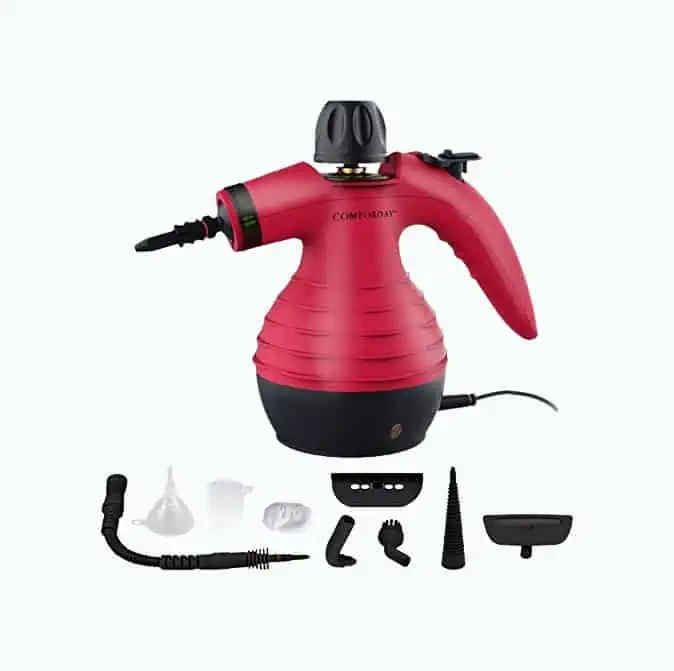 Best Handheld
Comforday Handheld Steam Cleaner
Safety features
Easy to use
Very hot steam
Review Methodology: At Oh So Spotless, we've conducted an extensive analysis and hands-on assessment of the best car steam cleaners available in the market to provide you with reliable, user-centric information. Our team of professionals has used their experience and expertise to evaluate each product based on various criteria such as performance, design, and key decision-making factors. We've compared and ranked each car steam cleaner based on quantitative measurements, highlighting the unique features that set them apart from their competitors. Our detailed research and first-hand evidence ensure that you get the most accurate recommendations and in-depth understanding of the factors essential for choosing the perfect car steam cleaner. Trust our review to guide you through your purchasing journey, as we've considered all relevant aspects including power, efficiency, versatility, safety, and ease of use.
---
---
The Best Steam Cleaners for Cars of 2023
Through hours of research into expert advice and customer reviews, we've chosen our favorite steam cleaners. These all have extraordinary power, a decent heating time, handy accessories, and in many cases, a very large tank. Check out these five fantastic steam cleaners for your car.
Dupray Neat Steam Cleaner
Best Overall
Out of all the steam cleaners we discovered, this was our favorite overall. You can use this steam cleaner almost anywhere to sanitize without any chemicals.
The light and compact design makes it a perfect match for the compromised space of a car. You also won't need to wait for long as it heats up quickly.
Despite the small size, this steamer has a large tank that will hold a significant amount of water. This provides you with ample time to finish deep cleaning and car detailing.
What We Like
Lightweight and Portable
Weighing only nine pounds, this steam cleaner is lightweight and portable. The size and weight make it optimal for car use. You can place it on the seat or the car floor as you're steaming without compromising the space.
The retractable handle also makes it super easy to carry. Or, if you prefer, you can roll it across the floor, thanks to the smooth wheels.
Multi-Purpose Uses With Various Attachments
This steamer comes with various attachments that enable you to clean different surfaces around the house.
It's safe to use on most sealed floors, and you can use the small attachment to target grout lines. Use it to remove dirt and grime from your mattresses, upholstery, sofas, and chairs. You can even use it in the bathroom.
The soft microfiber pad is gentle on all surfaces, especially on leather and fabric car seats. Feel free to use it to remove dust and dirt from car doors and even grease stains from the engine.
No Need to Purchase Expensive Pads
It can sometimes seem like brands earn more money by limiting their steam cleaners to specialized pads only. However, Dupray is keeping its trusted customers and their budget in mind. So when you use the Neat Steamer, you can choose between the included microfiber pads or simply attach a clean towel.
The steamer will work efficiently either way. And you can just throw the used pads and towels in the washer and reuse them next time.
Large Tank, Long Runtime
Despite the light and compact design, the water reservoir will hold 54 ounces of distilled or tap water. This will give you up to 50 minutes of continuous runtime while cleaning your way through the car.
The tank has an integrated funnel that keeps all the water where it needs to be without spilling everywhere.
Low-Moisture Steam
A common downside to steam cleaners is the amount of moisture or water left behind. This can make cleaning specific surfaces such as upholstery and porous floors difficult. However, the Neat steam cleaner uses low-moisture steam that heats to a whopping 275 degrees Fahrenheit.
While cleaning, you can use the steam lock to keep the steam going continuously. This feature is excellent for people who might have sore wrists after cleaning from having to pump the trigger.
What We Don't Like
Unit Gets Too Hot
A few customers noticed that the handle and hose got hot after continuous use. This could be due to the hot water and steam. So if you feel it's getting too hot, stop and take a break.
The Unit Leaks Sometimes
Some customers found that the unit leaked, especially using certain attachments. This leaves water on the floor. If you're dealing with hardwood floors, this can cause damage over time.
Sometimes Takes Too Long to Heat
While the advertised heating time is 7-8 minutes, many customers found it took much longer. Some said up to 20 minutes. There will be a green light to indicate that it's hot, but if you use it before then, you'll just end up spraying water everywhere.
Product Specs
| | |
| --- | --- |
| Weight | 9 pounds |
| Runtime | 50 minutes |
| Heating Time | 7 minutes |
| Tank Capacity | 54 ounces |
| Number of Accessories | 18-piece accessory kit |
Our Ratings
Community Feedback
"I'm absolutely loving this steamer cleaner for my home, which has nearly 10,000 sqft of travertine flooring and multiple bathrooms and kitchens. Despite its small tank size, this unit works wonders for small tasks and even tackles grime on grout lines with ease. The variety of attachments is a huge advantage, and I appreciate the clip that allows the use of any towel. While the cord could be longer, and it's important to monitor the water level, the overall performance and value of this steamer cleaner make it a fantastic choice for residential use."
---
Pure Enrichment PureClean XL
Best Accessories
Many car owners favor the PureClean XL, and it's easy to see why. It's a powerful steamer, yet compact and easy to move around.
You get a variety of accessories to steam clean your car and house. The long hose and power cord make the PureClean XL highly mobile. When not in use, the power cord conveniently wraps up at the back of the machine, keeping it without tangles.
It's safe to use the steam cleaner on a variety of surfaces such as sealed floors, upholstery, and car interiors. The soft microfiber pad cleans efficiently and picks up dirt and tough stains.
What We Like
18-Piece Accessories Set
You get 18 heavy-duty accessories and attachments to suit the cleaning task you're facing. These include, but are not limited to, a triangle brush, squeegee, small round brushes, and a floorhead.
Attach the telescoping wand to reach difficult places or when you're cleaning floors. The set also includes a measuring cup, funnel, and two microfiber pads.
16-Foot Long Reach
The 16-foot-long power cord and long flexible hose allow you to move freely within the car. It's comfortable to hold, thanks to the large handle.
Powerful High-Pressure Steam
To remove tough dirt and stains, you'll need powerful steam. This canister steamer heats the water to 200 degrees Fahrenheit. Unsurprisingly, it produces high-pressure streams of steam that blast away anything in its path.
Use one of the smaller attachments to target tiny crevices in the seats. Plus, use the scrub brush to sanitize the dashboard.
Large Water Reservoir
Equipped with a whopping 50.7-ounce tank, this steamer will give you a long cleaning time. Pure Enrichment claims you'll get up to 45 minutes of steam. However, this can vary depending on the setting you're using.
Avoid filling the tank all the way; leave room for the vapors once the water is heated. It should take about eight minutes to heat fully.
Long Five-Year Warranty
If you're unsure about this unit, the five-year warranty might help ease your mind. The warranty covers the boiler and unit against malfunctions and defects.
What We Don't Like
Pad Isn't as Absorbing
When steam cleaning, you have to rely on the pad to remove excess moisture. This is especially important when cleaning sensitive surfaces such as mattresses and upholstery.
Unfortunately, the included microfiber pads aren't as thick or as absorbing as other brands. They tend to leave a bit too much moisture behind, so keep a cloth close at hand if necessary.
Hard to Guage Water Level
When you fill the tank, it's impossible to see how much water is in there. You basically have to pour water in until a little overflows: then you know it's full. There's also no light to indicate if the steamer is heated and ready to use.
Low-Quality Materials for Attachments
The attachments aren't made of the highest quality materials. They wear down quite quickly, with some customers claiming they were ruined within a few weeks.
Product Specs
| | |
| --- | --- |
| Weight | 15.4 pounds |
| Runtime | 45 minutes |
| Heating Time | 8 minutes |
| Tank Capacity | 50.7 ounces |
| Number of Accessories | 18-piece heavy-duty set |
Our Ratings
Community Feedback
"I've been using this steam cleaner for six months now and have mixed feelings about it. While it does a decent job at cleaning, the process is quite inconvenient as it requires careful measuring and draining of distilled water. Also, the lack of organization for the attachments can be frustrating. Though it's not a life-changing device, it could be useful for those willing to put in extra time and effort."
---
McCullough Steam Cleaner
Best Mobility
This black and yellow steam cleaner might look like a giant bumblebee, but it packs a large punch. This steamer is surprisingly mobile because it's equipped with a long cord and hose. The large wheels also enable you to drag it around if you feel it's too heavy to lift.
We like that you get a range of attachments and accessories. However, there's, unfortunately, no convenient way to store them. Regardless, the various accessories make this steam cleaner a multipurpose device.
The large tank will provide ample time to finish your cleaning task, and it heats relatively quickly. Using the steam lock button, you can use continuous steam without tiring your wrists or fingers.
To help you feel more at ease, the McCulloch Steam Cleaner is covered by a two-year warranty.
What We Like
Incredibly Mobile
Thanks to the 15.7-foot power cord, you can easily reach the car even if an outlet isn't near. You can also conveniently reach different areas inside the vehicle with the 10-foot hose. The hose has a large handle that allows you to get a comfortable grip.
The front and back wheels enable you to drag the canister along instead of carrying it. Although it weighs around 10 pounds, it will become significantly heavier with a full tank.
18 Accessories for Deep Cleaning
You get 18 accessories with this steam cleaner. This enables you to clean multiple surfaces around the house with ease.
Among the accessories, you'll find a brilliant triangle brush, perfect for targeting corners. You'll also get multiple round nylon brushes in different sizes. The squeegee attachment is excellent for cleaning car windows.
You can use the scrub pad to remove stains from the car seats and dashboard gently. When you need to steam clean your floor, simply attach the wide floorhead.
Quick Heat Up
After filling the 48-ounce water reservoir, allow the device eight minutes to heat up fully. This isn't a very long time considering that the water reaches 200 degrees Fahrenheit.
Powerful Hot Steam Blast
The hot steam blasts through tough dirt, stains, grease, and oils effectively. You don't need to add any chemicals or cleaner. However, you might want to pre-treat it before steaming if you're dealing with stubborn stains. This can help to remove it in one go.
What We Don't Like
No Storage for Accessories
With 18 accessories to keep hold of, McCulloch could have provided a smart storage unit to keep everything in one place. Many of the attachments are pretty small and could easily be lost.
Hard to Get Spare Parts
If individual parts or accessories break on this machine, it's hard to find repairs or replacements. You might be able to access them by post, but many customers struggled.
Product Specs
| | |
| --- | --- |
| Weight | 9.95 pounds |
| Runtime | 45 minutes |
| Heating Time | 8 minutes |
| Tank Capacity | 48 ounces |
| Number of Accessories | 18 versatile accessories |
Our Ratings
Community Feedback
"Great steam cleaner for various cleaning tasks around the house! I've used it on windows, walls, and even vinyl mini blinds with impressive results. The steam isn't too hot, striking the perfect balance for effective cleaning. Although some of the attachments wear down quickly, overall, I'm happy with this product and would recommend it to friends."
---
SF-370WH Multi-Purpose Steam Cleaner by Steamfast
Best Runtime
The Steamfast SF-370WH is a powerful, compact 1500-watt steam cleaner. It's multi-purpose and can be used throughout your home and car. The best feature is that it lasts 45 minutes per tank, giving you more than enough time to deep clean your whole car.
You get a range of handy accessories and attachments to suit the surface you're cleaning. Pumping the trigger releases steam, but you can also use the continuous steam lock. This is helpful when you're dealing with large surfaces or stubborn stains.
Large back wheels and a long power cord make this steamer easy to drag around if it's too heavy to lift. Plus, you get two microfiber pads that work efficiently at cleaning any surface.
What We Like
Easy to Store
Due to the compact design, this steam cleaner is super easy to store. The size also makes it an excellent fit for the car. You can place it on the floor, seat, or just outside of the vehicle.
The 15.4 feet long power cord conveniently wraps up at the back of the canister. It's easy to roll up and will help to prevent tangles and damage.
15 Accessories for Deep Cleaning
To make this steam cleaner more versatile, Steamfast included 15 smart accessories. These include:
Jet nozzle
Two nylon brushes
Brass brush
Scrub tool
Squeegee
Corner tool
Scrub pad
Sponge pad
Two extension wands
Mop head
Measuring cup
Two microfiber pads
You can use the jet nozzle to blast away dirt inside the car. The soft squeegee is excellent at cleaning the car windows, leaving a squeaky clean, streak-free finish.
Large 45 Ounce Tank
The water reservoir can hold 45 ounces of water. Allow it eight minutes to heat up fully, and you should have 45 minutes of steam.
Requires No Scrubbing
Due to the high temperature of the steam, this unit cleans quickly and efficiently. It requires no hard scrubbing, and you won't need to use any chemicals.
What We Don't Like
Attachments Won't Last for Long
If you use the attachments for heavy cleaning, they might not last long. A few customers found this inconvenient. Although replacements are reasonably priced, they feel it should be mentioned beforehand.
Hard to Remove Tough Grime
This ists at about 20-40 pounds per square inch in terms of pressure. This is a bit lower than some steam cleaners, making this less than ideal for demanding jobs. If you have tough grease and grime in your car, this might not be able to eliminate it.
High-Pitched and Noisy
This steam cleaner might get on your last nerve if you're sensitive to sounds. You might want to wear earplugs.
Product Specs
| | |
| --- | --- |
| Weight | 8.4 pounds |
| Runtime | 45 minutes |
| Heating Time | 8 minutes |
| Tank Capacity | 45 ounces |
| Number of Accessories | 15 attachments for all surfaces |
Our Ratings
Community Feedback
"As a user of Steamfast SF-370WH, I found this steam cleaner to be effective and easy to use. The variety of attachments allowed me to clean various surfaces, including my old couch and ottoman, which now feel refreshed and clean. Although the handle and trigger could be improved, overall, I am satisfied with the performance and results this steamer provides."
---
Comforday Multi-Purpose Handheld Steam Cleaner
Best Handheld Steam Cleaner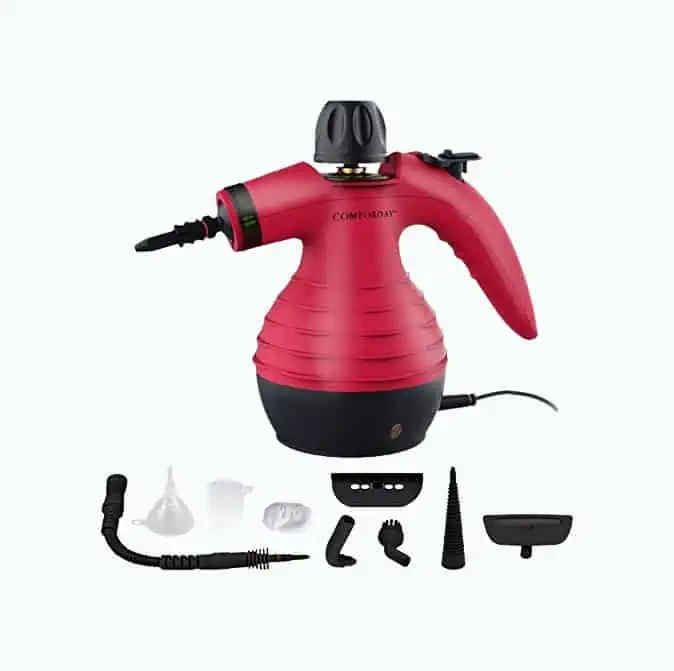 A handheld steam cleaner can be very convenient when cleaning a car. A cord or heavy canister won't limit you. With the Comforday, you get nine handy accessories to help you give your car or house a deep clean.
The steamer is easy to use and safe on multiple surfaces such as floors, upholstery, dashboards, and seats. It will blast away dirt, grime, grease, and stains using hot, pressurized steam.
Although it's a small device, it uses 1050 watts of power, so it isn't far off from bigger models. However, it won't last as long since the tank only holds 11.8 ounces.
The handheld steamer is equipped with a few safety features to avoid burns or accidents. You can also lock the steam trigger for continuous use.
What We Like
Multi-Purpose for All Areas
You can use this smart handheld device on multiple surfaces around the house. The extended hose makes it easy to reach small areas inside the car.
Use the upholstery attachment to clean the car seats safely. The high heat will help to kill bacteria and allergy triggers such as dust mites that might be lurking inside the car.
The powerful jet nozzle is excellent at targeting small areas and crevices inside the car. Clean and sanitize dashboards with the flat surface tool.
Easy to Hold and Carry
Because it's only a little over three pounds heavy, this handheld steamer is easy to hold as you clean. The handle is large and comfortable, even during extended cleaning sessions.
Very Hot Steam
You shouldn't judge this device by its small size. It will hold 11.8 ounces of tap or distilled water in the reservoir and provide you with 15 to 20 minutes of steam. The steam will heat to 270 degrees Fahrenheit — significantly hotter than larger units.
Included Safety Features
Because it's a handheld steam cleaner, you must be careful when using it. Attach the safety cap at the top correctly to avoid scalding spills.
A safety lock on the handle also prevents children or others from pressing the trigger. These safety features are vital in family homes, especially if you have young children you like to help out.
Vibrant Colors
This might not be an important point for all, but we think it's worth adding. You can choose between three vibrant colored units to suit your taste. It's available in red, blue and yellow.
What We Don't Like
Creates High-Moisture Steam
One downside to this smart handheld device is the moisture content of the steam. It can leave behind a significant amount of water. So with this bad boy, you must keep it moving when cleaning upholstery. Keep a microfiber cloth or towel close to hand when cleaning to avoid any damage to sensitive surfaces.
Poor Connection Points
Where the attachments connect to the unit and where the top lid connects are poor quality. Over time, the materials strip down, making it impossible to reconnect.
Less Than 12 Ounce Tank
This is fairly obvious but keep it in mind, especially if you have a big car. The water runs out fairly quickly, and you have to stop and refill it often.
Product Specs
| | |
| --- | --- |
| Weight | 3.28 pounds |
| Runtime | 15 to 20 minutes |
| Heating Time | 3 minutes |
| Tank Capacity | 11.8 ounces |
| Number of Accessories | 9-piece accessory kit |
Our Ratings
Community Feedback
"This lightweight steam cleaner works wonders on detailing cars and removing stains quickly. It's perfect for small jobs and even dewrinkling clothes, but the continuous steaming feature was a bit disappointing."
---
Why Steam Clean a Car?
The high steam temperature allows you to blast away stains and grime easily. Here are a few benefits of using a steam cleaner in your car:
Easy: Using a steam cleaner might seem like a task for professionals, but it's easy to do yourself. There's no need to mix a cleaning solution or carefully add special products; all you have to do is fill the tank with water. Plug the device into an outlet and allow it to heat. Most will be ready in five to 10 minutes.
Multi-purpose: Steam cleaners for cars can be used throughout the interior and exterior to remove stains and restore shine. You can also use many steamers in other areas of your house. You often get a range of attachments to suit different surfaces and areas, such as countertops or upholstery. Some machines will also have a floorhead. This enables you to clean and sanitize your floors without having to purchase a separate unit.
Free of chemicals: Using chemicals isn't always a possibility when cleaning. You might have young children who are more sensitive or pets that could react to certain chemicals. Thankfully, steam alone is enough to kill up to 99 percent of bacteria, viruses, and pests such as bed bugs and mites (1).
Choosing the Best Steam Cleaner for Cars
Buying a steam cleaner might seem like a reasonably easy task. However, buying one for your car does require a few considerations to ensure you get the right one at the right price.
---
FAQs
---
Thank You For Your Feedback!
Thank You For Your Feedback!