If you want wrinkle-free and professional results at a modest price, you might be after a Rowenta iron. With many Rowenta irons to choose from, it can take time to decide which one to choose.
That's where we come in. We've put together a list of the seven best Rowenta irons, reviewing each one based on real customer feedback and expert advice.
Ranked in order of which one we love most, we ensured to study each iron's soleplate, steam ability, and ease of use. Get ready to meet seven irons that are about to change the game!
Image
Model
Product Comparison Table
Features
Best for Vertical Steaming
Rowenta DW5080 Micro Steam Iron
Even steam distribution
Stainless steel soleplate
Easy to change the temperature
Best for Removing Stubborn Wrinkles
Rowenta DW7180 Everlast
Patented anti-calc system
Three steam settings
30 minute steam time
Best for Light Ironing
Rowenta DW3261 Advanced
Great for beginners
Safe on all fabrics
1725 watts and powerful steam
Best for Sewing
Rowenta DW2459 Access Steam
More steam, more time
Retractable cord included
Vertical steaming
Best Budget Pick
Rowenta T-fal Ultraglide Plus
Simple settings, great for beginners
AirGlide soleplate technology
Anti-drip reduces spills
Eco Friendly Rowenta Iron
Rowenta DW6080 Eco Intelligence
Iron every inch precisely
Anti-calc system
Reduces risk of water stains
Best Lightweight Rowenta Iron
Rowenta DA1560 Travel-Ready
Easy to pack when travelling
Various steam options
Stainless steel soleplate
Review Methodology: At Oh So Spotless, we pride ourselves on providing you with comprehensive analysis and assessment of the best Rowenta irons on the market. Our hands-on experience, extensive research, and professional expertise enable us to evaluate products from a user's perspective, comparing key criteria such as performance, design choices, and the factors that set them apart from competitors. We rank and review these irons based on quantitative measurements and first-hand evidence to ensure you make an informed decision. Our findings cover essential aspects such as steam output, heat settings, safety features, ease of use, and durability, ultimately providing you with the top ten Rowenta irons to choose from. Trust in our thorough evaluations and let us guide you to the perfect iron for your needs.
---
---
The Best Rowenta Irons of 2023
After hours of researching expert advice, the Rowenta brand, and real customer reviews, we have a comprehensive list of the seven best Rowenta irons. We concluded our list based on each iron's features. This includes the soleplate, steam production, weight, and more.
Let's be amazed at these seven Rowenta irons!
Rowenta DW5080 Micro Steam Iron
Best for Vertical Steaming
The Rowenta DW5080 is an all-around awesome iron, but it's also our top pick for vertical steaming! It has an anti-drip lid and excellent steam output. So you can take this to your hanging outfits, curtains, upholstery, and furniture to eliminate all kinds of wrinkles and creases.
It also has an auto shut-off feature, so if you do leave it vertically, it'll turn off after eight minutes. If you leave it on its side or soleplate, it'll be off in only 30 seconds!
What We Like
Even Steam Distribution
Whether you're ironing horizontally or steaming vertically, this iron provides even steam distribution. It has over 400 steam holes, providing an even steam output over garments. It also emits 35 grams of steam per minute to bust out wrinkles and creases.
Stainless Steel Soleplate
The soleplate on this iron is made from durable stainless steel. It will last a long time and is resistant to scratches and scuffs.
Plus, it's easy to clean. It also provides fantastic glide ability to smooth out wrinkles quickly.
Easy To Change the Temperature
This iron has an easy-to-use thermostat dial. It tells you which temperature is best for which fabric type so you can easily choose your settings. Also — it has a precision tip so you can navigate around buttons, collars, and delicate details on your clothes.
Self-Cleaning Technology
An added bonus to this iron is the anti-calc system. This iron is self-cleaning, removing loose mineral deposits to ensure your iron functions to the best of its ability.
What We Don't Like
Difficult To Fill the Tank
It's not the simplest task to fill the water tank on this iron. It has a little door, so you need to hold it under your tap a certain way to ensure the water gets into the tank. Otherwise, it will splash on the door and not get in. If only it had a removable water tank!
Inconveniently Placed Temperature Dial
This is a common problem with Rowenta irons. The temperature dial is directly under the handle, so if you have larger hands, your knuckles might nudge the dial.
You can go from ironing nylon at a low heat to suddenly nudging the dial into its highest heat. It also doesn't help that the dial moves really easily.
Product Specs
| | |
| --- | --- |
| Steam Production | 35 grams per minute, 400 holes, steam settings |
| Tank Size | 295 ml |
| Weight | 3.4 pounds |
| Temperature Settings | Temperature dial with fabric type |
| Soleplate | Stainless steel |
Our Ratings
Community Feedback
Definitely a mixed experience with this product, but overall it's a good iron. I've had mine for over six years and it still works like a charm, making ironing a breeze. The steam output is impressive, and it's great for quilting projects and ironing clothes. However, there are some issues like the occasional brown stains and gunk from the steam holes, which can be frustrating. Despite these drawbacks, I think the iron is well above average and worth the investment, just make sure you maintain it properly.
---
Rowenta DW7180 Everlast
Best for Removing Stubborn Wrinkles
Removing stubborn wrinkles is a top priority when it comes to ironing. If you pull out a load of laundry from the dryer to find it's wrinkled beyond belief, the Rowenta DW7180 can help.
This iron uses 1750 watts and 400 micro steam holes to give you an even distribution of steam. It's designed to quickly and powerfully remove the most stubborn creases and wrinkles. After a couple of minutes with this iron, you'll have a fresh, crisp, and professional outfit.
What We Like
Patented Anti-Calc System Included
The Rowenta Everlast has its own patented anti-calc system. Since many people live in a hard water area in the US, it's common to have mineral build-up on your appliances.
The Everlast system can collect up to a teaspoon of scale. Pretty gross but pretty cool! Compared to other Rowenta irons, this provides an unparalleled approach to removing limescale.
Three Steam Settings
The reason this iron is so good at removing stubborn wrinkles is partly down to the three steam options. You can use this iron with the variable steam settings.
But it also has an option for vertical steaming or steam burst. This allows you to get rid of wrinkles quickly in clothes, curtains, and more.
But that's not all: it also has auto steam. This feature automatically and continually adjusts the steam output depending on your chosen temperature.
30 Minute Steam Time
For a regular steam iron, 30-minute steam time is unheard of! The 350ml water tank provides 30 minutes of uninterrupted ironing time, so you can focus on getting it all done in one go. Or one episode of Friends, as we like to do.
Patended Soleplate With 400 Steam Holes
This soleplate is so unique that the design is patented. This provides even steam distribution thanks to the 400 microsteam holes. It's also made of glidable stainless steel, which moves beautifully over all types of fabrics.
What We Don't Like
Leaking Issues
The main thing to budge on this iron will be the anti-leak feature. Many users found that the iron started to leak after a few years.
By then, the iron is no longer covered by the warranty. To avoid this, make sure to read our section on why Rowenta irons leak.
Annoying Non-Retractable Cord
This a small detail to keep in mind, but important nonetheless. The cord is eight feet long, which is average, but it could definitely be longer. It also doesn't retract.
Finally, it has a hard coating around the top of the cord, which gets in the way when the iron is on the heel rest.
Product Specs
| | |
| --- | --- |
| Steam Production | Three steam settings, high-level performance |
| Tank Size | 350 ml |
| Weight | 4 pounds |
| Temperature Settings | Temperature dial with fabric type |
| Soleplate | Stainless steel soleplate with 400 holes |
Our Ratings
Community Feedback
This Rowenta iron has been a reliable addition to my household, replacing a previous model that served me well for 18 years. The new iron's stainless steel plate and smaller tip make ironing collars and epaulettes much easier, and the increased number of steam holes help with my cotton and cotton-poly blend clothing. One downside is that it tends to spit out white particles, but after reading the instructions more closely, I learned how to clean the limescale collector and use the anti-calc function to prevent this issue. Filling the iron can be a bit tricky, but using a small spray bottle with a nickel-sized opening has made it much easier for me. The iron heats up quickly, glides smoothly over fabrics, and is lightweight like my previous Rowenta irons.
---
Rowenta DW3261 1725-Watt Advanced
Best for Light Ironing
If you are looking for something for light ironing — an odd garment here and there — you've come to the right place. The Rowenta DW3261 is perfect for light ironing. You can save a lot of time when using this iron for a few reasons.
One, there's no temperature dial. This advanced technology automatically detects what temperature to use for which garment you're ironing.
Two, you don't need to sort clothes. Many people sort their clothes by garment type, so they can use low heat, medium heat, and then high heat.
But this iron quickly changes the heat setting with no effort from you! So you can save time and eliminate the guesswork.
What We Like
Great for Beginners
The smart technology in this iron automatically detects what temperature you should use on the chosen garment. If you're not sure which setting to use, this is the iron to go for.
The Rowenta DW3261 does the hard work for you so that you can save time and easily iron your clothes.
Safe on All Fabrics
Even though you can't choose the heat setting, this iron is still safe on all fabrics. This is ideal for light ironing since you can take whatever outfit you want to wear to the ironing board and smooth out wrinkles in seconds. Due to the anti-burn technology, it works with even the most delicate fabrics, like silk.
1725 Watts and Powerful Steam
This iron boasts insane power. First, it's 1725 watts which is amazing.
Second, it emits 180 grams of steam per minute — more than five times as much as other Rowenta steam irons.
Tough wrinkles? No problem with this iron.
Laser Stainless Steel Soleplate
We love the soleplate on this iron. It has over 380 steam holes for exceptional steam distribution and smooth glidability. The stainless steel design is super durable but also allows for vertical steaming.
What We Don't Like
Not Ideal for Cotton or Linen
Cotton and linen are top choices for your work clothes — and it's important to remain professional. If this is your situation, we would recommend a different iron. Since you can't change the heat setting, sometimes this iron just doesn't get hot enough for cotton and linen items.
No Continuous Steam Option
If you like continuous steam, this isn't the iron for you. To emit the steam, you need to press the steam burst button. It will emit a lot of steam at once, but it's not continuous.
Also, some customers complain that the steam button is quite stiff.
Product Specs
| | |
| --- | --- |
| Steam Production | 180 grams per minute |
| Tank Size | 250 ml |
| Weight | 3.69 pounds |
| Temperature Settings | Automatic temperature detection |
| Soleplate | Ultra-durable stainless steel |
Our Ratings
Community Feedback
This product has its pros and cons. On one hand, it's easy to use and works well on various garment materials, with the steam functionality being particularly impressive. I found that ironing dress shirts and pants takes significantly less time with this iron, which is a big plus. On the other hand, there are a few design flaws, such as the placement of the cord, the difficulty in seeing the water level in the reservoir, and the lack of temperature controls.
---
Rowenta DW2459 Access Steam Iron
Best for Sewing
For sewing and other crafting hobbies, treat yourself to a quality iron! The Rowenta DW2459 Access steam iron is a top choice for many sewers, quilters, and craft lovers.
There are over 350 active steam holes which are ideal for excellent steam distribution for your at-home DIY projects. You can smooth and shape your sewing projects to perfection. Many customers find this to be a game-changer and must-have product when it comes to crafting.
What We Like
More Steam, More Time
Investing in a quality iron can help you save time on this mundane household chore. The more steam your iron has, the more time you have to relax.
Thankfully, this Rowenta steam generator iron has three times more steam than traditional iron. It can cut your ironing time by 25 percent, saving you more time week to week. Its stainless steel soleplate glides perfectly to your fabric, and it has a three-way auto shut-off feature to reduce the risk of burning the clothing.
Retractable Cord Included
The retractable cord reel adds to the convenience this steam iron has brought aside from saving time in untangling the cord.
Accommodates Vertical Steaming
If you need to steam curtains, upholstery, and furniture — this iron allows for vertical steaming. You can use the steam control panel to choose how much steam you emit for tasks like this. Even though the tank itself is heavy, the handheld unit is nice and lightweight.
You Can Use Tap Water
To make your ironing routine even easier, this iron takes tap water. No need to use distilled water, even if you live in a hard-water area. This iron has an anti-calcium system that will remove minerals and impurities from the water, leaving you with a blockage-free and beautifully-functioning iron.
What We Don't Like
Needs Maintenance
Despite having the anti-calc feature, some customers noticed the build-up of white lime particles after a few months of usage. This is because users fail to do the necessary maintenance every after use, especially since this iron is compatible with tap water.
To solve this dilemma, when the iron gets completely cool after usage, you just have to twist the lever and pull the chamber to clean the limescale collector located at the base.
Not Hot Enough
A common customer complaint is that this iron doesn't get hot enough. The heat seems to be quite inconsistent, which can be frustrating. Although the steam is powerful, the heat could be improved.
Product Specs
| | |
| --- | --- |
| Steam Production | 6x more than traditional irons, 180 grams per minute |
| Tank Size | 250 ml |
| Weight | 3.78 pounds |
| Temperature Settings | 3 setting thermostat knob |
| Soleplate | Stainless steel with 350 holes |
Our Ratings
Community Feedback
I recently purchased the Rowenta DW2459 and have found it to be a reliable and efficient iron. The comfortable handle and ergo-dynamic design make for smooth and effortless ironing, while the cord rewind and thermostat knob provide added convenience. Although the soleplate is prone to scratching, using this iron has been a breeze due to its effective steam output and auto-off safety feature. However, I did find the instructions to be slightly confusing, particularly regarding the self-cleaning function. Despite its weight, the overall performance and design of this product have met my expectations, making it a great choice for both casual and professional use. In conclusion, I would recommend this iron to anyone seeking a high-quality and durable product for their ironing needs.
---
Rowenta T-fal Ultraglide Plus Iron
Best Budget Pick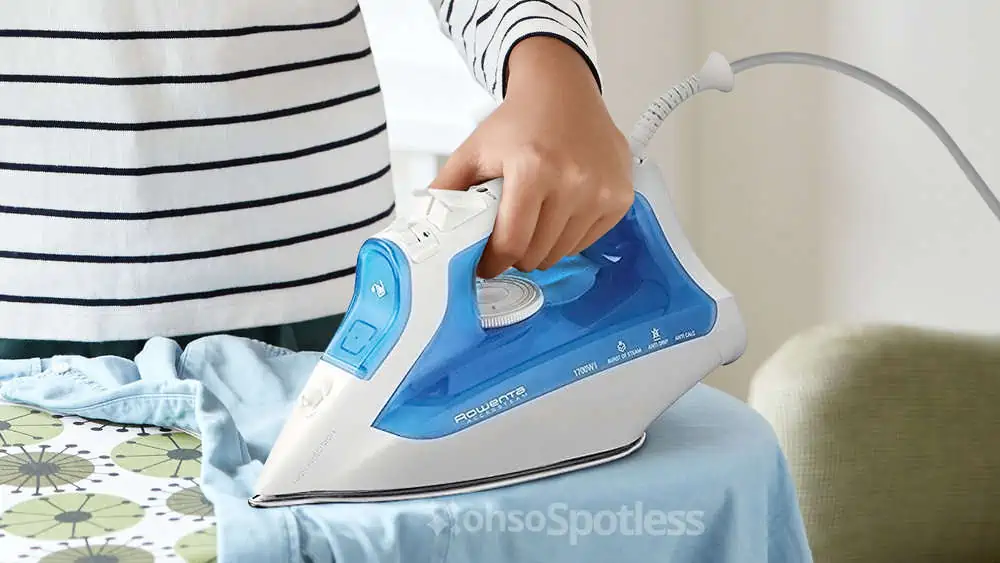 For their brand name, quality, and reputation, Rowenta steam irons are modestly priced. But they're not cheap by any means. If you're on a budget, though, we recommend the Rowenta Ultraglide Plus iron which is available for less than half of many other Rowenta irons.
Despite its lower price point, it's still an efficient iron. Expect wrinkle-free clothes with this iron. The strong steam burst button eliminates stubborn wrinkles and creases, especially on thick fabrics.
What We Like
Simple Settings (Great for Beginners)
Being a budget option, you will sacrifice more specific temperature and steam settings. But this keeps it simple, which we love — especially for beginners and occasional ironing. This iron can handle a variety of fabrics, such as cotton, wool, rayon, and silk.
AirGlide Soleplate Technology
The unique durilium AirGlide soleplate is designed to give you smooth glide and perfect steam distribution. It's made of stainless steel for durability. Freely move over fabrics, eliminating wrinkles quickly as you go.
Anti-Drip Reduces Spills
The Rowenta T-fal Ultraglide has an anti-drip feature. It has a closed-door over the water tank to reduce spills and leaks. So you can rest assured that you and your clothes are safe from hot water spillage during ironing.
100 Gram Steam Burst
While you don't have as many steam settings, the steam is still super powerful. With 100 grams per minute of steam, this can bust out stubborn wrinkles on thick fabrics.
What We Don't Like
Cord Management Problems
Since this is a budget-friendly option, some features on high-end items, such as retractable cords, are unavailable. If this does not bother you, then you may opt to have this item instead.
Limited Settings
While this is a pro for others, it might be a con for you. If you like to customize your temperature and steam settings, this iron won't satisfy your needs since there are only three temperature settings.
Product Specs
| | |
| --- | --- |
| Steam Production | Automatic steam settings, 30 grams per minute |
| Tank Size | Not specified |
| Weight | 4.51 pounds |
| Temperature Settings | Temperature dial with three options |
| Soleplate | Airglide soleplate |
Our Ratings
Community Feedback
These T-fal FV2886U0 irons have an easy-to-use soleplate and strong steaming capabilities, making them great for tasks like quilting and patchwork sewing. However, the cord rod can be a bit of a nuisance when placing the iron down, and the water storage is small, requiring frequent refills. The iron heats up quickly and maintains a consistent temperature, but be cautious with delicate fabrics to avoid leaving shiny marks.
---
Rowenta DW6080 Eco Intelligence Steam Iron
Eco Friendly Rowenta Iron
This unique eco-intelligence system saves up to 25 percent of energy without compromising the efficiency of the iron. So if you're looking for a green way to iron your clothes, this is it!
You'll be super impressed with the smoothness and efficiency this iron provides. It has a 180-gram per minute steam boost while still using reduced energy to blast out tough wrinkles in your clothes.
The 400 active micro-holes have even heat and steam distribution, which is gently applied to your clothing through the durable stainless steel soleplate.
What We Like
Iron Every Inch Precisely
With the pointed precision tip, it's easier than ever to iron between buttons, collars of shirts, and other delicate areas that are often missed.
Anti-Calc System
This comes with an integrated anti-calc system to protect the soleplate from buildup. If the soleplate is clear, then your clothes are, too!
This also ensures the steam function is up to par with how it was when you purchased the iron. Plus, the anti-calc system means you don't need to do the laborious deep cleaning. The iron does it for you!
Reduces the Risk of Water Stains
The handy anti-drip system reduces the risk of water stains on your clothes. There's nothing worse than water ruining your silk or linen clothing. Thankfully, this iron has got you covered.
Top of the Line Soleplate
This soleplate is made of scratch-resistant stainless steel. With over 400 micro steam holes and a 3D design, this provides even steam distribution and fantastic precision.
What We Don't Like
Heavy for Some
A common customer complaint is that this iron is bulky and heavy. It weighs 3.46 pounds, which is pretty average, but do keep in mind that you may need a strong arm to handle this comfortably.
Disappointing Steam Output
Some customers found the 40 grams of steam per minute disappointing and lacking power. It has a 180-gram steam boost, but the standard amount is 40 grams per minute. You may prefer something a bit stronger.
Product Specs
| | |
| --- | --- |
| Steam Production | 400 micro steam holes, strong steam boost option |
| Tank Size | 295.7 ml |
| Weight | 3.46 pounds |
| Temperature Settings | Temperature dial with fabric type |
| Soleplate | Stainless steel |
Our Ratings
Community Feedback
This iron offers a powerful steam feature and a precision point that makes ironing tasks easier. However, I noticed that it only reaches optimal heat when the steam is on, which might not be suitable for more delicate fabrics. While the iron is heavier than expected, it allows for crisp folds without applying much pressure. The rapid heating time is a bonus, but occasional water spotting occurs when the iron has cooled and auto shut-off engaged.
---
Rowenta DA1560 Travel-Ready
Best Lightweight Rowenta Iron
Our top pick for a lightweight iron is the Rowenta Travel-Ready model.
Weighing 1.5 pounds, this iron is a super light option you can carry in your luggage or backpack.
If you're going on holiday, to a business meeting, or just prefer a lighter iron in the house, then this is the option for you.
What We Like
Easy To Pack When Travelling
Yes, this iron is 1.5 pounds which automatically makes it easy to transport. But it's also compact in its design.
It boasts a sleek and ergonomic form, so you can easily slip this in with your clothes when traveling. The handle folds flat against the body, saving space in your suitcase. The dimensions are 8.62 x 3.88 x 4.88 inches.
Various Steam Options
This iron may be small, but it still offers top-of-the-line steam options. It has a consistent steam option as well as a steam burst button. Lastly, you can use this iron vertically, emitting steam overhanging outfits, curtains, and furniture.
Stainless Steel Soleplate
Just because the soleplate is small doesn't mean it's impractical. First, it is made of stainless steel to glide across any fabric type. But also, it has over 200 micro steam holes! That's amazing for such a compact iron.
We love that you can cover the soleplate with a travel pouch while you're not using it. This provides additional safety in your suitcase.
Vertical Steaming Compatible
To make this iron even more impressive, it also works for vertical steaming. If you want to steam hanging garments or disinfect your hotel room curtains — you will love this.
What We Don't Like
Lower Watt Power
Keep in mind that because of its small size, it compromises its wattage. 1000 watts is still great, but it's not going to be as powerful as standard-size Rowenta steam irons, which are usually at least 1700 watts.
Small Water Tank
The water tank on this iron is only 56ml. Compared to standard irons which are around 250ml, this iron offers shorter ironing times between refills.
Product Specs
| | |
| --- | --- |
| Steam Production | Continuous steam, vertical steaming, and burst button |
| Tank Size | 59 ml |
| Weight | 1.5 pounds |
| Temperature Settings | Temperature dial |
| Soleplate | Stainless steel soleplate with 200 holes |
Our Ratings
Community Feedback
Great little iron for both travel and quilting purposes! I've always been a fan of Rowenta irons, and this compact version doesn't disappoint. It's powerful, lightweight, and easy to use, but I do wish it had an indicator light to show when it's on or off. The pointy top and stainless steel soleplate make it perfect for getting into tight corners and small spaces, such as my great-granddaughter's clothes. The included storage bag is a nice touch, though I wish it was slightly larger.
---
Why Choose a Rowenta Iron?
In 1909, the Rowenta brand began (1). Robert Weintraud, a German industrialist, launched the business after spending many years focused on producing office supplies, smoking accessories, lamps, and clocks.
The Rowenta brand evolved to host a range of high-quality and refined products, including irons. Since the start of the Rowenta brand, irons have come a long way.
Rowenta prioritizes design, eco options, and ease of use. That's why they create everyday items such as irons, steam generators, vacuums, hair dryers, air purifiers, and much more.
Their irons are made in Germany and use German engineering. Rowenta's technology is manufactured to make your life easier.
Types of Rowenta Irons
Rowenta ironing range includes:
Steam stations: Steam generator irons have three times more steam than a traditional iron to cut your ironing time down. They also have much bigger water tanks, allowing you more time to iron between refills.
Steam irons: Steam irons emit a powerful and steady steam flow. This allows you to eliminate wrinkles in one smooth movement. You can also use them as dry iron by emptying the water tank.
Garment steamers: These are different from traditional irons, but they still eliminate wrinkles. As they're handheld steamers, you hold and aim them at the clothing as well as curtains, upholstery, and furniture to smooth out fabrics.
Travel irons: Rowenta makes a handy travel iron. It will probably beat the power of hotel irons, yet it is small enough to fit into your suitcase.
How to Choose the Best Rowenta Iron
When shopping for a Rowenta iron, there are some important factors to consider.
---
Rowenta Iron FAQs
---
Thank You For Your Feedback!
Thank You For Your Feedback!