Feel like there isn't enough time in your day to check off all the chores on your list? Do you have hardwood floors and spend time trying to keep them pristine? Well, help is on the way.
A robot vacuum can help you stay on top of those responsibilities while giving you back some of your time.
We've put together an in-depth list of the best robot vacuums for hardwood floors and a guide for what to consider while you shop.
Image
Model
Product Comparison Table
Features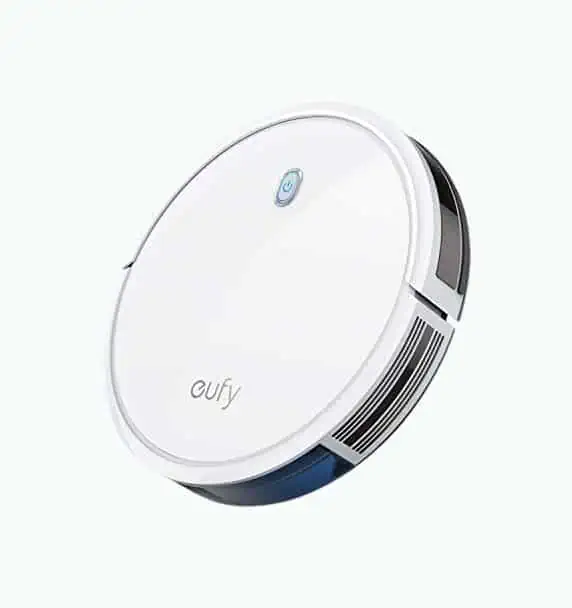 Best for a Quiet Clean
Eufy BoostIQ RoboVac 11S
Worry-free charging
Quiet cleaning
Less frequent emptying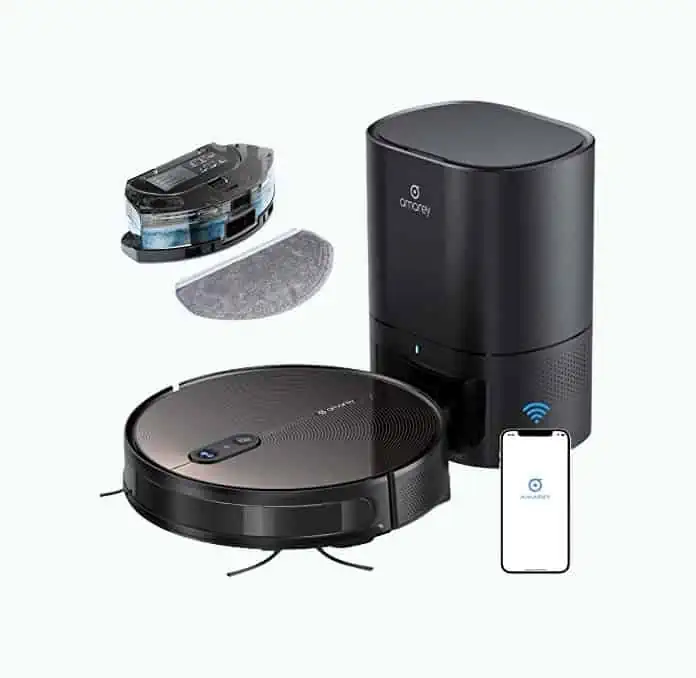 Best for Under-Furniture
Amarey Robot Vacuum
Easy room & floor transitions
Multiple cleaning modes
110-minute battery life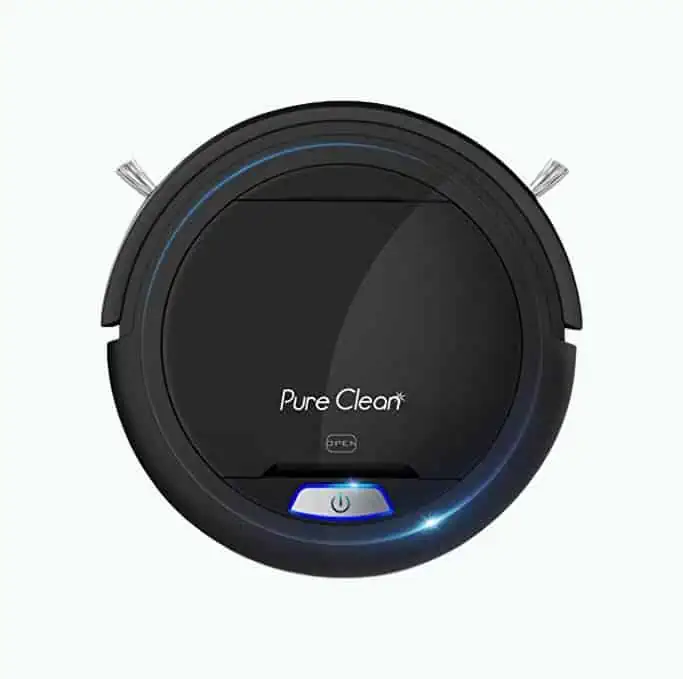 Best Budget Option
Pure Clean Robot Vacuum
HEPA filter for clean air
Programmable cleaning modes
Good for pet hair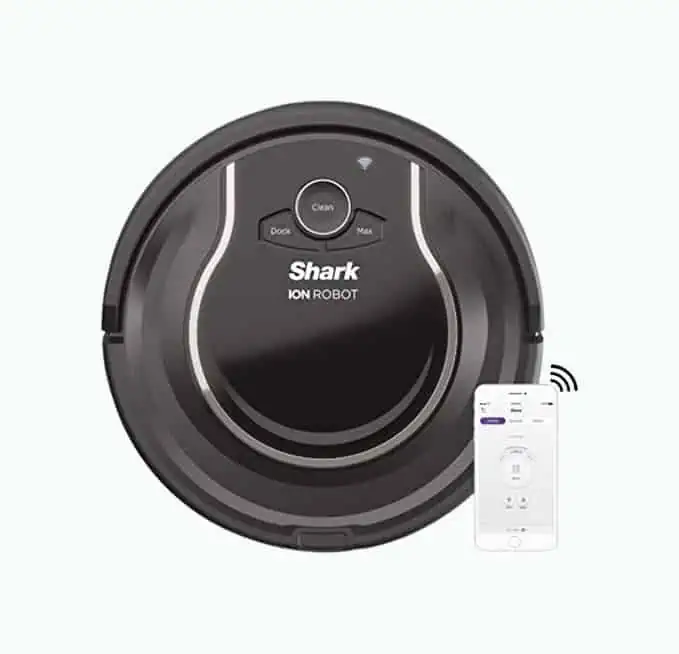 Best Wi-Fi Connectivity
Shark Ion Robot Vacuum
Long battery life
Worry-free brush system
Voice command capabilities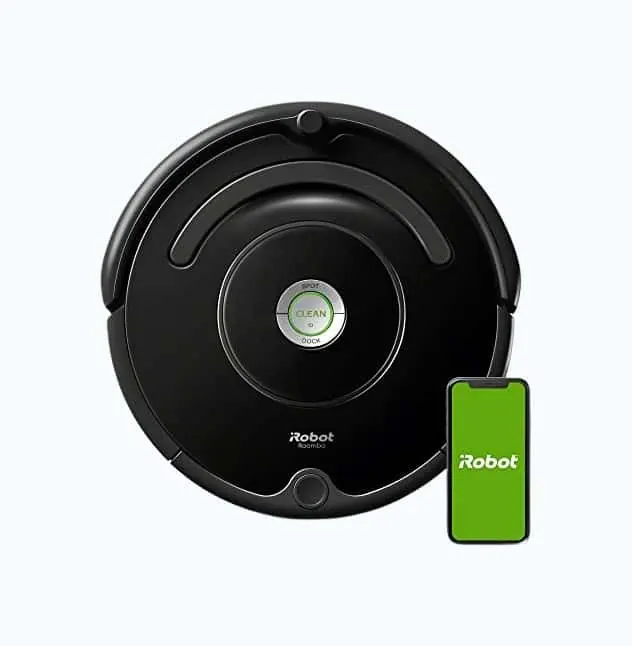 Best High-Tech Option
iRobot Roomba 675
Wi-Fi connectivity
Advanced cleaning system
Easy floor navigation
Review Methodology: At Oh So Spotless, we pride ourselves on providing you with thorough and accurate analysis of the best robot vacuums for hardwood floors. Our team of professionals conducts extensive research and hands-on testing to evaluate each product based on criteria such as performance, design, and user experience. We compare data and results from various sources, assessing key factors like suction power, navigation capabilities, and ease of maintenance. Our findings will help you make an informed decision on the ideal robot vacuum for your hardwood floors, considering factors such as battery life, noise level, and app compatibility. By sharing first-hand evidence and ranking each product, we aim to guide you towards the best choice that sets the perfect balance between functionality and value. Trust our expertise and let us help you keep your home Oh So Spotless.
---
---
The Best Robot Vacuums for Hardwood Floors of 2023
Here are out our top five robot vacuum picks, rated according to battery life, suction power, and how well they work on hardwood flooring.
Eufy BoostIQ RoboVac 11S
Best Quiet Robot Vacuum for Hardwood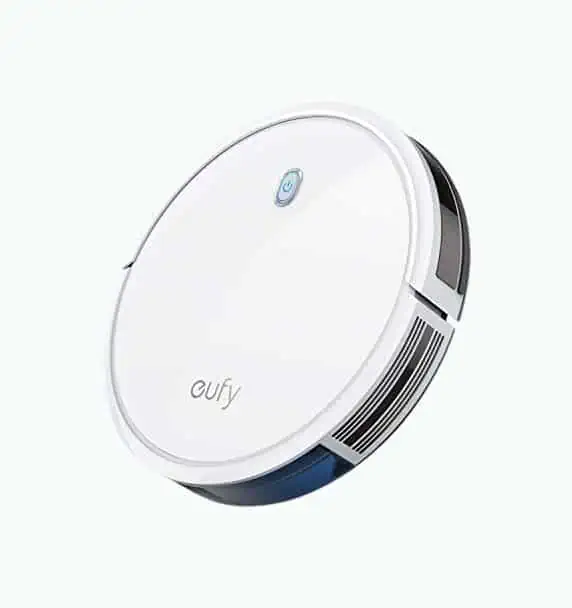 This robot vacuum offers an ultra-thin design at just 2.85 inches tall. It's slender enough to fit easily under most furniture, which keeps the unit from becoming stuck.
It also works to ensure your space gets clean even when you're out of the room.
This unit can move between hardwood floors and medium-pile carpeting. So, it's an excellent choice for rooms with area rugs. It operates quietly and offers 1300Pa suction power.
If needed, this unit can increase its regular suction power in just 1.5 seconds to better tackle tough messes. This change happens automatically when the vacuum detects the mess.
Weighing 5.73 pounds and offering 100 minutes of cleaning, this is our top choice.
What We Like
Worry-Free Charging
The Eufy BoostIQ comes with a separate docking port. After your robot vacuum has finished vacuuming, it returns to the docking port. Once there, it initiates charging.
The self-charging feature is so convenient for busy people. Plus, the docking station is handy, so you always know where the robot vacuum is when not in use.
Gives a Quiet Clean
Vacuums aren't known for being quiet. But, at only 55 decibels, this robot vacuum works quietly. That's powerful and efficient cleaning at just about the volume of your running microwave.
If you have a busy household where you're juggling early bedtimes or midday naps, this might be the right vacuum for you. It makes it possible to get the clean you need without interrupting your regular schedule.
Needs Less Frequent Emptying
This unit offers a larger-than-average dirt receptacle. At a capacity of 0.6 liters, this unit has plenty of space to collect dust and debris.
We think this is a great feature for pet owners. You won't need to worry about your cleaning session being interrupted to empty the bin. Plus, you'll have the clean floors you're looking for.
What We Don't Like
The Docking Port Needs Significant Space
Though this vacuum and the port are compact, there needs to be a significant amount of room around the port. This ensures the robot vacuum can return safely to its port to charge properly. So, you may have difficulty finding a good docking space for your unit if space is limited.
This Unit Does Not Offer Mapping
Looking for a unit that can learn and remember your space? If that's important to you, you'll want to look for a different robot vacuum. This particular model does not offer a sophisticated mapping system.
Instead, this device appears to move randomly, covering the exposed area. This may make the unit less efficient, but the vacuum will continue to make its way through the entire area.
Product Specs
| | |
| --- | --- |
| Suction Power | 1300Pa |
| Height | 2.85 inches |
| Diameter | 12.8 inches |
| Battery Life | 100 minutes |
| Package Includes | Docking base, AC power adapter, remote control, high-performance filters, cleaning tools, user manual |
Our Ratings
Community Feedback
"I've been using the Eufy robotic vacuum for quite some time now and it never ceases to impress me. The sleek design, tempered glass top, and 100-minute runtime make it my all-time favorite vacuum. It's a slim, intelligent, and efficient cleaning machine that manages to get under nearly everything, making my home dust bunny-free. With its easy battery replacement and durability, I can see myself using this robotic vacuum for years to come."
---
Amarey A90 Plus Robot Vacuum
Best Robot Vacuum for Under-Furniture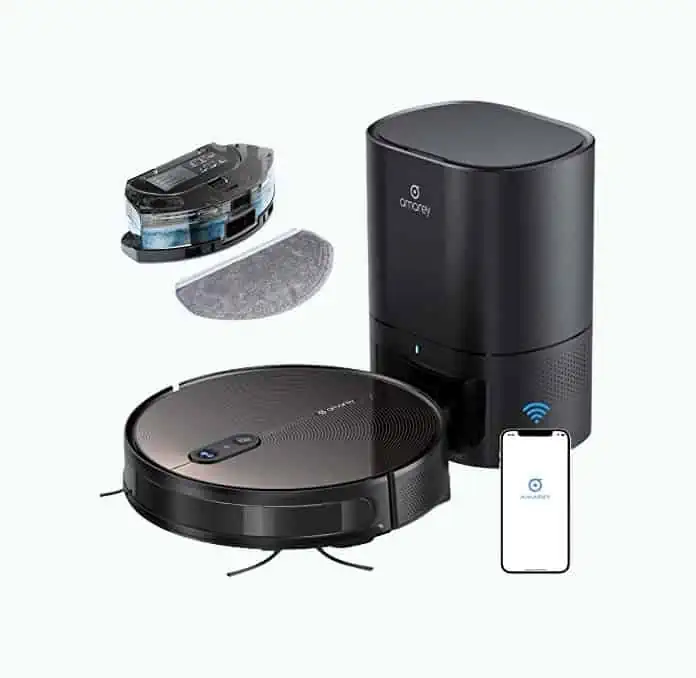 At only 3.0 inches tall, this robot vacuum has a thin body that's perfect for going under low-to-the-ground furniture. If you're looking for deep cleaning in hard-to-reach areas, this might be just the vacuum for you.
This unit does offer mapping and does come with different cleaning modes. You can choose several modes depending on your specific needs.
You can program cleaning schedules ahead of time to get your robot vacuum up and running even when you aren't there. Simply select your needed mode and let the robot vacuum get to work.
We love the easy-to-empty dirt receptacle. There's no need for additional bags to collect the dirt. Plus, the robot is suitable for collecting dirt, debris, dust, and pet hair.
What We Like
Easy Room Transitions and Floor Changes
This robot vacuum quickly detects surface changes as it moves. This even includes higher-pile carpets and bath mats.
Significant thresholds and surface changes won't impede the vacuum's progress or cause your vacuum to become stuck.
Programmable with Multiple Cleaning Modes
The different cleaning modes give you control over where your vacuum is cleaning. Selecting a cleaning mode can make your robot vacuum more efficient and keeps cleaning time down.
Being able to program your robot vacuum in advance is one more thing you can automate to keep things moving smoothly — and keep your home clean.
110-Minute Battery Life
This unit is advertised as having a 110-minute battery life. However, many users who use this vacuum report they got more time out of a single charge. If you're dealing with a larger space, you may find the extended battery life helpful.
Quiet
Another handy features are the fact that it's quiet. This won't interrupt cozy evenings at home.
What We Don't Like
Can Only Be Controlled with the Remote
All of your cleaning customizations happen by using the remote, including cleaning mode and scheduling cleans. This model cannot communicate while you're out of the house or with a downloaded app. Should you lose the remote, you won't be able to program the unit.
Product Specs
| | |
| --- | --- |
| Suction Power | 3000Pa |
| Height | 3.07 inches |
| Diameter | Not specified |
| Battery Life | 110 minutes |
| Package Includes | Self-empty station, remote control |
Our Ratings
Community Feedback
"If you're looking for a vacuum/mop combo, this product does a decent job, but has some drawbacks. The suction is quiet and the cleaning path is smart, but the self-emptying feature is quite loud. The app can be frustrating to use, and it often takes a few tries to get the smart mapping to work properly."
---
Pure Clean Robot Vacuum
Best Budget Pick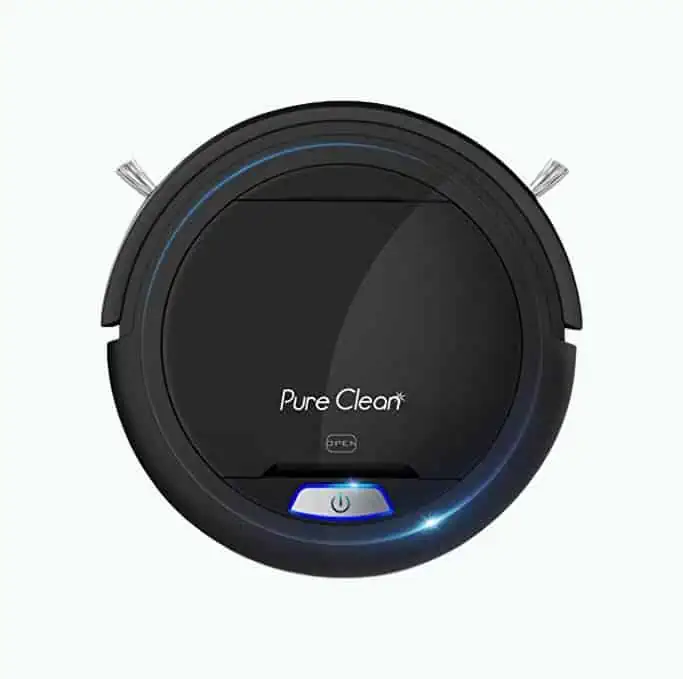 This vacuum model is a great option if you're looking for an automated cleaner that won't break the bank. It works well on hardwood, tile, and low-pile carpeting.
This unit also features a HEPA filter. So, it can be a good option for people who suffer from allergies and pet owners.
Two side-sweeping brushes extend its cleaning path. This means cleaning happens quicker, which is great for larger homes. The expected charge time for this unit is 4 hours for 90 minutes of cleaning.
We love that it features anti-fall technology. It can be a good option for second stories, split levels, and other floor plans with elevation changes. Plus, the multiple cleaning options on this unit will help you get the best clean in the shortest time possible.
What We Like
The HEPA Filter
This vacuum features a HEPA filter that's great for allergy sufferers. It helps trap fine dust particles and pet dander, minimizing what makes its way back into the air while preventing clogging in the vacuum.
Additionally, the filter is washable, and a spare filter is included with the unit. You can expect to replace the filter every few months to maintain its effectiveness.
Programmable Cleaning Modes
This robot vacuum offers preset cleaning modes. These modes include an edge-cleaning mode, a spot-cleaning mode, and a general randomized cleaning mode.
An included remote control allows you to make changes as needed. You can also use the remote to direct your robot vacuum to particular areas.
Good for Pet Hair
This unit is well-suited to collecting pet hair — especially lightweight, finer dust, and dirt. It can be an excellent tool for maintaining the space your pets occupy.
Regular cleaning with this vacuum can prevent the pet hair tumbleweeds that hardwood floors are known for.
What We Don't Like
Small Dustbin Capacity
Despite this model's height, the dustbin is quite small and won't handle larger messes. The dustbin offers only 0.2 liters of space for storage and will need frequent emptying.
While it's great for picking up fine and lightweight messes, you should plan on dumping the dustbin after each use.
Product Specs
| | |
| --- | --- |
| Suction Power | 1200Pa |
| Height | 2.9 inches |
| Diameter | 11 inches |
| Battery Life | 90 minutes |
| Package Includes | Charging port, AC adapter, cleaning tool, HEPA filter, remote control |
Our Ratings
Community Feedback
"Love the efficiency of this robotic floor cleaner in tackling pet hair and reducing my cleaning time. Although it requires frequent emptying of the storage bin and struggles with area rugs, its performance outweighs these minor inconveniences. For the price, this lightweight and reliable robot vacuum is a valuable addition to my cleaning routine."
---
Shark Ion R75 Robot Vacuum
Best for Wi-Fi Connectivity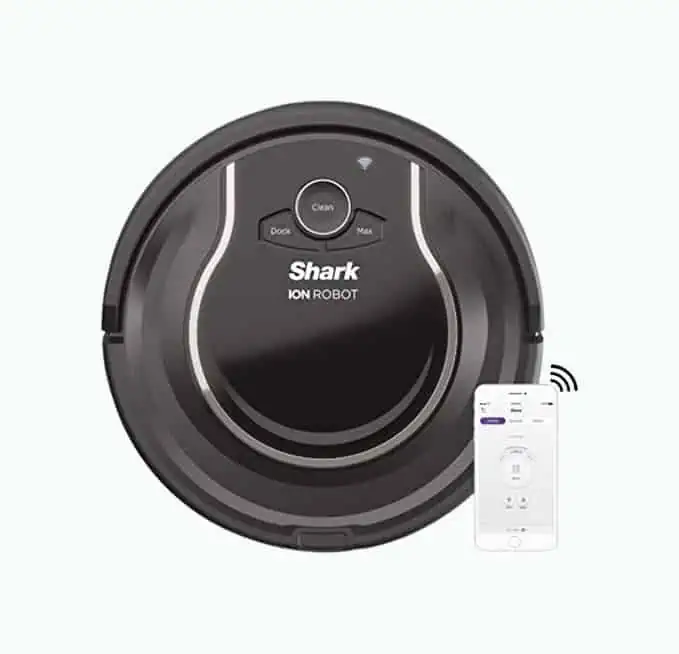 This unit from Shark works with Alexa; using voice control or an app, you can schedule cleanings or order your robot to clean a new mess.
The smart-sensing technology learns where furniture is. This causes fewer accidents and prevents your vacuum from becoming trapped less frequently. Additional proximity sensors notify the robot when it's close to obstacles, and it adjusts accordingly.
The included brush thoroughly gathers debris and dirt on the floor. The self-grooming system untangles hair, string, and other long pieces that cause obstructions. Thankfully, the bristles on the brush work well on both hardwood and carpeted areas.
Featuring a low-profile design and an easy-to-empty dustbin, this model is very user-friendly. It's unlikely to become stuck under furniture. Plus, the dustbin can hold 0.5 liters of collected debris.
What We Like
Longer-Than-Expected Battery Life
This model is advertised as having an hour's worth of active vacuuming time. Many users reported their vacuum could clean for closer to two hours before returning to its charging dock.
Worry-Free Brush System
Having a brush can give you a better clean. If you've ever dealt with a rotating brush on, though, you know it can be a hassle to keep the brush clean. The self-cleaning feature on this bot makes keeping your space clean even easier and keeps your robot in working order.
Voice Command Capabilities
With the ability to connect to Wi-Fi and an Alexa device, this robot is convenient to use. Once your system is set up, you can make changes and schedule cleanings on the go. When you don't have your phone handy for the accompanying app, you can give your information directly to Alexa.
What We Don't Like
This Unit Is Best for Light Cleaning
This robot vacuum doesn't have a tremendous amount of suction power. Though its dustbin is large enough to handle more substantial messes, the power may not be. For best results, plan on using this robot for mostly light-duty messes.
There Is No Way to Direct the Vacuum
Though you can schedule cleanings through the app or with voice control, you can't physically direct the robot. If there's a particular mess you need your robot to get to, you'll have to physically move it to the area. You can also wait for the vacuum to get there on its own, but you won't be able to assign it an accompanying cleaning mode.
Product Specs
| | |
| --- | --- |
| Suction Power | 1000Pa |
| Height | 2.6 inches |
| Diameter | 12.6 inches |
| Battery Life | 60 minutes |
| Package Includes | Charging dock, filter, side brushes, botboundary connectors, 9 feet of botboundary tape |
Our Ratings
Community Feedback
"Excellent cleaning robot with a few quirks, this vacuum is ideal for open floor spaces and tech-savvy individuals. Initially, I was captivated by its ability to navigate around obstacles and avoid falling down stairs. However, it can get stuck in certain areas and doesn't seem to learn from previous mistakes. Additionally, the Alexa compatibility is unreliable and scheduling can be inconsistent. Although it requires frequent maintenance, it effectively picks up pet hair and dust. If you have a minimalist home or a large open space, this vacuum can be a helpful addition, but those with more complex floor plans might consider higher-end models."
---
iRobot Roomba 675 Robot Vacuum
Best High-Tech Robot Vacuum
This unit features a three-stage cleaning approach. First, it loosens and lifts; then, it adds in suction to collect both large and fine debris. A patented dirt-detecting technology alerts this model to areas where the vacuum needs to work harder.
You can expect 90 minutes of run time from this model. It also returns automatically to its docking station when needed. This model is compatible with the Roomba cleaning app and allows you to schedule cleanings remotely.
Great for hardwood floors, this model can move easily between different surface types. An auto-adjusting head changes positions according to the floor your robot is traveling on.
It's also able to move over flooring transitions on its own. Finally, enjoy the edge-sweeping brush that helps it perform thorough cleanings along walls and through corners.
What We Like
Offers Wi-Fi Connectivity
This is a high-tech unit that can connect with your Wi-Fi network. A corresponding app also allows you to stay in communication with your robot. This makes scheduling and starting cleaning sessions easier than ever.
When it comes to platforms, you have options with this Roomba. It works with both Alexa and Google and is compatible with Android and iOS operating systems.
Advanced Cleaning System
Suction power is great when it comes to vacuums. However, we love that more thought has gone into this product than just having more suction force. The unique three-stage cleaning system makes cleaning sessions more productive, even if there's less suction power involved.
Navigates Floor Changes Easily
The auto-sensing cleaning heads on this unit make surface transitions a breeze for this robot. It won't get stuck and wear its battery down as it moves from area to area. It's also equipped with anti-falling sensors. So, it won't attempt larger drops that could damage the unit.
What We Don't Like
Less Powerful Suction
This model has many technological advancements. However, when it comes to suction power, it only has 600Pa (0.6 kPa) to offer.
However, the unique three-stage cleaning approach loosens and lifts dirt, so less suction is tolerable. Still, you may find there isn't enough power there to deal with larger or heavier debris.
This Is a Larger Unit
This robot vacuum is taller and has a greater diameter than some other models on the market. You may find it is too large to fit under certain pieces of furniture.
Regardless, the greater diameter and additional side sweeper allow the robot to cover more space in a single pass. This can be an asset if you're vacuuming a larger open area.
Product Specs
| | |
| --- | --- |
| Suction Power | 600Pa |
| Height | 3.5 inches |
| Diameter | 13.4 inches |
| Battery Life | 90 minutes |
| Package Includes | Docking station, extra filter, owner's manual |
Our Ratings
Community Feedback
"From the moment I received my Roomba 675, I was impressed with its advanced features and ease of setup. The Wi-Fi connectivity and app made operating the device a breeze, and it's surprisingly quiet during its cleaning sessions. It has done an exceptional job navigating both carpet and tile floors, as well as maneuvering under furniture and climbing onto mats."
---
Advantages of Robot Vacuums for Hardwood Floors
Robot vacuums can make your housekeeping duties a little easier. Here are some of our favorite reasons to use a robot vacuum when you have hardwood flooring:
What to Look For
When shopping for the perfect robot vacuum, you'll want to keep the following in mind:
---
Tips for Using Your Robot Vacuum
1.

Prep Your Area In Advance

A robot vacuum can make things easier for you. However, there are some things you can do to keep things running smoothly.

You'll need to remove any items from the floor that the robots can accidentally suck up or get stuck on. If you'd prefer they focus on a particular room, you may need to close off that area.
2.

Use Your Robot Vacuum Often

These units are designed to make your life easier. One way they're able to do that is by tackling light messes before they become out of control. Once there's a significant amount of dirt or grime involved, your unit may not be able to clean it well.

To avoid this, you can schedule frequent cleanings. Even short sessions are useful. They'll increase the overall effectiveness of your vacuum.
3.

Clean Your Robot Vacuum Frequently

Keeping your vacuum clean will improve its performance. It will also increase the longevity of your unit.

Many vacuums come with a cleaning kit or brush to better maintain your unit. So, make sure to empty the dustbin cavity frequently and clean the cleaning mechanism regularly.
FAQs
---
Thank You For Your Feedback!
Thank You For Your Feedback!