When using a pressure washer, the only pressure should be from the appliance. Don't add any more pressure to yourself by randomly choosing your fittings. You'll end up being disappointed.
Instead, you need to learn about all the different fittings before choosing wisely.
There are a few different types, lots of materials to choose from and many different size factors to consider. With all the helpful information in this guide, choosing your pressure washer fittings has never been easier.
Key Takeaways
There are five main types of pressure washer fittings: couplers, adapters, quick connect fittings, swivels, and splitters.
Pressure washer fittings come in different materials like brass, plastic, rubber (O Rings), and stainless steel, with brass and stainless steel being the most durable and corrosion-resistant options.
Fittings come in various sizes such as M22, 3/8″ NPT, and 1/4″, so it's essential to choose the right size for your pressure washer.
Always double-check if the fitting is compatible with your pressure washer model, and consider your needs and preferences, such as quick setup or preventing hose kinks.
---
Types of Pressure Washer Fittings
Let's have a look at the different types of pressure washer fittings. The main ones include couplers, adapters, quick connect fittings, swivels, and splitters.
Couplers
Couplers, often known as couplings, come in a variety of sizes to connect to your pressure washer gun, hose pipes, or other nozzles. They are often made of high-quality and anti-corrosive materials. You can also find quick release or screw couplings, depending on your preference.
Adapters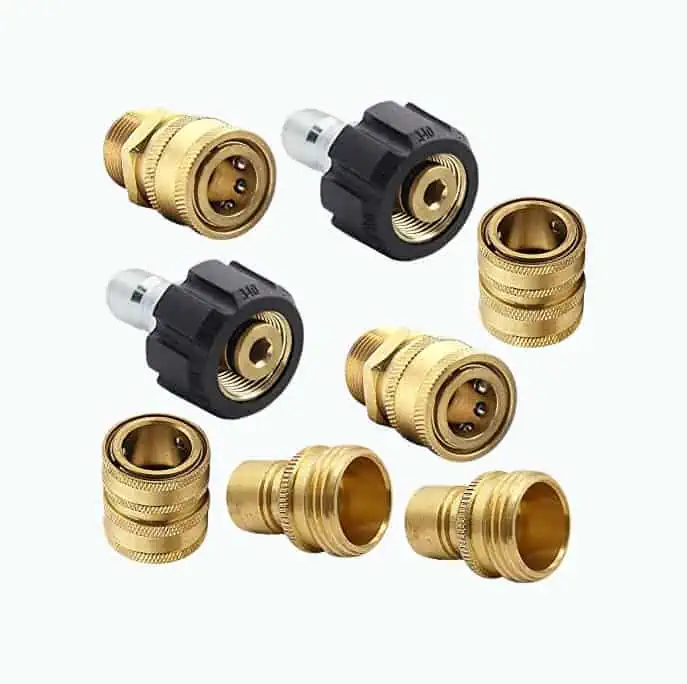 The word adapters can be an umbrella term for different types of fittings, but normally, they are used to refer to a certain type of coupling.
You can use adapters for adding attachments and converting two different types of fittings. For example, you could add one end to a ¼ inch quick disconnect female fitting and the other end to a nozzle tip with a ¼ inch plug that wouldn't otherwise match the pressure washer itself.
Quick Connect Fittings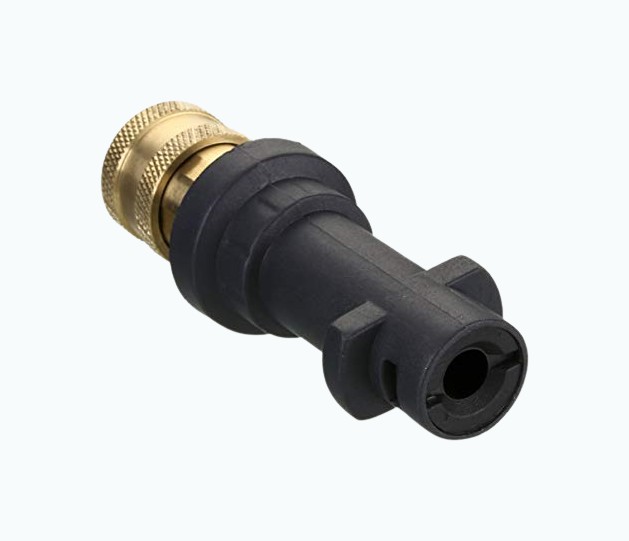 Quick connect fittings are very popular as they allow you to quickly connect and remove attachments with very little hassle. They have two ends, a female and male side.
The female side, often called sockets, has an o-ring to prevent leaks. The male side, sometimes called a plug, has threading on the outside to connect to the female end. Quick connect fittings may also come with nozzles attached, but you can use them as adapters, too.
Do Quick Connect Fittings Reduce Water Pressure?
Certain ones can reduce water pressure. For instance, some have a maximum PSI. So if you have a pressure washer that can handle 3000 PSI, but choose a 2500 PSI fitting, then you will experience reduced pressure washer.
Also, flow-stop quick-connect fittings can also reduce water pressure — so watch out for them.
Swivels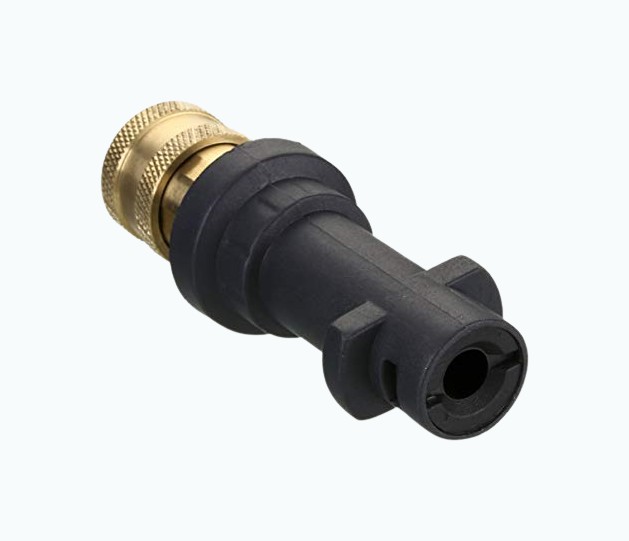 A swivel fitting can stop pressure washer hoses from kinking and tangling. The fitting allows the hose to swivel or spin so that you don't have to twist the spray trigger gun and extension wand awkwardly to get it to move positions. The hose will naturally untwist as you maneuver.
This fitting type is a preference for many people since they can improve your pressure washing experience.
Splitters
These are y-shaped fittings that work really well with a high PSI. You can connect two pressure washer hoses to both ends which allows you to use two pressure washers — or alternatively two attachments — at the same time for extra power.
This is a must-have fitting if you have a big job at hand. We recommend these for high-power pressure washers with a GPM of 4 or higher.
Which Material Is Best for Pressure Washer Fittings?
Pressure washer fittings come in a few different materials. We'll walk you through the main factors of each so you can decide which is best. But we'll give you our opinion anyway, in case you're still unsure!
Brass
Brass is the most common fitting material. It's made from copper and zinc, and therefore has a low melting point which protects it from corrosion or damage from hot water.
Brass is also quite easy to attach to your machine, even of all sorts of different shapes. It's more affordable than stainless steel but more expensive than plastic.
Plastic
Plastic is pretty common, too, but it is cheaper. While the price point might be tempting, you should only choose plastic for light-duty electric pressure washers as they can't handle higher pressure. They are prone to cracking and damage, so they're not the most durable.
Rubber (O Rings)
Rubber, or o-rings, are used in female fittings. They're great at preventing leaks. You'll find them in quick connect fittings.
If you're after a quick-connect then you may end up with rubber components. You should keep in mind that rubber may also bend or warp. However, it can also decrease the water pressure depending on what type of quick connect fitting you choose.
Stainless Steel
Stainless steel is a very reliable material. It has chromium in it to prevent rust and corrosion, as well as provide protection from chemicals. So you know that it will last a while, which is why it can be quite expensive. But the durability makes that price worth it, in our opinion.
Bottom Line
So what's the best material? In our opinion, brass and stainless steel are the best. Both are durable and corrosion-resistant. Stainless steel is more expensive, but it will last a long time. However, if you're on a bit of a budget, brass is a fantastic alternative.
What Size Are Pressure Washer Fittings?
When choosing your pressure washer fitting, one of the biggest questions is what size should you get? There are three main sizes we'll discuss: M22, ⅜ inch NPT, and ¼ inch.
Before we get into that, we'll talk about threads quickly. One question is — do you include the thread in the measurement?
It depends on the type of fitting. The two main differences are NPT (National Pipe Thread — the US sizing) and BSP (British Standard Pipe — the British version).
These two types don't work together, so you should check what your pressure washer is designed to fit. The main difference is that NPT fittings have a 60-degree angle with flattened peaks and valleys, plus the threads per inch are different (1). BSP threads have a 55-degree angle with rounded peaks and valleys.
We'll be focusing on the US measurements for the purpose of this post. But do keep in mind that different countries measure the threads differently.
M22
M22 threads are most commonly found on pressure washer pumps, hoses, and spray guns. They're called M22 because the outer diameter is 22 millimeters. The inner plug on the female side is 14 millimeters with an o-ring to prevent leaks.
You should also note that M22 is used on electric pressure washers, with a bigger internal diameter of 15 millimeters rather than 14.
3/8″ NPT
This is pretty straightforward. The size is ⅜ of an inch. It refers to the threaded male and female end of the fitting though, rather than the connection at the other end of the fitting.
1/4″
These are ¼ inch in diameter. They are usually for hose, gun, and machine thread connectors. Again, this refers to the threaded male and female end of the fitting, rather than the connection at the other end.
How to Measure Pressure Water Fittings
You will need to get a caliper which is a very particular measuring device that goes down to one-millimeter dimensions. You could use a measuring tape but it will be much more finicky and you could end up with inaccurate measurements.
What About Fittings for Electrical Pressure Washers?
There are some differences. First up, the electric pressure washer coupler will have an internal diameter of 15 millimeters instead of 14. So if you connect your hose from your gas pressure washer to your electric, it won't fit. The one-millimeter difference will cause leaks.
Another thing to be aware of is that some residential electric pressure washers have custom fittings that only work with that specific brand. Therefore, you may have to use attachments or fittings by that brand. Check with your manufacturer to see what their specific advice is.
Which Pressure Washer Fittings Should You Buy?
Of course, the main thing depends on the size of your pressure washer. But let's look at the top details you should consider depending on individual preferences.
Choose quick connect fittings if you value getting things set up quickly. It can take less than 15 seconds to set up a quick-connect fitting so you can get to your job much faster.
You may want to consider swivel fittings as they prevent kinking and twisting. This is a huge pro point that you'll be grateful for when you're doing the job. Try pressure washing without one and then with one — notice the big difference!
You may want a splitter fitting for big jobs. This allows you to attach two pressure washers at once for extra pressure. You'll get heavy-duty jobs done much faster.
Material is a big factor when choosing your pressure washer fitting. We recommend stainless steel or brass because of their durability and corrosion-resistant characteristics.
Last but not least, double-check if the fitting is American or British as this will determine if it will fit properly and prevent leaks.
FAQs
---
Make It Fit
Now that you know everything there is to know about pressure washer fittings, you're sure to find one that fits. Not only physically, but also with what you need, your budget, and your durability requirements.
There are lots of different factors to consider, but this guide will have narrowed down the main criteria. Next time you shop, you'll be clued up with the types, materials, and sizes which will make choosing your fitting a whole lot easier.
Thank You For Your Feedback!
Thank You For Your Feedback!