Without the proper attachments, you may notice your pressure washer isn't living up to your expectations.
Using a variety of pressure washer attachments can make your cleaning experience much more efficient. There are lots of different types of pressure washer attachments including spray nozzles, hoses and wands, soap nozzles, water filters, and more.
We'll walk you through the different types, what they do and when you should use them. This will help you find attachments that will help you in your cleaning routine so that you can deep clean every speck of dirt in and around the home.
Key Takeaways
Pressure washer attachments increase efficiency and are designed for specific cleaning tasks, such as spray nozzles, hoses and wands, and soap nozzles.
Spray nozzles have different angles for various cleaning needs, ranging from zero degrees for stubborn stains to 65 degrees for gentle surfaces.
Specialized attachments like gutter cleaners, sandblasters, and foam cannons target specific cleaning jobs like gutters, rust removal, and distributing detergent.
Accessories such as hose reels and water filters help protect your equipment and improve your cleaning experience.
---
Types of Pressure Washer Attachments
With more than 10 different types of attachments, it can be an overwhelming prospect. But with our handy guide to each attachment, you will be able to choose which ones are going to aid your pressure washing.
Buyer's Tip
You don't need to buy all these attachments. Go through the list and decide which ones you'd get the most use out of and only buy those. However, we do recommend everybody has the five basic spray nozzles.
Spray Nozzles
Pressure washers usually come with five different spray nozzles. These are color-coded, but they are also coded by degrees: zero, 15, 25, 40, and 65. The higher the number, the wider the spray area.
You should use a different type of nozzle depending on the task at hand. For instance, zero is used for cleaning tough stains on high-strength concrete. 25 degrees is the most common since it's gentle but strong enough for most kinds of dirt.
---
Hoses and Wands
Some pressure washers come without a hose or wand, but if you want to get into hard-to-reach places, then you have a few different options to choose from.
Extension Hoses
Extension hoses, often known as extension wands, are very handy for getting into hard-to-reach or high places. You may use an extension wand for cleaning the top of a car or very high on the siding of a house. There are many different sizes available. Some extend the wand by up to 120 inches, giving you tons of flexibility!
Telescoping Wands
With a telescoping wand, you can use one attachment and adjust the length depending on your needs for that job. Some have the ability to clean 24 feet further, without the need for any extra tools or even a ladder.
You can set your desired length and lock it into place. This is great for cleaning big surface areas, especially with heights involved. For instance, you may use this for cleaning the sides of a building, tall windows, or even big parking lots.
Gutter Cleaners
Gutter cleaner attachments are curved attachments with a nozzle at the tip, sometimes one nozzle, but sometimes two. These attachments are specifically for cleaning gutters. The curved tip allows you to get your pressure washer into the gutters so you can deep clean them. You can also use this attachment for underneath vehicles and wheel wells.
Sandblasters
Sandblaster attachments mix together sand and water to provide an abrasive clean. You can use this for removing rust, graffiti, tough stains, grease, paint, and other elements that can't be cleaned with just water. These attachments use baking soda, river sand, or dry silica sand.
---
Soap Nozzles
Soap nozzles are extremely useful for distributing detergent and getting a deeper clean.
Foam Cannon
Foam cannons are bottles that you can attach to the gun or the end of the wand. They mix together air with your soap to create a foamy detergent that covers a bigger surface area when you're cleaning.
You can use the adjustable knob to regulate the amount of air pulled in which will change the soap bubble size and foam thickness.
The best use for foam cannons is for cleaning cars since you will often need a lot of detergent to deep clean dirt and debris from your vehicle. But you can also use foam cannons for cleaning decks, sidewalks, driveways, siding, and more.
Spray Gun
You can go for a good spray gun attachment over a foam cannon if you don't need tons of detergent at one time. Your pressure washer may already come with a spray gun, but if not, definitely invest in a good one with many nozzle attachments.
You must make sure that yours comes with the 65-degree black nozzle otherwise known as the soap nozzle. Once connected to detergent, this evenly distributes soap over your chosen surface. You can then rinse it away with the 40-degree nozzle after.
---
Surface Cleaners
Surface cleaner attachments live up to their name: they clean surfaces. They're flat circular devices that you can push along the ground to help you clean your driveway, sidewalks, deck, terraces, and other surfaces.
They usually have side skirts to keep everything contained under the unit. This prevents water spraying and debris from flying. You can also get these in a range of sizes depending on the amount of surface area you have to cover.
---
Brooms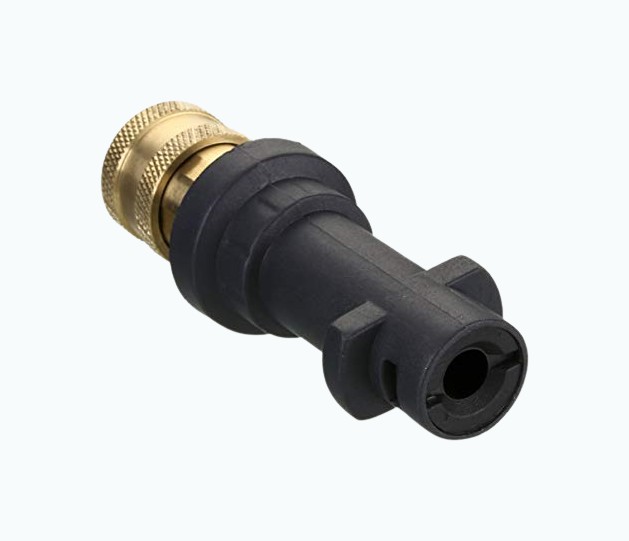 Pressure washer water brooms have wheels and water jets. You can push them along the ground and they will quickly clean surfaces.
This is a good alternative to surface cleaners, especially if you need to get underneath vehicles, trailers, trucks, or boats. It also works as an undercarriage cleaner. It saves you from needing to crawl under vehicles.
These are best for removing debris, too. So if you have sand, leaves, or other dirt on your surfaces, this is a great attachment.
---
Brushes
These brush attachments are ideal for removing surface dirt without damaging a surface. So if you have a sensitive or delicate surface that you want to treat gently, we recommend getting a brush attachment. They are often rotating which helps efficiently clean.
You may want to use these on painted surfaces, including vehicles, outdoor furniture, alloys, and boats, as well as window panes and stucco.
---
Gauges and Regulators
These attachments make it easy to monitor your water flow and pressure. Regulators even allow you to change the PSI for various jobs.
Pressure Regulators
Attach a pressure regulator to your pressure washer and you can adjust the pressure with an easy twist. Depending on the regulator and your pressure washer, you can often go from 1000 PSI all the way up to 4500 PSI. Sometimes you need a higher PSI rating for different tasks, and this makes it easier than ever.
Pressure Gauge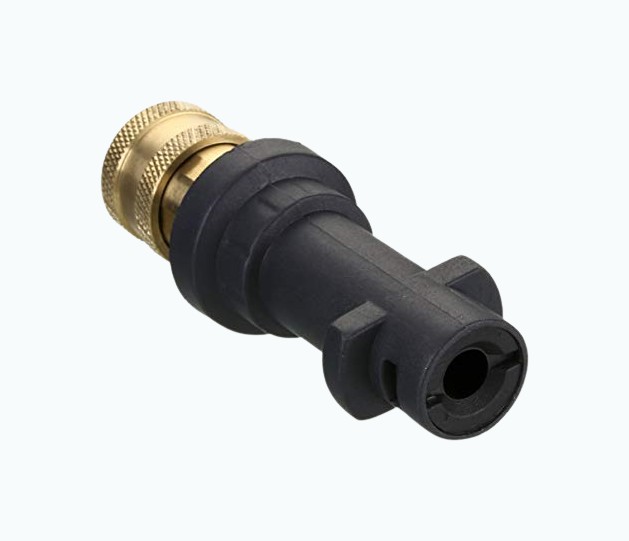 A pressure gauge gives you a PSI reading of your pressure washer. This is great for checking if your pressure washer is reaching the advertised PSI. If not, you can contact the manufacturer for advice or invest in a better quality pressure washer pump to improve the quality.
---
Connectors and Couplers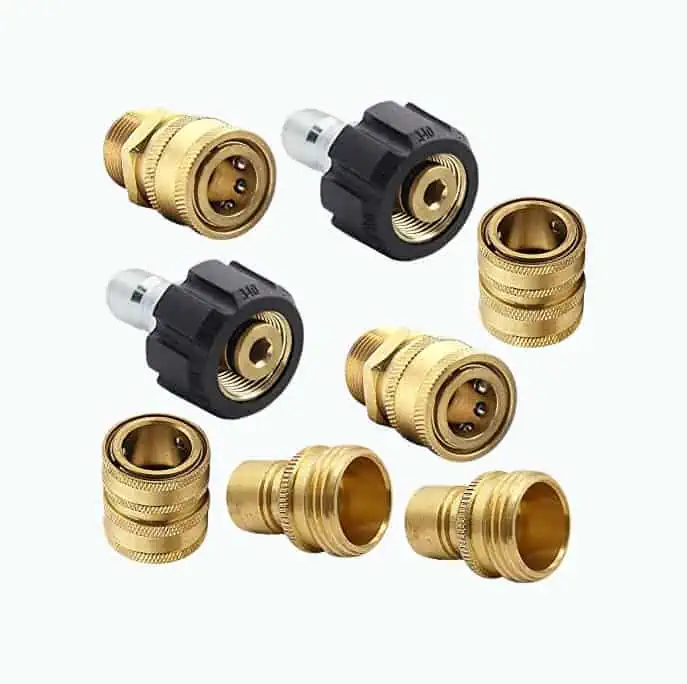 You'll find many different types of connectors and couplers. This includes a variety of couplers, different sizes of adaptors, quick connect fittings for easy removal and fitting, swivel fittings, and splitter fittings.
Depending on your model of pressure washer, you will need specific connectors to ensure that you're getting the most from your pressure washer.
Other Useful Pressure Washer Accessories
That's not all there is when it comes to pressure washer accessories.
Hose Reels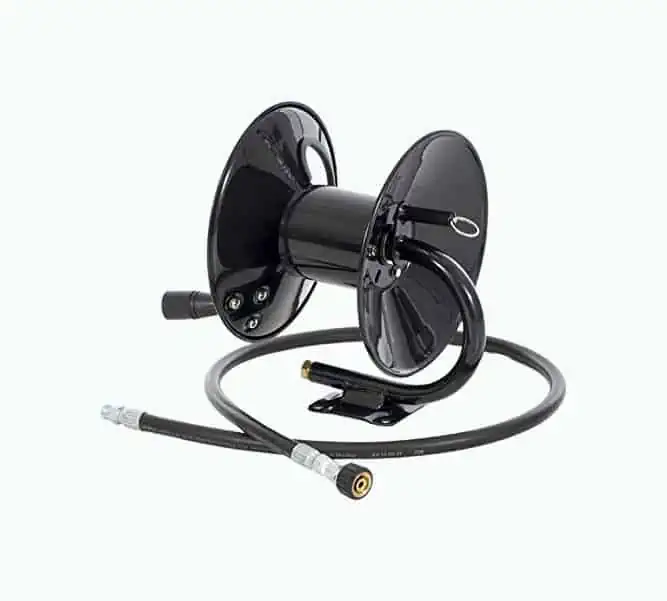 You may want to consider buying a hose reel if your pressure washer didn't come with one. This gives you somewhere to wrap up your hose during and after use. It protects the hose but also makes the pressure washer experience easier for you since your hose isn't trailing behind you.
Water Filters
Water filters are handy for keeping grit out of your pump, especially if you're using water from a river or stream. You may also be using water from wells or reclaim tanks. Utilizing a water filter can ensure that you are spraying clean water without any abrasive qualities which could damage surfaces.
FAQs
---
Get Attached
There are some pretty amazing pressure washer attachments out there for you to fall in love with. Not only will they protect your surfaces, but they will make those super tough tasks seem a whole lot more approachable!
Take some of the pressure off by choosing the right attachment for your job.
Thank You For Your Feedback!
Thank You For Your Feedback!