Scrubbing is tedious, time-consuming, and challenging. We know a way to get better, faster results without the grueling, manual effort that stubborn dirt usually demands: power scrubbers.
Power scrubbers are affordable, easy to use, and life-changing in their function. These machines are an excellent solution for a cleaner home while freeing up your time and energy.
Once you realize how effortless the best power scrubbers are to use, they're hard to resist! Check out our roundup of the five best power scrubbers to help you eliminate stubborn dirt.
Image
Model
Product Comparison Table
Features
Customer Favorite
MECO Electric Spin Scrubber
Covers all bases
Awesome versatile extras
Comfortable use
Best DIY Set
Holikme Drill Brush Attachments Set
30 multi-use attachments
Extension tool for hard-to-reach spots
Fits onto standard drills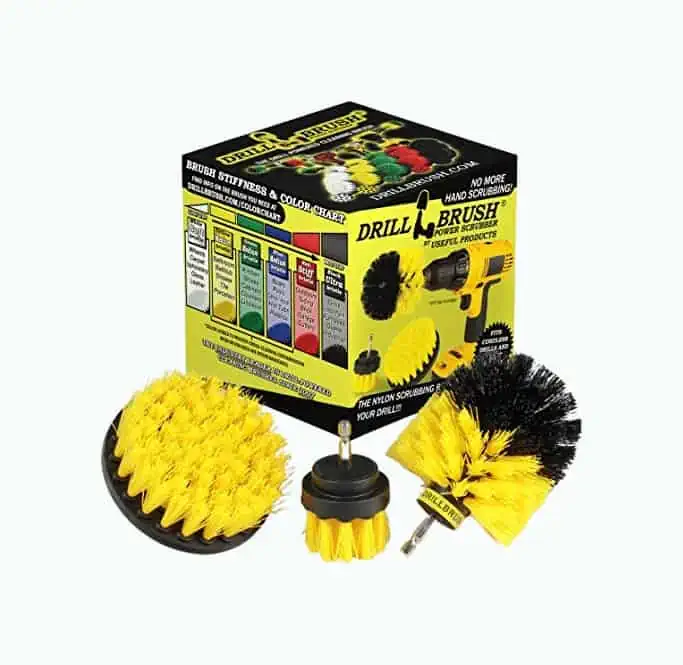 Best Budget Choice
Drillbrush All-Purpose
Budget-friendly option
Three great options
Best for bathrooms
Best High-End Scrubber
Gofoit Electric Spin
Easy extension handle
Great value for money
75 minute battery life
Best Adjustable Scrubber
Tilswall Electric Spin
3 hours cleaning per charge
360 degrees high speed
Five attachment heads
Review Methodology: At Oh So Spotless, we pride ourselves on providing you with thorough and trustworthy analysis of the best power scrubbers on the market. Our experienced professionals conduct hands-on tests, track performance data, and measure each product against a set of criteria, including effectiveness, durability, and ease of use. We evaluate products from a user's perspective, comparing design choices and their effect on users. Our research and reviews offer first-hand evidence and quantitative measurements to help you make informed decisions. In this article, we identify the key decision-making factors, rate products based on their performance, and explain what sets our top choices apart from the competition. Trust our expertise to help you find the perfect power scrubber for your cleaning needs.
---
---
The Best Power Scrubbers of 2023
Start scrubbing with these five scrubbers.
MECO Electric Spin Scrubber
Customer Favorite
Customers love this model so much because it's the whole package, giving you great value for money. It's versatile with a set of handy attachments and extra features. Use this scrubber throughout your home, for large jobs and detailing alike.
The MECO includes a flat brush, corner brush, and rounded brush. You can attach these to an ergonomic handle for easy, comfortable use.
We like that there's a built-in LED light for monitoring the battery. This prevents the surprise of running out of charge mid-clean. Simply recharge the battery with the charger when needed—no guesswork is needed.
What We Like
Covers All Bases
We like the choice of brushes included with this product. Though there are only three attachments, they're comprehensive in cleaning flat surfaces, corners, and drains. You'll have all you need.
Awesome Extras Make This Versatile
We must praise the manufacturers for a well-designed product, with an emphasis placed on convenience.
For example, servicing the power scrubber is effortless, with no unnecessary costs or hassle added.
Additionally, the LED light is a cool extra that makes maintenance easier. This works well with the battery being rechargeable and the charger included with your purchase.
Comfortable Use and Lightweight
Because of its ergonomic design, operating this scrubber is simple and won't cause strain. Happy customers compliment how light and comfortable this model is.
It's easy on your ears too. At only 70 decibels, it's much quieter than the 90 decibels of standard power drills (1).
What We Don't Like
Charge Before Use
It's handy and cost-effective that this product is rechargeable, but there is one drawback. Since this MECO scrubber is powerful, it needs charging between each use and also before the first use. This might not sound like a problem, but the average charge time is 4-5 hours.
Medium Power
A few buyers said that while the scrubber works well, it didn't meet their power expectations. Regardless, users were still satisfied with the product's efficiency. Critical feedback is few and far between, so this could be subjective.
Product Specs
Style
Spin scrubber
Power
Rechargeable battery (2200MHA0)
Max. 20 Watts
Rotations per minute
350
Features
LED indicator light, waterproof, 70 decibels, ergonomic design
Accessories
Flat brush, pointed corner brush, round brush, charger
Our Ratings
Community Feedback
"I'm impressed with the cleaning capabilities of this product, making tasks like removing soap scum and lime buildup a breeze. However, I did experience the brush shutting off when applying pressure or moving it in certain directions, and the battery needed replacing after limited use. Despite these issues, its power and efficiency make it a valuable tool for household cleaning."
---
Holikme Drill Brush Attachments Set
Best DIY Set
Do you have a power drill at home without needing to buy an entire machine like the MECO? This Holikme set is comprehensive in cleaning, and in fact, has more attachments than our top choice.
This set includes eight brushes, 12 pieces scouring pads of different stiffness, three wool pads, five scrub sponges and an extension for tricky, out-of-reach spots. The brush range consists of a stiff brush, four medium and three soft.
This is a multi-purpose kit that you can use almost anywhere. It's safe to use on glass, tiles, and even car exteriors and can tackle stubborn dirt, grime, and grout.
What We Like
30 Attachments for Multi-Use
Your drill will become a great, versatile scrubber with this kit. Plus, with 30 attachments, it provides excellent value for money.
Use the hard brushes inside or outdoors and in tough corners of your home. The soft brush is excellent for cleaning delicate surfaces, including porcelain and carpets. Choose the medium brush for the best results for countertops, tubs, and hard floors.
Extension Tool Cleans Hard-to-Reach Spots
Many power scrubbers lack extension features. These are handy for hard-to-reach spots and for keeping your hands well away from surfaces like toilets or drains.
The included extension tool is sorely underappreciated and definitely gives this product an upper hand.
Fits Onto Standard Drills
Each brush in this set is designed to fit standard drills. Because it handles most cleaning needs, this multi-purpose set eliminates the cost and hassle of using different tools.
What We Don't Like
Drill Not Included
You need a separate drill to attach these brushes. If you don't already have one, investing in a drill isn't worth it since they cost more than scrubbers. That is unless you need a drill for other uses around the home.
If you're in this situation, consider going with our top choice instead.
Product Specs
| | |
| --- | --- |
| Style | Drill brush attachment set |
| Power | Whatever power your drill is |
| Rotations per minute | Whatever speed your drill is |
| Features | Color-coded brush heads, compatible with standard drills |
| Accessories | A total of 30 accessories |
Our Ratings
Community Feedback
"I've recently started using the Drill Brush Attachments Set, and it has significantly improved my cleaning routine. As an art teacher, my classroom often becomes messy, but with this set, the difference is remarkable (check the before and after photo of one of my worst sinks!). It's important to remember to take breaks while using the drill, as it can heat up during extended use."
---
Drillbrush All-Purpose Power Scrubber Kit
Best Budget Choice
Here's another if you don't mind some DIY. Though the drill isn't included, you could save a lot of money on an entire machine if you already have one. With this kit, you can turn almost any handheld drill into a power scrubber.
These medium-stiff nylon brushes are best used in the bathroom, as you can use them on porcelain, fiberglass, and tiles. They're designed for gentle but effective cleaning of your tubs and sinks.
In this kit, you get three brushes: an original round brush, a flat brush, and a short bristle brush.
What We Like
Budget-Friendly Option
This brush kit comes at a fantastic price compared to power scrubber machines. If you have a drill at home, you could save tens of dollars investing in this product instead of a new handheld model. It's affordable and convenient.
Three Great Brushes
As with our MECO choice above, you get a fantastic selection of three brushes. The style of each (round, short, and flat) accommodates all your cleaning needs. They're good for use on drains, sinks, crevices, and floors.
Best for Bathrooms
Each brush is medium-stiff and made to preserve the condition of your surfaces. So you don't have to worry about scuffing your porcelain or tiles; the brushes are designed to retain their shine. Even though this is a multi-purpose kit, it's recommended for use in bathrooms because of its gentle power.
What We Don't Like
Drill Excluded
As with our Martchen's Market choice, this kit includes the brushes only, so you'll need a drill of your own. Remember that it's wiser to buy a new scrubber like our MECO recommendation if you don't own power tools. Buying a drill just to use these brushes will nullify the budget-friendly perk.
Not Universally Compatible With Drills
You can turn any power drill into a scrubber with this kit, but there are suggestions for drills to use. The manufacturer recommends 18-volt cordless drills for this brush kit. There's a slight chance that your drill may not be compatible, so make sure it will fit before you buy this.
Product Specs
| | |
| --- | --- |
| Style | Drill Brush Attachments |
| Power | Whatever power your drill is |
| Rotations per minute | Whatever speed your drill is |
| Features | Medium-stiff nylon bristles, quick-change shafts |
| Accessories | Kit includes a round brush, flat brush, and short bristle brush. |
Our Ratings
Community Feedback
"I recently purchased a drill brush set and was eager to try it out on my kids' neglected bathtub. To my delight, the brushes worked wonders when combined with a cleaning product called THE PINK STUFF. After some trial and error with water ratios, the drill brushes made my bathtub and kitchen sink look brand new. I even volunteered to clean a friend's bathtub, achieving impressive results in under an hour. These drill brushes have truly become my secret weapon for efficient and effective cleaning."
---
Gofoit Electric Spin Scrubber
Best High-End Scrubber
If you're willing to spend a little extra on a scrubber, this one won't disappoint. It's sleek, versatile, and includes four excellent attachments for concentrated cleaning of tricky dirt. A detachable extension helps you clean all those inconvenient spots you'd typically struggle to reach.
Made of high-quality ABS, polypropylene, and rubber. Its battery and brushes are strong and efficient, while the scrubber itself only weighs 2.44 pounds.
Charging the battery takes about five hours, and you get 50-75 minutes of runtime.
What We Like
Easy and Sturdy Extension Handle
Adjusting the length of this scrubber is easy. All you have to do is press a release button to dismantle the extension or lock it into place.
On top of being easy to use, the extension is made of steel, so it's easy to maintain and sturdy. Overall, it's excellent for cleaning high or out-of-reach spots.
Great Value for Money
This product will cost you more than our other choices will, but with good reason. It's a sophisticated model with a good range of features worth the price.
As with the Martchen's Market set, four brushes are included — more than most scrubbers. They include a standard dome brush, flat brush, and pointed corner brush.
The icing on the cake is that the unit is rechargeable, so you save money on replacements and maintenance.
Battery Life Up to 75 Minutes
On a full charge, the battery will last up to 75 minutes. This is excellent compared to most other scrubbers and is bound to be enough time to get all your cleaning done. Though it takes between four and five hours to charge, you get a lot out of the battery.
What We Don't Like
Not Budget-Friendly
This product may not suit you if you're on a budget. Remember that you get what you pay for with this model.
Product Specs
| | |
| --- | --- |
| Style | Spin scrubber |
| Power | Battery (DC 3.6V) |
| Rotations per minute | 300 |
| Features | Adjustable length, USB rechargeable, max. 75-minute runtime, waterproof |
| Accessories | Extension, round brush, flat brush, dome brush, corner brush |
Our Ratings
Community Feedback
"Got this scrubber to tackle my shower tiles and hard water stains in the tub. The corner attachment was useful, but the motor isn't strong enough for heavy-duty scrubbing, as it stops spinning when pressure is applied. Unfortunately, the battery life was also disappointing, lasting only about 15 minutes after a full 24-hour charge."
---
Tilswall Electric Spin Scrubber
Best Adjustable Scrubber
When it comes to cleaning, sometimes power tools just can't reach into every corner. But along came the Tilswall electric spin scrubber. With adjustable lengths and handles, you can now master flexible cleaning.
It spans from 27.6 inches to 43.3, allowing you to get into hard-to-reach corners and ceilings! Now you can ensure that every last inch of your home is sparkling clean.
What We Like
3 Hours Cleaning Per Charge
This comes with a 4,000 mAh 3.7 volts battery to ensure you have enough power to see you through all cleaning tasks. The cordless scrubber can last up to 180 minutes runtime after full charging. This allows you to get through every last stain before the battery is drained and requires recharging.
360 Degrees High Speed
Enjoy speedy full rotations with this scrubbing brush. It ensures a fantastic clean, even on the most stubborn of stains. In fact, this can fully replace the pains of elbow grease now that you have a machine that does the hard work for you.
Four Extra Attachment Heads
With four extra different attachment heads, you can clean everything. The extra-wide head is excellent for larger areas. The small flat brush is for smaller areas. The pointed brush is great for tile grout and cranny places. And the corner scrubber is for corners, tight areas, and grout lines. Overall, this scrubber can clean pretty much any area, inside or outside.
What We Don't Like
Not Completely Waterproof
While this scrubber is splash-proof, it's not completely waterproof, so you cannot immerse the whole tool into water. Instead, when cleaning, simply wipe down the scrubber with a damp cloth.
Product Specs
| | |
| --- | --- |
| Style | Spin scrubber |
| Power | Battery (3.7 volts) |
| Rotations per minute | 300 |
| Features | Adjustable handle, long battery life |
| Accessories | Extra-wide flat head brush, small flat head brush, round bristle brush, corner brush |
Our Ratings
Community Feedback
"Excellent silicone toilet brush with an innovative design that's both effective and sanitary. I found that it easily reaches the nooks and crannies of the bowl and under the rim, without holding onto any funky residue or water like traditional nylon brushes. The UV light feature is a nice touch for added cleanliness, though the durability of the light may be a concern. The brush is also versatile, as I've used it for cleaning my shower, bathtub, and even the stovetop."
---
What Is a Power Scrubber?
Power scrubbers evolved as a solution to take the effort out of scrubbing. They started as a hack, attaching a cleaning brush head to a power drill for faster cleaning.
This simple trick appealed to everyone because it paved the way for motorized cleaning in places most of us hadn't realized it was possible, like dishwashing or even toilet cleaning. It didn't take long for its innovation to shine and become much more than just a lifehack.
Drill brushes served as the blueprint for power scrubbers. Thanks to that handy shortcut, manufacturers refined and perfected the idea.
But how do they work, and why should you bother with them?
When it comes to scrubbing, these motorized devices do all the work for you. They work by quickly rotating a scrubbing brush at the push of a button. Most power scrubbers are gentle enough to use on your dishes while retaining enough force to fight stubborn dirt.
Power scrubbers are multi-purpose, versatile tools that you can use throughout your home. Though they were put together to make dishwashing easier, there's so much more they can do for you.
What Are Power Scrubbers Used For?
The short answer is almost everything. If it needs scrubbing, chances are a power scrubber can handle it. Your home has many areas that could use a deep clean, and these devices are designed to handle them all.
Flat surfaces: A flat brush works wonders on dishes. However, you can use them on your counters and floors (or any flat surface). Brush hardness will factor in, as you don't want to scrape your delicate finishes. If you're unsure, opt for a soft brush, or follow the manufacturer's instructions to prevent damage.
Drain cleaning: Drains are gross, especially when they're filled with bits of old food or hair. A round brush — what you'd use to clean your toilet — is the ideal shape to clear drains of gunk. This could minimize your exposure to harsh cleaning chemicals and spare you the trouble and dirty work of cleaning them out by hand (2).
Ovens and stoves: Round brushes are great for use on stubborn dirt. You can use them on your stovetop or inside your oven to remove grit and other nasty, caked-on dirt. As with drains, this is an excellent alternative if you're not a fan of harsh cleaners.
Nooks and crannies: Your wall skirting, tile grout, corners, and ridges will also benefit from power scrubbing. You'll save time by not switching between tools or cloths and won't have to exert as much effort to tackle dirt and build-up. As with your floors, make sure your brushes aren't too abrasive if you attempt this to avoid scratching the surfaces.
Bathrooms: It's a good idea to deep clean your bathroom as frequently as possible, so why not use a motorized scrubber? As with your kitchen, a power scrubber can clean your bathroom's flat surfaces, drains, and sinks — and your toilet, too.
Concentrated areas: Some power scrubbers will come with a handy detailing attachment. You can use this to double down on smaller problem spots.
Use Separate Brushes
If you clean your bathroom with a power scrubber, you'll need a different set of brushes for other rooms. This prevents the spreading of germs throughout the home.
Why Buy a Power Scrubber?
Sometimes cleaning is time-consuming, tiring, and dull work. Removing stubborn dirt, grime and stains is already tricky, but we worsen our struggle by using inconvenient or incorrect supplies.
1.

You Won't Get Your Hands Dirty

Manual scrubbing isn't the most fun cleaning task, especially when the grime and dirt are deep-rooted. No one enjoys sticking their hands into dirty dishwater or buckets of soiled water.

That's where a power scrubber comes in.

You can thank design for that, as the shape of a scrubber will keep your hands dry. You use a button to operate them. Plus, their long handles mean you don't have to touch the water if you don't want to.

Protect Yourself

Wear a pair of rubber gloves while you clean. They protect your hands from heat, chemicals, and germs

(3)

.
2.

Your Kitchen Will Harbor Fewer Germs

Leaving dishes to stand is one of the fastest ways to spread pathogens through your home (4). Traces of food breed bacteria that quickly spread to other surfaces in your kitchen. If you handle anything contaminated — even if it looks clean — your hands will transfer this bacteria to whatever else you touch.

To prevent this, it's recommended that you use a scrubbing brush with force to remove old food and germs. What better way to do this than with a high-powered scrubber which saves effort?

Quick Tip

Don't forget to clean your power scrubber's brushes. One way to do this is to apply

dish soap

to the brush before working it against your sink under running water. After, use a clean towel to dry the bristles, and make sure it's completely dry before storing it.
3.

Money Saver

Have you ever thought that disposable kitchen sponges are exactly that: disposable? We've all used them beyond their lifespan, but you should discard them more frequently than you'd think. It's recommended that you chuck your kitchen sponges out after a week of use (5).

It doesn't seem like a big deal, but consider how quickly the cost of replacing them will add up — even if they're budget buys. The initial cost of a power scrubber is higher, but you'll save a significant amount of money, thanks to its durability.

Brushes are superior to sponges because they don't retain water. Since they dry faster, there's less risk of bacteria or germs breeding inside or on them (6).
How to Choose the Best Power Scrubbers
There's a variety of models available, so how do you know which one is right for you? We've compiled a checklist of what you should keep in mind before you settle on a specific model:
---
FAQs
---
Power Through
Scrubbing is tedious work, but a power scrubber will lessen the burden of cleaning. They're relatively inexpensive tools that will save you money in the long run. We love that they're designed to make scrubbing easier, faster, and more efficient.
Different varieties are available, so choose one that suits your situation. For example, some simply require you to add a brush attachment to your power drill. Others, though, are all-inclusive machines. Either way, they both have strengths. Taking the DIY road will save you money, while a spin scrubber gives you more reach.
Thank You For Your Feedback!
Thank You For Your Feedback!