Mold is one thing that almost no one is a stranger to. This multicellular fungus shows up in different places, indoors and outdoors, as long as sufficient moisture is available.
As well as being a danger to your health and home, mold is a terrible eyesore. It's not uncommon that it defaces anything it grows on. It also stinks up the place with a musty smell that will have you wrinkling your nose in disgust.
Mold is undoubtedly not something you want in your home. So we've taken it upon ourselves to find the best mold foggers on the market to help you get rid of it.
To conclude our five favorites, we looked at expert advice, real customer reviews and applied our own expertise.
Image
Model
Product Comparison Table
Features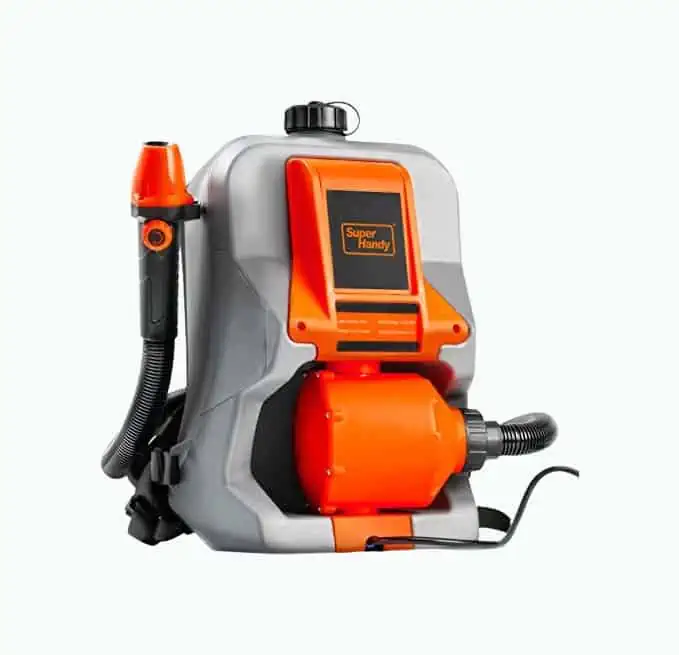 Best Mold Fogger for Mobility
SuperHandy Fogger Machine
Indoor and outdoor use
Lightweight
Easy to use
Best for Dry Fogging
Smith Performance Sprayers
Dry fogging
Ease of use
Controlled heating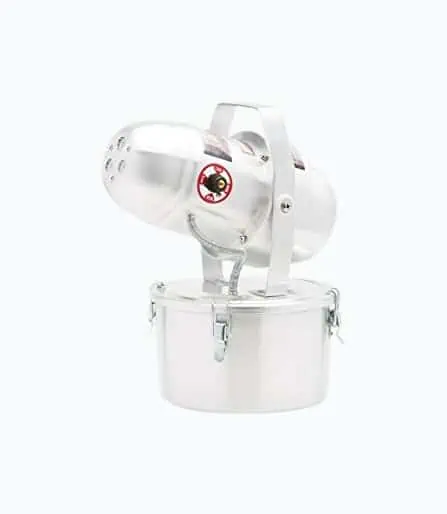 Best for Large Areas
Concrobium Mold Control Fogger
Pretreating building material
Gets in hard-to-reach places
Robust unit
Best for Smaller Spaces
Treasure Hunter Cold Fogger
Small and portable
Oil and water-based solutions
Value for money
Most Versatile Mold Fogger
Tri Jet ULV Non Thermal Fogger
Five year limited warranty
Great for crawl spaces
Safe and effective
Review Methodology: At Oh So Spotless, our thorough analysis and hands-on experience with mold foggers allow us to provide you with reliable, data-driven evaluations of the best products on the market. We assess each mold fogger based on key criteria such as performance, ease of use, and effectiveness, and compare them against industry benchmarks and competitors. Our professional team conducts rigorous tests, tracks results, and shares quantitative measurements to help you make an informed decision. We identify the most crucial factors in choosing the best mold fogger, such as coverage area, safety features, and design choices, to ensure you get the optimal solution for your mold problems. By providing evidence-based reviews and emphasizing user perspectives, we aim to instill trust in our recommendations and guide you towards the best mold foggers available.
---
---
The Best Mold Foggers of 2023
We've taken the time to look over the industry's top products. In our search, we also reviewed customer feedback from the public.
We looked at each product's use, purpose, size, and efficiency. As a result, we have come up with a list of the best mold foggers to help make shopping easier for you.
SuperHandy Backpack Mist Duster
Best Mold Fogger for Mobility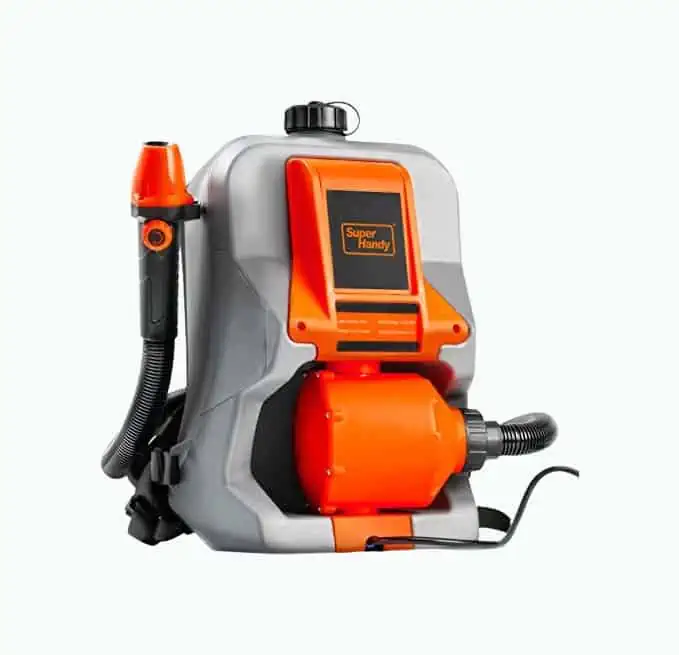 This portable backpack fogger is one that you can rely on. It has a 20-feet horizontal spray range and a 4.9 to 6.5-feet vertical spray range, so it's suitable for smaller places, but you can use this outdoors, too. This versatile mold fogger is great for controlling mold and mildew, as well as a variety of other things.
For example, you can use this to disinfect hotels, schools, homes, theatres, malls, hospitals, and much more. It's designed for indoor fumigation. However, it's also designed for pesticides outdoors in yards, gardens, greenhouses, and farms.
You can also use this to water fruit and flowers. It's an all-in-one product that you'll get a lot of use out of, whether you're using it personally or commercially!
When you're using it, you'll be thankful you purchased such a comfortable and lightweight option that is easy to wear for a few hours at a time.
What We Like
Indoor and Outdoor Use
As mentioned, this is a top choice for its indoor and outdoor capabilities. Whether you're disinfecting, sanitizing, or even just watering items — you can use this wherever you go!
Lightweight at 10 Pounds
Wearing this backpack is a breeze, not just because it's comfortable but because it's lightweight at 10.43 pounds. A huge bonus is that it has a generous tank capacity of three gallons and a cushioned air mesh pad for maximum airflow, making fogging comfortable.
Easy to Use
Even for beginners, this is an excellent product to start with. It's easy to dilute your solution according to the product label with this tank. It has markings and a funnel, so you can easily fill it up without heat, exhaust, or loud noises.
Of course, you should use PPE when applicable since residual liquid can rise afterward. This can lead to irritated skin, respiratory issues, or other problems, depending on your solution.
Delivers a Fine Mist
This delivers a fine mist with droplets of zero to 50 microns. This helps to minimize dust and keep up humidity which is ideal for asbestos abatement.
What We Don't Like
Noisy and Irritating
Some customers find the machine a bit too loud. To help you decide, does this outweigh the advantages? Think it over.
The Cord Is Annoying
You lose some flexibility when you choose a corded option over a battery-powered one. If you need more wiggle room, this one might get on your nerves.
Product Specs
| | |
| --- | --- |
| Attachments Included | ULV fogger |
| Item Weight | 10.43 pounds |
| Tank Size | 3 gallons |
| Particle Size | 0 – 50 microns |
Our Ratings
Community Feedback
From my personal experience using this product for over two years, I can confidently say that it works really well for a variety of applications, including sanitizing large spaces like churches and gyms. One thing to note is the importance of using distilled water to prevent lime deposits from clogging the internal suction tube. The fogger is quite powerful, although it does tend to produce more of a heavy mist than a true fog. My only concern is the placement of the on/off switch, which gets extremely hot and is located close to the water mixture; I believe it would be more user-friendly if placed on the backpack itself.
---
Smith Performance Sprayers FT982 Electric Thermal Fogger
Best for Dry Fogging
This fogger will easily blow you away (not literally). It's an electric thermal fogger that runs on a 110-volt power supply. It easily fogs any material suitable for thermal fogging, whether oil-based or water-based.
The Smith Performance Sprayer also can create a dry fog. This means that the microscopic particles it produces won't leave behind moisture. You can fog without fear of moisture pooling anywhere.
It's very easy to use. You'll find a trigger under the handle to turn it on and off and a knob to easily activate dry fogging. This is super comfortable as you can operate with the same hand you carry the fogger.
The device heats up pretty quickly. You can get it working right after preheating for a minimum of two minutes and still get it working right.
What We Like
Dry Fogging Feature
It's a wonderful feature to be able to fog without having moisture pooling at the nozzle. With the dry fog, you don't have to worry about moisture showing up in puddles on the floor or dripping down walls.
Ease of Use
This fogger is incredibly easy to use with its well-placed controls and simple, one-structure build. This allows you to use it with one hand easily.
Durable Construction
Its durable aluminum container can hold up to 0.75 gallons of solution at a time. This comes with latches for extra security and to avoid tipping.
Heats Quickly, Lasts a While
This machine heats up in only a few minutes. You'll get ours of use out of it before you need to refill it.
Impressive and Complete Coverage
This device atomizes the chemical to create a super fine fog. It can get into nooks, crannies, and other tiny spaces, providing complete coverage.
What We Don't Like
Careful Handling
The Smith Performance needs to be handled with the same care as needed for a hot kettle. It should not be allowed too close to the body, or it could cause a slight burn.
Extension Cord Included
As this is an electric fogger, there is the problem of an extension cord. This needs to stay plugged in, so you'll have to drag the cord around to keep it powered and running.
Product Specs
| | |
| --- | --- |
| Type | Electric thermal fogger |
| Item Weight | 6 pounds |
| Tank Size | 0.75 gallons |
| Particle Size | 10 – 50 microns |
Our Ratings
Community Feedback
I've been using this product for three years now, and it has proven to be a reliable and efficient solution for fogging insecticides in my storage areas and vehicles. The electric fogger is safe to use and produces a powerful fog without the need for butane, propane, or fuel. I typically use Shockwave insecticide, and this fogger handles it seamlessly, significantly reducing my costs compared to using bug bombs. However, one downside is the loud noise it generates, making it challenging to use during early mornings or late evenings without disturbing neighbors. Additionally, I experienced some minor issues with the screw attaching the top to the tank and the gasket sealing the tank, which required adjustments and replacements.
---
Concrobium 200-620810 Mold Control Fogger
Best for Large Areas
The Concrobium is a popular well-built, sturdy model which can cover over 400 square feet in a single application.
It comes with a concise list of instructions on how to use the device. Use alongside Concrobium Mold Control Formula to effectively eliminate and prevent mold without harmful chemicals.
Using the cold fogging method, this device creates a very light and even mist. The generated mist sufficiently covers the room it's being used in. It's terrific for indoor use, shooting the spray as far as 20 feet.
What We Like
Pretreating Building Material
Due to its ability to create fine mists that can permeate surfaces, you can use this fogger to treat building materials. This makes it even more difficult for mold to take root in a building.
Gets in Hard-to-Reach Places
This fogger does all the hard work with its 20-foot spray. It can reach all the difficult places without your moving the fogger.
Even Distribution Up to 2800 Square Feet
This device evenly distributes the mold cleaner via a fine mist. It gets everywhere you need in areas up to 2800 square feet.
It Uses Concrobium Mold Control
This device uses the power of Concrobium Mold Control, a powerful solution made without harmful chemicals. When you use this solution, you don't have to scrub or rinse. It's so easy (and safe) to use.
It can remove mold, mildew, and other musty odors. It works on tile, concrete, fabric, metal, wood, and more.
What We Don't Like
Could Have Damaged Nozzles
While this is a great fogger, some reviewers report that the nozzle arrived damaged. In this instance, you would need to call the company for a replacement.
Not the Most Secure Device
The fastening clips on the device aren't the strongest. After a few uses, they might come loose. Then liquid can leak out.
Product Specs
| | |
| --- | --- |
| Type | ULV cold fogger |
| Item Weight | 8 pounds |
| Tank Size | 1 gallon |
| Particle Size | 10 – 30 microns |
Our Ratings
Community Feedback
This product has been a great addition to our mold-fighting arsenal, especially since we live in Florida and have an integrated garage HVAC system. It's larger and more powerful than other foggers I've tried, making it perfect for professional use or hard-to-reach areas. I appreciate that it comes with a washable, reusable filter which is a nice bonus, although additional filters can be quite expensive. The fogger is simple to use, just follow the instructions and make sure the filter is in place. One downside is that it can be heavy when carrying it around for extended periods of time.
---
Treasure Hunter Silver Bullet Non-Thermal Mold Fogger
Best for Smaller Spaces
The Triple Jet Cold ULV is a durable product you can rely on. Made by Ten Green Fingers, it's outfitted with stainless steel. The body is made of sturdy aluminum.
This device uses the cold fogging mechanism, meaning it can use either oil or water-based solutions.
It has three counter-rotating nozzles that spray a fine mist of solution, which goes up to 40 feet. This makes it better suited for both smaller and bigger spaces. You can adjust the valve to fit your need.
Although this fogger works great outdoors or indoors, you may have to move around with it a lot. This is because it's rather small and handy at 5.72 pounds.
The Ultra Low Volume non-thermal fogger has an adjustable flow rate to keep you in control of the misting and comes with a warranty.
What We Like
Small and Portable
This fogger is small and doesn't take up much space. It's not very heavy (5.72 pounds) and can easily be carried from room to room. Therefore, you can store it and use it regularly without stress.
Compatible With Oil and Water-Based Solutions
This is a cold fogger, so it doesn't restrict you to water-based solutions. You can put in an oil-based solution, which would make a fine mist without causing problems for the machine.
Value for Money
This has been loved by many considering its multi-functionality and its price point. Many had pointed out that it does its job pretty well without a fuss.
Various Uses
Not only does this control mold and mildew, but it also sterilizes, delivers pest control, and can output Concrobium Mold Control.
What We Don't Like
No Hose Attachment
This fogger doesn't have a hose attachment, so you cannot direct the flow of the mist. If you want to direct its flow, you need to move around with the fogger.
Design Isn't Durable
Despite the robust pump and stainless steel elements, the overall design isn't super durable. Customers found it was already buckling under pressure after only a few hours. The seal isn't great, and the fastening clips aren't tight enough.
Product Specs
| | |
| --- | --- |
| Type | ULV cold fogger |
| Item Weight | 5.72 pounds |
| Tank Size | 1 gallon |
| Particle Size | Not available |
Our Ratings
Community Feedback
I've recently used this product for mold remediation and found it to be powerful, efficient, and easy to use. It quickly dispersed a fine mist throughout the affected area, providing thorough coverage and saving me time compared to traditional methods. However, be aware of some minor issues such as gasket sealing and the short power cord; with a few adjustments and proper care, this fogger is a great investment for fast dispersal of misted liquids.
---
Tri Jet ULV Non Thermal Fogger
Most Versatile Mold Fogger
Finally, we have a product from Createch USA, a leader in the fogging and atomizing industry for the past 30 years. It's great for applying mold and mildew control products, as well as pest control in various settings.
It's an ultra-low volume fogger — ideal for spraying oil- or water-based solutions. It has a powerful motor that can spray up to 30 feet.
Its anatomy consists of an intake filter, a power cord, a heavy-duty motor, and a triple-action nozzle. Last but not least, it also comes with a five-year limited warranty.
What We Like
Easy to Use With Convenient Switch
This fogger is incredibly easy to use with a simple on/off toggle switch. Once you turn it on, it jets the mist away from you, giving you plenty of time to leave the area.
Great for Crawl Spaces
It's ideal to use this fogger for crawl spaces. All you need to do is turn it on directly facing the opening of the crawl space. The powerful motor will jet the mist up to 30 feet in.
If this is not enough, you can still go around to the opening on the other end of the crawl space and repeat the action. The mist circulating will take care of whatever is left in the middle.
Multi-Purpose Fogger
You can use this for removing mold and mildew. But it's also great for removing insects and other pests, eliminating odors, and sanitization.
High Standard Construction
This fogger is made in the USA and comes with a five-year warranty. You can assure that this is made with high standards and is backed by a reliable guarantee.
What We Don't Like
Not Easy to Carry Around
This fogger is not the best for fogging on the go unless you have it in a vehicle. It is best used in one spot as it can be cumbersome to carry around.
Cleaning Maintenence Required
If you don't clean the lid area often, it will become discolored, dirty, and rusty.
Product Specs
| | |
| --- | --- |
| Type | ULV non-thermal fogger |
| Item Weight | 13 pounds |
| Tank Size | 1 gallon |
| Particle Size | 15 – 30 microns |
Our Ratings
Community Feedback
If you're dealing with a mold issue, this fogger is a fantastic solution to tackle the problem with ease and efficiency. I found it simple to use, even as a novice, and it made a noticeable difference in my basement after application. For best results, I highly recommend using Mr. Clean Multipurpose Cleaner instead of the more expensive alternatives, as it effectively kills mold and leaves a pleasant scent.
---
Why Should You Remove Mold?
Mold is one of the worst things to find growing in your home. It develops so fast that you might not even notice it until it becomes a problem you can no longer ignore.
Besides its unpleasant appearance and smell, mold is also hazardous to your health. Therefore, it's vital to eliminate mold and mildew from your living space as soon as you notice it.
1.

Health Hazard

Granted, not everyone is sensitive to mold. However, those with allergies will face many health challenges of varying degrees of seriousness.

Mold reproduces by releasing microscopic spores that float around in the air before finding a place to rest. These spores can trigger allergies and lead to eye, skin, and throat irritation.

Those with preexisting health issues, such as chronic lung disease, can have more severe problems like lung infections. Mold spores can also trigger asthma attacks for asthmatic patients.

Children and pets are also much more sensitive to mold spores and can end up with respiratory problems when exposed to them (1).
2.

Structural Damage

Like all living things, mold needs nutrients to grow. It gets these necessary nutrients by feeding on organic matter.

Organic material is present in almost everything, from wood to clothes to drywall. Add to this some moisture present in different areas of the home, and you have a divine environment for mold growth. As such, mold has no difficulty spreading around homes.

Having mold feed on various materials throughout the home leads to this material getting stained or destroyed.

If mold grows in your walls and floors, they will begin to rot and fall apart. This is because the mold is literally eating into them (2).

If allowed to fester for long, mold can very well render a whole building structurally unsound and unfit to live in.
What Is a Mold Fogger?
A mold fogger is a device that turns mold remedial solutions from liquid to fog. While one could put such mold-killing solutions into spray bottles and mist the affected areas, foggers are more effective.
A mold fogger — by turning mold killing solutions into vapors — evenly distributes the solution. As such, it covers every single inch of the room, including the cracks and crevices we cannot reach manually.
It works by using heat to vaporize the liquid solution, which fills the room with a thick fog. Or by what is called "cold fogging," which simply uses air pressure to vaporize the solution.
The solution will kill mold and spores that you can't see. Damaged material must be removed afterward to prevent the mold from returning.
Types of Mold Foggers
There are two types of foggers: thermal foggers and ultra-low volume foggers.
Thermal Foggers
A thermal fogger uses heat to vaporize chemical solutions. The heated barrel helps to produce tiny particles in large numbers, making fog or clouds that can reach into cracks.
They often have a tank carrying up to 40 ounces of solution with a pump that transports the solution to the heating chamber. The vapor is then expelled from the front with a nozzle.
Pros
Release thick and visible clouds, which enable you to see what you're doing.
The size of a droplet in the released cloud can be as small as 0.5 microns so that it can penetrate small areas.
Use less solution to cover more areas than ULV foggers.
Cons
Require high energy to function.
There is a risk of fire because of the use of heat.
Ultra-Low Volume Foggers (ULV)
Also known as a "cold fogger," this device uses air pressure to turn chemical solutions into a mist, which is then sprayed.
With ULV sprayers, you can adjust the size of the particles for different applications.
Pros
Easier to operate and can be operated remotely.
More energy-efficient.
Safe to use indoors since they don't heat up.
You can apply fungicides via this type of fogger and use them on crops.
Cons
Release invisible fog, making it hard to see what you are doing.
Large droplet sizes ranging from five to 30 microns are less effective in penetrating cracks.
Take longer to cover large areas compared to thermal foggers.
Why Should You Use a Mold Fogger?
Sadly, it's only the tip of the iceberg when you finally notice mold growth anywhere. Mold spores are microscopic, which means that you don't see them.
Also, since mold spores are in the air, using a spray bottle is ineffective. It will definitely not kill them all.
To exterminate them, therefore, you must evenly distribute the mold-killing solution. This ensures that it fills the room, including the air where mold spores might be.
---
How to Use a Mold Fogger
Mold foggers are easy to use. Once you understand how they work, you should have no trouble operating them.
Properly clean the room you plan to mist with the fog first.
Make sure you remove anything that could end up damaged if they get damp, such as books and fabric.
Put your chosen mold-killing solution into the tank of your mold fogger.
Set the flow rate you prefer on the fogger.
Place your fogger in the ideal position for spreading the fog all over the room. The center of the room is typically the best place for this.
Turn on your fogger and run it for as long as you may feel is necessary. Ensure it's not long enough for the vapor to leave puddles or run down the walls.
After you turn off your fogger, allow the room to soak up the fog for 30 minutes.
Open your windows and place fans around the room to help dry it.
As long as your chosen solution works, you can rest easy knowing that this has fixed your mold problem.
Safety Tips for Using a Mold Fogger
When using a mold fogger, there are some critical steps to ensure you stay safe during the process. Some of them are:
Read the instructions on how to mix your solution properly to avoid chemical accidents.
Wear a mask and a protective suit to protect yourself from the chemicals being sprayed.
Keep children and pets away from the area being misted.
Try not to mist too long to avoid puddles and moisture drips on walls.
FAQs
---
Thank You For Your Feedback!
Thank You For Your Feedback!