Shopping for a new dishwasher is an exciting experience. But with so many brands and models on the market, it can be overwhelming. Well, we've narrowed it down to one brand and five dishwashers.
Our five best Miele dishwasher reviews will help you find your perfect match within this high-end brand! Whether you want something ultra quiet, great for drying or super stylish, we've got plenty of options.
Image
Model
Product Comparison Table
Features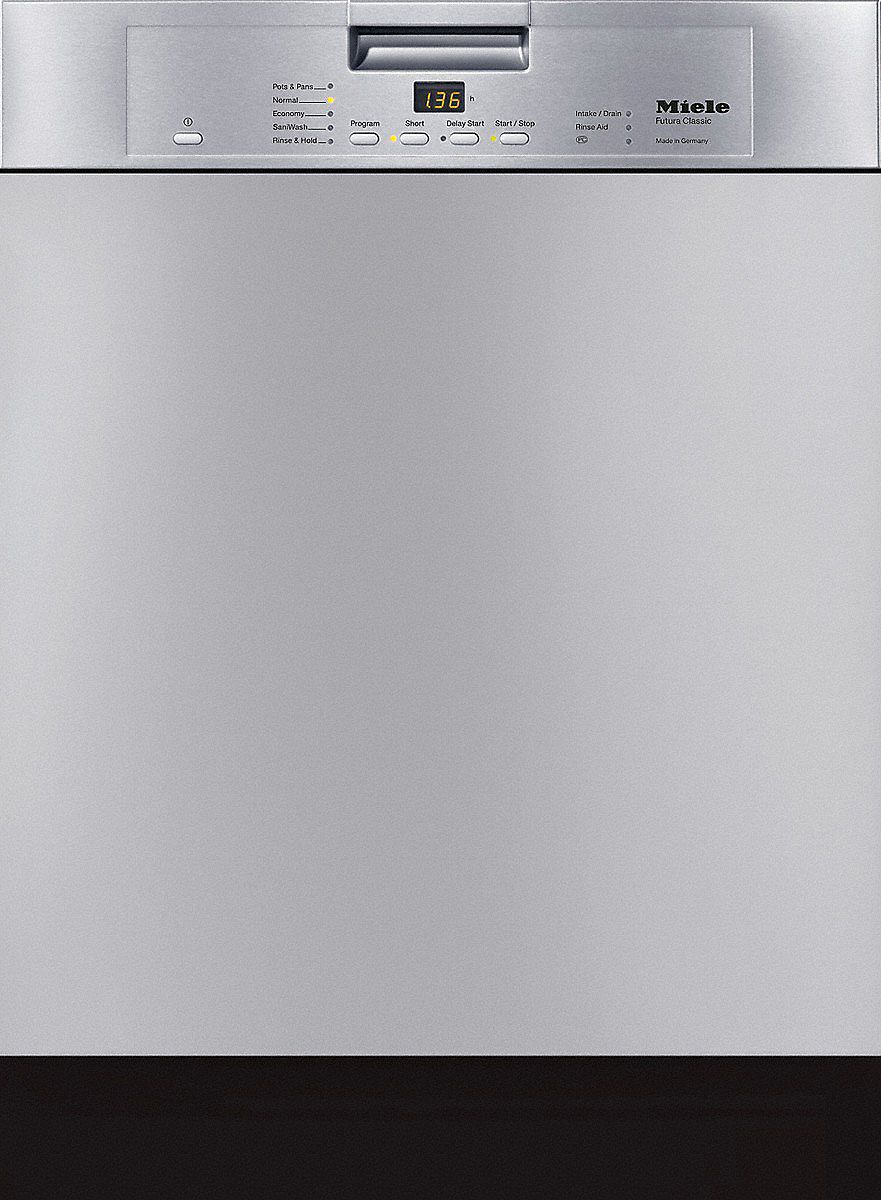 Best Budget Miele Dishwasher
Miele Clean Touch Built-In Dishwasher
Includes cutlery tray
Basket handles
Double waterproof system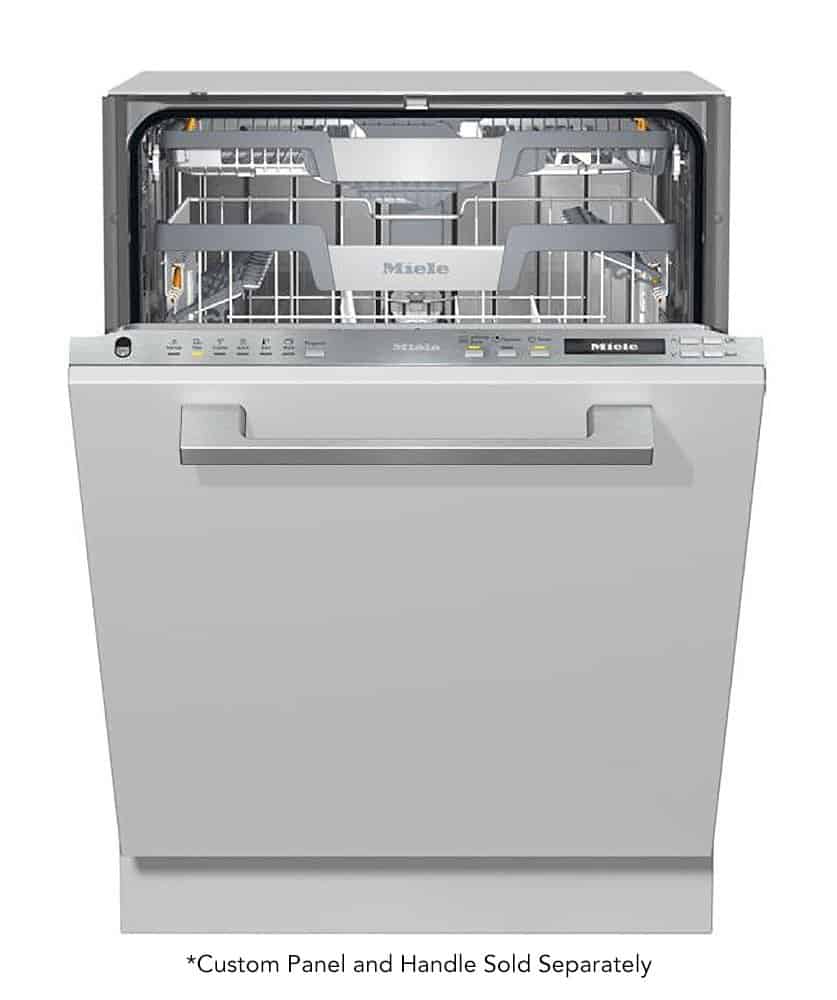 Best Drying Miele Dishwasher
Miele Panel-Ready 3D MultiFlex Tray
Fully-integrated
Extra comfort basket
EcoPower technology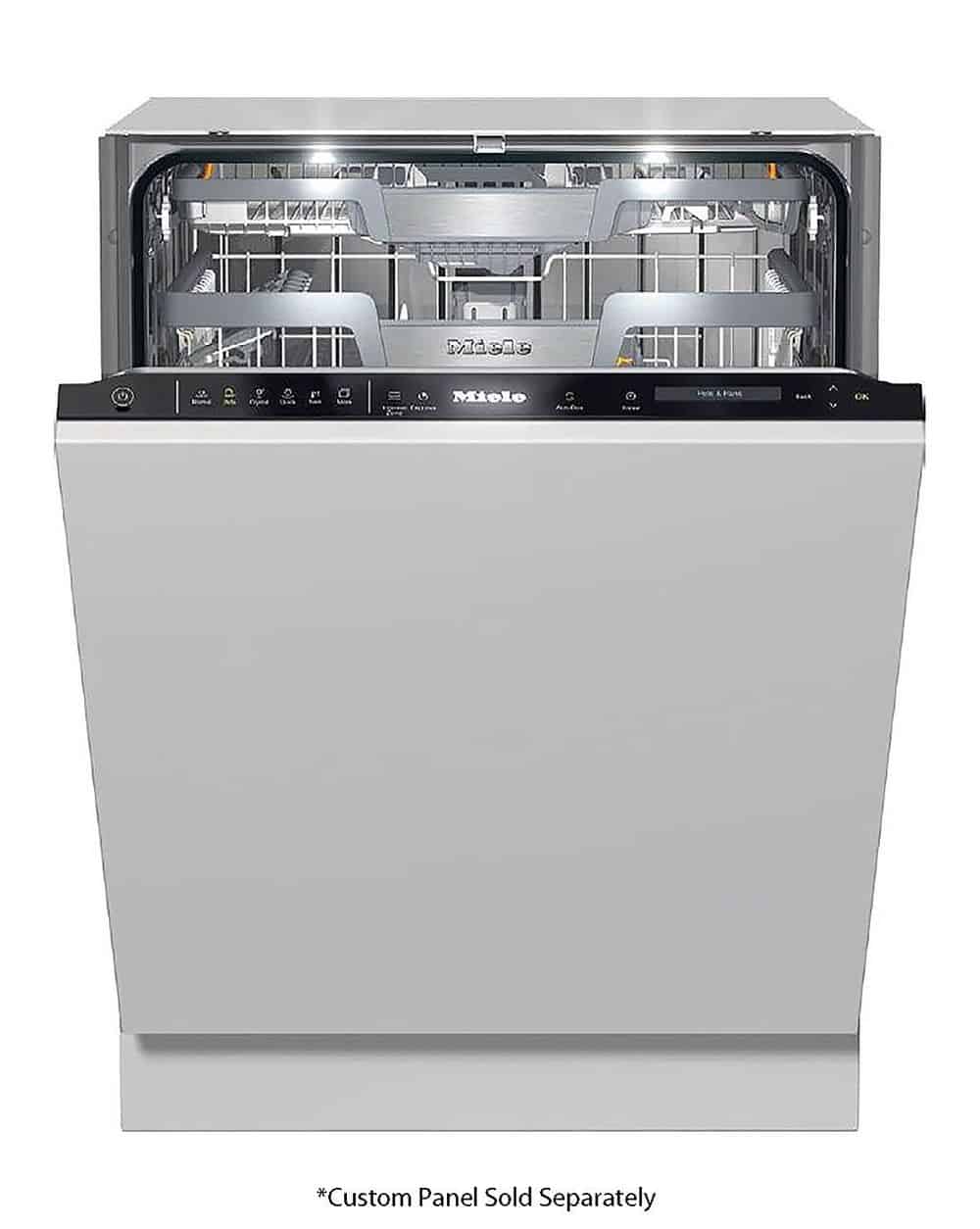 Best Stylish Miele Dishwasher
Miele Panel-Ready AutoDos Dishwasher
Auto-open technology
Auto-dispense detergent system
Quick intense wash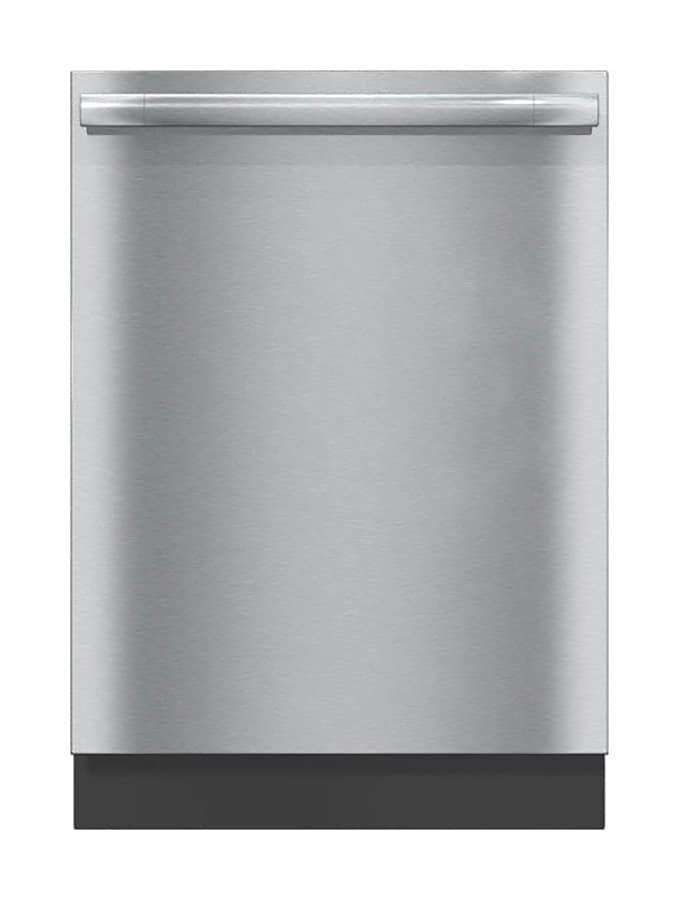 Best Quiet Miele Dishwasher
Miele Clean Touch Fully Integrated Dishwasher
Ultra-quiet at 40 dB
Wifi connect
AutoOpen & Comfort Close features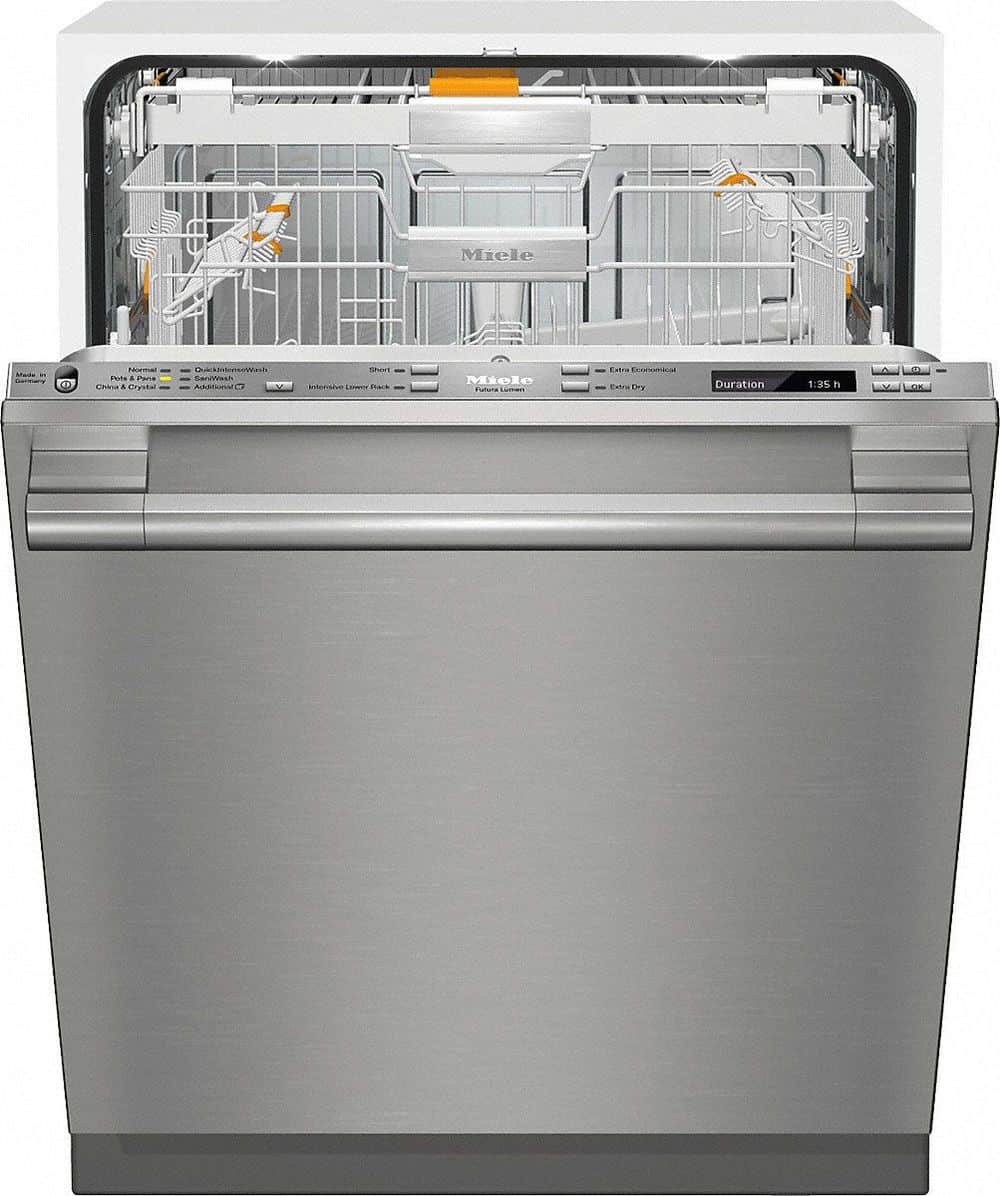 Best Smart Miele Dishwasher
Miele Stainless Steel Built-In Dishwasher
EcoTech heat storage function
Brilliant light LED system
Sensor Drying system
---
---
Product Reviews
After reviewing real customer reviews, expert advice and product descriptions, we've put together a list of the best five Miele dishwashers, and their reviews.
1. Miele 24-Inch Clean Touch Built-In Dishwasher
Best Budget Miele Dishwasher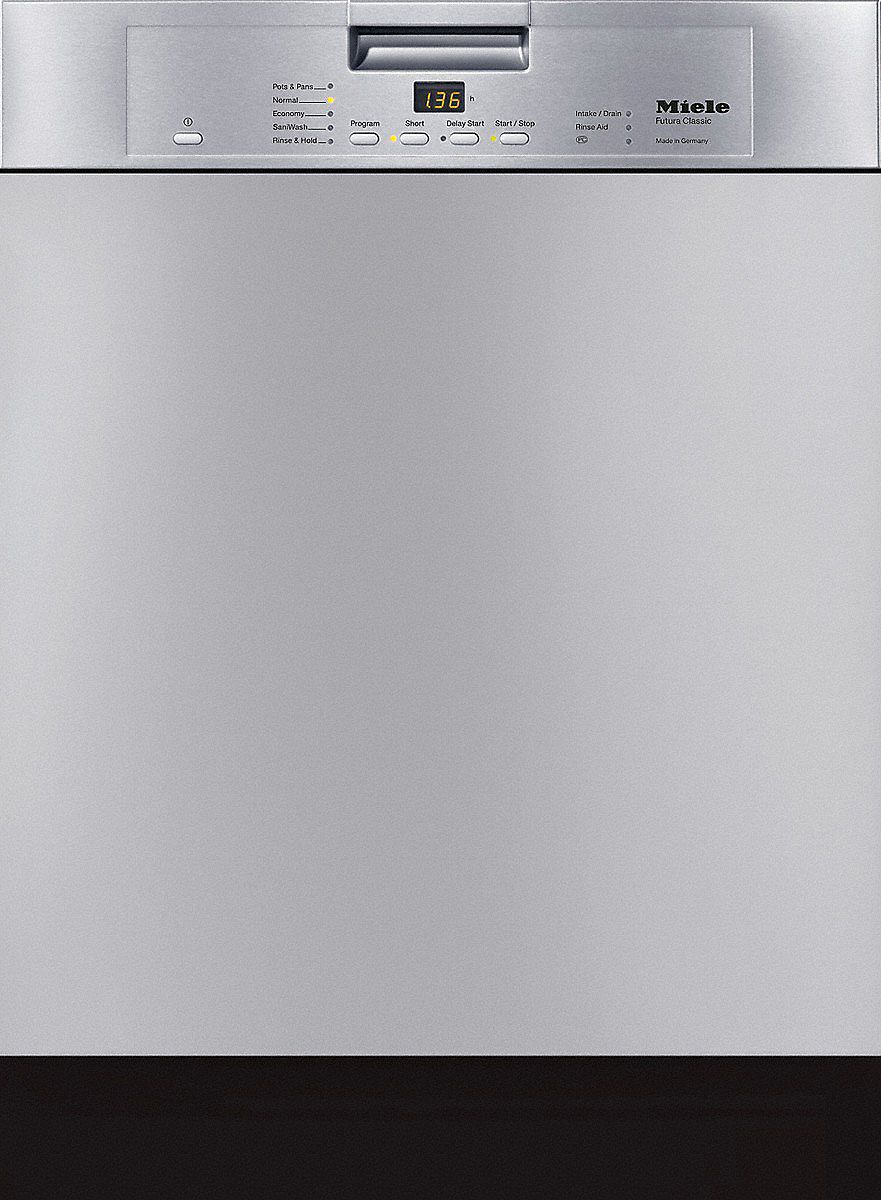 While this is one of the most affordable Miele dishwashers, it's still very expensive. But it's a good investment, especially if you want one of the lower-priced Miele dishwashers.
What can you expect from this dishwasher? Like all Miele dishwashers, it has a variety of amazing features. This includes the Comfort Close door, a double waterproof system, child lock, ergonomic handles and much more.
What We Like
Cutlery Tray
While the lack of a cutlery basket is a negative for some, we think the idea is genius. Plus, if you don't like it, you can always remove the third rack and buy a cutlery basket. However, the cutlery tray means the cutlery is lying flat and it doesn't touch each other which results in the ultimate clean.
Basket Handles
Loading and unloading the dishwasher has never been easier. The baskets in the dishwasher have ergonomic handles so they're easy to pull out and push back in.
Double WaterProof System
Nobody wants a leaky dishwasher. When this Miele model detects a leak, it automatically shuts off the water supply to allow minimal damage. This is especially good for protecting your floors and preventing your downstair's neighbours from experiencing your dishwashers leaks!
What We Don't Like
Condensation Drying
The biggest feature missing from this budget Miele dishwasher is the drying function. It does not have a heated drying element; instead it uses condensation drying. This would be fine if there was also the AutoOpen door feature, but there's not.
Some customers complained that even after waiting all night, their dishes were still not dry in the morning.
Five Wash Cycles
This may be a positive for some, especially if you're used to a more basic dishwasher. However, compared to other Miele dishwashers, five wash cycles isn't a lot.
The wash cycles include Economy, Normal, Pots & Pans, SaniWash, and Rinse & Hold. This is enough to do most cycles, but it would be especially useful if there was a delicate and intensive wash.
Product Specs
| | |
| --- | --- |
| Size | 24 inches |
| Noise Level | 46 dB |
| Type | Front control |
| Door Features | Comfort Close |
| Wash Cycles | Five |
---
2. Miele Panel-Ready 3D MultiFlex Tray Dishwasher
Best Drying Miele Dishwasher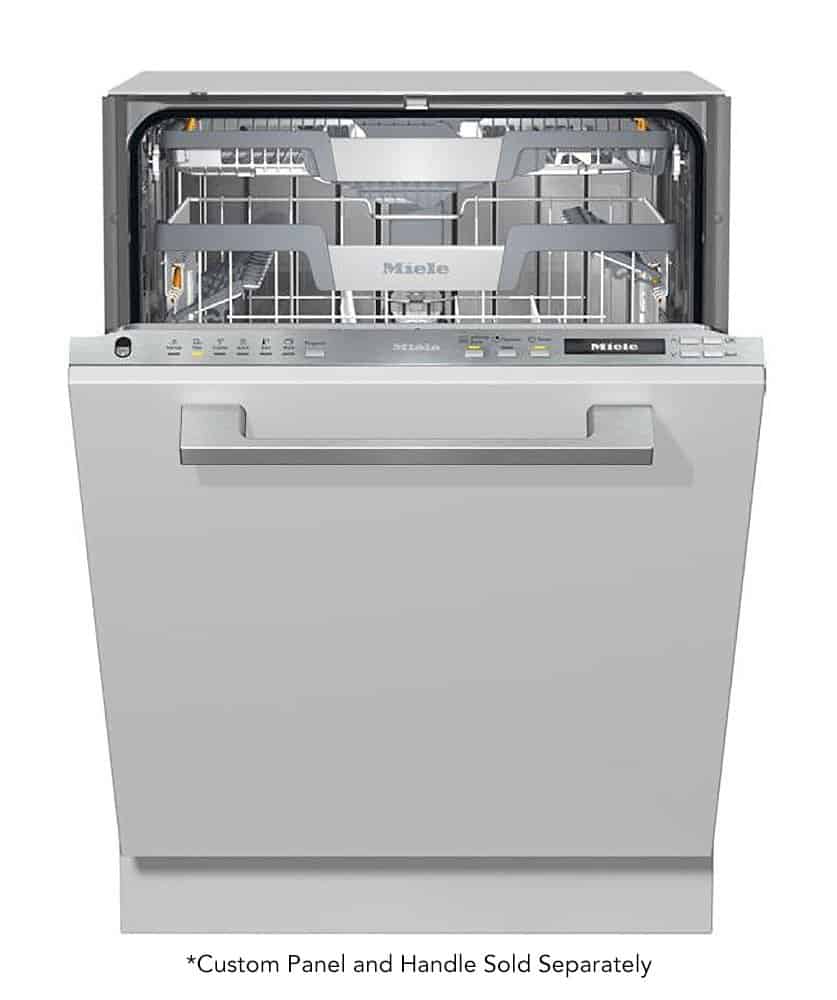 Nobody wants soggy wet dishes after the cycle is finished. Miele has a variety of drying features, some which work better than others. However, our top pick for drying dishwashers would be this model. It has an Extra Dry cycle which guarantees that every item, even plastics, is dry.
It also has an AutoOpen door which opens automatically afterwards to air dry any remaining moisture. As a bonus, it has a built-in sensor to detect moisture levels so it doesn't use too much energy when drying.
What We Like
Fully-Integrated
Despite all the cool interior features, this is a beautiful dishwasher for your home. It's fully-integrated and panel-ready so you can choose the exterior to suit your home decor.
Extra Comfort Basket
Standard dishwasher baskets are a thing of the past! This dishwasher has ExtraComfort baskets. What does that involve? Quite a lot.
For starters, it has a 3D cutlery tray and a cutlery basket so you can choose which feature you'll use. The baskets have handles, the upper basket is height adjustable, and there is a fixed row of tines.
There is also a lot of room in the lower basket as well as two rows of tines. Lastly, there are two height-adjustable holders for glasses in the bottom basket.
EcoPower
This economical dishwasher uses EcoPower technology for the most environmentally friendly wash. It works by reducing the water consumption to 1.95 gallons which is incredible! With less water, and less energy required to heat it, this is the ultimate energy-efficient machine.
What We Don't Like
No Wi-Fi
This dishwasher has almost everything you need, but one thing that we feel is missing is the built-in Wi-Fi, especially considering this isn't a cheap dishwasher.
No Soft Press Buttons
We love the soft press buttons that many Miele top control dishwashers have. However, this has regular buttons which take a bit longer to select your cycle. They can also be hard for some people to press.
Product Specs
| | |
| --- | --- |
| Size | 24 inches |
| Noise Level | 43 dB |
| Type | Top control |
| Door Features | Comfort Close and AutoOpen |
| Wash Cycles | Eight |
---
3. Miele 24 Inch Panel-Ready AutoDos Dishwasher
Best Stylish Miele Dishwasher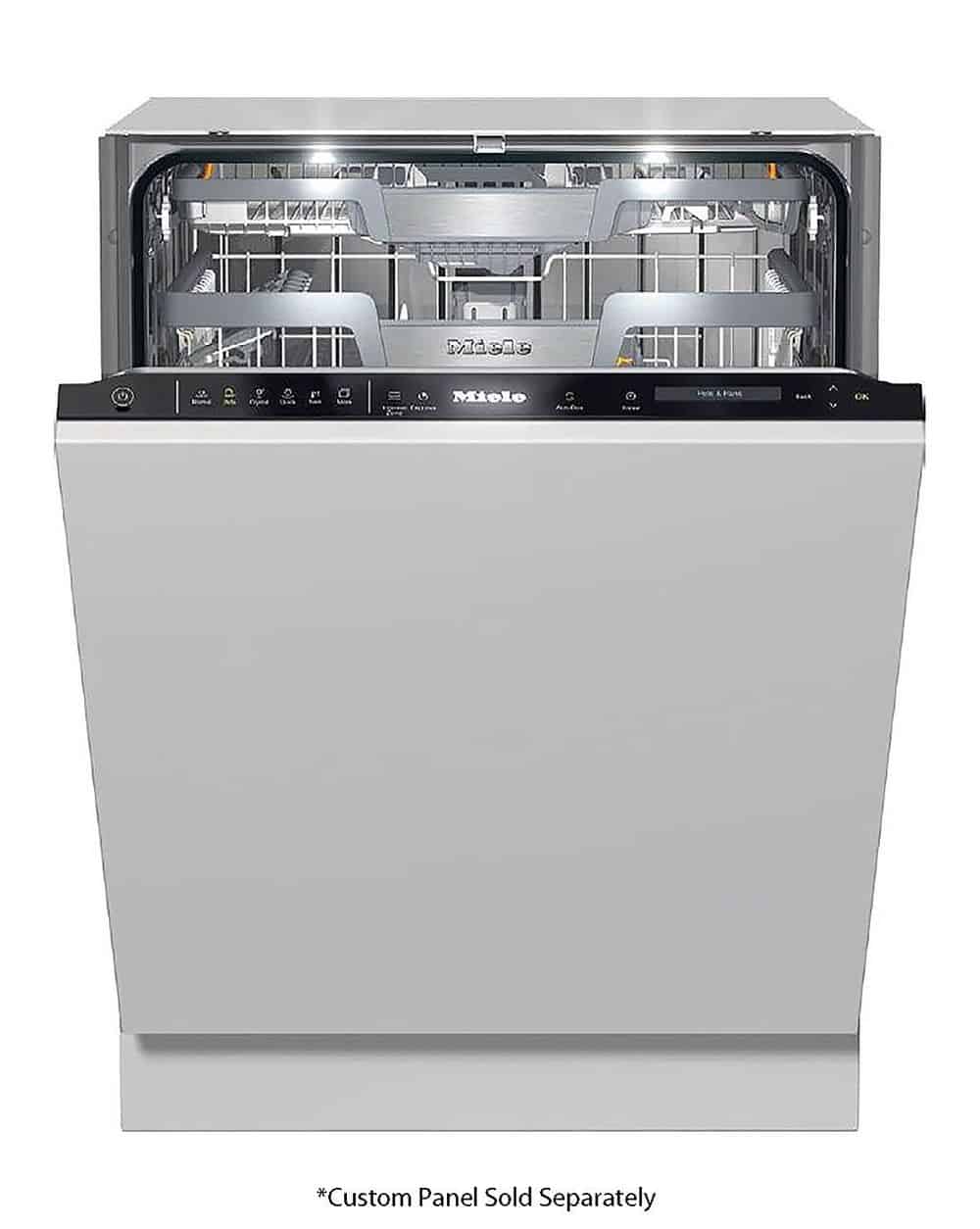 Say hello to this good looking dishwasher. It's panel-ready so you can customize the exterior to suit your kitchen decor. As long as the panel weighs between four and 12 kilograms, you're good to go. Now your dishwasher will fit in seamlessly with the rest of your cabinets.
Of course, this means it's a top control panel which many people love. It is especially useful if there are kids and pets around who may accidently touch the dishwasher buttons. Apart from the stylish appearance, it has a range of amazing features.
What We Like
Knock2Open
The handleless design of this dishwasher means there's a new way to open it: by knocking. The Knock2Open design works by knocking twice on the door of the dishwasher. It will automatically open meaning even if your hands are dirty or full, you can easily open this appliance.
AutoDos
You can use the Miele's PowerDisk to equip the one-of-a-kind AutoDos detergent. It lasts for up to 20 cycles and works by distributing the exact amount of dishwasher detergent depending on which cycle you have chosen. Less work for you, less wasted detergent, and less detergent taking up space in the cupboard.
QuickIntenseWash Technology
If you're in a rush, and need the dishes cleaned quickly, this is a dishwasher to consider. With the QuickIntenseWash, experience amazing cleaning results in a 58 minute wash.
What We Don't Like
Curious Children May Learn to Knock
Of course, the Knock2Open does have its drawbacks, even though it is a reason we love it.
Once curious children get the hang of it, they can knock on the dishwasher door to play with it. There is a child lock but we're unsure if this is only available while the dishwasher is running. If there are dirty knives waiting to be washed, this may not be the safest appliance.
No Cutlery Basket
This is a new feature to get used to. There is no cutlery basket. Instead, it has a 3D top rack which hosts all your cutlery. Once you get the hang of it, though, it will be a favorite feature!
Product Specs
| | |
| --- | --- |
| Size | 24 inches |
| Noise Level | 40 dB |
| Type | Top control |
| Door Features | Comfort Close, Knock2Open, AutoOpen and AutoClose |
| Wash Cycles | 13 |
---
4. Miele Clean Touch Fully Integrated Dishwasher
Best Quiet Miele Dishwasher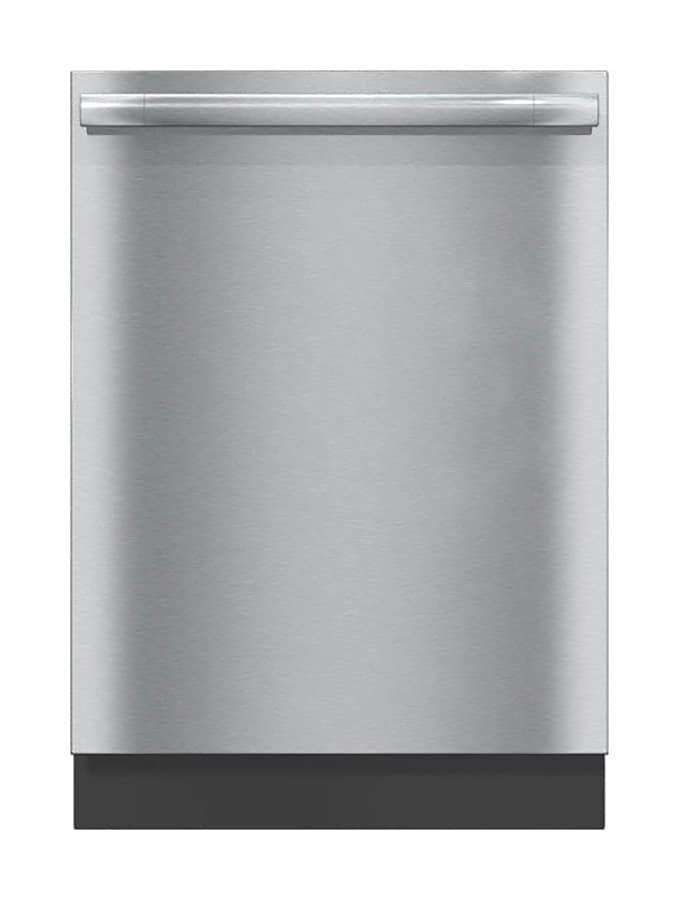 Miele's dishwashers go all the way down to 38 decibels which makes it an unbelievably quiet dishwasher.
This is a 40-decibel dishwasher regularly, but you can turn on the Extra Quiet cycle to experience 38 decibels. Even at 40, though, it's barely noticeable.
To put it into perspective, 40 decibels is similar to the noise level of light rain or a stream of water. So if you're sensitive to sounds, then this is a great option for your home.
What We Like
AutoDos with PowerDisk
This dishwasher is made with one-of-a-kind technology: AutoDos. This automatic dispensing system with an integrated PowerDisk dispenses the precise amount of detergent at the right time depending on the wash cycle you've chosen.
One PowerDisk lasts for around 20 cycles before needing replacement. Superior cleaning, with very little work from you!
WiFi Connect
Now, you can monitor and communicate with your Miele dishwasher from your phone. You'll get status messages, information about cleaning agent levels, as well as a variety of other notifications.
Door Features
This dishwasher has both an AutoOpen door and a Comfort Close door. This means that the door opens automatically at the end of the cycle to help with air drying. The Comfort Close design means that the door opens gently and smoothly, but it also stays open in whatever position you have left it in.
What We Don't Like
Price Point
This is one of Miele's most expensive dishwashers, and the price may deter you. While Miele dishwashers are super awesome, and this has many unique features, the price point is high for many families.
Bells and Whistles
If you're used to a basic dishwasher, this may be quite a challenge for you. There are lots of different buttons, settings and fancy things to navigate.
Product Specs
| | |
| --- | --- |
| Size | 24 inches |
| Noise Level | 38-40 dB |
| Type | Top control |
| Door Features | AutoOpen and Comfort Close |
| Wash Cycles | 13 |
---
5. Miele 24 Inch Stainless Steel Built-In Dishwasher
Best Smart Miele Dishwasher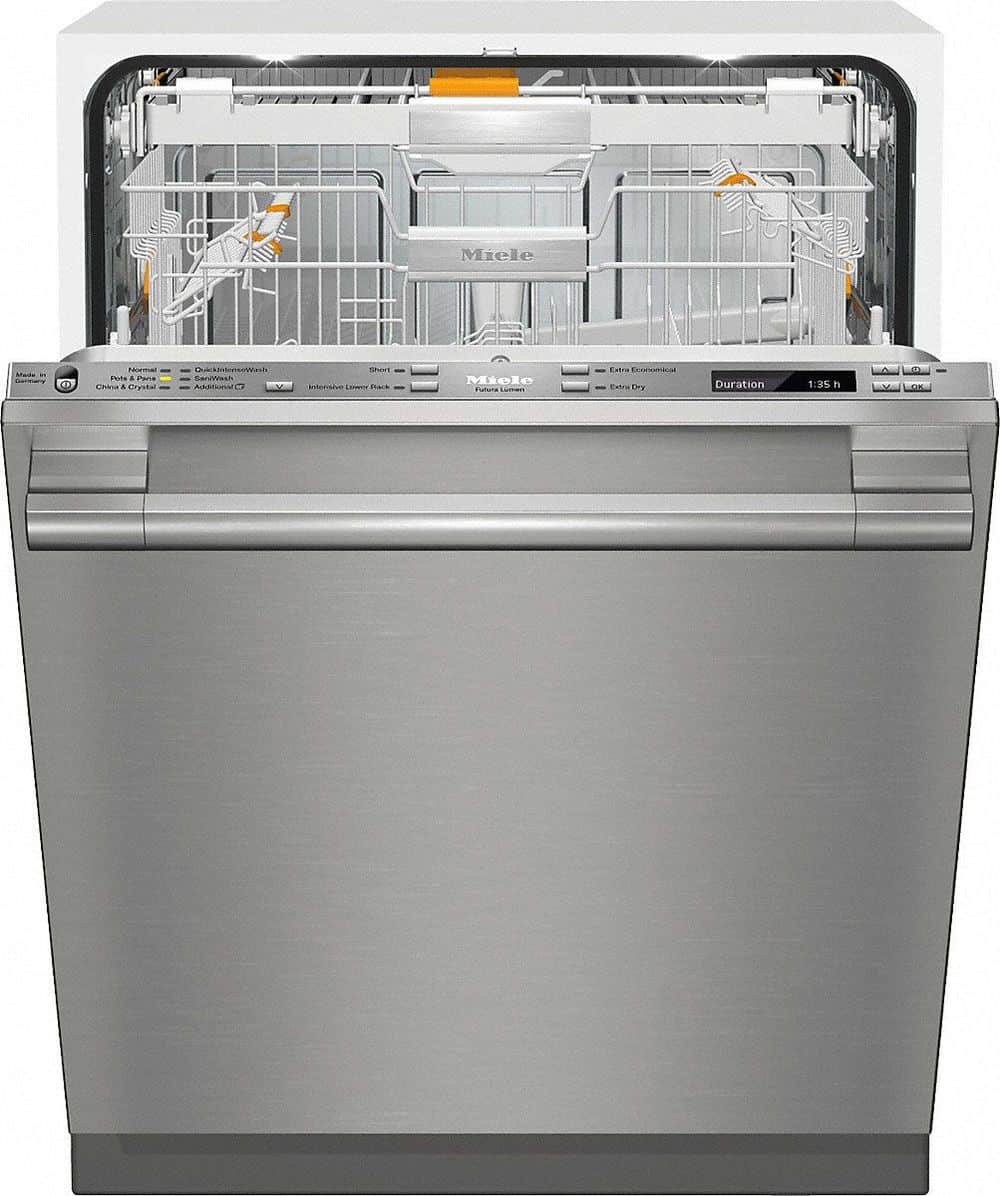 Many Miele dishwashers have built in Wi-Fi — this is just one option we love. Having Wi-Fi means you can monitor the status of your dishwasher, check cleaning agent levels and much more.
If you are on the hunt for a new smart dishwasher, this may tickle your fancy, especially considering the other amazing features!
With this dishwasher, you'll also find 12 wash cycles, a 3D cutlery tray, AutoOpen drying, Sensor Dry and much more.
What We Like
EcoTech Heat Storage
For an energy-efficient dishwasher, this is one to consider, thanks to the heat storage function. The unused heated water isn't wasted but instead transferred to incoming fresh water. The loop system means that nothing goes to waste.
BrilliantLight
The BrilliantLight LED system illuminates the interior of the dishwasher when you open the door. This allows you to see better as you load and unload the dishwasher, especially during dark nights and mornings.
SensorDry
As well as condensation drying and the AutoOpen door for air drying, this dishwasher also has sensor dry. It uses sensors to check the moisture levels to ensure that everything comes out dry at the end of the cycle.
What We Don't Like
No Countdown During Cycle
When the dishwasher is on, you will see a red indicator light on the floor. However, this doesn't tell you exactly how much time is left. To see that, you'd have to keep a timer on your phone or check the app.
May Need Repair
As mentioned, Miele has a pretty high service ratio, and this model seems to be within that range. Some customers have said that they needed to call out repair services a few times due to this model. Make sure you have good cover when choosing any Miele dishwasher.
Product Specs
| | |
| --- | --- |
| Size | 24 inches |
| Noise Level | 42 dB |
| Type | Top control |
| Door Features | AutoOpen and Comfort Close |
| Wash Cycles | 12 |
---
History of Miele
It all began with 11 workers in a workshop in 1899 (1). The company started by manufacturing cream separators for the farming community. This followed with butter churns and then washing machines.
In the 1920s, they began creating house appliances including vacuum cleaners, rotary ironers and then, the first dishwasher.
By the 1950s, the company was global, growing due to their innovation. They created Europe's first electronic tumble dryer in 1966. Over the next few years, they perfected the first micro computer-controlled washing machines, tumble dryers and dishwashers.
Now, they are still providing incredible and innovative appliances. Their range includes more eco-friendly products, automatic coffee makers, smart appliances, robot vacuums, wireless vacuums and much more.
Why Is Miele So Expensive?
This German brand uses high-quality German parts to make their appliances. These components are made to last longer, and are more expensive than shipping in or sourcing from other countries.
Is It Worth Buying a Miele Dishwasher?
We think so, but you should be careful. Statistics are showing that each year, Miele gets a little bit less reliable. For instance, in 2015-2016, they had a service ratio of 7.8%. This year, they've had a service ratio of 20.49% (2). These aren't big issues that repair companies are coming out to fix, more just annoying issues.
There is a two-year warranty, and the option to extend this for 10 years. However, many customers have experienced Miele fixing issues even outside of the warranty period. Overall, Miele dishwashers are effective, innovative and super quiet, so if that's your top priority, it's probably worth a buy!
Is Miele Made in China?
All of Miele's products are made in Europe (including Germany, Austria, Romania and other countries) except for some of their vacuum cleaners which are made in China (3).
Is Miele a Good Brand?
Yes — Miele is a good brand, especially if you're after a certain few qualities. For example, if you are passionate about quality, technology, convenience, design, service and a high-end brand name, then Miele is a company to definitely consider. Their motto is "Forever Better" and since 1899, they have provided peace of mind to their customers by creating top quality and innovative appliances with excellent customer service.
Types of Miele Dishwashers
But for now — let's focus on the dishwashers! Miele do a few different types of dishwashers.
Fully-Integrated
Fully-integrated dishwashers are the most aesthetic option, because you can customize the front to suit your existing kitchen cabinets.
Pros
They look good in every kitchen.
Top control panel.
Lots of options in a variety of prices.
Options with three racks.
Energy-saving.
AutoOpen doors.
3D cutlery tray.
Cons
No cutlery basket.
No front control options.
Handleless design takes getting used to.
Very technical.
Semi-Integrated
Semi-integrated dishwashers are built-in to your kitchen space, but they have their own front design so it's not a seamless aesthetic.
Pros
Flexible stacking options.
58-minute cycle option.
Water-saving dishwashers.
Extra dry option for plastics and glass.
The dishwasher speaks in multiple languages.
Cons
Very expensive.
No custom front panel for seamless aesthetics in the kitchen.
No top control panel options.
Freestanding
Freestanding dishwashers don't need to go underneath a countertop. They can be placed anywhere as long as they have connection to water and drainage.
Pros
You can place it anywhere in your kitchen as long as it's connected properly.
Six options within different sizes.
A few more budget-friendly options.
Three racks.
Multiple washing programmes.
Cons
Not every supplier carries the freestanding models.
No top control options.
No silverware basket.
Still expensive.
Things to Consider (Buying Guide)
Now that you're in the market for a Miele dishwasher, here are the top details you should consider.
Consider how many wash cycles your dishwasher has. Some people like having lots of options, while others like to keep it simple.
From Miele, you'll find a range of cool cycles such as the quick 58-minute cycle, tough cycles, eco cycles and more. Some dishwashers even have a specific cycle for dishes that you cooked pasta in!
---
Wrapping It Up
Now that you've read through our best Miele dishwasher reviews, hopefully you've found one that will suit your lifestyle and dishwashing needs. All Miele dishwashers have a range of cool features, but no two are alike.
Remember to consider the top criteria when shopping. This includes sound levels, which range from 38 to 60 decibels. You should also consider the size; there are a few slim models available if the 24 inch models are too big. Last, but not least, consider how many wash cycles there are so you can fully customize your experience!
Thank You For Your Feedback!
Thank You For Your Feedback!